I read an article recently that listed Orlando theme parks as an affordable destination for a summer vacation and I had to chuckle. I mean, did you see my post about how much a trip to Universal Orlando costs? When I think of cheap vacation spots, a trip to Disney is not what comes to mind. So I started to noodle on some of the cheap summer vacation spots that we have discovered over the years to provide some actual budget-friendly destinations that would make for a great summer family vacation.
Just like in my suggestions for affordable spring break destinations, the costs can vary based on where you are coming from and the size and make-up of your family. To create an even playing field, I did some research on the cost of these vacation spots based on a family of four with two adults and two children under twelve sharing one room.
I did not include the transportation costs, since many of these can make great road trips depending on where you are starting. I also based these costs on a trip of four to seven days, depending on the destination, recognizing that families have limited vacation time and not every destination requires a full week.
Also, based on the idea that the average vacation cost is around $5,000, I've tried to keep all of these ideas within that range (or lower if I could), with a couple of "splurge" ideas. This includes accommodations, food, and activities.
In destinations that offer cabins or vacation rentals with kitchens, the cost of food was reduced to reflect cooking some meals versus eating out every day. I typically included a few basic activities (e.g. bike riding, museums), a few free activities (e.g. hikes), and one splurge (e.g. hot air balloon ride.) I've also tried to suggest hotels that include breakfast to offer greater cost savings. Keep in mind that prices vary and be sure to check pricing before booking a trip.
21 Cheap Summer Vacation Spots
Note: This post may contain affiliate links. If you click a link and make a purchase, I may receive a small commission. All opinions are my own.
New Brunswick, Canada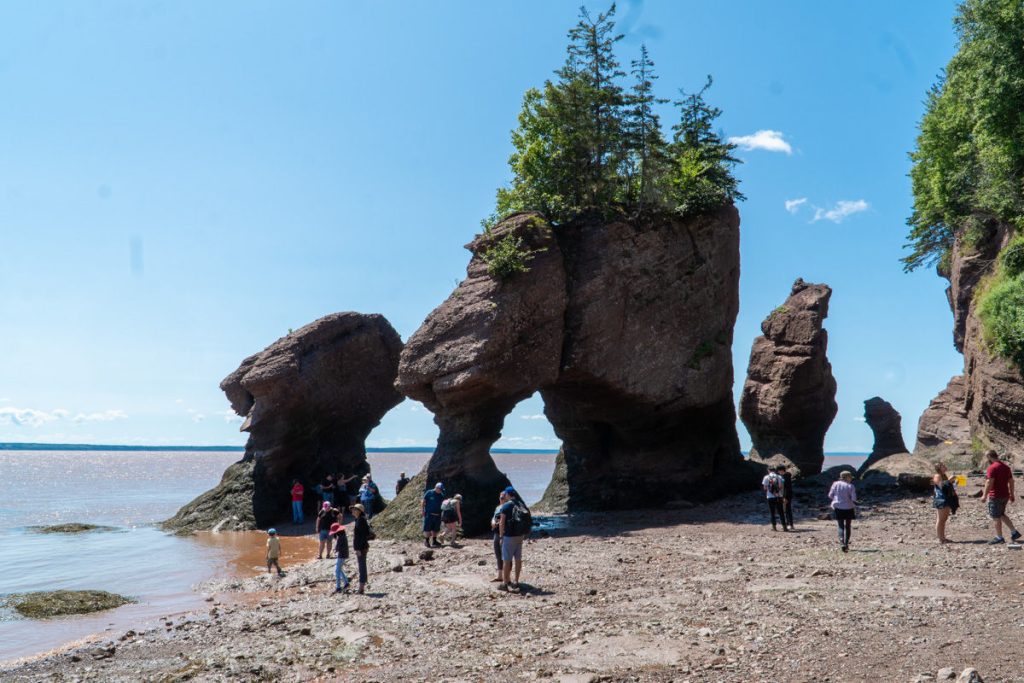 The exchange rate often makes Canada a bargain for U.S. citizens, but New Brunswick is a budget destination even before you calculate currency. An easy drive from all the New England states, New Brunswick is often overlooked but brimming with adventure.
In addition to soft sand beaches and the warmest waters north of the Carolinas, New Brunswick has dramatic cliffs, the highest tides in the world, wineries, breweries, the Lobster Capital of the World, adventure sports, forested wilderness, beautiful national and provincial parks, and cool small cities.
With all that, you would think this destination would be crowded right? Nope, it is not at all crowded, giving ample time to enjoy nature and fun activities like water parks, ziplining, and even cliff rappeling.
Delta Hotel by Marriott Beausejour in downtown Moncton makes a great home base for only $150 a night.
Estimated cost of a seven-day vacation including accommodations, food, and activities: $2,200
Learn more: New Brunswick road trip itinerary, Tips for visiting Hopewell Rocks
Boothbay Harbor, Maine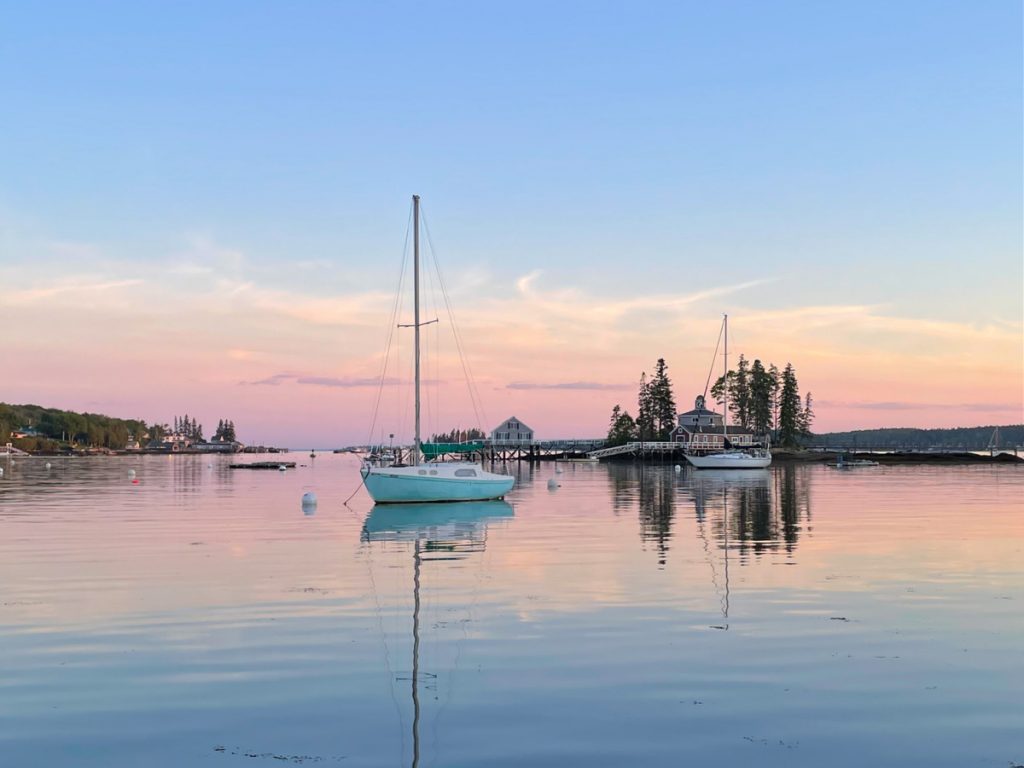 Boothbay Harbor on Maine's mid-coast is both family and budget-friendly. This charming town offers activities such as whale watching and puffin cruises, and is well-located for exploring the beaches and rocky coastline of Maine.
Day trips will bring you to Rockland, Camden, and many scenic lighthouses. Summer is the ideal time to visit when the small town really shimmers, especially during the famous Windjammer Days in June. A visiting fleet of historic windjammer ships sail into Boothbay Harbor for two days of fun from parades (both street and boat), to tours and live entertainment, culminating in a fireworks extravaganza. (Learn what it is like to take a sailing holiday on a Maine Windjammer Cruise.)
Families will also enjoy trips to the Coastal Maine Botanical Gardens, Boothbay Railway Village, and the Maine State Aquarium. If you want to stay in town, the classic Tugboat Inn offers rooms starting under $300 where kids stay free.
Estimated cost of a seven-day vacation including accommodations, food, and activities: $3,500
Learn more: 9 Best things to do in Boothbay Harbor, Maine
Northern New Hampshire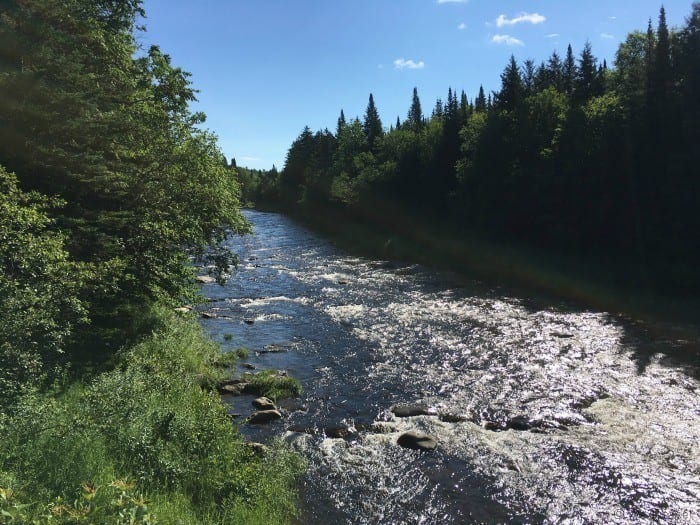 If you love mountains and lakes and enjoy fishing, hiking, boating, and off-roading, then head to northern New Hampshire. Things will still be pricey around the touristy lake region and the White Mountains, but if you keep going up to the Great North Woods, nestled against the Canadian border, you will find the pristine moose country of Pittsburg, New Hampshire.
Family-size cabins at the Lopstick Lodge, overlooking First Connecticut Lake, start at $145 per night. That leaves you plenty of room to splurge on a day off-roading on 1,000 miles of trails that are part of the "Ride the Wilds." The four-person Polaris RZR rents for $599 for a full day from Bear Rock Adventures.
Estimated cost of a seven-day vacation including accommodations, food, and activities: $2,800
Learn more: Off-roading off the grid in Northern New Hampshire. You can also get a similar experience and price in the Maine Highlands or Moosehead Lake, Maine.
Montreal, Quebec
There is always something going on in Montreal in the summer, and that is what makes it such a fun city to visit. Whether it is a music festival, food truck fest, or some crazy Red Bull street competition, Montreal loves its festivals. We love to stay in Old Montreal, within easy walking distance of the Old Port district. In this area, you can visit museums, zipline across the port, do a ropes course, rent pedal boats, visit the Science Center, ride the Ferris wheel, and so much more.
To get away from the crowds, you can also bike along the canals or take the metro out to Parc Jean-Drapeau for a swim. Hotels can get pricey but here is where the exchange rate benefits Americans. Look for hotels like the SpringHill Suites in Old Montreal, which offer free wifi and breakfast to save some cash.
Estimated cost of a four-day vacation including accommodations, meals, and activities: $2,200
Learn more: What to do in Montreal in the Summer
Finger Lakes, New York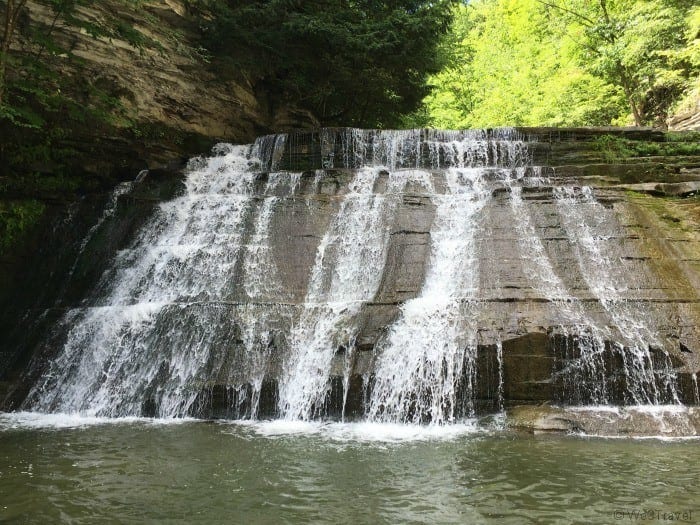 The Finger Lakes are simply beautiful and perfect for a family that likes the outdoors but doesn't want to be too far off the grid. The area offers the perfect blend of outdoor activities and world-famous wine tasting to keep parents and kids happy. Lake sports include boating, fishing, kayaking, swimming, and stand-up paddleboarding. Kids will also enjoy eco-tours with Discover Cayuga Lake tours.
You can even arrange a water taxi to take you to wine tasting! Nearby there are gorgeous state parks, like Stony Brook State Park or the famous Watkins Glen State Park. The nearby town of Corning offers a charming downtown and an excellent Museum of Glass (free for kids!) that will keep you busy all day with hands-on activities and hot glass demonstrations.
There are plenty of affordable lake house rentals and free or inexpensive activities to enjoy, making this an affordable destination too!
Estimated cost of a seven-day vacation including accommodations, food, and activities: $3,000
Learn more: Wine tasting in the Finger Lakes, Things to do in Ithaca, NY
Rehoboth Beach, Delaware
If you are a fan of beautiful beaches and family-friendly boardwalks, then head to Rehoboth Beach, Delaware. The beaches of Southern Delaware are such gems with wide, soft-sand beaches and waves that are just perfect for body surfing. You can also kayak and try stand-up paddleboarding on the bay, or take a dolphin-watching or sunset cruise from nearby Lewes. This historic downtown of Lewes is also perfect for getting a break from the beach.
Delaware also has a surprisingly robust beer and wine scene and you can easily schedule a day touring nearby breweries like the popular Dogfish Brewery. Whatever you do, you won't be bored or too broke. Two-bedroom beach houses or condos start around $300 per night. I would leave some room in the budget for a few fun outings and plenty of Kohr's frozen custard treats!
Estimated cost of a seven-day vacation including accommodations, food, and activities: $3,200
Learn more: Planning a summer vacation to Rehoboth Beach, Delaware
Chincoteague, Virginia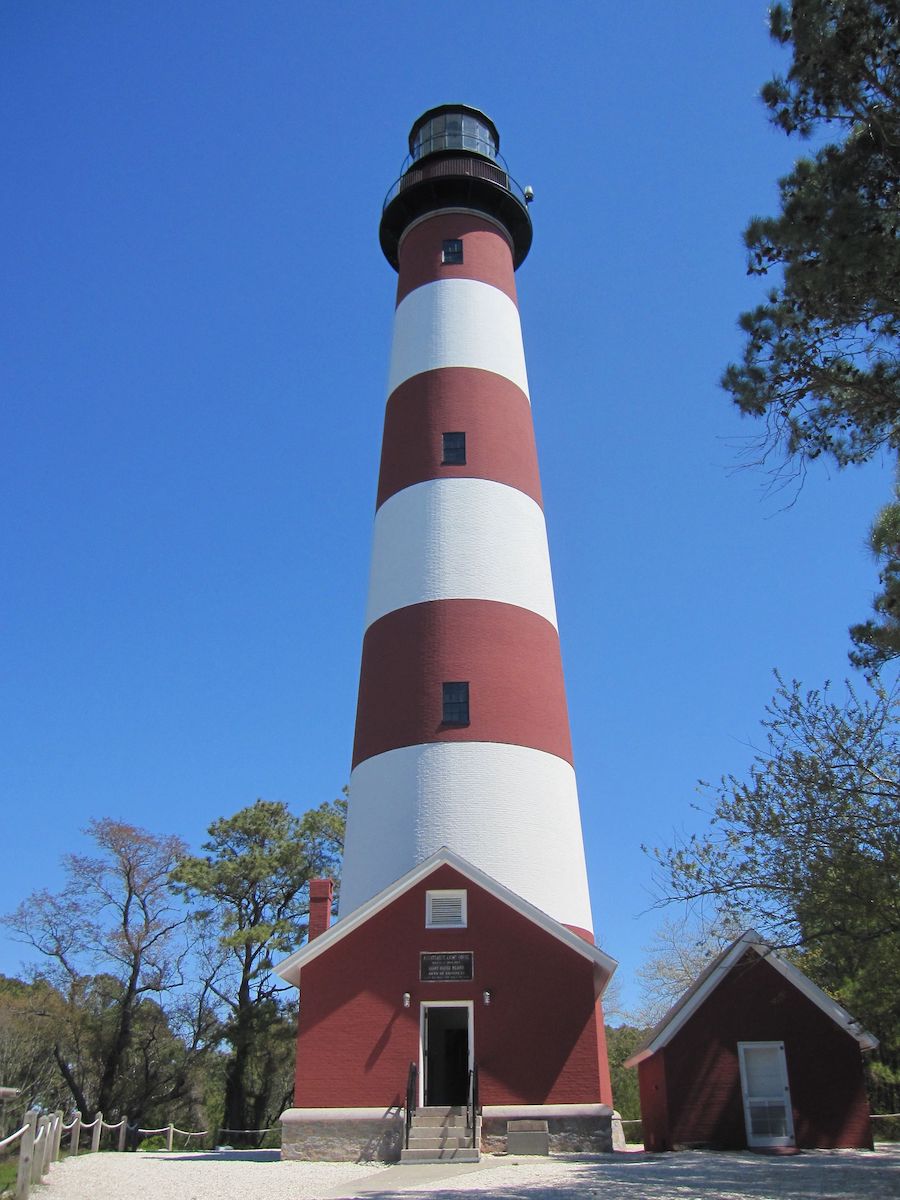 Chincoteague, Virginia is a perfect summer destination for budget travelers seeking an affordable beach vacation. The charming small town is located on the eastern shore of Virginia and is famous for its pristine beaches, wild ponies, and seafood.
There are plenty of affordable things to do in Chincoteague, such as visiting the Chincoteague National Wildlife Refuge, which is home to more than 320 species of birds and the famous wild ponies. The refuge also has several walking trails, observation towers, and a beach where visitors can enjoy swimming and sunbathing. Another affordable activity is taking a bike ride around the town, which is filled with quaint shops, restaurants, and art galleries.
You can also take day trips to Ocean City or Annapolis, Maryland, and the many quaint towns along the Eastern Shore. If you don't want to spend a full week in Chincoteague, you can combine a visit with a road trip to Virginia Beach (one of my East Coast road trip recommendations!)
For budget travelers, Chincoteague offers a variety of affordable accommodation options. One great option is the Best Western Chincoteague Island, which has rooms available for under $250 per night in June. The hotel is conveniently located near the town center and offers complimentary breakfast, free parking, and a pool for guests.
Estimated cost of a seven-day vacation including accommodations, food, and activities: $2700
Learn more: Wild ponies and other fun things to do in Chincoteague, Virginia
Harpers Ferry, West Virginia
Adventure and history lovers have met their match at Harper's Ferry, West Virginia. Set at the halfway point on the Appalachian Trail, you will encounter plenty of day hikers and thru-hikers. In addition to the National Park, which serves up the history of John Brown and the build-up to the Civil War, the downtown offers cute shops and restaurants.
Nearby, adrenaline junkies can get their fix with white water rafting, tubing, ziplining, and a ropes course at the Harpers Ferry Adventure Center. If you are ready to rough it a bit, camping cabins that sleep five start at just $109 per night.
Estimated cost of a five-day vacation including accommodations, food, and activities: $1,000
Learn more: Explore history and adventure in Harpers Ferry, West Virginia
Shenandoah Valley, Virginia
Shenandoah Valley is within a short drive to half the country, making it a great road trip destination. The Shenandoah Valley covers an area of approximately 200 miles in length and 20 miles in width, bordered by the Blue Ridge Mountains to the east and the Allegheny Mountains to the west. It is also within an easy day trip to historical destinations such as Charlottesville.
This area is perfect for outdoor adventure seekers and those that like charming small towns and scenic country roads. Nearby, there are natural wonders like the Luray and Shenandoah Caverns, and Natural Bridge, as well as gorgeous scenic drives along the Skyline Drive and Blue Ridge Parkway.
The Shenandoah Valley also includes Shenandoah National Park and the popular Bryce Mountain and Massanutten Resorts. There are plenty of outdoor adventures to be had including biking, hiking, paddle sports, and horseback riding.
You can rent a cabin on the Shenandoah River for only $150 a night and spend many days hiking and enjoying the great outdoors.
Estimated cost of a seven-day vacation including accommodations, food, and activities: $2000
Learn more: 10 Fun and adventurous things to do in Shenandoah Valley, VA
Memphis, Tennessee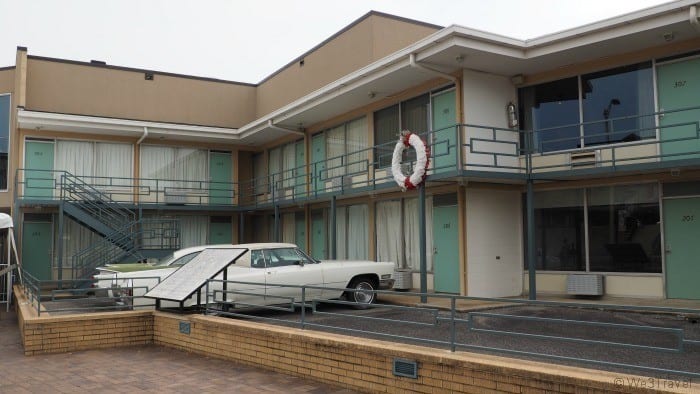 Music lovers flock to Memphis to see Elvis' Graceland, the Blues clubs on Beale Street, the Gibson Guitar Factory, and landmarks like Sun Studio and the STAX Museum of American Soul Music. The city also played an important role in the Civil Rights movement and is home to the National Civil Rights Museum at the Lorraine Motel, where MLK Jr. was assassinated.
Unlike trendy Nashville, where hotel prices are getting outrageous, Memphis is still quite affordable. The La Quinta downtown is perfectly placed within walking distance to downtown, Beale Street, and the minor league baseball stadium and starts at just $161 per night. Just be sure to leave room in the budget for some delicious BBQ and soul food.
Estimated cost of a four-day vacation including accommodations, food, and activities: $1,500
Learn more: Three Days in Memphis, TN
Kissimmee, Florida
I know I started this article scoffing at how expensive theme park vacations can be and most people only think about theme parks when they consider a trip to Central Florida. But there is so much more to do in the Kissimmee and Orlando area beyond the theme parks.
Families can enjoy kayaking, airboat tours, ziplining and adventure ropes courses, gaming arcades, scenic walks, bird watching, biking, and even hot air balloons! Plus there is a huge selection of vacation rental homes in Central Florida, making it easy to save money on food. Some vacation rental homes even include amenities like game rooms, pools, saunas, and more — with space for an extended family or friend groups to share and split the cost. It is really amazing what you can get for as low as $150 per night.
Estimated cost of a seven-day vacation including accommodations, food, and activities: $3,500
Learn more: Off-the-beaten-path Orlando activities (beyond the theme parks!)
Black Hills, South Dakota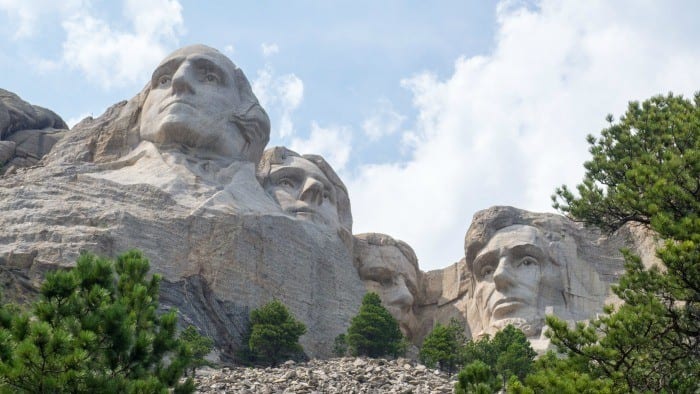 The Black Hills offer days of outdoor adventure, history, and culture, making it a perfect trip for families. If you make a reservation early enough, you can stay within Custer State Park, in the center of it all. The Blue Bell Lodge offers cabins that fit up to families of six and a cabin with two queen beds starts at $250 per night. Plus, the cabin's small kitchenette allows you to prepare a few simple meals to reduce meal costs.
Plan to spend at least six days visiting Mount Rushmore, Crazy Horse Memorial, Badlands National Park, and Wind Cave National Park, and taking drives through the scenic Black Hills. You may also want to bike portions of the Mickelson Trail or splurge on a buffalo jeep safari and cowboy cookout. You can even extend your trip to include a full South Dakota road trip.
Estimated cost of a seven-day vacation including accommodations, food, and activities: $3,000
Learn more: 15 Amazing things to do in the Black Hills, South Dakota
Albuquerque, New Mexico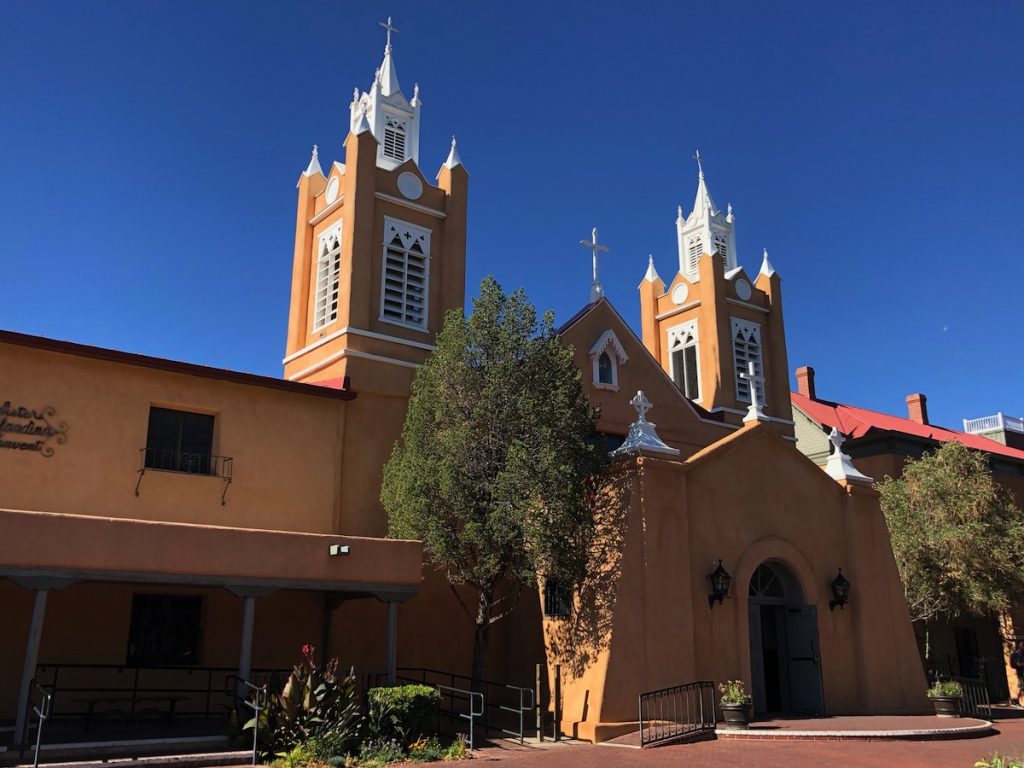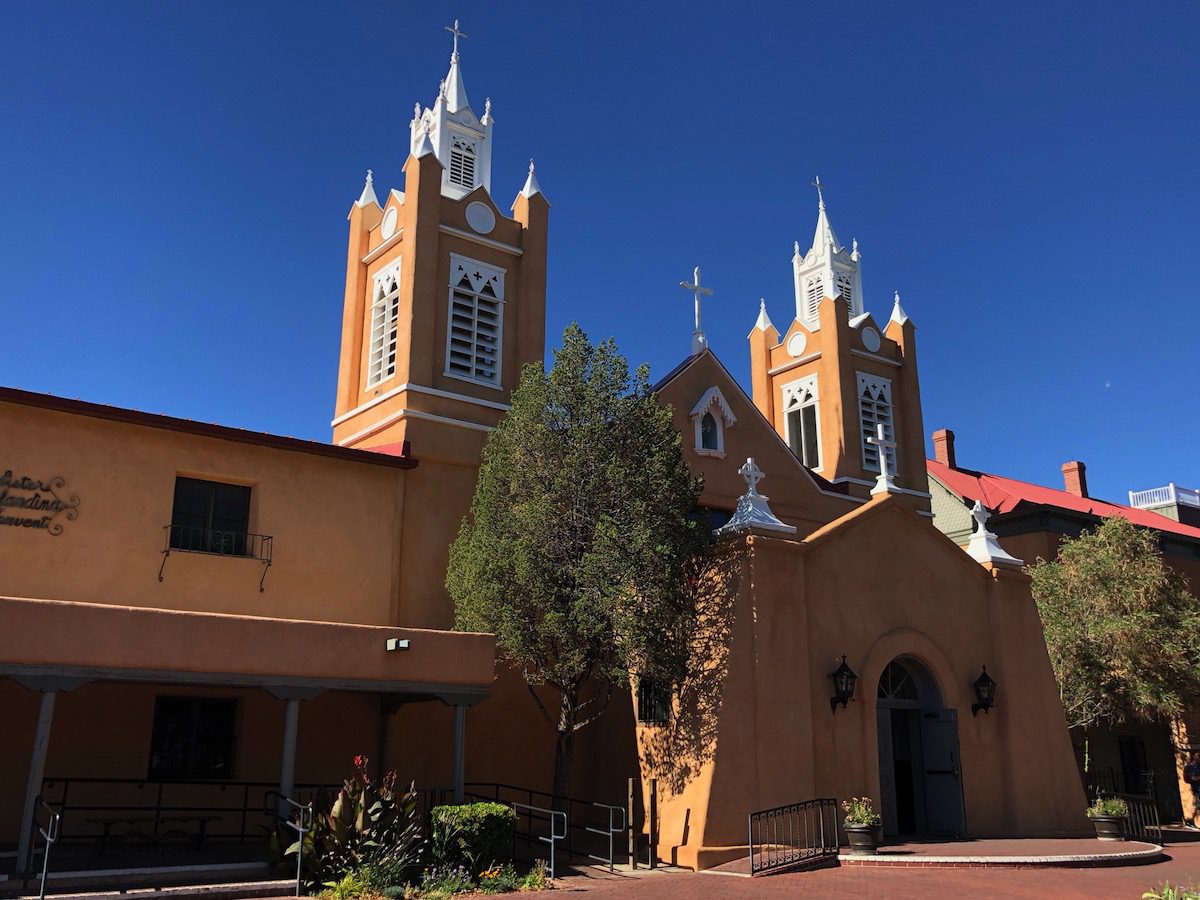 Summer may be hot in Albuquerque, but that means that you can find a good deal. The Embassy Suites, which offers a pool and free breakfast starts at only $159 per night in the summer! You can also start in Albuquerque but then head to higher elevations in Ruidoso to get away from the heat.
While in Albuquerque, you can explore petroglyphs, take a desert jeep tour, ride the Sandia Peak tramway, and visit some of the city's many museums. If you really want to splurge, try a hot air balloon ride! In Ruidoso, you can zipline, bike, or hit the lake to cool off. Don't miss the chance to add on a day at White Sands National Monument for a little dune surfing.
Estimated cost of a five-day vacation including accommodations, food, and activities: $2,500
Learn more: Things to do in Albuquerque
Tucson, Arizona
Sure, Tucson is hot in the summer, but that also means that many of the resorts in the area, like the Westin La Paloma, offer off-season pricing. If you can handle the dry heat, you can also enjoy hiking in Sabino Canyon, scenic drives through Saguaro National Park, and horseback riding at one of the many ranches in the area.
To get a break from the heat, head to the Pima Air and Space Museum, the BioSphere 2, or the Flandrau Science Center and Planetarium. You can also take a day trip to quirky, historic Tombstone, Arizona. Plus, did you know that Tucson is a City of Gastronomy with 23 miles of Mexican food? What a fun way to eat your way through vacation.
Estimated cost of a seven-day vacation including accommodations, food, and activities: $3,200
Learn more: Best Tucson resort for families
Oklahoma City, Oklahoma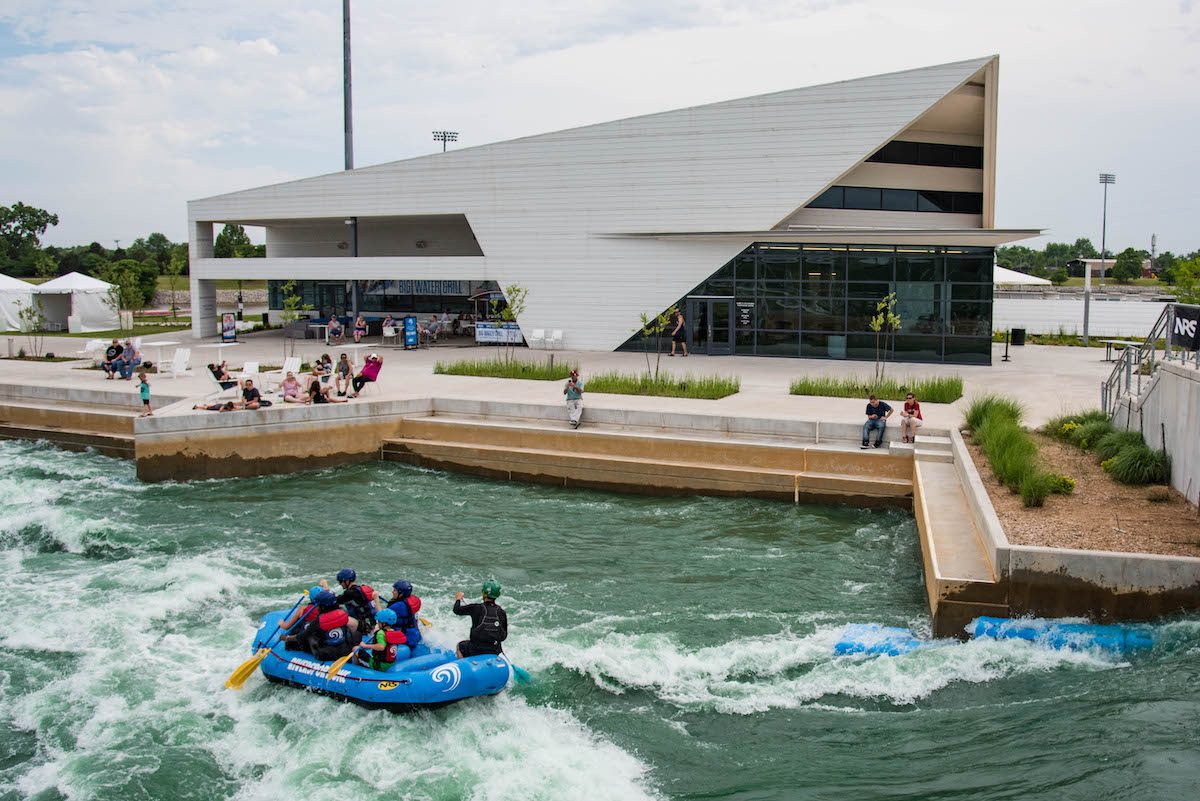 If you are looking for a city break that is steeped in cowboy culture, Oklahoma City is packed with budget-friendly family fun. As the Olympic and Paralympic training center for kayaking and canoeing, it is the only urban white water rafting and canoeing center. Get your kicks on Route 66, but then check out the science museum, zoo, botanical gardens, Cowboy and Western Heritage Museum, and even the skeleton museum.
Adventurers of all ages also love the Boathouse District, with ziplines, a ropes course, and kayak/canoe and stand-up paddleboard rentals. Horse lovers will appreciate that Oklahoma City is also the horse show capital of the world. The Aloft Hotel offers a convenient location and family-friendly room configurations starting at $139 per night. You can also save on family attractions with the OKC Venture Pass.
Estimated cost of a five-day vacation including accommodations, food, and activities: $1,800
Learn more: Things to do with kids in Oklahoma City
Minneapolis, Minnesota
The Land of 10,000 Lakes seems like a good place to spend a summer vacation right? You may want to split your time between the city and the lakes, but you will find plenty to do in Minneapolis itself. Start off at Minnehaha Park to splash in the waterfalls and ride a surrey bike around the park. Then explore downtown including the Stone Arch Bridge, Water Power Park, Infinity Bridge, and the Walker Art Center and Sculpture Gardens.
If you are music lovers, don't miss taking a day trip to Paisley Park, Prince's former home and recording studio. A tour and a chance to record in his studio will make you an even bigger fan of his music and artistry. Kids will also have a lot of fun at the Mall of America, with the Nickelodeon Universe amusement park, the Sea Life Aquarium, American Girl Place, Crayola Experience, and so much more. You can play mini-golf, climb through an adventure course, ride a zip line, drive go-karts, find your way out of a mirror maze, and the list goes on.
You can even spend a couple of days at the Great Wolf Lodge nearby! There are also plenty of family-friendly hotels in downtown Minneapolis that are under $250 a night.
Estimated cost of a seven-day vacation including accommodations, food, and activities: $2,700
Learn more: 7 Fun things to do in Minneapolis in the summer
Las Vegas, Nevada
Las Vegas may not seem family-friendly, but it is certainly packed with entertainment. Just walking the strip and looking at the lights, fountains, volcanoes, and other wonders is enough to make little eyes bulge. It is also the kind of place where you can spend like a high-roller or find incredible deals from all-you-can-eat buffets to $50 hotel rooms.
I'd suggest picking a hotel with a good pool, like the MGM Grand's lazy river, which has rooms starting at $185 per night. Be sure to budget for at least one splurge meal and a special show, and take a day trip out to the Red Rocks or Hoover Dam.
Estimated cost of a four-day vacation including accommodations, food, and activities: $2,000
Sunriver, Oregon
Sunriver, a resort community in Central Oregon near Bend is a family-friendly destination. There is an on-site observatory, waterpark, bike trails, and countless activities nearby. You can hike, explore lava fields, visit the High Desert Museum, spend a day at Crater Lake, or go river tubing or white water rafting.
Rental homes are available starting at $200 per night. Look for options that include passes to the SHARC water park.
Estimated cost of a seven-day vacation including accommodations, food, and activities: $2,700
Learn more: Things to know before visiting Crater Lake
Glacier Country, Montana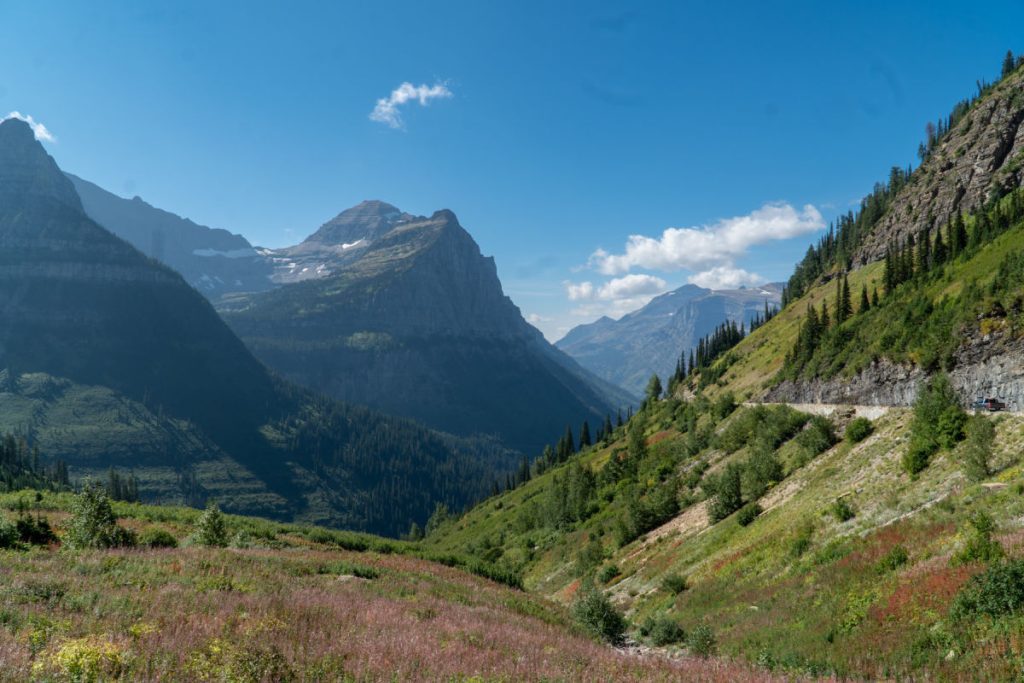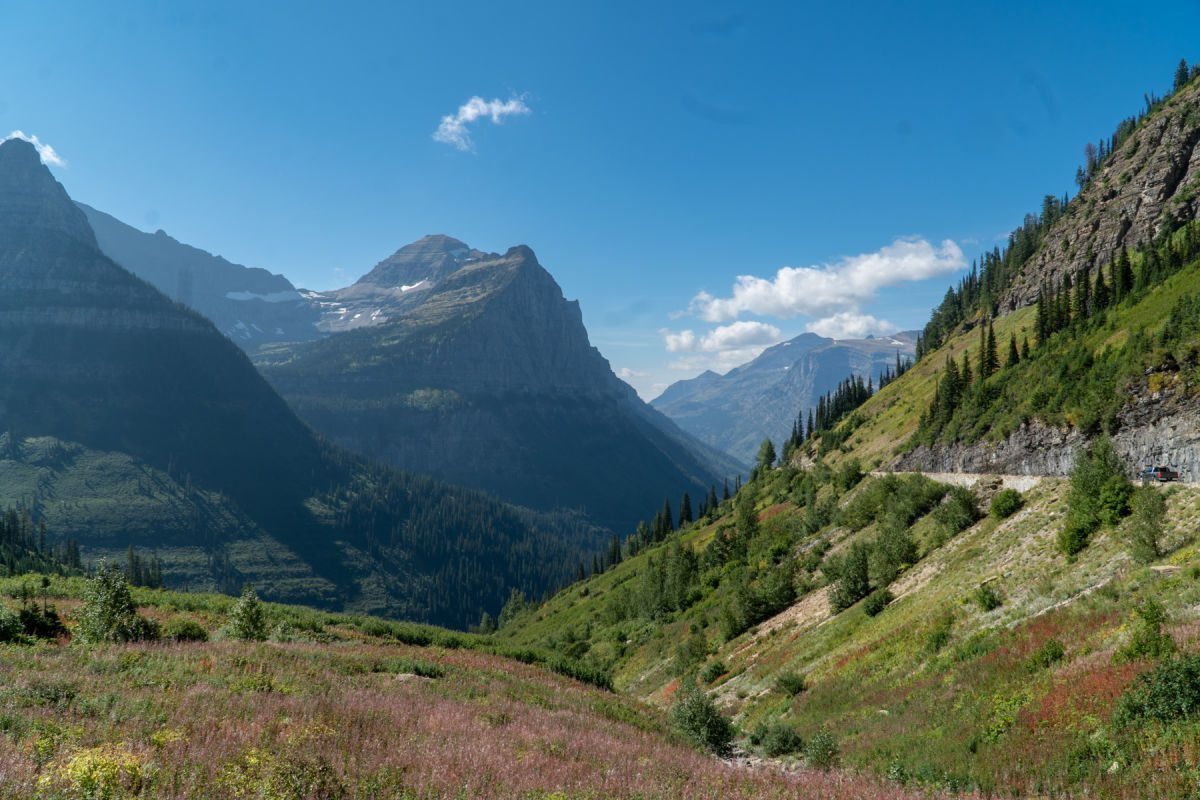 Glacier National Park is one of the most popular parks in the National Park Service, yet those visitors who aren't lucky enough to score either a hotel reservation inside the park and/or vehicle reservations to drive Going-to-the-Sun Road might find themselves frustrated with limited access to the park. But don't despair, even if your time within the park is limited, there are plenty of fun and adventurous things to do near Glacier National Park. After all, beauty and nature don't stop at the park borders!
The Northwest corner of Montana is a beautiful gem filled with giant lakes, sprawling forests, beautiful rivers, miles of hiking trails, and charming small towns. Nearby you can also have fun adventures like llama trekking with Swan Mountain Outfitters, kayaking on the Clearwater Canoe Trail, driving through the Bison Range, boating on Flathead Lake, ziplining, white water rafting, and more.
Cabin rentals in the area close to the park or Flathead Lake can be found for around $300 a night and up, and you can find even better deals as you move further away from Glacier.
Estimated cost of a seven-day vacation including accommodations, food, and activities: $3,500
Learn more: Weekend getaways in Western Montana
Alaskan Cruise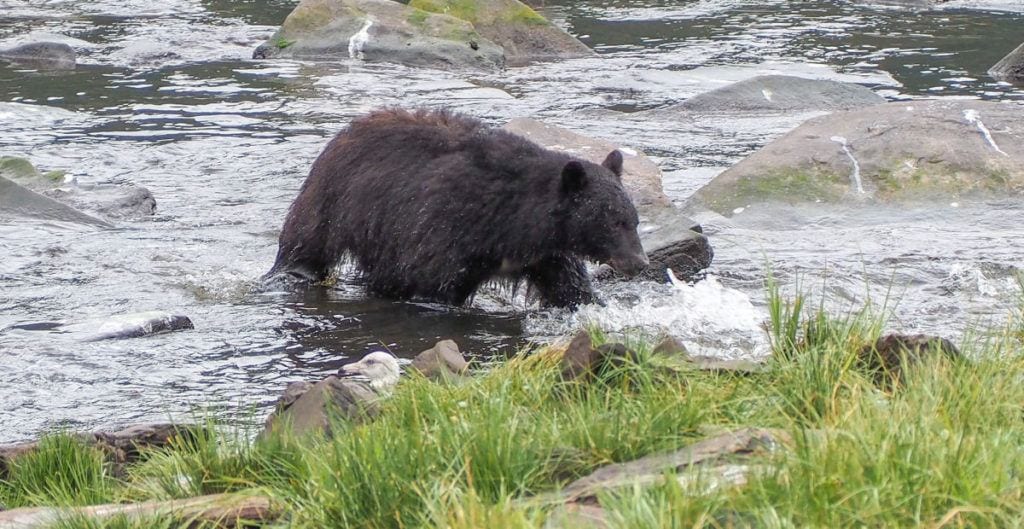 An Alaskan cruise seems like a dream trip, but also an expensive one. But it doesn't need to be. Yes, getting up to Vancouver or Anchorage can be pricey. And adding on land packages can make it even more expensive. Yet, if you leave from Seattle and take an inside cabin, you can take a one-week Alaskan cruise on the Norwegian Bliss for under $1000 per person. The Bliss offers laser tag, water slides, and even onboard go-karts.
Of course, you will need to budget for shore excursions, tips, and any special dining or drink packages.
Estimated cost of a seven-day vacation including cruise, tips, drinks, and activities: $5,500
Canadian Rockies, ALberta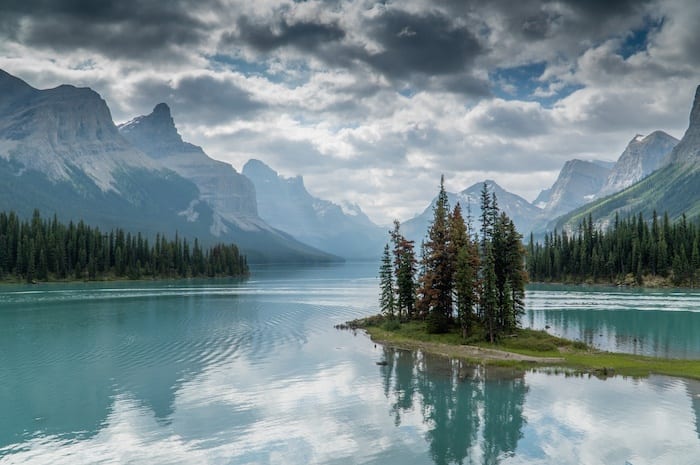 The Canadian Rockies make an amazing summer vacation destination for adventurous families. Of course, staying at places like the Fairmont Lake Louise or the Fairmont Jasper Park Lodge is going to cost an arm and a leg. However, there are budget-friendly cabin resorts in Jasper and more affordable options in Kananaskis and Canmore.
Nearby the great outdoors beckons with amazing scenery and beautiful hikes. You can also splurge on activities such as horseback riding, a Via Ferrata climbing course, rafting, scenic trams, boat tours, glacier excursions, and more adventure along the Icefields Parkway.
Estimated cost of a seven-day vacation including accommodations, meals, and activities: $4,500
Read more: Canadian Rockies itinerary
PIN THIS FOR LATER
SaveSaveSaveSaveSaveSaveSaveSaveSaveSaveSaveSaveSaveSaveSaveSaveSaveSaveSaveSaveSaveSaveSaveSaveSaveSaveSaveSaveSaveSaveSaveSaveSaveSaveSaveSaveSaveSaveSaveSaveSaveSaveSaveSaveSaveSaveSaveSaveSaveSaveSaveSave
SaveSave