The dappled sunlight shone through the tree canopy overhead as I bumped along the gravel road leading into Baxter State Park. From up ahead I caught a hint of movement. A flash of brown between the branches. Sure enough, around the next bend stood a young female moose, looking as surprised to see me as I was to see her in the high heat of the midday. But I was in The Maine Highlands and this was just the random encounter I was hoping for on my Maine road trip.
The Maine Highlands covers hundreds of thousands of acres in interior Maine — from the state's highest peak, Mt. Katahdin, to the longest river, the Penobscot, and largest lake, Moosehead. While the Maine coast calls to sailors and land lubbers seeking out lighthouses, rocky coasts, and lobster rolls, The Maine Highlands beckons adventurers.
From rustic cabins and remote hunting lodges, to off-the-grid family "camps" to upscale outdoor retreats, you can find the lodging that suits you. The Maine Highlands can be explored by foot, bike, ATV, canoe, kayak, ski, or snowmobile. With 200 waterfalls and thousands of miles of trails, you can get as far away from civilization as you desire and find countless opportunities for outdoor adventures in Maine.
Note: This article is written as part of a paid partnership with The Maine Highlands based on my travel to the area. All opinions are my own. Please be sure to check websites for hours, availability, restrictions, and current rates before venturing out.
Getting to The Maine Highlands
To explore The Maine Highlands, you are going to need a car, and ideally one with a high clearance, a navigation system that doesn't rely on cellular data, and good tires that can handle exploring the gravel logging roads that make up Maine's backcountry. Whether you are flying in or driving up, Bangor, Maine's third-largest urban center, makes a good home base to start your trip.
If you are looking for just a taste of adventure, you can even stay in Bangor and enjoy some of these experiences as day trips. Bangor offers history, concerts, museums, galleries, great local food and craft beer. Take a walking tour with Bangor's Historical Society, enjoy a scenic walk through the garden cemetery at Mt. Hope, or take an easy hike at either the Orono Bog Boardwalk or Hirundo Wildlife Refuge.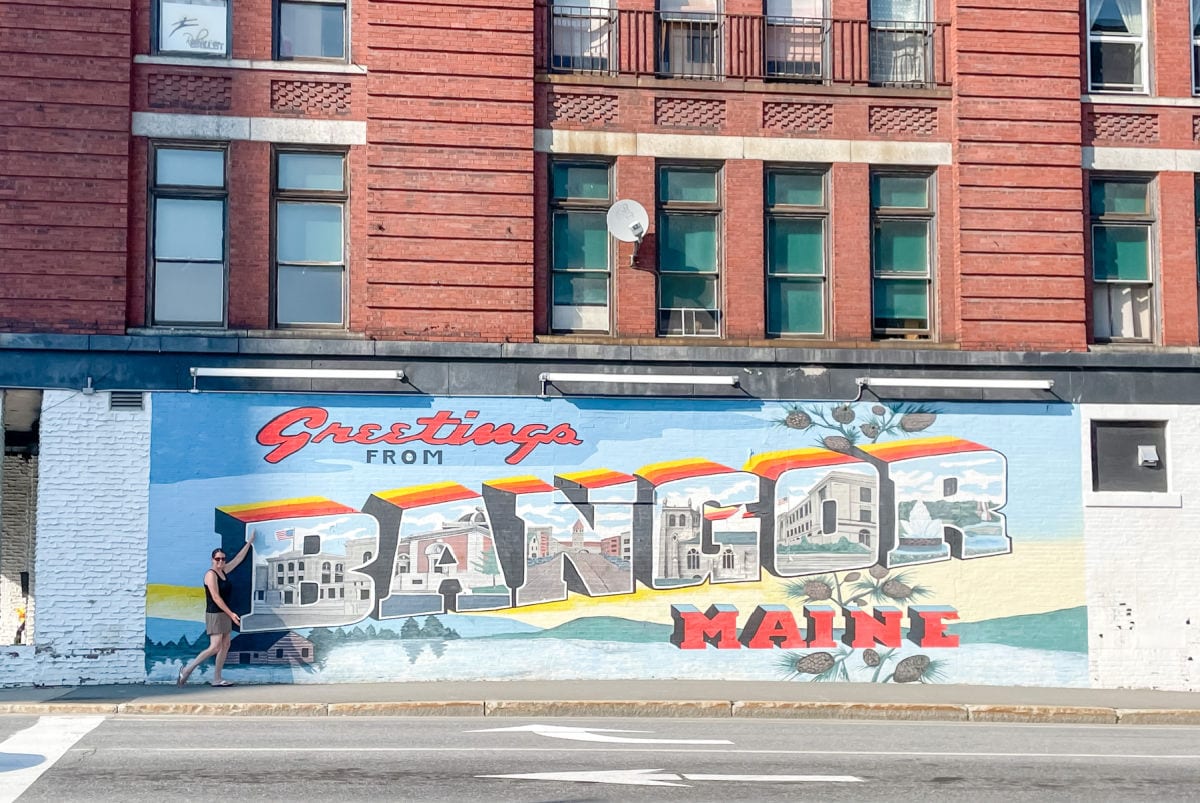 Book an affordable room or suite at the conveniently-located Hollywood Casino Bangor Hotel or one of the chain hotels nearby. Enjoy eating outdoors at one of the many cafes downtown like Fork & Spoon or upscale American fare at Timber Restaurant, or pick up a picnic or cabin supplies at nearby gourmet grocer Tiller & Rye.
Where to Stay in The Maine Highlands
But to really dig in and enjoy lake life or cabin life, you will want to get out of the city and into the wilderness. There are two primary areas that I would recommend for those seeking outdoor adventures.
Greenville & Moosehead Lake Area
The first would be somewhere near Greenville or around Moosehead Lake. Just three hours north of Portland and two hours from the state capital of Augusta, Moosehead Lake is the largest body of water in Maine, measuring 40 miles in length. Greenville is the primary town at the southern tip of the lake, where you will find a grocery store along with a handful of shops and restaurants.
If you are looking for a luxurious setting with stunning sunset views right on the lake, The Lodge at Moosehead Lake is a perfect option. Alternatively, the Moose Mountain Inn provides a better budget option. However, if you are staying for longer than a couple of nights, renting a cabin is the way to go.
Moosehead Hills Cabins offers a number of options on both Moosehead Lake and the nearby Wilson Pond / Loon Lake. I've stayed at their Loon Lodge property on Lower Wilson Pond and would highly recommend it for the comfort and location.
Alternatively, if you are looking for something a bit more remote and unique, the Appalachian Mountain Club operates a few lodges within the 100-mile wilderness area, just 40 minutes from downtown Greenville. I've stayed at the Gorman Chairback Lodge, which offers private cabins on Long Pond. The benefit of this stay is the community feel, with family-style meals served at breakfast and dinner and packed lunches available to bring with you on hikes or kayak trips.
Katahdin Area
Home to Baxter State Park and Mt. Katahdin, the highest peak in the state and the end point of the Appalachian Trail, the Katahdin Woods and Waters National Monument, and the Katahdin Woods & Waters National Scenic Byway, this area is a true gem. And even though some parts can get crowded enough to require parking reservations (in Baxter State Park any trails leading to Katahdin), there are countless ways to get off-the-beaten path.
An ideal home base to explore would be renting a cabin or lodge at the New England Outdoor Center (NEOC) on Millinocket Lake. With a scenic location looking across the lake to Mt. Katahdin, NEOC offers both comfort and adventure, with luxury or more basic cabins that easily can accommodate families or groups. There are fat tire bikes to rent, kayaks, canoes, or paddle boards to borrow, and picnic and BBQ areas to enjoy. Plus, the lodge has a full-service restaurant.
Another option further to the north would be Shin Pond Village in Mount Chase near Patten. This family-owned recreational resort offers cabins, waterfront vacation homes, camping, and RV sites. Located near the northern entrance to Baxter State Park and in the midst of hundreds of miles of ATV and snowmobile trails, Shin Pond Village is meant for those looking to explore independently. In addition to renting a fleet of Polaris side-by-side off-road vehicles, Shin Pond Village also operates a full-service restaurant, snack bar, and general store.
The cabins at Shin Pond Village offer full kitchens for self-catering, but when you don't want to cook, head into the town of Patten for dinner at Flatlander Smokehouse & Cafe, a local favorite. They offer house-smoked barbecue including brisket, ribs, and pulled pork or chicken, along with local Maine craft beers.
Driving The Katahdin Woods & Waters Scenic Byway
I'd recommend splitting your time between the two regions and driving along the Katahdin Woods & Waters National Scenic Byway to get from one to the other. The Byway begins at the southern entrance of Baxter State Park and winds its way through Millinocket along Route 11 and the Penobscot River to Patten, ending at Baxter's northern entrance at Grand Lake Matagamon.
Along the way there are river views, scenic vistas, historical landmarks, pastoral farms, wildlife viewing opportunities, and waterfall hikes such as Shin Brook Falls or Grindstone Falls. Many of these outdoor adventures are based not far from the Katahdin Woods & Waters National Scenic Byway.
Outdoor Adventures in The Maine Highlands
While The Maine Highlands are popular in the winter for snowmobiling, cross-country skiing, and hunting, I prefer to visit in the summer. Here are some of the outdoor adventures in Maine you can experience in the summer. Just remember to pack your bug spray!
Moose Safari / Wildlife Tour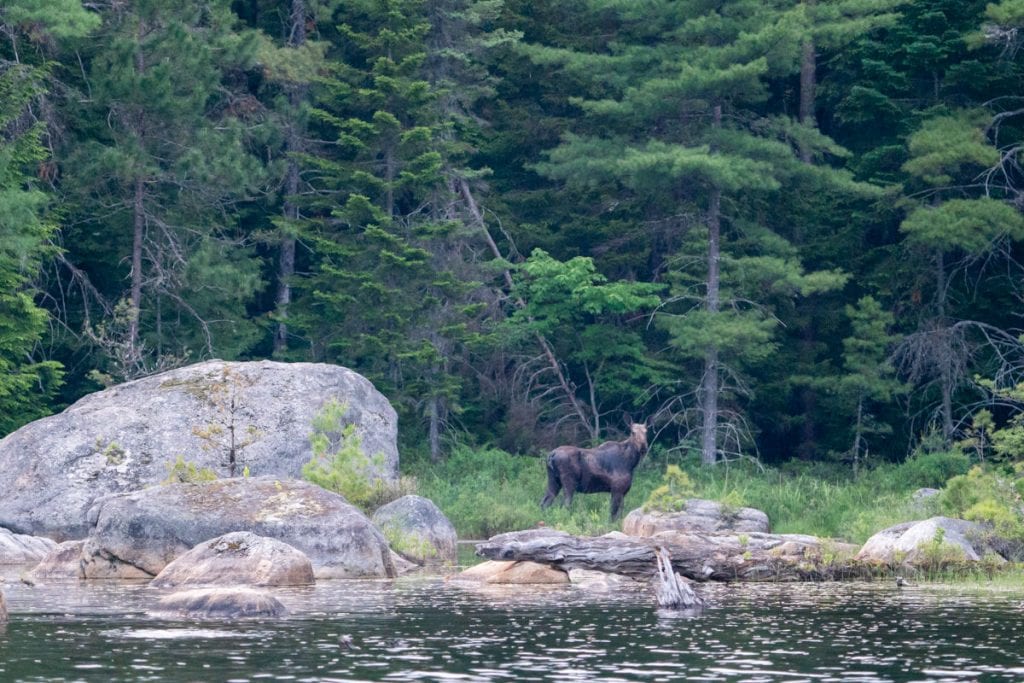 Moose are abundant in The Maine Highlands. You may get luckily like I did and encounter them unexpectedly (just hopefully not with any too close encounters), or you may need to seek them out with the help of an expert guide that knows just where and when to look. Hint: dusk and dawn are the best times and you will have better luck in May and June when they are filling their bellies after the winter. Early spring will find them eating the grass along the side of the road because of the salt that was used on the roads in the winter.
I've taken two moose safari tours and both had successful results. The first was with Northwoods Outfitters in Greenville. We met at the crack of dawn and loaded up in a van to drive up to Kokadjo and found a moose hanging out at Lazy Tom's Bog. After that, we climbed into canoes and slipped quietly into Roach Pond for a 1.5 hour paddle, but unfortunately didn't find any more moose that day.
My second experience was with New England Outdoor Center in Millinocket Lake. They offer evening and morning tours via pontoon boat, or passenger van if the lake is too rough for the boat outing. I lucked out and took the boat across Millinocket Lake to explore the small streams and inlets that feed the lake. It took a while, but we found two moose from a distance, along with a handful of beaver, plus ducks and loon.
Hiking in the 100-Mile Wilderness
The 100-mile wilderness is the section of the Appalachian Trail between Monson, Maine and the Abol Bridge just south of Baxter State Park. It is often considered the wildest section of the Appalachian Trail and the most difficult to navigate and traverse. Don't let this scare you off though, there are sections that are quite manageable for slightly less experienced hikers — although I'd advise to always review the trail on AllTrails or Maine Trail Finder and come prepared with plenty of water and the correct gear and bug protection.
A friend and I are easy to moderate hikers and we successfully completed the Gulf Hagas Trail, which is a 6 to 8.5 mile trail (depending on your route) that consists of a challenging rim trail and an easier road trail through the woods if you take the shorter loop versus the end-to-end trail. You do need to ford the Pleasant River so water shoes and trekking poles are helpful. But the trail rewards hikers with multiple waterfalls and a swimming hole (which should be used with caution).
If you want a hiking challenge, try the Moosehead Pinnacle Pursuit. Summit all six mountains in the challenge and become a registered member to receive a badge. Don't worry, they can be completed on separate trips.
Rafting on the Penobscot River
One adventure still on my Maine bucket list because I haven't been able to squeeze it into my recent trips is a white water rafting or river float trip down the Penobscot River. NEOC offers trips based on your desire for an adrenaline rush — from a relaxing family float trip to up to Class IV-V rapids. The more adventurous trips are full day and include a cookout lunch.
The milder trips are on the Lower Penobscot River and are better for families and first-time rafters. I've rafted once in Oregon on the Bend River, but my risk tolerance is low and my fear of water is high so I'd still opt for the milder excursions.
Off-roading in Patten
I've tried off-roading on both an ATV (in El Paso and Iceland) and a side-by-side and I have to say that I enjoy the side-by-side so much better. It is easier to drive, offers more driver and rider protection, is more fun for a passenger because they can see, and offer great integrated tech like trackers, GPS maps, and music.
Shin Pond Village in Mount Chase near Patten offers full-day rentals of fully equipped Polaris side-by-side vehicles starting at $350 a day, with 2, 4, or 6 person options. They will equip you with a map and you can explore the miles of trails maintained by the local ATV clubs. In the winter, you can also rent snowmobiles when the trails are snow-covered and open.
Canoeing or Kayaking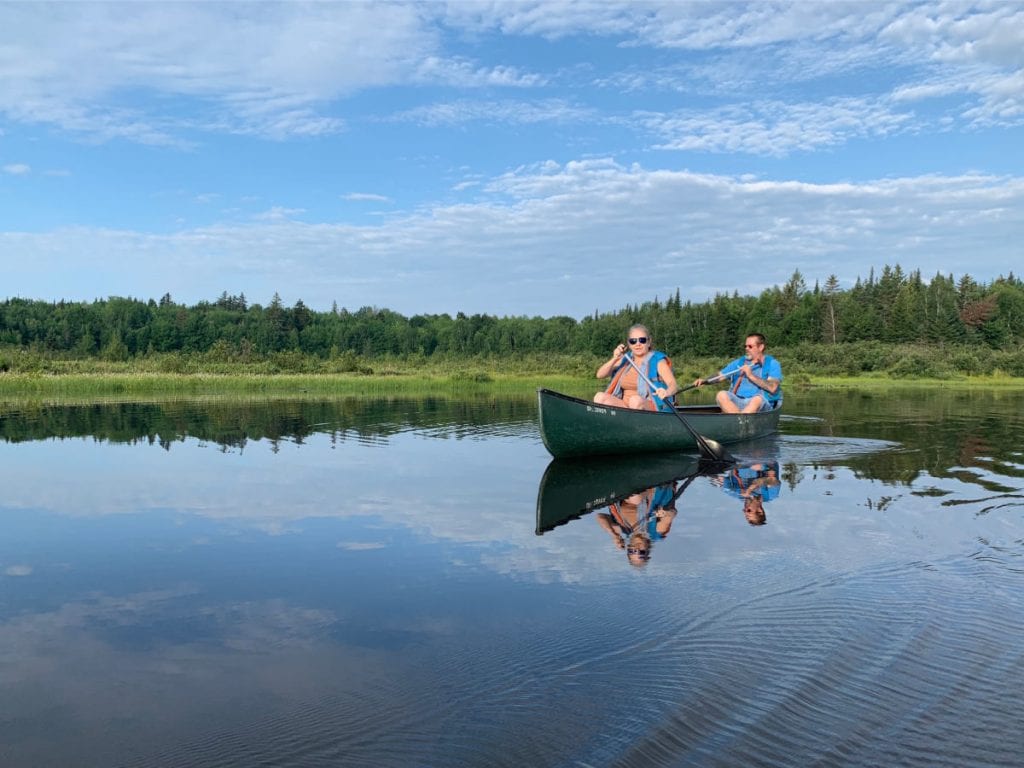 A trip to The Maine Highlands isn't complete without getting out on the water in a canoe or kayak. The size of Moosehead Lake makes it friendlier for motorized craft, but Millinocket Lake is much more manageable on a calm day. You can borrow canoes, kayaks, or paddle boards from the New England Outdoors Center to set out to explore the shores of the lake or some of its many islands.
If a large lake feels too intimidating, there are 14 lakes near Lincoln, Maine and so many smaller ponds and streams to explore. You can rent canoes at the ranger station at South Branch Pond in Baxter State Park for only $1.00 and you can borrow canoes or kayaks for free (although a donation is appreciated) to explore Pushaw Stream at Hirundo Wildlife Refuge.
Hiking in Baxter State Park
Baxter State Park is the crown jewel of The Maine Highlands. On par with a national park, Baxter State Park covers over 200,000 acres and its mountain range includes Mt. Katahdin, Maine's tallest peak. There are 220 miles of hiking trails in Baxter State Park, ranging from easy to expert.
Certainly summiting Mt. Katahdin is not to be taken lightly. Parking at the trailheads requires reservations and this 10+ hour hike is for experienced, well-prepared hikers. The park is also a popular spot for wildlife viewing, especially those looking for moose around Sandy Stream Pond.
If you enjoy hiking but would like to get away from the crowds, I would suggest heading to the northern entrance to the park at Matagamon Gate, if you are staying in that vicinity. The South Branch campground area has easy to moderate trails that offer both scenic vistas or waterfall views. Just check with the ranger when you arrive at the park for recommendations. But if you are staying in Millinocket Lake, it is better to opt for the southern gate and find the lesser-visited trails. Just keep in mind that driving all the way through the park on gravel roads can take three to four hours.
Star Gazing in Katahdin Woods & Waters
In 2016, Katahdin Woods and Waters was designated a National Monument. The park covers 87,563 acres of mountains and wilderness, some of which you can discover by driving the 17-mile rough gravel loop road through the southern section of the park. Just keep in mind that the park has very limited services, with a few backcountry camp sites, hiking trails, and scenic pullouts.
Much of the park is raw wilderness with some of the darkest skies east of the Mississippi. Katahdin Woods & Waters was also recently designated an International Dark Sky Sanctuary. Camping under the stars is the best way to experience KWW's dark skies, since traveling the roads at night is not ideal. However, Dark Sky Maine also hosts star parties and night sky tours in the park.
The Maine Highlands have provided inspiration to artists and authors alike, and escape and adventure for many. If the mountains are calling, now is the time to answer. This area is large enough that there is always something more to explore and something new to try.
Save this to Pinterest