Moosehead Lake is located in the Maine Highlands, just three hours north of Portland and two hours from the state capital of Augusta. It is the largest body of water in Maine, measuring 40 miles in length. This outdoor adventureland offers so many things to do in Moosehead Lake, including fishing, boating, hiking, snowmobiling, ATVing, and wildlife viewing.
As you crest the hill heading into the town of Greenville, located at the southern tip of the lake, you can't help but exclaim with wonder when you see the lake spread out before you. The lake stretches up to the mountains in the distance, and the misty blue water is dotted with small islands.
I recently spent a week around Moosehead Lake on a girls' hiking trip. As much time as I've spent on the Maine coast, in the lakes region around Bridgton, and skiing at Sunday River, this was my first venture into the more remote Highlands and I was immediately charmed.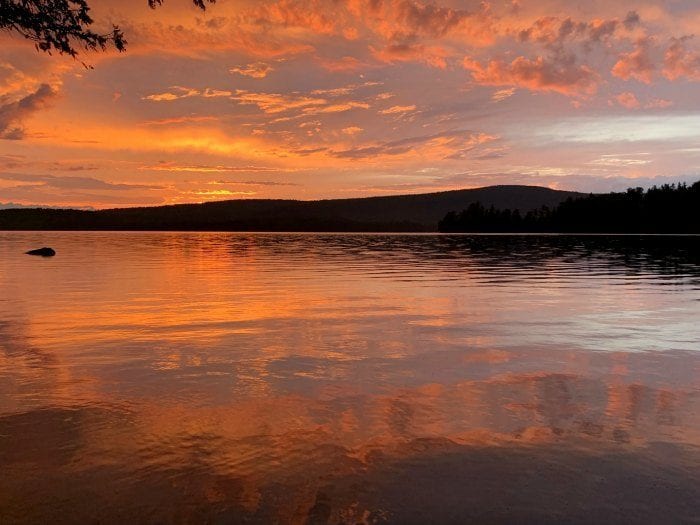 Unlike the lake towns around Sebago Lake, Greenville caters to visitors with shops like the Mud Puddle Mercantile, but it still doesn't feel touristy. The small village maintains its local feel. And it doesn't take long to feel like you are in the middle of the wilderness, especially traveling on the gravel logging roads that traverse the area.
Moosehead Lake and the surrounding area are certainly a perfect choice for those seeking to get away from it all and spend time enjoying nature. Luckily there are choices that range from luxe to rustic, catering to all types of visitors.
Where to Stay Near Moosehead Lake
Note: Our stay was hosted by Visit Maine so that I could share my authentic experiences with you. This post contains affiliate links. If you click a link and make a purchase, I may receive a small commission. All opinions are my own.
If you are looking for a luxurious setting with stunning sunset views right on the lake, The Lodge at Moosehead Lake is a perfect option. Alternatively, the Moose Mountain Inn provides a better budget option.
If you are staying for longer than a couple of nights, I think renting a cabin is the way to go.
Moosehead Hills Cabins
We stayed at the Loon Lodge offered by Moosehead Hills Cabins. Moosehead Hills offers a number of cabins on both Moosehead Lake and the nearby Wilson Pond (also known as Loon Lake.) Loon Lodge, where we stayed, was located in a community on Lower Wilson Pond, about 20 minutes (primarily because of the slow-going gravel roads) from downtown Greenville.
While Loon Lodge was in a community, no other homes were visible from the property. This large cabin was tastefully decorated and immaculately clean. The shiny, sealed light-wood beams chased away any fears of spiders creeping in, one of my typical concerns when it comes to lake cabins.
Our cabin featured three bedrooms, one on the first floor and two on the cool lower level. Even though the cabin doesn't have air conditioning (I'm sure it rarely needs it), those lower-level rooms felt quite refreshing in Maine's recent heatwave. There were also two-and-a-half baths, and one had a full-size washer and dryer.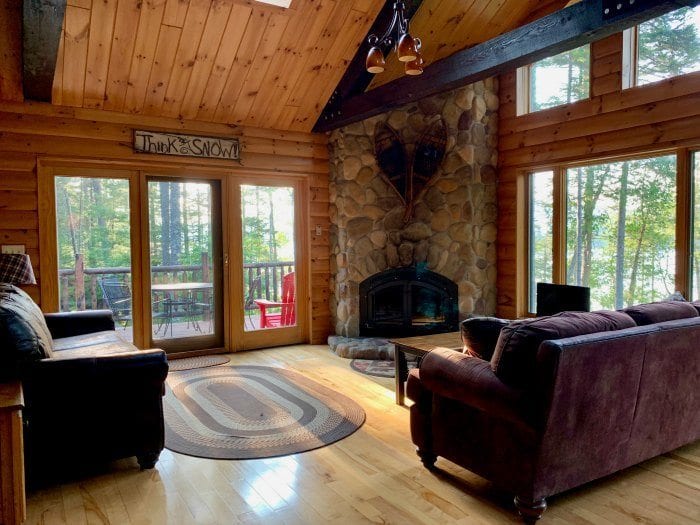 The main floor was otherwise occupied by a large open-plan kitchen, dining, and living area with floor-to-ceiling windows overlooking the waterfront. The cabin has a stretch of private waterfront, but it is wooded and doesn't really have a spot to sit down by the water. However, there are two kayaks you can use to go out on the lake.
Sliders from the great room also lead out to a balcony with Adirondack chairs and a small outdoor dining table. Down below you will find a fire pit and gas grill for guests to use.
We absolutely loved the cabin and enjoyed cooking dinner, putting together a puzzle on the dining table, relaxing on the couches, sipping wine outside, and watching the gorgeous lake sunsets.
Appalachian Mountain Club Lodges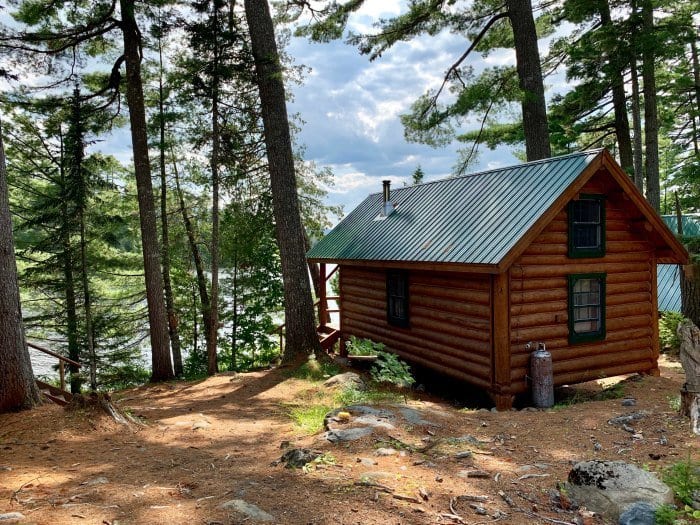 If you are willing to venture a little further from "civilization", you can head into Maine's 100-mile wilderness just 40 minutes from downtown Greenville. The Appalachian Mountain Club offers a number of lodges, which have both private cabins and a more hostel-like bunkhouse.
We spent two nights at the Gorman Chairback Lodge in a private cabin on Long Pond. There are two styles of private cabins. Those on the waterfront, where we were located, do not have bathrooms, so you need to use the bathroom and shower in the main lodge. The interior cabins do have bathrooms, and some of the newer cabins even feature two bedrooms, a living area, and a bathroom — perfect for the many families we met on the property.
This is a great option for families and others looking for an unplugged vacation focused on hiking and lake activities. The AMC takes the work out of cabin life with family-style meals included. A hearty, homemade breakfast is served promptly at 8:00 am and dinner at 6:00 pm, both featuring produce from the chef's on-site garden. Bagged lunches are also included, perfect for taking along on the trail or kayak.
After dinner, the fire is lit and the ingredients for s'mores are available for self-service. During the day, kayaks and canoes are available to borrow and there are plenty of hiking trails on-site or within a short driving distance, including sections of the Appalachian Trail. The only thing you won't find is WiFi or cell service.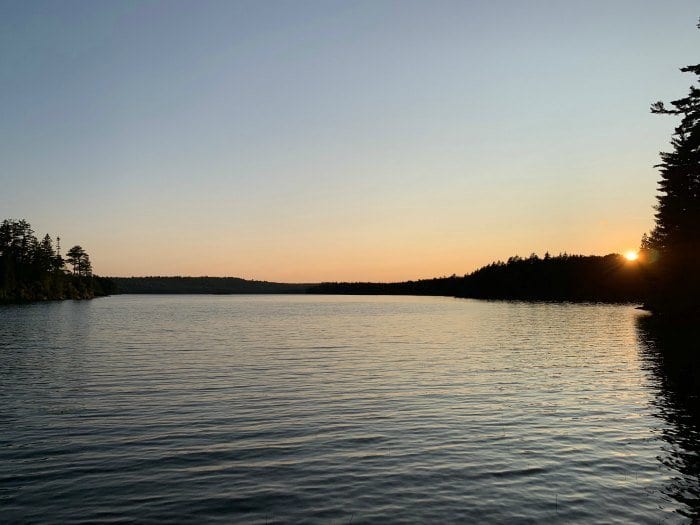 Things to do in Moosehead Lake
The Moosehead Lake region is perfect for outdoor enthusiasts. You could spend all day chilling at the lake, but even better to get active and explore.
Hiking in Maine
There is no shortage of hiking trails in the Moosehead Lake area. In fact, people from all over hike in the Maine Highlands because Mount Katahdin, which is the highest peak in Maine, is actually an endpoint for the Appalachian Trail.
There are hikes for all levels, and while staying at the AMC lodge we even saw young families with babies and toddlers. However, we found that many of the more popular hikes were rated moderate to challenging. And even those moderate hikes were no walk in the park, you need to have some level of physical fitness to enjoy them.
Moosehead Pinnacle Pursuit
One of the popular hiking vacations in Maine is centered on the Moosehead Pinnacle Pursuit. The challenge is to summit six mountains in the Greenville area: Mount Kineo (which is accessible by ferry), Number Four Mountain, Whitecap Mountain, Eagle Rock, Big Moose Mountain, and Borestone Mountain.
Once completed, you will receive an official MPP patch and sticker. Of course, the real reward is the immensely satisfying feeling you get after completing each of these hikes.
B-52 Memorial Site on Elephant Mountain
If you are looking for a short and easy hike with historical significance, there is a memorial to the crash of a B-52 bomber located on Elephant Mountain. The plane was doing maneuvers in January 1963 when it crashed, killing all but two crew members, who survived a cold night in a blizzard before being rescued.
Little Kineo Mountain
When I visited Moosehead Lake, we decided to try different kinds of hikes. One that would take us to a summit with beautiful views, and the other to a waterfall. After all, if we are going to do all that work, I like a nice rewarding view as an incentive. For our summit view, we chose Little Kineo Mountain, which is a 1.5-mile hike roundtrip (out and back), with a moderate difficulty rating that takes about two hours.
Of course, we did not anticipate that it would also take two hours to get there driving on those small, gravel roads in the Highlands. I highly recommend a map of the area and getting specific directions as cell service is spotty at best. We were very happy to arrive and found the trail challenging in parts, with some steep climbs and rock scrambles, but pretty moderate in other sections.
The 360-degree views did not materialize, but there were a few overlook spots offering a nice 180-degree view of Moosehead Lake, Kineo Mountain, Big Moose, and even Katahdin. Be sure to bring plenty of water, snacks, or a lunch to eat at the top and lots of bug spray. Also, keep in mind that most of these trails do not have restrooms or port-a-potties. Bring what you need to leave no trace behind.
Moxie Falls
Our initial plan was to conquer Little Kineo Mountain in the morning, stop back in Greenville for lunch, and then head down to Moxie Falls for an easy one-mile walk to one of Maine's highest and prettiest waterfalls.
Turns out I was just too tired of driving after lunch and we headed back to the cabin for some lake time, deciding to do a waterfall hike another day. If (or when) I return to Moosehead Lake, I want to squeeze in this hike.
Another waterfall option is Little Wilson Falls, south of Greenville near the artsy town of Monson. In addition to the falls, there is also a swimming hole near the campsite with a rope swing.
Gulf Hagas
Gulf Hagas is located in the 100-mile Wilderness, inside the Katahdin Iron Works Forest. There is a fee to enter the checkpoint into the Wilderness and you need to register so they can keep track of who is there.
The hike is made up of a challenging rim trail, along with a more moderate to easy road trail through the woods. The entire hike is 8.5 miles round trip and would take a full day. We opted for a slightly shorter loop that ran about 6 miles and took us around four hours.
This hike was quite a workout, but it had payoffs at different spots along the trail. Those views combined with the feeling of accomplishment was our reward for the physical exertion. We started at the Gulf Hagas Parking Area. From there it is a short .2 mile walk through the woods but then you need to ford the Pleasant River. Bring water shoes and trekking poles as the rocks are slippery and uneven. Always check the board at the trailhead or at the checkpoint to see if the water is safe to cross.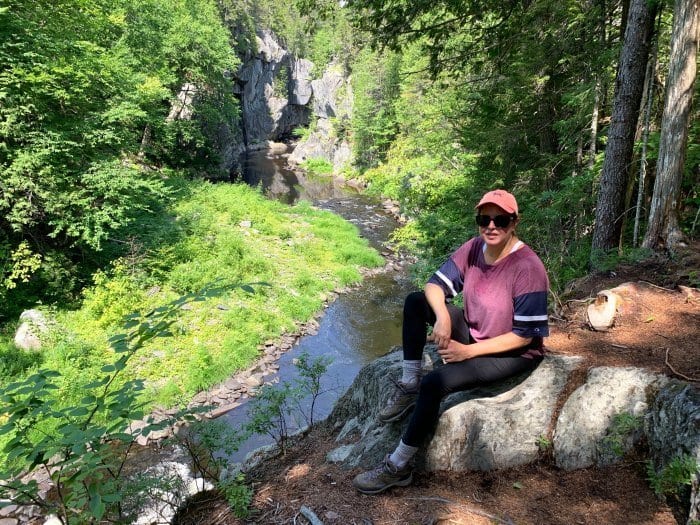 From there you follow the Appalachian Trail for one mile (white blazes) until it splits off. Then follow the blue-blazed Gulf Hagas trail. The first stop is Screw Auger Falls, a popular swimming hole and waterfalls. Continue on to The Jaws, a deep and narrow gorge. From there, the trail gets even more challenging and dangerous near the rim edge so proceed with caution. At Buttermilk Falls you can cut over to the Pleasant River Tote Road Trail and take that back to the split with the AT on your return.
Wildlife Viewing & Searching for Moose
Every time I drive through Maine or New Hampshire, I'm taunted by all of those Moose Crossing signs, but never have I ever seen a moose in the wild. Until I visited Moosehead Lake. I'm sure I'm not the only one who has visited the North Woods with the primary objective of finding a moose. And frankly, it isn't that hard because the moose are plentiful.
Moose Safari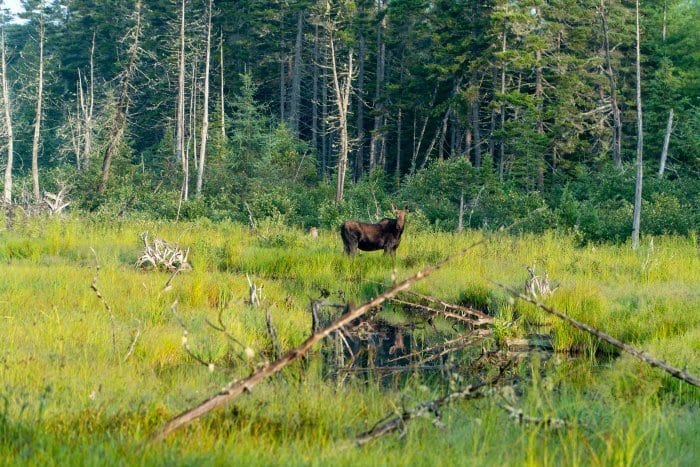 There are no guarantees when it comes to wildlife, but the best chance of finding a moose is with an experienced guide. We took a moose-watching tour with Northwoods Outfitters, who say they have found between zero and fifteen moose on their tours, but the average is one to three.
We met up at 6 am in the parking lot of their store in Greenville, then headed out on a part van, part canoe search for moose. We headed north to the town of Kokadjo (population "not many") and found our sole moose hanging out at Lazy Tom's Bog.
After that, we continued to a desolate spot on Roach Pond, where we crept ninja-like to the waterfront and silently launched our canoes. Despite our stealth, we didn't see any other moose during our 1.5-hour canoe trip. The landscape was pretty spectacular though, especially as the sun burned through the mist hovering over the pond to reveal brilliant blue skies.
Self-driving Moose Tour
If you don't want to pay for a guide, here are a few tips when looking for moose around Moosehead Lake:
Your best bet will be early in the morning or just before dusk, but moose tend to be on a eat – rest cycle, so in reality, you could run across them at any time of the day;
They love to hang out in bogs (like Lazy Tom Bog) eating the grasses and rolling in the mud;
Watch for them in the ditches along the side of the road, especially in the spring, as they need sodium and they like to lick the salt runoff that collects there;
There is a large bog up by Little Kineo where we found our second moose of the trip and is a frequent spot for sightings;
Drive up "Moose Alley" (Route 201 from The Forks to the Canadian Border) or the "Golden Road," which is a logging road that runs for 90 miles from Millinocket up to Quebec.
Spend Time Around the Lake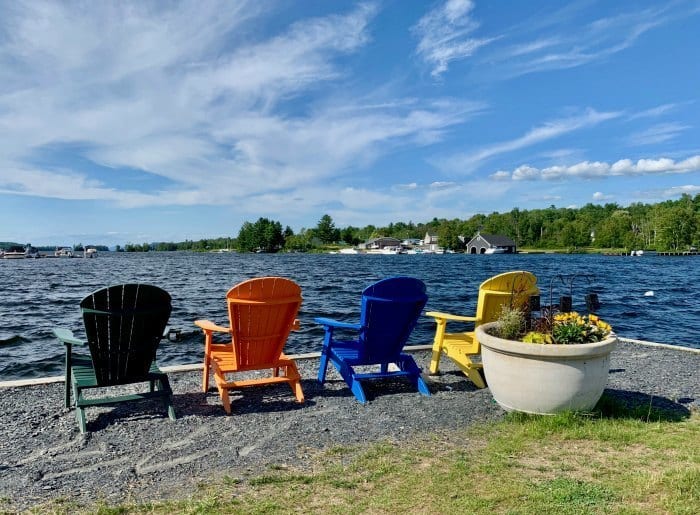 Of course, you can't visit Moosehead Lake without spending some time on, in, over, or around the lake. Just keep in mind that Moosehead Lake is the largest lake in Maine. That means it can get quite choppy when the wind picks up, reminding me a lot of the Finger Lakes in New York in that way.
I didn't get to dip my feet into Moosehead Lake, but I did wade into Wilson Pond and the water was surprisingly not too chilly, of course, we were in the middle of a heatwave. Just keep in mind when kayaking, canoeing, paddleboarding, and swimming that some of the ponds in this area have leeches. Apparently, they are easy to flick off if they don't have time to get attached but be sure to do a body check when you get out of the water.
Scenic Float Planes
If you want a birds-eye view of the lake, a scenic seaplane flight is the way to go. Jack's Air Service offers scenic tours and chartered flights. Greenville is also host to an International Seaplane Fly-in during early September.
Steamship Katahdin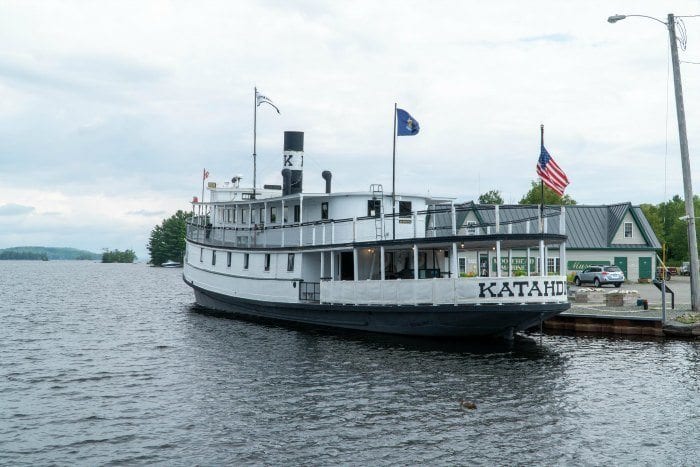 Take a narrated ride on the steamship Katahdin, based out of Greenville next to the Moosehead Marine Museum. Three-hour cruises depart daily from late June through mid-October.
ATV Riding and Snowmobiling
This part of Maine reminds me a bit of Northern New Hampshire and our mother-daughter ATVing adventure up there. There are miles of trails for ATVs and snowmobiles, maintained by volunteers. Rentals of both are also available from local businesses. ATV trails open in the late spring and close for snowmobile traffic only in the late fall.
Boating
Public boat launches are available in Greenville, Rockwood, and Seboomook on Moosehead Lake. In addition, there are many smaller lakes and ponds nearby for kayaking and canoeing, including Wilson Ponds, Prong Pond, First Roach Pond, and Indian Pond. Some of these are vehicle accessible, while others require you to carry in.
Swimming
If you want to swim in Moosehead Lake, probably the best spot is Lily Bay State Park, just eight miles north of Greenville on the east side of the lake. The park offers a network of nature trails and a beach/picnic area that you can access for a day-use fee.
As long as you don't mind driving on gravel roads and being active, you will find more than enough things to do in Moosehead Lake and the surrounding Highlands region to keep you busy for at least a week. Just don't forget to take time to relax and enjoy the peaceful lake life.
PIN THIS FOR LATER