Acadia National Park in Maine was the 8th most-visited U.S. National Park in 2020 out of the 62 that bear that designation. The National Park Service is already predicting another record-breaking visitation year in Acadia for 2021. So how do you enjoy the natural beauty in and around Acadia while avoiding the crowds? Get off-the-beaten path with these things to do near Acadia National Park.
First up, you should know that Acadia National Park is actually made up of three sections. The main area on Mount Desert Island is where you will find popular attractions like Cadillac Mountain (note: reservations required to drive to the summit for sunrise), Jordan Pond, Thunder Hole, and Beehive Trail. However, there are two other sections of that park that aren't nearly as busy, but still provide that rocky coastline, scenic viewpoints, and fun hiking and biking trails.
In addition to Mount Desert Island (or MDI), where you will also find the touristy town of Bar Harbor, there is also the Isle au Haut, an island off of Stonington, Maine; and the Schoodic section of Acadia, located across the bay to the east of MDI. Beyond that, the Downeast Acadia region stretches east along the coastline to the New Brunswick, Canadian border with so many great ways to enjoy nature away from the crowds.
My friend Bryanna has you covered if you are looking for tips on things to do in Acadia National Park. But let's look at what to do nearby.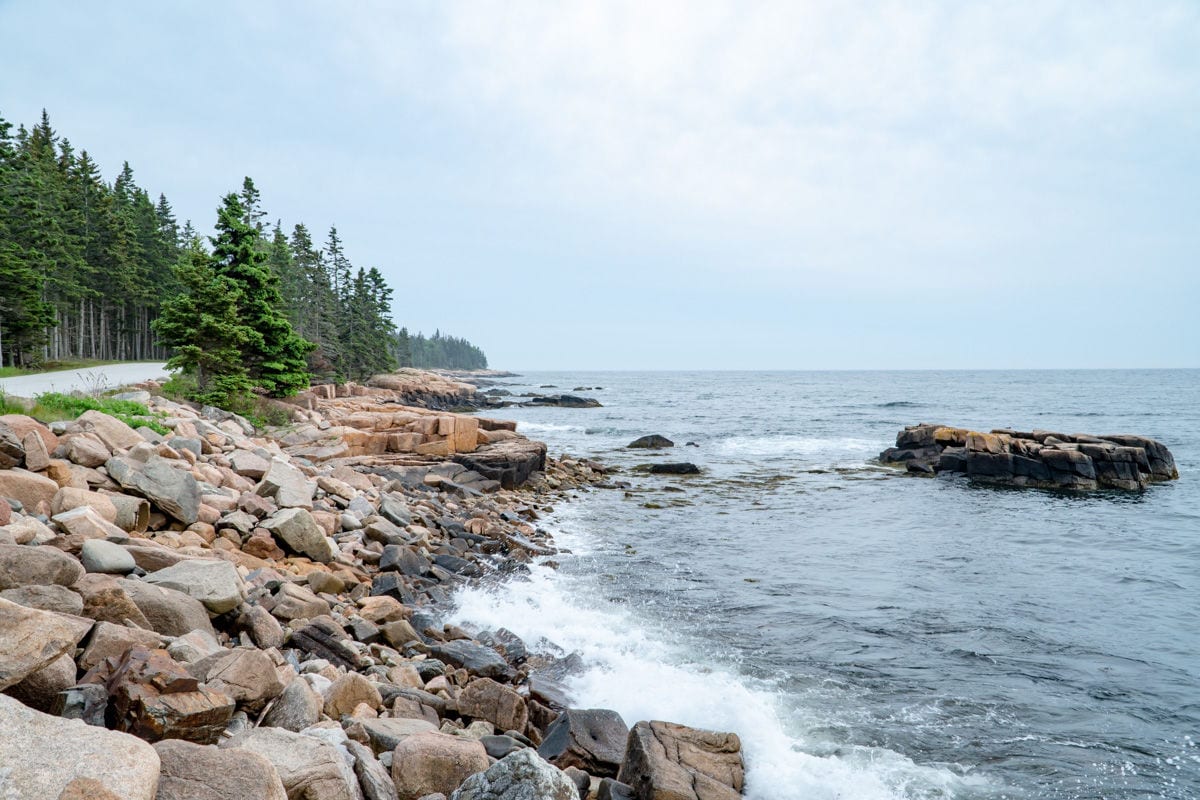 Things to do Near Acadia National Park
This post is written as part of a paid partnership with the Downeast Acadia regional tourism board based on my personal travel to the area. All opinions are my own.
Whether you are visiting Acadia as part of a Maine road trip, or just focusing on this region, you should plan on spending more than a long weekend so that you have time to escape Mount Desert Island and enjoy some of these other things to do near Acadia National Park that aren't nearly as crowded.
Before you go, be sure to check the park website for current road conditions, closures, or reservations. You can also visit the Downeast Acadia tourism website for more ideas on what to do near Acadia National Park.
Schoodic Section of Acadia National Park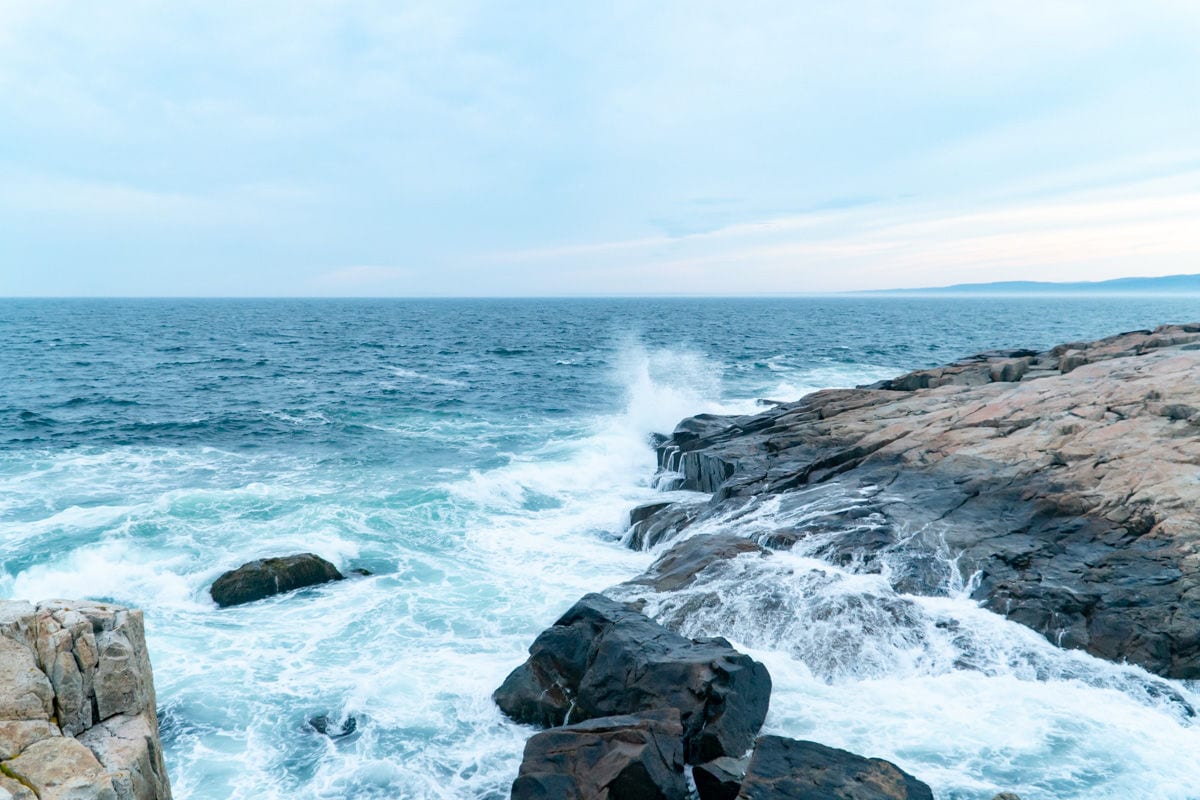 The Schoodic Peninsula is just across the water from Mount Desert Island and contains the Schoodic Section of Acadia National Park. In season you can take a passenger ferry from Bar Harbor to the town of Winter Harbor and then rent bikes and explore. Or, you can drive the Schoodic National Scenic Byway around Frenchman's Bay to the Schoodic Peninsula. In the Schoodic Section of Acadia, make sure you try the following:
Have a picnic at Frazer Point
Take in the view from the cliffs at Ravens Nest — to find the trail, stop at the third pull off on the side of the road after starting the loop road. There is a little unmarked trail beginning on the other side of the road from the pull off
Drive Schoodic Head Road — a gravel road 2.5 miles from park entrance with a one-mile drive to a summit
Bike or drive the 6-mile loop around the park
Watch the waves crash against the rocks at high tide at Schoodic Point
Hike Sundew Trail near the Schoodic Institute
Climb Schoodic Mountain — park at Blueberry Hill and follow the Alder Trail or the steeper Anvil Trail
Walk to Little Moose Island — when it is low tide you can walk across the rocks to Little Moose Island and look for seals
Deer Isle
Deer Isle is located on the eastern side of Penobscot Bay and connected to the mainland via bridges. Popular with artists, birders, and boaters, the island is also known for its granite production and is home to 300 lobster boats. There are also eight lighthouses nearby on the Deer Isle Lighthouse Trail, including three that are visible from shore. The U.S. Lighthouse Society offers lighthouse passports that can be stamped (for $1) when visiting each lighthouse.
Isle au Haut
You can access Isle au Haut and its section of Acadia National Park via a year-round, passenger-only ferry from Stonington at the tip of Deer Isle to the Isle au Haut Town Landing. Once on the island, it is best to explore by mountain bike on the five miles of paved roads or seven miles of rough, unpaved roads. Just keep in mind that ferry service is first-come, first-served and there is an extra fee charged for bicycles. There are also 18 miles of hiking trails on the island and a freshwater lake to enjoy.
Take the Mail Boat to the Cranberry Islands
From Northeast Harbor you can hop on the mail boat and ferry to visit some of the Cranberry Islands, named for the wild, low-bush cranberries that grow there. Great Cranberry Island is the largest of the islands and offers beautiful views of Mountain Desert Island and the mountains. On Little Cranberry Island, you can visit the village of Islesford. If you want to learn more about the islands, you can also take a ranger-led boat cruise from Bar Harbor to Baker Island.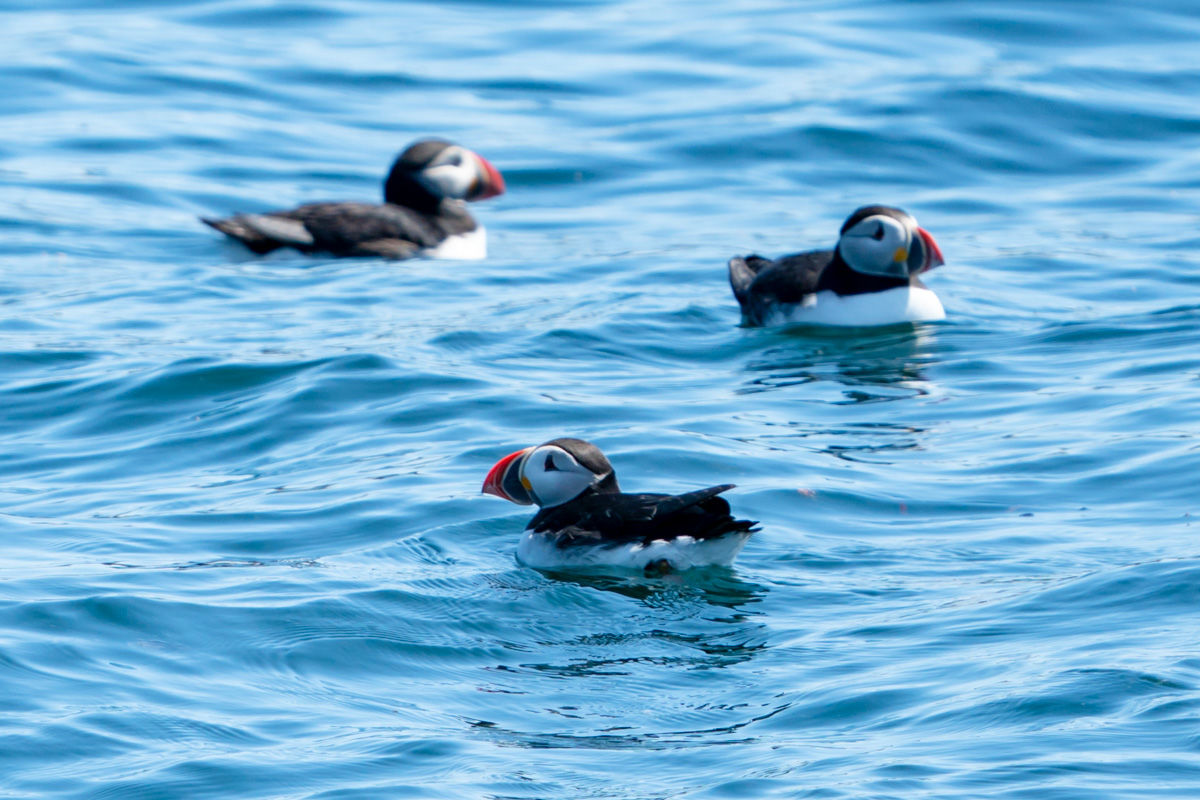 Puffin Boat Tour
The Atlantic puffin is making a comeback along the Maine coast, with sanctuaries on rocky islands such as the one off the Petit Manan National Wildlife Refuge not far from Acadia. You can take a puffin boat tour with Acadia Puffins in Winter Harbor or Robertson Sea Tours & Adventures in Milbridge.
These boats are smaller than the larger sightseeing cruise out of Boothbay Harbor, so you may get a little closer to these colorful-beaked little cuties, but it also means you will feel the effects of the sea a bit more and are subject to weather conditions. Remember to bring alone some strong binoculars for close up views.
Kayaking at Jones Pond
Sea Schoodic Kayak and Bike offers fresh water kayak rentals on Jones Pond in nearby Gouldsboro. Jones Pond offers 400 acres to explore, including many small islands and plenty of wildlife. There is a picnic area with tables and grills and even a playground for families. If you want to go swimming, there are bathrooms and changing rooms on-site.
Guided Hike or Paddle with Maine Outdoor School
If you want to discover the best hiking trails or learn more about the local wildlife, vegetation, or ecology, hire a registered Maine guide from Maine Outdoor School to go explore. Hazel from Maine Outdoor School offers guided experiences including hikes, snowshoe treks, fly fishing, and evening canoe or kayak tours to look for wildlife. I took a guided hike in Petit Manan Wildlife Refuge with Hazel and was able to learn so much about edible and poisonous plants and local wildlife, plus see some great views and get other local tips!
Watch the Reversing Falls at Tidal Falls
The Frenchman Bay Conservancy operates preserves throughout the Acadia region, including one at Tidal Falls in Hancock, right before the start of the Schoodic National Scenic Byway. This is one of the few places in Maine where you can see a reversing falls, as the river flows backwards and then forwards. The best time to see it is two hours before or after low tide.
This nutrient-rich environment is great for wildlife and visitors often see seals, osprey, king fishers, and eagles, and sometimes spy otter, mink, blue heron and other wildlife. There is an observation deck and picnic tables with plenty of room to run around and look for wildlife.
Hiking in Petit Manan National Wildlife Refuge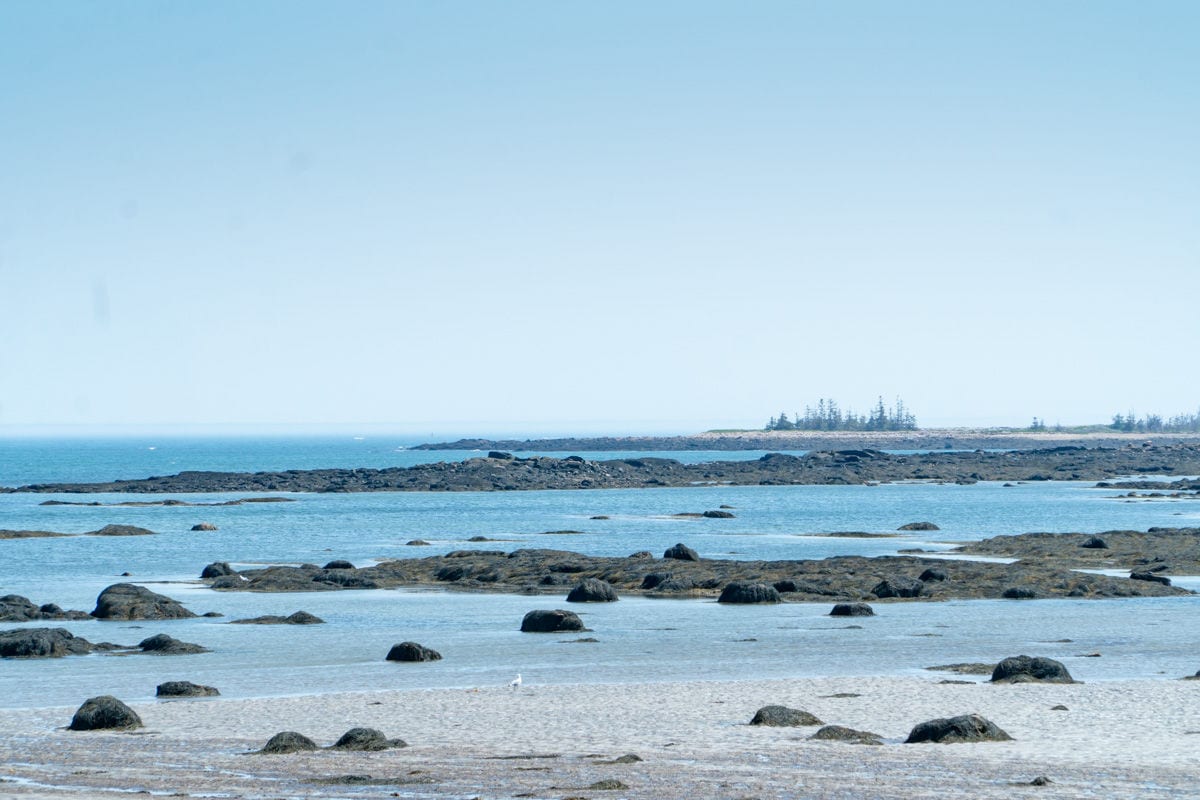 The Petit Manan National Wildlife Refuge covers four mainland properties along with 3,180 acres on 64 islands. These are all great spots for hiking as well as bird watching. The islands are home to bald eagles nests, Atlantic puffins, razorbills, common murres and black guillemots. In the fall, the Cranberry Flowage fills with over 4,000 migratory seabirds including black ducks, pintail, green-winged teal, and mallards. The Refuge protects salt marshes, freshwater wetlands, and several grassland and blueberry fields.
For an easy hike option with both woodland and coastal views, try the Hollingsworth Trail in Steuben. This 1.5 mile lollipop trail offers nice ecosystem diversity and gorgeous coastal views, including one of the Petit Manan Lighthouse. It isn't clearly marked but to get there drive down Pigeon Hill Road in Steuben (you may also want to stop and hike Pigeon Hill for scenic vistas). Go past the first parking lot with an information kiosk and continue on the direct road to a second parking lot on your right. The trail starts through the blueberry fields across the road.
See a Granite Demonstration
This area is well known for its granite production. To learn more about this history and the craft of quarrying, visit Granite Art Garden in Sullivan. If you book ahead, you can observe a quarrying demonstration, or participate in a stone carving class.
Hiking at Frenchman Bay Conservancy Sites
The Frenchman Bay Conservancy maintains 10,000 acres of land and 30 miles of free hiking trails. So when the trails in Acadia get too crowded, there are plenty of other places to go. Taft Point in Gouldsboro covers 65 acres of woodlands and a half mile of coastal frontage, with two trail loops that provide beach access, where eider ducks raft up off shore. There is a 1.5 mile self-guided hike along the Jones Cove Trail and Beach Trail with 12 stops where visitors can learn about trees, mosses, ferns, lichens, fungi, and life at the Intertidal Zone. A guide is available at Discovering Habitats at Taft Point and a Habitat Matching Game is also provided, or can be accessed using a QR code provided on the numbered signs along the trail.
The Frances B. Wood Preserve in Gouldsboro covers 438 acres of small natural streams and bogs to explore. This preserve is home to deer, beaver, and bobcats, as well as warblers and abundant wildflowers.
Go Wine Tasting
Just up the road from the Frances B. Wood Preserve you can taste blueberry and other fruit wine at the oldest winery in Maine, Bartlett Maine Estate Winery. If that isn't your thing, they also distill rum and offer tastings from the Bartlett Spirits of Maine Distillery.
Picnic at McClellan Park in Milbridge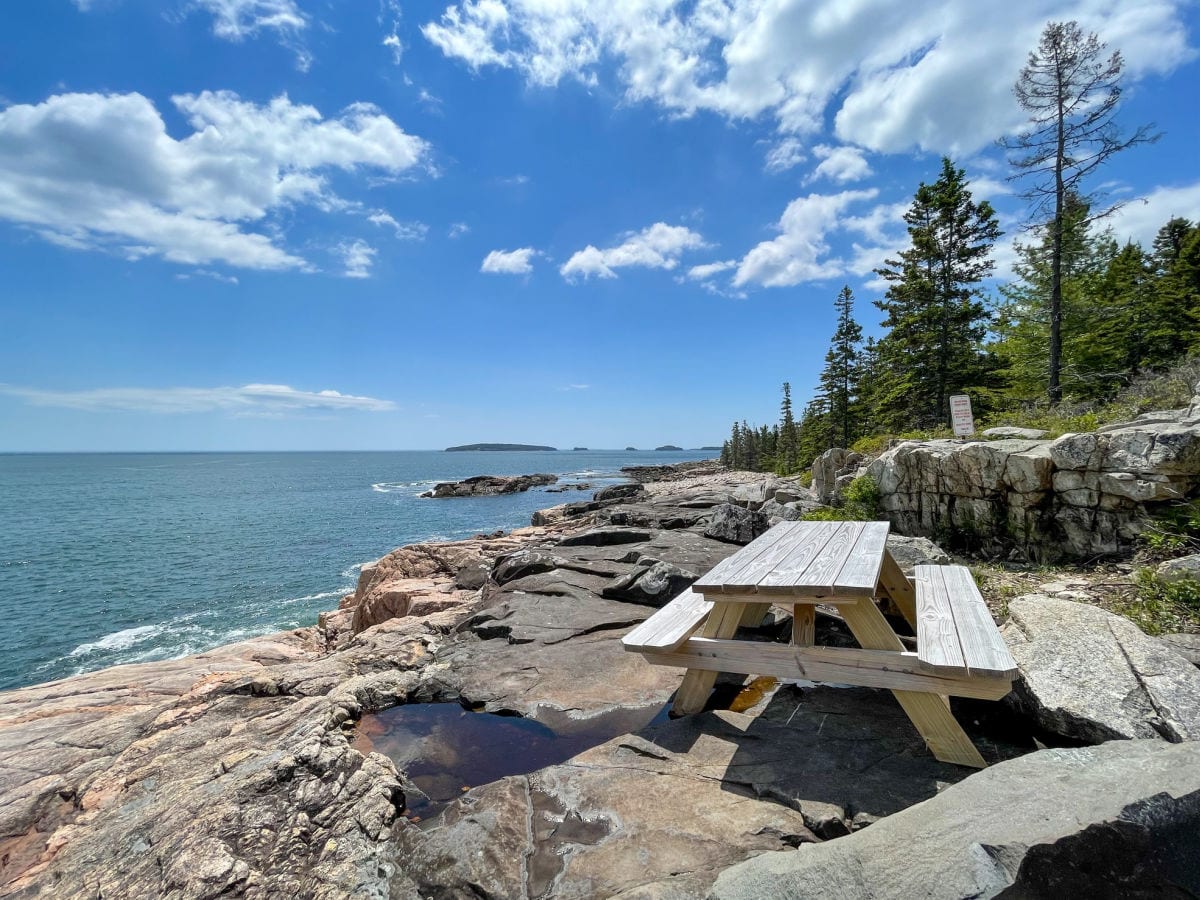 For a gorgeous picnic spot overlooking the water with no one else around, head to the town of Milbridge and follow Wyman Road to McClellan Park. The nondescript picnic area you first encounter is deceiving, but follow the small footpath out to the rocks looking over Narraguagus Bay. There are picnic tables on the rocks and plenty of space to explore or sunbathe.
Lobster on the Wharf in Corea
For a quintessential Maine meal, head to the small fishing village of Corea. During the summer, you can enjoy "Lunch on the Wharf" with a fresh lobster roll, fried clams, and other seafood on the wharf overlooking the lobster boats bobbing in the water.
Sunrise at West Quoddy Head Light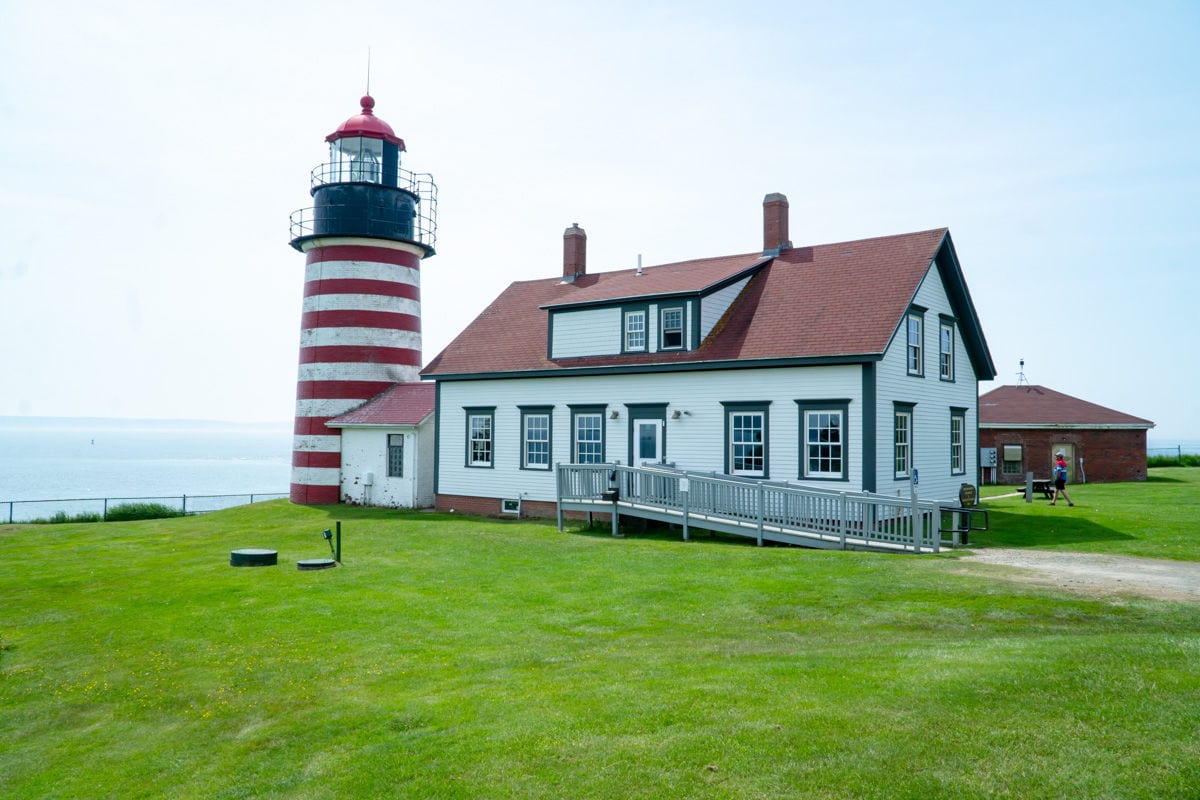 It is a bit of a drive from Acadia, but a popular thing to do is watch the sunrise over West Quoddy Head Light in Lubec. It is the easternmost town in the USA, on the border with New Brunswick, Canada. You may want to stay overnight in Lubec to make this easer, or at the lovely Inn at Schoppee Farm in Machias.
Afterwards, make sure to take some time to walk around downtown Lubec, or, when the border reopens you can see the Roosevelt Campobello International Park and the historic summer home of Franklin and Eleanor Roosevelt. In town, you can have cocktails at Cohill's Inn or try a craft beer at Lubec Brewing Company. Don't leave town without stopping in to Monica's Chocolates, where the award-winning chocolate is handmade with care.
Watch the Sunset from Prospect Harbor Town Pier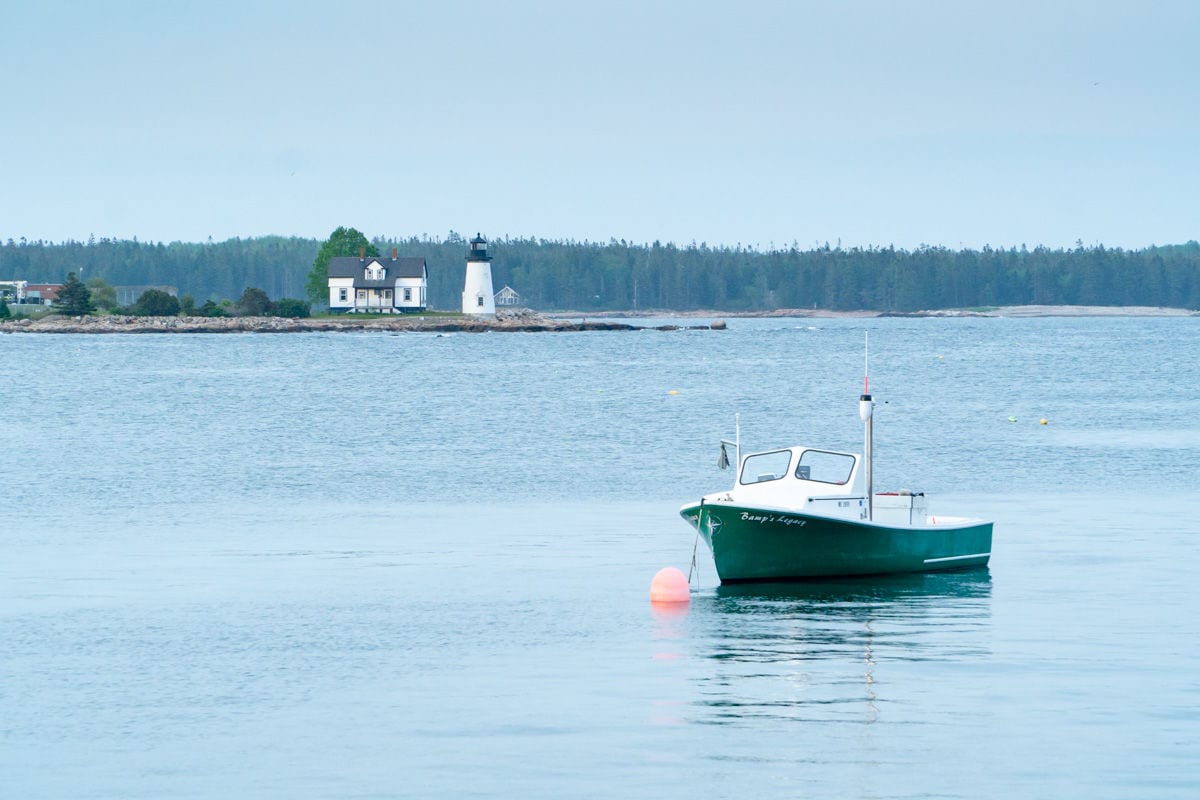 Maine sunsets are legendary and some of the best places to watch are over the water. Schoodic Point in the Schoodic Section of Acadia National Park is one option. The ferry pier in Winter Harbor is another. I'd also recommend the town pier in Prospect Harbor. The sun reflects on the fishing boats and the Prospect Harbor Lighthouse in the distance.
Look behind you to see the Maine Fair Trade Lobsterman (he's largest lobsterman in Maine.) Afterwards, head to the Pickled Wrinkle in Birch Harbor for dinner and live music, or grab an ice cream cone at Me & Ben's next door.
Take Scenic Drives
Everyone loves the loop road in Acadia National Park, but there are many other scenic drives nearby with plenty of places to stop for photos and enjoy the scenery. Start off on the Schoodic National Scenic Byway and then wind your way along the coast on the Bold Coast Scenic Byway.
Visit Local Farms
A great way to meet locals and learn more about the area is by stopping into local farms. Darthia Farms offers organic produce and eggs, homemade preserves, salsa and seasonings, and hand woven goods and wool from local artisans. The Hatch Knoll Farm in Jonesboro offers goat's cheese, goat milk-based soaps, and you can even stay on property by glamping in yurts and tents.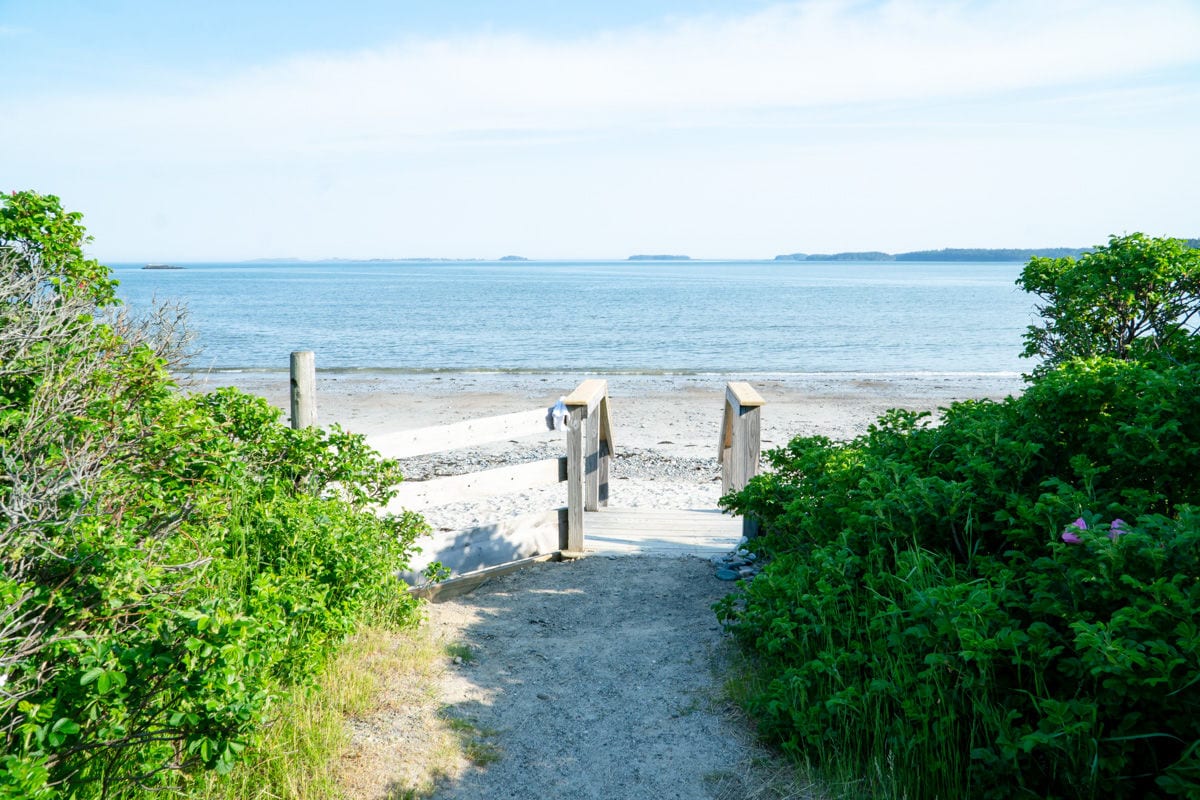 Enjoy a Beach Day
There aren't many sand beaches in this part of Maine, but if you are craving a beach day, drive out to Roque Bluffs State Park near Jonesboro. This sandy cove is just what you need to cool off in the ocean waters. Locals also recommend Jasper Beach, but that will be more pebbles so bring your water socks or shoes.
Where to Stay Near Acadia National Park
If you want to stay outside of the Acadia National Park campgrounds or the hotels in the Bar Harbor area, I have two recommendations:
Terramor Outdoor Resort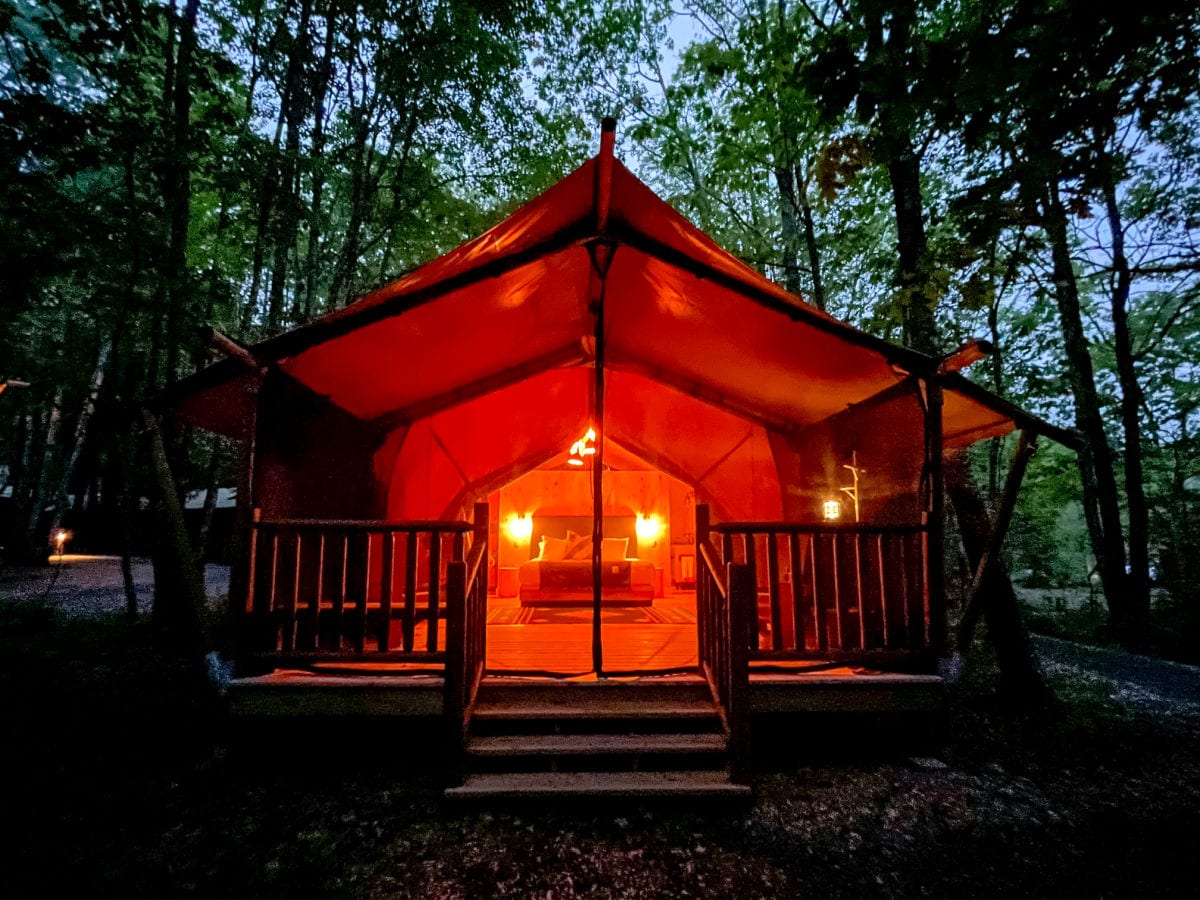 If you prefer glamping to camping, there are quite a few options in the area but my pick would be Terramor, a new luxury glamping resort about 15 minutes outside of the park and Bar Harbor. The gorgeous lodge offers breakfast and dinner, with grab and go options for lunch. On-site guests have use of the heated pool and hot tub, BBQ grills and picnic tables, an outdoor pavilion, lawn games, and free firewood.
The safari tents can sleep up to five and are both spacious and luxuriously appointed with very large bathrooms. Some even feature an outdoor shower. While there isn't a kitchen in the tent, they do provide pour over coffee and free ice for the supplied cooler. Outside, the tents have a screened in porch and there are two Adirondack chairs circled around the fire pit.
MainStay Cottages and RV Park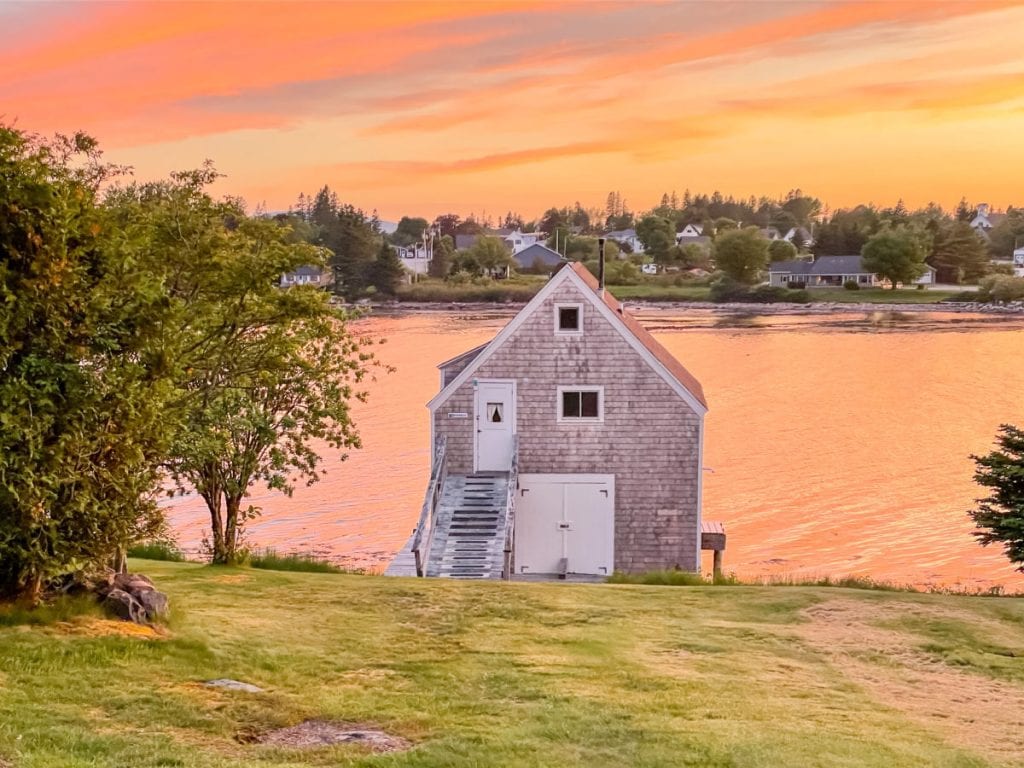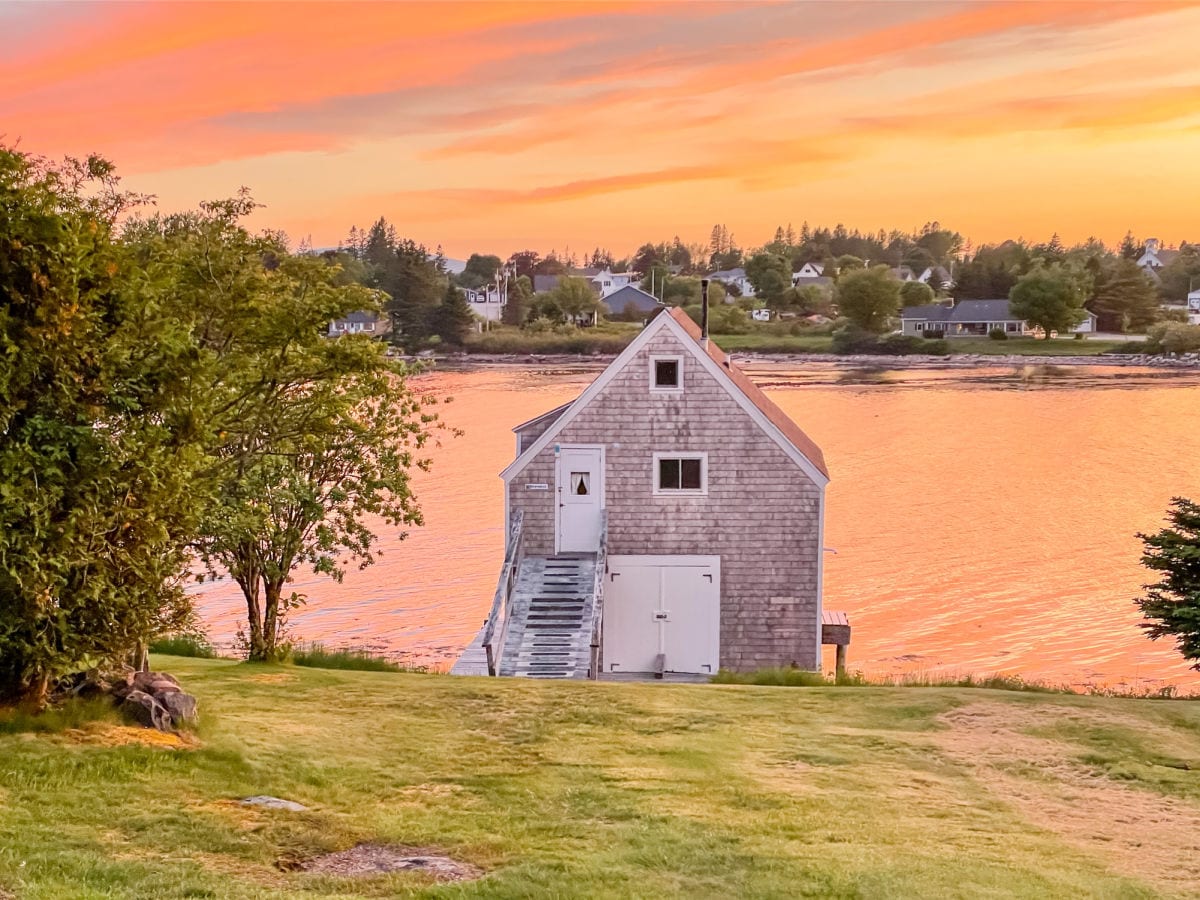 Located just across the bay in the small fishing village of Winter Harbor, MainStay Cottages and RV Park offers three cottages, one of which that sleeps up to four, and 10 RV sites right on the water. It is easy to walk into the village and it is only five minutes to drive or bike to the Schoodic Section of Acadia National Park.
Owned and managed by a fifth-generation Maine family, this location will give you a real local flavor away from tourists. And, the pedestrian ferry to Bar Harbor is right next door should you want to join the crowds on MDI.
Save this to Pinterest