Glamping resorts are popping up all over New England, and I've been on a mission to try most of them. I've never been a fan of camping, because I prefer the luxury of a real bed and an indoor bathroom, so glamping is just my style. When Terramor Outdoor Resort opened near Bar Harbor in Maine, I knew as soon as I saw the pictures that this had to be on my list.
As luck would have it, I was heading up the Maine coast to spend some time in the Acadia region and the Maine Highlands anyway, making it the perfect opportunity to give Terramor a trial stay.
Terramor Outdoor Resort Review
TLDR: Terramor Outdoor Resort was my favorite tent-based glamping experience yet. The tents and amenities are luxurious and the resort pulls together the nature experience I was looking for with the hotel-like amenities to make it still feel like a vacation.
Terramor Glamping Tents
There are almost 60 tent sites at Terramor Outdoor Resort, with five different tent types, including one that is wheelchair accessible. All tents have electricity and WiFi and can accommodate the range of temperatures common in Maine, offering overhead fans, Pendleton blankets, and space heaters.
Hemlock Tents – sleep two people with a connecting bathroom and an outdoor shower
Adler Tents – sleep up to five and are good for larger families or groups that are looking for a more rustic experience. They offer a queen bed and three twin beds, with a private restroom and modern private shower room just steps away.
Moosewood Tents – sleep up to five people with two bedrooms including one king bed and a bunk bed with a double on the bottom and twin on top, plus an upscale bathroom with a walk-in indoor shower and an additional secluded outdoor shower.
Birch Tents – sleep up to five people with a king bed and a bunk bed with a double on the bottom and twin on top, plus an upscale bathroom.
Bayberry Tents – perfect for couples or singles, these tents sleep two with a king bed and an upscale bathroom.
I was traveling solo on a Maine road trip, so the Bayberry Tent was a perfect choice. I stayed in tent D-03, with a quiet location close to the parking lot and a short walk to the lodge and hiking trails. Complimentary wagons and firewood are available at each parking lot for transporting your belongings to your tent site, which keeps things nice and quiet by the tents. There are even electric car chargers in the main parking lot by the lodge.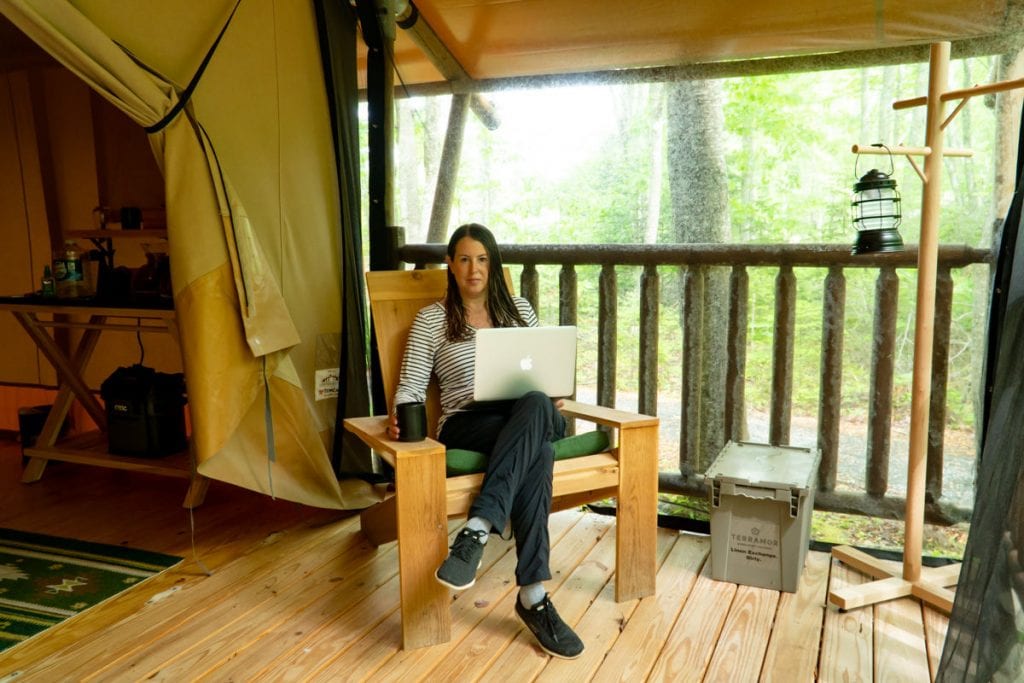 Each tent has a private fire ring out front with two comfy Adirondack chairs. I also loved hanging out on the chairs on the screened in porch, away from the bugs or the rain. A perfect spot for enjoy a morning coffee or evening glass of wine.
Inside, I was blown away by the quality of the furnishings and especially the bathroom. The modern design reminded me of the stylish Under Canvas tents, but they went a step beyond. The bed was super comfy, with small nightstands and electricity on either side (unlike the battery-powered lanterns and outlets offered at Under Canvas).
There are extra blankets if you get cold, in addition to the portable heater. The tent was also equipped with a clothes rack and a table loaded up with coffee mugs, wine glasses, and pour over coffee, with an ice chest underneath.
What really blew me away about the Terramor Bayberry tent was the very large bathroom. It was equipped with a double sink vanity, giant walk in shower, and separate WC. Terramor provided plush towels, along with amenities including shampoo, conditioner, body wash, and body lotion. No pull chains here — the hot water in the shower lasted plenty long and was quite relaxing. There was even a hair dryer if I wanted to pretty myself up.
Despite the tight tent, one giant spider did manage to find its way in, although luckily I discovered it before going to bed (not so luckily for it). And housekeeping did miss a few things that I found in the garbage from the previous guests, but I'm hoping that was a sign of it being either early in the season or the short-staffing issue that most places seem to be experiencing this summer.
Lodge & Amenities
The lodge at Terramor is a perfect gathering place to meet up with friends and family or meet new ones. The lodge has a small camp shop with nicely-curated branded gifts (which reminded me of the shop at Auto Camp Cape Cod), along with grab and go beverages, sandwiches, and snacks.
When I visited, the lodge restaurant was serving both breakfast and dinner. There were a surprising array of dinner options to satisfy a variety of palates, along with a selection of wines, local beers, and even craft cocktails. I ordered the burger, which was delicious and the service was excellent. Staff member David took the time to sit with me and offer up local insider suggestions on places to visit and ways to avoid crowds.
The lodge has a number of telescopes that are used for their star gazing programs. There are also board games to borrow and enjoy in front of the fireplace inside the lodge or on the screened in porch. Families can also enjoy a friendly game of corn hole on the lawn behind the lodge.
If you follow the path past the lodge, you will soon come to the heated pool and hot tub for use by guests, with designated adult hours. Towels and lounge chairs are provided for relaxing in the sun. On property, you will also find a large picnic pavilion for group gatherings, as well as charcoal grills for guest use.
With lots of open space for running around, but semi-private tent sites tucked into the woods, Terramor Outdoor Reosrt is ideal for a nature-based vacation getaway.
Location Near Acadia National Park
Terramor Outdoor Resort is located just 15 minutes from the quaint harbor town of Bar Harbor (see recommendations on things to do in Bar Harbor) and 15 minutes from the Mount Desert Island entrance to Acadia National Park. This makes Terramor a great home base for exploring the Downeast Acadia region, including all the things to do near Acadia National Park. If you plan on visiting Acadia, follow this Acadia National Park itinerary.
Terramor Experiences
Like many resorts, Terramor Outdoor Resort offers a number of activities and optional experiences on-site. These include stargazing nights using the complimentary Celestron telescopes, lumberjack shows and demonstrations, and ticketed lobster boil dinners.
The Outfitter desk can also hook guests up with hiking suggestions, restaurant recommendations, and other unique experiences.
Bottom Line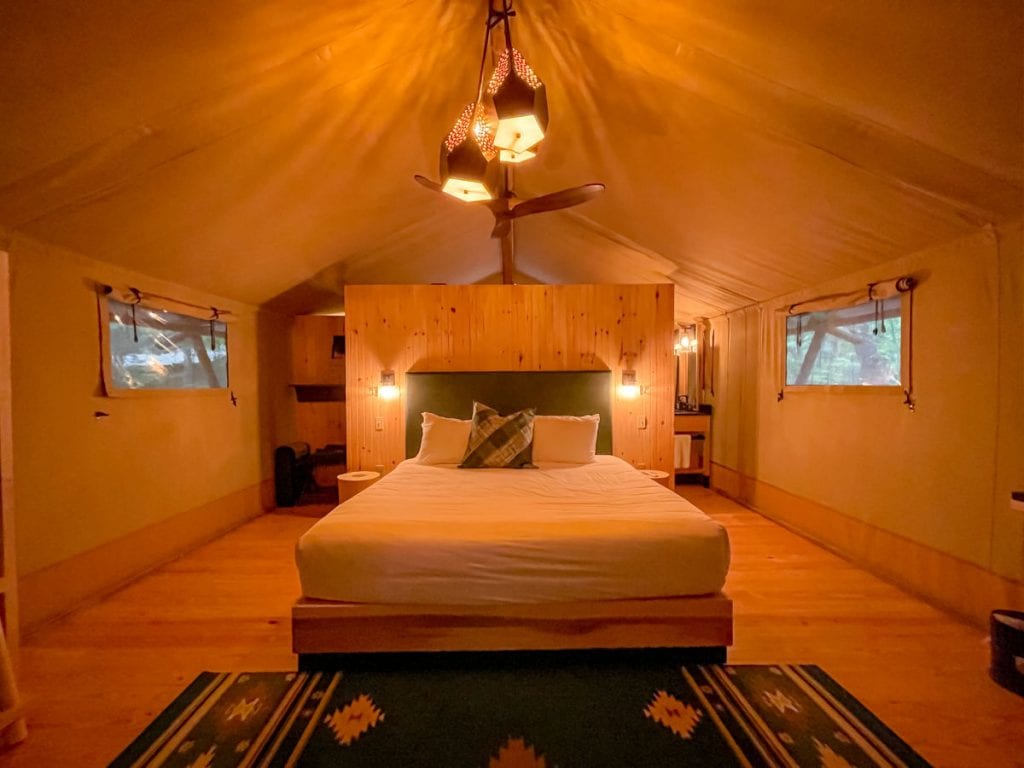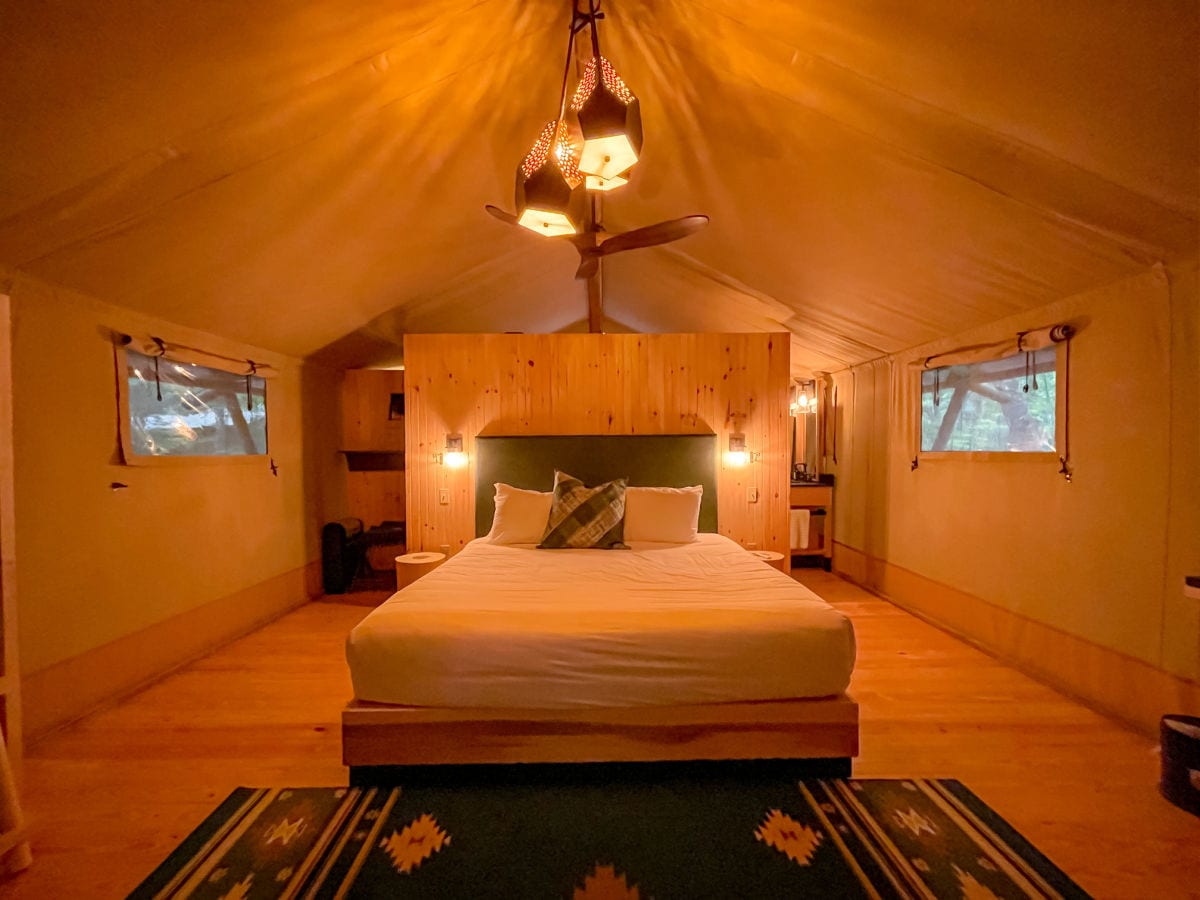 Terramor is perfect if you are visiting Bar Harbor and Acadia National Park and are looking for an alternative to a hotel stay. The resort provides a luxury glamping experience with all the creature comforts that you need, along with a full-service lodge that offers the amenities you expect from a hotel resort including a restaurant, pool, and activities.
However, if you are accustomed to camping and are looking for a self-catering glamping option, Terramor is not the best pick. You can use the community grills to cook food and utilize the provided ice chest in the tent to prepare meals, but the tents don't have the camp kitchens you would find at a Huttopia resort.
I found Terramor to be the best overall glamping experience that I have had to date. The tents were luxuriously appointed but still in a rustic camp-like setting, unlike the safari tent I stayed in at a KOA Resort, which was squeezed in between two camper sites. The lodge and resort property also had the nicest facilities, with only Huttopia in New Hampshire coming in a close second since they had a lake on site.
Visiting Maine? Read More: