Kampgrounds of America (KOA) is not just for RVers or tent campers, the KOA Holiday and Resort campgrounds are destinations unto themselves. These campgrounds offer a mix of deluxe camping cabins, RV sites (including ones with patios), and shaded tent sites, along with the amenities that make a vacation just as fun as the attractions you find nearby.
Some of these campgrounds, such as the KOA near Lincoln / Woodstock, New Hampshire, even offer glamping options. Since glamping is my preferred way of camping, I've been trying out different options for glamping in NH, from resorts like Huttopia to treehouses. When I found out that the KOA Lincoln / Woodstock NH offers a luxury safari tent, a treehouse cabin, and a cool Conestoga Wagon as glamping accommodations, I said sign me up!
I've tried out the deluxe camping cabins at the KOA near Mystic, CT in the past and was excited to try something new and different. I wanted to see how the glamping experience at KOA compared to places like Huttopia and Under Canvas and do a full KOA Lincoln NH review.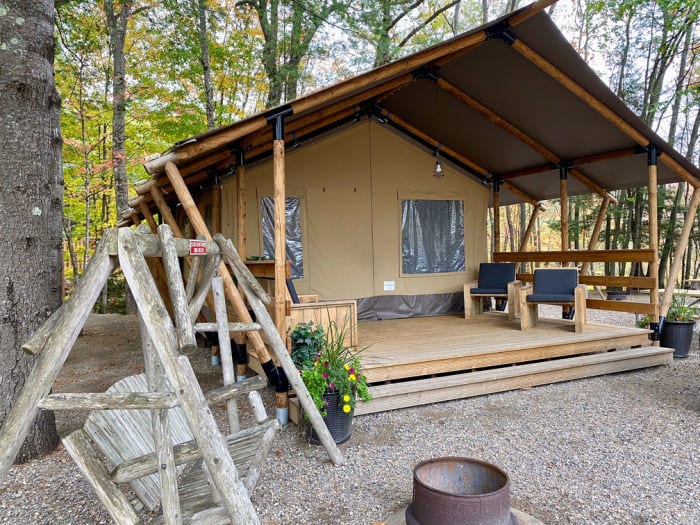 KOA Glamping in NH
Note: I was hosted on a complimentary two-night media stay by Kampgrounds of America for purposes of this review. I've shared my honest feelings and all opinions are my own.
As I mentioned, the KOA Lincoln / Woodstock offers various glamping options including traditional camping cabins, deluxe cabins, one luxury safari tent, one tree cabin with a large back deck, and one Conestoga wagon.
Conestoga Wagon
I was very tempted to try the Conestoga wagon, since I grew up loving Little House on the Prairie and have daydreamed about that type of stay since I first saw it offered a few years ago. However, I'm also practical and for a mid-October stay, I knew I wouldn't want to go far from my cozy bed to reach a bathroom in the middle of the night.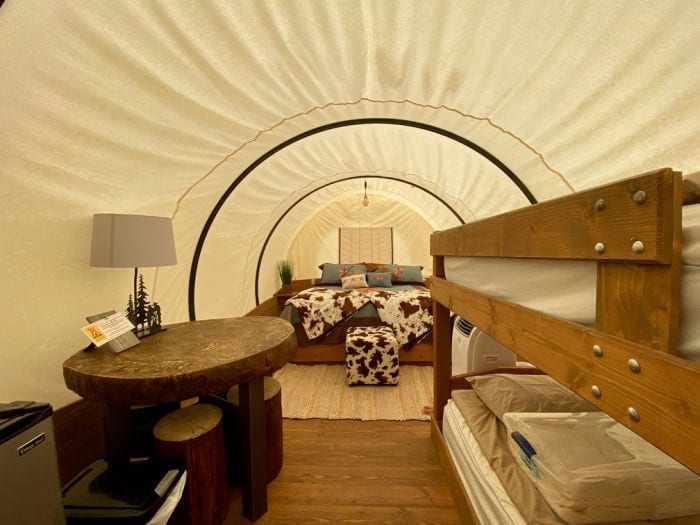 The Conestoga wagon does have a brand new private full bathroom with a stall shower, sink, and toilet located just outside of the wagon. The wagon is decorated beautifully with a king size bed, bunk beds, and a small fridge and coffee maker. The only downside is that it is located between two RV sites, so if those are full I can imagine it would take away from the ambience at night to hear the generators and noise from the neighbors.
Luxury Safari Tent
Instead I chose to stay in the luxury safari tent. Given the high winds and early cold front that came in while I was there, I'm glad I made that choice (although I would recommend this as a better option for late spring through September.) The tent itself was much nicer and more luxurious than our Trapper tent at Huttopia. It is larger, more permanent, and better appointed. That said, it didn't have a camp stove or pots and pans for cooking so you are a bit more dependent on eating out or bringing in food.
Out front, the tent has a spacious porch with plush patio furniture. There is also a wooden swing and a fire pit, as well as a picnic table and parking spot. Inside, the tent has two bedrooms, an eating area, and a full bathroom.
When you walk in, the kitchen area with a sink and Keurig is on the left. On the right is a kitchen table and four chairs, a dorm-style fridge, and a microwave, with a small selection of plates, bowls, mugs and glasses. There is even a cable TV and you may just be able to access a bit of WiFi. Truly a glamping luxury!
There is also ample electricity, with outdoor and indoor lighting and outlets for charging your devices. Prepared for weather fluctuations, the tent also came equipped with a standing fan and two space heaters. Of course, the heaters could only do so much to fend off the freezing temps, so lucky there were also plenty of blankets for me to bundle up in.
The bathroom has a wooden barn door and there is a pedestal sink and shower stall in one room and the toilet in another. The shower even had a rain shower and jets for a relaxing spray after hiking. The hot water doesn't last long but it was enough to warm me up.
Down the hall is a separate bedroom with twin bunk beds and small night stand. On the right, you will find the main room with a four-poster queen bed, night stand, and shelving unit for storage. The whole tent feels more like a cabin, except for the sturdy canvas walls, and it is decorated in a safari theme.
I've slept in more comfortable beds but this definitely felt more like a glamorous camping experience than the ready-to-camp, more utilitarian set up at Huttopia. Just keep in mind that the tent is between two smaller RV sites that had a camper van and a small camper when I stayed there. So while it backs up to woods, there are neighbors close by. It felt more spacious and private than the location of the Conestoga wagon, but not as spread out as what you find at a resort like Huttopia.
KOA Lincoln / Woodstock Amenities
The KOA Lincoln / Woodstock has been a KOA campground for 50 years, offering the classic family-friendly amenities that frequent KOA campers appreciate. There is a small mini-golf course, a dog park, a playground, a swimming pool (in the summer), beach volleyball, disc golf, and my favorite, a jumping pad. The camp store offers up camping basics, with a small selection of snacks and drinks, along with popcorn and (sometimes) pizza.
KOA Lincoln / Woodstock Location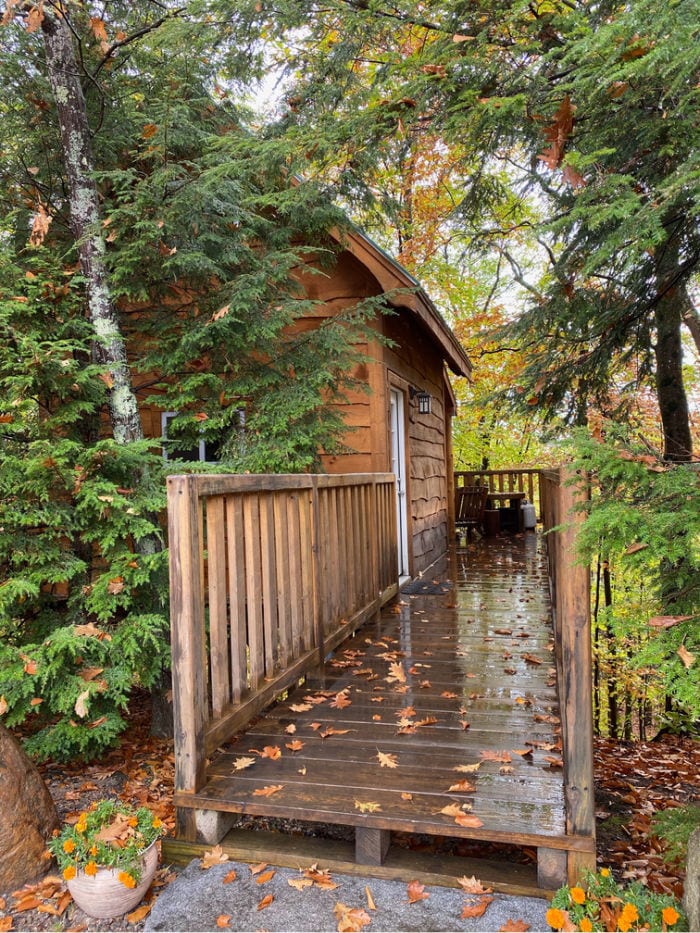 The KOA Lincoln doesn't have the same outdoorsy feel as the Huttopia White Mountains, which is located on a lake and has more spread out camp sites (as well as a game room, playground, basketball court, and Airstream trailer food truck.) However, the location is only five minutes off Interstate 93 with quick and easy access to the Kancamagus Highway, Franconia Notch, and the rest of the White Mountains.
Just keep in mind that you will hear highway traffic from your tent location. If noise is an issue, bring ear plugs!
My final recommendation would be to keep all food in an airtight container or in the car. On my first day in the tent, I returned to find some gnawed acorns on the floor in the kitchen. At first I thought one of the adorable chipmunks I had been watching outside snuck in to leave me a present. Later I saw a fluffy gray mouse sneak out from under the sink to steal it. Cute as it was, I'm glad I only saw it once! It was a good reminder though to zip my bags and leave them on the bed or chairs to keep any critters out.
You may also want to leave valuables in the car as there is not a lock on the tent. As a solo traveler, that made me a little nervous so I left a chair in front of the door flaps so I would hear anyone sneaking in at night. Of course that is a giveaway that I'm not a regular camper!
Final Thoughts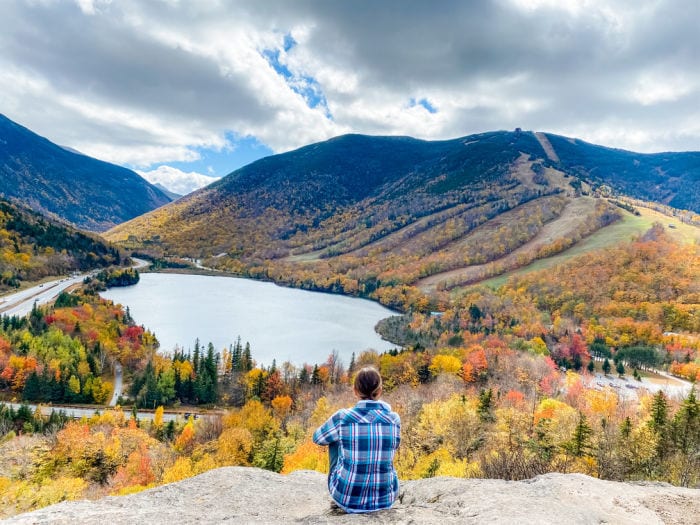 Despite the cold, and the mouse, I had a fabulous stay at the luxury safari tent at the KOA Lincoln / Woodstock. If I was going to stay longer, I would probably want a way to cook beyond just a microwave. However, you could bring along your own camp stove or use the campfire (just follow local fire restrictions.)
It was a great location for exploring and plenty to do on-site if you have younger kids. I missed the lake and the more rustic feel of the Huttopia location, but the tent at the KOA is much more comfortable.
Ready to go glamping?
Be sure to check out my glamping packing list and other cool options for glamping in New England.
Save this to Pinterest