Want the inside scoop on what it is like to stay in a KOA Deluxe cabin? Wondering where to go camping in the greater Mystic, Connecticut area near Rhode Island beaches, Foxwoods Resort, and the Mohegan Sun casino? Read our KOA Mystic review to get the inside scoop on the camping cabins and the KOA Mystic Holiday campground in North Stonington.
We aren't an RV family and as much as I love glamping, my previous tent camping experience is limited to a couple of music festivals with my teen youth group and the occasional night in a tent with my brothers and sister in the backyard. Whenever I hear my friends talk about how much fun they have had camping, I remember that I have this thing about bathrooms with flush toilets and running water. And by thing, I mean they are a requirement. I'm also not the best sleeper, so sleeping on the ground shoulder to shoulder in a confined space? Um, no thanks.
For our family trips, I prefer a one-bedroom suite with a king bed and a pull-out couch in a separate living area. But I thought we should try camping as a family, so when KOA reached out to see if I would be interested in trying their "glamping" option (e.g. KOA camping cabins), I was happy to give it a try.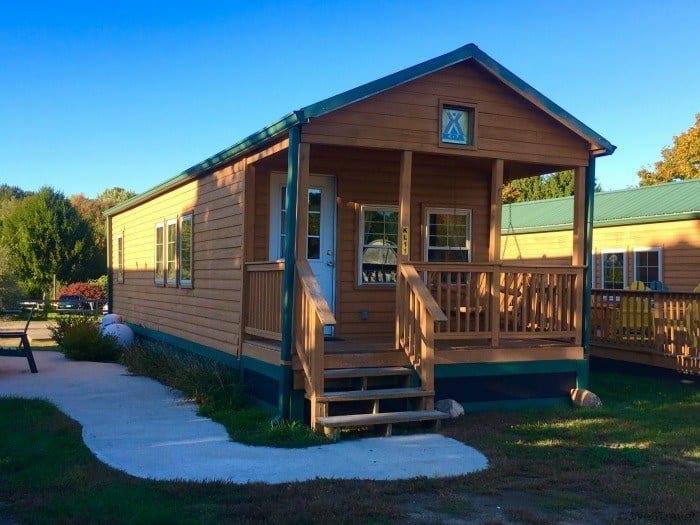 KOA operates 486 campgrounds across North America, many of which have camping cabins and deluxe cabins. We decided to check out a local Mystic KOA in Connecticut, which is close enough to home to make it a great weekend getaway and well-located to enjoy all the attractions around Mystic.
We were invited to stay in one of the KOA Deluxe Cabins. The cabin configurations vary from campground to campground, but ours was set up railroad style, with one room after another front to back. We entered into a living space, kitchen, and dining area, followed by the bathroom on one side and bunk beds on the other, and finishing with a separate bedroom with a queen bed. It was more than enough space for our family of three and the cabin offered all the amenities we needed to be comfortable, including air conditioning and heat.
We were actually really excited to experience "camping" in comfort and had visions of nature hikes, campfires, and, of course, s'mores. What we learned was that there is a distinct difference between camping and a campground. I recently listened to a really good discussion of this topic on the RV Family Atlas podcast, pointing out the pros and cons of "wild camping" versus campground camping. What we learned is that campground camping is as much about connecting with people as it is about connecting with nature because campgrounds seem to be all about community.
KOA Camping Cabins Review
Note: Our stay was hosted by Kampgrounds of America. All opinions are our own.
When we arrived on a Friday evening in October, it was pouring rain and I could barely see where we were driving as we made our way to our assigned cabin. It was too dark to see what was around us. All I knew was that I was more thankful than ever that we were NOT sleeping in a tent that night. Instead, we unpacked, turned on the heat, and settled in for the night.
The bunk bed mattresses are covered with a thick rubber cover so it was a bit hard to keep the sheets in place, but the master bedroom was appointed like a simple mountain lodge room, with comfy bedding, nightstands, and a rack to hang our clothes.
Luckily, Hannah brought her sleep mask because there isn't any separation between the bunk beds and the main living space beside a small wall the width of the bunk bed. And since Glenn was excited to still get to watch his beloved Mets on the large flat-screen TV in the living area, she was still able to get to sleep as long as he kept the volume low. I was happy to find out that the campground was WiFi enabled so it was easy to jump online and share pictures of the cabin.
The living space was also quite comfortable with a pull-out futon, a flat-screen TV, and a dining table that could seat four. If you were staying at a cabin on a resort, you might feel it was a bit simple, but for a cabin on a campground, I found it more luxurious than I expected.
Before we left, a few people had commented about the cabin, wondering if it would be clean. Overall, it was fairly clean. The extra sheets looked like they might have been dropped on the floor and I needed to brush them off a bit, and they clearly needed to do a deep cleaning of the heat grates in the bathroom to get the dust bunnies, but I've stayed at hotels with similar issues. It doesn't endear me to those properties by any stretch, but given my lower expectations for campground living, it didn't make me uncomfortable, I just didn't walk around barefoot.
The bathroom itself was small but functional, with a tub/shower with dispensers for shampoo and body wash (that needed refilling), a small sink and vanity, and a toilet. What really surprised me was the inclusion of a hair dryer. That was unexpected for "camping."
The next morning we discovered another unexpected amenity, a Keurig coffee machine and K-cups. No fussing with coffee pots over campfires here. I had brought along some basic supplies and was able to fix us up some eggs for breakfast.
I had to scrounge around for a pan that wasn't too scratched up and a spatula to scramble and serve, but we made do. My biggest complaint about the cabin was how poorly the kitchen was stocked. We didn't realize it at first but there were only a couple of forks, which meant we had to get really creative when cooking and eating our spaghetti later. Since this was supposed to be "hassle-free" camping, I expected the kitchen to have the basic plates, glasses, utensils, pots and pans that you'd find in your average beach or mountain house rental. If you plan on cooking, I would bring along your own basic supplies (see my glamping packing list.)
Mystic KOA Campground Review
Fortunately, when we woke up on Saturday morning, the sun was shining and we were able to explore around us. It was a surprise to walk out the front door and find ourselves tightly surrounded by other cabins and recreational vehicles (RVs). It was clear that many of these RVs weren't there for just the weekend, as they had porches and even gardens, giving the campground a trailer park feel.
But as I walked down to the camp store to pick up some supplies I had forgotten, I observed people enjoying their coffee on their front porch, neighbors chatting, and kids playing together in the campground playground. I got the sense that this is where people came regularly to connect with like-minded people and escape day-to-day life in a place where they can enjoy the niceties of life with a change of scenery. We experienced a similar vibe when we stayed at the Tuxbury Tiny Houses in New Hampshire, as it is part of an RV campground.
After enjoying a great day in downtown Mystic, we wanted to head back to the KOA to take advantage of some of the campground's amenities. We missed the scheduled hayride around, and the long tube slides were closed, but we all had a blast on the jumping pillow.
There was certainly plenty to do around the campgrounds, from mini golf, to swings, to a playground. During the summer they also have an inground swimming pool available for guests. There are also bike rentals and pedal carts.
As we walked through the campgrounds and enjoyed the swings, we saw groups gathering around campfires, families playing catch together, kids making new friends, and dogs…lots and lots of dogs taking advantage of the dog park. That evening, the campground was hosting a family movie night at the pavilion. While I'd like to see the new Cinderella, we had an appointment with a campfire outside our cabin.
We had brought along a couple of bottles of wine and it was really relaxing to pop the cork and enjoy a glass of wine on the porch swing. After a simple dinner of spaghetti (eaten with knives and spoons for lack of forks), we headed outside to enjoy our campfire in our outdoor picnic area.
The camp store sells everything you need to build a campfire, from wood, to fire starter, to special kits that turn your flames different colors. Just keep in mind that while you can bring some supplies from home, it is illegal to bring firewood across state lines. The store also sells s'mores kits, but go early before they sell out. I'd brought our own marshmallows, graham crackers and chocolate, but forgot our super-duper skewers, but luckily we were able to pick up some wooden skewers at the camp store.
While I would have enjoyed a bit more of an authentic campfire experience in the woods without neighbors, I greatly enjoyed the comforts of the Deluxe Cabin at the Mystic KOA. I also got a real sense of the community that exists in campgrounds and see the appeal of an RV-lifestyle. If we do decide to branch out to some wild camping in the future, we got a fun lesson in campfire cooking with a hands-on program at the nearby Denison Pequotsepos Nature Center. (See my full list of things to do in Mystic with kids.)
If you don't want to splurge on a cabin, make sure to check out these car camping tips. Or, get more information about road-tripping using KOA campgrounds.
If you enjoy this type of glamping or cabin camping, you should also check out:
PIN THIS FOR LATER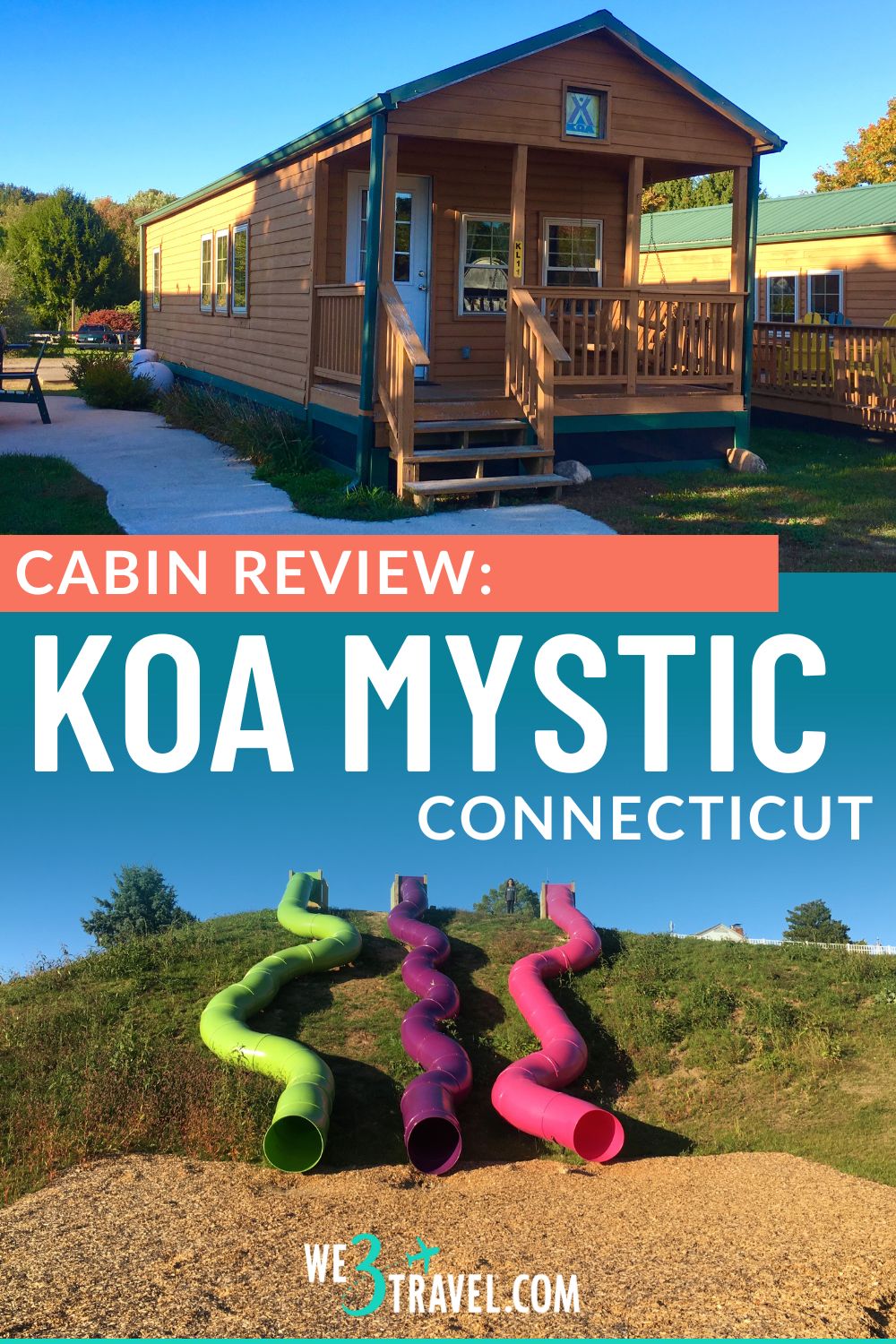 SaveSave
SaveSave
SaveSave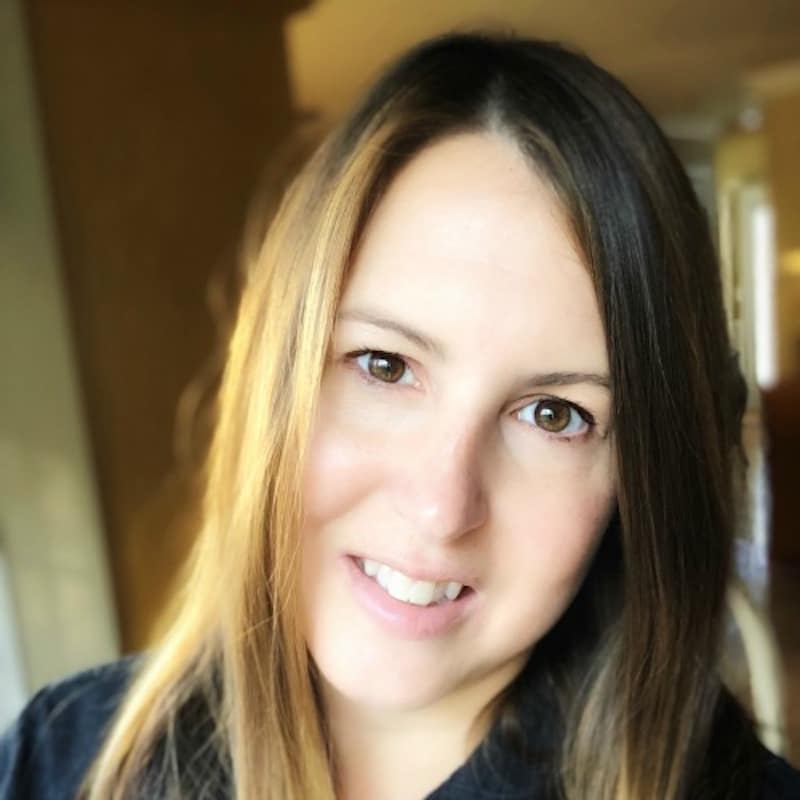 Tamara Gruber is the Founder and Publisher of We3Travel. A former marketing executive and travel advisor, Tamara is an award-winning travel writer and recognized expert in family travel. She is also the publisher of YourTimetoFly and the co-host of the Vacation Mavens travel podcast.