Mystic, Connecticut is a popular weekend getaway destination for families, couples, and friends. This charming seaport town offers up shopping, dining, and a wealth of historical attractions — providing families with plenty of things to do in Mystic.
Located just off of Interstate 95 in southeastern Connecticut, Mystic is easy to get to from New York City and Boston. While it is a popular summer weekend getaway, Mystic is simply beautiful in the fall. Since we only live about an hour away, we often visit for a quick day trip. But since we spent the weekend in Mystic this past fall while reviewing the Mystic KOA, we had a chance to explore a bit more and enjoy a true family weekend in Mystic.
Here are some of our favorite Mystic Connecticut attractions so you can plan a trip of your own.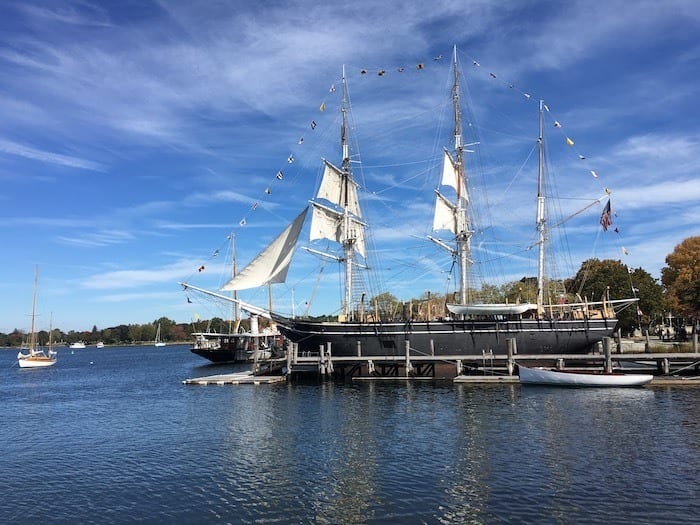 Things to do in Mystic, Connecticut with Kids
Consisting of a mix of indoor and outdoor exhibits, Mystic Aquarium is home to beluga whales, Steller sea lions, African penguins and more. The Aquarium is dedicated to conservation, education and research. So while they offer a sea lion show, it is more geared toward education than entertainment.
In the main gallery, kids enjoy touching the sea lions and bamboo sharks, as well as getting hands on in the Discovery Lab. A visit to the aquarium will take at least 2-3 hours, and you can eat the Penguins Cafe or next door in Olde Mistick Village. The aquarium does participate in some reciprocal museum pass programs and discount passes are available from some local libraries so check in advance.
The Mystic Aquarium is located at 55 Coogan Boulevard, Mystic, CT.
Olde Mistick Village
Located right next door to the Aquarium and not to be confused with downtown Mystic, Olde Mistick Village is an outdoor shopping and eating destination with unique shops in a quaint, village setting (and ample parking!)
Kids will enjoy watching the ducks at the duck pond and sampling some treats from a few of the speciality shops, like Munson's Chocolates and Extra Virgin (with honey and olive oil samples). I'd also recommend a stop at Tiger Lily Tea, which offers hand-picked, organic teas from China, and Becca Rose Natural Body Care.
Mystic Seaport
Mystic Seaport is a living history museum consisting of a village and ships that depict coastal life in New England in the 19th century. There are so many things to do in Mystic Seaport that you can easily spend half a day or more exploring the various shops and ships, and taking in some of the live demonstrations.
Kids can participate in a scavenger hunt and young kids will especially enjoy the Children's Museum and activities like toy boat building and candle dipping. Families can take a horse-drawn carriage ride, watch a blacksmith at work, see a ship carver demonstrate his craft, and learn about life on the sea.
Local visitors can also check with their library, as many do offer museum passes or discounts.
Mystic Seaport is located at 75 Greenmanville Ave. Mystic, CT, just down the road from the aquarium and offers free parking in two different lots.
Denison Pequotsepos Nature Center
Located just five minutes from the Mystic Seaport, the Denison Pequotsepos Nature Center is a great place for a family hike. The center features a small indoor exhibit of local wildlife, but offers over 10 miles of hiking and walking trails through fields and woodlands.
Families are able to check out a backpack for their hike, filled with things to supplement their walk. For example, we borrowed the Birds backpack, which included binoculars, a birding book and a device that produced sample bird calls to help identify what we were hearing and seeing throughout our walk.
The real hidden gem at the Nature Center are its organized programs so be sure to plan ahead and see what is available. We participated in a Campfire Cooking program that was so much fun, and really helped prepare us for our next camping adventure! The group worked together to build the fire, prepare the ingredients, cook the dishes and then we all got to enjoy a simple campfire meal together.
The Denison Pequotsepos Nature Center is located at 109 Pequotsepos Road, Mystic, CT
Downtown Mystic
Mystic offers a quaint, yet touristy, classic New England downtown, complete with a drawbridge that kids find fascinating. There are plenty of shops and restaurants to explore, including Mystical Toys, Bank Square Books, Mystic Drawbridge Ice Cream Cafe, and, of course, Mystic Pizza, made famous by the movie of the same name starring Julia Roberts
B.F. Clyde's Cider Mill
B.F. Clyde's Cider Mill — It is worth a short drive out of town to B.F. Clyde's Cider Mill. If you are visiting in the fall, be prepared for long lines, but the reward is worth the wait. Not only can you get fresh pressed cider, but they also have some amazing baked goods including some of the best apple cider doughnuts! Just check ahead to see if they are open because they close in the winter.
B.F. Clyde's is located at 129 N Stonington Rd, Old Mystic, CT
Pequot Museum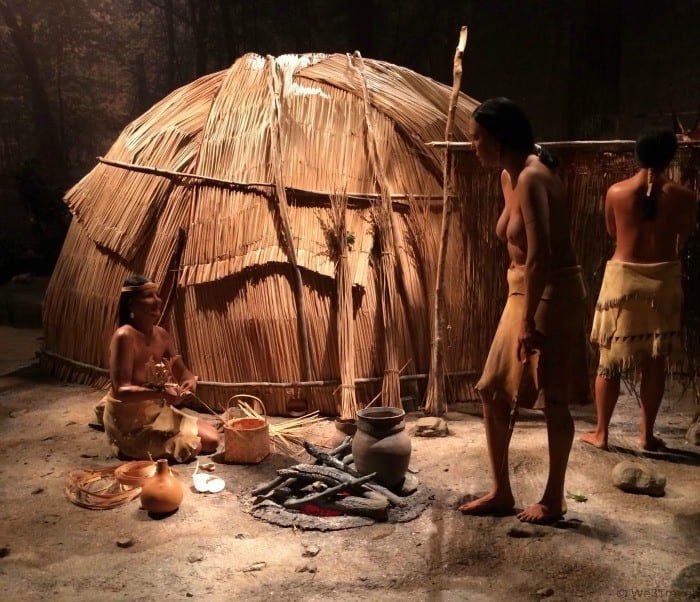 Located 20 minutes away at the Mashantucket Pequot Nation, the Pequot Museum walks through history from the Ice Age to modern times and the impact on the region and the native peoples.
The museum offers eatures 85,000 square feet of exhibits including life-size dioramas, films, and interactive computer programs. The centerpiece is a recreated 16th Century Pequot village, complete with a long house and wigwams. (See other family-friendly museums in New England)
The museum is closed from November through April, and is located at 110 Pequot Trail, Mashantucket, CT.
Watch Hill Beach
Just across the border in Rhode Island is the upscale beach community of Watch Hill, home to the only remaining Flying Horses carousel in the country. Made in 1876, the carousel was brought to Watch Hill in 1883 and still runs today.
The carousel can be found at 151 Bay Street in Westerly, Rhode Island. The carousel is open in the summer and weekends only through Columbus Day.
Lighthouse Tour
From nearby New London, CT, you can board a Cross Sound Ferry for one of its Lighthouse Cruises. Each cruise brings you past up to nine lighthouses, with narration to explain the fascinating and unique history of each.
Ocean Beach
In nearby New London, families can enjoy a day at the beach and some of the activities along the half-mile boardwalk. Along the boardwalk you can also find a nature trail, pool, arcade, playground and a new free spray ground.
Restaurants in Mystic, Connecticut
There are plenty of restaurants in Mystic to choose from, but here are some of my favorites:
Located in Downtown Mystic, parking at the Engine Room is a bit of a challenge so you may want to park a bit out of town (or even at the Seaport) and walk along the water instead.
The rustic interior of this hip farm-to-table restaurant is part of its charm but the upscale comfort food is its shining star. The dry-aged burgers are delicious and are accompanied by sandwiches, entrees, salads and starters like hush puppies and bacon fat caramel popcorn.
Kitchen Little
Located a bit out of town on the Mystic River Marina, it is worth lining up early for breakfast at Kitchen Little. I'm a sucker for eggs benedict and they have such a wide variety I could go back again and again to keep trying something new.
My favorite so far is the Portuguese Benedict with spicy chourico sausage and poached eggs over a Portuguese muffin with a spicy hollandaise.
Mystic Pizza
Mystic Pizza's "secret sauce" was made famous by Julia Roberts and the cast of the movie Mystic Pizza back in the late 80s, but locals had already been fans. It isn't the best pizza ever, but it is good and if you are fan of the movie, it is a must try while in town.
If you are looking for seafood, the Ancient Mariner, right in downtown Mystic serves up classic fare, as does . Personally the next time I visit Mystic I'm going to get a reservation for the Oyster Club in advance.
PIN THIS FOR LATER
SaveSave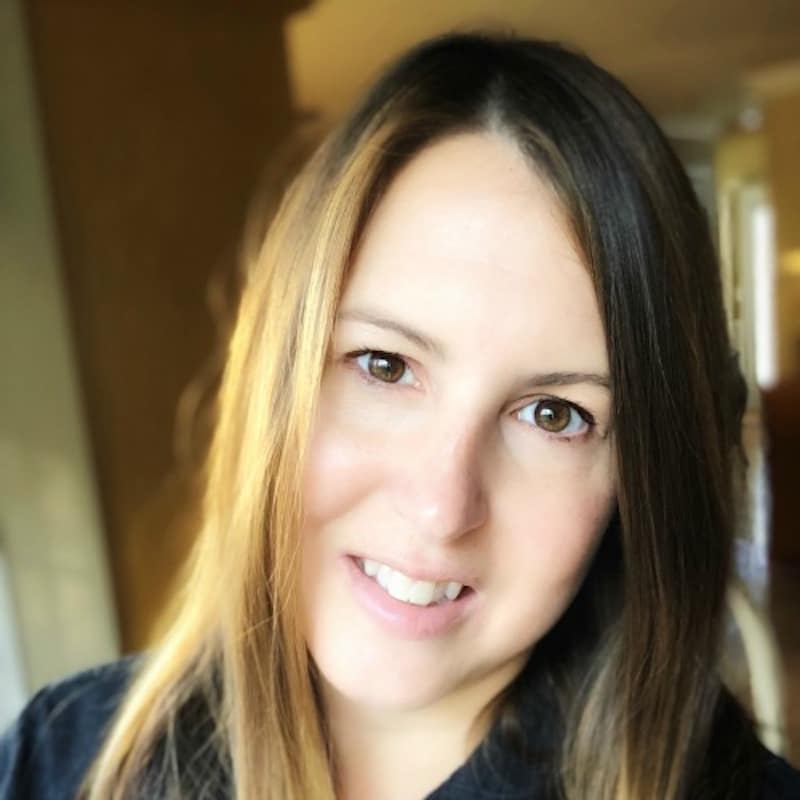 Tamara Gruber is the Founder and Publisher of We3Travel. A former marketing executive and travel advisor, Tamara is an award-winning travel writer and recognized expert in family travel. She is also the publisher of YourTimetoFly and the co-host of the Vacation Mavens travel podcast.