Welcome to We3Travel, an award-winning travel blog! I'm Tamara Gruber and I'm the obsessive travel planner that pores over blogs, guidebooks, videos, maps, and social media when creating my detailed trip itineraries. I love exploring what makes a destination unique through its food, culture, history, and outdoor adventures and then relaxing in a charming boutique or luxury hotel.
Our family of three is exploring the world one trip at a time from our home base in Rhode Island. We aren't budget travelers, but we also aren't independently wealthy so we strive for attainable luxury in our travels with an emphasis on experiences (and food!)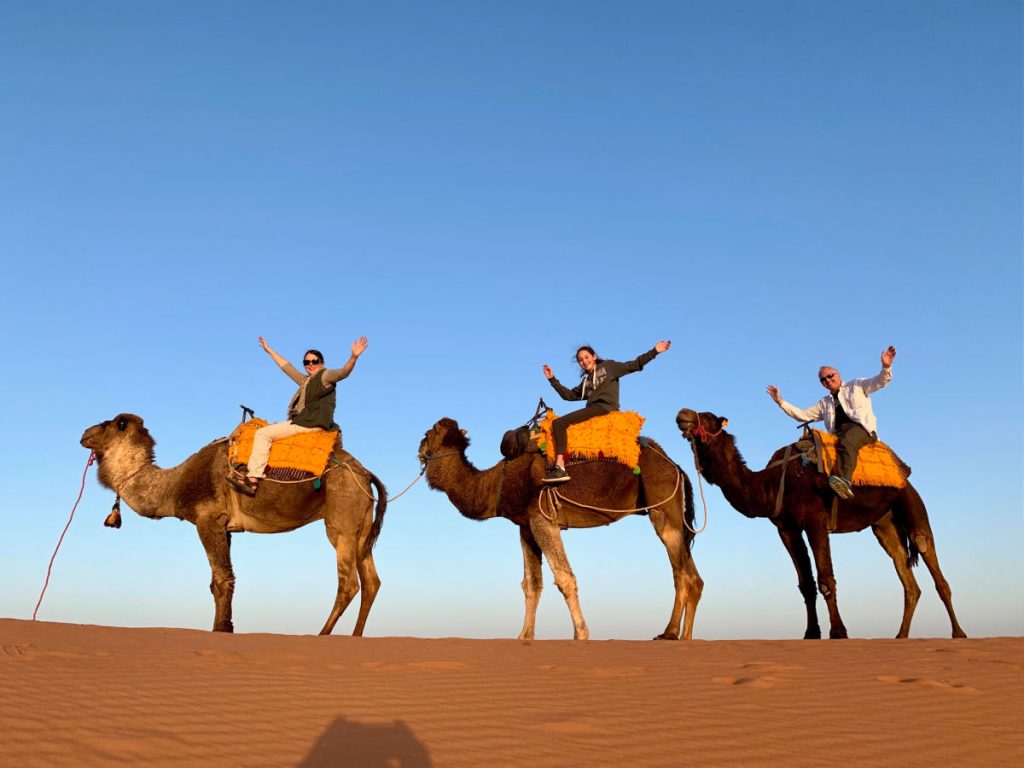 Tamara is a former marketing executive and the writer/editor/photographer. Glenn is a digital strategist for a large consulting firm and a future sommelier. Hannah is an astrophysics college student who loves soft adventure. I am always on the hunt for cheap international flights, but we also love road trips, National Parks, and discovering hidden gems in nearby New England.
When Glenn can't join us, Hannah and I head out on mother-daughter trips that usually involve some sort of adventure or an epic road trip. I also cover my solo travels, girls' trips, and romantic getaways on my sister site for midlife women Your Time to Fly.
We believe that family travel strengthens our bonds and creates long-lasting memories. It has also helped us raise an empowered, resilient girl who is open to new experiences and cares deeply about our world and other people.
We love finding emerging destinations, having cultural/educational experiences, adventuring outside together, and exploring a destination through its food. We hope you will follow along!
To see more of our travel tips and our favorite family travel trips, be sure to start here.
How I Can Help You
I'm an obsessive travel planner that spends an insane amount of time researching and creating our itineraries to ensure the smoothest trip possible. After all, fun trips mean a happy family and great memories! And that is the goal, right? Enjoying your time together instead of stressing over logistics?
On We3Travel you will find a combination of tips, reviews, destination guides, and sample itineraries for travel with teens and tweens. And since many of our travels aren't "kid" oriented, these work well for couples, singles, and empty-nesters too.
Want to know where we are going next? Subscribe to my monthly newsletter for exclusive tips and info, or join us on Facebook, Instagram, and Pinterest.
How We Afford to Travel
It is common in the travel industry to accept complimentary or hosted accommodations, meals, tickets, and tours in exchange for an honest review. Sometimes, brands or destinations will even pay for travel writers to visit a destination and create content about the experience — from videos, photos, or articles.
From time to time, we do accept both of these arrangements to help cover my expenses as a travel writer, and they are always fully disclosed in the coverage. We strive to be unbiased and look at things from an objective perspective whether we are hosted, paid, or paying full price.
In fact, it is more typical that we are traveling on our own using a combination of points/miles and cash just like you. Luckily, I am also able to earn a living from this blog through a combination of advertising revenue, affiliate commissions, and marketing campaigns. To learn more, you can read our full disclosure statement.
Home page image is courtesy of Anass from Flytographer in Marrakech. About page image is courtesy of LocalGrapher in Vienna.