"The world Is not In your books And maps. It's out there," said Gandalf to Bilbo in The Hobbit. When the owners of Alpine Garden Glamping built the cozy, dome-shaped cabins they call hobbit homes in the heart of the White Mountains of New Hampshire, they were carrying on a family tradition of encouraging people to go out there…and explore. And as a huge Lord of the Rings fan, I found the allure irresistible.
Located on the grounds of a working winery, this family-run glamping village offers four cabins, four "hobbit homes", a retro camper, seven RV campsites, and one gorgeous treehouse. The camping village is open from mid-May through mid-November, but the winery is open year round Thursdays through Mondays from 12:00 to 6:00 pm.
Over the last few years, I've tried quite a few White Mountains glamping locations. After all, while I may not like tent camping, a visit to the mountains just calls for something more…outdoorsy…than a traditional hotel. Of all of these glamping spots in New Hampshire, Alpine Garden has the most central location for the exploring all the things to do in the White Mountains.
Alpine Garden Glamping Review
So how does Alpine Garden Glamping compare to the other White Mountain glamping options? Let's get into the nitty gritty and walk through the accommodations, amenities, location, and things to do nearby.
Accommodations
The Alpine Garden Glamping village opened in 2022. The newly built cabins have a fresh, clean look and have been decorated with a mix of homey touches (like woodsy bear accessories) and retro appliances, such as the Victrola turntable and Magic Chef fridge.
The campground itself is compact, with all the cabins tucked into a neat little row, backing up on or across from RV campsites. It borders the White Mountain Experimental Forest and the railroad tracks used by the Conway Scenic Railroad. Unlike large campgrounds like KOA, where you might find RVs that are semi-permanently parked, this is definitely a campground for visitors, making me feel right at home.
Glamping Huts / Hobbit Homes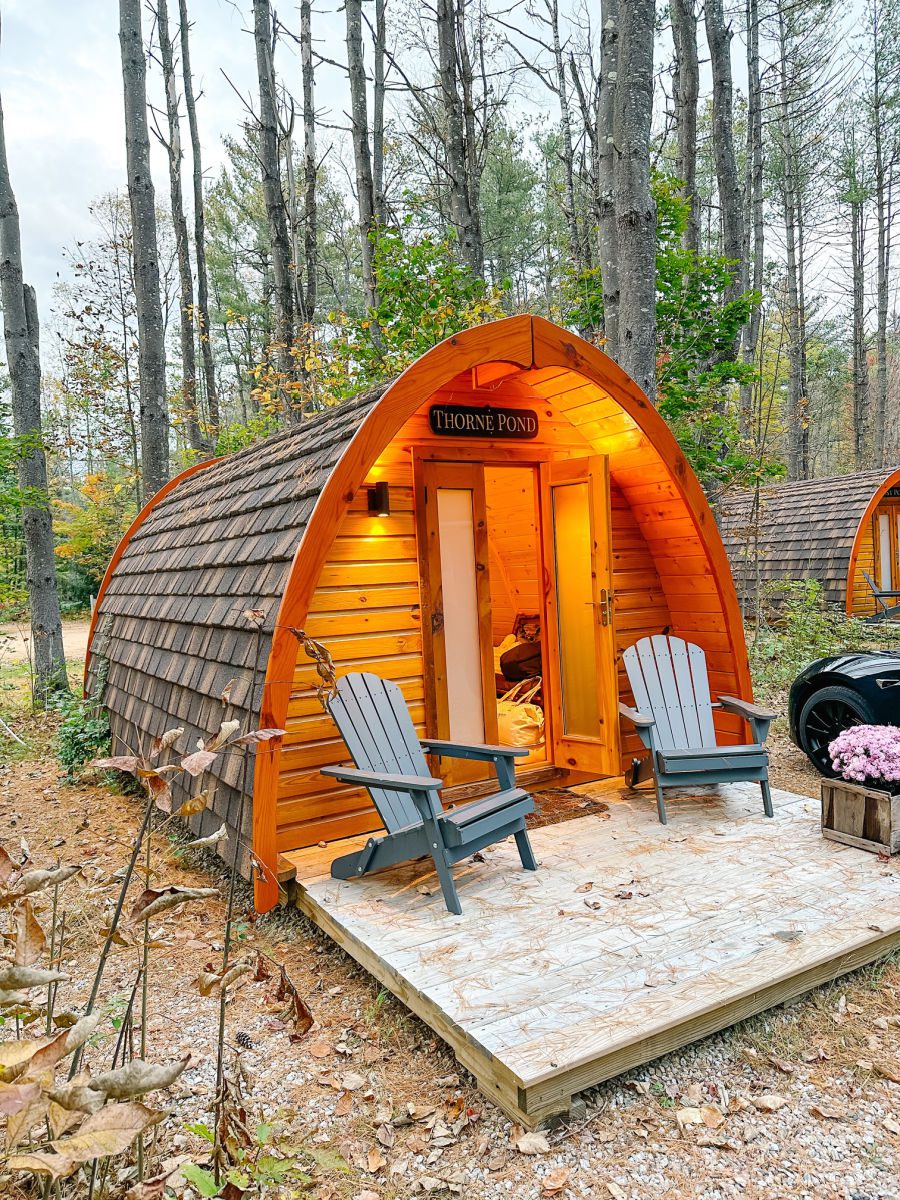 Since I was visiting solo, I decided to try out one of the hobbit homes, #7 Thorne Pond to be precise, as it was the perfect size for me, and more unique than the cabins. A cozy 124 square feet, these dome-shaped cabins are just right for the minimum two-night stay.
Outside, the cabin porch is equipped with two Adirondack chairs to sit and enjoy the great outdoors, take in the fall foliage, or watch for wildlife (moose, bear, and deer may all make an appearance but don't worry, the cabin has its own parking spot steps from the door.) The cabin also has access to a picnic table and outdoor grill.
Once you step inside, you are immediately charmed by the light hardwood and clean design. On the right is a small bench and end table. On the left is the kitchenette area, with a sink, mini fridge/freezer, Nespresso coffee maker, and Victrola turntable with Bluetooth capabilities (and a whole collection of vinyls that you can borrow from the camp store.)
Straight ahead, a queen bed is tucked under the curvature of the dome, topped with a crisp duvet and fluffy pillows. While it is a queen, the bed has walls on both sides so you need to crawl up onto it, making it is best for couples that like to snuggle (or solo travelers like me.)
On the other side of the bed is a walled-off full bath with a standing shower and outfitted with waffle robes, towels, body wash, conditioning shampoo, and even a hair dryer. Giving you most of the comforts of home!
The cabins have both heat and air conditioning, making it comfortable for each season. The camp WiFi signal is even strong enough to stream, at least part of the time.
Cabins
In addition to the four hobbit homes, there are four cabins. The Pinkham Notch Cabin is the largest at 400 square feet, and it sleeps up to six with a twin-sized memory foam day bed and twin bunk beds in the main living area, and a queen-sized memory foam bed in the private room. The cabin also has a fire pit, a charcoal grill, a picnic table, and a private screened-in porch, along with additional indoor amenities including a dining area, kitchen sink, two-burner stove top, and a full-sized fridge with a freezer.
The other three cabins (Bear Brook Cabin, Snowshoe Cabin, and Crawford Notch Cabin) are a bit smaller at 280 square feet and only sleep two. With a kitchenette like the hobbit homes, the cabins feature a full bathroom with a claw-foot bathtub and have an open-concept bedroom with a queen-sized memory foam bed.
Treehouse
The real crown jewel is the Alpine Garden Treehouse. With a spacious 675 square feet, this rustic brookside treehouse features antiques and original artwork. Inside there is a living area, dining table kitchen sink, Nespresso machine, mini-fridge with a small freezer, and a full bathroom with a Japanese soaking tub.
On the first floor, you will find a twin-day bed and a queen-sized sleeper sofa for larger families or groups. In the master loft, there is a queen-sized bed and a twin bed. Outside, the treehouse also has the most space with a personal fire pit, charcoal grill, outdoor dining area with a picnic table, a hammock chair, covered porch, and a third-floor private deck.
Trailer
If you really want to get cosy, try the Miss Betty White Camper. This cute retro trailer accommodates two people with a camper queen bed and a dining nook that also converts to a small bed intended for a toddler. There is a marine-style bathroom, or you can use the shared bathhouse. The camper accommodates two people in an open-concept living area with a camper queen-size memory foam mattress.
The cabins are also equipped with basic utensils, pot holders, mugs, plates, glasses, and a lighting implement. The fridge small, so if you plan on cooking on the grill, I'd recommend bringing along a cooler. You can see my other glamping packing list essentials for more ideas.
Alpine Garden Glamping Amenities
The Alpine Garden Glamping village has a heated pool that is open from May through October. There are nice lounge chairs around the pool but you will want to bring your own towels.
On-site, there is a camp store that offers charcoal briquets, firewood, fire starter, ice, and other basic camping essentials. This is also where you can borrow some vintage vinyl to play on the record player in your cabin.
The most unique amenities is the Alpine Garden Winery, which is open year-round from Thursday through Monday from 12:00 to 6:00 pm. The winery offers natural wines and ciders in the style of Pétillant Naturel, which many refer to as "Pét-Nat." The fruit is grown nearby in Bartlett, NH and all ciders and wine are both pressed and bottled in house.
Things to do Nearby
The Alpine Garden Glamping village is located right on Route 302 in Bartlett, which is a great central location in the White Mountains. The main attractions and famous hikes are all within 30-60 minutes drive. A few things you can't miss while staying at Alpine Garden are:
White Mountain Cider Company – this cafe and market is a great spot to pick up specialty food items and delicious apple cider donuts. But while you are nearby, I'd also make a dinner reservation at the farm-to-table restaurant, which is delicious. (7 minute drive)
Thompson House Eatery – another place to make a dinner reservation for farm-grown fine dining (12 minute drive)
Storyland – fairy-tale themed amusement park for the under 12 crowd (9 minute drive)
Attitash Mountain Resort – ski resort that offers summer activities (3 minute drive)
Bear Notch Road – scenic drive (closed in the winter) that connects to the popular Kancamagus Highway (1 minute drive to entrance)
Diana's Baths – popular swimming spot and a series of small waterfalls accessible via a short hike (12 minute drive)
North Conway – shopping, restaurants, and the depot for the Conway Scenic Railroad (15 minute drive)
Mount Washington Auto Road – famous toll road to the top of Mount Washington, the tallest mountain in the northeast and home to the most extreme weather (26 minute drive)
Arethusa Falls and Frankenstein Cliffs Trail – popular hiking trail to one of the tallest waterfalls in New Hampshire and the Frankenstein Cliffs that offer a scenic view of the Frankenstein train trestle (11 minute drive)
Mount Willard Trail – located at the AMC Highland Center at Crawford Notch provides, a 3.1 minute out-and-back, moderate trail to a popular viewpoint (20 minute drive)
Mount Washington Cog Railway – scenic train ride to the top of Mount Washington (32 minute drive)
---
Bottom Line
Alpine Garden Glamping has an excellent location and some amenities (such as a pool and a winery) that you don't find at many glamping sites. The cabins are fairly close together and it is right off of a major road, so it isn't the quietest but it still maintains a peaceful setting. The glamping huts / hobbit homes are adorable, cozy, comfortable, and very nicely appointed. They don't have quite the style that you will find at someplace like Lumen Nature Retreat, but they do have full bathrooms, which is a huge plus in my eyes. Don't hesitate to book a stay!
VISITING NEW HAMPSHIRE? YOU MAY ALSO BE INTERESTED IN…
Save this to Pinterest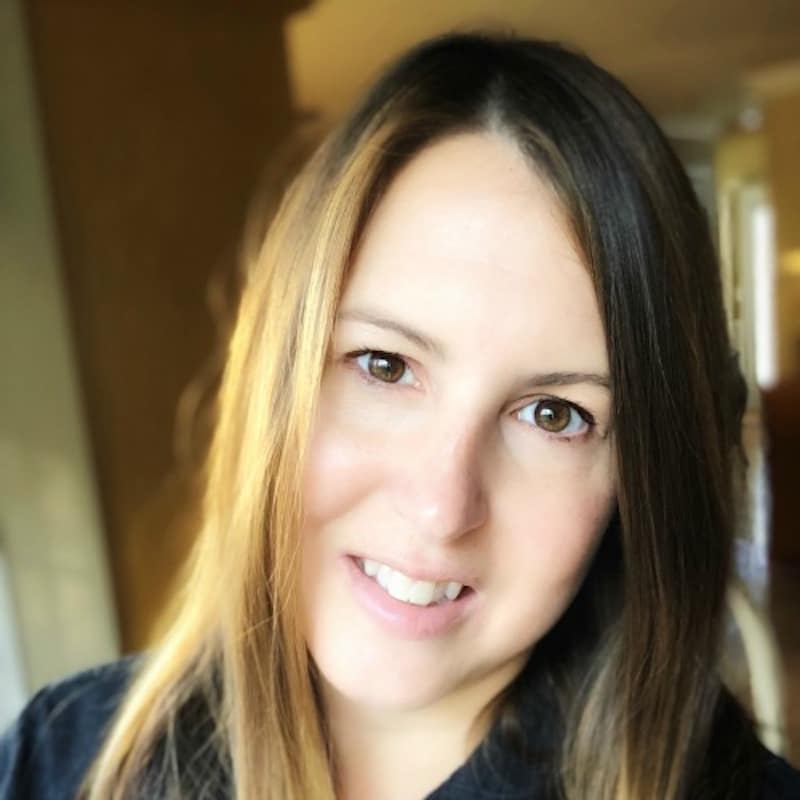 Tamara Gruber is the Founder and Publisher of We3Travel. A former marketing executive and travel advisor, Tamara is an award-winning travel writer and recognized expert in family travel. She is also the publisher of YourTimetoFly and the co-host of the Vacation Mavens travel podcast.