The Kancamagus Scenic Byway, also known as the "Kanc" is one of the most scenic road trips in New Hampshire and in all of New England. Especially popular with "leaf peepers" during fall foliage season, the Kancamagus Highway is a 34-mile scenic stretch along New Hampshire's Route 112 in the White Mountain National Forest.
The Kancamagus Highway (pronounced "Kank-ah-mah-gus") runs east-west, with the main section bookended in the west in the town of Lincoln, NH, and in the east by Conway, NH.
When is the best time to drive the Kancamagus Highway?
The drive is pretty at any time of year, but especially during the autumn when the leaves are changing colors and the mountains become a carpet of fiery oranges, reds, and yellows.
Prime fall foliage season varies depending on the year, but generally "peaks" between late September and mid-October. This makes Columbus Day / Indigenous People's Day Weekend a popular time to visit New Hampshire's White Mountains and drive the Kancamagus Highway.
You can always check New Hampshire's Fall Foliage Tracker to see how when the leaves will peak in the White Mountains this year.
If you plan on visiting in the fall, you will encounter fewer crowds if you can visit mid-week. In either case, start early to avoid the crowds that build later in the day.
How Long Does it Take to Drive the Kancamagus Highway?
Of course, a trip along this National Scenic Byway is not just about the drive, it is about the journey and the places you stop along the way. A typical drive with multiple stops will take at least half a day.
If you want to take some longer hikes or spend more time at some of the viewpoints, plan on taking a full day to drive the Kancamagus Highway. Since there is so much to do in the White Mountains and in the area nearby, it is best to plan a weekend trip (or better, visit in the mid-week when it isn't as crowded!)
Where to Stop on the Kancamagus Highway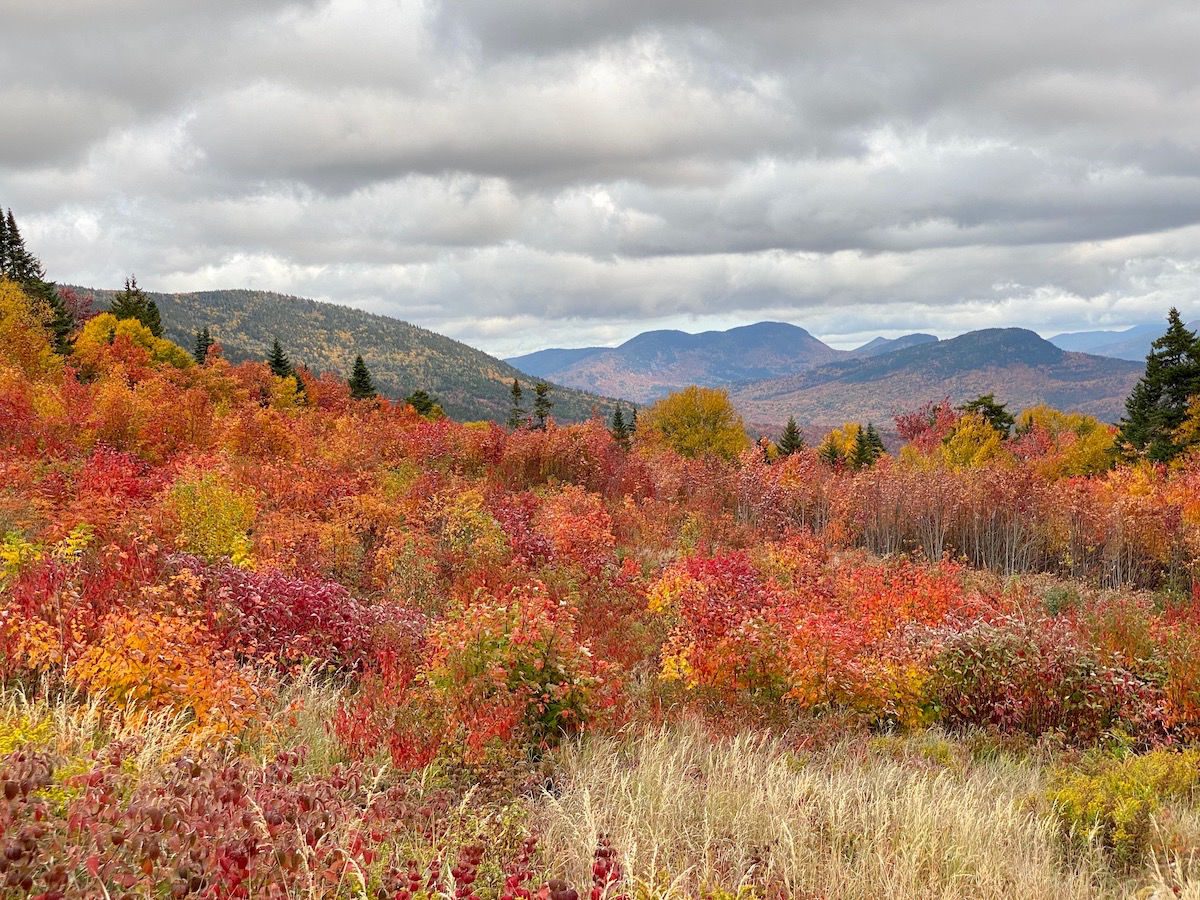 We have driven this scenic byway in both directions and I can't say that one is necessarily better than the other, but I found it slightly less crowded driving from east to west (starting in Conway), so that is how I have laid out the stops below. Just keep in mind that you can just as easily reverse this itinerary if you are starting in Lincoln.
If you are staying near Conway and traveling from east to west, you may want to stop at the Saco Ranger station when you first set out on the highway in order to purchase a recreational pass that covers parking at each stop along the way. You can also purchase a recreational pass at the Lincoln Woods Trailhead parking area and they have a self-service pay machine that takes credit cards as well, otherwise it is helpful to bring $5.00 in exact change.
Keep in mind too that you will often find cones set up on the shoulder of the road near popular trailheads and parking lots to prevent overflow parking along the road. When you see that, please observe parking rules as it can be dangerous to have people walking along the road when there is a lot of traffic.
1. North Conway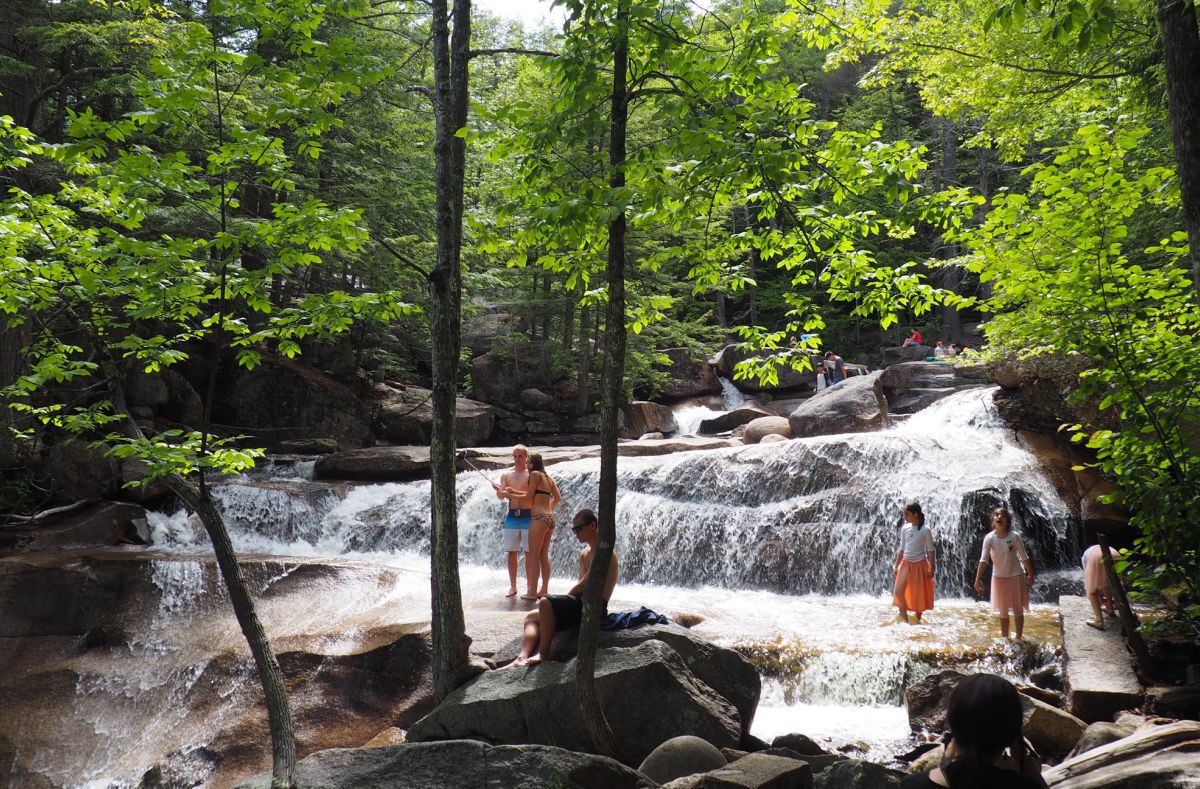 North Conway makes an ideal starting spot for your scenic drive, with plentiful restaurants, outlet shopping, and outdoor attractions such as Diana's Baths or Cathedral Ledge. For breakfast before you leave, I'd recommend Peach's Restaurant and for lunch or dinner, we love Barley & Salt Tap House and Kitchen, Flatbread's, or the Muddy Moose. Of course, Cheese Louise in Conway is another great spot to grab lunch after your drive if traveling from west to eat.
2. Swift River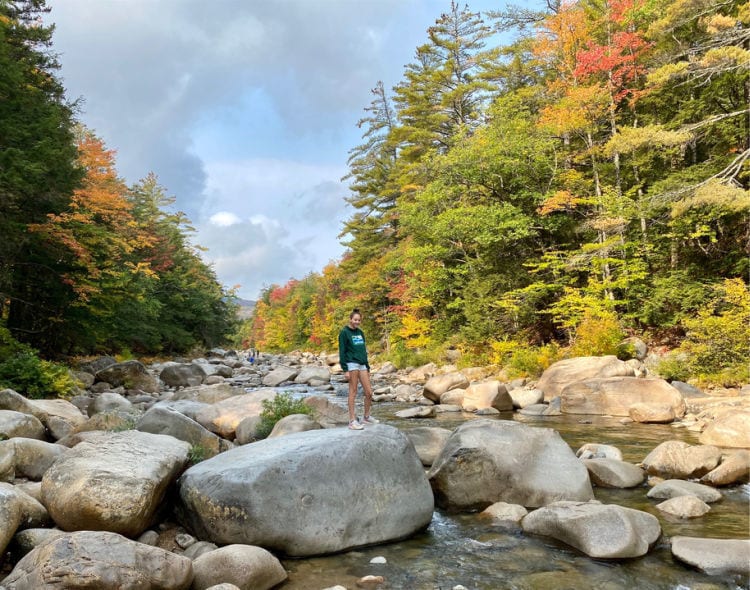 When you start your journey along Highway 112 from Conway, just after you pass the Kancamagus Swift River Inn, the highway will start to parallel the Swift River. There is a wide shoulder pull-off area for parking and multiple easy paths down to the riverfront at this point.
When the water is low, it is easy to hang out on the rocks and take in the view or do a little wading. Just keep in mind that the river may be deeper than it looks and the current faster. Take care and bring sturdy shoes or water shoes with a good grip.
3. Albany Covered Bridge
The first major attraction is the Albany Covered Bridge. There is a large parking lot here and you can also purchase a recreational pass via the self-service station. Watch out for traffic crossing the wooden bridge.
There are walking paths on either side of the bridge and plenty of areas to climb out on the rocks in the river for a perfect scenic photo with the bridge in the background.
4. Lower Falls Scenic Area
The Lower Falls scenic area is a very popular stop on the Kancamagus Highway. So much so that you may want to skip it if the parking lot looks too crowded, especially if you have already had a chance to climb on the rocks in the Swift River.
There is a small waterfall and people swim in the river here during the summer months. You will also find a picnic area with a few BBQ grills and bathrooms.
5. Rocky Gorge Scenic Area
Swimming is not allowed at the Rocky Gorge scenic area because of the force of the river flowing through the narrow gorge, which has been carved by glaciers. It is an easy walk from the parking lot down to a footbridge overlooking the gorge and the waterfall.
You can also climb down on the rocks for a closer look at the gorge or continue along the path to Falls Pond and the viewing area there.
6. Champney Falls
If you are willing to take a full day driving along the Kanc, and up for a bit of a hike, stop at Champney Falls. It is a 2.5-hour out-and-back hike to the series of waterfalls, about 70 feet long. This hike actually offers a better view when the water is high or in the late spring. By fall these have often dried up. You can always check AllTrails for up-to-date reviews of hiking trails.
7. Russell-Colbath Homestead
History buffs may enjoy a stop at this historic site located near the Jigger Johnson Campground, but if you are in a hurry, feel free to skip it. This wood-frame house was built in the early 1830s and is listed on the National Register of Historic Places.
In 2003, a new post and beam barn was built, which is used for interpretive programs. At times, a host greets visitors wearing clothing that would have been worn in the 1800s.
8. Sabbaday Falls Picnic Area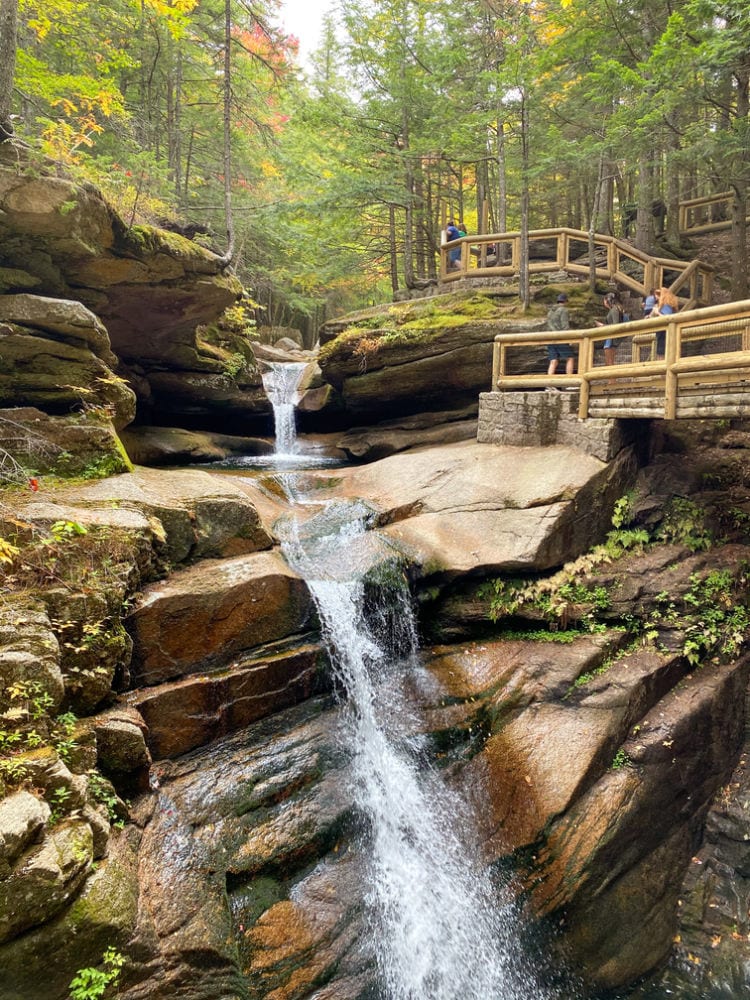 Sabbaday Falls is one of the most visited waterfalls in New Hampshire and it can be a bit challenging to find a spot to park either in the lot or along the road. Just a short 10-minute walk up a wide gravel path leads you to these stunning waterfalls. You can peek at the lower falls and pool at the base, or climb up along the stairway to the top of the falls. There you can see a 45′ drop to the pool below.
There is also a picnic area here that makes a good spot to eat lunch at the halfway point on your drive. Restrooms are also available.
9. Sugar Hill Scenic Overlook
This is one of my favorite scenic overlooks because of the elevation and the color that you will find at Sugar Hill. There is also a nice viewing gazebo that makes for pretty photo opps.
10. C.L. Graham Wangan Overlook
Overlooking the Kancamagus Pass, this overlook offers beautiful views to the north into the White Mountains. The vegetation here is as beautiful as the colorful mountains in the distance.
11. Pemigewasset Overlook
If you want a view to the south, make a quick stop at the Pemigewasset Overlook on the other side of the road. This one is easier to stop at if you are traveling west to east. Either way, it is nice to get a different perspective.
12. Lincoln Woods
When you reach Lincoln Woods Trailhead, you are almost to the town of Lincoln. This is the largest trailhead on the Kancamagus Highway, with access to many hiking trails for you to finish your day. There is also a Ranger Station and visitor center on-site, a good stop if you are starting in this direction.
There is a suspension footbridge across the Pemigewasset River, and this is also an area where you can climb on the rocks along the river. The trails near Lincoln Woods tend to be flat and wide and very family friendly. For a hike that is a bit more scenic, continue on to Franconia Falls. This is about a five-mile round trip.
13. Lincoln
The town of Lincoln makes for a perfect spot to start or end your drive along the Kancamagus Highway. There are plenty of options to pick up food for the drive, such as at White Mountain Bagel or The Moon Bakery & Cafe. If you are staying in town, try to make reservations for dinner or go early and be prepared to wait. Some popular choices include The Common Man and One Love Brewery.
If you have any energy left, there are also nearby attractions such as Alpine Adventures ziplining, Flume Gorge, and Lost River Gorge.
Tips for Driving the Kancamagus Highway
Start early as the parking areas can fill up fast, especially if you are visiting in the fall.
Get gas before starting your drive as there isn't any along the route.
Pack a picnic as you also won't find any restaurants or food services except near the towns at either end.
Drive carefully and keep an eye out for wildlife, motorcyclists, and bicyclists.
Restrooms are available at many of the main trailheads and attractions, but you will want to bring hand sanitizer and possibly extra toilet paper.
Keep in mind that there is VERY LITTLE cell phone coverage on the highway. It makes sense to bring along a paper map or drop a pin / save these destinations on a Google Map that you can access offline.
Another option is to download the Kancamagus Scenic Byway audioguide before you go and listen to that as you drive. It is location-enabled to play automatically.
Parking at most trailheads and attraction parking lots requires a Recreation Pass. You can purchase a seasonal pass online before you go, or at the Ranger Station at the start of the drive. If you don't, you can also purchase using the self-service envelopes at major parking lots. Just be sure to bring small bills (currently $5.00) to put in the envelope and hang the tag in your car.
Try to visit during the week if you are planning on visiting during prime foliage season.
Bring bug spray and sunscreen just in case they are needed.
Remember to pack layers as the temperature and weather can change rapidly in the White Mountains.
Where to Stay Near the Kancamagus Highway
There are six campgrounds along the Kancamagus Scenic Byway, but most visitors l choose to stay in the popular towns of Conway / North Conway or Lincoln.
Where to Stay in North Conway, NH
In North Conway, we love the Red Jacket Mountain Resort for the family-size suites and indoor waterpark (currently closed due to a fire but we hope it will reopen). We have also been very happy at the Residence Inn North Conway.
If you are looking for a more unique glamping option, we stayed in a glamping tent in Albany, NH at the Huttopia Resort just south of the east entrance of the Kancamagus Highway. It was such a fun spot right on a lake with plenty of resort-like amenities. You can read my full Huttopia White Mountains review to see if it would be a good fit for you.
Where to Stay in Lincoln, NH
In Lincoln, there are plenty of options near Loon Mountain, but we like the Riverwalk Resort at Loon Mountain. For a more unique stay, I have also stayed in a safari glamping tent at the KOA Lincoln/Woodstock. In addition to tents and campsites, the KOA also has Conestoga wagons, treehouses, and cabins. You can read my full review of glamping at the KOA Lincoln/Woodstock. Lumen Nature Retreat also offers safari tents, A-line tents, and gorgeous Nordic-inspired cabins. Read my full review of glamping at Lumen Nature Retreat.
Things to do Near the Kancamagus Highway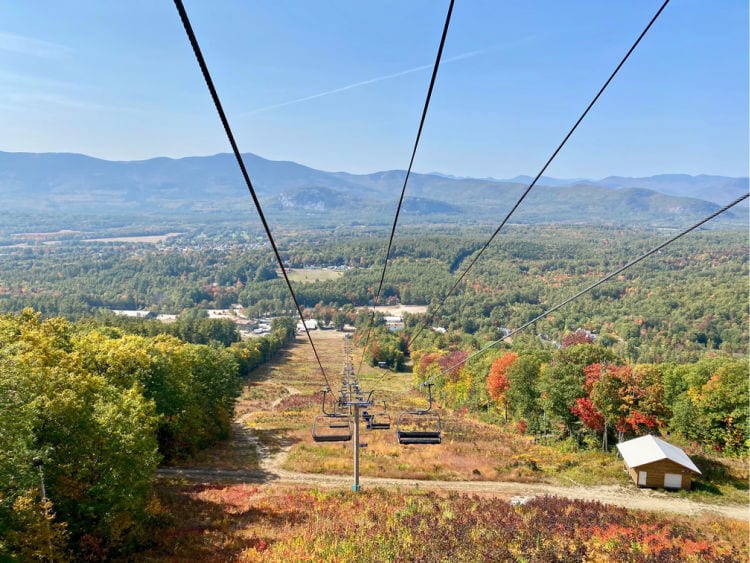 While a scenic drive on the Kancamagus Highway can take a full day of your trip to New Hampshire, you may want to stay a little longer and enjoy some of the other White Mountain attractions. Here are a few things to do nearby but be sure to check out my full list of the best things to do in the White Mountains:
Drive the Mt. Washington Auto Road – this white-knuckle drive is not for the feint of heart but if the weather cooperates, you can get amazing views from the top. Just be prepared for high winds at the summit! Also, note that this is a toll road.
Ride the Mount Washington Cog Railway – ride the train up to the top of the highest point in the Northeast on the second steepest cog railway in the world.
See the fall foliage along the Conway Scenic Railway. This train ride isn't as steep, but takes a gorgeous route through the White Mountains and Crawford Notch.
Swing from the trees at Alpine Adventures zipline on two treetop routes. (Just be sure to book in advance.) You can also take an off-road adventure tour or rent a side-by-side to take a guided tour of the private 300-acre mountain sanctuary.
Explore the caves and waterfalls of the Lost River Gorge. At this attraction, you can climb through caves and traverse the one-mile gorge to see waterfalls and ancient rock formations.
Hike in Flume Gorge. While Flume Gorge is part of the New Hampshire State Park system, this is a paid attraction and online reservations are required. You can hike along a two-mile loop along boardwalks, up stairs, and along paths through this 800-foot gorge. This is not a good attraction for those with mobility issues.
Enjoy summer and fall mountain attractions at Attitash or Cranmore Mountain Resorts. At Attitash, you will find an Alpine slide, while Cranmore has a mountain coaster, giant swing, zip line, and scenic chair lift. Both offer beautiful views!
Splash in the waterfalls of Diana's Baths. In warm weather, you will want to bring your water shoes and towels to enjoy the waterfalls. You may also want to visit Cathedral's Ledge nearby to take in the view.
VISITING NEW HAMPSHIRE? YOU MAY ALSO BE INTERESTED IN…
Save this to Pinterest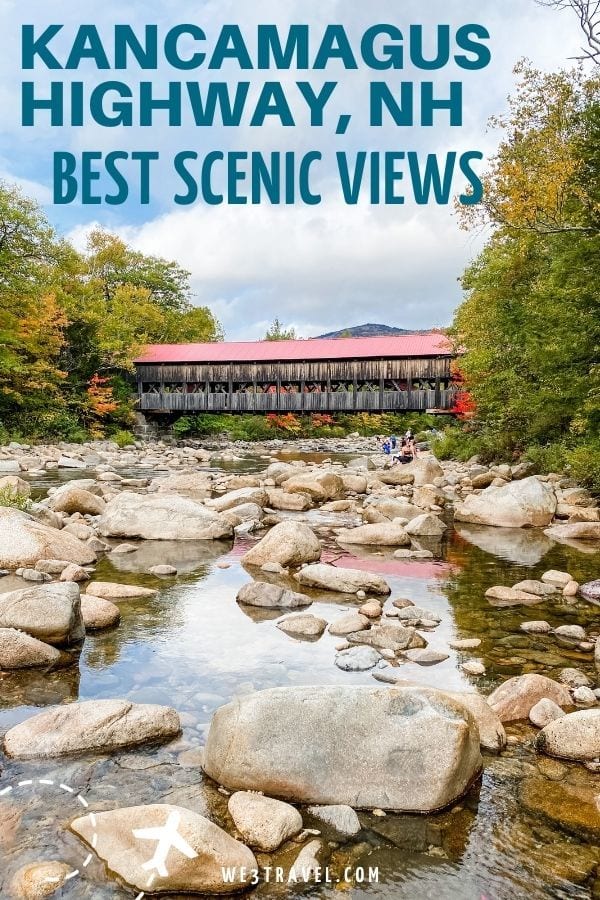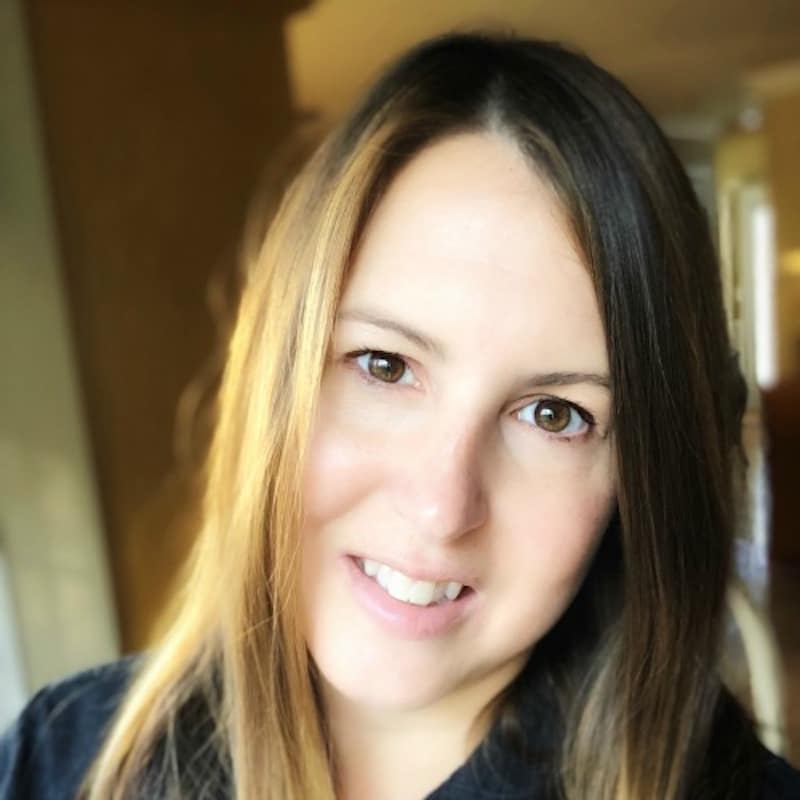 Tamara Gruber is the Founder and Publisher of We3Travel. A former marketing executive and travel advisor, Tamara is an award-winning travel writer and recognized expert in family travel. She is also the publisher of YourTimetoFly and the co-host of the Vacation Mavens travel podcast.