Glamping, a fusion of glamour and camping, is a travel trend continues to gain steam as non-campers such as myself seek ways to revel in the great outdoors without sacrificing comfort. Lumen Nature Retreat is one of the newest glamping resorts in New England, bringing a fresh Nordic style to the heart of the White Mountains.
Now, I'm no stranger to the glamping scene; my travel escapades have led me to canvas-walled tents, Airstream trailers, tiny houses and cozy geodomes, some amidst these very mountains, including Huttopia's rustic charm to the KOA Lincoln/North Woodstock's classic campground vibe. But let me tell you, Lumen Nature Retreat is a gem that sparkles brighter than most, and it's swiftly earned a place among my all-time favorites.
Join me as I trek into the woods of the White Mountains, where Lumen Nature Retreat promises a luxury glamping experience for a perfect nature getaway. In this Lumen Nature Retreat review, I'll go through the accommodations and campground amenities, as well as compare and contrast Lumen with nearby glamping options.
But first, let's start with five great reasons to try glamping at Lumen Nature Retreat.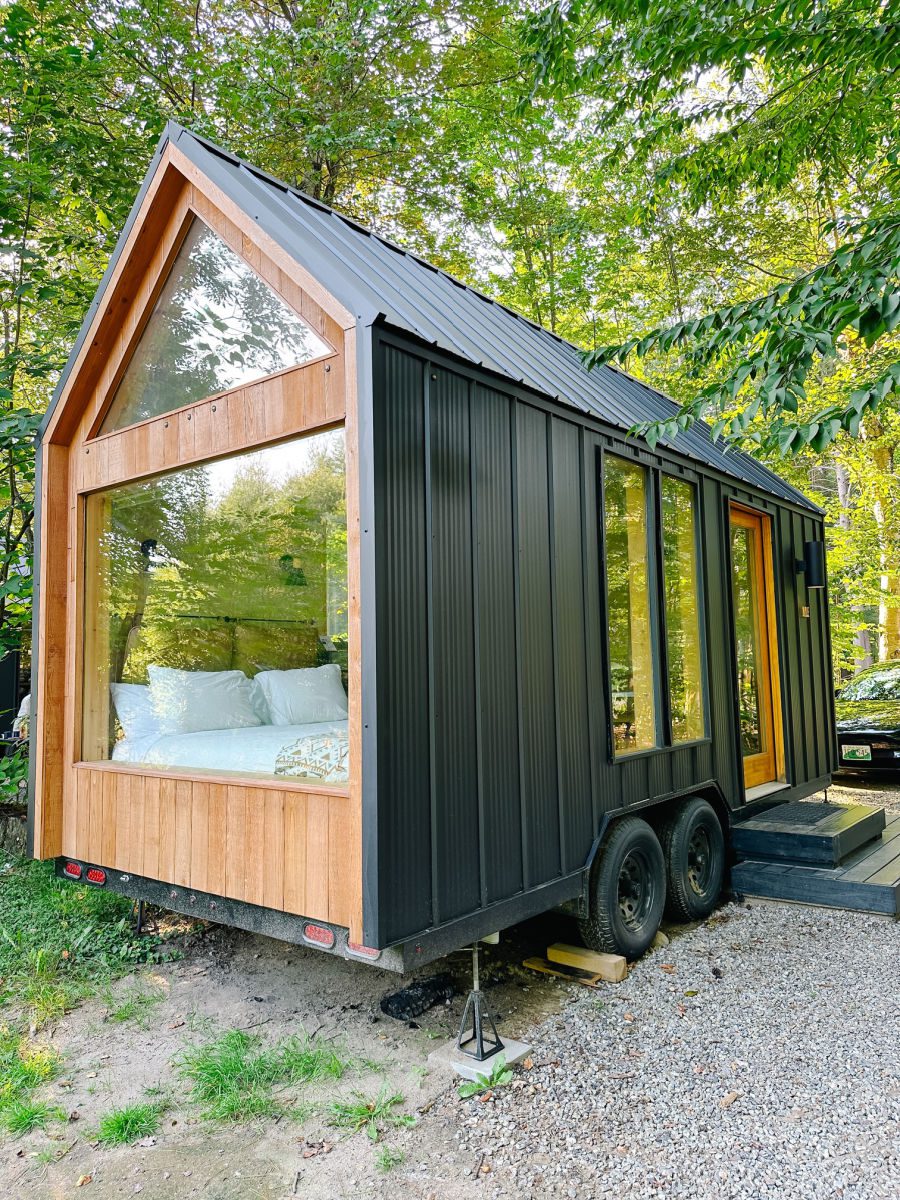 5 Reasons to Try Glamping at Lumen Nature Retreat
Note: My stay at Lumen Nature Retreat was complimentary for purposes of this review. All opinions are my own.
Whether you are an experienced glamper or looking to give it a try for the first time, here are some reasons to try luxury glamping at Lumen Nature Retreat:
1. Comfortable, Stylish Accommodations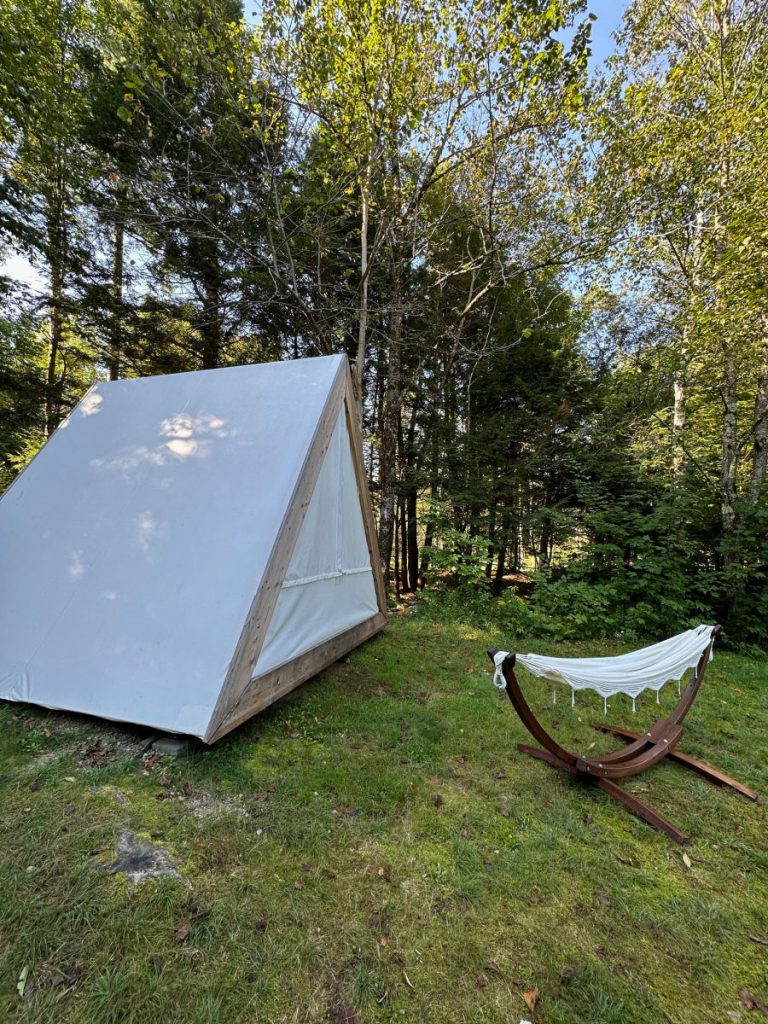 When it comes to glamping options, the accommodations can really run the gamut from rustic tents that are a step above traditional camping, to something that looks like a magazine cover photo with rain showers and double sink vanities (looking at you Terramor.) At Lumen, you get your choice. All you want is a comfy bed instead of an air mattress in a tent you need to pitch yourself? Pick the simple A-Frame tent, which gives you comfortable beds with hotel-grade linens and the basic cooking elements for preparing meals over the camp stove.
Want a little more? Step up to the safari tents, which come in three configurations: a king bed, a queen plus a twin, and a queen and two bunk beds (perfect for a family!) Safari tents at Lumen offer electrical outlets with portable charging stations and USB lanterns, hotel quality beds with premium bed linen and towels, complimentary drip coffee and tea, a 52-quart cooler, and the barebones dishes, pots and pans, and utensils needed for cooking over the stainless steel fire pit (propane stoves can also be rented.) These tents are a bit more stylish than the ones that you will find at Huttopia White Mountains, but they lack the en-suite bathroom and kitchen sink those Trappeur tents supply.
Not sure a glamping tent is your thing? Lumen's crown jewels are the Nordic inspired Lykke and Hygge cabins. These tiny houses bring the outside in with large windows that overlook the pond or brook on site. These high-style cabins are an Instagram dream, providing the comfort and amenities that you would expect in a luxury hotel. The Lykke cabin is perfect for a romantic getaway, while the Hygge cabins offer a queen bed plus a full loft bed, making it a great choice for a small family with kids old enough to safely climb the ladder to the loft.
2. Location, Location, Location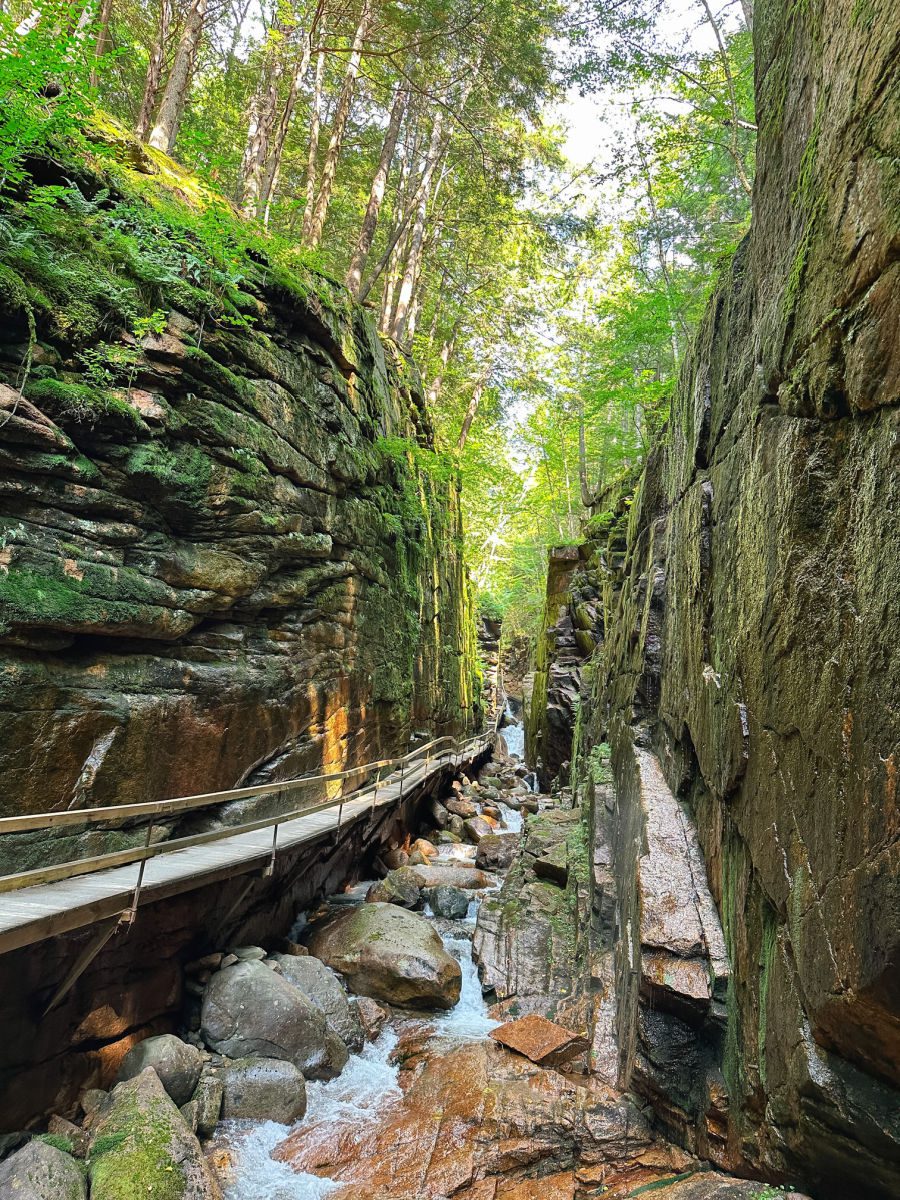 Located in North Woodstock with a perfect location for exploring the White Mountains, Lumen is just a five-minute drive off of Interstate 93, only two-hours from Boston and a short drive to downtown North Woodstock and Lincoln, New Hampshire. Manchester-Boston Regional Airport is the closest airport, just over an hour from Lumen Nature Retreat.
On top of the convenient location, Lumen Nature Retreat is located on a peaceful 20-acre property with 35 glamping sites that overlook Eastman Brook and Dumbell Pond. While you may hear the highway sounds in the distance, the croaking of frogs and chirping of the crickets are the soundtrack of your night and the glowing luminaries that light the path can't compete with the brilliance of the stars overhead.
Lumen is a great location for exploring some of the signature attractions in the White Mountains such as Flume Gorge, Lost River Gorge, Echo Lake, Cannon Mountain, Artists' Bluff, Franconia Notch State Park, and a road trip on the scenic Kancamagus Highway.
3. First Class Amenities
Lumen Nature Retreat has been a labor of love from co-owners Boris Mordkovich and Susan Zhao and I'm ready to hire their designer because two nights at Lumen have me wanting more hygge in my life. Even though I visited Lumen on a solo getaway, when I showed my husband the photos he was drooling over the goose-neck pour over coffee kettle (I think I know what I need to get him for his birthday!).
The amenities at Lumen are what you would expect from a luxury hotel, which can be even more unexpected in the middle of the woods. Each glamping site is equipped with a smokeless stainless steel fire pit, hotel-quality linens, and luxurious beds. The cabins offer a Fellow Stagg Kettle, Marshall bluetooth speaker, mini fridge, induction cooktop, and cookware and provide individual climate-control with air conditioning and heat.
The campground also offers a luxury, climate-controlled bathhouse with private showers and brand-name amenities. There are two Nordic saunas on site that are available for private booking, a barrel sauna and a square sauna. There are Adirondack chairs and picnic tables at each site and corn hole and a community fire pit in front of the bathhouse.
The bathhouse also has a community sink for dishwashing, a water bottle refill station (each cabin comes with two glass bottles of water), and vending for drip coffee, tea, and hot chocolate. Guests can also purchase firewood, fire starter, butane fuel, and bio fuel using a QR-code based vending system.
4. Affordability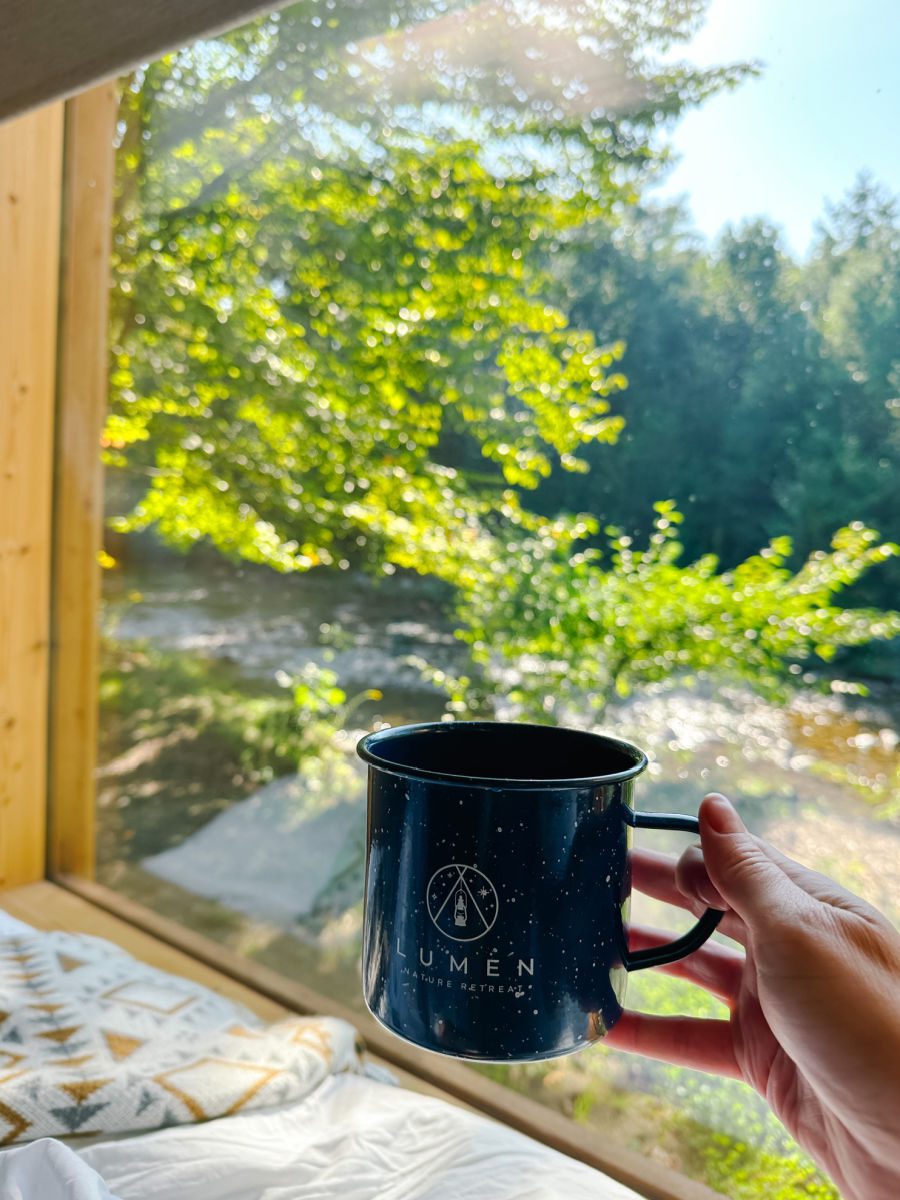 Since glamping has gotten so popular, the pricing at some resorts has also gone through the roof, with the price of some luxury tents on par with that of an upscale hotel. Granted, these tents also have private bathrooms, something that Lumen Nature Retreat does not provide.
However, even the beautiful cabins at Lumen are very affordably priced. Accommodations at Lumen range start at $98 – 208 per night for a mid-week stay (more on the weekends.) If you have been glamping-curious, Lumen is an affordable spot to give it a try.
5. Unplug in Nature
You can either look at the lack of WiFi at Lumen Nature Retreat as a negative or a positive. Personally, I think having a forced disconnect is sometimes what we need to cure our Internet-addicted brains. Add in a nice dose of nature and your mental health will thank you. Plus, if you really need to, Lumen gets decent cell service for basic connectivity.
Lumen Nature Retreat Review
Lumen Nature Retreat is a 20-acre property in the White Mountains of New Hampshire with 35 waterfront campsites. There are six A-frame tent sites, nine Safari tent sites, and 20 Nordic-inspired cabins on wheels. The property is open year-round, with the exception of a few weeks that are blocked off in November and March-April. Each campsite has two Adirondack chairs, a picnic table, and a stainless steel smokeless fire pit. The tents also have private hammocks.
The Lykke cabin has a queen-size bed and is perfect for a solo or romantic getaway. The larger Hygge cabin also has a full-size bed in a loft that is reached by ladder and a Le Feu bio "floating" fireplace. I spent two nights at the Lumen Nature Retreat in September in a Lykke Cabin during a mid-week solo getaway.
Lykke Cabin
The Lykke cabin is just as cute in person as it looks on Instagram. With clean Nordic design, it is the perfect nature retreat. The bed is pushed up against the large wall-sized window that overlooks the babbling brook or peaceful pond, which is a wonderful view to wake up to in the morning. The queen bed is quite comfortable, with hotel-quality linens.
While you will want to spend time curled up in bed enjoying the restful view, the cabin is also equipped with a small table and two chairs, a well-equipped kitchenette, and a full-size leather couch in the relaxation area. It is the little touches that really put Lumen's design aesthetic over the top — the small vase of flowers, the curated selection of books, the stylish Marshall Bluetooth speaker, the premium Fellow Stagg Kettle and specialty pour-over coffee all scream luxury glamping.
The cabin is even equipped with modern amenities including an induction cooktop, small refrigerator, pots and pens, dishes, utensils, two glass water bottles, and even salt and pepper. My only complaint is that the light from the mini fridge can be a little bright at night. The shades for the windows are also not room-darkening so you may want to pack a sleep mask if that kind of thing bothers you.
I visited during an unusual autumn heat wave so I was very appreciative of the individually-controlled air conditioning unit, although I'm sure if I visited in October, I'd be just as happy for the heat. As a solo traveler, I appreciated the locking door with a code for self check-in, as well as the parking space just outside of the cabin.
Outside, each campsite had a picnic table for an outdoor dining area and two Adirondack chairs and a stainless steel wood-burning stove to relax and enjoy nature.
Bathhouse
The cabins and tents at Lumen do not have private bathrooms, so you need to use the shared bathroom in the bathhouse. The bathhouse was only a one-minute walk from my cabin, which made it convenient, although not ideal for middle of the night bathroom runs. The bathhouse is centrally-located in a recreation area that also includes a community fire pit, corn hole game, and one of the Nordic saunas.
Outside the bathhouse is a sink and dishwashing station for everyone to share, as well as a water bottle refill station. You can also purchase drip coffee, tea, and hot chocolate.
Inside, there are men and women's bathrooms in the climate-controlled bathhouse. The women's side has three private toilets and three private showers with attached changing areas with hooks and a bench to keep your clothing dry. The hot showers offer great water pressure and premium toiletries including shampoo, conditioner, and body wash, just pack your shower shoes. (See my full glamping packing list!)
There are multiple sinks with soap, lotion, and hairdryers. Lumen also offers free toiletries including cotton swaps, make up remover wipes, and ear plugs. Each tent and cabin is equipped with bath and hand towels.
Campground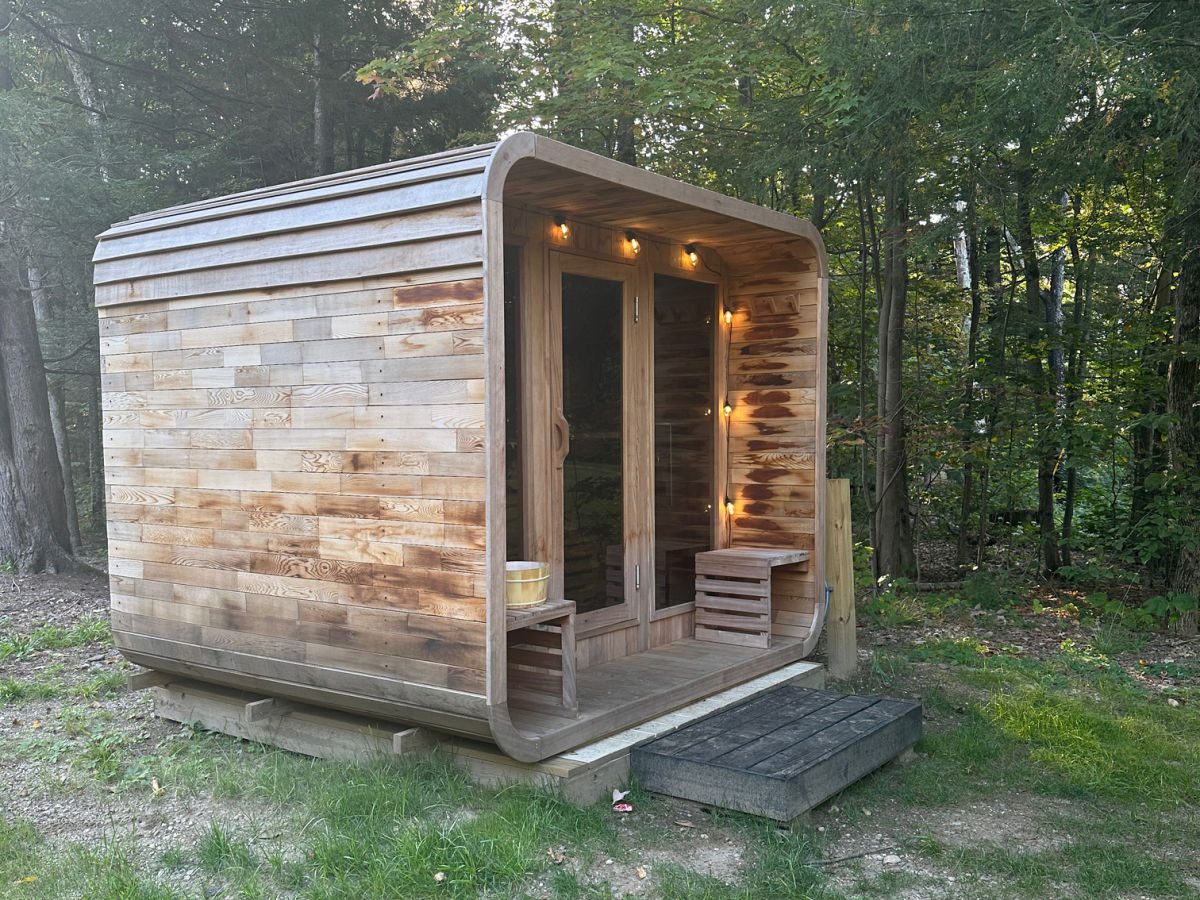 The campground is arranged in a circular pattern to provide each campsite with a view and easy access to the bathhouse. Even though the sites are close together, they are still arranged to offer a modicum of privacy. The peaceful setting is ideal for enjoying nature, whether it is the barrel sauna overlooking the pond or the colorful Adirondack chairs to enjoy your morning coffee with a waterfront view. The little touches, like the metal luminaries that reflect patterns on the ground to light the path at night, to the self-service firewood vending offer a modern approach to camping.
Quiet hours begin at 10 pm and even though I've stayed at other glamping resorts where the guests didn't adhere to those policies, when I visited it was quiet and peaceful at night, even when I tiptoed to the bathroom at 4:00 a.m.
Bottom Line
I loved the style, cleanliness, and aesthetic of the Lykke Cabin and the overall vibe of the campground. While the grounds don't have the amenities of a property like Huttopia, which has a swimming pool, lake with kayak and paddle board rentals, and a cafe/food truck, but it still has a nice community feel. And even though the vibe is friendly, it isn't the same as the KOA nearby, which has more of an emphasis on RVers and campers. I actually prefer the luxury glamping resort feel to a more traditional campground.
The comfort of the cabin surpassed many of the safari tents that I've stayed at in the past, but I did miss having a private bathroom. While the private showers with dressing areas in the bathhouse are perfectly fine, I'm someone who typically has to get up in the night to use the bathroom and having to walk even the short distance to the bathhouse made it hard for me to fall back to sleep and therefore my nights were not as restful.
So bottom line, Lumen Nature Retreat is a unique place for a special experience and the best of the places that I've gone glamping in New Hampshire (at least so far!)
Save this to Pinterest