Tiny House living has become a new trend as people look to downsize and minimize. However, you don't need to commit to selling your home to give this lifestyle a try, because tiny houses are also a fun way to go "glamping" without the tent. The Tuxbury Tiny House Village in New Hampshire is a perfect "little" retreat for anyone looking for a fun and unique weekend getaway.
Located right on the border of Amesbury, Massachusetts and South Hampton, New Hampshire, the Tuxbury Tiny House Village is located on the Tuxbury Pond RV Resort. This location, just 30 minutes to Portsmouth and a little over an hour north of Boston and south of Portland, Maine, offers easy access for anyone in New England, or those looking to add a glamping experience to their New England road trip.
Since we have tried tent glamping in New Hampshire at Huttopia and KOA, I have been wanting to try a tiny house in New Hampshire to see how the experiences compare. So we headed up to Tuxbury Pond to check out the Tuxbury Tiny House Village.
Tuxbury Tiny House Village Review
Note: We were provided a complimentary stay at the Tuxbury Tiny House Village for purposes of this review. All opinions are my own.
The Tuxbury Tiny House Village is located at the Tuxbury Pond RV resort. This family-friendly RV resort is set along the shores of Tuxbury Pond, hugging the Massachusetts-New Hampshire border. Unlike stand-alone glamping resorts, a stay at the Tuxbury Tiny House Village is similar to that of a traditional RV campground. You will find a mix of permanent residents and weekend visitors.
Like other campgrounds, Tuxbury Pond RV Resort has a community feel, with folks zooming around in golf carts and stopping to chat with neighbors. Since we have never been an RV or camping family, this vibe always feels new to us, but we can appreciate how nice it must be for families to have a place to escape to with plenty of space to let the kids run and play.
After winding our way through the town of Amesbury, we weren't sure if we were on the right road as we headed down a gravel track into the woods. But we soon reached the campground gate and main office, which luckily arranged for a late check in key drop since the office was closed for the day by the time we arrived on Friday evening. A quick map to the Tiny House Village had us driving through the campground, surprised at the sprawl of the campsites.
The Tiny Houses are tucked away on one end of the campground, away from most of the RVs, which was quite nice for a quieter retreat. There are five tiny home models available to rent, from the smallest "Henry" at 181 square feet, which sleeps two, to the largest "Emerson", which is an ample 309 square feet and can sleep up to six — which was where we stayed for the weekend.
Emerson Tiny House
The Emerson tiny house is the largest of the five options and with 309 square feet, it was plenty of space for the three of us for a weekend stay. Each tiny home an outdoor area and Emerson has a charcoal grill, fire pit area with two Adirondack chairs, and a picnic table. Emerson also has the prime location, with a picnic area overlooking Tuxbury Pond.
Stepping inside Emerson for the first time, I was struck by the spacious feeling and the cleanliness. The walls and ceiling are hardwood and everything felt very fresh and new, with some cute design touches to give the space a little personality. The main living area has a fold out couch that could sleep an adult or two small children, along with a small kitchen dining table and three chairs.
Emerson also offers both heat and air conditioning, although we didn't need to turn either on. It was very hot during the day when we were there, but with the windows open the interior cooled down very quickly in the evening, making for perfect sleeping weather. There was also a television above the kitchen table, but we don't really watch TV when we are traveling since we do that enough at home. As usual I forgot to even turn it on to see if it worked! We did, however, make good use of the WiFi!
The galley kitchen offered a nice apartment-size fridge, a two-burner induction cook top, a sink and some basic cookware and kitchenware. Underneath the stairs to the sleeping loft are some storage cubbies to keep your extra gear and bags out of the way. I'd recommend traveling with duffle bags that are easy to stow or bring upstairs. Little accents like fold-down hooks near the front door really added a lot, giving us a spot to store used towels or jackets.
The kitchen also had a coffee maker and supplied basics like ground coffee, dish soap, a sponge, and a roll of paper towels. I will say that the only downside we had to our stay at Tuxbury Tiny House Village was trying to cook dinner. Our plan was to grill hamburgers on the BBQ, and I made sure to pack some charcoal. Of course we arrived just before dark so we tried to quickly get the coals burning but didn't have much luck and the campground store was already closed so we couldn't get any lighter fluid.
I switched gears and used the frying pan to start cooking the burgers on the stovetop, but I quickly filled the place with smoke — even with the windows open — I'm surprised I didn't set off the smoke alarm! Lesson learned, we ordered a pizza from Flatbreads in Amesbury and decided to eat out from then on. So if you are going to cook, plan your meals and pack accordingly! (See my glamping packing list!)
At the back of unit I found the small bathroom. It was tight, but had a toilet, tiny sink, and small stall shower. Certainly better than tent camping in my book!
To get to the sleeping loft, you climb a narrow, steep set of stairs (be careful going down in the middle of the night!). The sleeping loft is open to the living area below, so you will need to keep noise and lights down after the first person goes to bed.
Upstairs, you will find a queen mattress and a double mattress on the floor of the loft, with a little night table and outlets for charging your phones. Keep in mind that the sleeping loft is not a full floor. You will need to crawl in and out of bed and you will bang your head if you try to stand up. It was still relatively comfortable though and we made out just fine. It would not work for small children or anyone with accessibility concerns.
Campground Amenities
With a stay at the Tuxbury Tiny House Village, you also have access to the amenities at the Tuxbury Pond RV Resort. The campground offers a variety of fun-filled family activities and events throughout the season. At check in, we received a daily event calendar with activities such as an outdoor movie and an afternoon hypnotist show.
In addition to the daily activities, the campground has a playground, pool, laundry facilities, basketball hoops, horseshoes, a game room, volleyball, a camp store, and restroom and shower activities.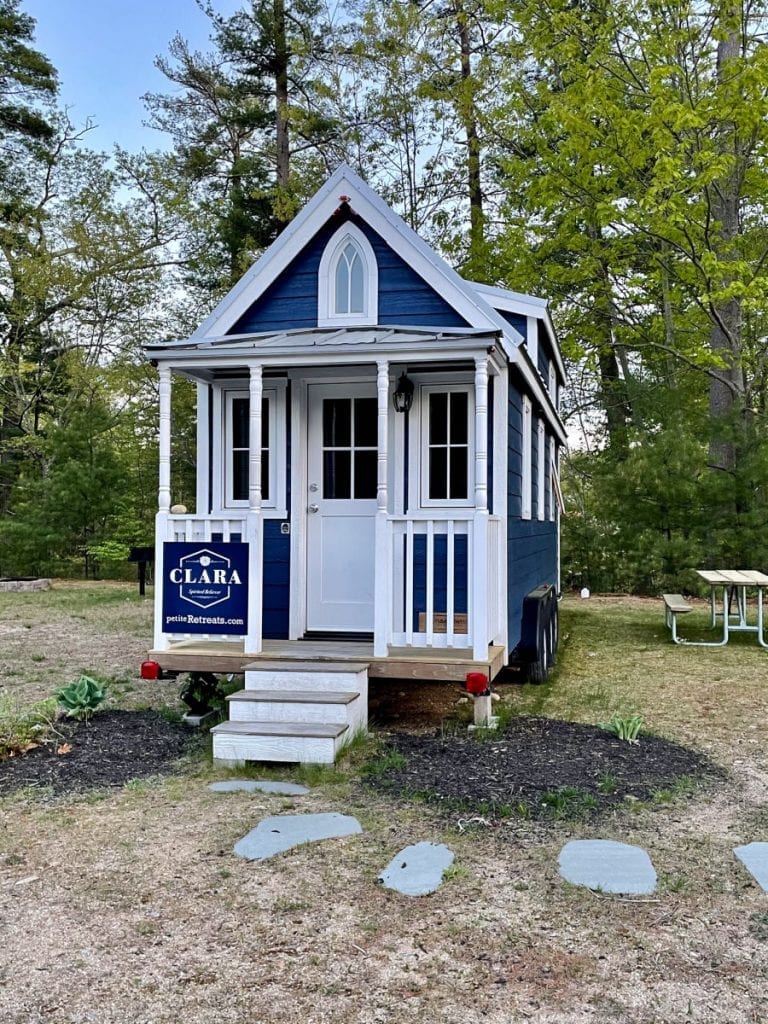 Nearby Attractions
The Tuxbury Pond RV Resort may feel like you are in the middle of nowhere, but it is actually only a short drive to many attractions. Nearby you can find apple orchards, farms, restaurants, and two wineries. It is also only 30 minutes to the Salisbury-Hampton beaches, museums, and outlet malls. Portsmouth, New Hampshire is also 30 minutes away and has a great downtown historic and shopping district. I'd highly recommend a meal at Row 34 if you enjoy oysters and seafood.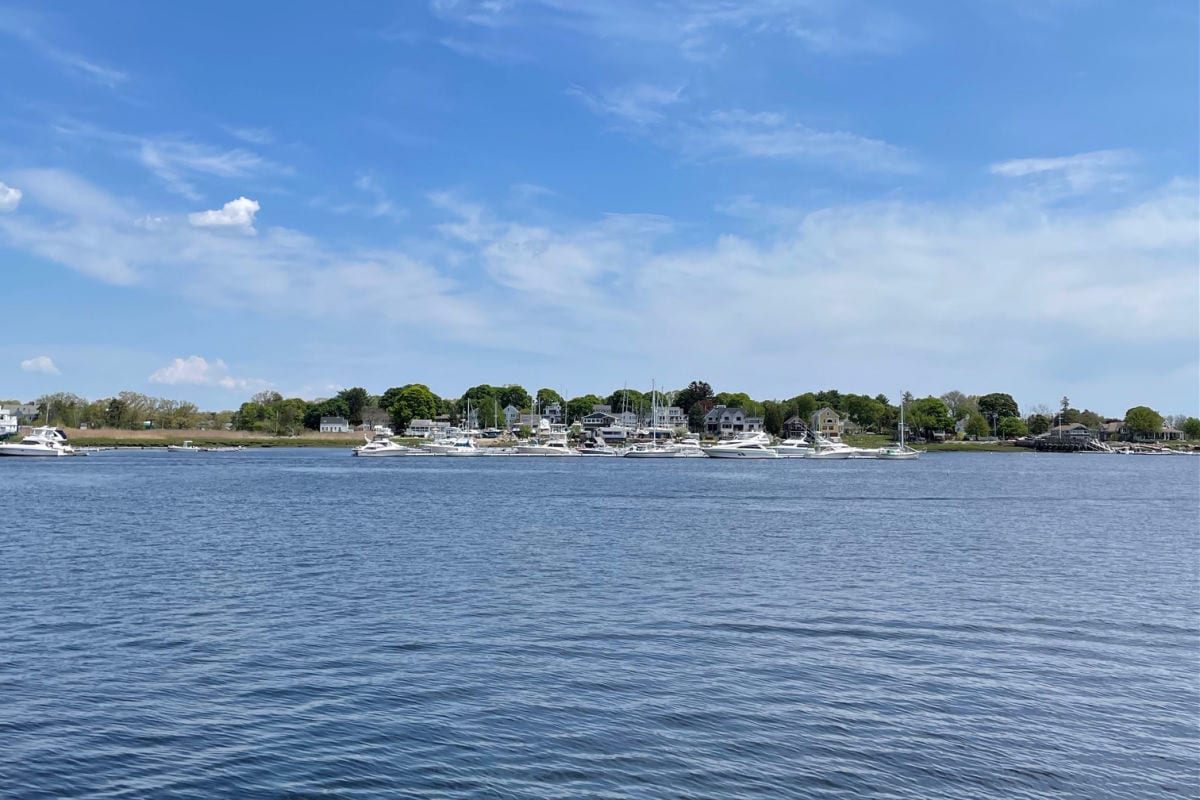 Newburyport, Massachusetts is even closer, about 15 minutes away, and offers much of the same atmosphere as Portsmouth with great dining and shopping, along with waterfront strolls or options for whale watching cruises. If you are looking for a quick dinner nearby, Amesbury has a surprisingly lively downtown and we had a nice dinner at Ristorante Molise.
Bottom Line
The Tuxbury Tiny House Village is a great getaway option for those looking for a unique experience and are working within a budget. It also offers the privacy and social distancing that many are still looking for in a travel destination. Just understand that it is part of a larger RV campground and the community you will find there, so if you are looking for solitude in the woods, you may want to check out one of these other glamping options.
Visiting New Hampshire? You may be interested in….
Save this on Pinterest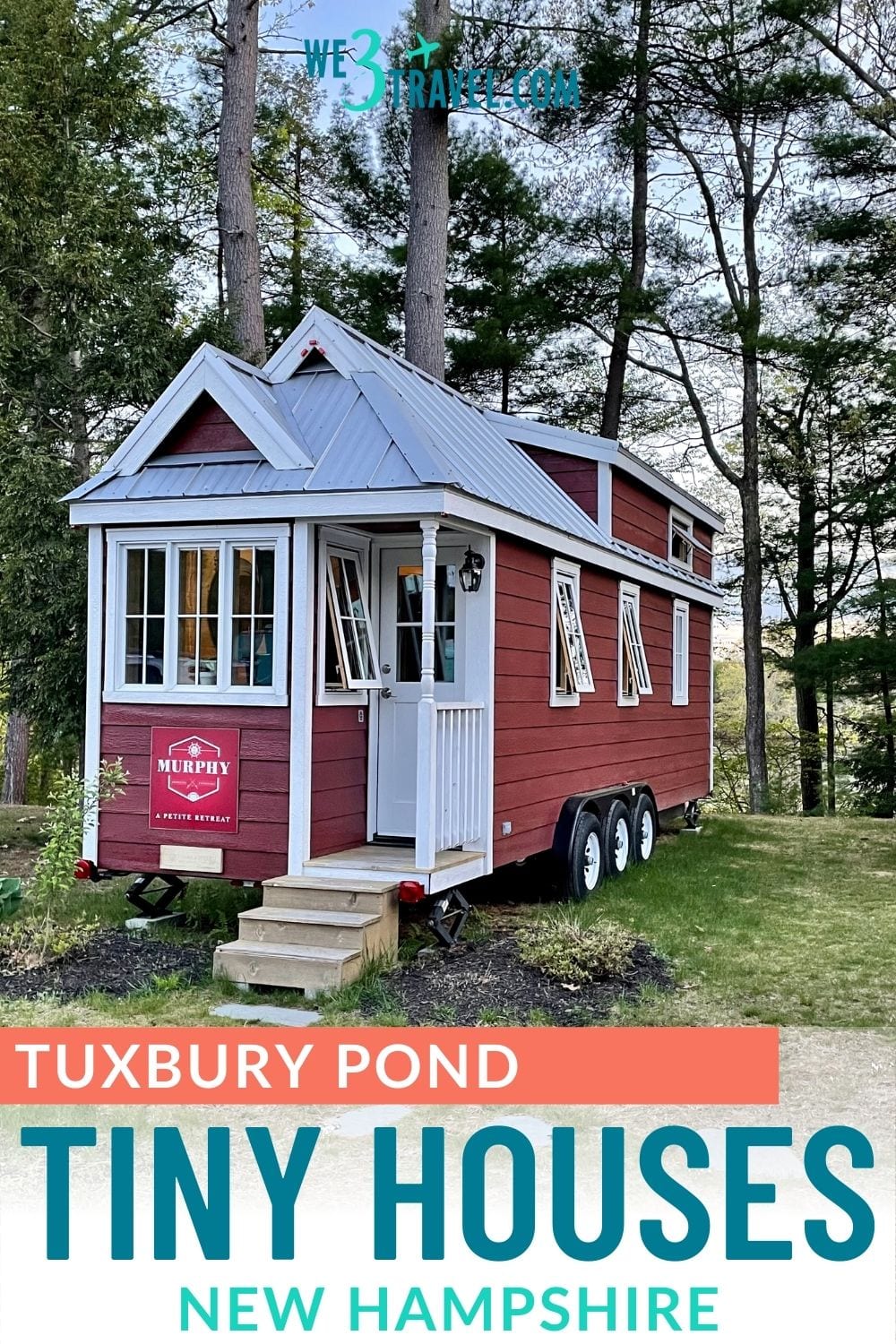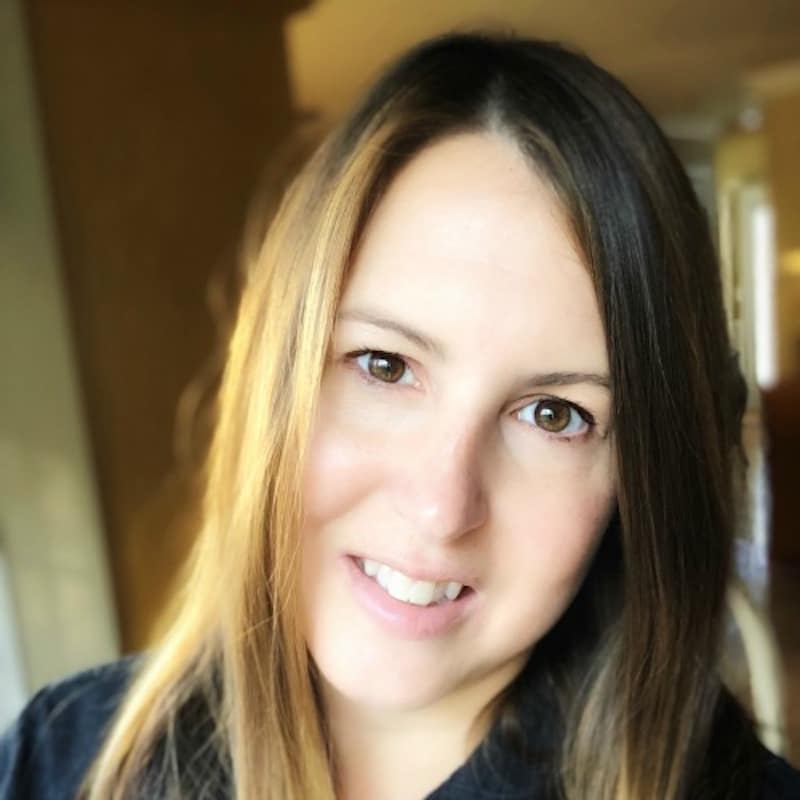 Tamara Gruber is the Founder and Publisher of We3Travel. A former marketing executive and travel advisor, Tamara is an award-winning travel writer and recognized expert in family travel. She is also the publisher of YourTimetoFly and the co-host of the Vacation Mavens travel podcast.