This post is sponsored by CamelBak but the content and opinions expressed here are my own.
Glamping may stand for "glamorous camping", but not all glamping resorts are created equal. Whether you are staying at a five-star luxury resort like The Ranch at Rock Creek, an upscale glamping resort such as Under Canvas, or a more utilitarian ready-to-camp resort like Huttopia, you need to be prepared with a comprehensive glamping packing list.
The joy of glamping is getting the adventure of camping without all the work — and with a lot more comfort. So you don't need to load up your vehicle with tarps and tents, stoves, and sleeping bags; but you do need to think ahead more than simply stuffing things in your overnight bag for your glamping trip.
Don't worry, we have done glamping in tents from Morocco to the Black Hills and have learned what to pack, and what to leave behind. Like camping, most glamping resorts are far enough from major urban centers that you will want to be prepared. So grab your coffee, start reading, and print out this glamping checklist because you are about to have some fun.
First time family glamping/camping? Check out these tips for camping with kids. If you are looking for places to try glamping, check out these glamping spots in New England or places to go glamping in Tennessee.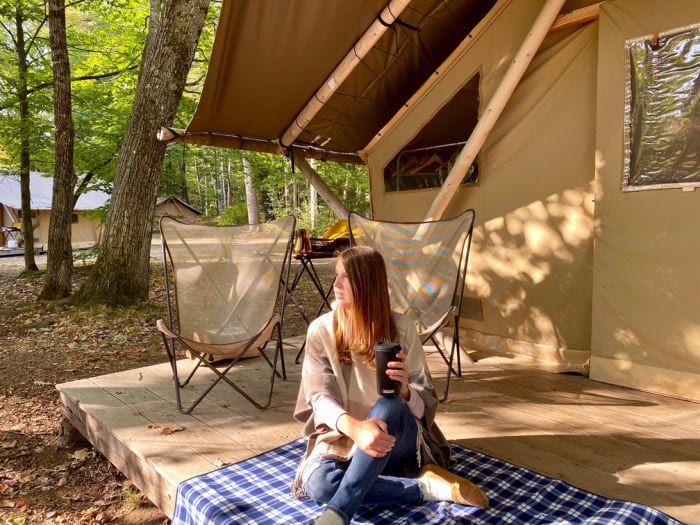 What Should you Bring on a Glamping Trip?
Before you pack up for your outdoor adventure, the first thing you need to know is exactly what is provided at your glamping site. Most glamping resorts will include bed linens, towels, and simple bathroom amenities but from there it can vary widely. Some questions to consider are:
Is the tent/yurt/treehouse/cabin equipped with electricity or will your lanterns or lamps be battery-powered? (this is the case at Under Canvas)
Are linens and towels included? Some simple yurts or basic tents may not include them and if this is the case, you can bring your own sleeping bag or sheets.
Does your glamping tent offer a kitchen and will you be preparing meals or eating out?
Does your lodging have a private bathroom?
What other camping or outdoor activities do you plan on doing?
If you would rather do car camping with kids, make sure to pack the essentials.
CamelBak MultiBev Water Bottle
One thing you definitely need is a CamelBak MultiBev reusable bottle. It is the perfect choice for ditching disposable cups and bottles for a more sustainable lifestyle — even when traveling.
The CamelBak MultiBev is perfect for glamping because it is one compact bottle that serves multiple purposes and covers you from your early morning coffee on the tent porch to the hydration you need on the hiking trail.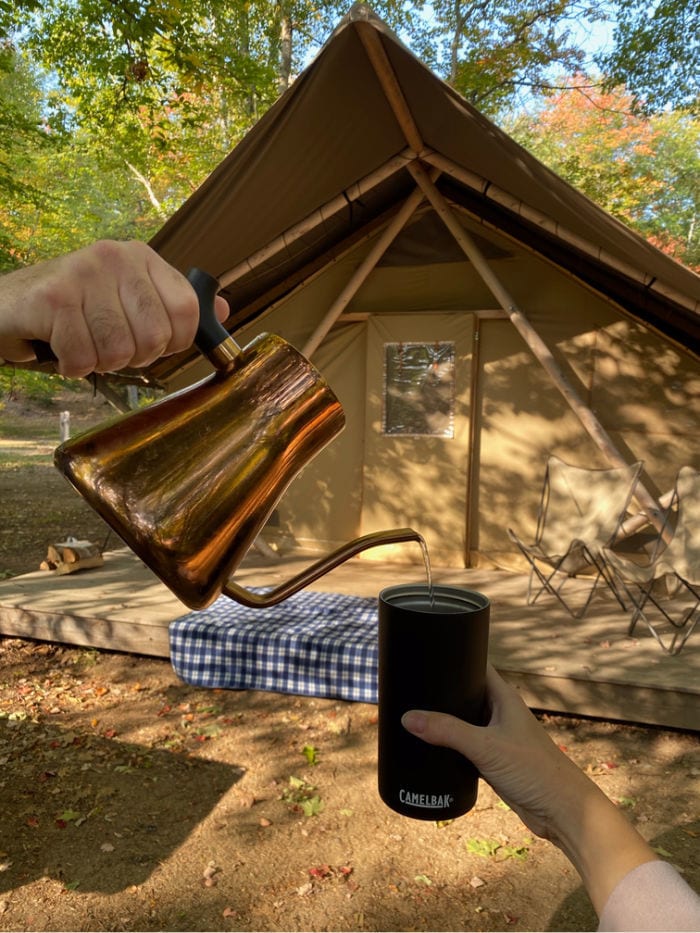 The outer layer of the bottle twists off to become an insulated travel cup. The leak-proof mug lid, perfect for sipping hot beverages, conveniently rolls up and folds away inside the bottle lid when not in use so it doesn't get lost.
Once you finish your morning routine, rinse out the cup and slide it back on for an insulated, refillable water bottle that will keep you hydrated throughout the day. I'm all for a 2-in-1 product that saves me packing space!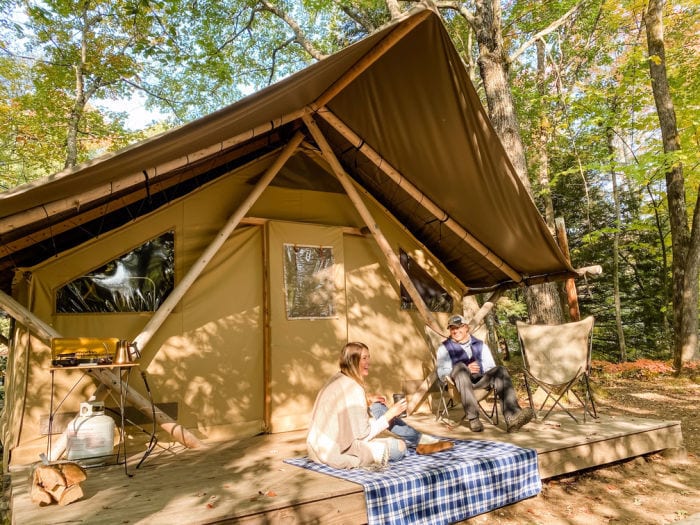 Everyone that travels with me knows that I don't leave home without my refillable beverage containers! I'm thrilled to add the CamelBak MultiBev as a must-pack item. The double-walled, vacuum-insulated design keeps beverages hot or cold for hours. Its multipurpose functionality and compact design make it perfect for glamping. And the powder-coated exterior is sweatproof and it can slide into my bag right next to my phone or computer with no worries about leakage.
Whether you are like my hubby, who grinds his own beans and still makes his perfect pour-over, even when glamping; or like my daughter, who enjoys a hot apple cider by the fire, the CamelBak MultiBev is up to the task. Plus the MultiBev is dishwasher safe and BPA, BPS, and BPF free, which makes it easy to ditch the disposables with a sustainable and safe option.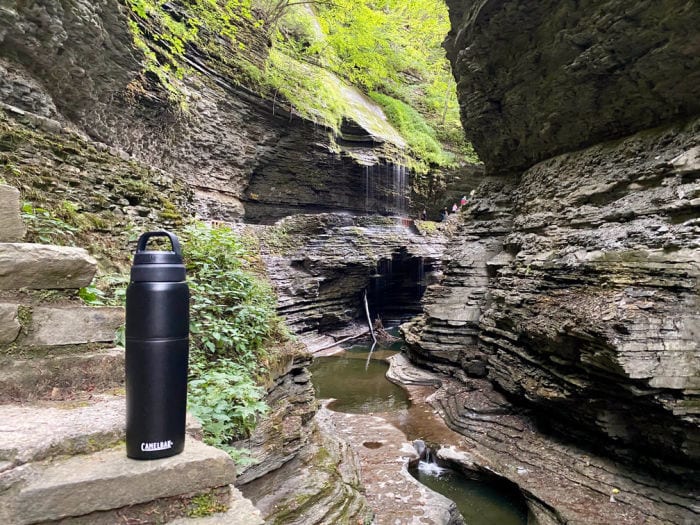 Now my CamelBak MultiBev comes with me on every trip — in the car, in my travel bag, and in my hiking backpack. The non-slip silicone base prevents tips and scuffs when it is set it down to enjoy the views. Learn more about the MultiBev here.
And be sure to check out my friend Karilyn's advice on what to cook while you are glamping.
Glamping Packing List
Note: This post may contain affiliate links. If you click a link and make a purchase, I may receive a small commission. All opinions are my own.
Of course, you need more than a water bottle and your hiking boots for your luxurious camping getaway. Here is your checklist for what else to pack:
Headlamp or flashlight for finding your way to your campsite in the dark or from the campfire at night.
Extra battery packs/chargers for your cell phone — especially if there isn't an electrical outlet in your lodging.
Small travel power strip with USB outlets — if there is an outlet.
Campfire essentials — you can't bring in firewood from out of state, but you can bring a long lighter, fire starter, and a s'mores kit including sticks if your site includes a campfire ring or fire pit.
Bug repellent — you will need a good bug spray and don't be surprised if a few sneak into the tent as well.
Hard-case suitcase and/or plastic bin — I recommend fully closing your bags to keep any potential hitchhikers out. Traveling with a plastic bin will help keep your clothing fresh if it is humid and provide a safe spot to store snacks (if food is allowed in the lodging.)
Extra blanket — it is helpful to have an extra blanket to snuggle up by the fire or sit outside on the porch and star gaze on chilly nights.
Welcome mat/rug — if not provided, it is helpful to have a small rug or mat that can trap dirt when you are entering the tent that you may have brought back from the trail.
Tablecloth — if your accommodations include an outdoor eating area, you may want to pack a picnic tablecloth that can be easily wiped off to enjoy your meals al fresco while keeping clean.
Sanitizing wipes — these are helpful for cleaning hands, items, feet, and more.
Paper goods — often glamping tents won't include tissues or paper towels, or they may be limited.
Beach towel or travel towel — even if towels are provided, you may want an extra if you are enjoying any water activities or for clean up and drying off.
Travel lantern or fairy lights — to add a little more light to your space, bring along a pop-up travel lantern or battery-powered "fairy lights" to make your lodgings cozy.
Cooler — if your tent or glamping accommodations don't include a fridge, you should bring a quality cooler to keep drinks or snacks cold (if this is allowed to be in the tent.)
Pillows — unless you are staying at a luxury resort, the pillows may be less than perfect, so for sanitary reasons and comfort, bring your own if space allows.
Camp chairs — check and see what is provided but many places will only supply two camp chairs if any. If your group is larger, bring some extra.
Bathroom caddy — glamping bathrooms can really range from none (gasp) to full luxe. At Under Canvas, we had to hold the chain to keep the water flowing for our shower. Most will have limited space to put things down so a hanging toiletry bag is recommended. If you have to trek to a shared or private bathroom, make sure to pack a bathroom caddy and shower sandals/flip-flops.
Garbage bags — you don't want to let trash linger if you are staying a while and not every resort offers housekeeping.
Cooking supplies — if you are preparing your meals, be sure to investigate what tools and appliances are provided. It is easiest to prep as much as possible in advance or make meals ahead that can be reheated in a pot on a camp stove, over a fire, or even in the microwave if that is available. You don't know the condition of the pots, pans, utensils, cutting boards, etc., or if much is even provided.
Simple to prepare foods — think instant oatmeal that you can make in a mug, simple soups, and stews, etc. And don't forget your trail snacks if you will be hiking!
Electronics-free entertainment — time to dig into that book, break out the deck of cards, or bring along a board game or puzzle.
A corkscrew — because — wine! (Hint: you may want to bring some wine or beverages too!)
Portable fan — if you are traveling in the summer months. Often this isn't needed if you allow some air circulation but if there is a heat wave, you will be happy to have one.
Outdoor clothing — hiking pants, hiking shirts, hiking boots, sandals, bathing suits, athleisure wear, cozy PJs — think COMFY!
Slippers — you will be glad to have them to putter around the tent on a chilly night.
Download a Glamping Accessories Checklist
Do you love a good checklist? Me too! Download and print this glamping packing list to prepare for your trip.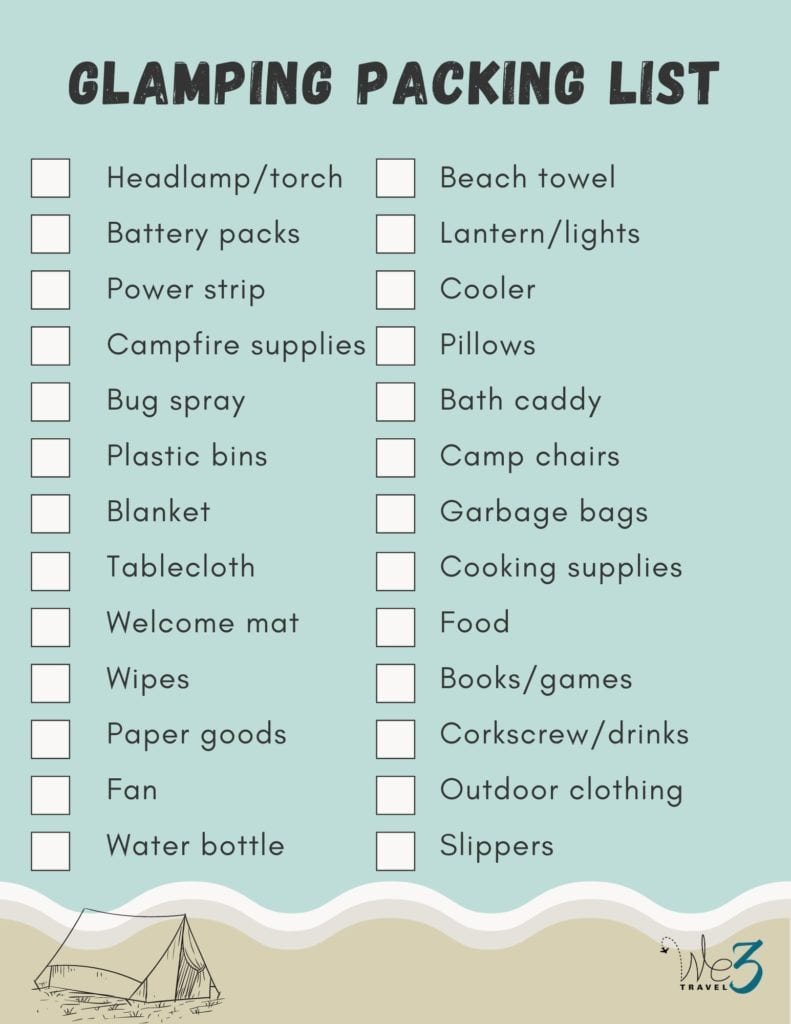 Save this to Pinterest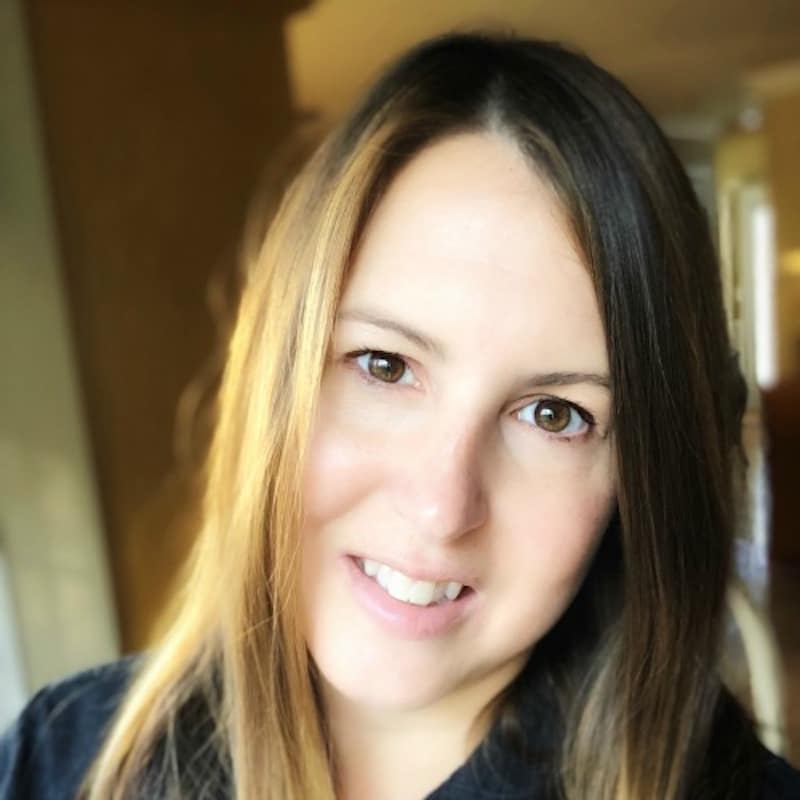 Tamara Gruber is the Founder and Publisher of We3Travel. A former marketing executive and travel advisor, Tamara is an award-winning travel writer and recognized expert in family travel. She is also the publisher of YourTimetoFly and the co-host of the Vacation Mavens travel podcast.