From yurts to wagons to safari tents, chalets, Airstream trailers, treehouses, and tiny homes, there are so many amazing places to go glamping in New England. So pick your pleasure, pack up your glamping gear, and step out of the ordinary and into the extraordinary.
If unique experiences are what you seek, here are a few that will tickle your fancy. From budget to ultra-luxe, glamping (glamorous camping) comes in all flavors because — different strokes for different folks.
What is your favorite?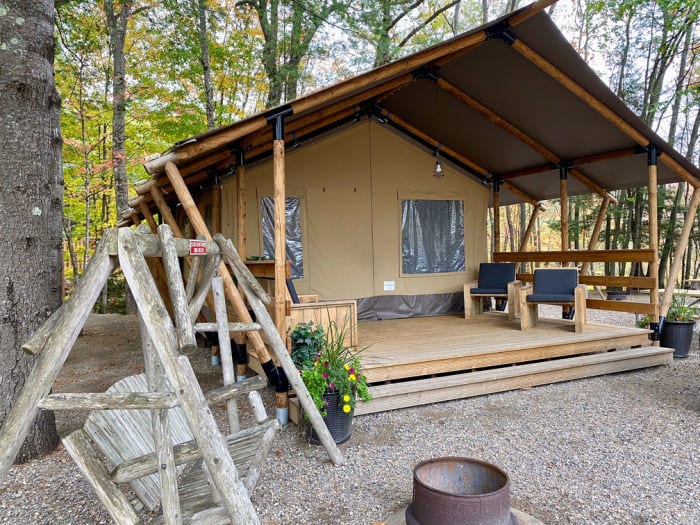 Places to go Glamping in New England
Note: This post may contain affiliate links. If you click a link and make a purchase, I may receive a small commission. All opinions are my own.
Ready to start searching for glamping sites in New England? Don't miss these top picks. Just keep in mind that some of these are only open seasonally from spring through fall so be sure to check for availability. Also, look for whether or not they offer any heaters or cooling fans depending on the season of your visit. You will probably want to download my glamping packing list before you go.
Looking for even more glamping getaways? You can also find glamping spots including yurts, cabins, treehouses, houseboats, tiny houses, campers, tents, and more on vacation rental sites like vrbo or GlampingHub.com. And my friend Kirsten has a guide to the best places for glamping with kids in the U.S.
1. Huttopia, Albany, NH and Sanford, ME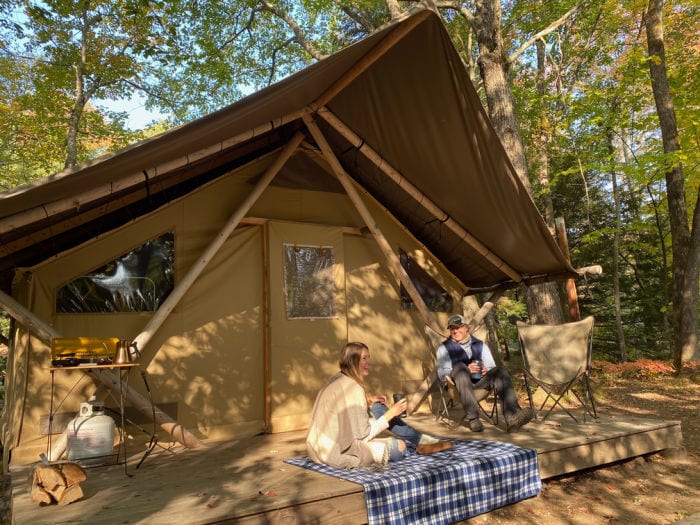 Huttopia is a European glamping resort with locations in the White Mountains of New Hampshire and Southern Maine, along with the Adirondacks in New York and two spots in California. This "ready-to-camp" resort offers up wood and canvas glamping tents and wooden chalets. Don't expect luxury accommodations, but do expect to find a welcoming campground with family-friendly amenities like a heated pool, game room, lakefront, and a bistro or Airstream food truck.
The basic accommodations offer up everything you need, from a propane-fueled camp stove, fridge, sink, cookery, electricity, fire pits, and even a full bathroom in most. The space is utilitarian but self-sufficient and the property offers space to spread out under the trees. Read my full review of our stay at the Huttopia White Mountains.
Huttopia White Mountains is located at 57 Pine Knoll Rd., Albany, NH 03818. Huttopia Southern Maine is located at 149 Sand Pond Road, Sanford, ME 04073.
2. KOA, Lincoln/Woodstock, NH
Kampgrounds of America (KOA) offers much more than RV hookups and tent camping sites. Many of the KOA Resort and Holiday properties offer glamping options like deluxe cabins, but the KOA in Lincoln/Woodstock, NH in the White Mountains takes it a step further. This Resort campground has multiple glamping options including a Conestoga Wagon (which has a private full bathroom just outside), a tree cabin, deluxe and camping cabins, and a luxury safari tent.
The property also offers plenty of family fun from a playground, jumping mat, mini-golf, disc golf, and a seasonal pool, all minutes from the most popular White Mountain attractions like Mount Washington, Franconia State Park, and the scenic Kancamagus Highway. Read my full review of the KOA Lincoln / Woodstock luxury safari tent.
KOA Lincoln/Woodstock is located at 1000 Eastside Rd RT 175, Woodstock, NH 03293.
3. Terramor, Bar Harbor, ME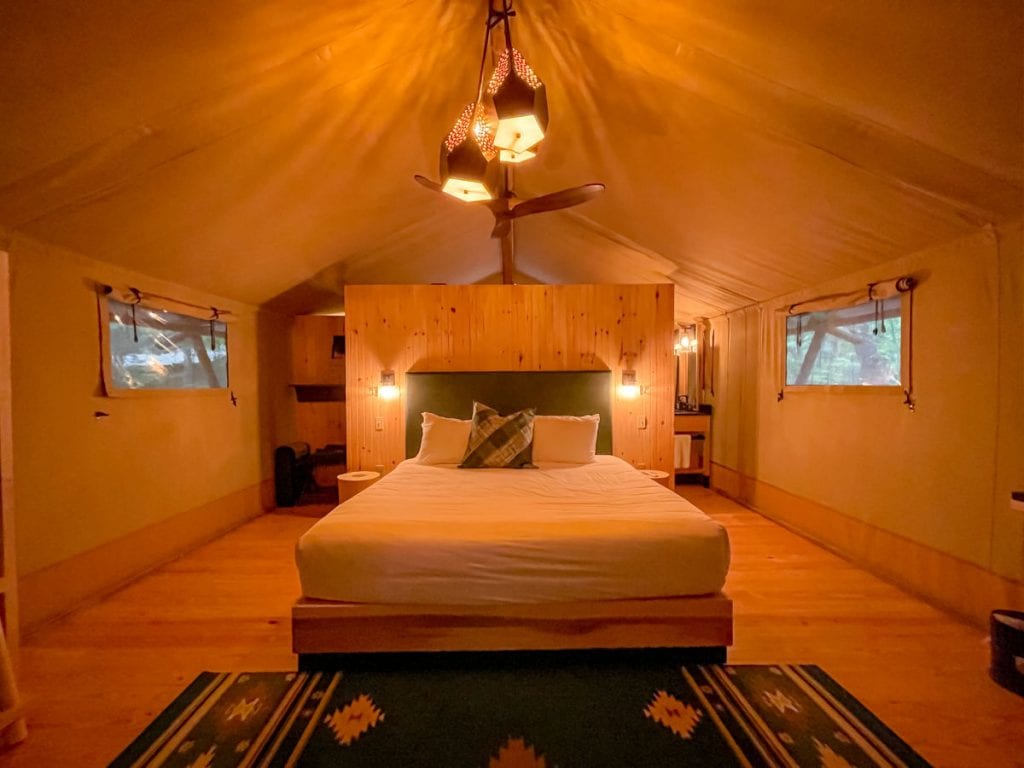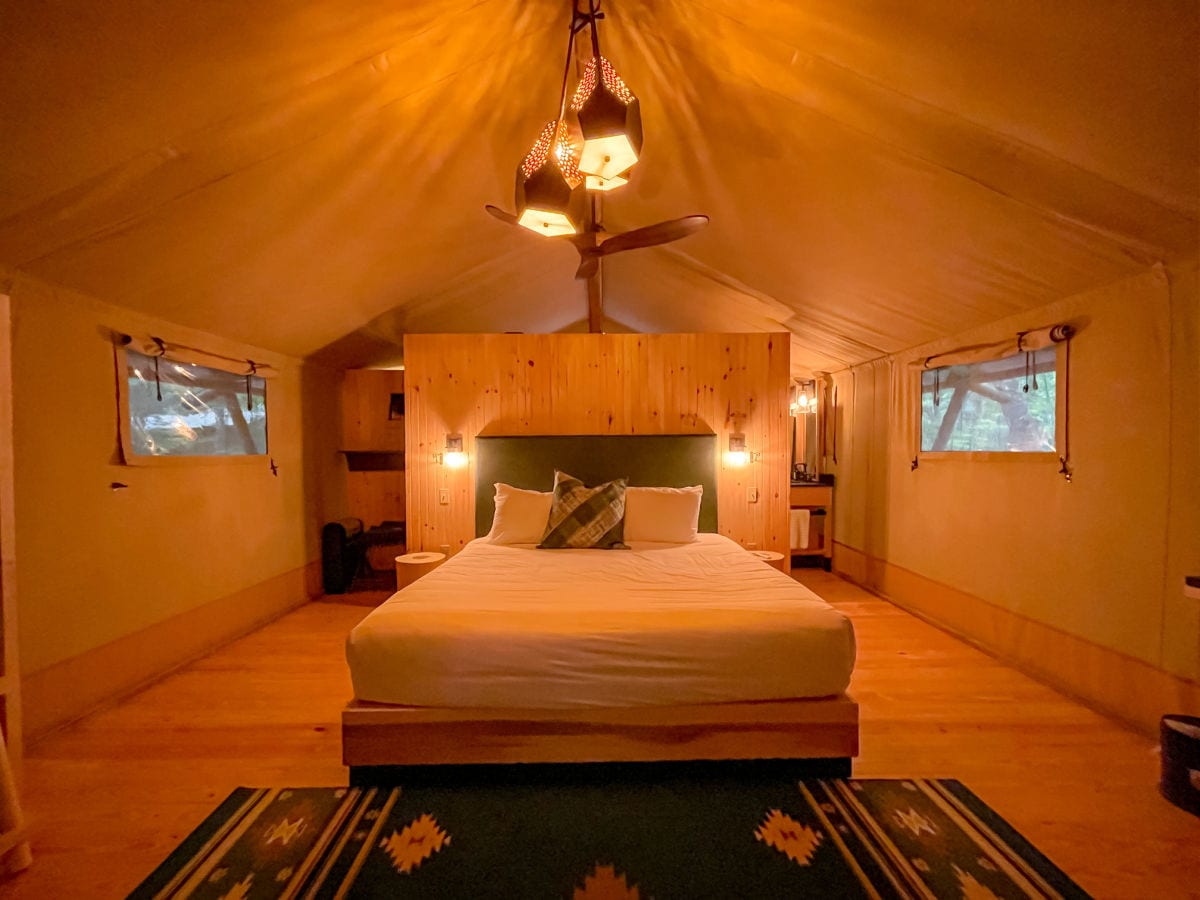 Terramor Outdoor Resort is located in Bar Harbor, just minutes from Acadia National Park. Terramor is a glamping resort with a focus on the experience. On property, guests enjoy the lodge restaurant, resort pool, hot tub, star gazing, picnics on the lawn, or evening cocktails around the campfire.
Tents are spaced to provide privacy, and there are options that sleep up to five people. The Moosewood tent offers two bedrooms, one with a king bed and the other with a bunk bed (double on the bottom and twin on top), with an upscale bathroom and indoor shower. Read my full review of Terramor Outdoor Resort and find out why it has been my favorite tent glamping resort so far!
Terramor Outdoor Resort is located at 1453 ME-102, Bar Harbor, ME 04609.
4. Under Canvas Acadia, Surry, ME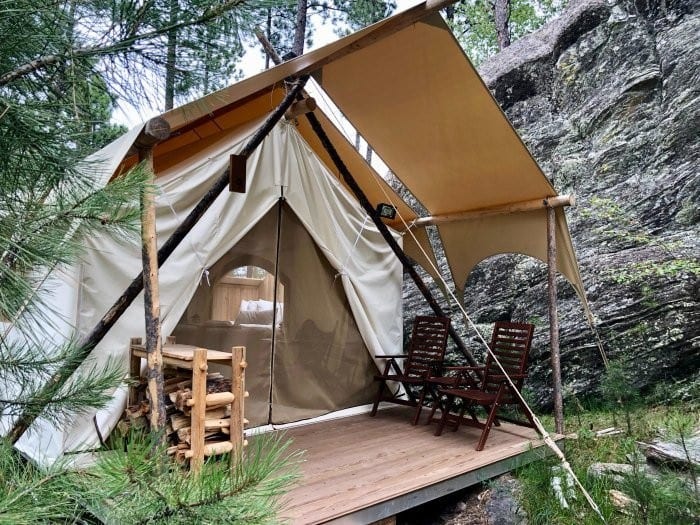 Under Canvas is a luxury glamping resort known for its properties just outside of many national parks. Under Canvas Acadia offers 100 acres of waterfront land, with more than 1200 feet of coastline. Located just 35-minutes from the Cadillac Mountain Trail, this is a perfect home base for visiting Acadia National Park or a stop on a Maine road trip.
Under Canvas offers a variety of tents to accommodate up to seven people. With a focus on luxury and service, Under Canvas offers daily housekeeping, complimentary activities, and usually a lodge restaurant. Just don't expect to cook your own meals — this is really a tent-based hotel. Read my full review of the Under Canvas Mt. Rushmore.
Under Canvas Acadia is located at 702 Surry Rd, Surry, ME 04684.
5. Lumen Nature Resort, N. Woodstock, NH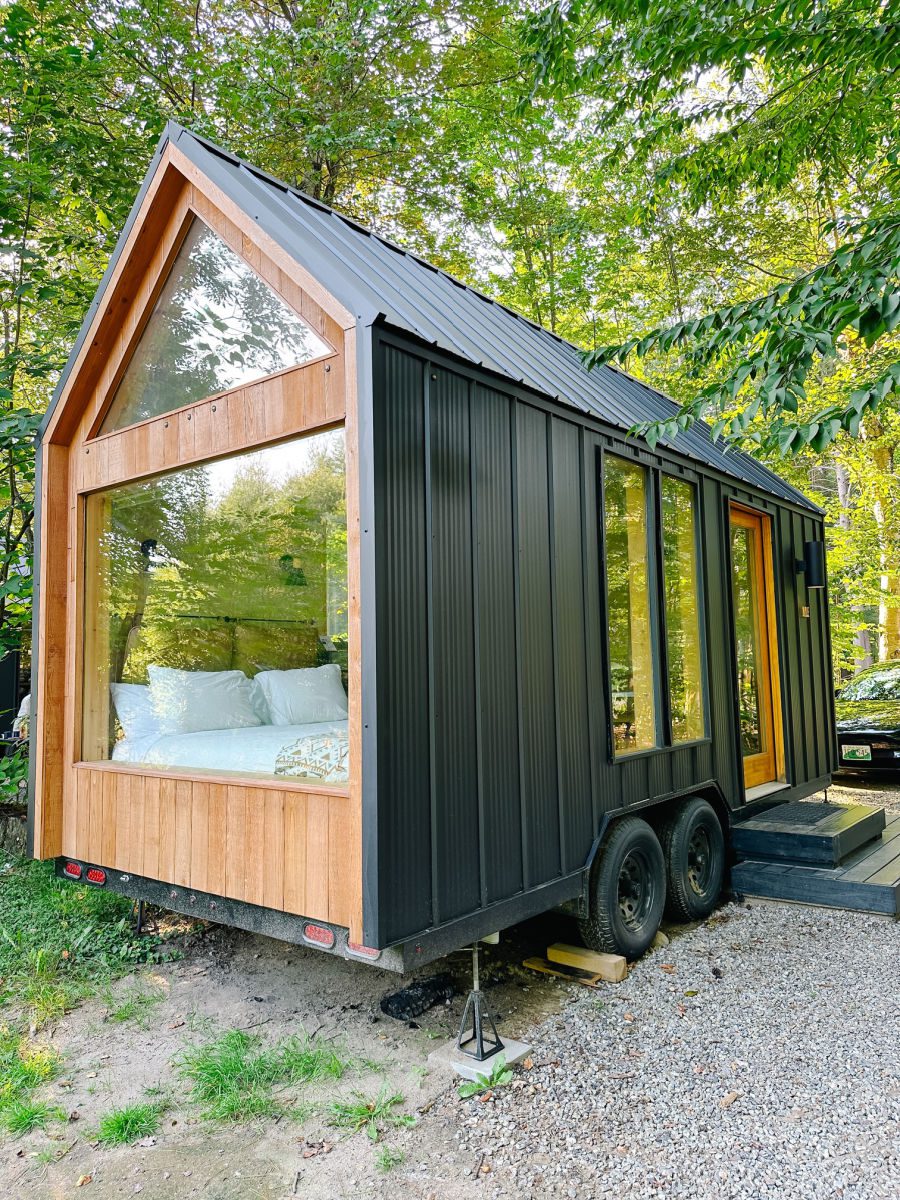 Opened in the White Mountains in 2023, Lumen Nature Resort is a 20-acre property with 35 Nordic-style accommodations including cabins, A-frame tents, and safari tents. With a waterfront location just minutes from a major ski resort and the top attractions in the White Mountains, Lumen Nature Resort offers a year round glamping experience with its heated (and air conditioned) cabins.
All campsites are equipped with a smokeless fire pit, luxurious beds, and access to two private saunas, both a barrel sauna and a Nordic sauna, which can be reserved upon booking. The only downside is that guests need to share a climate-controlled bathhouse, but it offers hot showers, brand-name toiletries, and a set of towels, and it is only a 2-5 minute walk from each camp site.
Some cabins also include indoor fireplaces, while all offer a Marshall speaker, pour over coffee kettle, and full kitchen essentials. Tents offer a propane stove, hammock, kitchen essentials, and complimentary tea and coffee. Read my full review of the Lumen Nature Retreat!
Lumen Nature Retreat is located at 11 Sugar Plum Lane, North Woodstock, NH 03262.
6. Maine Forest Yurts, Durham, ME
Just 30 minutes north of Portland, Maine on Runaround Pond, Maine Forest Yurts is located on over 100 acres of wilderness. These yurts are fully-furnished with kitchens, wood stoves, beds, and composting toilets.
There are four yurts to choose from and are perfect for those wanting to escape into nature to fish, canoe, kayak, or hike in nearby Bradbury Mountain State Park. In the winter, the property's pond is perfect for ice skating, cross country skiing, and snowshoeing.
Maine Forest Yurts is located at 430 Auburn Pownal Rd, Durham, ME 04222.
7. Getaway House, Epsom, NH and Moodus, CT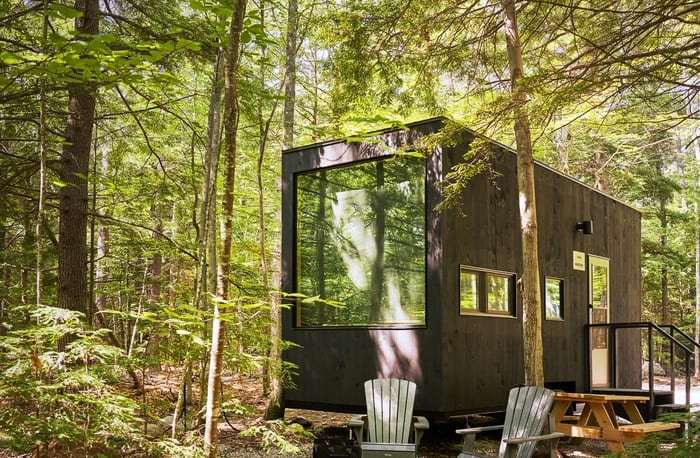 Getaway House is the latest trend in unique tiny cabins offered as getaways from major cities across the United States. The tiny cabins in southern New Hampshire make a perfect weekend getaway from Boston, just 1.5 hours away. There are a collection of tiny cabins spread across 20 acres.
Each cabin offers AC and heat, a two-burner stove, one or two queen beds, a sink, a shower, a private toilet, chairs and picnic tables, fresh linens, cooking supplies, bathroom amenities, and a campfire grate for cooking. There are 42 cabins in all, with plenty of outdoors to explore nearby including Northwood Lake and Oak Hill hiking trails.
Getaway House Blake Brook is located at 76 Mountain Rd, Epsom, NH 03234 and Getaway House Machimoodus is located at 298 E Haddam Moodus Rd, Moodus, CT 06469.
8. Seguin Tree Dwellings, Georgetown, ME
Located on a 21-acre wooded hill, which offers dramatic river views and plenty of conservation land to explore, Seguin Tree Dwellings is a unique glamping experience on the coast of Maine. These stylistic dwellings feature minimalist modern décor and ample windows to bring the outside in.
With three options for parties of up to four people, you can enjoy relaxation and restoration in structures that feature rope bridges, hot tubs in the trees, and fully-equipped kitchens and bathrooms. Kayaks and canoes are available for guests to use and heaters are available for autumn visits.
Seguin Tree Dwellings is located at 25 Turtle Hill Drive 04548 Georgetown Maine.
9. Tuxbury Tiny House Village, South Hampton, NH
Tuxbury Pond RV Resort, not far from Boston in southern New Hampshire, has a small village of tiny homes. Each Tiny Home is unique and ranges from 180 to 300 square feet. There are five models to choose from, some sleeping up to 5 or 6, and offering kitchens and full bathrooms.
Perfect for adventurers looking to try something different, the resort is located on the shores of Tuxbury Pond and is 30 minutes from the Salisbury-Hampton beaches or charming Portsmouth, NH. Nearby, guests can enjoy vineyards, museums, and outlet shopping. Or stay on property to lounge at the pool or enjoy the pond. Read my full review of our stay at Tuxbury Tiny House Village.
Tuxbury Pond RV Resort is located at 88 Whitehall Road, South Hampton, NH 03827.
10. Sandy Pines Campground, Kennebunkport, ME
Sandy Pines Campground offers both a prime location in Kennebunkport and several spectacular glamping options. Bordered by a salt marsh in a secluded beach forest, the campground is minutes from Goose Rocks Beach and Dock Square.
Sandy Pines offers luxuriously-appointed glamping tents for couples or families with mini-fridges and even AC or fans. Other couple retreats include a VW van, Airstream trailer, Conestoga Wagon, shepherd's hut, star gazing dome, A-frame hideaway huts, and cozy cabins.
Other family options include large glamping tents and cabins. On property, guests can enjoy family-friendly activities, lawn games, stand-up paddle boarding and kayaking, bike rentals, and the heated saltwater pool.
Sandy Pines Campground is located at 277 Mills Rd, Kennebunkport, ME 04046.
11. Mystic KOA, Stonington, CT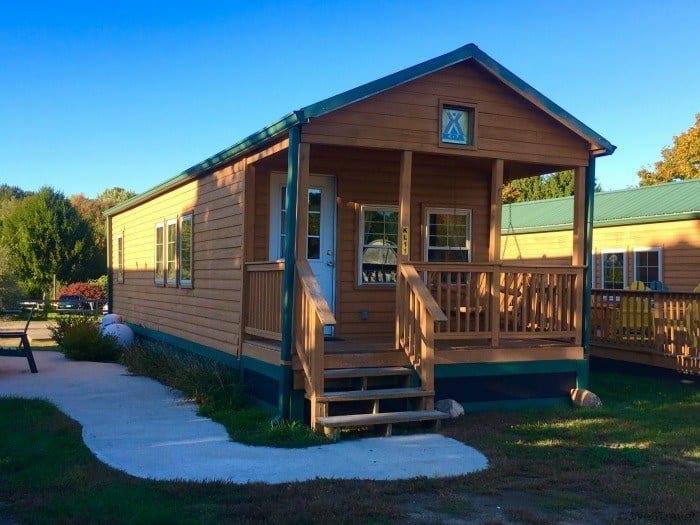 Located on the site of one of Connecticut's first farms, the KOA Mystic is a Holiday resort with RV sites, camping sites, and a wide range of cabins, including self-sufficient deluxe cabins with a full kitchen, bathroom, separate main bedroom, and bunks for the kids. Located close by to some of Southeastern Connecticut's best attractions, including the historic Mystic Seaport, this Kampgrounds of America resort is perfect for family getaways.
On-site, families can enjoy the giant jumping pillow, outdoor pools, campground activities, hayrides, mini-golf, giant slides, fishing ponds, and more. Read my full review of the KOA Mystic deluxe cabins.
KOA Mystic is located at 118 Pendleton Hill Rd, North Stonington, CT 06359.
12. Normandy Farms, Foxboro, MA
Located in Foxboro, MA (home to the New England Patriots!), Normandy Farms offers a family getaway close to home with fun activities including a bike park, swimming pools, disc golf, playgrounds, tennis, and more. In addition to being an RV park, Normandy Farms offers deluxe cabins, yurts, and rustic safari tents.
Safari tents offer water and electricity and can sleep up to six with a queen bed, bunks, and sleeper chairs. There is also a small fridge, microwave, coffee maker, and propane grill. Just note that linens are not included (nor is a bathroom.) Cabins are a bit better equipped, with a fireplace, TVs, bathrooms, a fully equipped kitchen, heaters and AC, and even an enclosed porch with a grill, cooler, table, and chairs.
Normandy Farms is located at 72 West Street, Foxboro, MA 02035.
13. Frost Mountain Yurts, Brownfield, ME
Located in the backwoods of western Maine, Frost Mountain Yurts offer year-round adventures for families, couples, and groups. There are four yurts nestled among 60 private acres and surrounded by wooded land. On-site, guests can enjoy a network of hiking, cross-country skiing, and snowshoe trails. The property also connects to the international snowmobile trail network. Nearby, visitors can enjoy the attractions of Mount Washington Valley.
The yurts are all one room, with port-a-potties outside. They feature wood stoves for chilly nights and sleep a maximum capacity of six people using bunk beds and futons.
Frost Mountain Yurts is located at 56 Farnsworth Rd, Brownfield, ME 04010.
14. Woods of Eden, Bar Harbor, ME
The Woods of Eden "glampground" is nestled over 24 acres of woods less than half a mile away from the ocean and a short drive to Acadia National Park and downtown Bar Harbor. These wood and canvas luxury safari tents offer a small refrigerator, kitchen sink, coffee maker, gas grill, induction hot plate and toaster, dishes, and silverware for preparing meals. They feature separate bedrooms with wood interior walls, along with a full bathroom.
These fully-equipped tents can sleep up to six and they are spaced far enough apart to offer some privacy but still provide a sense of community.
Woods of Eden is located at 12 Seabury Dr, Bar Harbor, ME 04609.
15. Tops'l Farm, Waldoboro, ME
Tops'l Farm is located on 83 acres along Maine's Midcoast. The property features a farmhouse, barn, cottage, riverside yurt event space, and a campground. The campground features 11 cabins in total, with 10 A-Frame cabins and cabin Queen Suite. The A-Frames are furnished with two twin beds, while the Queen Suites has a queen bed.
Each cabin site includes its own private fire pit, 2 outdoor chairs, and a lantern. Access to shared bathrooms and kitchen facilities is just steps away. While there isn't electricity in the cabins, charging stations and lockboxes are available at the bathhouse, along with paperbacks, board games, lawn games and an electric kettle to borrow. Guests can enhance their stay by adding on yurt yoga, a Saturday night barn dinner, or woodland massage. This is a perfect rustic getaway option for groups or events.
Tops'l Farms is located at 341 Bremen Rd, Waldoboro, ME 04572.
16. AutoCamp Cape Cod, MA
AutoCamp is a modern outdoor resort offering stays in customized Airstream trailers, modern suites, and canvas tents. The luxury tents offer king-size Tempur-Pedic beds, kitchen amenities, a convertible sofa, and a private deck with an outdoor dining area and fire pit — but modern bathrooms and showers are located in the clubhouse.
If you have ever dreamed of staying in an Airstream, those at Autocamp Cape Cod are decked out with queen-size Tempur-Pedic beds, full modern bathrooms with walk-in showers, kitchens, a TV, and more. Located minutes from Falmouth and Woods Hole, the campground offers easy access to the Shining Sea Bikeway and weekly activities like yoga, beer tastings, and music by the campfire. Read my full review of Auto Camp Cape Cod.
AutoCamp Cape Cod is located at 836 Palmer Ave, Falmouth, MA 02540.
17. Fortland, Portland, ME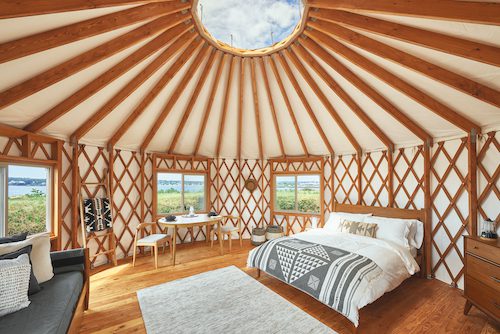 New in 2022, Fortland is a glamping experience at Fort Scammel, a Civil War-era fort on House Island in Casco Bay, off the coast of Portland. Its accommodations include furnished yurts and canvas tents provided with bedding, linen and kitchenware.
Tents are fully furnished and include fresh drinking water, a solar power pack for plugging in and charging accessories, and lanterns for lighting at night. Adirondack chairs are provided for relaxation on a private covered deck. Tents and yurts share a community bathhouse and there's access to a communal outdoor kitchen with grills and stoves, and a communal fire pit. Rates include a boat ride to and from the mainland, not to mention water views in all directions.
Fortland is located at Fort Scammel on House Island in Casco Bay of Portland, Maine.
18. Bear Creek Campground, Bristol, CT
Bear Creek Campground is adjacent to the Lake Compounce family theme and water park. Perfect for those that want a fun camping or glamping stay, combined with an amusement park visit, the Campground has a selection of one-bedroom cabins, two-bedroom cabins, cub huts, tipis, RV spaces, and tent sites.
All campsites at Bear Creek include Wi-Fi, a picnic table, a fire pit, and transportation to and from Lake Compounce Family Theme Park. Two-bedroom cabins can sleep up to eight people and even one bedroom can sleep five. For something different, pick the Cub Hut, which looks a bit like a stand-alone Hobbit hole, or the deluxe Tipi. Just keep in mind that those options don't have bathrooms, but there is a shared bathroom nearby.
Bear Creek campground is located at 185 Enterprise Drive, Bristol, CT 06010.
19. Acadia Wilderness Lodge
Opened in the spring of 2022, Acadia Wilderness Lodge offers luxurious camping just outside of Acadia National Park. Located on the quiet side of Acadia National Park, in Tremont, Maine, Acadia Wilderness Lodge is currently a yurt village, with plans to add luxury canvas tents in 2024.
The yurts are on the luxury side, with private bathrooms and soaking tubs. Each yurt has a dual-use room that doubles as a relaxation room with two daybeds, a yoga pillow, a meditation/reading nook, and an Amazon Alexa device capable of streaming relaxing music and ocean sounds.
The resort offers Aera Home aromatherapy oils, diffuser scents, and body products. There's outdoor seating around the communal outdoor fireplace in the Village Center, as well as village gardens, animals, and nature paths, making it ideal for families or those seeking a wellness retreat.
Acadia Wilderness Lodge is located at 38 Kellytown Rd, West Tremont, ME 04612.
20. Moose Meadow Lodge, Duxbury, VT
Moose Meadow Lodge is located on 86 secluded acres in the Green Mountains, near New England's best craft beer town of Waterbury. Also, nearby visitors can enjoy the mountain resorts at Stowe, Sugarbush, Bolton, and Mad River Glen, along with hiking, snowmobiling, biking, hunting, fishing, antiquing, and fine dining.
An Adirondack-style bed and breakfast, Moose Meadow Lodge also offers a two-story treehouse. The treehouse features a living & dining area on the first floor with an expansive wrap-around deck and a bathroom. Climb up the circular staircase wrapped around a maple tree to the second-story bedroom for a truly unique experience.
Moose Meadow Lodge is located at 607 Crossett Hill Rd, Duxbury, VT 05676.
21. Appalachian Mountain Club, ME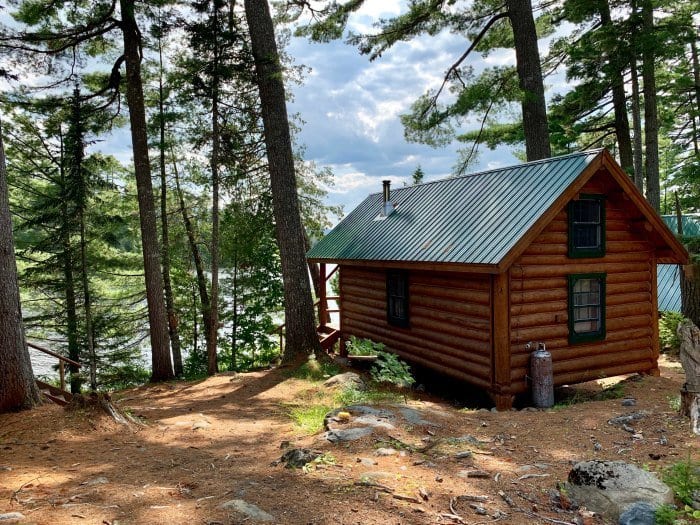 Well known to Appalachian Trail thru-hikers, the Appalachian Mountain Club operates multiple lodges across New England. Some are more hostel-like with bunk or private rooms in lodges. Some, however, such as the Gorman Chairback Lodge in Maine's 100-acre wilderness, also offer deluxe cabins (with and without bathrooms.)
Here you can soak in lakefront views and privacy, while enjoying the communal spirit of the AMC with family-style breakfast and dinners, evening campfires, and packed sack lunches. Read more about my stay at the Gorman Chairback Lodge.
Gorman Chairback Lodge is located at 1 Chairback Road T7 R9, Greenville, ME 04441.
22. ComfyDome, Jefferson, ME
If you have ever wanted to just lie in bed and stare up at the stars, a stay in one of the clear domes at ComfyDome is your chance. With room for one to two people (and their pet if desired), these fully heated domes offer a queen-size bed, clean linens, solar lights, and a fire pit with a grill and two outdoor chairs.
Guests can spend their days exploring the resort's 13 acres of land and relaxing at Damariscotta State Park Beach. The campground also provides one bundle of firewood, muffins and coffee on one morning, two bottles of water, and two homemade Whoopie pies with each stay. Kayak and paddleboard rentals are available, with pond access.
There are three domes on property, facing the pond, hill, or forest, but keep in mind that these domes don't come with bathrooms. However, guests have 24/7 access to a shared heated bathroom facility. There is also an indoor shower just a short walk from the domes to the main house.
ComfyDome is located at 99 North Mountain Road, Jefferson, Maine, 04348.
23. Tentrr, VT, NH and ME
With all these options, if you still haven't found what you are looking for, you should also try Tentrr. If you aren't familiar with Tentrr, it is an Airbnb-like platform designed to connect adventurers with private landowners that make their space available for camping.
Tentrr Signature sites offer ready-to-camp, no equipment needed locations, and Tentrr Partners offer glamping accommodations on site. This is a nice alternative to the busier "glampgrounds" that some of the resorts offer and gives you an opportunity to support locals as well.
Tentrr Partners offers many glamping sites in New England including yurts, tipis, and wood and canvas tents in Maine, New Hampshire, and Vermont with reasonable prices compared to some of the pricier options above.
Do you own or have visited a glamping site in New England that I haven't included? Drop me a line and I'd love to check it out.