If you say Maine road trip, most people will think Kennebunkport, Portland, Bar Harbor, Acadia National Park — maybe even Ogunquit, Boothbay Harbor, or Rockland. But that is where everyone goes. If you want to avoid the hordes that descend on Vacationland each summer and fall, and the high prices that they bring, you need to get away from the beaches and midcoast.
With over 35,000 square miles to explore in Maine, it isn't that hard to get off-the-beaten path. One county in Maine is even bigger than Connecticut and Rhode island combined! So when travel came bounding back this year I was eager to escape my confines and explore more of the great outdoors and small towns that give Maine such character.
It was time to see more of Maine. But which do I pick, the Maine coast or the lakes and mountains? I've been to both with trips to Portland, Kennebunkport, and Moosehead Lake, and each have so much to offer. But why choose when it is possible to have the best of both Maines in one weeklong road trip?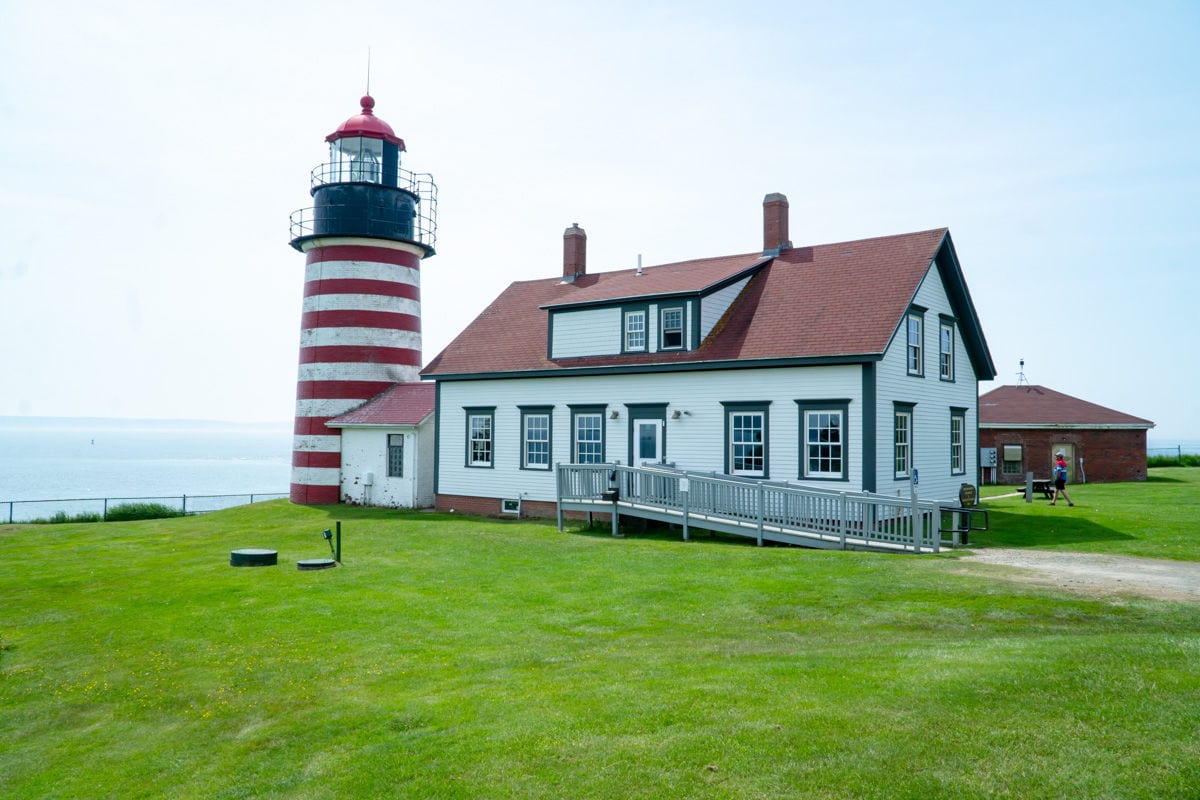 One Week – 10 Day Maine Road Trip Itinerary
This post was written as part of a paid partnership with the Downeast Acadia Regional Tourism board and The Maine Highlands. I loved my visit to these regions and all opinions are my own.
My Maine road trip started in the "Downeast" region, which incorporates Mount Desert Island (home to Bar Harbor and Acadia National Park) and extends east along the coast to the Canadian border of New Brunswick. Then I turned north, with a short stop in Bangor before heading into the lakes, woods, and mountains that make up the Maine Highlands region.
You will need at least a week to ten days to properly cover both regions while still having time to enjoy it all. But don't worry, you can still fit so much in. During the course of a week I saw everything from puffins and lighthouses to moose and cozy lakeside cabins. Sound fun? Follow along…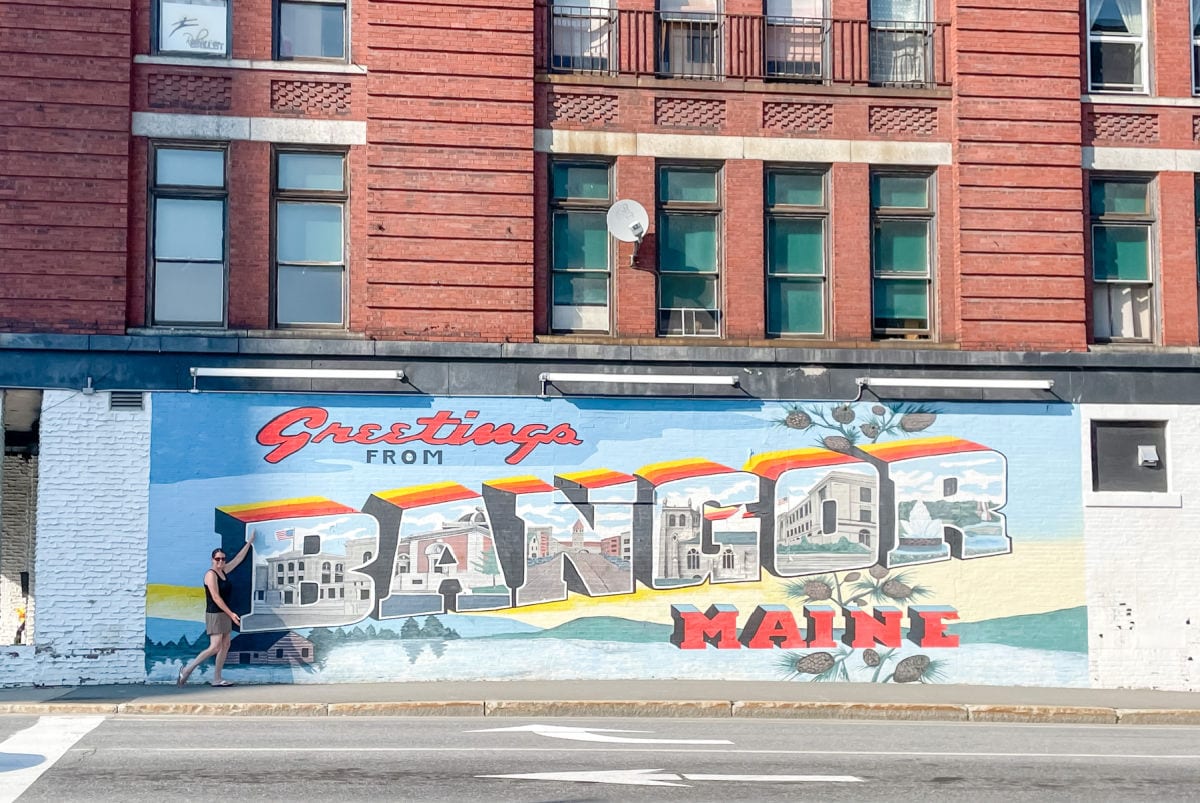 Getting There
If you are flying into Maine, you will want to arrive into Bangor International Airport (BGR) to start your Maine road trip. From Bangor, it is a quick one-hour drive "downeast" to Winter Harbor. You will want to make a stop in Ellsworth on your way in and acclimate to the Maine food and craft beer scene with lunch in the outdoor beer garden at Fogtown Brewing. If that is not your scene, have lunch by the river at Union River Lobster Pot.
Driving to Maine? If you have time, start off with a coastal Maine road trip. Otherwise, take the fast route to Winter Harbor (4.5 hours from Boston on Interstate 95) to kick off your trip. Once you pass Ellsworth you will enter the Schoodic National Scenic Byway, one of many gorgeous scenic byways you will drive on this Maine road trip.
If you have kids that need a break to stretch their legs, stop at some of the many scenic overlooks and byway stops that offer KidsQuest activities for kids, including learning about reversing waterfalls, train stations, or the area's history in granite production.
Be sure to stop at the Frenchman Bay Scenic Turnout to take in the view. Right next to the pull out, you can pop into Dunbar's country store to pick up a picnic lunch and enjoy it at the next picnic area on Route 186 before arriving in Winter Harbor.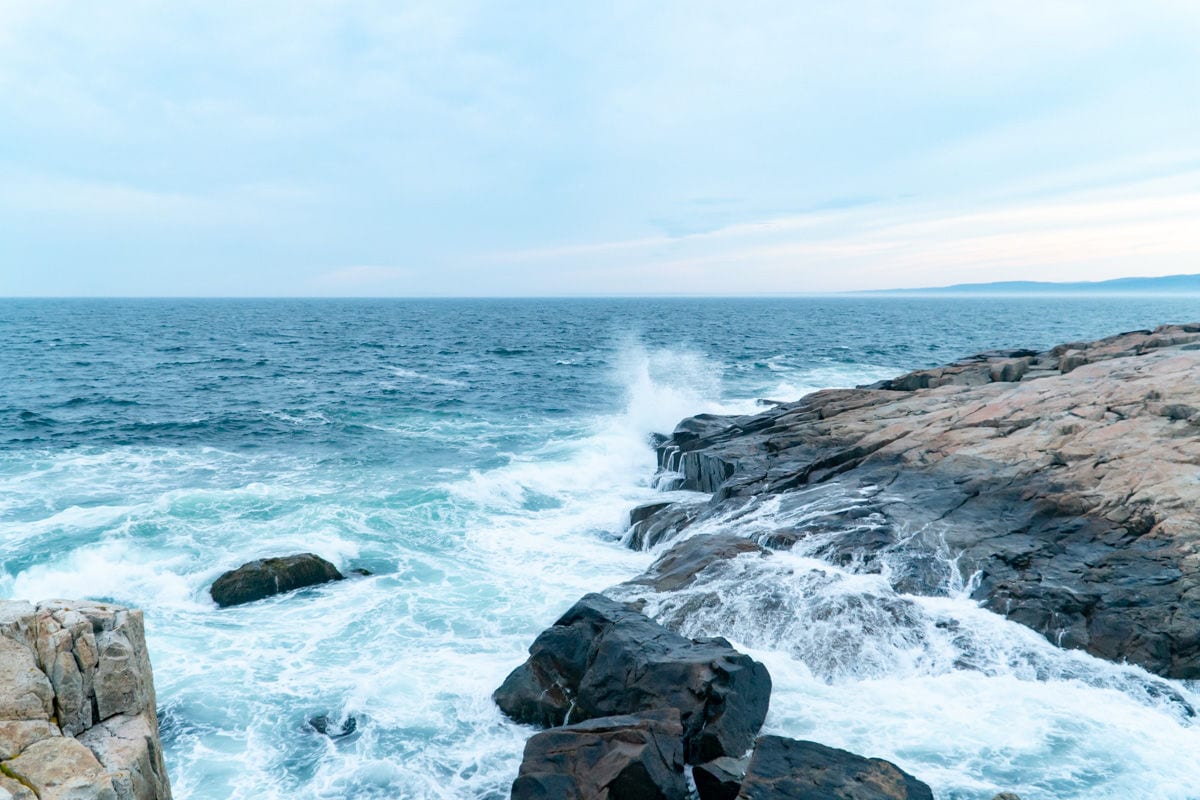 Winter Harbor & the Schoodic Peninsula: Days 1-2
If you want to avoid crowds, I would suggest you just skip Bar Harbor and the Mount Desert Island (MDI) section of Acadia National Park entirely since there are so many things to do outside of Acadia. However, if you just need to see it, you can always take the ferry from Winter Harbor over to Bar Harbor.
If you do decide to add on a day or two to this Maine road trip to stay in Bar Harbor, keep in mind that you need advance reservations to see the sunrise from the top of Cadillac Mountain. For accommodations, I'd recommend a glamping experience at Terramor Outdoor Resort. I've stayed in a lot of glamping resorts and this is without a doubt one of the best.
Winter Harbor is a charming and quieter alternative to the touristy Bar Harbor. You aren't going to find the same shops and hotels that you find on MDI, but you will find authentic Mainers and a quaint downtown with a few galleries and a small handful of restaurants.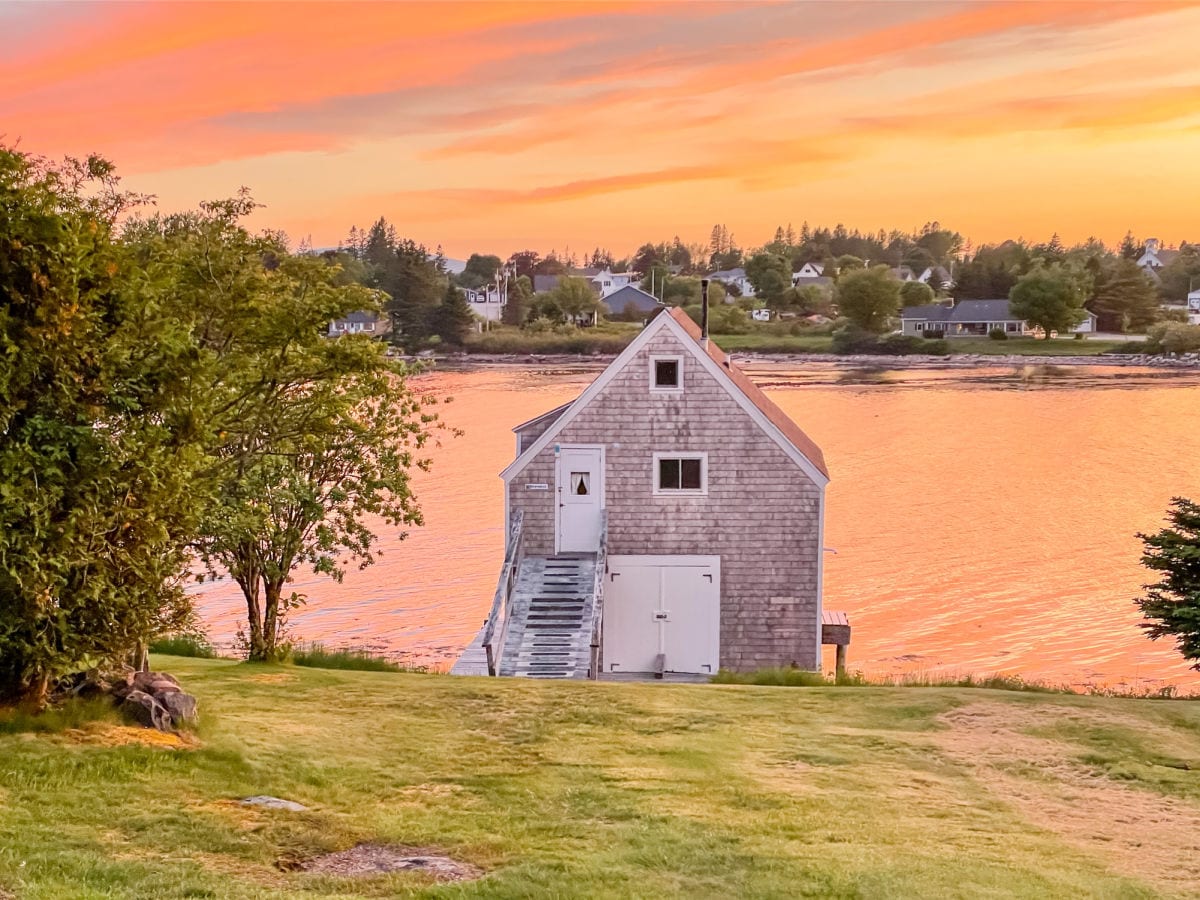 Where to Stay in Winter Harbor
I absolutely LOVED my stay in the boathouse at MainStay Cottages and RV Park. This small collection of cottages and campsites right on the water is a great home base for exploring the Schoodic Peninsula. These cottages are on the smaller side so if you are visiting with a family, I'd recommend checking vrbo or Airbnb and renting a vacation home for a few days. There is also camping available in the park at the Schoodic Woods Campground (reservations required.)
Schoodic Section of Acadia National Park
If you arrive in time, head into the Schoodic Section of Acadia National Park (just five minutes from Winter Harbor to the entrance) and drive down to Schoodic Point for sunset. This can be an especially dramatic view when it is high tide and the waves are crashing against the rocks.
On your second day, you will want to spend most of the day in the Schoodic Section of Acadia National Park, the only section actually on the mainland. The Schoodic Peninsula has been inhabited by the Maliseet, Micmac, Passamaquoddy, and Penobscot Native American peoples (collectively known as the Wabanaki) for millennia.
Schoodic Point was originally settled during the American Revolution by Thomas Frazier, an African American man who is honored at Frazer Point, the first viewpoint along the six-mile, one-way loop through the park.
You can bike or drive through the park, just keep in mind that parking at the trailheads and pull offs is limited, so if you are driving it pays to go early (but not crazy early like other parks.) An alternative is taking the free Island Explorer shuttle bus.
For a simple hike, you can try the Sundew Trail on Schoodic Point, just park at the ballfields by the Schoodic Institute. Another family-friendly hike, but one with some rocks and roots and a bit of a climb at the end, try the .6 mile (one way) Alder trail to the Schoodic Head Trail (.6 miles) to the summit with views of Frenchman Bay and Mount Desert Island.
For more of a challenge, you can go up the Anvil Trail (1.1 miles) and down Alder. Just keep in mind that Anvil is a bit steeper and can be a little hard to follow at times. Another option is to scramble across the rocks between the peninsula and Little Moose Island at low tide to explore the island and look for harbor seals (just make sure to check the tide charts!) A good spot to do this is from a small pull-out between the turn-off for Schoodic Point and the parking area at Blueberry Hill.
Where to Eat Near Winter Harbor
There aren't any services in the park, but you can pack a picnic or pop out for lunch in Winter Harbor or Birch Harbor. Local favorites include the Pickled Wrinkle in Birch Harbor (followed by ice cream at Me and Ben's next door) or Lunch on the Wharf for a fresh lobster roll on the water in Corea, or down-home cooking try Chase's in Winter Harbor. For fine dining, the only real option is Salt Box in Winter Harbor, just make sure you make reservations in advance.
For sunset, stop by the Prospect Harbor Town Pier near Birch Harbor for a great view of the harbor and Prospect Harbor Lighthouse. You can also see the largest lobsterman in Maine!
If You Have More Time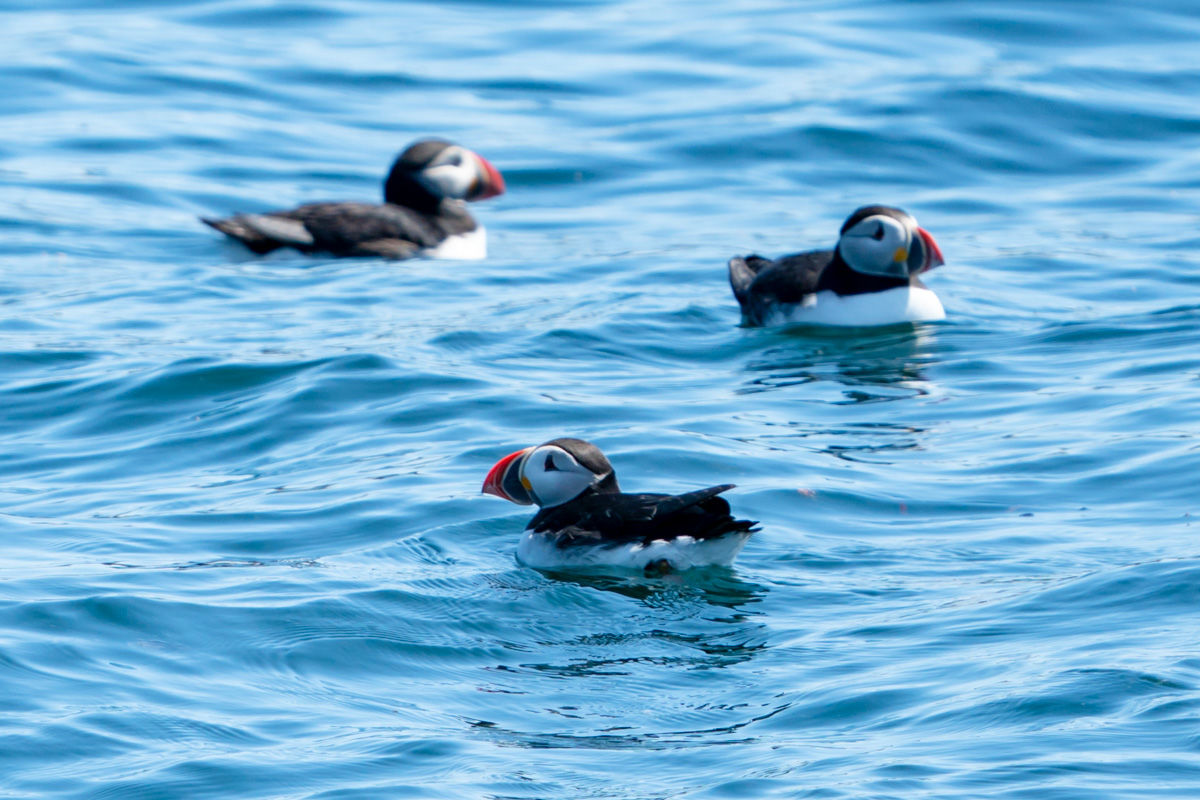 If you want to spend more time in this area, you won't regret it. Within the park, you can take Schoodic Head Road, a gravel road 2.5 miles from the park entrance with a one-mile drive to a summit at 440 ft above sea level with views of Egg Rock Lighthouse to the west and Petit Manan Light to the east.
Another great spot to see the sunset is Ravens Nest in the Schoodic section of Acadia National Park. This is unmarked and not even included on the park map, but a short walk takes you to cliffs that look across the water to Mount Desert Island and is a beautiful sunset viewing point. Just be careful, especially after dark. To find the trail, stop at the third pull-off on the side of the road after starting the loop road. There is a little unmarked trail beginning on the other side of the road from the pull-off.
From Winter Harbor, you can also take a puffin tour with Acadia Puffin, rent kayaks or bikes from Sea Schoodic Kayak & Bike, take a lobster boat tour from Corea, take a hike at the Schoodic Bog Trail in Sullivan or the Taft Point Preserve in Gouldsboro, or check out the mansions and view from Grindstone Neck and Grindstone Point.
Bold Coast Scenic Byway to Machias: Day 3
After exploring the Schoodic Peninsula, it was time for me to continue my road trip Downeast to the town of Milbridge along the Bold Coast Scenic Byway. If you didn't have a chance to take a puffin cruise yet, you can book a tour with Robertson Sea Tours and Adventures in Milbridge. That was my plan, but unfortunately rough seas that day meant we had to cancel. Luckily I had a chance to spy some of these cute creatures on a boat cruise from Boothbay Harbor a few days earlier.
On your way to Milbridge, be sure to stop at Darthia Farm for some homemade blueberry syrup, tomatillo salsa, and other produce and preserves. If you enjoy fruit wine, you can also enjoy a tasting at Maine's oldest winery, Bartlett Maine Estate Winery.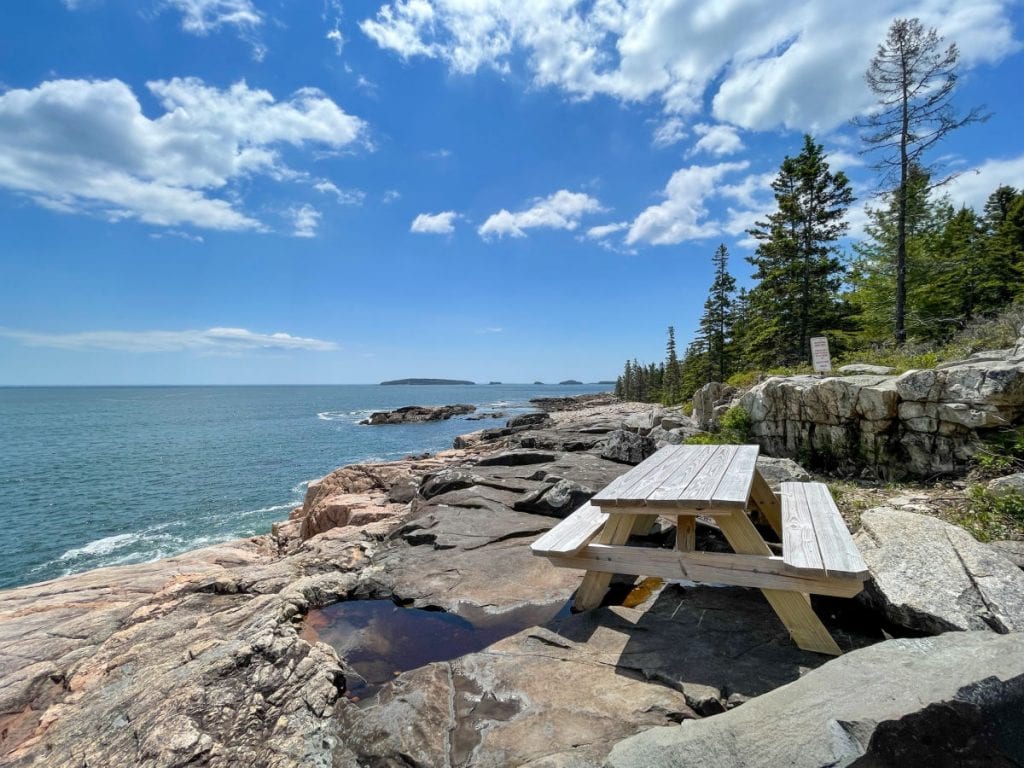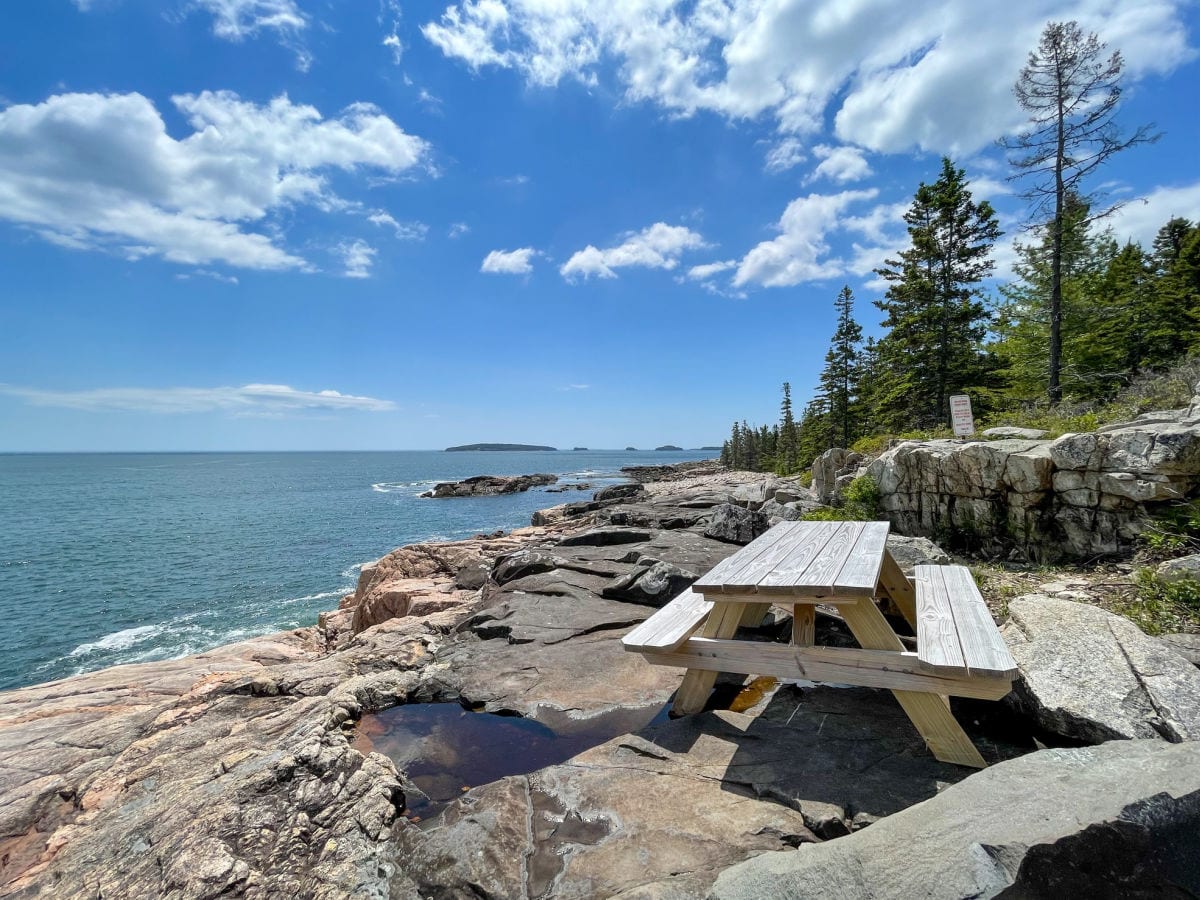 Milbridge
If you are hungry, stop for lunch for Mexican food from Downeast Mexican Take out in Gouldsboro or Vazquez in Milbridge or pick up picnic lunch from The Meadows. If you have time for a picnic, McClellan State Park offers beautiful views of the coastline from rocky bluffs. And the best part — you pretty much have the place to yourself.
In the afternoon, it is time for some more outdoor adventure. I took a guided hike with Hazel from Maine Outdoor School on the Hollingsworth Trail in the Petit Manan National Wildlife Refuge in Steuben. As an outdoor educator, she does an amazing job explaining the flora and fauna and talking about the ecology of the area. She also runs guided hikes in other areas and wildlife viewing sunset paddle trips. You can also take a short 1.2 mile hike up Pigeon Hill for beautiful views all the way to MDI on a clear day.
Machias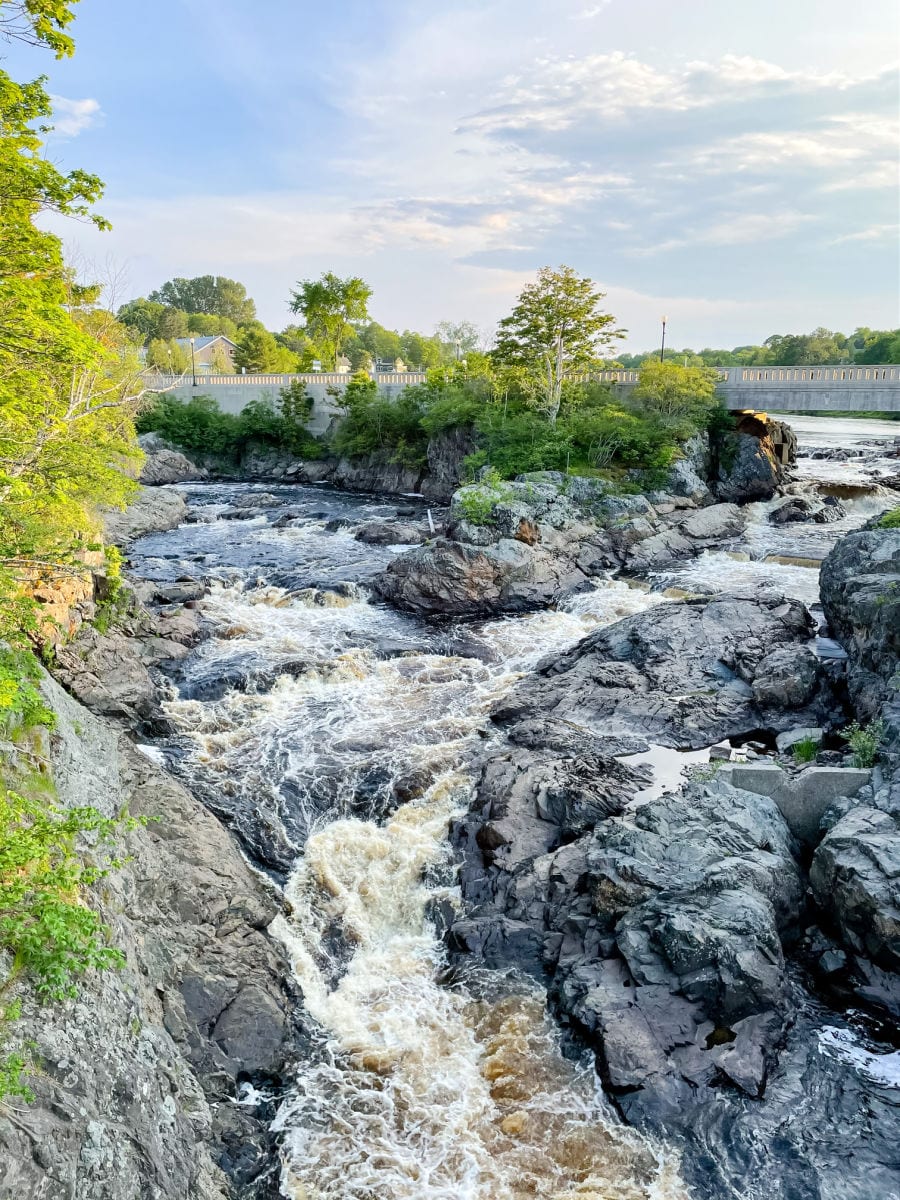 Finish up your day in Machias, one of the larger towns along the Bold Coast Scenic Byway. Make sure to stop in town to enjoy the view at Bad Little Falls Park. There aren't a lot of dining options, but locals all recommend Helen's. Unfortunately, it was closed on Sunday evening when I visited, so I went to Bluebird Ranch Family Restaurant instead.
If traveling solo or as a couple, The Inn at Schoppee Farm is a wonderful farm stay! I stayed in the River Room on the first floor with gorgeous exposed beams and wide-plank wood floors. The style was decor-magazine perfect with simple, understated furnishings that reflect the history of the farm. Located overlooking the river, the Inn also has direct access to the Sunrise Trail, a multi-use trail for walking, biking, and ATVing. For families, you could look at rooms and suites at The Machias River Inn.
If you have more time, you could add on a day to your Maine road trip for a beach day at Rogue Bluffs State Park, which is a rare sand beach, or Jasper Beach, which is full of rounded colored pebbles.
Lubec and Bangor: Day 4
Driving all the way out to Lubec, the easternmost point in the USA, adds a little extra time to your itinerary, but if you have come this far you should make the extra drive — it is worth it! The drive from Machias to Lubec is under an hour and if you are feeling really ambitious, you can get up super early to catch the sunrise at West Quoddy Point Light. You will see the first sunlight hitting the United States that day!
Even if you can't get there that early, it is well worth the visit. When I was there in early June on a Monday morning I only saw a handful of people during my stop there. Unlike the huge crowds you will find at popular lighthouses like Nubble Light in Cape Neddick or Portland head Light in Cape Elizabeth.
Lubec
This cute border town is quiet, but I imagine it is busier when the Canadian border is open and tourists are doing a "two-nation vacation." When the border is open, a visit to Campobello Island is a must, home to Roosevelt Campobello International Park. Franklin and Eleanor Roosevelt's magnificent summer home is preserved there in a combination indoor museum and an outdoor nature park. A popular thing to do is book a reservation for "Tea with Eleanor" for afternoon high tea.
Nearby, you can explore the Downeast Coastal Conservancy and Cobscook Shores trails. A must-stop in Lubec is Monica's Chocolates. All chocolate and ingredients are homemade on-site and she will walk you through every variety of her award-winning candy.
In town, you can stop for lunch at Lubec Brewing Company for craft beer or Cohill's Inn and Pub for great cocktails. You can either stay overnight or drive 2.5 hours to Bangor for the beginning of your inland adventures. Given that the international border is currently closed, I'd recommend driving to Bangor to stay overnight.
Bangor
Bangor was once the logging capital of the world and home to a multitude of millionaires. While Stephen King (you can drive past his house) and Senator Susan Collins may be some of the most famous citizens currently, the city's architecture reflects those earlier times with Greek Revival and Victorian mansions. Many buildings were destroyed during a fire in 1911, but the downtown today is that of a vibrant small city with cafes, like Fork & Spoon, pubs, breweries, food trucks, and shops.
If you want to learn more about the town's history, take a tour with the Bangor Historical Society. They offer downtown walking tours, as well as tours of Bangor's 300-acre Mount Hope Cemetery, the nation's second-oldest garden cemetery. You can see where some of the scenes from Pet Cemetery were filmed and the final resting places of Hannibal Hamlin, the 15th Vice President of the United States.
The nearby Darlings Waterfront Pavilion is also a popular concert venue, bringing in acts from KISS to Luke Bryan and selling out the hotels in town. Surprisingly, Bangor is also home to a casino hotel, Hollywood Casino Bangor. This is where I stayed when I was in town and what is especially nice about it is, if you don't gamble you don't need to go anywhere near the gaming floor to stay at the hotel.
But if that isn't your scene, there is a nice Residence Inn by Marriott across the street, which houses Timber Kitchen and Bar featuring local cuisine with a great outdoor patio and bar. Next door you can also grab a pint and some boneless wings at Geaghan's Pub.
Millinocket Lake: Days 5-6
For an outdoor adventure on your drive up to Millinocket Lake, take a stroll on the Orono Bog Boardwalk, a one-mile loop walk at the forested wetland edge in the Bangor City Forest. Another option for an easy hike or a paddle on Pushaw Stream at the Hirundo Wildlife Refuge. The Hirundo Wildlife Refuge offers seven miles of trails, some of which are wheelchair and stroller friendly. This is a great spot for birders and wildlife watchers. The Refuge provides free canoe rentals in the summer (donation requested) and guided paddle events throughout the season.
Next, head up to Millinocket Lake in the Maine Highlands for a couple of nights at the New England Outdoor Center (NEOC.) NEOC has an amazing location right on Millinocket Lake and a selection of small, large, and premium cabins and lodges that sleep from six to 14. I was hosted at the gorgeous full-service three-bedroom, two-bath Loon Lodge. The stunning two-story family room features floor-to-ceiling windows looking out on the woods and the lake beyond.
This is a perfect location to enjoy lake life! NEOC offers fat tire bikes to rent for exploring the Katahdin Area Trails (KAT). There is currently a 4.5 mile loop circling out from and back to the Millinocket Lake trailhead located next to NEOC and they are in the process of building more sustainable purpose-built single track mountain bike trails in the area.
Guest can also borrow canoes or kayaks to explore the lake. For those looking for more adventure, NEOC runs rafting tours in the summer on the Upper Penobscot River with Class II – V rapids, or milder family floats on the Lower Penobscot River with Class I rapids.
Of course, I loved the Moose and Wildlife Tour I took with NEOC. This three-hour tour goes out in the morning or early evening on the Center's pontoon boat or van. We headed across the lake to the streams and inlets along the far bank to search for moose.
At first, we encountered quite a few beavers swimming through the water and slapping their tails at us to warn us to keep away. This was pretty exciting for me too as finding a beaver in the wild was always on my bucket list. But towards the end of the tour our luck held out and we found two moose. From too far of a distance for great photos, even with my super zoom lens, but still exciting. Of course, if that doesn't work out, you can try driving Golden Road in the early morning as there are often moose in or near the side of the road.
Of course, nighttime brings great stargazing opportunities and in the winter, even chances to see the Northern Lights. And when you don't want to cook, the lodge is home to River Drivers' Restaurant, offering a diverse menu of American fare far beyond what you would expect from a remote lodge like this.
Baxter State Park – Togue Pond Gatehouse
The south entrance to Baxter State Park at the Togue Pond Gatehouse is a short drive from NEOC. Just keep in mind that parking at any of the trailheads that lead to Mt. Katahdin requires reservations in the summer. Also, parking near popular wildlife watching spots, like Sandy Stream Pond fill up by 6am and the park rangers offer 3-hour "moose passes" for those that arrive in time.
If you are planning on hiking in Baxter State Park, be sure to do your research first. I've seen blog posts recommending day hikes up Mt. Katahdin, the highest peak in Maine and the endpoint of the Appalachian Trail. But please keep in mind that this is a 10+ hour hike for serious and experienced hikers that are well-prepared. And the Knife Edge Trail is not something to be taken lightly and certainly not for those with a fear of heights. Be sure to read more on MaineTrailFinder.com.
Also, driving through Baxter State Park takes 3-4 hours on narrow gravel roads so while you may see moose (I did!) and pass some scenic areas, know what to expect before you go. Also, keep in mind that Baxter charges a $15 day use fee for out-of-state visitors.
Patten: Days 7-8
From Millinocket Lake, it is time to head a little further into the Highlands to the Lumberjack town of Patten. If you take Route 11, you will be driving along the scenic Katahdin Woods & Water National Scenic Byway through forests, past pastoral farms that are home to the area's flourishing Amish community, and along the rocky banks of the Penobscot River.
This newly established National Scenic Byway covers 89 miles from the southern entrance to Baxter Park all the way through Millinocket and Patten up to the northern entrance at Matagamon Gate. Along the drive, there are opportunities for boating, camping, canoeing, kayaking, fishing, hiking, whitewater rafting, snowmobiling, and wildlife viewing. Autumn would be the perfect time for this scenic drive, although spring offers the best chances for spotting moose!
Be sure to download and print a map of the Katahdin Woods & Waters National Scenic Byway before you go!
Shin Pond Village
On my Maine road trip, I stayed just outside of Patten in a cabin at Shin Pond Village. Shin Pond Village is a 100-acre family-owned and operated recreational resort that offers seven campsites, 25 water/electric RV sites, eight housekeeping cottages, three guest suites, and two waterfront homes on Lower Shin Pond. The village also has a general store, laundromat, and restaurant with a full bar.
I stayed in the two-bedroom Looney Loft cabin, which had a full kitchen and spacious family room. From the porch swing, I enjoyed the relaxing views across the meadow. Shin Pond Village also offers full-day rentals for Polaris side-by-sides to explore the many miles of trails maintained by local ATV clubs. Each vehicle is equipped with a tracker and GPS software so you can't get lost.
The side-by-sides are so much easier to drive and maneuver than a traditional ATV so they are a lot of fun even for inexperienced operators. Shin Pond Village has both two-seaters and four-seat vehicles for families. If you take one out, the top of Roberts Mountain offers a great scenic vista of the area. This whole adventure reminded me a lot of when my daughter and I did a full-day off-roading adventure up in Northern New Hampshire.
Nearby, you can enjoy hiking to local waterfalls and swimming holes, like Shin Brook Falls or Grand Falls. The Village is also only 30 minutes from the northern entrance to Baxter State Park at the Matagamon Gate and 30-45 minutes to the main section of the Katahdin Woods & Waters National Monument.
If you are spending a few days, be sure to enjoy house-smoked BBQ at Flatlander Smokehouse & Cafe in Patten! It is a great spot to meet locals and enjoy a local craft beer too, especially during one of their "tap takeover" nights featuring different Maine breweries.
Katahdin Woods & Waters National Monument
I recently read a blog post that described Katahdin Woods & Waters National Monument as a place to "see monuments and breathtaking sights." WRONG. Clearly, that person had never been to Katahdin Woods & Waters. This public land adjacent to Baxter State Park was acquired over the years and recently designated as a National Monument as part of the National Parks Service. But there are no monuments there. Actually, there is very little there currently outside of backcountry campsites and a few hiking trails.
This land, which is the ancestral home of the Wabanaki, is primarily forest, with the eastern branch of the Penobscot River running through it. The roads on these lands are gravel and not as frequently graded or maintained as those in Baxter State Park so it is very bumpy and slow going. In fact, of the 17-mile loop road in the southern portion of the park, it took a good 45 minutes to get a few miles along the road from the time I left the paved road near the entrance to the park.
There are no services and certainly no cell service, but that is what people like about it. The raw roughness of nature. Over time, the services will continue to be upgraded, with more parking areas and marked hiking trails. But for now, one of the main draws is that Katahdin Woods & Waters was recently designated an International Dark Sky Sanctuary and typically has the darkest metered skies east of the Mississippi.
Dark Sky Maine and the Friends of Katahdin Woods & Waters will often lead star parties up at the overlook with beautiful views of Mt. Katahdin. I was fortunate enough to be joined by John Meader, an astronomer with Northern Stars Planetarium and Vice President of Dark Sky Maine. We set up telescopes and our cameras in anticipation of stargazing, but unfortunately, after blessing us with a beautiful sunset over Mt. Katahdin, the clouds moved in to obscure the stars. If you are interested in stargazing, keep an eye out for future events or consider camping in the park to take advantage of those dark skies.
Baxter State Park – Matagamon Gate
Shin Pond Village is conveniently located only 30 minutes from the Matagamon Gate at the northern entrance to Baxter State Park. Even better, this section of the park is not nearly as busy as the southern section closer to Mt. Katahdin and parking reservations aren't required. Just minutes down the gravel road past the gate, I noticed some movement in the road ahead and sure enough, there was a moose! I was surprised to see her in the middle of the day but it was luckily a nice surprise and I was able to creep along until she decided to return to the woods.
The best area to explore for the day from the northern entrance is the South Branch pond section. Just make a left at the South Branch Pond campground sign. Before you get to the main campground parking, you will see a trailhead on the right for South Branch Falls Trail. This short .5 mile trail brings you down to a nice waterfall with very little elevation. Just keep in mind though that these trails are plenty of rocks and roots and uneven footing.
You can park at the campground day-use parking and walk back up the road slightly to the entrance to The Ledges trail, which is about .6 miles to the viewpoint, which offers a view over the pond and mountains. Just remember to sign in and out at the trail registers. When I visited in June, was the only one using the trail so far that day and it was pretty amazing to have all these beautiful sights to myself.
You can also rent canoes at the ranger station to head out onto the pond or go for a little swim to cool off. If you are looking for more challenging hikes, there is a 6-7 mile loop trail called S. Branch Mountain, or a 3 mile (one way) trail to a waterfall at Howe Brook.
Tips for Planning a Maine Road Trip
Note: This post may contain affiliate links. If you click a link and make a purchase, I may receive a small commission. All opinions are my own.
Getting a chance to see both the raw wilderness and the rugged coast of Maine in one trip really gives you a taste for what makes Maine such a special place. You will meet real Mainers, but very few tourists, making it a great trip if you want to get away from the crowds but still be outdoors this summer. There are some things to keep in mind though, including:
Keep in mind that you will be driving over bumpy gravel roads. It is best to drive a four-wheel drive car or at least a vehicle with a high clearance. If you are renting a car, I would recommend taking out insurance against dings and scrapes.
There is not great cell service along this route, unless you have US Cellular as a carrier and even then it is going to be spotty in the parks. Print out directions or download offline maps. You may also want to bring along a GPS tracker. I recently got the Garmin GSPMaps 66i for hiking and it would also work in these situations if I had an emergency.
There are also not a lot of dining options in rural Maine, and all of Maine is currently experiencing a bit of a labor shortage so those restaurants that are open tend to be short staffed. Have patience and plan ahead. Ideally if you are renting a cabin you would pack a cooler and bring along food that you can prepare and only need to eat out occasionally.
Restaurants also tend to close early in these regions and many times will stop serving dinner by 8pm. So while it is tempting to stay out to see one of those beautiful sunsets or make the most of the longer summer days, make sure doing doesn't mean skipping dinner.
I would also recommend not blindly following Google Maps as that may lead you down some remote gravel roads, many of which are shared by logging trucks. Often you may need to drive down those roads, but it helps to get directions and GPS coordinates ahead of time instead of relying on a point of interest search on your Maps app.
For hiking, Maine Trailer Finder often has the best descriptions and directions in Maine, although you can still consult apps like AllTrails.
Downeast is famous for its wild blueberries (you may even drive past Wild Blueberry Land in Columbia Falls). Make sure to try some blueberry pie, blueberry ice cream, or other blueberry-flavored foods during your travel.
When in the Maine Highlands, drive slowly and keep a sharp eye out for deer and moose in the road, especially in the hours near dusk and dawn and after dark.
Bring plenty of bug spray and keep in mind that May and June are often black fly season (luckily I didn't encounter those on this trip) and the mosquito is often described as the Maine state bird. What drives me crazy though are those irritating no-see-ums. It helps to have full bug repellant gear if you are going out in the twilight hours or after dark. I've even found those bug nets that go over your hat and cover your head very helpful.
Don't forget to check for ticks and spray Permethrin on your backpack, hiking shoes, and clothing before you head out (not with you in it!)
Save this to Pinterest