When people talk about visiting Atlantic Canada or the Maritime Provinces, what quickly comes to mind are the scenic seaside villages in Nova Scotia or the bucolic farms and red sand beaches of Prince Edward Island.
To get to both of those, visitors often skip right over New Brunswick, the Picture Province, which got its nickname from its beautiful coastline. But I'm going to give you four powerful reasons NOT to skip New Brunswick, but rather plan a New Brunswick road trip to explore this beautiful province.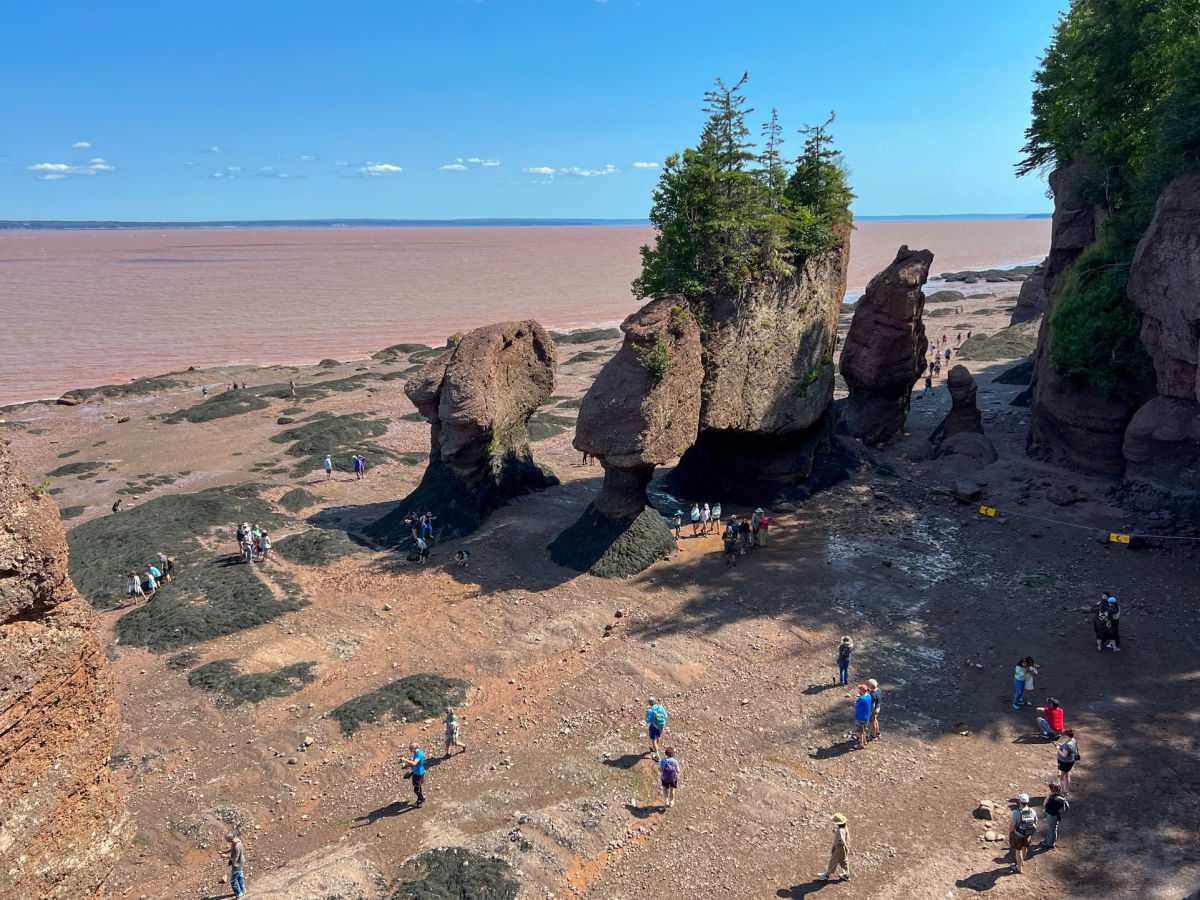 4 Reasons to Visit New Brunswick, Canada
New Brunswick is affordable! I'm not sure if you have noticed but in the last year, hotel prices have skyrocketed in the U.S. as pent-up demand and a desire to recoup losses have led to some price gouging — and it isn't like service has gotten any better either. But New Brunswick, Canada is a very budget-friendly destination. There are a wide range of accommodation options in the budget to mid-range and, if you are visiting from the U.S., the currency conversion also makes food and activities cheaper.

New Brunswick isn't crowded. If you have traveled to outdoor destinations in the U.S. in the last two years, you have probably noticed a boom in tourism in National Parks, State Parks, and other public spaces as people have sought time in the great outdoors. While Canadians love their outdoor spaces too, you do not see the crowds that you will find south of the border. It is a joy to once again spend time in nature without jostling for space or navigating crowded trails and parking lots.

New Brunswick is closer than you think. If you live anywhere in the Northeastern U.S., New Brunswick is a great road trip destination. You can follow my Maine coast road trip itinerary (or my New York to Maine road trip itinerary) and pick a spot to stop along the way or drive straight through. Boston to St. Andrews near the U.S.A.-Canadian border is a less than six-hour drive. What a relief it is to not have to deal with the current state of air travel! Canadians can also drive in from Quebec City (maybe with a stop in Saguenay) or Montreal.
However, if you do want to fly, you can fly into Moncton, St. John, or Fredericton (the capital), but chances are you will need to connect in Toronto or Montreal.

There is so much to do! When I first met with the representatives from the New Brunswick tourism board, I was so impressed by the breadth and depth of fun activities in New Brunswick. Whether you are visiting as a family with young kids or teens, as a couple, with a friend, or just on a solo road trip like me, you are going to find something to love in New Brunswick.
There are dramatic cliffs, the highest tides in the world, soft sand beaches with the warmest water on the East Coast north of the Carolinas, wineries, breweries, the Lobster Capital of the World, adventure sports, forested wilderness, beautiful national and provincial parks, and cool small cities. You will also find one-of-a-kind experiences like Ballet by the Ocean or tidal bore surfing.
So hopefully I have sold you on planning a trip to New Brunswick. Now I need to tell you how to do it. I recently spent 10 days exploring Southern New Brunswick as a guest of New Brunswick Tourism to research this article and I've learned a lot and have plenty to share (note: all opinions are my own.)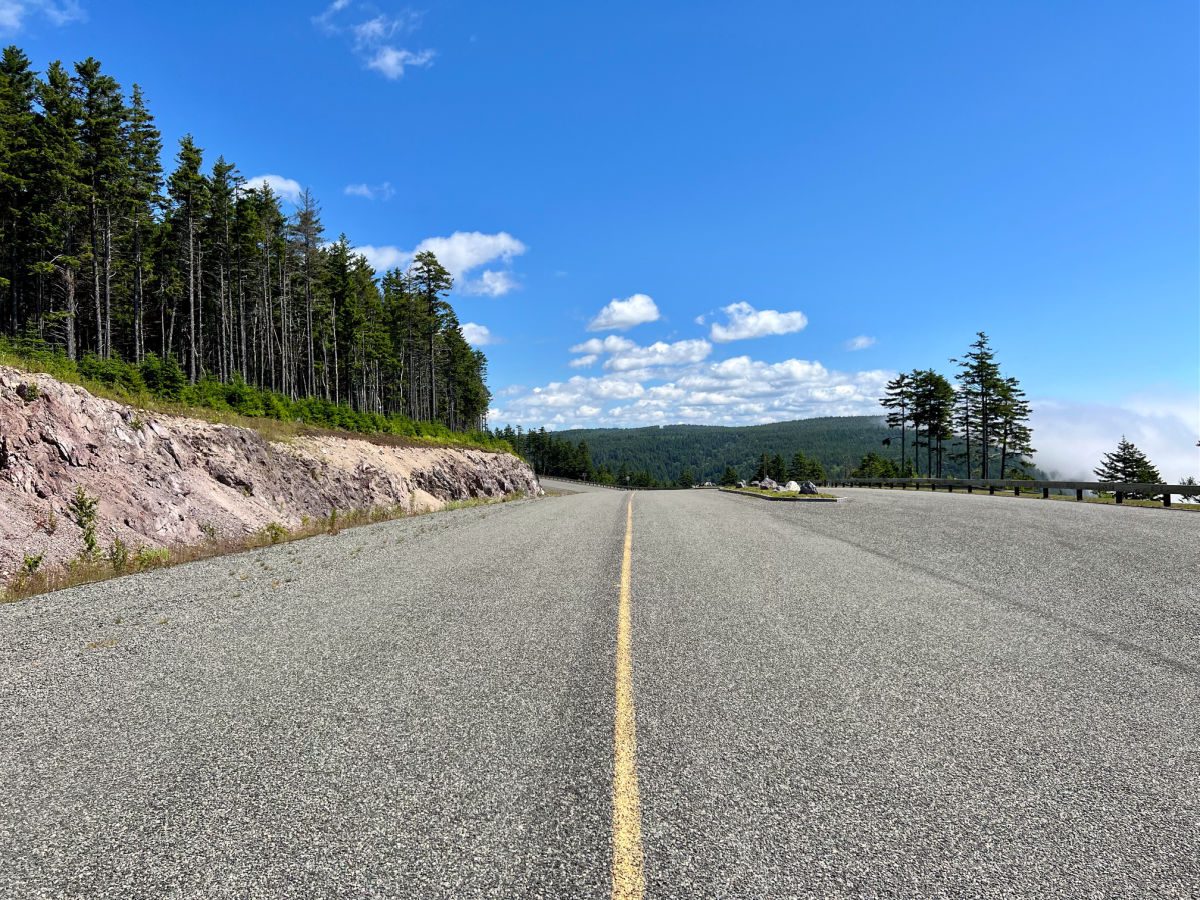 New Brunswick Road Trip Itinerary
New Brunswick is a fairly large province and it is really best explored by car. I would recommend that you take a week to explore Southern New Brunswick. I've organized this New Brunswick road trip itinerary assuming you are driving from the USA and doing a loop through Southern New Brunswick.
However, if you are flying in, you can easily use this itinerary as a guide and adjust it to meet your schedule. I would suggest flying into and out of Fredericton and still following this general road trip itinerary.
To give you an overview, I have created a map using Google My Maps that shows you the major stops along this New Brunswick road trip.
Day 1: St. Andrews
When you cross the border in Calais, Maine, your first stop on the New Brunswick road trip will be St. Andrews. If you have time, stop briefly in St. Stephens as you cross the border. Did you know that St. Stephens is Canada's "Chocolate Town"?
At the Ganog Chocolate Shop in St. Stephens, you can sample old-fashioned chocolate varieties that have been made there since the mid-1800s. There is also a Chocolate Museum in the old Ganong candy factory.
From St. Stephens, it is only a 30-minute drive down to St. Andrews by-the-sea. This charming holiday town on the coast is a lovely place to spend a night or two. I'd highly recommend spending at least one full day in St. Andrews.
St. Andrews is an excellent spot to go whale watching, with many options from fast Zodiac boats to larger catamarans. Pick one that best matches your schedule and style. For example, choose a Zodiac if you want the thrill of speed and the larger boats if you are prone to seasickness.
The whale watching season starts in late June and you will see the best sightings from late July through September. During my time in St. Andrews, I took a three-hour whale-watching cruise with Quoddy Link Marine. Even though it was early July, we still spotted multiple minke whales, seals, harbor porpoises, and even a finback whale during a beautiful day out on the water.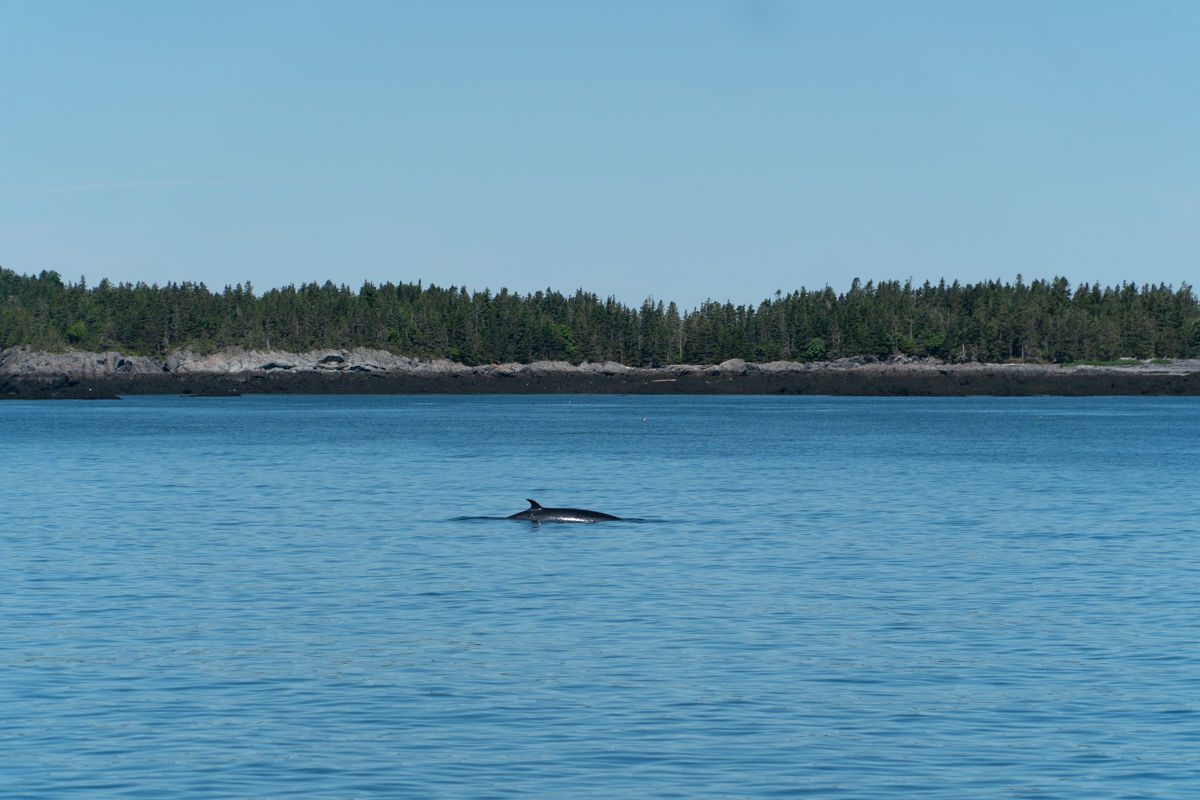 After the cruise, spend some time strolling through the charming town, poking into the cute boutiques, and grab lunch at one of the many seaside restaurants. I had a lovely lunch on the shaded patio at The Gables restaurant.
If you have more time in St. Andrews, during the low tide of the Passamaquoddy Bay, you can drive across the sea floor to Ministers Island. For many thousands of years, the island (Consquamcook) was the seasonal home of the Peskotomuhkati indigenous people. Later, it was settled by Loyalists seeking a new beginning and it was also the summer estate of the entrepreneurial industrialist, artist, and Canadian nation builder, Sir William Van Horne. Today, you can visit the estate and stroll or bike along the carriage lanes, just keep an eye on the tide schedule for your return.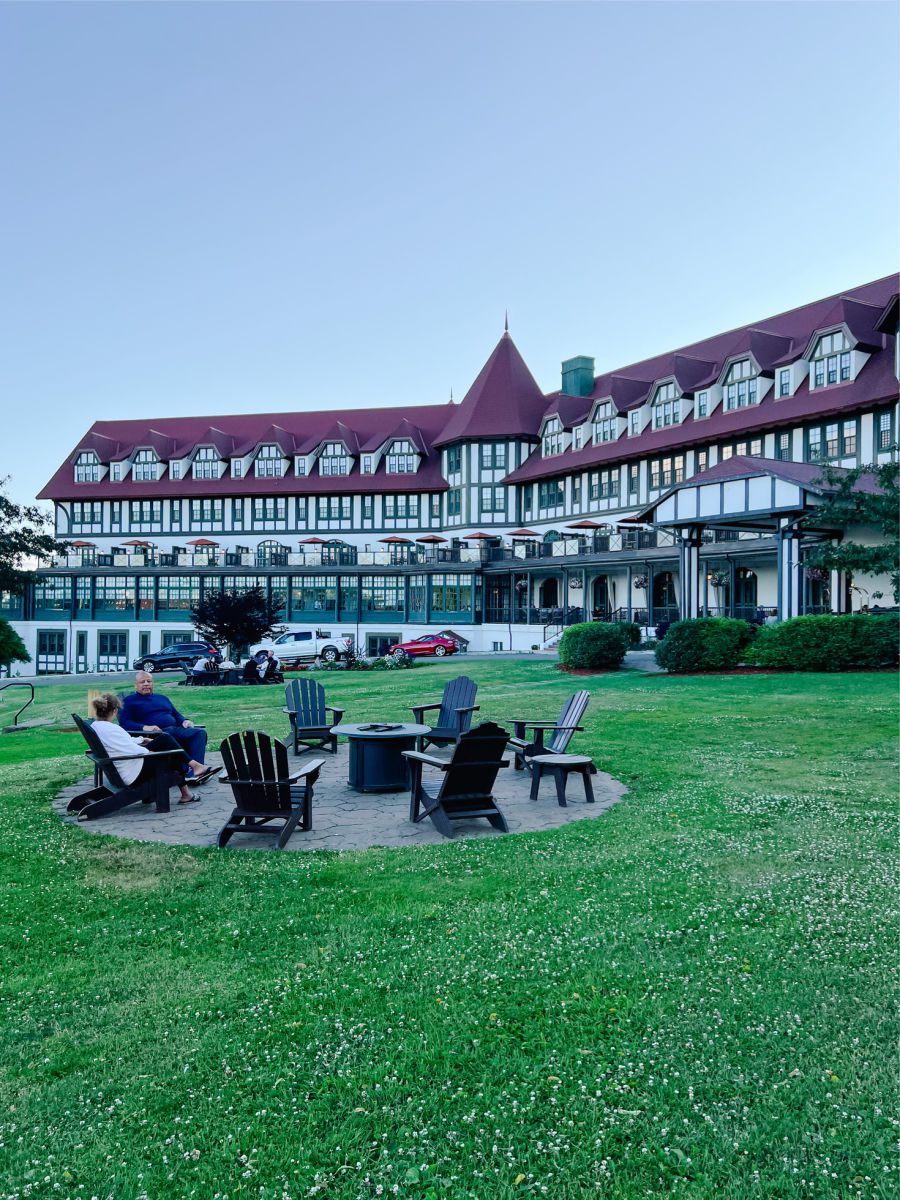 Where to stay in St. Andrews: The ideal place to stay is The Algonquin Resort, which is part of Marriott's Autograph Collection. This historic hotel also offers modern conveniences like a golf course, fine dining, and even an indoor pool with a waterslide. It is the kind of place where you want to gather around the fire pit at night and watch the sunset or play lawn games before taking a dip in the outdoor pool.
Day 2: St. Martins
On the second day of your New Brunswick road trip, drive just under two hours to Saint Martins. You can always stop in Saint John on the way for lunch if you want. This seaside town is small, but still a must-see because of the St. Martin Sea Caves. This is another spot where you will want to check the tide charts because during low tide you can walk out on the beach and explore the sea caves.
During high tide, you can kayak around these same sea caves with Bay of Fundy Adventures. There are also two covered bridges and a small harbor where, during low tide, the boats sit on the ocean floor.
When you get hungry, grab a bowl of seafood chowder at Seaside Restaurant or enjoy some fried clams or other seafood at The Caves restaurant overlooking the beach. For fine dining, make a reservation at Periwinkles at the Beach Street Inn.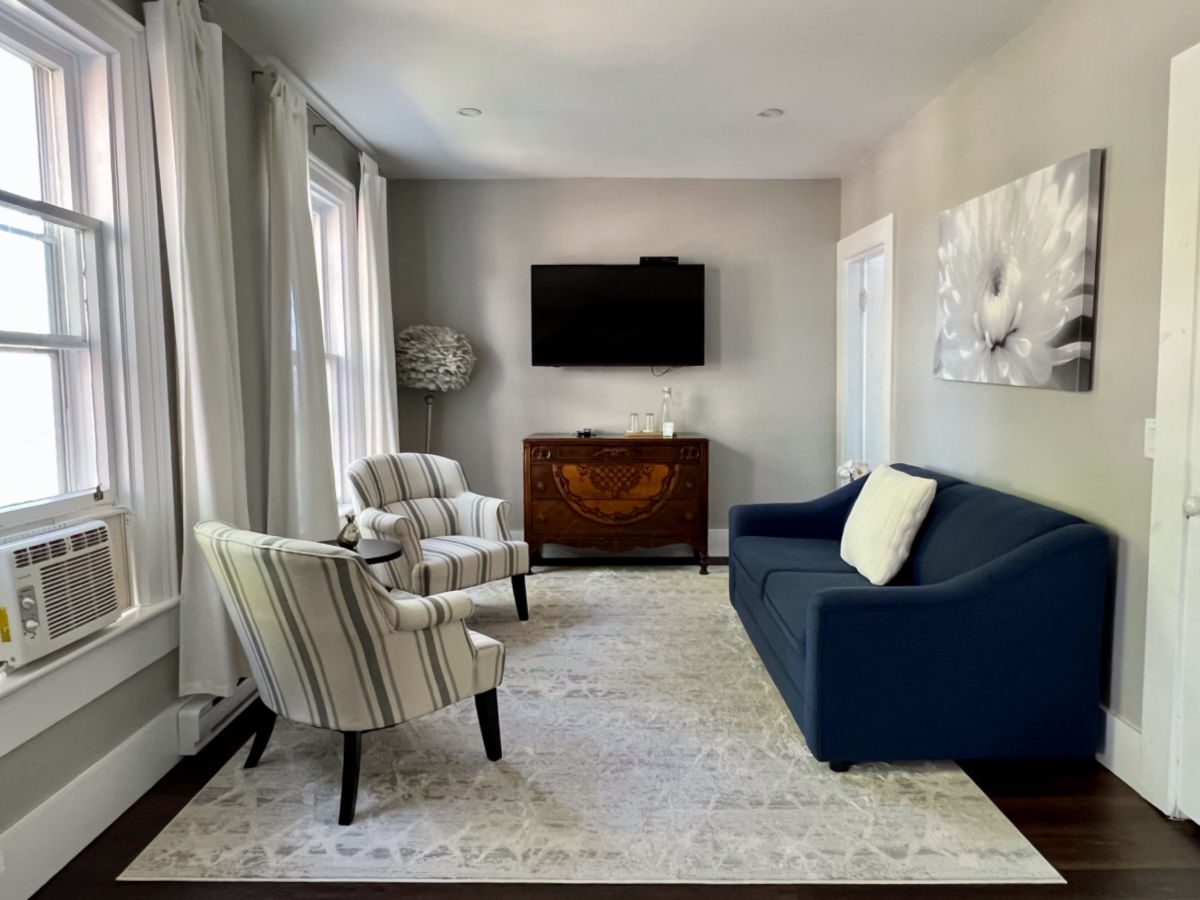 Where to stay in St. Martins: The Beach Street Inn in St. Martins is one of the nicest places that I stayed at during my time in New Brunswick. There are 14 ensuite rooms or suites in the main house and carriage house. Each is tastefully appointed to create a stylish retreat with modern amenities and comforts.
Day 3: Drive the Fundy Trail Parkway
Start your next day early and pick up a picnic lunch to bring on your drive along the scenic Fundy Trail Parkway. Completed in mid-2020, the Fundy Trail Parkway is 19 miles long and encompasses 2,559 hectares (6,323 acres) of land from the West Gate in St. Martins to the eastern entrance in Sussex Corner. There are 21 scenic overlooks, four waterfalls, five beaches, and 22 miles of hiking and biking trails along the Fundy Trail Parkway. The Fundy Trail hiking path is also part of two UNESCO-designated sites: the Fundy Biosphere Reserve and Stonehammer Global Geopark.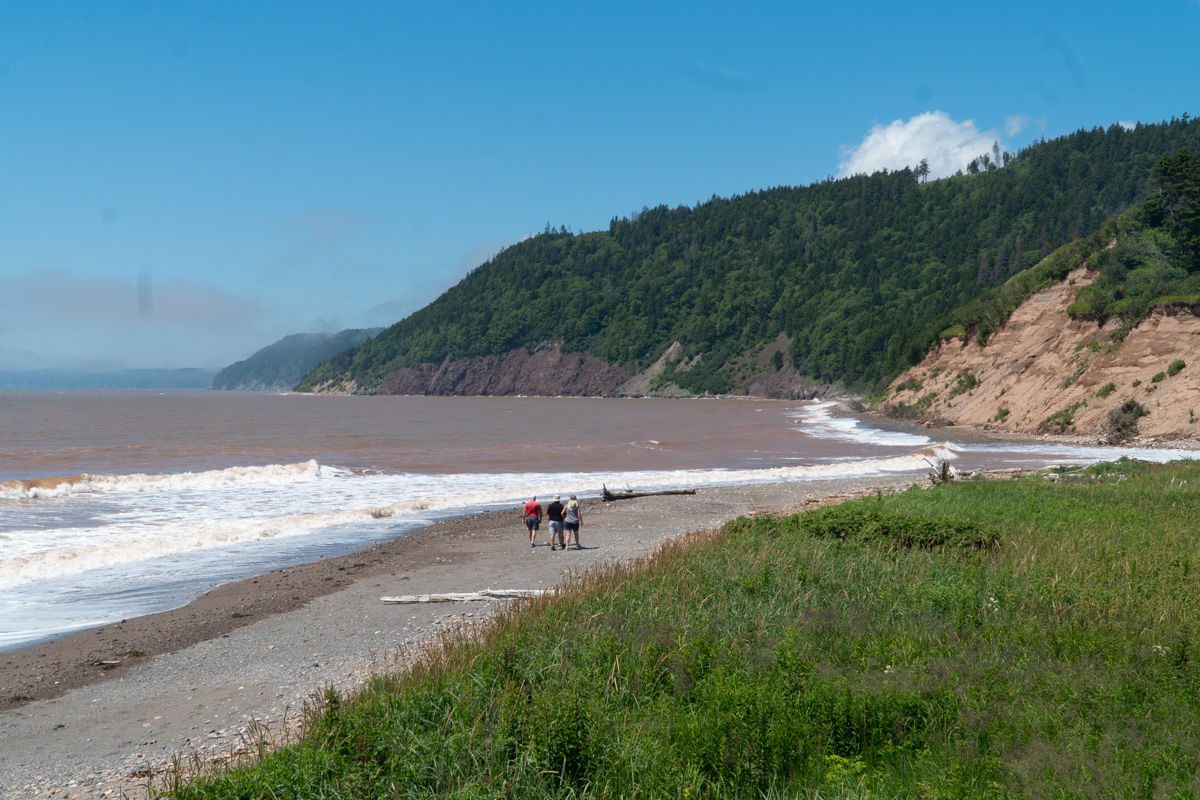 I've written a separate blog post about some must-see places along the Fundy Trail Parkway including some short hikes to the "Grand Canyon of New Brunswick", a swinging suspension bridge, a beautiful beach, a waterfall, and many gorgeous scenic overlooks.
After you finish driving the Fundy Trail Parkway, use the newly completed connector road through Fundy National Park to reach your destination for the evening in Alma. If you have time along the way, you can stop for a hike or to enjoy a scenic view.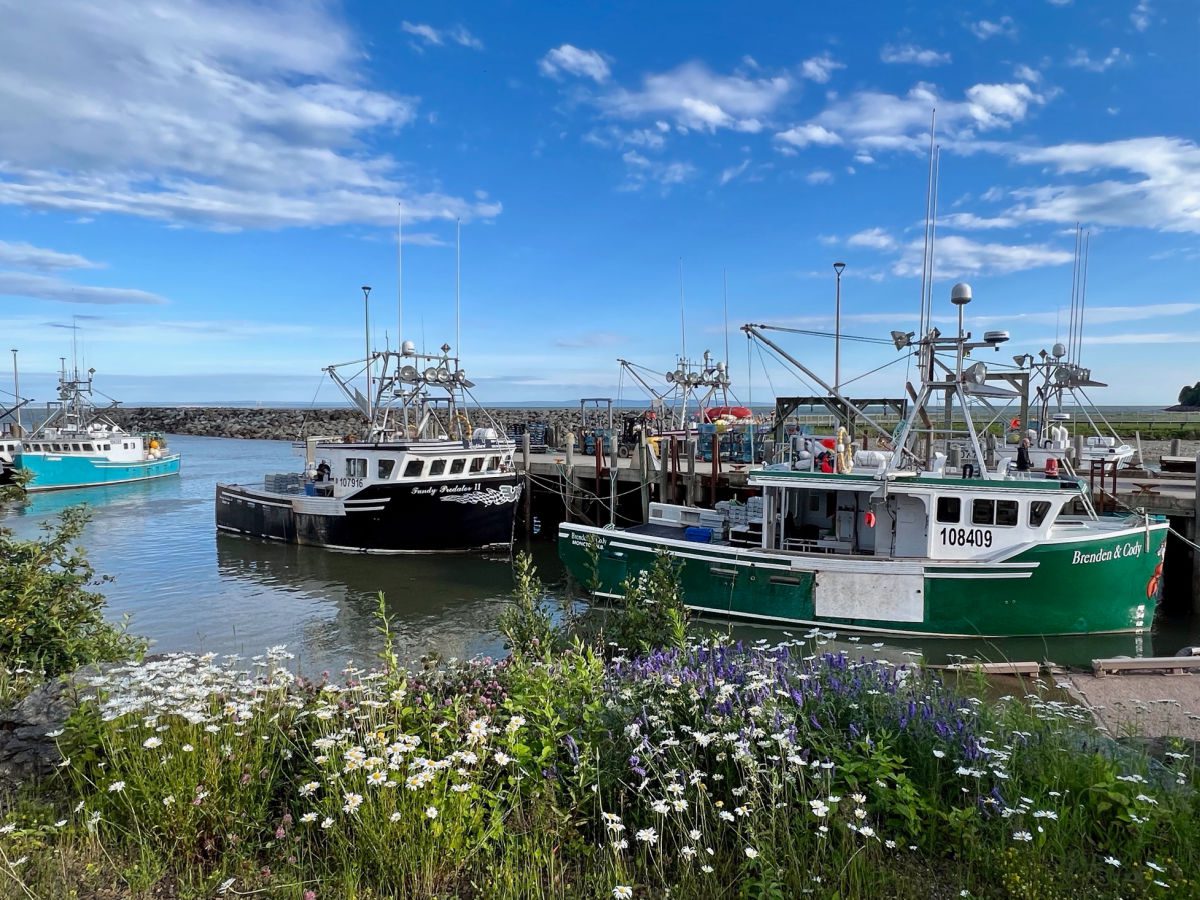 Alma is a very cute fishing and lobstering village with a handful of restaurants, a brewery, a few shops, and a couple of motels. If you are ready for a drink, stop into Holy Whale, one of New Brunswick's 50 craft breweries, based in a former church building. I'm not sure you can go wrong with a dinner pick, but I had delicious mussels at Tipsy Tail's on the water. It was a perfect spot for watching the lobster boats return to the harbor and unload and to watch the sunset. In the morning, stop into Kelly's Bake Shop for her famous sticky buns.
Where to stay in Alma: the options in Alma are limited and basic budget motels, but fine for a short stay. I would recommend the Parkland Village Inn, which has a nice lawn out back and if you get an ocean view room, you can watch the boats come and go.
Day 4: Cape Enrage
If you are ready for an adventure, spend your fourth day in New Brunswick at Cape Enrage. I would recommend you call ahead to find out the times for the tides and see if you can book a fossil tour and other adventures. It is a scenic 20-30 minute drive from Alma to Cape Enrage and it is a beautiful drive on winding country roads lined with wildflowers.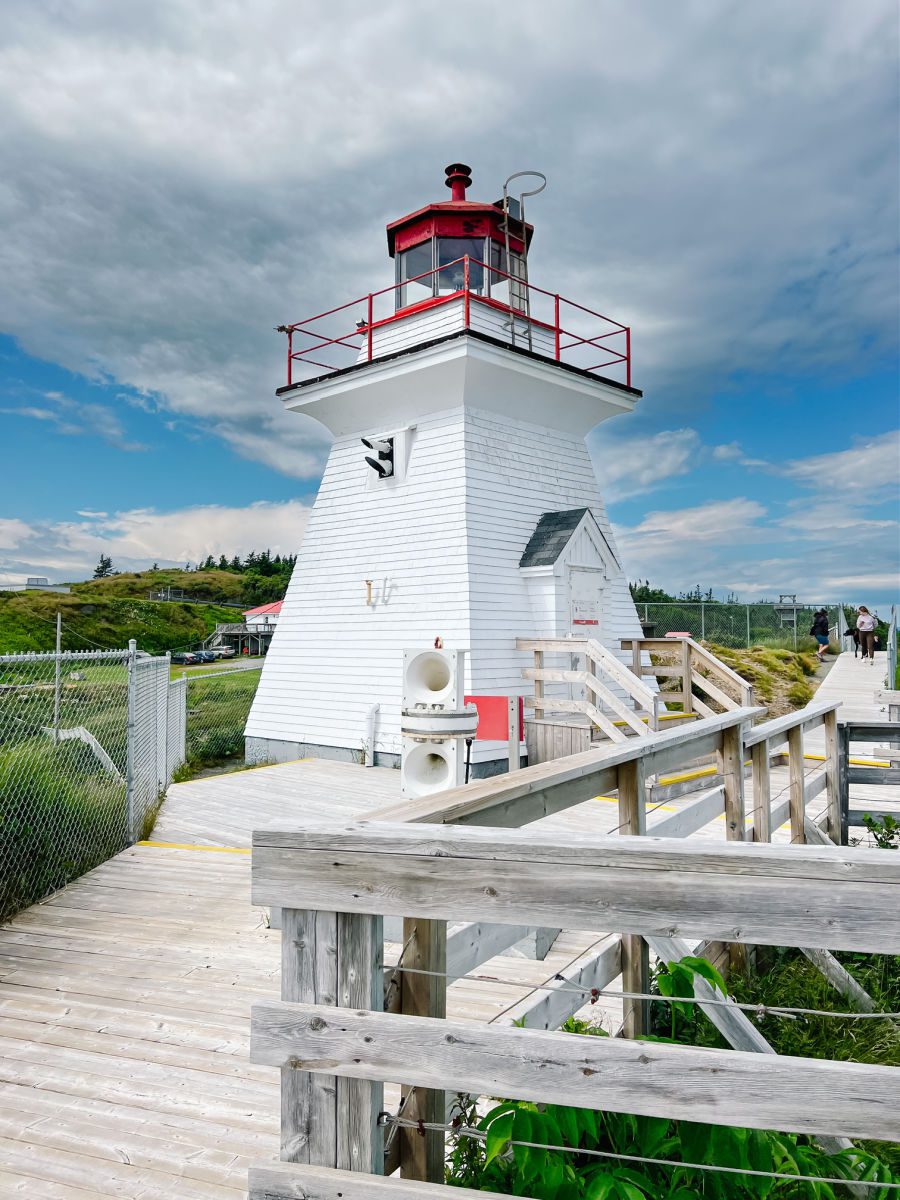 Along the way, you can stop for a walk on Waterside Beach and Pebble Beach. It is $6.00 per adult to enter and Cape Enrage is closed on Wednesdays. I would highly recommend calling in advance to see opening hours and discuss available activities. Cape Enrage is home to the oldest lighthouse on mainland New Brunswick.
Your entrance fee also gives you access to the rocky beach, reached by climbing down a steep set of metal stairs. You need to watch the tides, but if the tide is low enough you can walk along the coast and be wowed by the dramatic cliffs. What you may not notice on your own is that the beach is littered with fossils.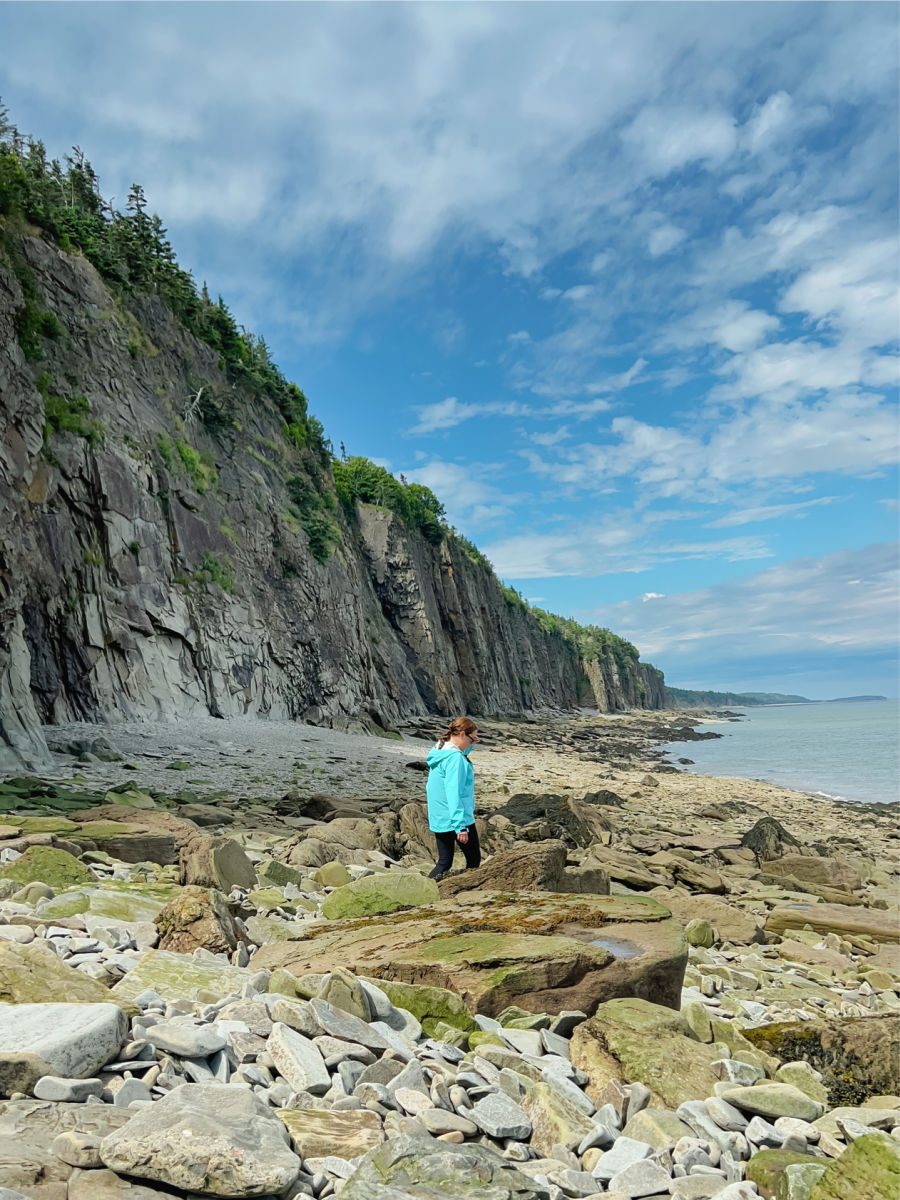 To learn more, you can book one of two fossil tours. The 45-minute tour takes you onto the beach and gives you a nice education into the geological history of the area and the impact of the tides. The longer, two-hour tour also includes a hike along the coast and needs to be done during low tide.
Other optional activities are either ziplining or cliff rappeling. Since I've done ziplining in many locations, I wanted to try something new so I signed up to go rappeling. I'm not scared of heights but I'm also not a huge thrill seeker. Still, I thought that I would be fine but I was actually much more nervous than expected once I had to step off that platform. You need a decent level of fitness and courage, but it is something worth trying — at least once!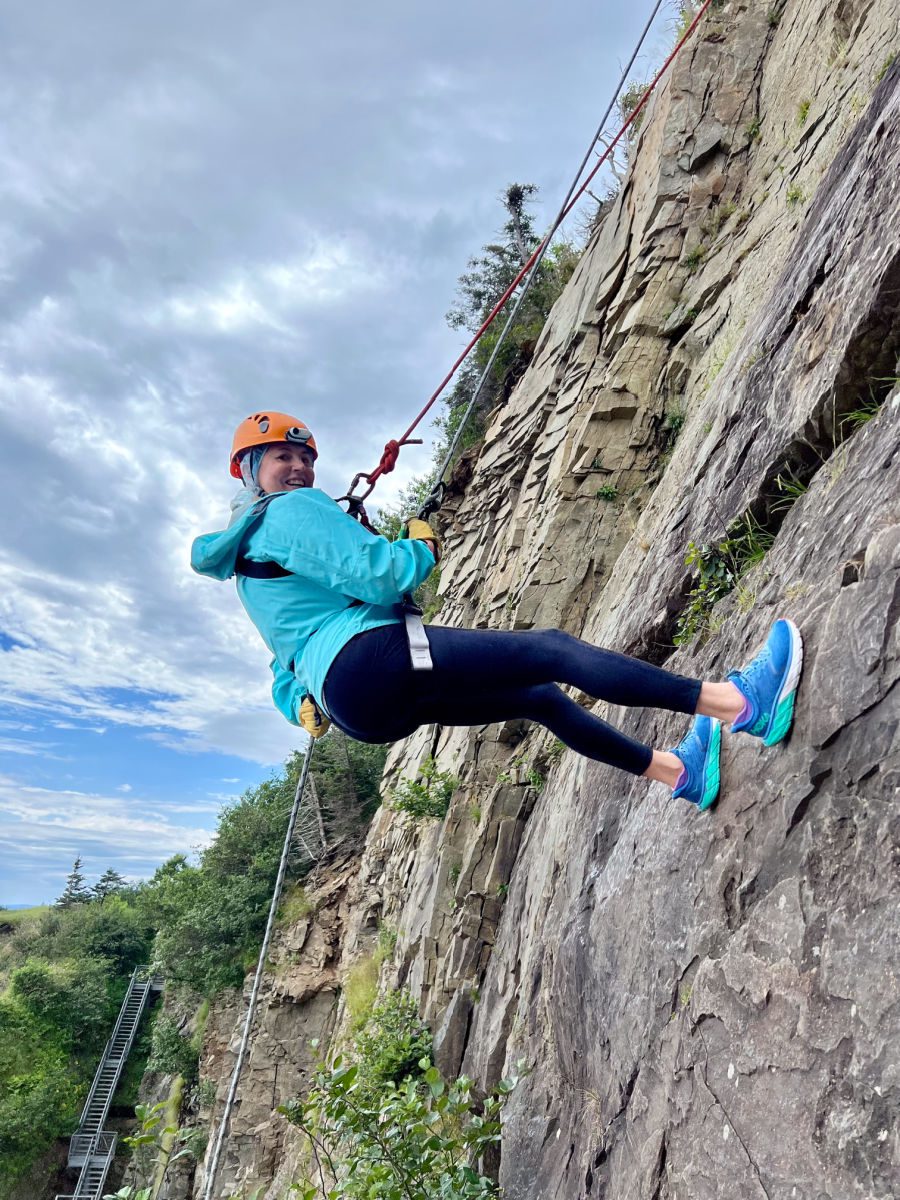 There is a cafe on property that serves fish and chips, seafood chowder, and other dishes, making it easy to spend a full day at Cape Enrage.
Where to stay: you really have three options after your day at Cape Enrage, you can backtrack to Alma and stay two nights at the Parkland Village Inn (but you will need to drive past Cape Enrage to get up to Hopewell Rocks the next day), you can drive up to Moncton and stay two or three nights there to avoid too much moving around (but you will need to drive back to Hopewell Rocks the next day), or you can stay one night at the Hopewell Rocks Motel and Country Inn. It is a basic motel but it is clean and has a pool and restaurant and is the best choice if you prioritize convenience.
Day 5: Hopewell Rocks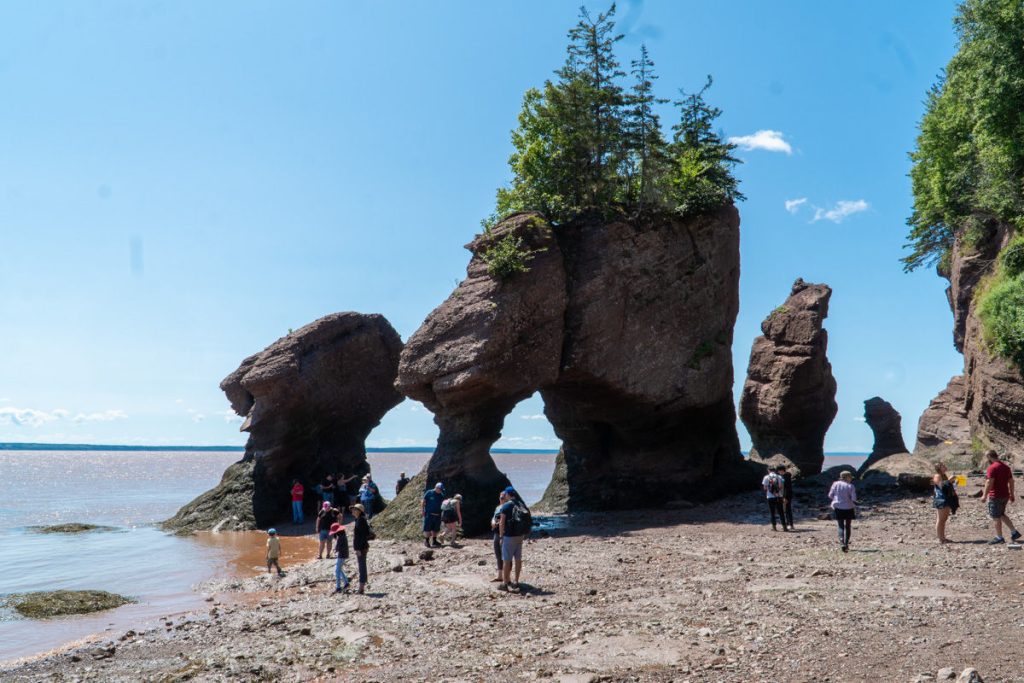 Hopewell Rocks Provincial Park is one of the most famous sights in New Brunswick. Hopewell Rocks is only 30 minutes from Cape Enrage so you could technically do both of these attractions in one day, depending on what activities that you want to participate in at each. However, I do think it is really amazing to see Hopewell Rocks at both high tide and low tide, so you really need to plan on spending most of the day here.
Hopewell Rocks is one of the best places on the Bay of Fundy to experience the power of the tides. There are over twenty free-standing sea stacks along the two kilometers of shoreline, which you can easily walk along during low tide. Of course it is a very different experience at high tide.
Many people like to visit first at high tide and then either return later, or have lunch or a picnic and explore the interpretative center before then going back at low tide. This will give you a real wow moment to see the difference that a few hours make. But in reality, it doesn't matter what order you visit in so just do what works best with your schedule and the tide calendar.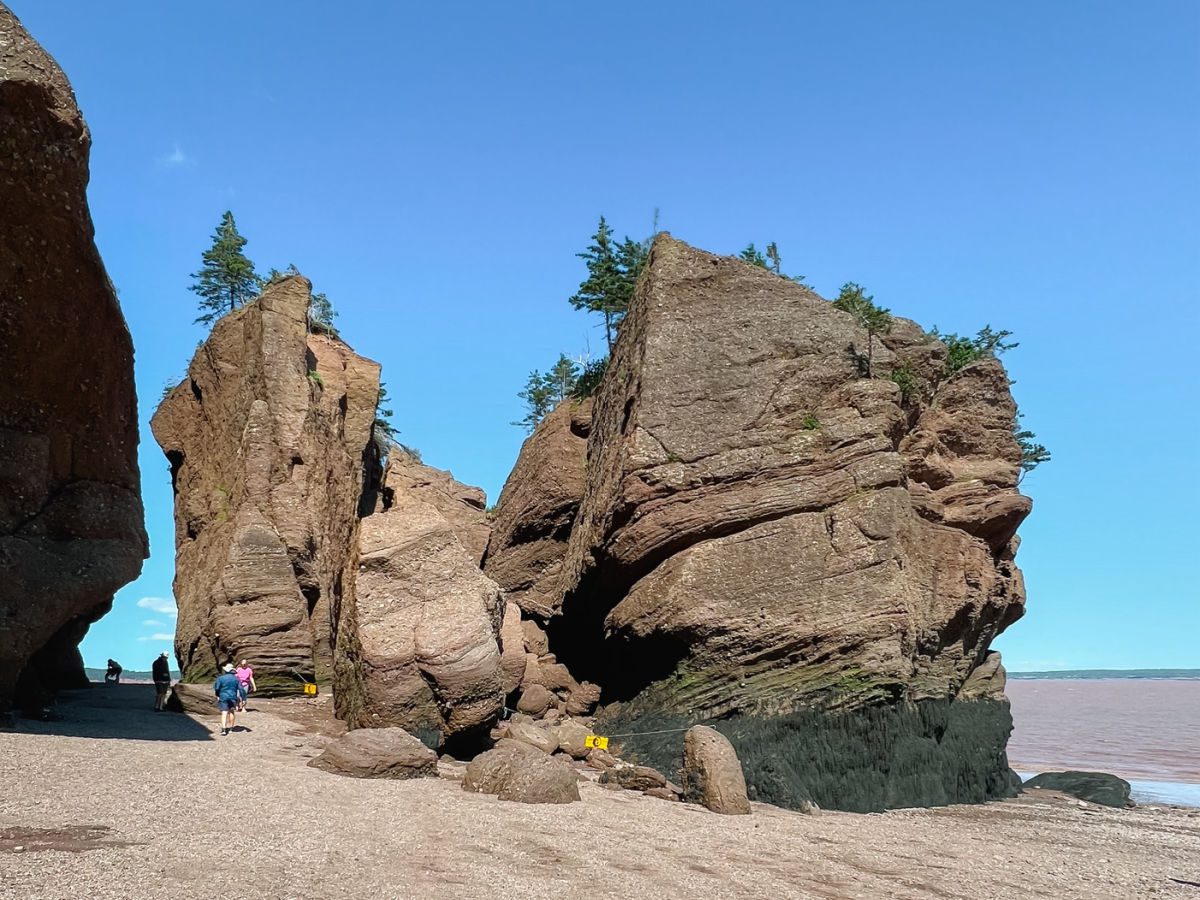 It is a 10-15 minute walk to the main entrance point to the coast down the metal stairs near the Flower Pot rocks, or you can pay a small fee to take a shuttle. The area around the famous Flower Pot Rocks can get crowded, but if you walk along the coast at low tide you can easily get away from people. Just be sure to wear sturdy footwear that you don't mind getting dirty as the sea floor is quite rocky and slippery with mud. Don't worry, they do provide a hose footbath to clean off after.
A walk along the coast will take you past sea stacks such as Elephant, Bear, Dinosaur, ET, and even Mother-in-Law. Another fun way to explore the coastline is by kayak with Baymount Outdoor Adventures. I was scheduled to take a night kayaking tour among the sea stacks but unfortunately, the wind and current was too strong that night so they had to cancel.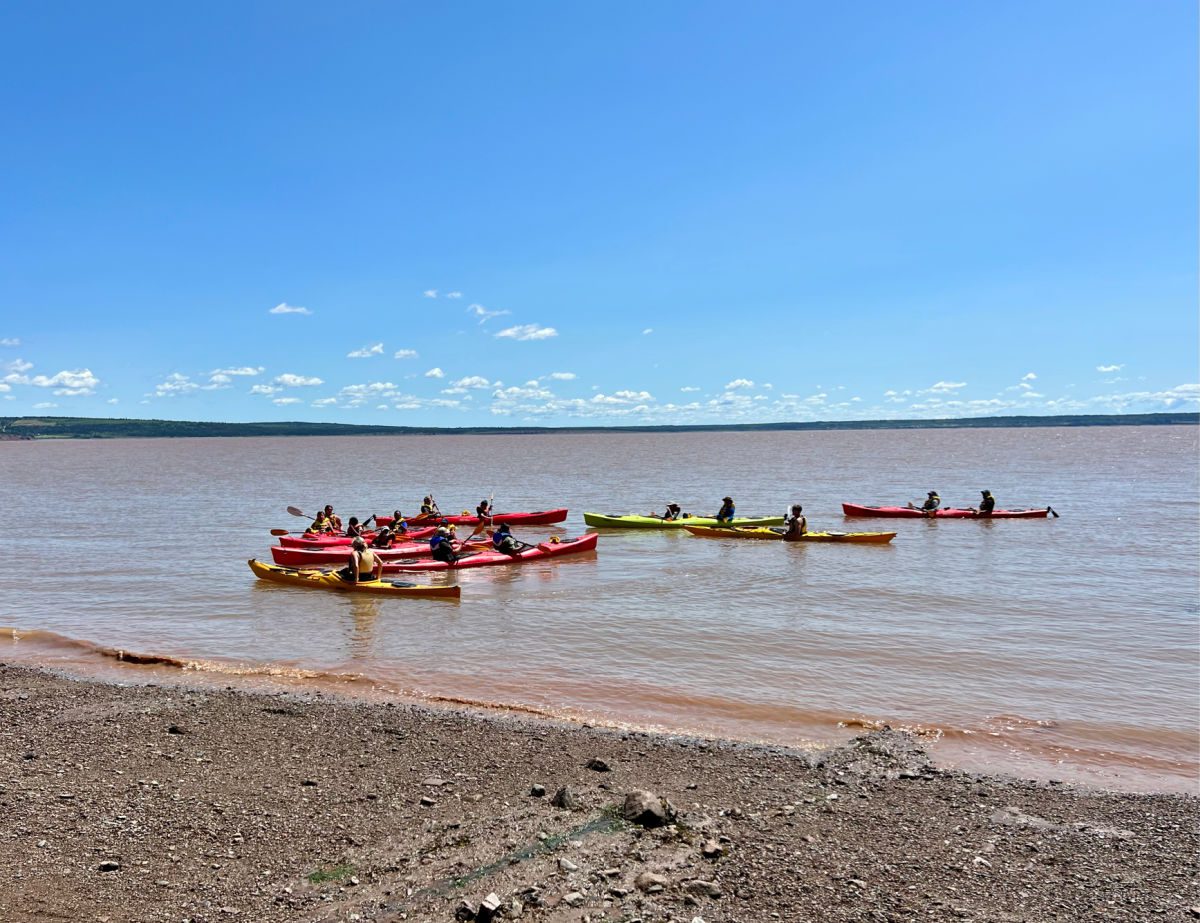 Where to stay: unless you are staying for the late night kayaking tour, I'd recommend driving 30 minutes north to Moncton to stay overnight at either the Delta Beausejour or the Residence Inn, both of which are Marriott properties that are conveniently located in downtown Moncton. If you would prefer to relax at a beach for the next day, you can drive a bit further (about an hour from Hopewell Rocks) and stay at the Hotel Shediac. Hotel Shediac is a nice boutique, full-service hotel that is walking distance to restaurants in downtown Shediac and a short drive to Parlee Beach.
Day 6: Moncton or Shediac
Since you are reaching the end of your New Brunswick road trip, you will need a little time to relax and there are two options for you: 1) relax at the beach; or 2) enjoy the thrills and chills or Magnetic Hill. I would encourage you to spend an extra day and do both.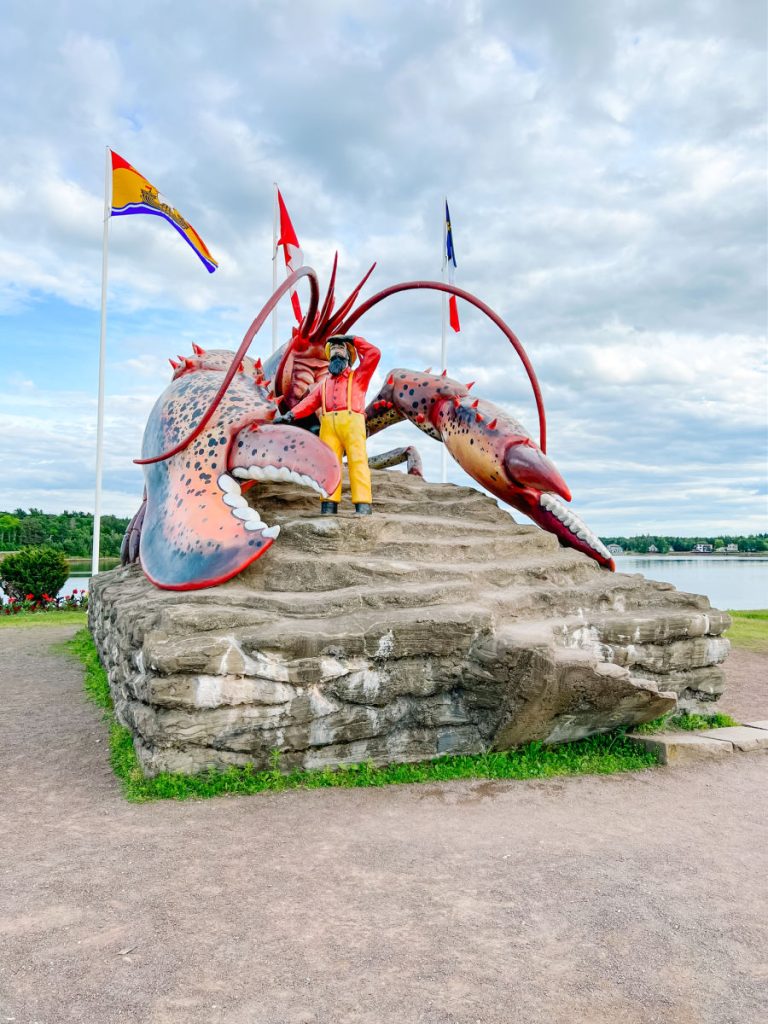 Moncton is called the Hub City because it is a great launching pad for day trips around the area, including the beach towns along the Northumberland Strait. The Northumberland Strait has the warmest waters north of the Carolinas and as a New Englander, I concur. There are a number of lovely beach towns along the Acadian Coast, each with a slightly different vibe but all are family friendly.
Parlee Beach is Shediac is lovely with full facilities, wide stretches of sand that aren't overcrowded, plentiful parking, and calm, clear water. Plus, you are just a few minutes drive to downtown Shediac, the Lobster Capital of the World, and home of the Giant Lobster sculpture.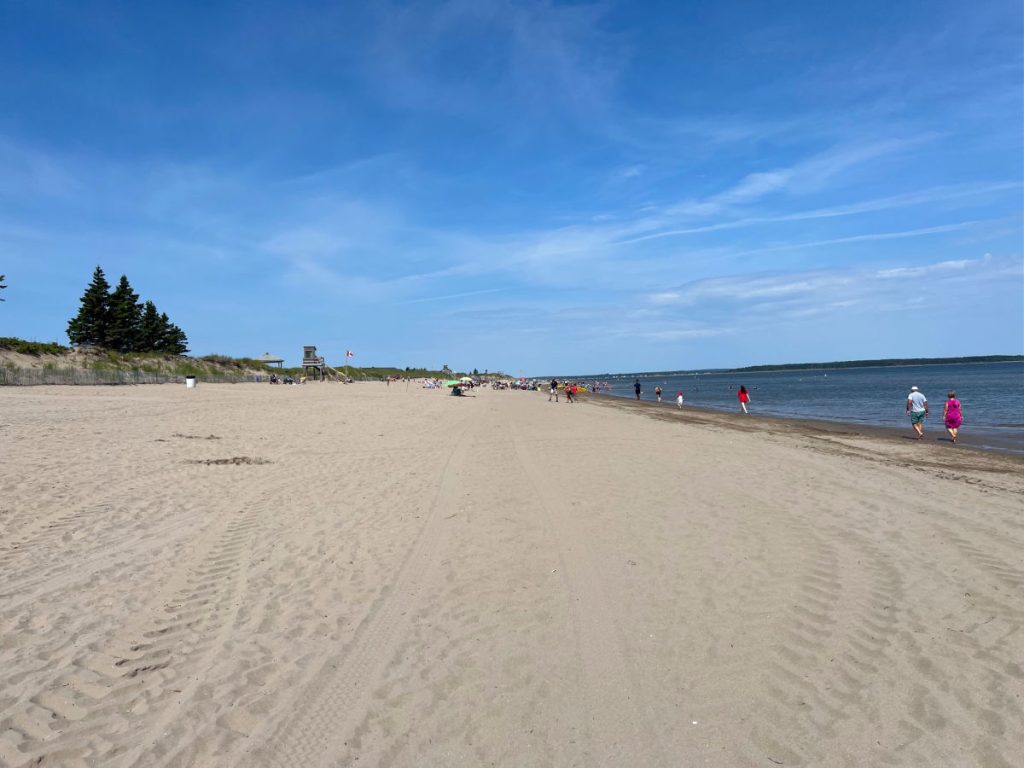 While there I highly, highly recommend booking a Lobster Tales cruise with Shediac Bay Cruises. The two-hour cruise leaves out of Pointe-du-Chêne wharf (which is a cute place to visit on its own) and is an absolute delight. Unlike most sightseeing cruises, this trip is about the food — particularly, the lobster.
Captain Ron entertains guests with tales from his 40 years of fishing experience but also educates about conservation and, importantly, the best way to eat a whole lobster. Then, dinner is served and you put your newly-learned skills to the test. You will laugh a lot and not go home hungry!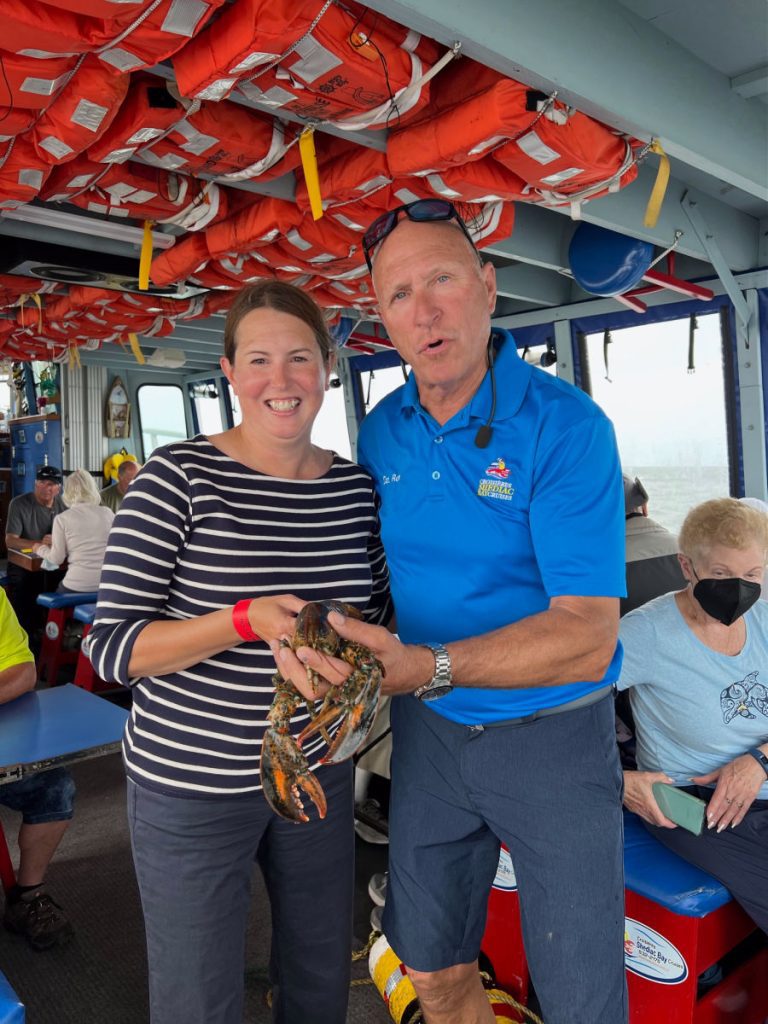 If you are looking for something even more mellow, drive up the Acadian coast to the Irving Eco-Centre at La Dune de Bouchtouche. This center was established to preserve the 12 km sand dune that stretches across Bouctouche Bay. In addition to the education center, there is long, serpentine boardwalk that runs along the dunes, as well as a forest trail beside the salt marsh. This area is home to the Great Blue Heron, the Piping Plover and other wildlife.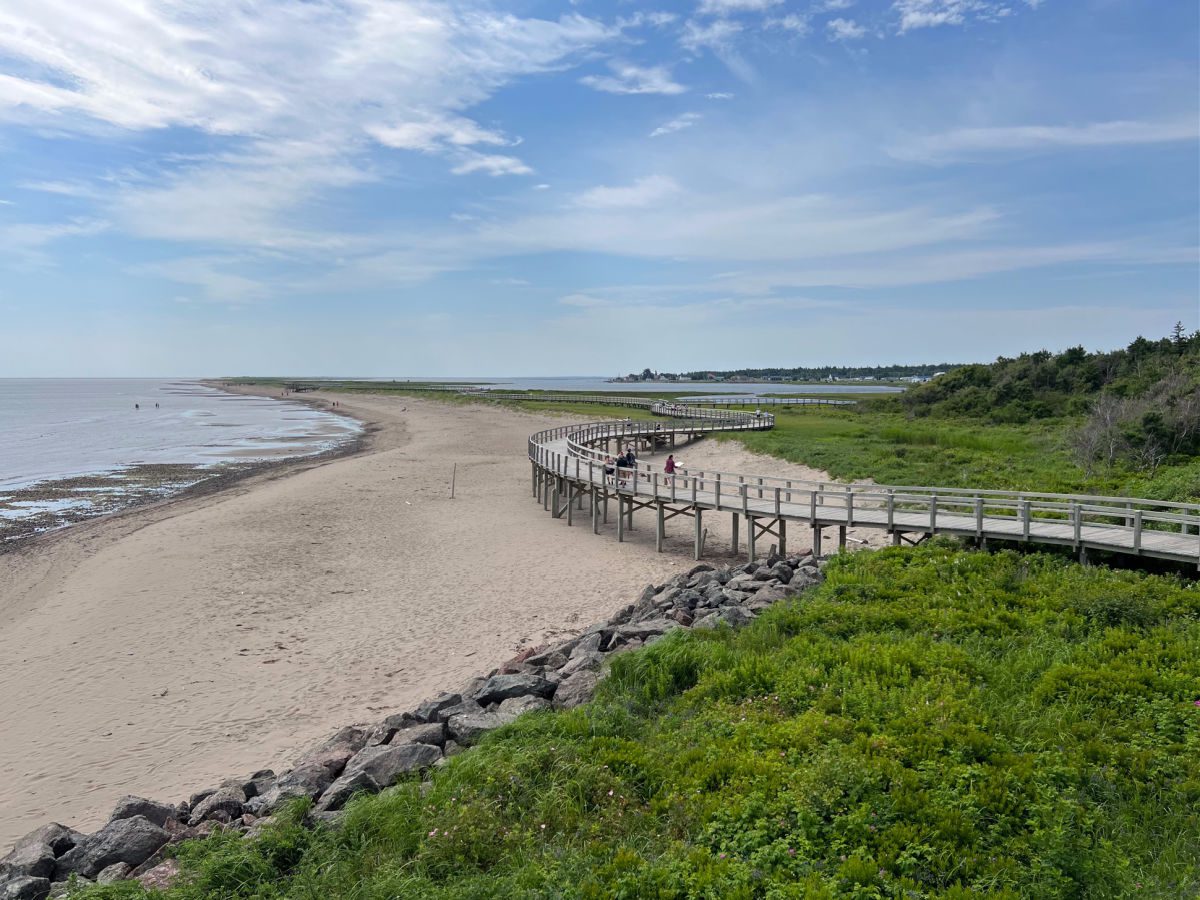 Cap-Pelé is another great choice for a beach day paired with beachside seafood. Plage Beach at Parc de L'Aboiteau is the first salt water beach in Canada to receive the Blue Flag Certification for its cleanliness and accessibility. Here you will find a gorgeous beach, full facilities, a spacious seafood restaurant overlooking the water and even a craft beer taproom!
Don't worry if you aren't visiting in the summer or you aren't in the mood for a beach day, Moncton offers plenty to do for families or adults. Downtown Moncton is a fun place to explore with tons of great restaurants and craft breweries. You can also enjoy the city's bike paths or check out the tidal bore wave that rolls through town at the turn of the tide.
However, most likely you will want to head 15-20 minutes out of town to Magnetic Hill. This area was so-named because of a natural phenonemon that makes it appear that a car can roll backwards up hill. That's a fun thing to experience, and afterwards families can enjoy a day at either the Magic Mountain Water Park or the Magnetic Hill Zoo.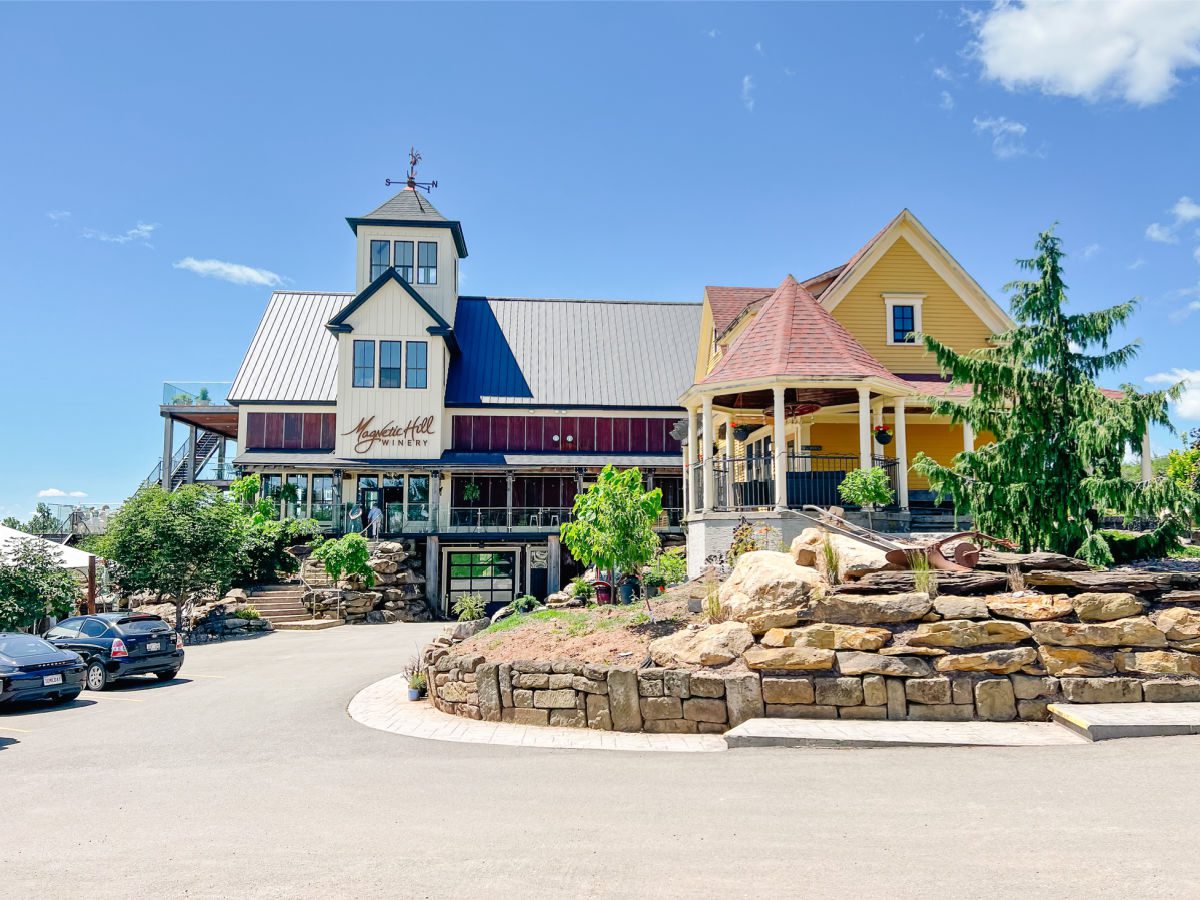 Those traveling without kids can also enjoy Magnetic Hill, followed by a visit to the Usva Spa Nordik. This Nordic spa offers a hot and cold thermal experience and plenty of space to relax. After a morning of relaxation, I would suggest booking a tasting or a tour at the Magnetic Hill Winery next door. Here you can sample everything from fruit wines to dry reds at New Brunswick's largest winery.
Where to stay: you are in luck! You can stay in the same place you stayed last night and finally get a chance to settle in instead of moving every night.
Day 7: Glamping or Fredericton
As your time in New Brunswick draws to a close, it is time to start looping back towards the Maine border (or Fredericton if you flew in.) The drive from Moncton to Fredericton is about two hours and a stop here is another way to break up the trip home.
Fredericton seems like a cool little capital city but unfortunately I did not get to visit on this trip. Instead, I booked a two-night glamping stay at Glamp Camp, which is about 30 minutes from Fredericton. My initial plan was to take a day trip into Fredericton and spend the day either renting a kayak or aquabike on the river or exploring some of the city's Taproom Trail, since it is known as Atlantic Canada's Craft Beer Capital. However, I was too tired from my journey and took the day to relax and have a bit of a writing retreat.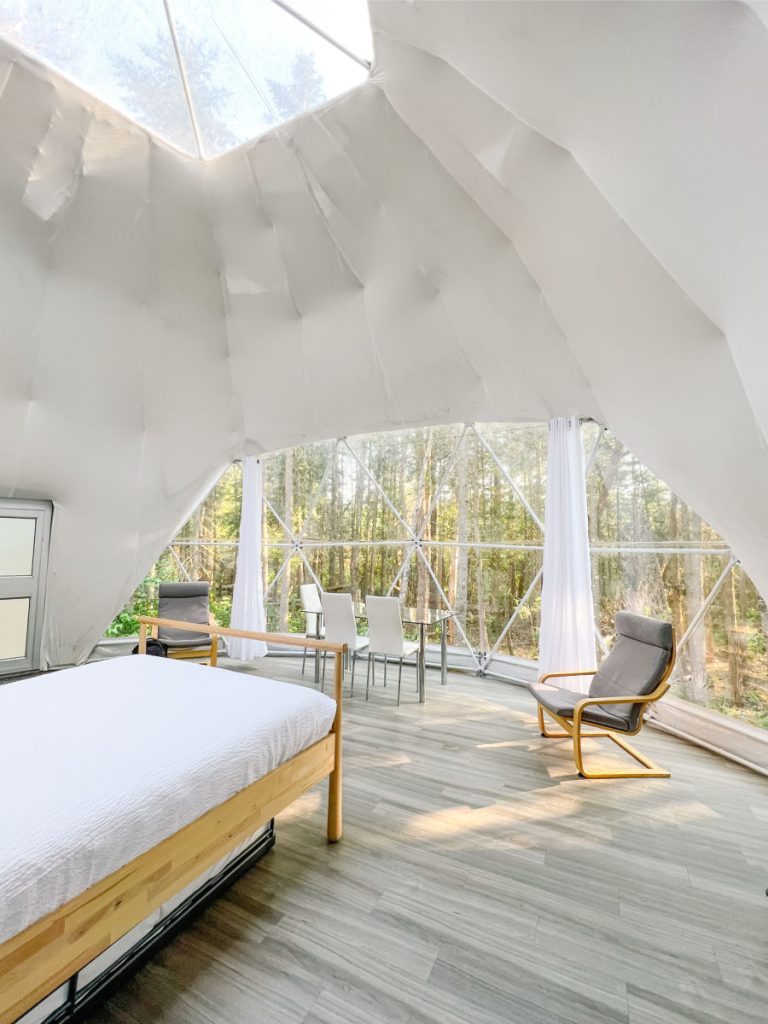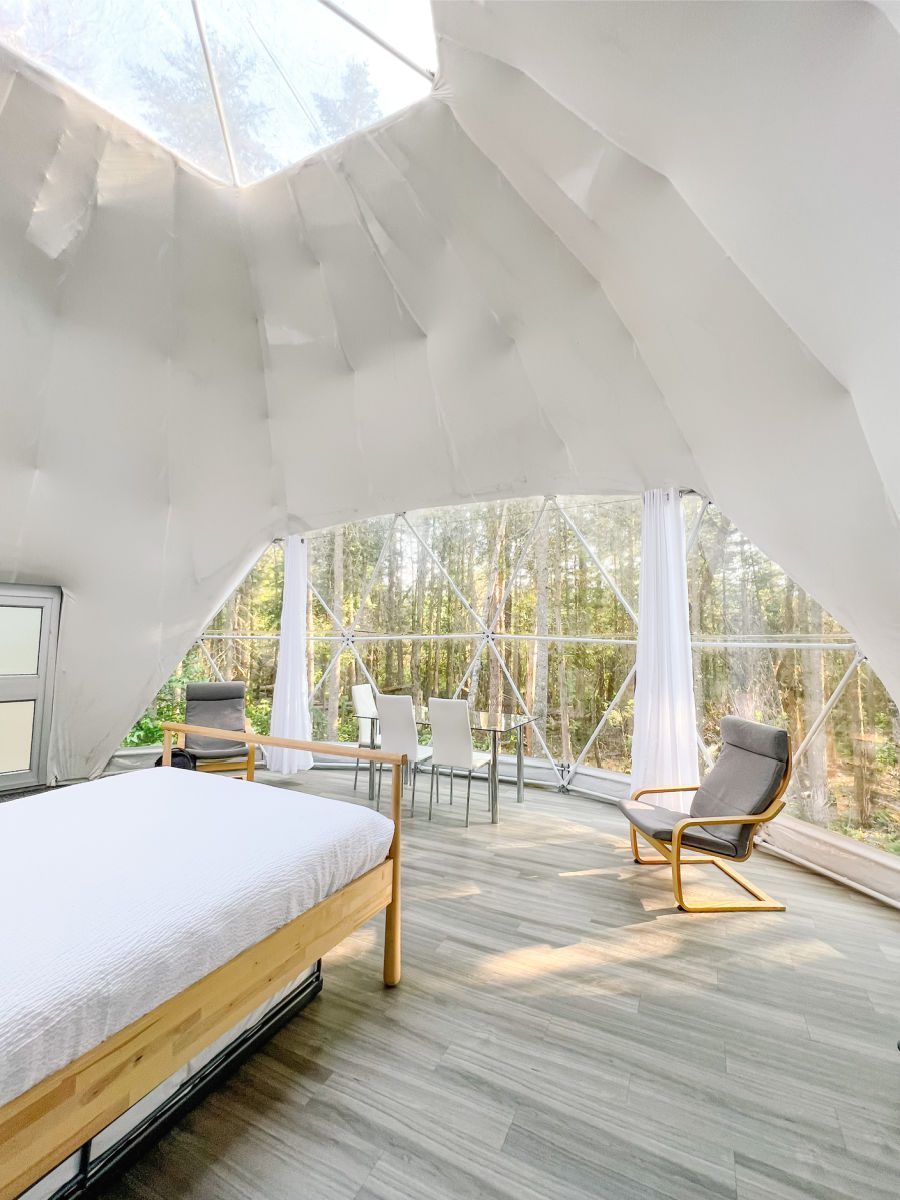 New Brunswick offers an impressive range of glamping options and Glamp Camp in Waterborough opened in late 2019. There are 10 geodesic domes on property. Each dome is fully-equipped with a complete bathroom, small kitchen, a pellet stove, and even air conditioning! The domes truly have the comforts of a hotel room, but much more fun!
Outdoors, each dome has a propane grill, picnic table, fire ring, and a fire-heated hot tub. You can rent tandem bikes to explore the area or kayaks that the staff will deliver to the lake across the road for you. I found it a fun and memorable way to end my trip.
Where to stay: I absolutely loved glamping in the dome at Glamp Camp in Waterborough. However, if glamping isn't your thing, you could stop over in Fredericton at the Delta Hotel Fredericton.
And that is it — one week in New Brunswick goes quickly and leaves you wanting more. Don't let this destination pass you by as it is so rare to find a place that offers so much beauty and adventure that isn't crowded with tourists.
Frequently Asked Questions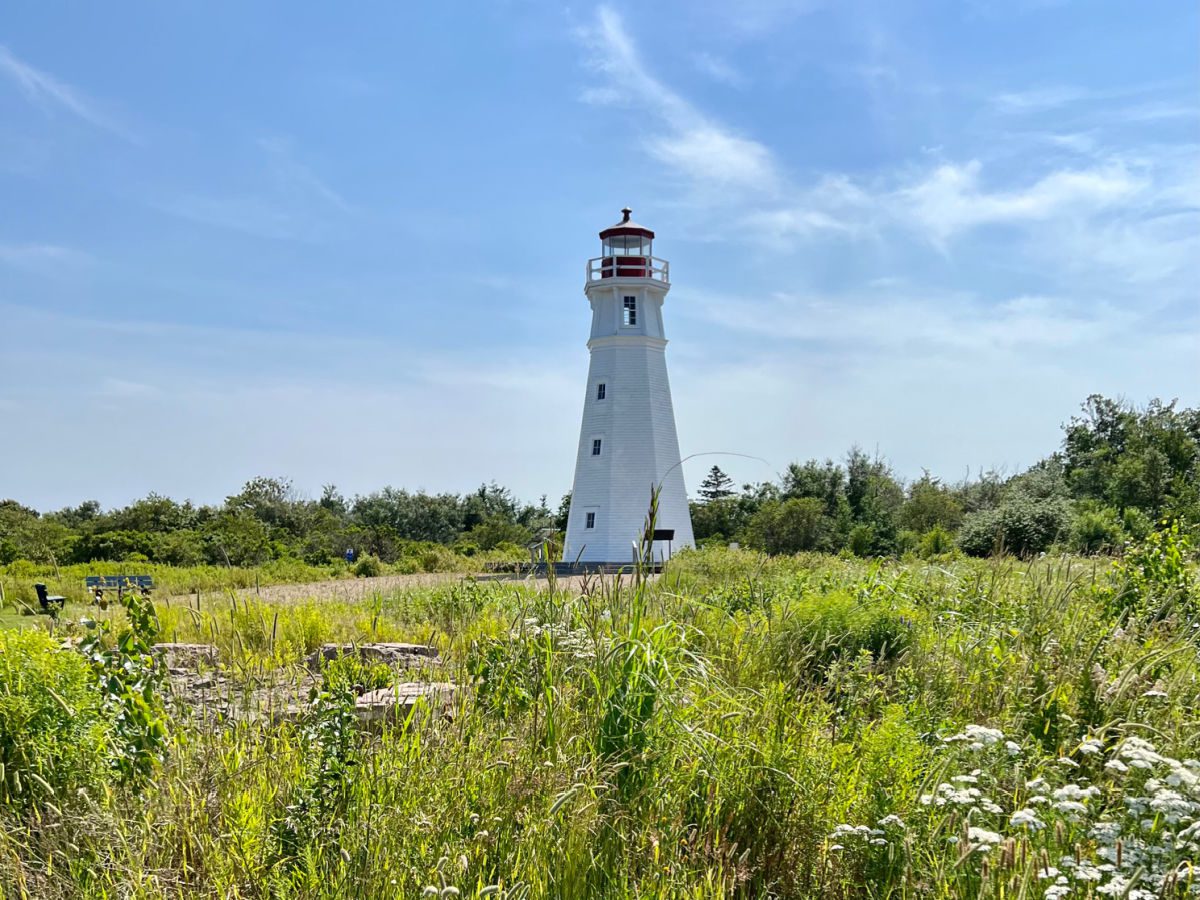 How long does it take to drive around New Brunswick?
It takes just under three hours to drive from the U.S.-Canadian border to the eastern coast of New Brunswick. You can drive from the Bay of Fundy in the south to the border with Quebec to the north in approximately four hours, however, this New Brunswick road trip itinerary focuses on travel in and around Southern New Brunswick.
What languages are spoken in New Brunswick?
New Brunswick is Canada's only official bilingual province and all signs will be in both French and English. In addition to French, you will also hear the Acadian dialect, as New Brunswick is home to the largest Acadian community in Canada.
How many days do you need in New Brunswick?
How long you spend in New Brunswick depends on what you like to do and if you want to focus on just one region or travel around. For a proper New Brunswick road trip, I would suggest a minimum of five to seven days. If you just want to visit the Moncton area and take day trips from the Hub City, three to four days might suffice, but five would be best.
What is the best time of year to visit New Brunswick?
For a road trip through Coastal New Brunswick, it is best to visit in the late spring through the fall. You will find that some accommodations along the coast close after Canadian Thanksgiving in October. This is also the best time to participate in activities such as kayaking in the Bay of Fundy. Other attractions such as the Fundy Trail Parkway are not open year round.
However, there is plenty to do in New Brunswick in the winter including snowmobiling, dog sledding, hunting, ice skating, ice fishing, and even skiing.
Where are the best places to see the Bay of Fundy tides?
The Bay of Fundy has the highest tides in the world, ranging about 50 feet from low tide to high tide. There are many places along the New Brunswick coast to observe this change of tides, but two places, in particular, are especially dramatic. Hopewell Rocks is the most famous place to see the Bay of Fundy tides and walk along the sea floor at low tide. The St. Martins Sea Caves also offer a dramatic backdrop for the change in tides.
Save this to Pinterest