People have always told me that a visit to Quebec City is like visiting Europe without leaving North America and they were right. We spent a long weekend in Quebec City in February and we were completely charmed. Hannah loved it so much, she returned a couple of years later in June for a school trip. There are just so many things to do in Quebec City with kids that you may need a couple of visits to see it all.
Set high above the St. Lawrence River, Quebec actually means "the narrowing," because it was established where the river narrowed, making it defensible and essential to controlling the entire trade route in and out of the Great Lakes.
For that reason, many battles have been fought for control of this walled city, putting the city under siege six times in its history. While wandering the streets of Old Quebec, you may feel as if you are in a small French city, but the abundance of maple products and moose souvenirs remind you that you are in French Canada. (Note: Quebec produces 70-80% of the world's maple syrup.)
No matter what season you are visiting, there are plenty of things to do in Quebec City with kids. Of course we loved how the Quebecois show their zest for winter with amazing family-friendly events like the Winter Carnival and outdoor activities like skiing, ice canoeing, and snow tubing.
In the summer, there are even more outdoor adventures to enjoy like biking, boating, rafting, canyoning and sliding — making it a great family travel destinations. You can also combine a visit to Quebec City with some outdoor adventures in Saguenay Lac St Jean or a visit to Montreal.
Fun Things to do in Quebec City with Kids
Note: Our first visit to Quebec City was hosted by Tourism Quebec and Quebec City Tourism, along with the Hilton Quebec. Our subsequent two trips were on our own. All opinions are our own. This post contains affiliate links, if you click a link and make a purchase, I may receive a small commission.
Plains of Abraham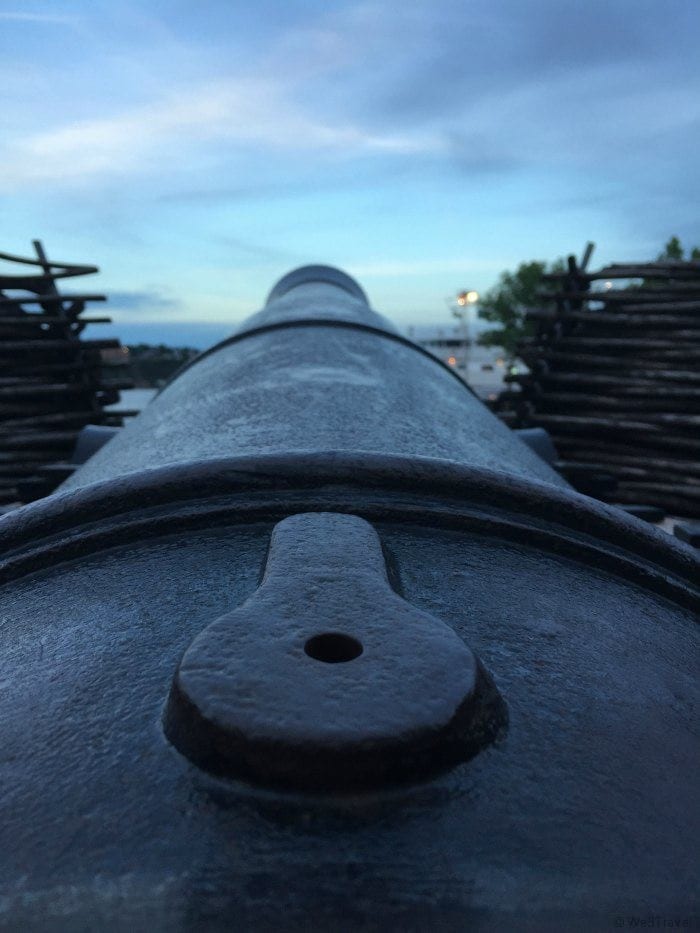 The Plains of Abraham, also known at Battlefield Park, was once the scene of the 1759 battle between the French and the British during the Seven Years War (also known as the French Indian War.) Today it is one of the world's largest urban parks, which boasts a surprising variety of things to see.
Just steps from the Parliament Building and just outside the fortified walls of the Old City, the Plains of Abraham offers up 243 acres for residents and visitors to enjoy. In addition to hosting Summer and Winter festivals, the park is used for cycling, cross-country skiing, walking, running and picnicking. In the Discovery Center you can find exhibits that talk about Quebec's important history.
There are cannons from various wars across the park, as well as great views. Another thing to do there is visit the Martello Towers, which were built to defend Quebec from American invasion.
Walking on the Walls of the Old City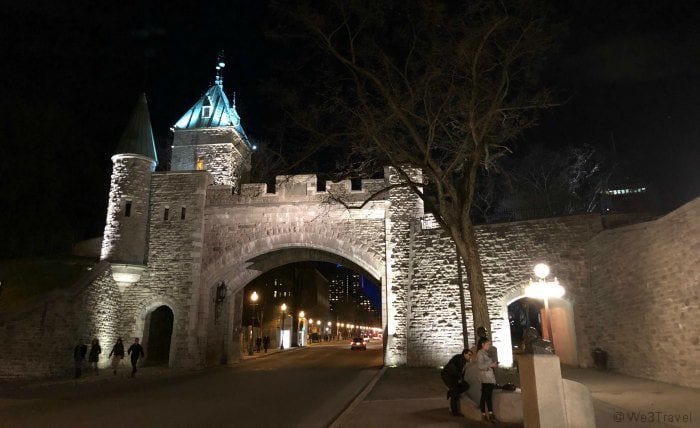 Quebec is a fortified city, with intact stone walls still surrounding the Old City, contributing to making Quebec City a UNESCO World Heritage Site. You can walk around most of the 4.6 km walls and see the city from a new perspective, but you can't make a complete loop as the river facing side doesn't have a wall.
The most popular section is between the St.Jean gate at Place D'Youville and the St.Louis gate, about a 15 minute walk. Just take care with young children.
Exploring Old Quebec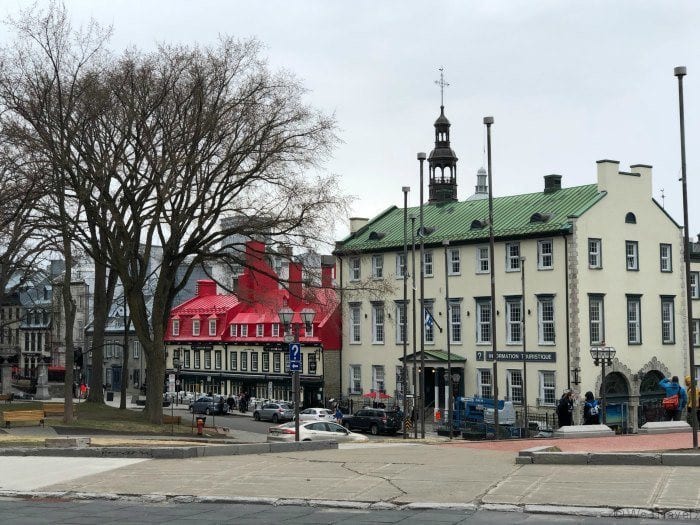 A walk through Old Quebec can begin at Place d'Youville, where you might be able to enjoy outdoor ice skating or a summer concert. Continue along Rue Saint Jean for some shopping at boutiques, chain stores, and souvenir shops.
You might want to make a pitstop at Paillard, one of the best bakeries in town, for some flaky, ultra-buttery croissants, pastries and coffee (they also offer soups, salads and sandwiches for lunch.)
Walk toward the river down de Buade to Parc Montmorency for a view of the Lower Town and the St. Lawrence River. Next, head over to the famous Chateau Frontenac and the Dufferin Terrace to catch the funicular to Lower Town.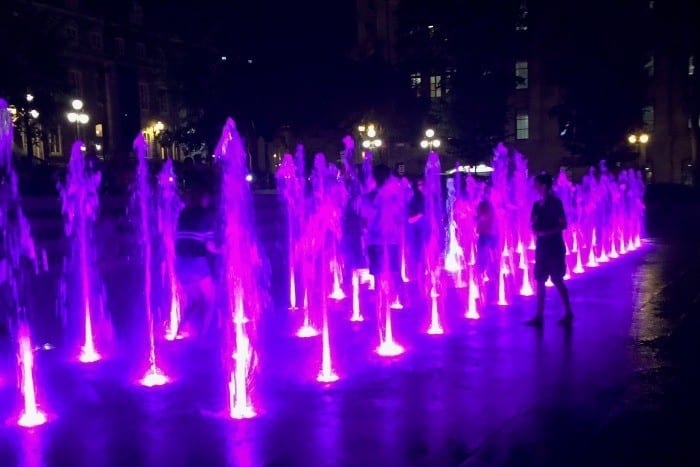 In the summer, Hannah loved playing in the fountains in the evenings.
Tour Basilica of Notre Dame de Quebec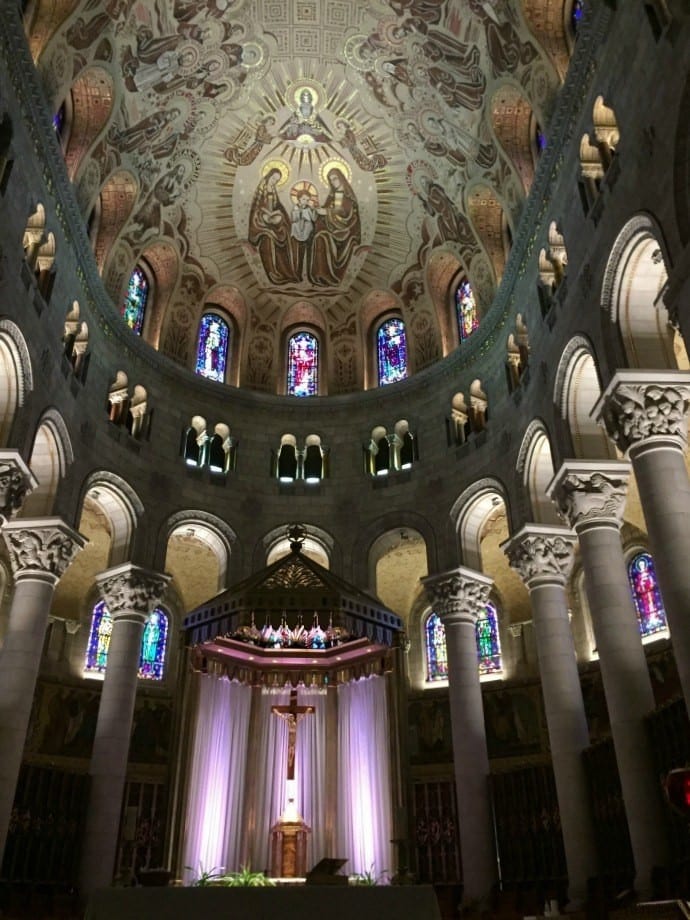 This cathedral is huge, but you may not realize it when you walk through the doors, as the lower level is only the church part. But, if you go upstairs, you will see the stunning basilica that takes up the majority of the cathedral. The basilica is very intricately painted and tiled.
Take the Funicular to Lower Town (or walk down and take it back up)
Whether it is in Capri, Montemarte, or Puerto Rico, my family has always been fascinated by the funicular, a small cable car that operates on a track at a very steep incline. Just in front of the Chateau Frontenac, you can catch the funicular down to Lower Town.
If you decide to walk down the steps and take the funicular back up, just look for the sign along Blvd du Petit Champlain and enter through the t-shirt shop.
The Lower Town's Petit-Champlain District is like a trip back in time, with narrow, cobblestone streets and quaint shops featuring local goods and artisans. Here you can enjoy boutiques, art galleries and restaurants.
While you may find some souvenir shops, you will also find quality local goods featuring fur, wool, and other regional specialties. We found some lovely, warm hats and gloves at Charlevoix Pure Laine and had fun exploring the toy store / gift shop of Brin de Folie.
Take the Ferry Across the St. Lawrence
When in NYC, the cheap way to get a look at the Statue of Liberty is to take the Staten Island Ferry from Manhattan to Staten Island and back. Similarly, in Quebec, a ride on the ferry is an inexpensive way to get out on the river and enjoy a snack and the view.
Another option is to take a river cruise on the St. Lawrence to see different parts of the city and the views beyond. Just remember to bring an extra layer, as it gets cold on the water no matter the season.
Stop by the Petit Cochon Dingue before you go for something to eat to bring on the boat, or Beavertails on Blvd. Champlain for a sweet treat. In the winter, head to the front of the boat to watch the ferry break the ice in its path. The round trip takes about 45 minutes.
See Montmorency Falls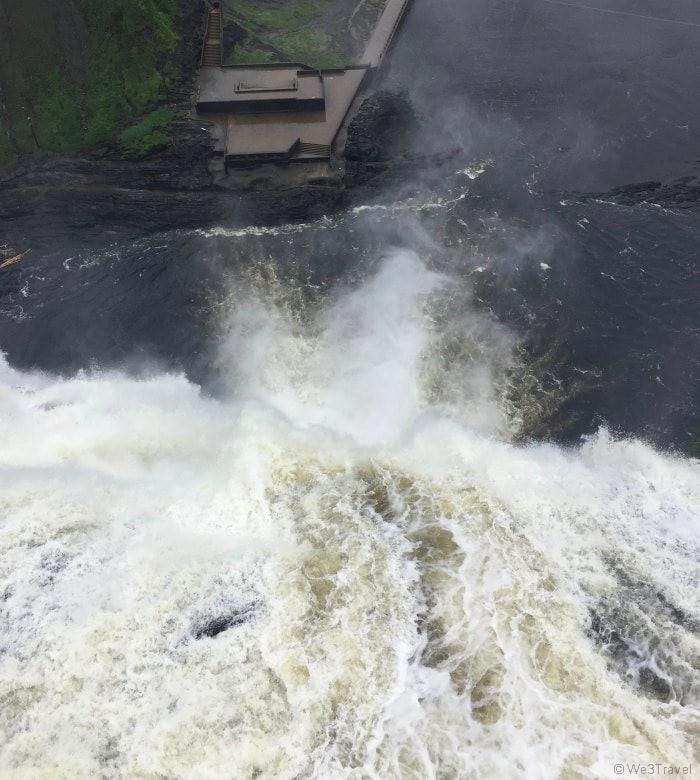 Montmorency Falls is a beautiful waterfall that you can get to with only a short hike. There is a bridge where you can look down and see the water rushing over the edge, and a viewpoint at ground level where you can get up close and personal with the falls.
Just be forewarned that you are going to get very wet if you get up close.
Visit Musée de la Civilisation
Located not far from Parc Montmorency on Rue Dalhousie, Musée de la Civilisation is the most popular museum in Quebec City. With a focus on interactivity, it takes a fresh look at local cultures and other societies, with a large exhibit on local First Nation peoples.
The museum is open 10 am to 5pm but is closed on Mondays.
Learn about Quebec at Musée du Fort
Musée du Fort offers a 30-minute sound and light show that walks through the foundation of Quebec and the six military sieges that shaped its history. Shows in English are usually presented on the hour. The museum is closed for most of December so check the website for hours before you go.
Huron Village
Visiting the Huron traditional village is a great way to explore how First Nations people lived then and now. When Hannah visited, after a tour of the village, they watched a performance comprised of traditional dances and music. The group finished up with a traditional meal of Huron delicacies, including sunflower soup and buffalo sausage.
Take a Ghost Tour of Citadelle de Québec
The Citadelle and Museum are open every day to explore the largest British military fortifications in North America, which is still in active use. The official residence of the Governor General of Canada and home to the Royal 22nd Regiment, you can take guided tours year-round and in the summer, you may even get to see the Changing of the Guard.
If you enjoy a little spookiness, try the Night Tour / Ghost Tour of the Citadelle.
Meet the 10,000 creatures of the Aquarium du Quebec
Just 15 minutes from downtown, the aquarium is home to nearly 10,000 specimens representing mammals, indigenous and exotic fish, invertebrates, amphibians and reptiles. Covering the Boreal to the Arctic regions, their marine mammals include polar bears, walruses and seals.
Cabane à Pierre Beauce Sugar Shack
Cabane à Pierre Beauce is an excellent place to have dinner and experience Quebecois sugaring culture. After a hearty meal of comfort food (and maple syrup, of course!) the people on our trip danced around at the front of the room, enjoying the games provided that evening.
Before departing, they gave us an excellent and simple dessert of maple syrup in snow (one of my favorite things from our last visit to Quebec.)
While you are in Quebec City, be sure to try some of the local food specialties like maple crepes, beavertails, poutine, and maple sugar pie. We had fun sharing three courses of cheese, meat and chocolate fondue at Le Petit Chateau, located just around the corner from Chateau Frontenac. It wasn't cheap, but it was yummy.
[plan-trip]
If you want to splurge, stay at the landmark hotel Fairmont Le Chateau Frontenac.(I stayed here on my most recent trip and it was such a treat! Even if you can't stay there, at least stop by for a picture or make a reservation for high tea.)
We also enjoyed the Hilton Quebec on our first visit, which offers amazing views of the city, comfortable rooms, and full amenities in a convenient location just outside of the Old City and around the corner from Parliament Hill and the Plains of Abraham.
We had friends that also found a good deal at the Delta Hotels by Marriott
If you are looking for restaurant ideas, try:

Restaurant L'Atelier & Cocktails
Deux Anciennes Canadienne
L'Affaire est Ketchup
Chocolato (gelato)
Le Que 19
La Maison Smith (croissants)

If you are going in winter, you really should go to the Quebec Winter Carnival
If you are very adventurous, you can stay at the Hotel de Glace (Ice hotel)
Try getting out of town for a day of snow tubing!
[/plan-trip]
PIN THIS FOR LATER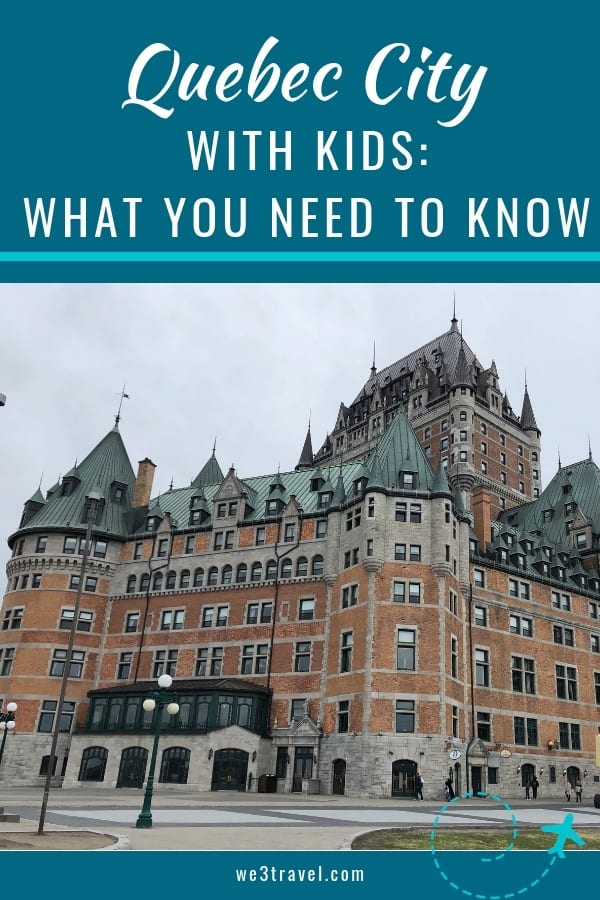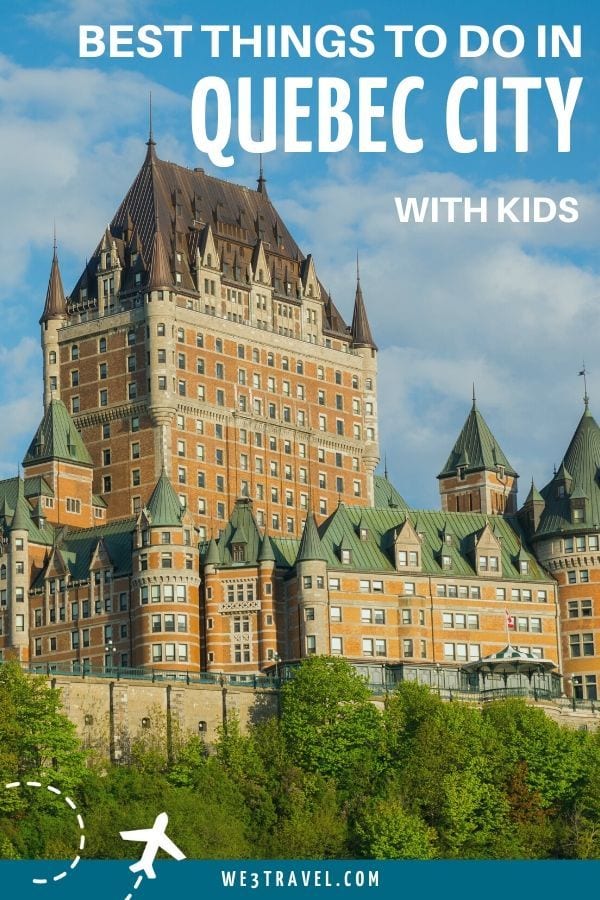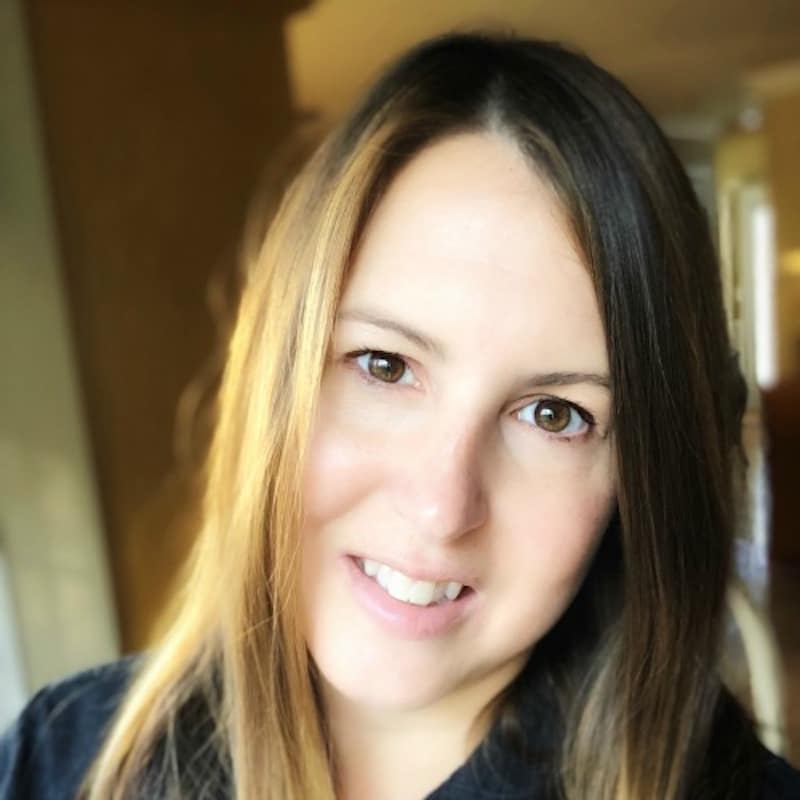 Tamara Gruber is the Founder and Publisher of We3Travel. A former marketing executive and travel advisor, Tamara is an award-winning travel writer and recognized expert in family travel. She is also the publisher of YourTimetoFly and the co-host of the Vacation Mavens travel podcast.