Would you, could you, sleep on ice?
Could you, would you, think it's nice?
Would you visit for a drink?
Would you want a room that's pink?
Would you visit never, ever?
Or would your visit be the best thing ever?
In polling my friends and readers, it seems that people fall into two distinct camps. Those that think a stay at the Ice Hotel in Quebec, or Hotel de Glace, would be a once in a lifetime opportunity, and those that think sleeping on ice is crazy. Before you decide where you fall, let me tell you more about it.
Hotel de Glace: An Ice Hotel in Quebec, Canada
Hotel de Glace, located just 10 minutes outside of Quebec City, is the only hotel in America made entirely of ice and snow. Over the last 15 years, over 1 million people have visited Hotel de Glace and 48,000 of them have stayed over night. Each year, the Ice Hotel is freshly constructed of 500 tons of ice and 30,000 tons of manufactured snow, blown into molds to form the structures of the hotel. Construction begins in early December, when the temperatures are below zero for at least a week. Over the next six weeks, a crew works around the clock, until the hotel is able to open sometime in January. It will then stay open for as long as temperatures cooperate.
The hotel is constructed with a different theme each year. For 2015, that theme is Space-Time, and walking through the hotel is like a stroll along a timeline from ancient cave drawings rendered in the snow using coffee, to futuristic space capsules. The hotel has grown over time and this year features 44 rooms and suites. Hotel de Glace also offers an ice chapel, for those that want to get married at the hotel, as well as plenty of communal public spaces.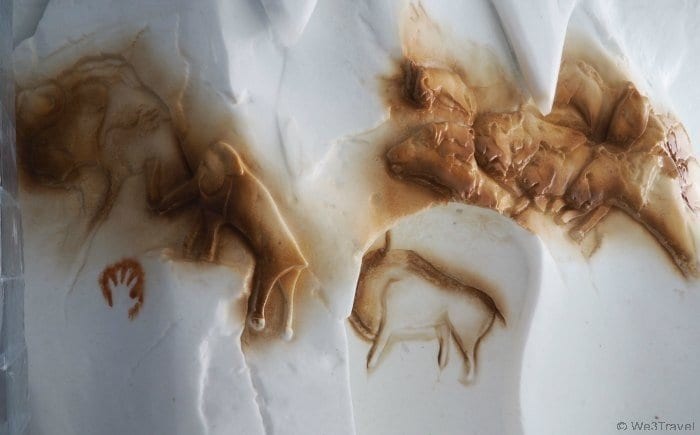 Hotel de Glace Rooms and Suites
When you stay at the Ice Hotel, you can choose between a basic room or a suite that has more ornate ice carvings and decorations that fit the year's theme. You can also select a suite with a fireplace, but keep in mind that these are just for ambience, not warmth (as that would melt the room!) You can also choose a package that includes a backup room at the nearby Four Points by Sheraton Quebec, just in case you chicken out or change your mind during the night. While package rates are per person, starting at $399, they do also offer family packages for two adults and three children ages 12 and under starting at $455 for March 2015.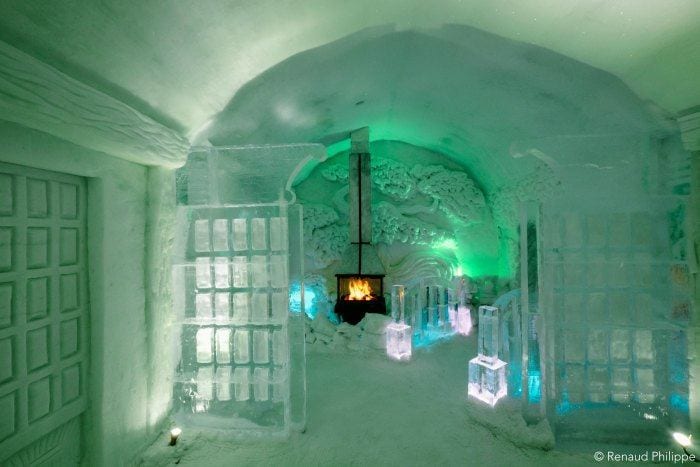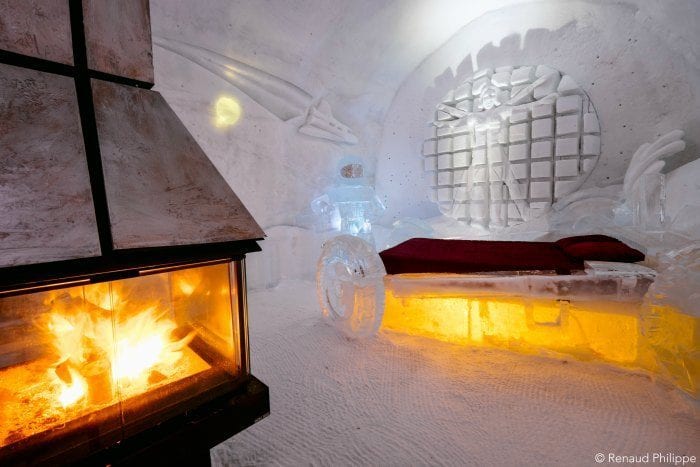 A few things to keep in mind when you are deciding whether or not an overnight stay is right for you:
There are no locked doors on rooms or suites, just velvet curtains and valuables are stored in a locker
Guests are only permitted in the rooms from 9pm to 8am the following day
There are no ensuite bathrooms but there are trailers outside the hotel or heated restrooms at the nearby Celcius Pavilion
While the bed is made of ice, there is a wood platform and a standard mattress to protect you from the cold
Guests are given a Nordic sleeping bag to keep warm as the temperature inside the hotel stays between -3 and -5 degrees Celsius (23-27 degrees Fahrenheit.)
When we visited, we saw rooms with snow chevaliers, platform beds with ice stairs, ice capsules, and space ship like quarters.
Before bundling up for the night, guests are invited to warm up in the Nordic area with a courtyard of spas and saunas under the stars. Available from 8pm to 8am, guests can raise their body temperature with a hot soak, then quickly dry off and dress before climbing into a Nordic sleeping bag, rated for temperatures from -15 to -30 degrees Celsius.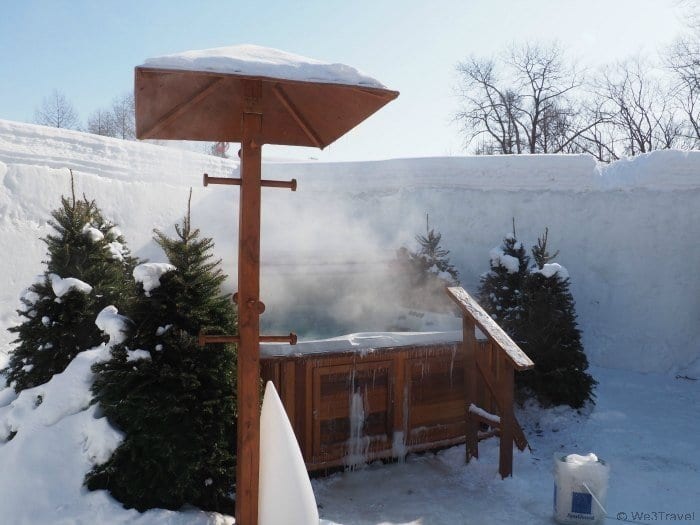 So, would you stay? I guess we fall in the camp of people that would not sleep overnight at the Ice Hotel. I was intrigued and very tempted, until I read about the whole bathroom thing. That and the fact that even at home, my daughter sleeps in fleece pjs with a sweatshirt, fleece sheets, 2 fleece blankets, 2 quilts, and a comforter and still says she is cold. Something tells me she wouldn't do too well at the Ice Hotel, no matter how warm that sleeping bag is. But that doesn't mean that the Ice Hotel wouldn't be right for your family. We have friends that stayed there with their two elementary school-aged girls and they loved it! In fact, Hotel de Glace has had children as young as six months stay overnight.
But even if you don't stay, that doesn't mean that you can't enjoy the Hotel de Glace.
Hotel de Glace Tours
The Hotel de Glace is open daily for tours, either self-guided or behind-the-scenes guided tours, at $18 per adult, $16 per teen, and $9 for children 6-12. A visit to the Ice Bar is a highlight of any tour so you may want to spring for the package that includes a cocktail. Cocktails are served in square glasses hewn from blocks of ice. A bit hard to drink from but very cool looking, especially if you get one of the brightly colored cocktails. I selected a maple-flavored martini, because after all, we were in Quebec — the top maple syrup producer in the world! Even the kids can join in with a glass of juice, they just need to drink it fast before it freezes.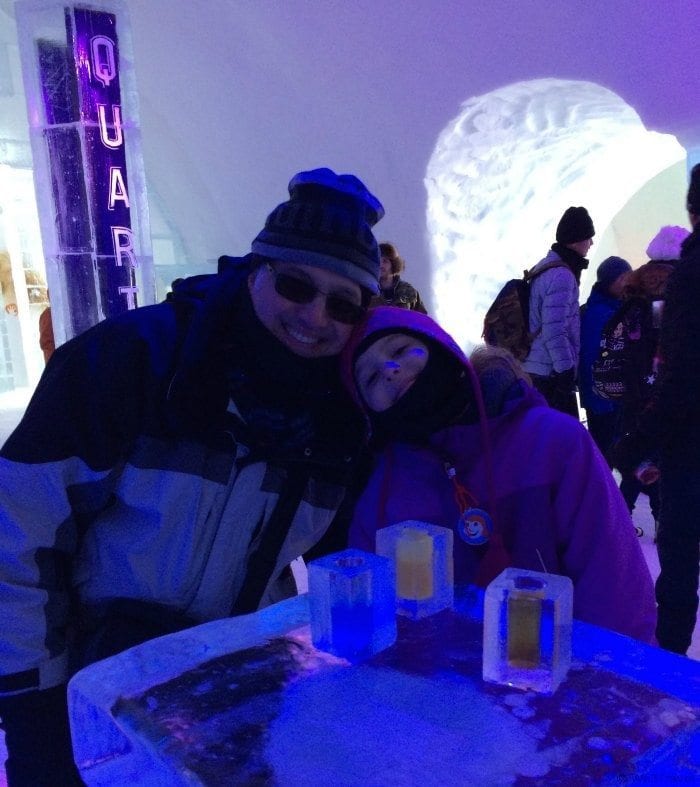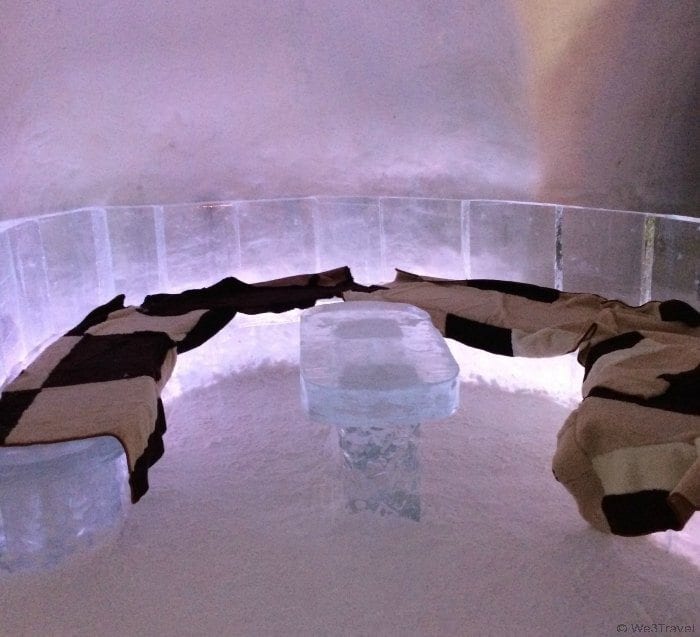 Kids and adults alike will also enjoy a ride on the ice slide, which lands you right outside the Ice Bar.
So tell me…
Would you, could you, sleep on ice?
PIN ME FOR LATER
Feature photo is courtesy of Philippe Renaud.
Note: Our visit to Hotel de Glace was hosted by Tourism City, Quebec City Tourism, and the Hotel de Glace. All opinions are our own.