As we were strolling along the wide, clean avenues of Montreal in late summer, watching the work crews set up for yet another city festival — this one involving some crazy soapbox racers — Hannah proclaimed that if she was going to move to a city, she would want it to be Montreal.
Montreal just has that effect on people, at least in the summer. In the summer, the city is alive with food, music, and week after week of festivals. Visitors can get their taste of Europe without the transatlantic flight and soak in the French-Canadian culture without putting too much stress on their language skills. Plus, there is so much to do in Montreal with kids!
Our visit over Labor Day Weekend (or Labour Day Weekend for Montreal), was our second trip to Montreal in recent years so we have had time to really uncover what Montreal has to offer families. Currently, the Canadian dollar is very weak against the U.S. dollar, making it a great time for Americans to plan a summer trip (sorry to my Canadian friends!)
To help with your planning, I've put together a list of great activities to do in Montreal with kids. If you are also visiting Quebec City, be sure to read our suggestions on things to do in Quebec City with kids. Also, be sure to read these essential tips for visiting Montreal.
Things to do in Montreal with Kids
Note: Our most recent trip, including our lodging and admission to the Zipline, Voiles en Voiles, Aquazilla, and bicycle rentals, was hosted by Tourism Montreal. As always, all opinions are 100 percent my own. This post contains affiliate links. If you click a link and make a purchase, I may receive a small commission.
Zipline over the city
The Old Port section of Montreal is zipping with action and there is so much to do with kids. One of the newest attractions is the Montreal Zipline, allowing you to get a bird's eye view of Montreal with Canada's first urban zip line.
I've now ziplined through rainforests, down mountains, near beaches, and across cities. This one-zip attraction is good for a quick thrill — not too fast and not too scary. I'd suggest waiting until the line isn't too long, as the ride itself is quite quick. Hannah and I gave this one two thumbs up while Glenn was our self-appointed photographer.
The Montreal Zipline is located in the Old Port of Montreal at Hangar 16, near Clock tower Pier. Ziplining is available for individuals aged seven and up weighing from 50 to 250 pounds. Please check the website for current information.
Climb aboard a pirate adventure
Voiles en Voiles offers an aerial ropes course on pirate ships located in Montreal's Old Port. This attraction is so much fun and truly something for all ages as they offer inflatables for the little ones, a ropes course just barely off the ground for those in-between stages, and three levels of aerial ropes courses between the pirate and "royal" ships for those more adventurous.
If you have been reading for a while, it will be no surprise that our little adventurer just HAD to go on all three levels. I barely made it through the first, but I later realized that what you need to do is just lean into the harness, trust that it will hold you (they use one of the safest harness systems around), and not worry so much about maintaining your balance.
One HUGE thumbs up for this one and two shaky thumbs from the chicken parents. Oh, and while you are at it, check out the climbing walls on the back of the pirate ship too. If you are adventurous, plan on spending at least four hours here. The park is open from April through October and then they are open during the holiday season with a winter adventure park.
Voiles en Voiles is located at Place des Vestiges (Quai de l'Horloge), Vieux-Port de Montréal. Check the website for rates and opening dates.
Visit the Old Port
There is really so much to do in the Old Port of Montreal that you should plan on spending a day just in this area. In addition to the Zipline and Voiles en Voiles, there is an excellent Science Centre, there is Clock Tower Beach, you can rent pedal boats or quadricycles, or just spend time walking along the waterfront and exploring some of the small shops and booths with unique gifts.
There is also a giant maze you can fight your way out of at SOS Labyrinthe. Plus, if you are lucky there will be a festival taking place with food and music, like the fun YUL EAT Festival that was in town when we were there, featuring a collection of Quebec's best food trucks.
Bike along the Lachine Canal
Biking in the Old Port can be a challenge because it is so crowded. However, a great way to get a bit further out of town and enjoy the outdoors is to bike along the Lachine Canal. It is an easy metro ride out to the Ma Bicyclette rental shop near Marché Atwater (which makes a nice lunch break after your ride!)
Once you get outfitted with your choice of bike, you can either head back towards the Old Port, or the simpler ride along the canal to the city outskirts. We biked a little over 9 miles along the quiet and flat bike path.
Ma Bicyclette is located at 2985 Saint Patrick Street, Montreal, QC H3K 1B9 (514) 317-6306.
Get wet at Aquazilla
When we were in Montreal for Labor Day Weekend it was HOT (90+ degrees Fahrenheit!) After our bike ride, we really needed to cool off. So we did what the locals do and headed out to Parc Jean-Drapeau for a swim.
Getting there from downtown is fairly simple as you can take the Metro to the Jean-Drapeau station and then the trick is finding the right shuttle bus (Bus 767) to bring you over to the beach. Once you arrive, head over to the Aquazilla ticket booth to secure your reservation as only so many people are allowed on the inflatables at the same time and your ticket is good for a one-hour window (additional admission to the Jean-Doré beach is required.)
Aquazilla is an inflatable water park located out on the lake. You'll need to swim out to the inflatables to start the fun. And let me tell you, it is MUCH harder than it looks. Keeping your balance is tricky, especially with kids and adults running and sliding by. You also need a good amount of upper body strength to pull yourself up and out of the water onto the inflatables. And you will go underwater when you fall or slide off.
Aquazilla is a series of interconnected inflatables set on the water. If your kids love American Ninja, they will love this. There are a series of obstacles involving balance, strength, and determination. I'd only recommend it for kids 8 and up.
Aquazilla is located in Parc Jean Drapeau.
Get your thrills at La Ronde
Families seeking a few more thrills can also head to Parc Jean Drapeau for a visit to the Six Flags La Ronde amusement park. La Ronde is the largest theme park in Eastern Canada, offering over 40 rides and attractions including Goliath — one of the tallest and fastest roller coasters in North America, as well as a colorful family section.
La Ronde is located on Île Sainte-Hélène at Parc Jean-Drapeau, near downtown Montreal.
Go back in time at Pointe-à-Callière
Summer in Montreal can be a lot of fun, but it is always good to build a little learning into every trip, and the Pointe-à-Callière, Montreal Museum of Archeology and History is the perfect opportunity. Located right in Old Montreal, just steps from the Old Port, this museum is sitting on centuries of history — literally.
It is set on a site bearing evidence of over 1,000 years of human activities and on the very birthplace of Montreal. The museum opened in 1992 and showcases major archaeological discoveries made on this site starting in the 1980s. It is best if you start off watching a short film about the history of Montreal before exploring the rest of the museum. In addition to the fascinating archeology digs, we loved the temporary Aztec exhibit that was on display last year.
The Pointe-à-Callière is located at 350 Place Royale, Corner of de la Commune, Old Montréal (Québec) H2Y 3Y5.
See the animals at the Biodome
Different from the Biosphère, the Biodôme de Montréal, located outside of the downtown area, is an indoor zoo/aquarium that offers an introduction to the biospheres of the Americas. Here you can find the lush rainforest, the Laurentian Maple Forest, the Gulf of St. Lawrence, and the subplot regions of the Americas and the Labrador Coast. Our favorites on our visit were the baby lynxes and watching the penguins frolic.
The Biodome is located at 4777, avenue Pierre-De Coubertin, Montréal Quebec H1V 1B3.
Stop and smell the flowers at the Botanical Gardens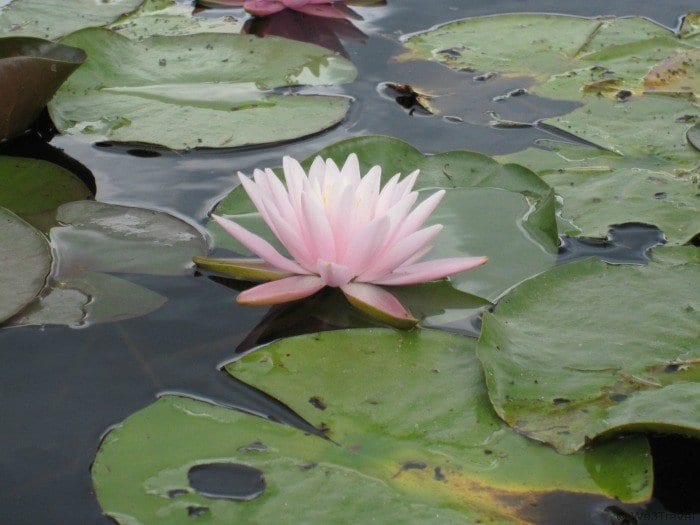 Our visit to the Jardin Botanique was cut short by rain but was one of our favorite stops in Montreal. Located just across the street from the Biodome, visits to these two attractions make for a full day.
The Montreal Botanical Gardens are recognized as one of the world's greatest botanical gardens, with a collection of 22,000 plant species and cultivars, 10 exhibition greenhouses, and more than 20 thematic gardens spread out over 75 hectares. The Rose Garden and Japanese Gardens were among our favorites. We also made a quick stop at the Insectarium, which I think Hannah has never forgiven me for.
The Botanical Gardens are located at 4101, rue Sherbrooke Est, Montréal Quebec H1X 2B2.
Visit Notre Dame Basilica of Montreal
We visit the Notre-Dame Basilica of Montreal on our first visit to Montreal. The church was built in the 1820's and later redesigned in the late 1800s in the style of St. Chappelle in Paris. The Basilica is stunning all on its own, but we enjoyed going for the AURA immersive experience, which incorporates a multimedia display of light on the interior and orchestral music.
The Notre Dame Basilica of Montreal is located at 110, Notre Dame Street West, Montreal, Quebec.
Museum of Fine Arts
My daughter also really enjoyed a visit to the Museum of Fine Arts in Montreal. The museum has over 1,400 works of contemporary art and fine art including paintings, sculptures, portraits, drawings, and prints, including masterpieces by El Greco, Rembrandt, and Veronese.
The Museum of Fine Arts is located at 1380 Sherbrooke St W, Montreal, Quebec H3G 1J5.
Climb Mont Royal
One thing we still haven't done in Montreal, but it is on our list for our next visit is to climb Mont Royal, a small mountain in the city of Montreal. It is a great place to take a walk, have a picnic, or just enjoy the lookout over the city.
Mont-Royal can be accessed from the East, via Camillien-Houde Parkway and from West, via Remembrance Road, Montréal, Québec.
PIN THIS FOR LATER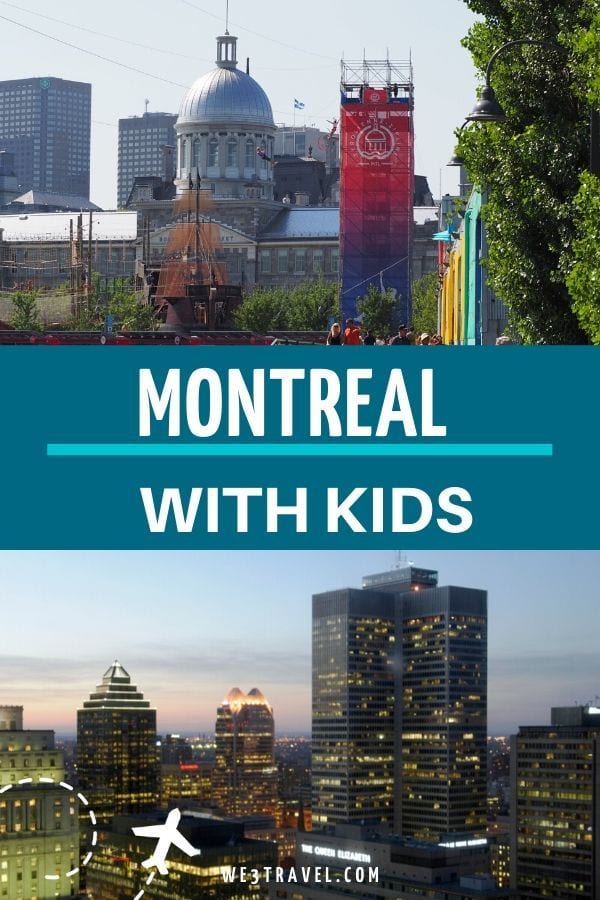 SaveSaveSaveSave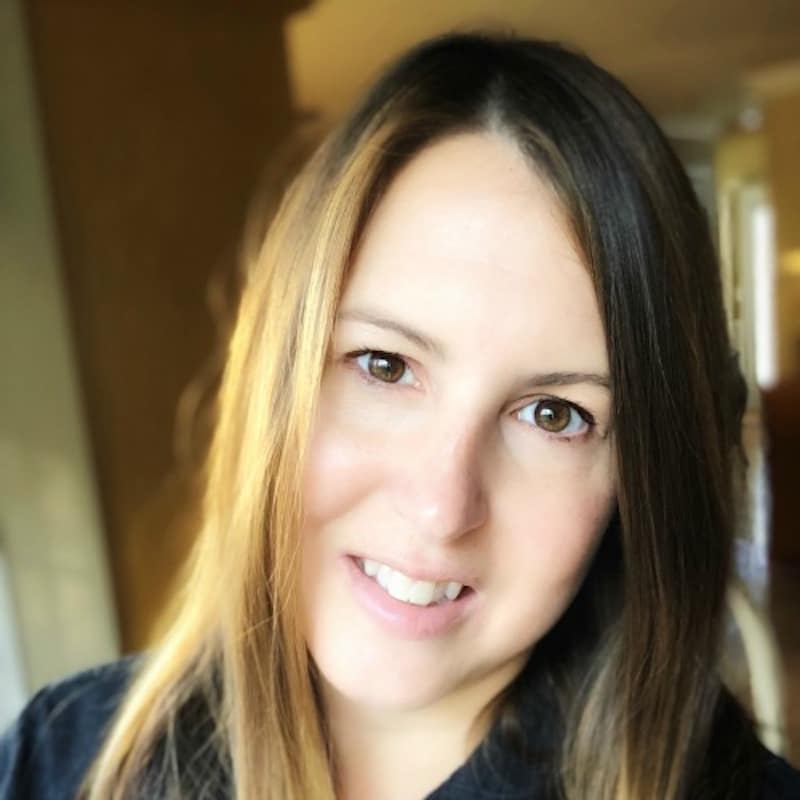 Tamara Gruber is the Founder and Publisher of We3Travel. A former marketing executive and travel advisor, Tamara is an award-winning travel writer and recognized expert in family travel. She is also the publisher of YourTimetoFly and the co-host of the Vacation Mavens travel podcast.