Toronto is the largest city in Canada and the fifth largest in North America, so you could easily spend days exploring this bustling city. However, since it was just one stop on our Canadian road trip, we only had about two days to spend in Toronto and had to limit our explorations to the highlights at what to do in Toronto with kids: the harbor, St. Lawrence Market, Hockey Hall of Fame, Dundas-Yonge Square, Nathan Phillips Square, CN Tower and Rogers Center (alas, we had to skip the shoe museum ;).
We arrived in Toronto in the evening and were very disappointed to check into the Westin Harbour Castle Hotel only to find our rooms weren't ready. While the hotel is in a great location if you plan on spending time exploring the Harbor Islands and harbor area, it is also a large conference hotel that lacks the personal attention and ambience of a more upscale Westin. Luckily after a casual dinner at the Amsterdam Brewhouse, our rooms were finally ready and we were upgraded to lake view rooms. Unfortunately, housekeeping continued to struggle to keep up during our stay and we got a little tired of looking at the same dirty plate sitting in the hall for over a day.
After a refreshing night of sleep, we were ready to see the sights. Toronto is not just a large city, it is a growing city, with construction everywhere — with road closures, cranes working on skyscrapers, construction cones and the bang, bang, bang of machinery at every turn. Even as ex-New Yorkers, it took some getting used to. On the positive side, Toronto pleasantly surprised us with botanical displays brightening up the streets and a shocking number of outdoor cafes for a Northern city.
What to do in Toronto with Kids
St. Lawrence Market
Our first stop was St. Lawrence Market, which National Geographic named the number one food market in the world. While I don't think it compared to La Boqueria in Barcelona, it was still a fun place to explore. We picked up bagels and the bakery and crepes at a stand downstairs. It was too early for much else but it was fun looking at the amazing fresh produce, butcher counters and fish markets, not to mention some of the ethnic markets.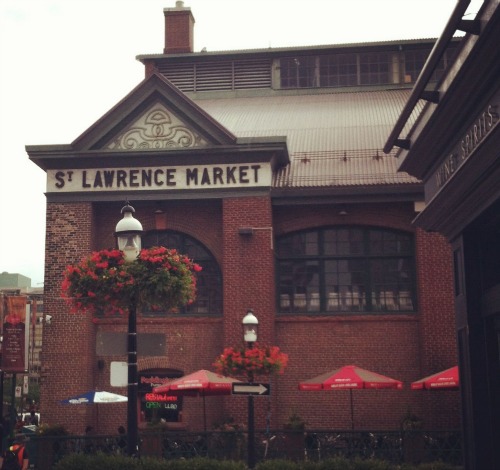 Hockey Hall of Fame
Since I was traveling with two hockey fans (my husband and daughter), we had to make a stop at the Hockey Hall of Fame. We were able to print off some coupons for discounted admission from the Attractions Ontario website (and even saved at the Spirit of Hockey store.) Throughout the exhibits, I had to endure the battle between the Bruins fan and the Islanders fan and seemingly endless fawning over the Stanley Cup (I was more interested in the architecture of the room in which it was kept.) However, even I perked up when we got to the interactive exhibits. Kids and adults alike enjoy a chance to try their hand at goalie or take some slap shots against virtual players. They can also try out Wii and other video hockey games, as well as explore a mock up of a locker room.
Yonge-Dundas & Nathan Phillips Squares
After our visit to the Hockey Hall of Fame and a quick lunch in the food court of the Brookfield Place building, we started to explore the city by checking out Yonge-Dundas and Nathan Phillips Squares. Yonge-Dundas Square is a bit like a small Times Square, but without much to offer except the Eaton Centre or underground Path for shopping. The square itself has some outdoor tables for relaxing and fountains, which were irresistible, even on a chilly day. While we were there they were setting up for an evening movie screening.
Nathan Phillips offers a bit more in terms of architecture, located right next to the old city building. We sat for a while by the fountain and rested our tired feet.
Blue Jays Game
That evening the Red Sox were playing the Toronto Blue Jays and my die-hard Sox fan just had to go (she made a poster and everything!) First we stopped for a delicious tapas dinner at the beautiful Patria restaurant before heading over to the stadium. My fears about getting dirty looks (or worse) for supporting the Sox were unfounded. I was surprised by how many fans travel to Toronto to come to the game but it seemed like at least a quarter of the people there had on Red Sox gear. It was a great experience (in addition to the fact that they won). Watching a game under a dome was a new experience and the stadium was incredibly clean and well equipped. The little one thought it would be a great idea to get a room in the attached hotel and watch the game from our room next time.
CN Tower
The next day we were going to drive up to the Thousand Islands, but before we left we had to see Toronto's most famous landmark, the CN Tower. The little one would have done The Edgewalk (getting strapped in and walking/hanging from the outside of the building) but that was out of the question for fear and financial reasons. However, we had to go up to the observation deck and get the 360 degree view of the city (or at least, those of us that aren't scared of heights.) My biggest piece of advice to anyone headed to CN tower is to go first thing in the morning. We tried to go the evening before but the line for the elevator was almost two hours long. When we arrived at 9 am, we walked right in, went straight to the top and didn't have to fight the crowds at the windows for the magnificent views. Also, check online for discount tickets.
If you have a little more time in Toronto you'll probably also want to explore the lake and Harbour Islands. I had searched on the Groupon Home Page
for deals before I left and purchased a deal for a harbor boat tour but we ended up not having time to take it. It is always a good idea to search Groupon for the location you are visiting to see if there are any interesting attraction or restaurant deals you can take advantage of.
So our overall impression of Toronto? My husband found it a bit soulless. Maybe we just didn't stay long enough to catch the vibe or maybe we didn't explore enough of its diverse neighborhoods. Whatever it was, while it was a big, bustling, noisy, congested city, it didn't seem to have the same energy or personality of a New York, London or Madrid. What I was surprised by and really enjoyed was the number of outdoor cafes (surprising since the outdoor dining season must be short in Toronto) and the flowers that seemed to bring a burst of color and life into the city. So what are your impressions of Toronto? What did we miss that would draw us back? Leave your thoughts in the comments below.
Note: This post contains an affiliate link to Groupon, a service that I use frequently when traveling.