Perhaps it is the fact that Barcelona is the capital of Catalonia, which has a distinct language and culture, but even as Spain's second largest city, Barcelona has a tempo and a style all its own. While Madrid feels more like the London or New York of Spain, Barcelona feels more like Paris.
Wide avenues, gorgeous architecture (even outside of Gaudi's masterpieces), and a laid back, sophisticated vibe, and so many things to do in Barcelona with kids. Four days were not enough to cover it all, especially if you wanted to take a day trip from Barcelona, but with so many other places to explore during our two weeks in Spain in July 2012, we decided to see the highlights. For my daughter and I, it was our favorite city of the trip and we can't wait to go back for more.
Since we were planning on staying a few nights, we decided an apartment was the way to go. Even though we can easily squeeze three of us into one hotel room, the comfort of having a separate living space, full kitchen, and washing machine made the slightly higher investment worthwhile. If a family needs at least two bedrooms, apartment rentals are generally a better value.
We found the Picasso Penthouse through Homeaway.com and it seemed to have everything we were looking for: 2 bedrooms, 2 baths (bonus!), full kitchen, air conditioning, elevator, free WiFi, washer/dryer, and, (extra bonus!) a terrace. Plus the location in the Born district on Avenida Marques de la Arangetera, conveniently located across the street from the train station, minutes from Metro stops, a 10 minute walk to the beach at Barceloneta, just up the street from Parc Cuitadella and Zoo, a short walk to the monument to Cristobel Colon at the foot of Las Ramblas, and backing up on the popular Born district was hard to beat for the price.
All worked out mostly as planned. The AC in the master bedroom was pretty noisy and they neglected to mention there wasn't AC in the second bedroom. Luckily it isn't as hot in Barcelona in the summer as the rest of Spain so we just cranked it up in the living area to cool the rest of the apartment. I've also learned the hard way that "dryer" in Spain equals a drying rack. So doing a quick load of laundry before moving on to our next stop took a bit longer than usual.
We arrived on a Saturday after an overnight flight from Boston and a long layover in Madrid so we were pretty tired. After checking in, stocking the kitchen with the basics (eggs, milk, coffee, bread, fruit, yogurt…) and taking naps, we were ready to head out to dinner. This is where I got my first lesson in that the best laid plans of mice and men often go awry. The restaurant I'd meticulously researched, El Xampanyet, was unexpectedly closed. But no worries, we ended up right next door at Lonja de Tapas and had one of our best meals of the trip. Maybe it was the excitement, maybe it was the food, or maybe it was just the sangria, but we couldn't have been happier.
It was a quick five minute walk from the apartment through the Born district to our destination just down the alley from the Picasso Museum on Placeta Montcada. I used the MTrip app to preload our entire itinerary onto my smartphone so that I could use their offline walking maps to help navigate around the city.
In the winding streets and alleyways of the Born and Barri Gothic, this was such a necessity. The atmosphere was terrific with brick walls, beautiful artwork and a energetic vibe. I wouldn't bother with the paella here but everything else was terrific, including the foie gras, salmon, marinated artichokes, sundried tomatoes and manchego cheese, as well as and my daughter's new favorite, chistorra (small spicy sausages). My favorite was the truffled eggs with bacon and patatas because it combines just about all my favorite foods into one dish. And did I mention the sangria?? I'm not sure how we had room for gelato on the way home but after exploring a bit (thanks to our naps for getting us on Spanish time), we had to introduce our daughter to REAL gelato (she's a big fan!)
I wish I could recapture that excitement and anticipation we had that first evening. It was a trip we had prepared for and planned months, my daughter's first to Europe, a fact she was quite excited about. (To learn more about how we prepared for the trip, check out my blog post with tips on preparing for vacation with kids.)
I think every trip starts out this way. The excitement of a tropical drink by the pool, the first glimpse of a landmark or scenery, the wonder of what other experiences are yet to come. I won't say that trips go downhill from there, because they don't. But you get busy, and tired, and sometimes a little overwhelmed and at some point you start thinking about sleeping in your own bed and going home doesn't seem like such a bad idea after all. But our first night in Barcelona was really special.
The next day we experienced the only rain we had on our entire two week trip, but wow was it a doozy. I had planned on visiting the Picasso Museum first off because I'd researched and learned that it was free on the first Sunday of every month, which is when we were there. I didn't take into account that a free museum on a rainy day might appeal to a large number of people so we ended up standing in the rain for about an hour to get into the museum. It was probably the only time on the trip my daughter wasn't smiling.
Of course with all that waiting and none of us huge Picasso fans, the museum was a bit of a disappointment. It just seemed like if you came to Spain, you really should go to the Picasso museum. The paintings we were most familiar with from his Rose and Blue Periods were interesting, but I can't say they inspired me. Plus the crowds were thick, so we quickly moved on.
But, I will say that the museum itself was a bit of a treasure. It occupies five townhouses or palaces that date from the 13th to 15th centuries. In the coat room area there was a glass floor that looked into the basement below. There were also small cells (complete with bars on the windows) or rooms on the lower floors. But the real features were the courtyards, which offered amazing architectural details including grand staircases, balconies, arches and other design elements.
Even the narrow, cobblestone street outside the museum was captivating, with huge, dark wooden doors that at night open up to a dance club, while others hide tapas bars that are closed during the day (like the elusive El Xampanyet). The entire Barri Gothic (Gothic quarter) and neighboring Born district (where we stayed) just felt so European, yet had a feeling of something more. Something mysterious and interesting. It intrigued me and called up images from the Barcelona I'd read about in The Shadow of the Wind by Carlos Ruiz Zafon.
By the time we were done with the museum, we were quite hungry so I was very glad I'd already researched a restaurant just steps away from the museum. We ate at Cafe de la Princesa, which is half boutique and half restaurant. The restaurant is set in a very relaxing courtyard. The architecture, as well as the food, has a Moorish influence.
The food was good, but not amazing, with a bit of a limited menu. I had a salad and my daughter had the salmon. What we remember most is the bathroom. It was behind a stone wall, which had two sinks on the backside with plants hanging down and a water feature. Then you could use one of the two stalls. My daughter was amazed that there weren't separate bathrooms for men and women and they both used the same sinks. The things kids notice!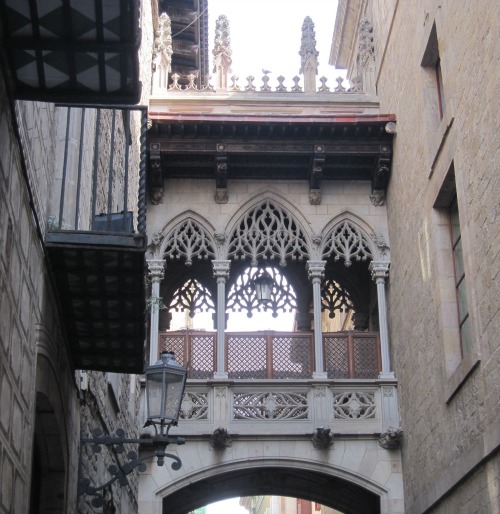 With the sun finally coming out, we had a better time exploring the Barri Gothic. We visited the Catedral de Seu, which is only open during specific times so be sure to check ahead. While Gaudi's La Sagrada Familia, which we visited the next day, is the most famous in Barcelona, I think visiting this gothic cathedral is an important contrast before or after seeing La Sagrada Familia, especially for children that may not have experienced old European cathedrals already.
Of course, being Jewish and reading about the Spanish Inquisition prior to our trip, we also were on a quest to find what remnants we could of Spain's once vibrant Jewish community. Searched as we did around the Jewish quarter, we were not able to find the synagogue (turns out it is below street level), but we did at least find evidence that Jews were once there.
The rain cut short any shopping we would do and instead of rambling down Las Ramblas, we jogged, through a downpour, all the way back to our apartment where we had to wring out our clothes right down to our socks. After warming up, we had to head back out though because it was the final game of the European Cup and Espana was playing Italia. Oddly enough, my in-laws were in Italy watching the game, cheering for the Italians of course, while we were in Spain cheering on the local team.
We were a bit nervous about being near any main plazas, knowing how rowdy futbol fans can get after a game so we stuck to our plan for dinner in the Gothic district at Sagardi. Here we were able to sample some traditional Basque cuisine, since we were not able to travel to the Basque region this trip. Instead of sitting in the tapas (or pintxos as they call it in Basque) bar, we headed for the main dining room, where we enjoyed dishes from their wood burning grill. We met some lovely airline personnel sitting at the table next to us who frequent Sagardi when they are in Barcelona and gave us some other tips about the places we were going to visit. They were quite impressed with our daughter, who was very well informed about our itinerary and what she was most looking forward to seeing. Not even the grumpy couple next to us complaining about being charged for their bread (quite common in Spain) could dampen our mood. Especially when we kept hearing enthused exclamations of "GOOOAAALLL" coming from outside.
On the way back to the apartment, people were spilling out of tapas bars into the streets watching the game in anticipation. We were able to peer in just as the win was secured. On the rest of our walk home we were serenaded with choruses of "Championes, championes…" And an Espana soccer fan was born. I'm not sure what will happen next year when we hope to go to Italy if there is a rematch. She might have to switch sides. At least by then her Espana Championes t-shirt will have gotten too small.
And on to another day in Barcelona where we visit many of the Gaudi landmarks…