I first learned about Segovia in my high school Spanish 4 class and had wanted to go ever since. There are two main attractions in this UNESCO World Heritage city. The first is a nearly 2,000 year-old aqueduct built by the Romans and the other is the Alcazar of Segovia. Well, high school was a LONG time ago, but I finally took a day trip from Madrid to Segovia. Here are our recommendations for sightseeing in Segovia with kids.
Getting to Segovia is really quite easy on the high speed AVE train, just 27 minutes from Madrid's Chamartin station. The trains are spotless and very comfortable. If you are planning to take some day trips from Madrid, you can just show up and try to buy a ticket, but many trains do sell out so it is safer to buy tickets in advance. The trouble is, you can't buy tickets online from the U.S. very easily. I learned this the hard way after countless hours spent trying to get the website to work and researching travel forums to find out they don't accept U.S. credit cards. To get around this, you'll need to find a ticketing agent and pay an extra fee. I thought it was worth it for the peace of mind of a guaranteed seat.
However…when we arrived via Metro to Madrid's Chamartin station, we had trouble finding the right track and missed our train by just a couple of minutes. When I went to the ticket counter I found out that I could not exchange the tickets because they were bought through a ticketing agent, so I had to purchase new tickets at an additional cost. Frustrating but Segovia is worth it. Lesson learned: buy tickets in country but at least a day in advance.
You will arrive at a new and very clean and modern train station in Segovia. You can stop by the tourist agent to get a map, bus schedule or other advice about what to do in Segovia with kids. Since the station is slightly out of town, you'll need to take a cab or very short, inexpensive bus ride to downtown near the aqueduct. We decided to take a cab to the Alcazar de Segovia, the farthest site we wanted to see and then walk from there.
After seeing the Moorish architecture in Seville and Granada, the Alcazar, which inspired Disney's Cinderella's castle, was our first glimpse of a medieval castle. In 1474, Queen Isabella I of Castile and Leon was crowned at the Alcazar. As you may know, she went on to become a major figure in Spanish history. Before leaving on our trip, my daughter had read a book about Isabella and saw her as just a powerful woman and leader. On the trip, she became aware of her bloodier side and has to reconcile her uniting the country with the atrocities committed against Jews and Muslims during the Spanish Inquisition.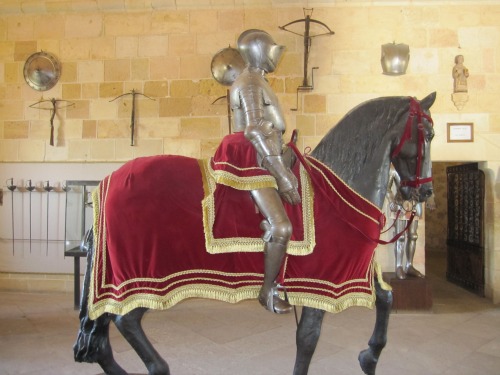 Inside the castle, you will find the armor of medieval knights, stained glass windows, beautiful tapestries, and carved engravings of Spanish rulers. If you are up for the climb, you can mount 152 stairs for a sweeping view of the hillside or a beautiful view over the town and cathedral.
After taking time to explore the castle, we took a 15-20 minute walk down into town. Sitting in the shadows of the aqueduct is one of the most famous restaurants in Segovia, Meson de Candido.
The whole town is famous for its roast suckling pig, but perhaps none more than Meson de Candido, which serves the pig whole and cooks it so tender they cut it with a plate (a feat we first saw when watching Mario Batali's On the Road Again PBS Special.) My daughter couldn't quite get past seeing the whole pig sprawled out on the table, but if you don't order the whole thing you get a regular serving of leg on a plate.
After enjoying our lunch, we set about exploring the aqueduct. Built in the 1st or 2nd century, the aqueduct is 818 meters long and features more than 170 bows. Built by hand and not using any mortar, this is an architectural feat that even kids will marvel at!
Walking back through town to visit the shops we soon realized that the whole town was closed for siesta. Luckily, the cathedral was still open so we stepped inside to cool off. The last gothic cathedral built in Spain, the Segovia cathedral holds many similarities to the ones we visited in Barcelona and Seville. It was nice to relax outside in the cloisters and catch up on our journal writing.
After the cathedral, we went to explore the old Jewish quarter and found a Jewish Educational Center with multimedia displays showing the fate of Segovia's Jews. While there aren't many Jews left in Segovia, there is evidence of their legacy throughout the quarter.
Before heading back, we checked out the shops for some obligatory pig-related souvenirs and then caught a bus back to the train station. I so enjoyed exploring the town of Segovia. The streets are clean and quaint, the scenery is beautiful and the sites are breathtaking. While many people take side trips from Madrid to Toledo, I don't think as many know about Segovia. Maybe that is a good thing so it doesn't lose its charm but I still highly recommend it to anyone who has a day to spare in Madrid and found going to Segovia with kids quite easy and enjoyable for all.
PIN THIS FOR LATER