Segovia had been on my travel bucket list since I first saw pictures in my high school Spanish 4 class. I even found a poster of the Segovia castle to hang on my bedroom wall. So when we took a two-week family trip to Spain, I knew Segovia had to be on our itinerary and we decided to take a Segovia day trip from Madrid.
Segovia is a charming UNESCO World Heritage city and we fell in love with its cute and crooked streets, impressive historic sights, friendly people, and great food. Located just 90 kilometers north of Madrid, a day trip to Segovia is easy to add to your Spain itinerary.
Segovia has something to appeal to the whole family, including a magnificent 2,000-year-old Roman aqueduct, a fairy-tale-like castle, and a jaw-dropping cathedral. My eight-year-old loved all the things to do in Seville with kids and rated it her favorite stop on our entire trip to Spain.
Getting to Segovia
By Car
Getting to Segovia is really quite easy. If you have a car, it is a one-hour drive up the highway. Plentiful parking is available at the train station and near the Roman Aqueduct. From there you can easily walk into town.
By Train
One of the easiest ways to get to Segovia on a day trip from Madrid is on the high-speed AVE train, which is just 27 minutes from Madrid's Chamartin station. The trains are spotless and very comfortable. If you are planning to take a Segovia day trip from Madrid, you can just show up and try to buy a ticket, but many trains do sell out so it is safer to buy tickets in advance.
f you have any trouble purchasing train tickets directly from the USA, I tend to use RailEurope when purchasing train tickets in Europe for simplicity. I think it is worth buying in advance if you know your plans for the peace of mind of a guaranteed seat.
Just keep in mind that there are multiple train stations in Madrid and your train to Segovia will likely leave from Madrid's Chamartin Station. The station is fairly large so you will want to give yourself plenty of time to locate the correct track for your train.
You will arrive at a very clean and modern train station in Segovia. Plan to stop by the tourist agent to get a map, bus schedule, or other advice about things to do in Segovia. Since the station is slightly out of town, you'll need to take a cab or a very short, inexpensive bus ride downtown to a stop near the aqueduct. Since we wanted to visit the Castle first and then walk down the hill into town, we decided to take a cab to the Alcazar de Segovia, since it was the farthest site we wanted to visit.
By Bus
Another way to get take a Segovia day trip from Madrid is by bus. The bus will save you a little money, but also take a bit longer (most are 1 hour and 20 minutes versus the approximately 30 minutes on the high-speed train.) Busses leave from Moncloa Station in Madrid and arrive in the Segovia bus station.
Things to do on a Segovia Day Trip
Note: This post may contain affiliate links. If you click a link and make a purchase, I may receive a small commission. All opinions are my own.
Tour the Alcazar / Segovia Castle
One of the best things to do in Segovia is visit the Alcazar. It is said that the Alcazar de Segovia, along with the Neuschwanstein Castle in Germany, were inspirations for Cinderella's castle in Disney. Once you spy the blue-gray turrets of this fortress on a hill, you will see why.
After seeing the Moorish architecture in Seville and Granada, the Alcazar in Segovia was our first glimpse of a medieval castle. The Alcazar de Segovia dates back to the 12th century, starting as an Arab fort before becoming a royal palace.
In 1474, Queen Isabella I of Castile and Leon was crowned at the Alcazar. As you may know, she went on to become a significant figure in Spanish history. Before leaving on our trip, my daughter had read a book about Isabella and saw her as a powerful woman and leader. On the trip, she became aware of her bloodier side and had to reconcile her uniting the country with the atrocities committed against Jews and Muslims during the Spanish Inquisition.
After serving as a palace, the Alcazar later became a prison and then a military academy. Today, it is a museum that is open to the public. Inside the castle, you will find the armor of medieval knights, stained glass windows, beautiful tapestries, and carved engravings of Spanish rulers.
If you are up for the climb, you can mount 152 stairs of the Tower of Juan II for a sweeping view of the hillside or a beautiful view over the town and cathedral. After taking time to explore the castle, we took a 15-20 minute walk down into town.
Eat Roast Suckling Pig
The whole town is famous for its roast suckling pig, but perhaps none more than Meson de Candido, which serves the pig whole and cooks it so tender they cut it with a plate. Before visiting Spain, we watch On the Road Again on PBS with Mario Batali and Gwyneth Paltrow. It was a great introduction to Spanish cuisine and even got our daughter excited about trying new food. When I saw the episode in Segovia, I knew we had to visit this restaurant and try the roast suckling pig.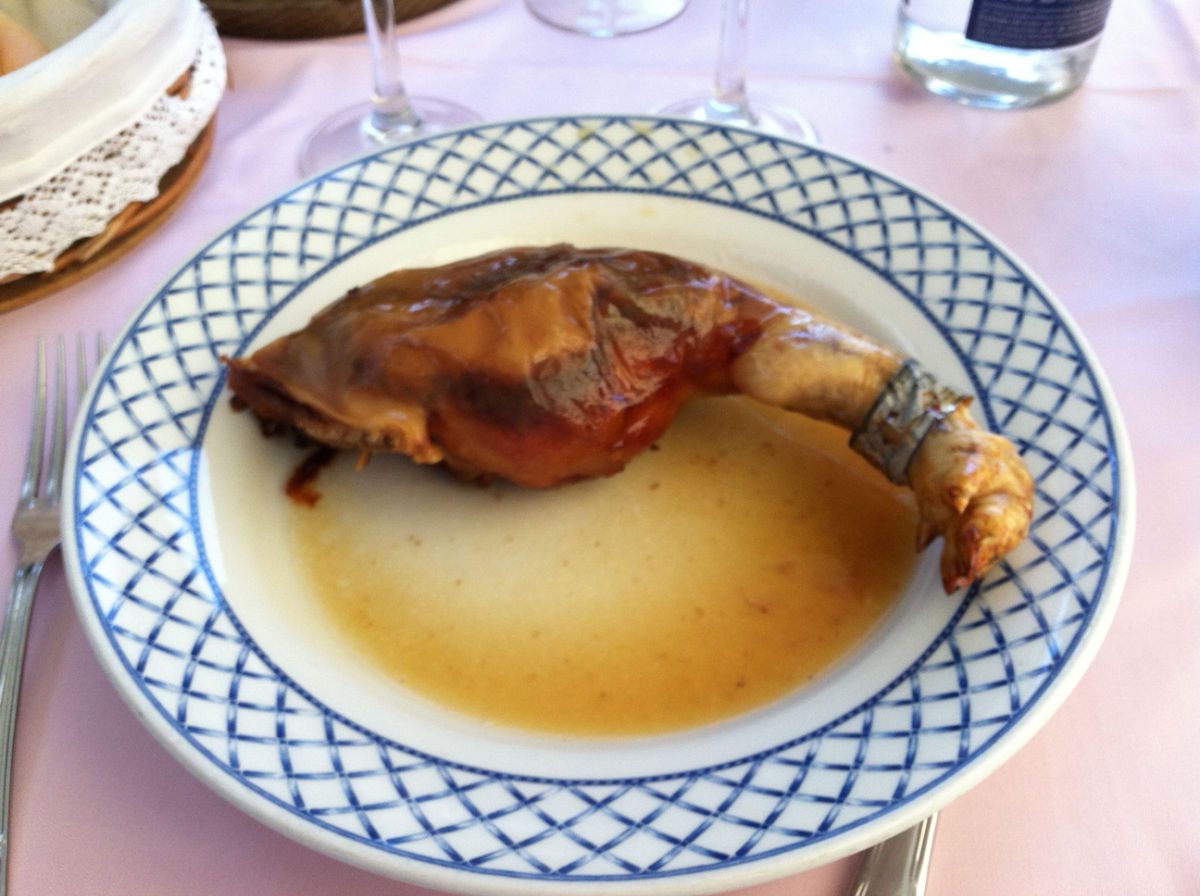 Meson de Candido sits in the shadows of the aqueduct with a beautiful outdoor cafe and indoor restaurant. We still have a family joke about seeing that little pig splayed out on a platter in its full form. It was a little much for my daughter to handle, so we didn't order the whole pig, just a regular serving of a leg on a plate.
If you don't get a reservation at Meson de Candido, there are many other places to try roasted pig in town, including Jose Maria.
Explore the Roman Aqueduct
After enjoying our lunch, we set about exploring the aqueduct. Built in the 1st or 2nd century, the aqueduct is 818 meters long and features more than 170 arches. Built by hand without using any mortar, this is an architectural feat that even kids will marvel at! I know you can see Roman ruins throughout Europe, but this was the most impressive outside of Rome. In fact, I found it even more impressive than the aqueduct in Rome.
Definitely take the time to walk up the stairs from Plaza del Azoguejo to see the aqueduct and the city from above.
Visit the Segovia Cathedral
Walking back through town to visit the shops we soon realized that the whole town was closed for siesta. Luckily, the cathedral was still open so we stepped inside to cool off. The last gothic cathedral built in Spain, the Segovia cathedral holds many similarities to the ones we visited in Barcelona and Seville.
Built in the 16th century, the Catedral de Segovia towers over the city. Located in Plaza Mayor, the Cathedral isn't far from the Alcazar so if you get an early start, you can visit both in the morning before lunch. However, I enjoyed visiting in the afternoon when many of the shops in town were closed.
There are 21 beautifully-decorated chapels in the Cathedral. However, our favorite part of the Cathedral was the peaceful Gothic cloister that surrounds the garden and trees in the center courtyard. It was cool and calm in the cloister and we spent some time there relaxing and catching up on our journal writing. You may also want to check out the Chapter Hall, which has many intricate tapestries.
Walk through the Jewish Quarter
After the cathedral, we went to explore La Juderia, the old Jewish quarter, since we had been seeking out the small remnants of the Jewish community and Jewish history throughout our time in Spain. The narrow, crooked streets in this quarter are very charming and we saw a few Jewish shops and restaurants.
We were happy to finally stumble upon a Jewish Educational Center with multimedia displays showing the fate of Segovia's Jews. While there aren't many Jews left in Segovia, there is evidence of their legacy throughout the quarter.
Before heading back, we checked out the shops in town for some obligatory pig-related souvenirs and stopped at a bakery for a few delicious snacks. At the end of the day, we caught a bus back to the train station.
We really enjoyed exploring the town of Segovia. The streets are clean and quaint, the scenery is beautiful and the sites are breathtaking. If you are visiting Spain, you shouldn't miss a day trip to Segovia!
We found it easy enough to explore on our own, but there are also guided tour options if you prefer. While many people take side trips from Madrid to Toledo, I don't think as many know about Segovia. Maybe that is a good thing so it doesn't lose its charm but I still highly recommend it to anyone with a day to spare in Madrid!
If you have more time to spend in Segovia, many people enjoy taking a hot air balloon ride, but we decided to do that when we were in Ronda in Andalucia. You can also take a day trip that includes Avila and Segovia.
Where to Stay in Segovia
If you plan on staying overnight, there are many affordable options in and around Segovia.
Visiting Spain? Read more:
PIN THIS FOR LATER