I can't even count the number of hours I spent planning our itinerary for 5 days in Rome with kids. Between hours of paging through apartment listings trying to figure out the best areas to stay in Rome, poring over other blogger's posts, reading guide books (including Lonely Planet's Not for Parents book), studying maps and examining menus — I'm just glad I started early.
For all of you that are planning a family trip to Rome on your radar for a future trip, bookmark or Pin this post for future reference. Every family is different but hopefully my research can jumpstart your own planning.
I've included our family vacation itinerary as planned, but also noted when we went off schedule (because that is bound to happen in any trip) so you can see both options.
Want local tips and personalized advice for your trip to Rome? Connect with Francesca from Go Ask A Local! She's a local guide based in Rome who offers trip planning consultations on Zoom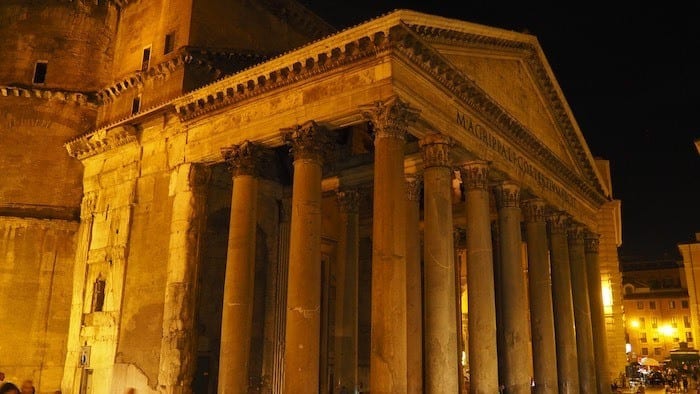 Itinerary for 5 Days in Rome with Kids
Note: This post may contain affiliate links. If you click a link and make a purchase, I may receive a small commission. All opinions are my own.
We visited Rome in June, before heading to the Amalfi Coast for a few days in Positano and Capri. Our daughter was 10 at the time, so this itinerary is best if you are visiting Rome with tweens or school-age kids. I know family travel is different for each family, so use this as a guide to help shape your decisions and planning.
Day 1 (Saturday): Welcome to Rome
Where to Stay in Rome
If you are taking an overnight flight, you will likely arrive in the late morning or early afternoon. Our flight arrived in Rome via Al Italia from Boston at 12:40 pm.
Our Airbnb apartment host had arranged a driver to pick us up at the airport and drive us to the Traiano apartment at Via Ruggero Bonghi, 38 near the Colosseum.
Depending on your budget (see my guide for how much a trip to Italy costs) allows for a family suite or connecting rooms at a hotel, you may want to consider a hotel with a pool if you are visiting in the summer.
We needed to settle in and rest for a bit before going exploring. To introduce our daughter to Rome, we thought the best way would be to sign up for an Evening Stroll hitting Rome's most scenic highlights.
Introduction to Rome
5-7:30 pm We picked the Evening Stroll with Gelato Tour with Walks of Italy covering the Spanish Steps, Trevi Fountain, Area Sacra, the Pantheon and Piazza Navona.
This tour worked out great, especially as it included a stop for REAL gelato (not that fake stuff).
8:00-9:30 pm After our tour we went for a late dinner at Alfredo alla Scrofa at Via della Scrofa, 104/A near Piazza Navona, famous for its Fettuccini Alfredo (p.s. I wouldn't recommend it as it is touristy and not amazing, unless you really have a fettuccini alfredo fan)
After dinner we planned to sample Piazza Navona's Tre Scalini's famous tartufo or have an espresso at Caffé Sant'Eustachio, in Piazza di Sant'Eustachio but we were too tired and needed to go back and call it a night.
Day 2 (Sunday): Ancient Rome
If you are planning a Rome family vacation and also arriving on the weekend, keep in mind that many attractions and restaurants are closed on Sunday so plan accordingly.
We decided that Sunday would be a good day to visit the Colosseum. We learned from a previous mistake that you really need to book a tour or tickets in advance, otherwise you will be stuck waiting for hours in the hot sun to get in.
Colosseum and Roman Forum Tour
9 am – 12pm We wanted to start our day early to avoid being in the blazing sun during the hottest part of the day. I decided to take the Colosseum and Ancient City Tour with Overome because I knew that there was a lot to see in Ancient Rome, but you really needed a guide to understand it all.
TIP: Make sure you wear comfortable shoes and hats and bring along snacks and water.
After the tour, you can walk over to Capitoline Hill to take a shortcut to the Victor Emanuelle II monument without climbing all the steps (find the she wolf statue then take steps across from statue into the building behind S. Maria d'Aracoeli Church. Enter, turn right. Follow long corridor on left to Victor Emanuelle II terrace & café.)
The plan was to have lunch at Vittoriano Café on terrace of VEII monument, however it was full and we were hungry. We ended up eating at the Taverna Degli Amici (see our recommendations on where to eat in Rome) and had a great lunch.
Afternoon Exploration
After lunch, inspect Trajan's Column, then walk over to the Bocca della Verita (Mouth of Truth) in Piazza Bocca della Verita. Unfortunately we couldn't get near Circus Maximus and the Bocca della Verita because the Rolling Stones were playing there that night and the roads were closed off.
After taking time to relax, I booked an 8pm dinner at Taverna dei Fori Imperiale, Via Della Madonna de Monti 9. We really loved this place, especially the artichoke with white wine and lemon and the traditional Roman carbonara.
Day 3 (Monday): Exploring Trastevere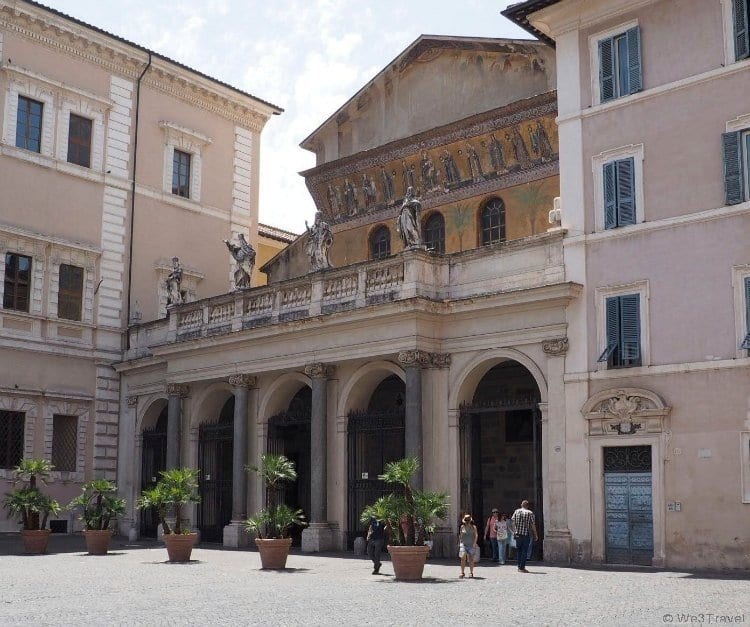 Monday is a busy day to visit the Vatican and St. Peter's and some restaurants and attractions are closed. This is why we decided to get off the beaten path and explore one of Rome's most charming neighborhoods, Trastevere.
If you are an early riser, you can stop by the market at Campo dei Fiori and pick up pastry at Forno Campo dei Fiori, 22 in the Piazza or 5 Via dei Baullari before heading to Trastevere.
Trastevere Food Tour
10:45 am – 2:45 pm The Trastevere Daylight Food Tour with Eating Italy gave us the opportunity to get a "real" taste of Rome and explore the energetic neighborhood of Trastevere.
This was one of our favorite tours of Rome, especially for older children. It is also the food tour that completely sold us on food tours and has led to us trying them in so many cities including Vienna, Nashville, Atlanta, and more.
That day, we headed back to the apartment to relax, shower and change before meeting up with family friends that live in Rome for dinner. However, if you want to spend some time relaxing, you can head over to the Villa Borghese gardens, where you can rent bikes, rowboats, take a walk or even visit a zoo.
Day 4 (Tuesday): Lesser Known Rome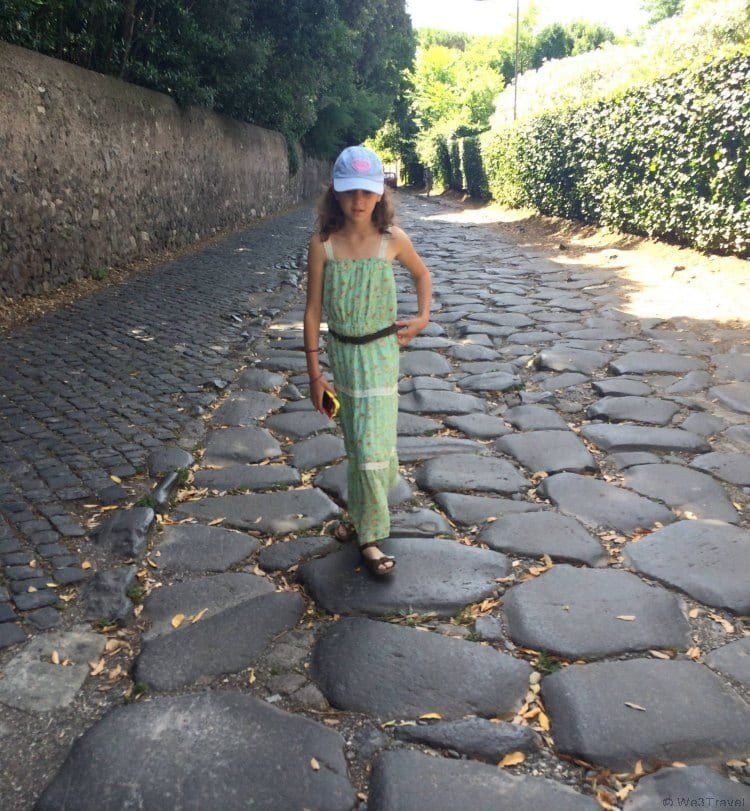 On our fourth day, we wanted to take a day trip or get outside of the city center and explore some of the lesser-known Rome highlights.
To do this, we picked the Rome Driving Tour with Walks of Italy to see Appian Way, Aqueduct Park, Baths of Caracalla, Janiculum Hill, Aurelian Walls, and the Pyramid of Casius Cestius (read about the surprises we encountered on this tour!)
Jewish Ghetto
After the tour, we went over to the Jewish Ghetto for lunch at Trattoria Gigetto (Via del Portico d'Ottavia, 21/A) for fried artichokes and then paid a visit to the Jewish Synagogue. Keep in mind that no shorts are allowed and shoulders must be covered — no shorts at the restaurants either.
Instead of Trattoria Gigetto, you can also try Piperno or Ba Ghetto.
Pizza Making Class
That evening we tried out a pizza making class. Although if that isn't your thing, you can take one of these recommendations for where to eat in Rome with kids or try a pasta making class instead.
Day 5 (Wednesday): Catholic Rome
Keep in mind that St. Peter's is closed on Wednesday mornings for the Papal Audience and that no shorts or bare shoulders allowed. Since everyone was occupied sitting in St. Peter's Square to listen to the Pope, we took advantage in the slight lull in the crowd to book a Vatican Museum / Sistine Chapel Tour with Overome.
Another way to avoid the crowds is with an Early Entry Tour that gets you into the Vatican Museum early to see the Sistine Chapel without the crowds and then sneak into St. Peter's Basilica without having to requeue.
Be sure to build in time to explore St. Peter's Basilica and climb the dome. To climb the dome, veer right before entering the basilica. (When our tour ended we were able to take the shortcut directly to St. Peter's. By the time we were done we were too tired to climb the dome and if we left to eat and came back we would have to get back into a very long queue. We decided to skip it and go to Piazza Navona, have lunch, and get tartufo.)
If you have the energy, you can also include a visit to Castel Sant'Angelo nearby, which is open daily 9am-7pm except Mondays.
It is then time for your final dinner in Rome! Hopefully you will then continue on to explore other parts of Italy such as: Orvieto, Assisi, Montepulciano, Pienza, Siena, Florence, Venice, Bologna, Pompeii, Positano, Ravello,and Capri.
Note: Our tours with Walks of Italy were complimentary, as was our tour of the Colosseum and Ancient Rome with Overome. I received a free food tour from Eating Italy, with discounted tours for the rest of my family. All opinions are our own.
PIN THIS FOR LATER