I'll never forget my first glimpse of the Colosseum. My husband and I had just landed in Rome. I was bleary-eyed and nervous with anticipation about my first trip to Europe. My first view of Rome out the taxi window looked like any other cosmopolitan city. And then it happened. I glanced down a side street and there it was — the ultimate icon of Rome, the Colosseum. When visiting Rome with kids I wanted my daughter to have that same level of excitement and awe.
Italy is an ideal country for a first family trip to Europe for many reasons. First, most kids love pizza and pasta, so the food isn't an obstacle. Second, by the time they have reached elementary school, most kids have seen some images of Ancient Rome or modern Italy in books, shows, or movies (and if not, see my reading list below!)
Visiting Rome with kids can be a lot of fun because you will see their eyes light up as they make connections between things they have heard about or seen on screens or books to what they are experiencing and seeing in real life. Who wouldn't love eating gelato while playing near the fountains in Piazza Navona? Or enjoy watching the sunset from the top of the Spanish Steps in Piazza di Spagna?
Italy is a very family-friendly country and if you have a chance to get off the beaten path in Rome, your kids can join in with peers playing futball/soccer in the piazza or playing in the playground.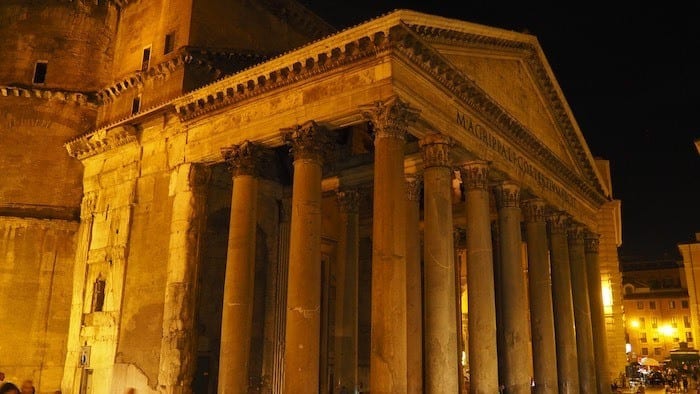 Of course, visiting Rome with children can also be overwhelming. There is so much history to absorb. The crowds can be challenging and there is just so much to see. Parents often wonder where to start. What will the kids really enjoy? How do you choose from the plethora of walking tours that are out there? Are kids old enough to appreciate what they are seeing?
If you are having those same concerns, read on. In this guide, I will attempt to show you the best age to visit Rome with kids, the best time of year to visit Rome with kids, where to stay in Rome with kids, and, most importantly, give you a family-friendly 5-day Rome itinerary that you can follow. If you are staying longer, follow one of these 10-day Italy itinerary ideas.
Best Ages to Visit Rome with Kids
Note: This post may contain affiliate links. If you click a link and make a purchase, I may receive a small commission. All opinions are my own.
I find the sweet spot for international travel with kids is from 8-12 or so. Younger kids can certainly have fun and enjoy making fun family memories, but you are a little more limited on how much history and touring they can handle.
Teens can also get very excited about visiting Italy, you just need to build in more unique experiences into your itinerary (such as a private e-bike tour of the Appian Way or a night tour of the catacombs.) We have also found that teens require a good amount of downtime (good luck getting them up for the early entrance to the Vatican) or time online.
Best TIme to VIsit Rome with Kids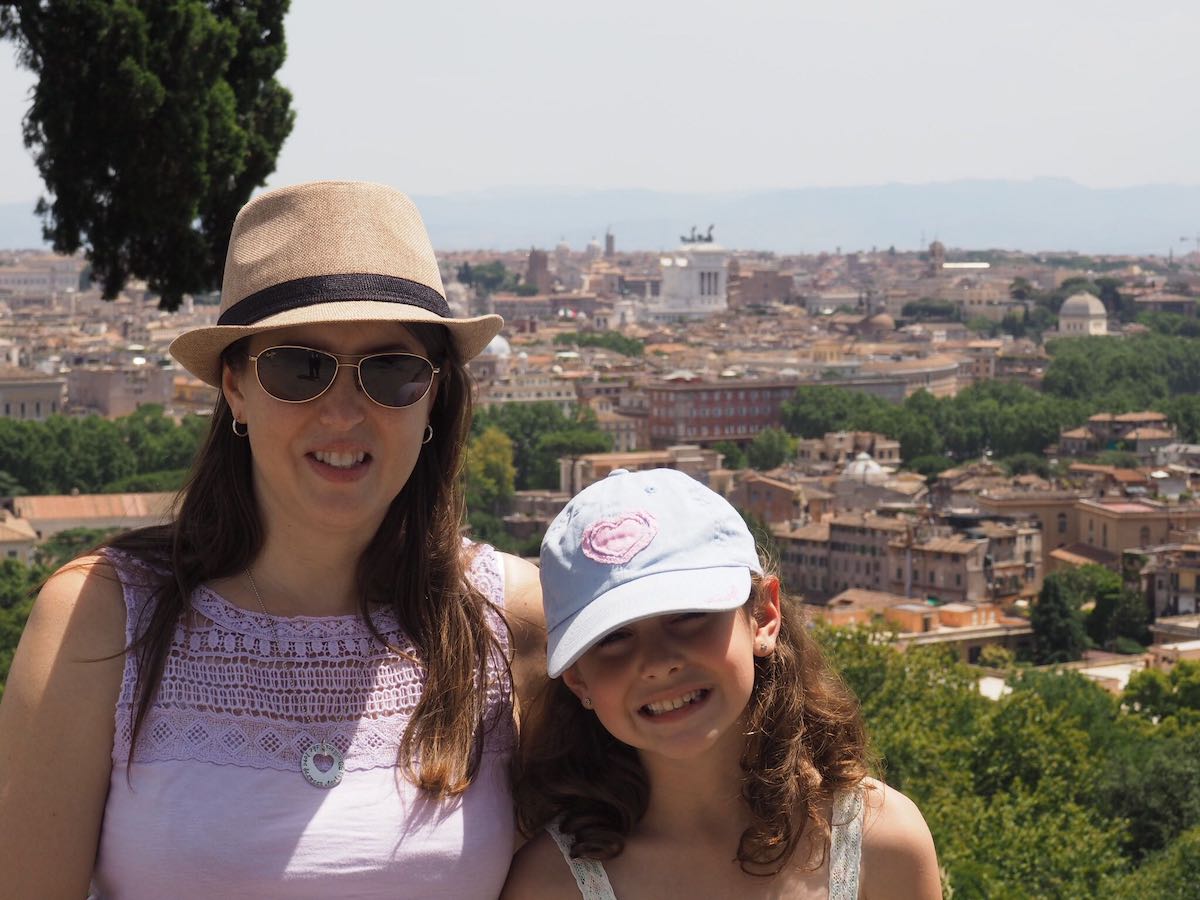 When you are visiting Rome with kids, you will likely need to work around a standard school schedule. Keep in mind that summers in Rome are very hot and only getting hotter. There are only a handful of hotels with pools, and touring the Ancient Forum in the summer can be like baking in the sun.
If your only option is to visit in the summer, try to visit as early in the summer as possible, hopefully before July when European schools get out for summer break. Keep in mind that many Italian families go on vacation for the month of August so some restaurants and shops will be closed in cities and the seaside destinations will be even more crowded. August 15th is also a national holiday where most things will be closed. See more tips for visiting Italy in August.
If your child has an October break or half-term, that would be an ideal time to visit. Spring break is another ideal time. Just keep in mind that if your spring break falls along with Easter, Rome is going to be extra crowded for religious observations and many shops and restaurants will be closed from Good Friday through the days after Easter.
Christmas time can be lovely, although chilly. There are a few Christmas markets around Rome that you can enjoy, including a beautiful one in Piazza Navona. Just keep in mind that many things will be closed on Christmas and St. Stephen's Day. If visiting during religious holidays, it may be better to stay in a rental where you can stock up to prepare meals before shops close, or in full-service hotels that offer on-site dining.
Where to Stay in Rome With Kids
In Rome, you can find a number of boutique hotels that offer family suites or connecting rooms for rates that are not quite as outrageous as cities like Paris. I still find vacation rental apartments through vrbo a good option for families to give everyone extra space to spread out and a kitchen to eliminate the need to eat out for every meal. This helps with the Italy trip budget and for everyone's patience for eating at restaurants.
Some other hotels that offer a family room or suite at an affordable price include:
If you are taking an overnight flight, you will likely arrive in the late morning or early afternoon. Our flight arrived in Rome via Al Italia from Boston at 12:40 pm.
For our trip, we stayed at the Traiano apartment at Via Ruggero Bonghi, 38 near the Colosseum.
Itinerary for 5 Days in Rome with Kids
We visited Rome in June, before heading to the Amalfi Coast for a few days in Positano and Capri. Our daughter was 10 at the time, so this itinerary is best if you are visiting Rome with tweens or school-age kids. I know family travel is different for each family, so use this as a guide to help shape your decisions and planning. I hope you find it helpful!
Day 1 (Saturday): Welcome to Rome
Arriving in Rome from an overnight flight from the States, you will need time to recover from jetlag and have an easy day. The best way to get through a lack of sleep and the time change is to get fresh air. The exhilaration of getting to explore a new place is energizing. Walking around a city is a good way to see some casual sites and get your bearings.
However, when visiting Rome with kids, you don't want to overdo it or leave things to loosey-goosey and unstructured so that everyone get a little cranky. We decided to take a "Evening Stroll with Gelato" tour with Walks of Italy to see Rome's most scenic highlights. However, another good option, especially for little legs that can't handle much walking, is to take a private Rome tour by golf cart. Kids may also love the Vespa with sidecar tour of Rome.
Whether you book a tour (I like doing tours because we learn so much more and I prefer private tours that can be more easily tailored to my family and our interests and energy) or not, on your first afternoon or evening in Rome with kids I would recommend walking around the Spanish Steps, Trevi Fountain, the Pantheon, and Piazza Navona.
Finishing off with gelato or a great dinner of pasta or pizza is a perfect end to your first day in Rome with kids. If you end near Piazza Navona, check out Tre Scalini's famous tartufo or have an espresso at Caffé Sant'Eustachio, in Piazza di Sant'Eustachio.
Day 2 (Sunday): Ancient Rome
If you are planning a Rome family vacation and also arriving on the weekend, keep in mind that many attractions and restaurants are closed on Sunday so plan accordingly.
We decided that Sunday would be a good day to visit the Colosseum. We learned from a previous mistake that you really need to book a tour or tickets in advance, otherwise you will be stuck waiting for hours in the hot sun to get in. The Colosseum is the most-visited site in Rome with over 30,000 people visiting the Colosseum every day, so you need to plan ahead.
I would really recommend taking a tour of the Colosseum and Roman Forum. There are a lot of options that you can choose depending on the ages of your kids and their interests:
TIP: Make sure you wear comfortable shoes and hats and bring along snacks and water. Strollers are not suitable for visiting the Colosseum and Roman Forum.
Our tour started at the Colosseum, where we were able to skip the line and go through a shorter line for groups with guides. Construction on the Colosseum, which got its name from the statue of Colossus out front, began in 72 AD, taking the work of 50,000 enslaved people every day to complete it so it could open to the public in 80 AD.
The reason the Colosseum looks like it is crumbling in parts is that after it was closed in the 500s with the fall of the Roman Empire, it was looted during the dark ages for the marble and iron, which made its way into other buildings including the Vatican. To help us understand what the Colosseum used to look like in its full glory when it held 75,000 people, our guide pulled out her iPad to show us a mock-up of the original facade.
On our tour, we got a good look into the corridors under what used to be the floor of the Colosseum, both from the main level and a better vantage point up above. We learned all about the games, the life of the gladiators, and the inner workings of the Colosseum. We also got to see many of the artifacts preserved from those days and could start to imagine, both through our guide's iPad renderings and the remaining embellishments, what the Colosseum looked like 2000 years ago.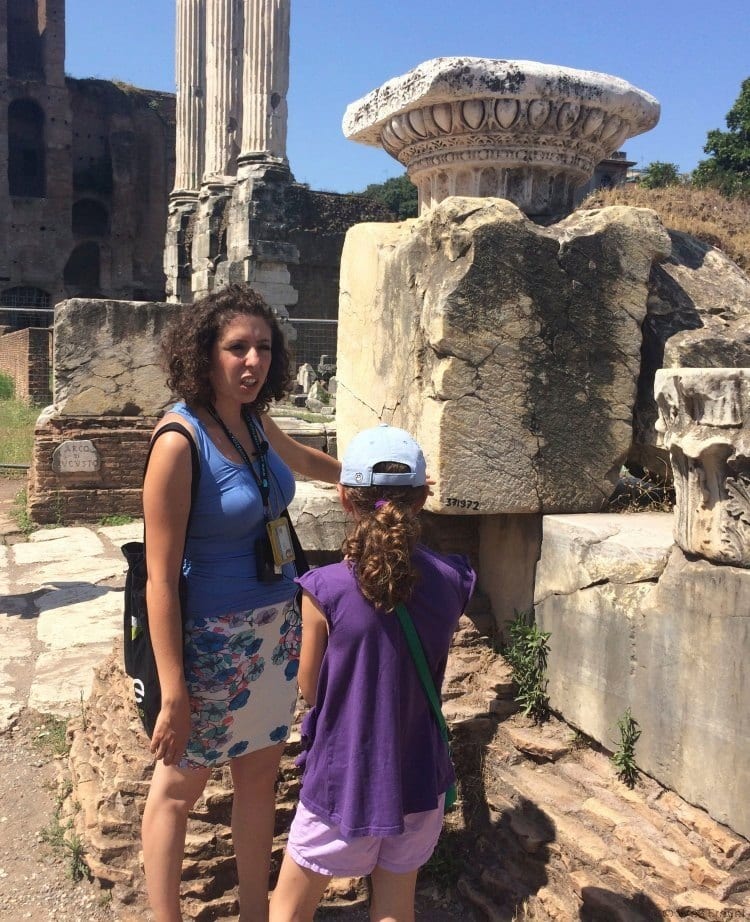 Our heads spinning with history, we moved on to exploring Ancient Rome, in the Roman Forum and Palatine Hill. As we walked in, where we learned about the legend of Romulus and Remus and the forming of Ancient Rome.
We spent a good 1.5 hours in the forum and Palatine Hill, learning about the Temple of Julius Caesar, the Vestal Virgins, the Temple of Romulus and its massive bronze doors, the Basilica of Constantine, and the Arch of Titus. Our guide also took us to a beautiful overlook and photo point with a perfect view of the Colosseum.
After the tour, you can walk over to Capitoline Hill to take a shortcut to the Victor Emanuelle II monument without climbing all the steps (find the she-wolf statue then take steps across from the statue into the building behind S. Maria d'Aracoeli Church. Enter, turn right. Follow long corridor on left to Victor Emanuelle II terrace & café.)
See our recommendations on where to eat in Rome with kids.
After lunch, inspect Trajan's Column, then walk over to the Bocca Della Verita (Mouth of Truth) in Piazza Bocca Della Verita. Unfortunately, we couldn't get near Circus Maximus and the Bocca Della Verita because the Rolling Stones were playing there that night and the roads were closed off.
After taking time to relax, I booked an 8 pm dinner at Taverna dei Fori Imperiale, Via Della Madonna de Monti 9. We really loved this place, especially the artichoke with white wine and lemon and the traditional Roman carbonara.
Day 3 (Monday): Exploring Trastevere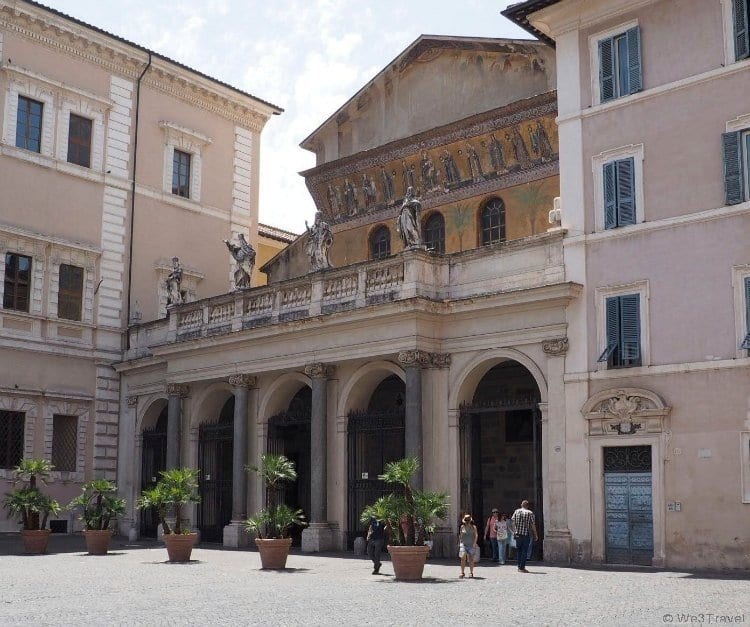 Monday is a busy day to visit the Vatican and St. Peter's and some restaurants and attractions are closed. This is why we decided to get off the beaten path and explore one of Rome's most charming neighborhoods, Trastevere.
If you are an early riser, you can stop by the market at Campo dei Fiori and pick up pastries at Forno Campo dei Fiori, 22 in the Piazza or 5 Via dei Baullari before heading to Trastevere.
The best way to explore Trastevere is through a food tour! We took the Trastevere Daylight Food Tour (now only offered as an evening tour) with Eating Europe. This gave us the opportunity to get a "real" taste of Rome and explore the energetic neighborhood of Trastevere.
This was one of our favorite tours of Rome, especially for older children. It is also the food tour that completely sold us on food tours and has led to us trying them in so many cities including Vienna, Fes, and more. Devour Tours also offers an evening Trastevere food tour.
Since these food tours are now in the evening, you may want to take a gelato making or pizza making class, or Devour Tours' Street Food Tour with pizza making, trattoria tasting, and gelato. I've recently taken a private cooking class in a local's home through Cesarine, which was a fantastic experience.
Another option is a Trastevere and Jewish Ghetto combined tour with LivTours.
That day, we headed back to the apartment to relax, shower and change before meeting up with family friends that live in Rome for dinner. However, if you want to spend some time relaxing, you can head over to the Villa Borghese gardens, where you can rent bikes and rowboats, take a walk, or even visit a zoo.
Day 4 (Tuesday): Hidden Gems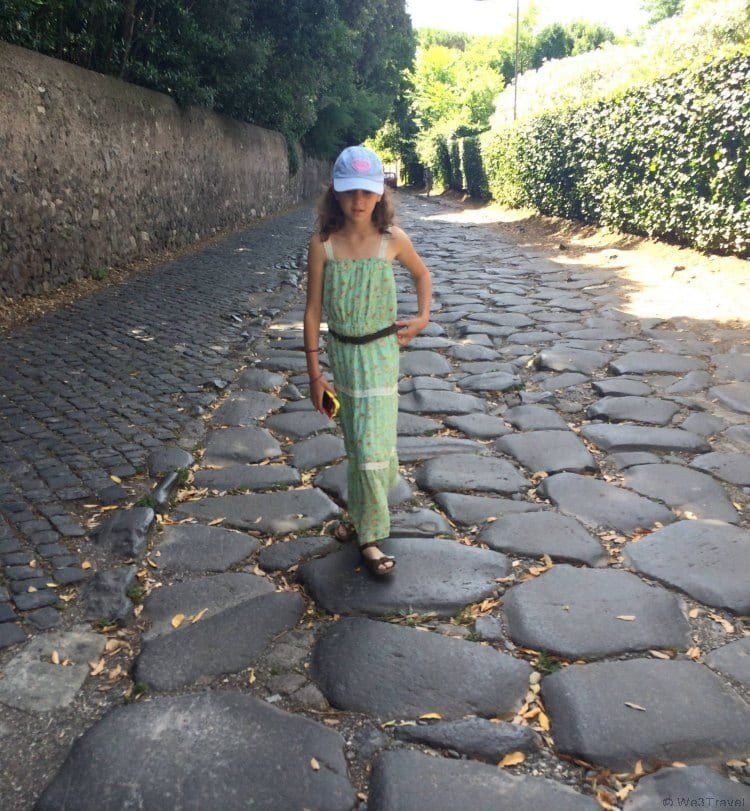 On our fourth day, we wanted to take a day trip or get outside of the city center and explore some of the lesser-known Rome highlights.
To do this, we picked decided to do the "Rome as a Local" tour with Walks of Italy. When we took this tour it included the Appian Way, Aqueduct Park, Baths of Caracalla, Janiculum Hill, Aurelian Walls, and the Pyramid of Cassius Cestius. It now also includes the Jewish Ghetto, which we did on our own.
I loved getting to see this very ancient part of Rome and walk in the grooves made by chariots so many centuries ago. Likewise for the Aqueduct Park, which is a fascinating example of Roman ingenuity and engineering expertise.
After the tour, we went over to the Jewish Ghetto for lunch at Trattoria Gigetto (Via del Portico d'Ottavia, 21/A) for fried artichokes and then paid a visit to the Jewish Synagogue. Keep in mind that no shorts are allowed and shoulders must be covered — no shorts at the restaurants either. Instead of Trattoria Gigetto, you can also try Piperno or Ba Ghetto.
Another option for the afternoon or evening, especially if you have teens, would be to visit the crypts and catacombs on an Underground Tour of Rome with Walks of Italy or take a Night Catacombs tour with LivTours
You can also use this day to take a popular day trip from Rome including:
Day 5 (Wednesday): Catholic Rome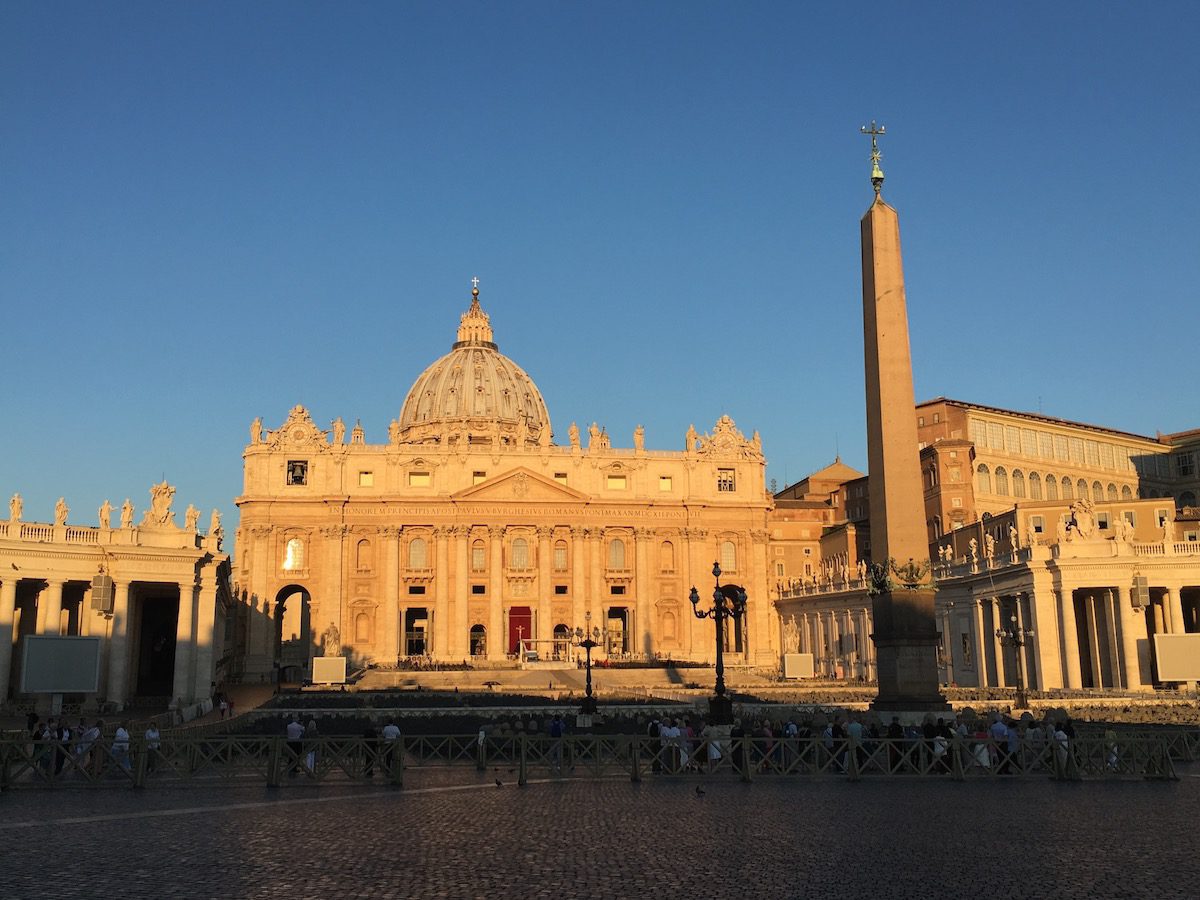 We saved our last full day in Rome for exploring the Vatican Museum and St. Peter's Basilica. The museum is closed on Sundays and therefore Mondays tend to be the busiest. We picked to go on Wednesday morning, while the Pope was giving his Papal Address next door in St. Peter's Square. While thousands flock to hear this popular Pope each Wednesday, they are occupied from the time they line up to get tickets in the early morning until sometime after 11 when the Papal Address concludes.
While this means the museum and St. Peter's will be crowded later, if you get in during the morning you might find the museum at one of its least busy times. We took advantage of the slight lull in the crowd to book a Vatican Museum / Sistine Chapel Tour.
Another way to avoid the crowds is with an Early Entry Tour that gets you into the Vatican Museum early to see the Sistine Chapel without the crowds. If you are visiting with kids, I'd highly recommend booking a private, family-friendly tour that incorporates a Vatican Treasure Hunt.
Every day over 25,000 people visit the Vatican Museums and Sistine Chapel, making it the number two most-visited attraction in Rome. During my previous visit to the Vatican, we were short on time and beelined through the entire museum, not taking in a thing, to get to the main attraction…the Sistine Chapel. This time, we wanted to do it right and see more of the highlights of the Vatican Museum.
Vatican Museum Highlights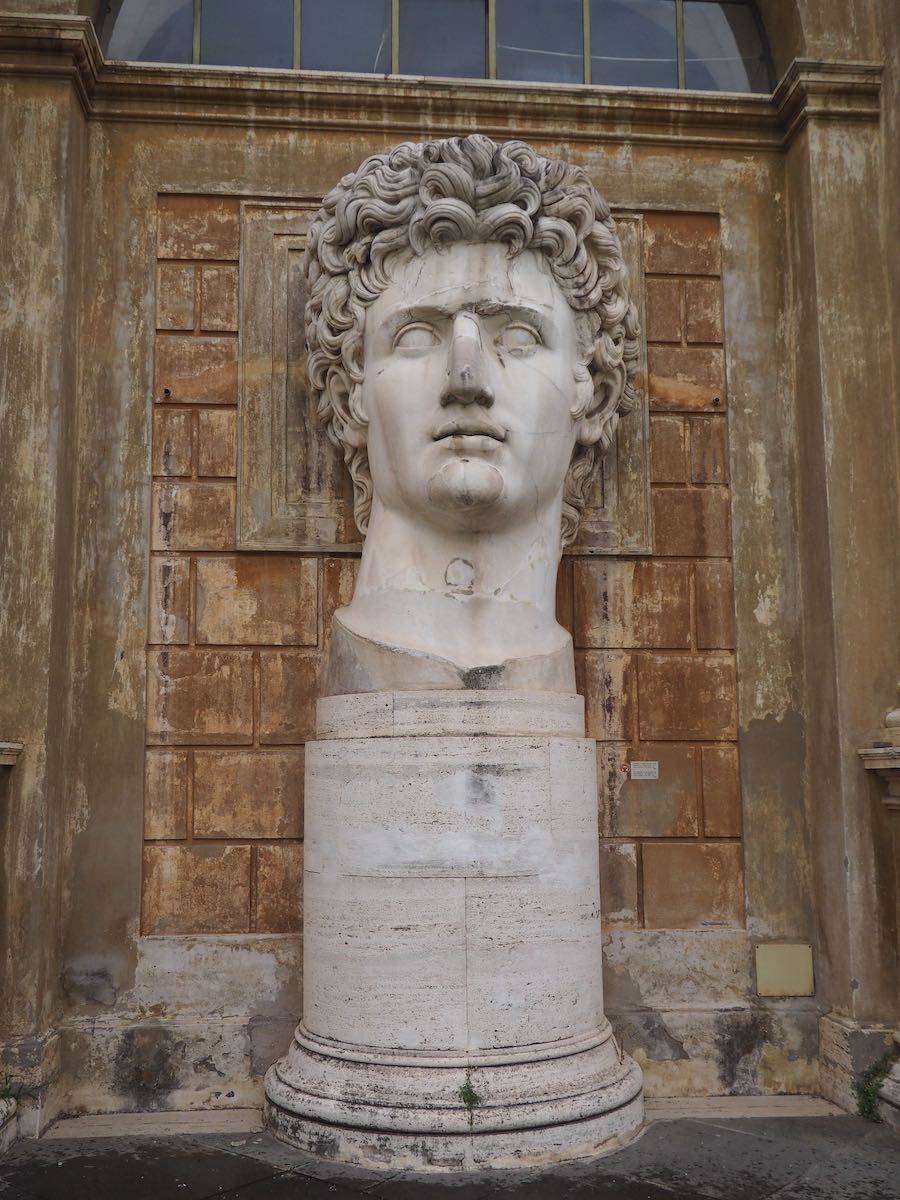 One of the first highlights you will see as you enter is an awesome view of St. Peter's dome. What I never thought about is that you can't see the outside of St. Peter's dome from the square. The facade of St. Peter's is so tall it blocks the view of the dome so you only see it from the inside unless you visit the Vatican Museum or other parts of Rome with a view.
In the courtyard, we took in the sculptures and learned a lot about the Sistine Chapel. There is no talking inside the Sistine Chapel so we needed to learn the history before going in.
The further into the museum we went, the more crowded, noisier, and stickier it became and the weather, closeness, and lack of air conditioning began to take their toll. We learned about Greek and Roman statues of goddesses, heroes, and muses and visited the Egyptian room with its sarcophagi made of porphyry.
From there we made our way through the map gallery, tapestry gallery, and other grand hallways on our way toward the Sistine Chapel. Our last stop before the Sistine Chapel was the Raphael Rooms. These rooms were nearly as crowded as the Sistine Chapel but not as strict on talking and picture taking.
Eventually, we made it to the Sistine Chapel. Apparently, Michelangelo was disgruntled at having to paint this ceiling and he insisted on doing it his way, despite the Pope's wishes. To get back at those who criticized him, Michelangelo painted them in hell, with a snake biting his private parts and wearing donkey ears. Pretty harsh — there was a guy with an ego.
Once we exited the Sistine Chapel, we got lucky in that the side door connecting the Vatican Museum and St. Peter's Basilica was open since the Papal Address was finished early. This was great news as tour groups can exit this way and get directly into St. Peter's without having to queue up outside. Eleonora secured our entrance and then told us about the door at St. Peter's that is sealed with concrete and only opened every 25 years when the Pope breaks the concrete on the inside.
St. Peter's Basilica
We finished our tour with a quick overview of the Basilica including Michelangelo's Pieta, the chapel of John Paul II, and the altar. After that we were able to stay inside and explore on our own as long as we liked.
Our original plan was to climb the Dome, but after the tour we were hot, tired and in desperate need for something to eat. Our options were to leave St. Peter's to eat and come back to climb the Dome…but that would mean having to join the very long queue outside to get back in. Despite really wanting to see that magnificent view, I knew our tired legs weren't up to the climb and our patience was exhausted and standing in line later wasn't going to work either so we headed out to Piazza Navona for lunch and tartufo.
Tips for Visiting the Vatican Museum with Kids
If you decide to take the kids to the Vatican Museum, here are some tips:
Wear comfortable shoes. Not only it is a lot of walking, but it is also a lot of standing and shuffling, which you feel more than hours of walking through the Colosseum and Forum.
Book tickets in advance. If you aren't going on a tour, you can book your timed entrance online to avoid the long queue.
Go during the off-season. Most of the museum isn't air-conditioned and on the day we were there it was extremely humid, making it pretty unbearable at times.
Take breaks. You don't need to see everything and you certainly don't need to see everything all at once. Take advantage of the cafe, sit in the courtyard for a while, and try to find some pockets of space to decompress.
Get something to eat before going into the Sistine Chapel. There is a "secret" passage that connects the Vatican Museum and St. Peter's. It is located just outside the exit of the Sistine Chapel. Generally, this is only open to tour groups and it is sometimes locked (definitely during the Papal Address.) However, if it is open and you are either in a group or can sneak through with one, it will save you a long walk back through the museum and around to St. Peter's but it will also save you from queueing up in the long line outside waiting to get into St. Peter's. But if you are also visiting St. Peter's, you'll need a snack first.
Cover yourself. Just like St. Peter's, the Sistine Chapel is a chapel, and to enter you will need to cover your knees and shoulders.
Be sure to build in time to explore St. Peter's Basilica and climb the dome.
To climb the dome, veer right before entering the basilica.
If you have the energy, you can also include a visit to Castel Sant'Angelo nearby, which is open daily 9 am-7 pm, except for Mondays.
And that wraps up and amazing 5 days in Rome with kids. If you are continuing on to other destinations in Italy, read on!
Books to Read Before Visiting Rome with Kids
As an Amazon Associate, I earn from qualifying purchases.
A great way to prepare kids for a trip to a different country (or anywhere really) is by reading about that destination before the trip. This helps them understand what to expect, learn a little about the history, and have everything soak in a little deeper on the trip. Here are some of our recommended books to read before a family trip to Rome:
This is Rome by Miroslav Sasek – this old favorite picture book depicts all the major attractions in Rome and even describes some of the history and symbology of Rome (like what SPQR means). Even though my daughter is way past picture books, she still got something out of it because as I was talking about our itinerary and mentioned the Bocca della Vertita, she knew exactly what it was.
Not For Parents: Rome: Everything You Ever Wanted to Know from Lonely Planet – this "Not for Parents" not-a-guide book tells the story of Rome that not even parents know. My daughter took it quite seriously and hid the library book from me whenever she was reading it.
G is for Gladiator: An Ancient Rome Alphabet by Debbie Shoulders – This A-Z picture book introduces children to the history of Ancient Rome, a great precursor to a visit to the Colosseum and Forum.
The Coliseum Con by Geronimo Stilton – if graphic novels are more your kid's thing, they might enjoy the popular Geronimo Stilton and his adventures in Rome.
Vacation Under the Volcano by Mary Pope Osborne – a perfect intro to a side trip to Pompeii, this is part of the popular Magic Tree House series where Jack and Annie find themselves in Pompeii as Vesuvius begins to erupt.
Magic Tree House Fact Tracker #14: Ancient Rome and Pompeii by Mary Pope Osborne – the non-fiction companion to Vacation Under the Volcano, this goes deeper into the history of Rome and Pompeii.
Ancient Rome (DK Eyewitness Books) by Simon James – this popular nonfiction series offers facts in a very graphical format that is easy to digest.
The Assassins of Rome (The Roman Mysteries) by Caroline Lawrence – if mysteries enthrall the kids in your house, check out the series of The Roman Mysteries.
The Orchard Book of Roman Myths by Geraldine McCaughrean – 15 of the most popular Roman myths retold in a way that is appealing to young readers.
Rome with Kids by J.M. Pasquesi – this guidebook is for parents but enjoyable for kids too as each section suggests things for kids to look for and fun facts about Rome. It gives an inside view of all the highlights of Rome with suggestions on where to stay and where to eat. Better than an average guidebook, this is truly geared toward family travel and what things are interesting to kids. It is a must-read!
Visiting Rome? Read More:
PIN THIS FOR LATER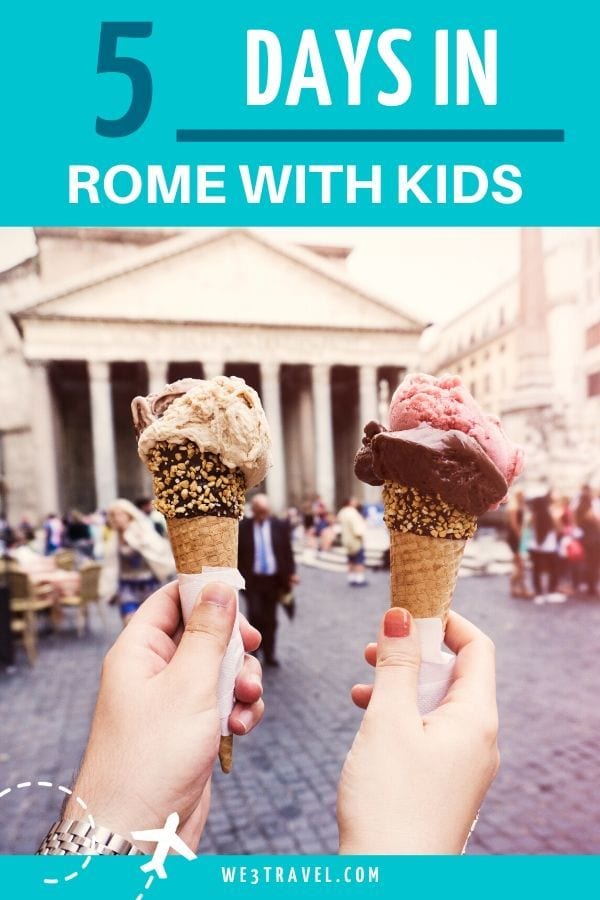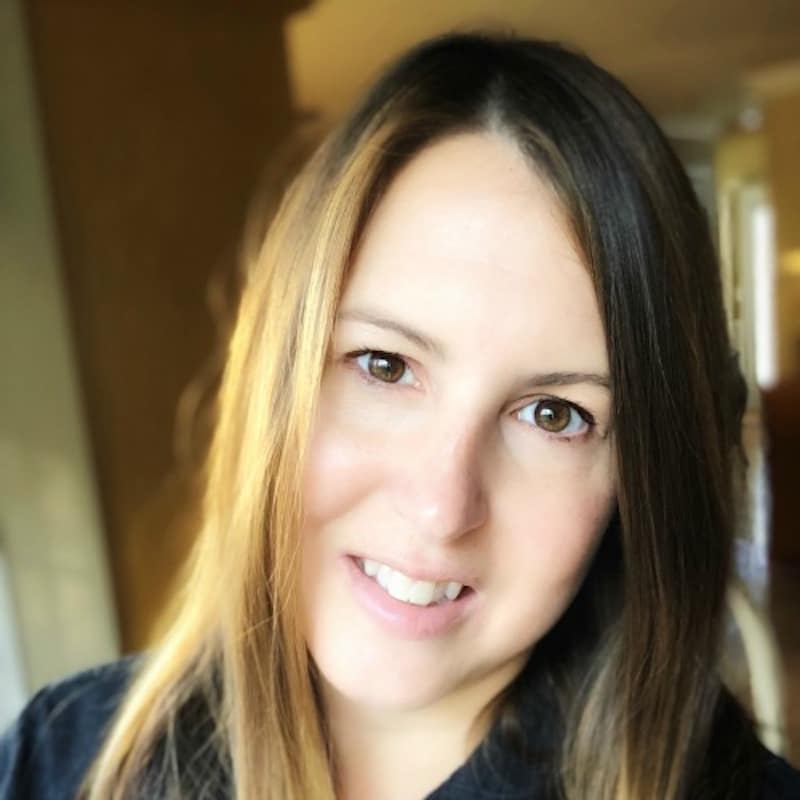 Tamara Gruber is the Founder and Publisher of We3Travel. A former marketing executive and travel advisor, Tamara is an award-winning travel writer and recognized expert in family travel. She is also the publisher of YourTimetoFly and the co-host of the Vacation Mavens travel podcast.