There is a reason that Florence, Italy is such a popular destination for teens and college students. The Duomo, the art, the narrow streets, the Ponte Vecchio…the gelato! Of course teenagers are going to fall in love with Florence, it is one of the most beautiful cities in Italy (and we have visited quite a few!) If you are planning a family trip to Italy, let me clue you in to some things to do in Florence with teens.
If you have three days in Florence, you can easily squeeze in all of the highlights. Staying longer? Then you have time to plan some day trips to neighboring cities like Bologna, explore Tuscany, or add in a few more special activities (don't worry, I have suggestions that many teens would love.)
Florence is a must-see destination and should be on every itinerary for a first trip to Italy or a special graduation trip perhaps? Usually, families will start in Rome and then visit Tuscany, Florence, and Venice when visiting Italy with teens, but there are countless options.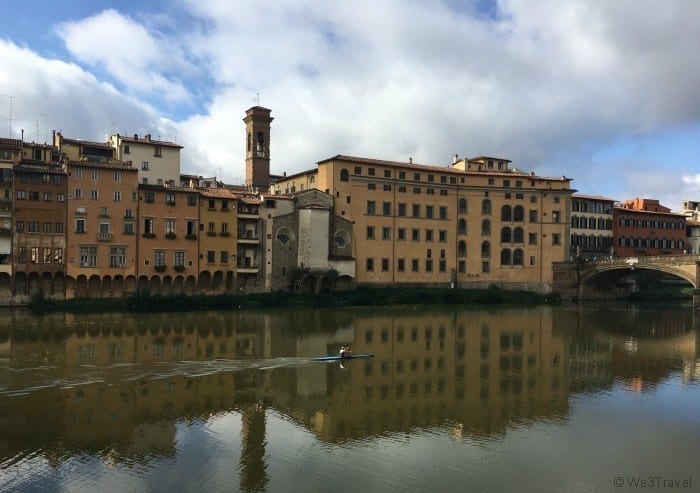 Three Days in Florence with Teens
Note: This post contains affiliate links. If you click a link and make a purchase, I may make a small commission.
Day 1 – Introduction to Florence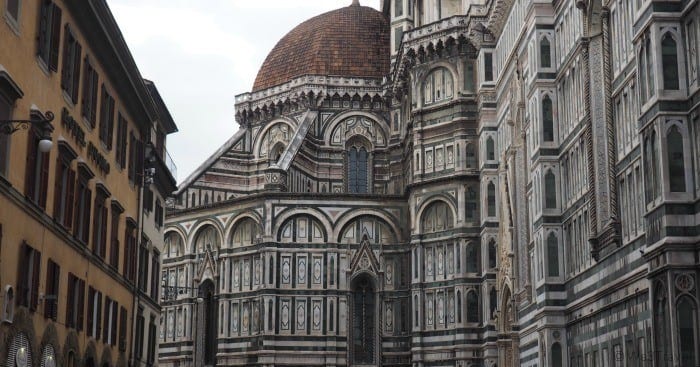 On your first full day in Florence, start off with a walking tour of the city to learn the lay of the land and also to discover Florence's rich history. You can't really understand Florence without understanding the Medicis. I'd recommend the City Highlights tour with LivTours, which also includes a quick stop at the Accademia Gallery to see Michelangelo's famous David statue, and finishes up at the Duomo (Santa Maria del Fiore, where you can see Brunelleschi's Dome.)
Both of these are must-do sights when visiting Florence with teens. And the David really is the main attraction at the Accademia and one you don't want to miss while in Florence. No matter how many pictures you may have seen, or even how many times you looked at the replica in Piazza della Signoria, you will still be awed by the craftsmanship and artistry of seeing the real thing.
If you are willing to spend a little more for a wow experience, I'd suggest the VIP David & Duomo tour from Walks of Italy with skip-the-line access to the Accademia Gallery to see the David and a skip-the-line Duomo climb with exclusive terrace access.
The tour will also include a stop at the Baptistery. The Baptistery doors consist of elaborately carved reliefs from the Bible.
If you don't choose a tour that includes Duomo access, I'd recommend pre-booking tickets to climb either the Duomo or the Giotto's bell tower (or both if you are energetic). Keep in mind that you need to arrive within five minutes of your scheduled time and bring your tickets. You will want to make sure you are wearing comfortable shoes and ensure your shoulders and knees are covered to enter the church.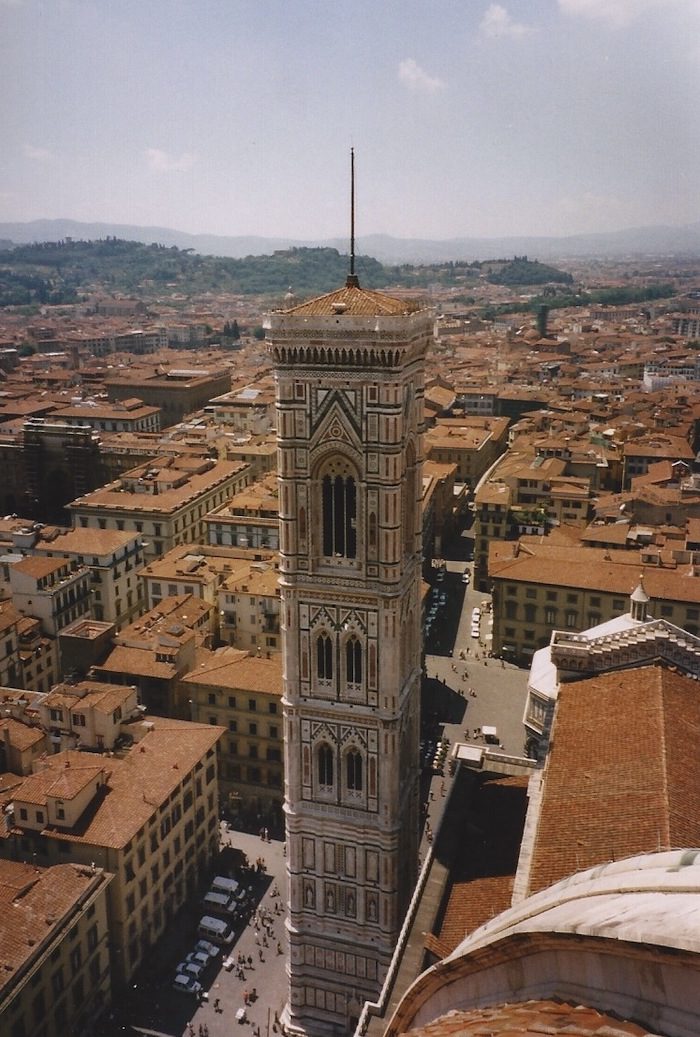 By this time, you will be hungry for lunch. I'd recommend either walking over to Mercato Centrale (Central Market), standing in line for one of the famous paninis at All'antico Vinaio (thought to be the best street food in Italy), or trying Mama Mia Firenze.
If you are craving some good gelato after lunch (and what teen wouldn't be), some of the best gelato in Florence can be found at either Grom, Venchi, Vivoli, Edward Bio (near the Duomo), Innocenti-Gelateria La Carraira (in the Santo Spirito neighborhood), or Per che no. Just avoid the fake, fluffy, and artificially colored options that are everywhere.
By this time, your teen will be getting tired and be ready for a little downtime (or maybe phone time.) I'd suggest a little R&R at the hotel before walking or taking a taxi up to Piazzale Michelangelo for sunset. You probably want to get there early to secure a spot to sit as this is a very popular thing to do in Florence with teens (or anyone.)
As you walk back towards the Ponte Vecchio or city center, you can stop for drinks at Le Volpi e l'Uva wine bar and have dinner at Trattoria 4 Leoni. Quattro Leoni is on the Arno River's south bank in the Oltrarno neighborhood. This area is like Florence's Brooklyn. A bohemian neighborhood with so many good restaurants! The restaurant was situated in a picturesque Florentine piazza and served wonderful ravioli and fresh appetizers like Florence's prosciutto di Toscana.
Day 2 – Art & Artistry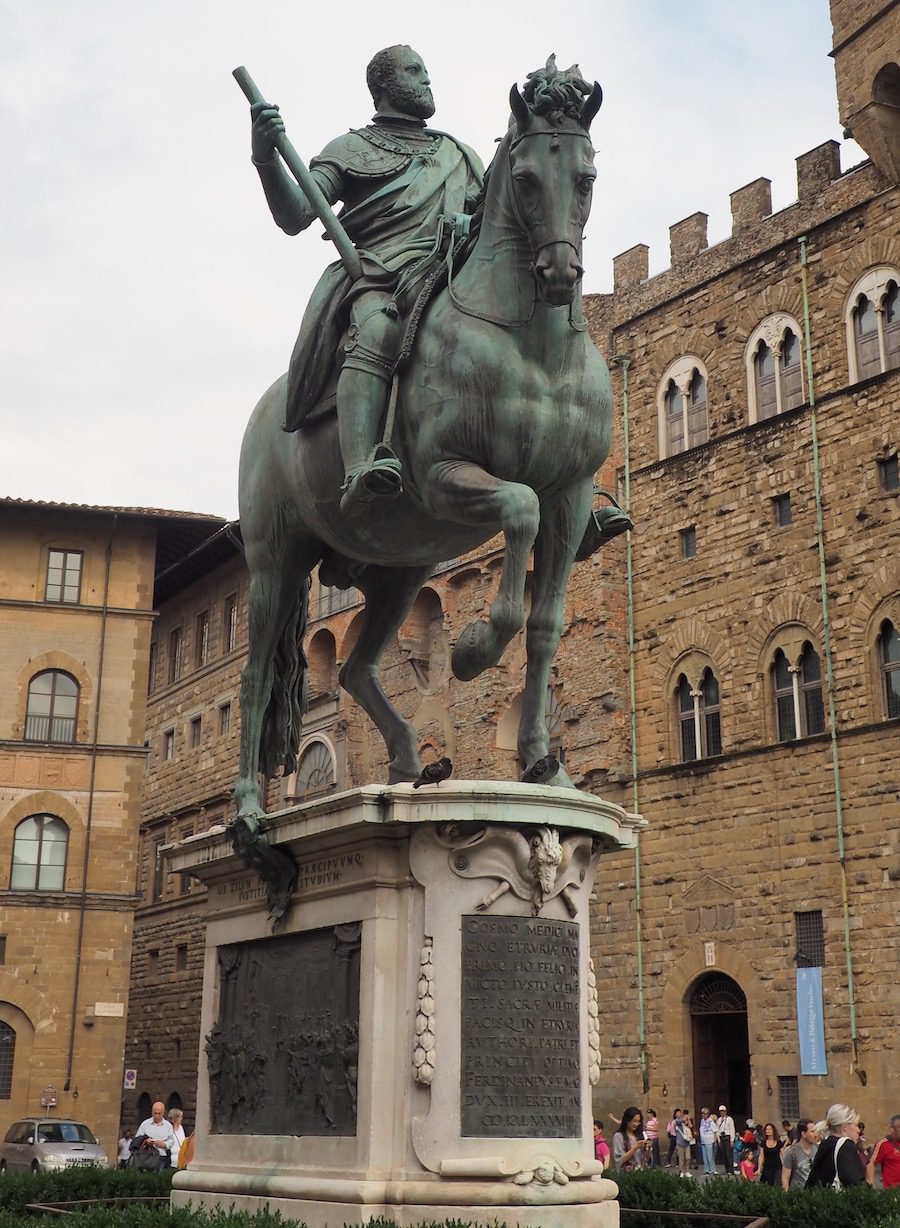 Your second day will be all about what Florence is famous for — its art! Start off with a private or semi-private tour of the Masterpieces of the Uffizi with LivTours. I'd say to take the Express first entry tour to avoid crowds, but most teens do not want to get up early on vacation.
The Uffizi is a massive museum with some of the most famous pieces of art in the world and deserves at least of few hours of your time in Florence. You should begin with medieval art, mostly altarpieces, gradually moving into the Renaissance. The museum is arranged so you can see the evolution of painting and sculpture from the medieval era to the baroque era.
Of course, you can't miss out on The Birth of Venus, Raphael's portraits, and one of Michelangelo's only circular paintings. I'll warn you that medieval and Renaissance art can get a little repetitive after a while, but having a guide to make sure you see and understand the masterpieces, as well as can interpret the religious iconography, is very helpful.
All that art is going to make you hungry and I'd suggest making a lunch reservation so you don't have to wait to eat and get your teen hangry. Signorvino Firenze is just a five-minute walk from the museum across the Ponte Vecchio. You can make reservations via The Fork.
After a leisurely lunch, if your teen is into art or drawing, I would suggest booking a drawing class. These will typically take you to various spots in the city and provide instruction on drawing some of Florence's famous sights. We also found a drawing class using pencils and watercolors on Airbnb Experiences.
This would also be a good time to see some of the other highlights of Florence, such as the Santa Croce Cathedral, which is Florence's second most famous cathedral. It contains the tombs of many famous Italians, including Michelangelo, Galileo, and Machiavelli.
The church also has an empty tomb, held for Dante, who was buried in Ravenna after his exile. The church is decorated by many famous artists, like Vasari and Giotto. Unfortunately, much of the church's art was destroyed, so some of the walls are bare. The church also has a lovely garden.
Another option is to visit Florence's synagogue and Jewish Museum. The building is an absolutely beautiful synagogue, in the style typical of North African synagogues. The main room is covered in red and blue designs with richly decorated arches.
For dinner, try Acqua al 2 for a memorable meal.
Day 3 – Choose Your Own Adventure
On your last day in Florence, I would suggest you find something that your teen and the whole family would enjoy. One option would be to explore some of Florence's delicious food through a food tour with Devour food tours. I've done multiple food tours with Devour and loved them all.
Other day trip options include:
You may also just want to spend more time enjoying the sites of Florence such as the Pitti Palace and the Boboli Gardens, the Galileo Museum, the perfumery/pharmacy at Santa Maria Novella, Piazza della Signoria, or some of these other things to do in Florence.
For dinner on your last night, either get traditional Florentine steak at Il Latini or try Trattoria Cammillo, on the south bank of the Arno. This restaurant was a favorite of NYT food critic Mimi Sheraton and us as well. You'll gorge yourself on homemade pasta and Tuscan fried vegetables. On the way back to your hotel, you can stop for gelato at Emporio Gelato, right next to the Ponte Santa Trinita.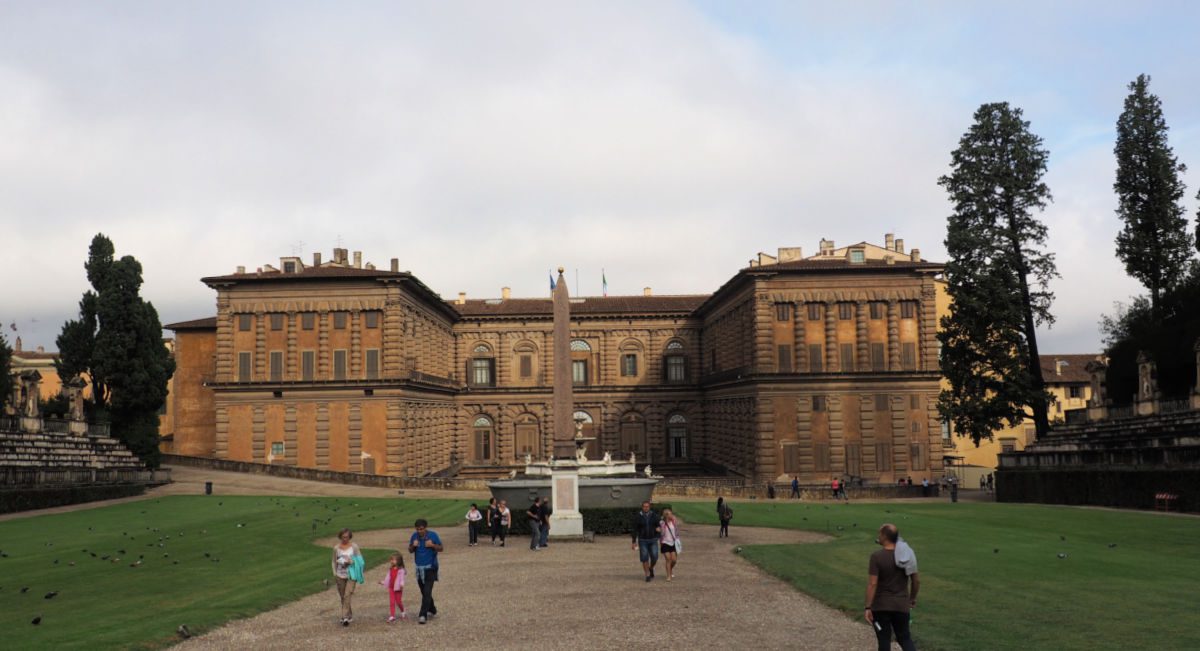 How Long Should You Spend in Florence?
You should plan on spending at least 3 days in Florence, but even that feels like the bare minimum. Even with three full days in Florence (not including travel time or accounting for jet lag), you won't get to see everything, but you will be able to take in all of the highlights without being too rushed.
While you can travel to rural Tuscany after your time in Florence, the city would also make a wonderful base to explore so many charming towns and cities such as Bologna, Lucca, San Gimignano, and Siena if you are able to stay five days or longer. See a full list of things to do in Florence.
What is the Best Time to Visit Florence?
Florence's popularity keeps growing. Could it be due to movies like Netflix's "From Scratch" that are set in Florence? Perhaps. But the word is out on Florence's charm and sadly, that can make Florence a little less charming. Nothing dashes expectations more than overwhelming crowds.
To avoid the worst of the crowds (and the heat waves that have been plaguing Europe during recent years), skip traveling in the summer high season if you can avoid it. I know that is going to be hard with teens, but if you can pick spring break, fall break (if you are lucky enough to have one), or even Thanksgiving or winter break (that time between Thanksgiving and Christmas means Christmas markets are open), you will have a better experience.
Recently, I have found that even the shoulder season of September through October doesn't feel like shoulder season in Florence. Other cities (think Verona, Bologna, Parma) will quiet down by then, but Florence is still going strong. If travel during busy seasons can't be avoided, you need to keep in mind that it will be crowded and expect to find long lines at all the main attractions.
Getting to Florence
Milan, Bologna, Venice, and Verona in the north and Rome to the south are all reachable in under two hours on high-speed trains from Florence. There are three main railway stations in Florence. The main and biggest one is Firenze Santa Maria Novella, others are Firenze Campo di Marte, and Campo di Marte train station. They are all located in the city center, although most visitors will arrive and depart from Santa Maria Novella (SMN).
You can also fly into Florence (FLR) from many cities throughout Europe. There are not any direct flights from the United States to Florence, but you can connect on airlines such as Delta, Lufthansa, and United.
If you are driving (see my tips for driving in Italy) to Florence and just spending the day, you may want to consider parking just outside of the city center or at the train station. The historical part of the city center is a limited traffic area and you need a special permit to drive there. Trying to navigate the streets, crowds, and rules is a headache that you don't want to deal with.
The ideal situation is to take the train or fly into Florence and take a taxi and walk around the city for three days in Florence. If you need to have a car for part of your vacation (e.g. you are spending a week in Tuscany), then I would recommend picking up the car at the car rental centers on the outskirts and driving from there (or doing the reverse). What I did on one trip is fly into Rome, take a cab to the hotel, and then when leaving Rome picked up a car to drive around Tuscany. Then I dropped the car off at one of the car rental offices outside of Florence and took a cab into the city. The extra expense was well worth it.
Taxis are relatively easy to find, but if you want to schedule a car service or transfer, I've used Welcome Pickups in Florence and have been very happy.
Where to Stay in Florence
In Florence, it is best to stay in the city center. It's not a very large city and its winding streets and brightly colored buildings are suited for walking. We loved the rooms, the terrace with amazing views of Florence at night, and breakfast at the Antica Torre di Via Tornabuoni. From the Antica Torre, nothing was more than a ten-minute walk.
Search for Florence hotels and rentals:
PIN THIS FOR LATER
SaveSave
SaveSave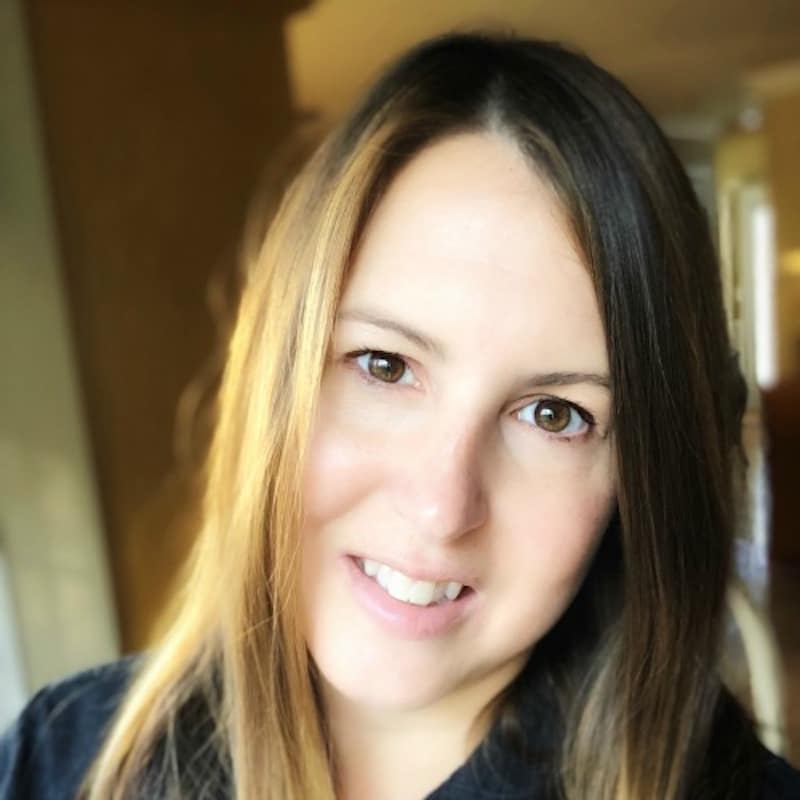 Tamara Gruber is the Founder and Publisher of We3Travel. A former marketing executive and travel advisor, Tamara is an award-winning travel writer and recognized expert in family travel. She is also the publisher of YourTimetoFly and the co-host of the Vacation Mavens travel podcast.