Nestled in the heart of Italy sits an oft-overlooked gem — beautiful Bologna. Although often overshadowed by more cosmopolitan Venice, Rome and Florence, European travelers "in the know" take the time to visit Bologna — a vibrant and foodie center of Italy.
A trip to Bologna should be on your "must-see" Italy list. Even if you are short on time, you and your family can easily navigate this compact and charming city in just one day. If you are wondering what to see in Bologna, well it is chock full of medieval towers, stunning colonnades, atmospheric cafes, Renaissance architecture and the tastiest pasta around.
If you take the extra day in-transit between Florence and Venice, you will delight in exploring one of Italy's best-kept secrets. And if you can spend two days in Bologna, you can see even more.
What to See in Bologna
DISCLAIMER: Lisa and her daughter were provided with complimentary tours so that she review them for your information. All opinions are her own.
Note: This post may contain affiliate links. If you click a link and make a purchase, I may receive a small commission. All opinions are my own.
In 24 hours you can zip through the city on segways, eat your way through town, shop under intricate porticos, and even celebrate with locals. And if you are staying longer, be sure to check out this first-timer's guide to Bologna.
Morning: Zoom through the city
Start your adventure by booking a BolognaAway City Tour to fly around this spectacular Italian city. Our energetic and adorable tour guide, co-owner Vanessa, expertly led us through this colorful city on petite Ninebot-like transporters.
These slighter smaller and lighter weight Segway type machines make city maneuvering so easy…and so much more fun for teens (and adults too). This company prioritizes safety, making sure that we felt comfortable using the Segway before setting off through the streets.
Bologna is the ideal city for exploring on Segway. With pedestrian-only areas and miles of colorful porticos under which you can ride (be sure to glance up at the intricate ceilings), this tour covers all of the highlights offered by the city center, while also weaving in historical context and legends.
Our tour included learning about the buzzing University Quarter (did you know Bologna was home to the oldest university in Europe?), the grand Piazza Maggiore, the famed Twin Towers, the charming Seven Churches, the buzz-worthy Neptune statue, and even a peak into a secret mini-door that provides a view of the "Venice of Bologna."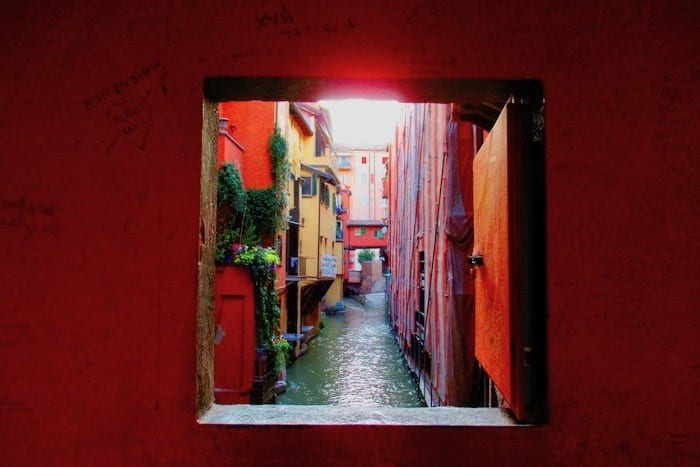 TIP: Schedule this tour your early in the day so you can orient yourself and decide where you want to spend the rest of your afternoon.
Afternoon: Choose Your Own Adventure
Before setting out for the next few hours, it's time to fuel up. Trying to decide where to eat can be a challenge since tempting cafes can be found at every corner. Our gang indulged at top-rated pasta heaven, Sfoglia Rina.
This casual and inexpensive restaurant often has long lines. If the wait is too long, just choose another of the many excellent choices in the same neighborhood.
Now that you have the lay of the land, and your stomachs are full, it's time to choose what interests your crew.
Perhaps you will return to one of the many sights you passed during the morning tour such as the University area or San Petronio Basilica (remember you will need covered knees and shoulders for entry). For those interested in history, medicine and literature, visit the elaborate Anatomical Theatre and stunning Library of Archiginnasio.
If your teens need to release some extra energy (and if you want to burn some calories before dinner), set out to climb 498 steps all the way up one of the last beloved remaining medieval towers, the leaning Asinelli tower.
For a taste of the oldest shopping area, meander along the Via Drapperie and explore the atmospheric Quadrilatero area. If your family prefers to shop until you drop, take a break from sightseeing and stroll under the porticos shopping in beautiful boutiques.
Early Evening: Ready, Set, Eat!
An absolute must in Bologna is to eat and eat and eat some more. This culinary epicenter of Italy has a bounty of tasty treats. To learn more about the foodie culture of this region, we joined owner of Delicious Bologna, Mattia Tozzoli, on his expertly curated mouth-watering food tour to show us where to eat in Bologna.
From hidden, small family-owned gourmet stores, to sitting down to share a tasty meal, our four hours with Mattia left us knowledgeable about wine, home-made pasta, pizza, local cured meat, cheese, balsamic vinegar, coffee, and my daughter's favorite….small batch gelato!
This tour enables you to sample a wide variety of Bolognese products in just a few hours. If your family would like to visit an operational pasta factory as part of the experience, check out Delicious Bologna's morning tour.
A highlight on our food tour was our relaxing sit down dinner at a local traditional trattoria sampling loads (literally heaping plates) of various native pastas. Owner Mattia's passion for food and his roots in the surrounding Emilia Romagna region are immediately evident! This gastronomic tour includes hidden spots and interesting historical tidbits.
Sadly, we did not have time to visit FICO Eataly World (located just outside the city). Eataly has been described a theme park-like sprawling campus dedicated to the culture, traditions and craftsmanship of Italian food (free entry, pay per activity). Your family can take insider tours of culinary factories, sign up for cooking classes, and literally taste your way through all of Italy's culinary delights. Eataly offers many family-friendly activities for all ages. But if you miss it, there is probably an Eataly in a city near you like New York, Boston, or Chicago!
Anytime: Celebrate with the locals
Bologna is the ultimate college town with close to 70,000 students. The youthful vibe that permeates the city is contagious. Be sure to check out the Bologna Welcome website for the latest list of upcoming year-round events that appeal to families, especially those with teens.
Our highlight was visiting during the world-famous Sotto Le Stelle Del Cinema or open-air movie festival located in the center of the city, Piazza Maggiore.
You can pay to reserve a seat in advance or mimic the locals grabbing some takeout pizza and gelato and lounging on the church steps picnicking during the film. Some nights, such as the night we visited, even feature English-language movies.
A priceless memory for us was ending our visit to this magical city experiencing what it is like to be a local in this region of Italy.
Where to Stay in Bologna
We found the well-centered boutique Art Hotel Novecento to be the ideal base for our stay in Bologna. This hotel nestled in the historic center of the city at Piazza Galileo is just around the corner from the lively Piazza Maggiore.
The included bountiful breakfast buffet featuring local culinary products provided us with a hearty start to our daily adventures. The staff at this modern hotel went above and beyond to answer all our questions and help us map out our day's plans.
Check rates and reviews for Art Hotel Novecento
About the Author
This guest post was written by Lisa Grabelle. Lisa, a travel writer for Hilton Suggests, has been traveling all her life…30 countries and loving it! Originally from the sunny skies of Miami, Lisa, a former lawyer, lives near Philadelphia with her husband and two daughters. Lisa willingly traded in billing hours for being a full-time mom and volunteer for her alma mater, the University of Pennsylvania. But travel is her passion. As soon as one vacation ends, Lisa busily plans her next adventure for her non-stop family of adventurers. Lisa's motto is "don't just visit the destination…live it!" You can follow Lisa on Twitter or Instagram.
PIN THIS FOR LATER