Milan, or Milano as they would say in Italian, is the economic center of Italy. Known as a hub for fashion, finance, and opera, this city in Northern Italy operates at a different pace than the laid-back south. With several nonstop flights between Milan and the United States or Canada, and easy access by rail to Florence, Rome, or Venice and the Venetian Lagoon Islands, Milan works well as a starting or ending point on a trip to Italy. You will need 2 days in Milan to see the major attractions and to get a feel for the city's beauty and its exquisite arts and culture scene.
Extend your stay in Milan to give yourself more time to see all of the places on the suggested Milan itinerary below, plan daytrips, or extend your stay to include more of Italy's most beautiful spots, like Lake Como or the Cinque Terre. With two days in Milan, you will be able to hit all of the "must-see" spots if you follow these tips below.
2 Days in Milan Itinerary
Note: This post contains affiliate links. If you click a link and make a purchase, I may receive a small commission. All opinions are my own.
Non-stop flights from the USA typically arrive in Milan in the early morning. However, connecting flights typically arrive in the early afternoon. If Milan is your first stop in Italy, you will need to adjust your Milan itinerary according to when you arrive and how much you can actually do on your first day while fighting off sleeplessness and jetlag. This itinerary is designed for a full 2 days in Milan on the ground.
Map courtesy of Google MyMaps
Day 1: Morning
Begin your visit to Milan at the Piazza del Duomo, at the heart of the Centro Storico or the historic center of Milan. I would recommend visiting the Duomo di Milano, Milan's awe-inspiring cathedral first. One of Europe's largest cathedrals, the Duomo di Milano is a gorgeous example of Italian gothic architecture that has been updated continuously throughout Italy's tumultuous history since 1386.
It is highly recommended that you purchase entry tickets in advance to skip the line and avoid crowding, or worse, to avoid getting shut out of a visit to the Duomo altogether. The tickets can be combined to include a visit to the rooftop of the Duomo, the Museo del Duomo (the Duomo Museum), the Archaeological Area, and the Church of San Gottardo. If you don't want to go inside, you can also just purchase a ticket to the rooftop terraces. There is an option to pay extra to take the elevator up to the Duomo rooftop instead of the stairs, though I found that it really was not a difficult climb up to the roof, so I think this is unnecessary if you are in good health.
To understand more about the history of the cathedral and the archeological area underneath, I would recommend booking a guided tour. These take about an hour-and-a-half and cover the entire area, including access to the terraces.
Like in most places in Italy, a COVID super green pass or equivalent is now required to enter the Duomo, so American tourists should keep their CDC certificate of vaccination on them at all times. Remember to always check on current rules before leaving for Italy. Also note that female visitors should refrain from wearing sleeveless tops or anything too short, lest they run the risk of getting turned away at the doors. Male visitors are technically supposed to follow modest dress rules as well (e.g., no shorts or tank tops), but thanks to the persistence of a double standard I found that the rule for men was generally not enforced (at the Duomo or elsewhere in Milan and the rest of Italy).
The rooftop of the Duomo is accessible on the left side of the Cathedral if you are facing the front, though I recommend saving the Duomo rooftop for the late afternoon. It is really magical to experience the golden hour or sunset (depending on what time of year you visit Italy) up on the rooftop. If it is a swelteringly hot summer day, though, going up to the roof in the morning right before or after visiting the Duomo's interior might be a good call.
After visiting the interior of the Duomo, you can hop over to the Museo del Duomo, included in most Duomo tickets. The Museo del Duomo contains some beautiful artifacts, like some of the Duomo's stained-glass windows, as well as descriptions of the history of the Duomo. The small and somber yet beautiful Church of San Gottardo is also accessible through the museum.
If you are not experiencing museum fatigue yet, you can visit either the Palazzo Reale Milano, which has some interesting exhibitions such as a collection of Tiziano's works beginning soon, or the Museo del Novecento, which is home to a collection of modern art from the twentieth century. The latter is located in the Palazzo dell'Arengario, a landmark that is a major remnant of Italy's unfortunate stint with fascism under Benito Mussolini. Just make sure you check the opening days and hours as these are both typically closed on Mondays.
Day 1: Afternoon
Enjoy lunch and perhaps gelato or coffee in or around the Piazza del Duomo. For something quick, Panzerotti Luini is one of the best places to sample panzerotti, a classic Milanese dish of baked or fried dough filled with various pizza toppings. For something more leisurely, the Quadrilatero della Moda (also known as the Quadrilatero d'Oro) is home to a variety of restaurants, including some of Milan's most famous and expensive, like Seta.
After some midday rest and recovery, take a walk through the rest of the Quadrilatero della Moda/Quadrilatero d'Oro— Milan's famed fashion district. Sleek Vespas line the streets of this area full of designer-brand stores selling famed Italian haute couture-like Gucci, Prada, and Valentino. Even if you are not in the budget to buy anything in this district, it is worth a walk-through.
From the Quadrilatero, make your way to the Galleria Vittorio Emanuele II, another one of Milan's majestic venues for shopping. Covered with glass windows and impressive, nineteenth-century frescoes, the Galleria Vittorio Emanuele II is one of the world's oldest shopping arcades, built between the 1860s and 1870s under the patronage of King Vittorio Emanuele II, the King of Sardinia and Piedmont who then became the first king of a united Italy in 1861.
Like the Quadrilatero, the Galleria also contains luxury brand retail stores, cafes, and restaurants. Shaped like a cross, with four entrances, one side opens onto the north side of the Duomo, while another leads to the streets of the Quadrilatero. After your visit to the Galleria, you can ascend the stairs to the roof of the Duomo using your combined Duomo ticket to marvel at the Duomo's breathtaking statues and enjoy a panoramic view of the Piazza del Duomo, the Galleria Vittorio Emanuele II, and the rest of Milan at golden hour. This is a fun, kid-friendly activity that might be a nice respite from a day full of museum visits and shopping.
Day 1: Evening
In the later afternoon or early evening, leave the Piazza del Duomo and the Quadrilatero to visit Teatro alla Scala — the La Scala Opera House, one of the world's most famous. Tours of the theater are offered during the day. If you decide to catch a performance, you will likely have to return later in the evening. Performances need to be booked well in advance on the theater's website.
Have dinner either in the Quadrilatero or around the Piazza del Duomo if you plan to watch a performance at La Scala or consider returning to closer to where you are staying for dinner. I stayed in Lazaretto, which has a good selection of restaurants, like Miscusi. Something important to keep in mind in Milan and throughout Northern Italy is that restaurants close earlier than they do in other parts of Southern Europe, including parts of Southern Italy but especially places like Spain and Greece. Restaurants almost all close by 10 pm, and some even close closer to 8 pm.
Where to Stay in Milan
Milan offers a massive selection of hotels at every price point and in many different neighborhoods. I suggest finding a hotel that fits your price point in a location that is convenient for you. When I stayed in Milan, I stayed in Lazzaretto, which is within walking distance of the Centro Storico as well as Milano-Centrale and Milano-Porta Garibaldi, which made accessing the top attractions as well as the major train stations easy.
Since I only had a few days in Milan, this location gave me easy access to transportation to and from the airport (I flew into Milan-Malpensa) and to other cities in Italy (I took the high-speed train to Bologna when I left Milan). The hotel I stayed at is called the Worldhotel Casati 18. This is a four-star hotel that is conveniently located if you want easy access to all the must-see places and transportation hubs.
Like in Rome, conveniently-located hotels can be pricey. If you are traveling to Milan as a large group or as a family then renting a property through Airbnb or VRBO might be more cost-effective and convenient for you. There are a variety or properties available for rent all throughout Milan at a range of price points.
Day 2: Morning
Begin your second day in Milan with a visit to the UNESCO World Heritage Site of the Convent of Santa Maria Della Grazie, another church complex in the heart of Milan famed for its fabled (though decaying) fresco of the Last Supper. Painted by Leonardo Da Vinci from 1495-1498, the fresco underwent a restoration completed in 1999, but it remains so delicate that visits to the refectory where the fresco can be found are heavily restricted.
This means that it is imperative to book visits to Santa Maria Della Grazie to see the fresco well in advance— preferably at least two weeks out. If you are not able to get entrance tickets, your best bet will be trying to book a guided tour online, as tour operators scoop up available tickets very early (plus you can learn more about what makes this fresco so important.)
When I visited Milan, the museum was observing strict social distancing and COVID-mitigation policies, so be prepared to prove your vaccination status and undergo a temperature check. Across the street from the convent is La Vigna di Leonardo, or Leonardo Da Vinci's Vineyard museum— also open to tourists.
If you are interested in visiting another church after Santa Maria della Grazie, consider paying a visit to the Basilica di Sant'Ambrogio, one of the oldest churches in Milan. Originally built in the fourth century A.D., the earliest components of the current structure dates from the ninth and tenth centuries. A gorgeous example of medieval, pre-Renaissance Italian Romanesque architecture, the Basilica gets just a fraction of the viewers that Santa Maria della Grazie does, thus making visits serene and peaceful.
The Basilica contains impressive paintings and frescoes. It is adjacent to Università Cattolica del Sacro Cuore, one of Milan's premier institutions of higher education. The university grounds are difficult for non-students to access but the outside of the complex is beautiful.
Day 2: Afternoon
Consider taking a picnic lunch to Parco Sempione, located behind Castello Sforzesco, or to the Giardini Indro Montanelli in the early afternoon. Both are nice places for families traveling with children to relax— they are serene locations where travelers can enjoy some green space and some quiet away from the hustle and bustle of Milan.
Pavé's selection of delicious, sweet or savory baked goods make for a nice meal to bring for the picnic. After you finish your meal and have relaxed and people-watched enough, visit the Castello Sforzesco complex and museum in front of the park, next to the Cadorna metro station. The castle itself, built in the fifteenth century, is stunning on its own— it really looks and feels like a castle from the medieval ages that you would read about in books or see in movies, making this a fun stop for children.
In addition to its architectural appeal, though, Castello Sforzesco also boasts an impressive collection of and fine arts, including one of Michelangelo's last works. In addition to its permanent arts collection, the castle also offers temporary exhibitions that can be viewed on its website. Tickets should be booked in advance, and it is worth noting that entry to Castello Sforzesco is free on the first and third Tuesdays of the month in the afternoons.
If time permits after Castello Sforzesco, you can try visiting another one of Milan's world-class museums. Admire famous paintings by Leonardo Da Vinci, Tiziano, and Caravaggio at the Biblioteca Pinacoteca Accademia Ambrosiana (the Ambrosian Library), as well as its famed reading room. Tickets need to be booked in advance.
You can also do this at the Pinacoteca Brera, located in the Brera District, and home to another impressive collection of medieval and renaissance art from Northern Italy. Tickets for the Pinacoteca Brera need to be booked online in advance. Free entrance will be available on select days during the summer months. The Pinacoteca Brera's website also offers fun, museum-related activities for young children.
If you still want to visit another museum but are tired of seeing medieval and renaissance art, try the Museo Archaeologico Civico, or the Civic Archaeological Museum for Greek, Roman, and Etruscan artifacts. The museum is situated in San Maurizio Convent on the grounds of part of the ancient Roman city wall of Milan when it was a settlement called Mediolanum. Some of the museum's older collections, like its ancient Egyptian collection, are on display at Castello Sforzesco.
If none of these museums interest you, you could visit the Cimitiero Monumentale, a massive, nineteenth-century necropolis with gaudy tombs and mausoleums. Of note, the cemetery contains a Jewish section that includes a memorial to Milan's Jews who were murdered (or martyred, according to the architects of the memorial) by the Nazis during the Holocaust.
Of course, I always find a good food tour is another excellent way to get to know a new city!
Day 2: Evening
If you are not exhausted from a day of art museums (or if you are and need a change of pace), try visiting the Navigli District with its picturesque canals or navigli, the construction of which began in the twelfth century. Leonardo Da Vinci engineered a system of locks for the canals in the fifteenth century, and thanks in part to his mastery, visitors to Milan today can enjoy this quaint neighborhood of artisanal shops, restaurants, and bars, as well as an Antique Market that takes place on the last Sunday of every month.
If you do not have time to head to the Navigli District, enjoy one last night out on the Piazza del Duomo before you return home or continue on to your next stop in Italy or somewhere else in Europe. Or, instead of leaving Milan entirely, consider making use of Milan's position as a railway transportation hub to take a day trip to somewhere nearby.
Day Trips from Milan
Italy's Lakes
Milan is an easy base for taking day trips, although staying in Milan for an extended period might end up being more expensive than staying elsewhere in Italy. However, if convenience rather than price is more important for you, then why not make use of Milan's location as an opportunity to take day trips to some of Northern Italy's pristine lakes, like Lake Como, Lake Lugano, or Lake Garda.
Access Lake Como by taking the train from Milano-Centrale (Central Station), Milano-Porta Garibaldi, or Milano-Cadorna to Lecco or to Como and then continuing on by bus or boat to some of the lake's most frequented spots like the picturesque town of Bellagio.
Take the train from Porta Garibaldi to Porto Ceresio to access towns in Italy or Switzerland on Lake Lugano. Lake Garda can be reached by taking the high-speed train from Milano-Centrale to Brescia or to Desenzano del Garda and continuing on by bus to towns on the water like Sirmione. You should be able to reach most towns on the lakes in less than two hours if you pick the fastest combination of train and bus or boat.
If you don't want to deal with the transportation headaches or wonder what to do when you get there, I'd recommend booking a day trip tour like one of the ones below:
Lombardia (Lombardy), Piemonte (Piedmont), Emilia-Romagna, and the Veneto
High-speed trains make access to gorgeous examples of Italian medieval, renaissance, and baroque towns and cities in and around Milan. Visit Brescia (36 min to 1 hr 8 min train from Milano-Centrale) or Bergamo (48 min to 1 hr 9 min from Milano-Centrale or Milano-Porta Garibaldi). Trains from Milano-Centrale or Milano-Porta Garibaldi to Torino (Turin) can take as little as one hour. Try a wine tour to the Piedmont region to sample some Barolo.
If you want to sample some of the delicious culinary specialties of Emilia-Romagna, arguably Italy's most famous region for gastronomic experiences, take the train to either Parma (famous for its cured meats and cheese), Modena (famous for its balsamic vinegar production), or Bologna (frequently hailed as Italy's food capital). All of these cities can be reached in less than one and a half hours from either Milano-Centrale or Milano-Porta Garibaldi.
Finally, one of my favorite cities in Italy, Verona, is also possible to visit as a day trip from Milan. Trains take under two hours and leave from Milano-Centrale. Verona is highly worth a day trip or its own visit if time permits.
Ligurian Coast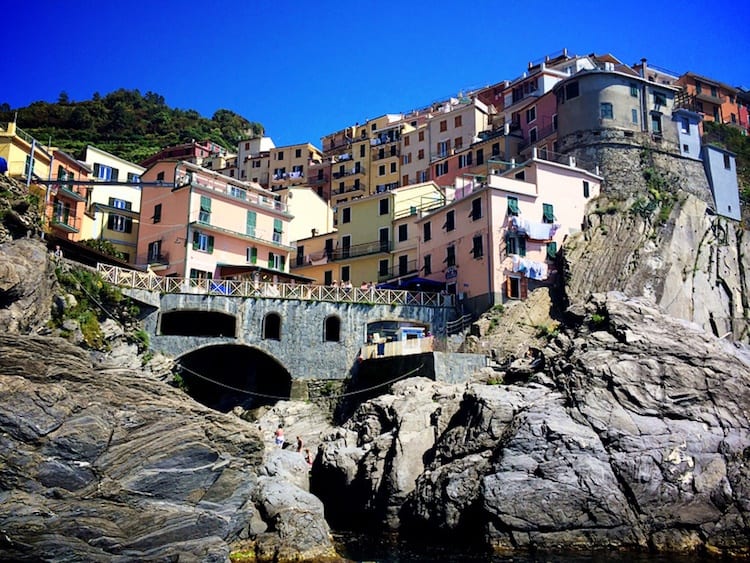 Italy's magnificent and romantic Ligurian coastline, commonly known as the Italian Riviera, is perhaps second only to the Amalfi Coast in its beauty. The seaside towns of Portofino, Rapallo, Levanto, and the largest of the Cinque Terre's five towns are all accessible by train from Milano-Centrale in three hours or less.
Trains to the Cinque Terre stop in Monterosso, from which you can continue on to the other four towns by regional train or on foot. Portofino is accessible from the train station at Santa Margherita Ligure by bus. While all of these places can theoretically be done as day trips, it might be worth spending more than just one day relaxing in some of the most aesthetically pleasing places on earth. If you are short on time, book a day tour to the Cinque Terre.
Getting to and from Milan
Milan is an ideal location to start or end a trip to Italy, or to other places in Europe, due to its position as a major national and international transportation hub in Northern Italy. Milan is well-connected to most major and many minor Italian cities and destinations frequented by American tourists by rail, bus, and flight. Milan has three main airports.
Milan Malpensa Airport is Milan's main international airport. It has flights to cities in Italy that are not quickly or easily accessible by train, like Naples, Bari and Brindisi in Puglia, Lamezia Terme in Calabria, and several cities in Sicily— as well as to Italian destinations that are not at all accessible by train, like cities on the island of Sardinia and Lampedusa. Many travelers to Milan originating in the United States will arrive at Malpensa Airport, as it is where all nonstop flights from the United States to the city land.
Currently, American Airlines offers nonstop flights to Milan from New York-JFK and Miami. Delta Air Lines and Emirates also offer nonstop flights between New York-JFK and Malpensa Airport. United Airlines offers a nonstop flight from Newark. In addition to these current routes, though, United is adding a nonstop from Chicago-O'Hare in May and Air Canada is adding nonstop service from Toronto-Pearson and Montreal-Trudeau in May as well, and Delta is adding a nonstop from Atlanta also in May.
ITA Airways, Italy's new airline that resumed many of Alitalia's routes after it went bankrupt last year, is beginning nonstop service to New York-JFK from Malpensa in April, and La Compagnie is adding nonstop, business class only service to Malpensa from Newark in April.
After landing at Malpensa Airport, the easiest way to get to the heart of Milan is by taking the train from one of the Malpensa Airport stations (which one will depend on which terminal the airline you book with operates from) to Milano-Centrale or Milano-Cadorna. Milano-Central is to the north of the Centro Storico, or the historic center of Milan, in a district where many hotels are found.
Cadorna Station is to the west of the Centro Storico next to Castello Sforzesco. Both Cadorna Station and the Central Station have adjoining metro stations, making much of Milan easily accessible from either station. Taxis can be hailed or booked in the Uber app as well, and might be cost-effective for families traveling together, but the trains in northern Italy are hard to beat. If you don't want the hassle of waiting for trains after your long flight, you may want to book a private transfer into the city for door-to-door service.
Linate Airport, located to the east of the city, also serves some short-haul domestic and international routes in Italy, continental Europe, England, and Ireland. Travelers might find themselves arriving at Linate Airport if they, for example, fly from the United States with Lufthansa and connect in the Frankfurt Airport.
Unlike Malpensa Airport, Linate is not situated conveniently on a rail line, so to get to the heart of Milan from Linate Airport, travelers will need to take a bus and/or taxi directly to their final destination in Milan. It is also possible to take public transportation or a taxi to Milano-Lambrate Station, Milano-Rogoredo Station, or Milano-Forlanini Station, from which travelers can continue on to one of the centrally located train or metro stations via rail or the metro (note, though, that Forlanini Station is not on a metro line). But the easiest thing if you aren't working on a very tight budget would be to book a private transfer.
Finally, Orio al Serio International Airport, or the Milan-Bergamo Airport, is located a significant distance away from the heart of Milan, just outside the city of Bergamo. The Bergamo Airport is used almost exclusively by low-cost carriers that offer flights to a variety of destinations in Europe, the Middle East, and North Africa. Getting to Milan from the Bergamo Airport requires a similar strategy to what travelers flying into the Linate Airport must do, as the Bergamo Airport is also not on a rail line. Buses from the airport will take travelers directly to the center of Milan or to the city of Bergamo, where passengers can continue on to Milan via rail, or you can opt for a private transfer.
High-speed rail also links Milan with cities outside of Italy including Zürich and Paris. Flying into Zürich from the United States and then taking the high-speed train to Milan is a decent option if doing so results in significantly cheaper airfare, depending on deals offered by Swiss.
Italy has two main railway companies. Trenitalia, the national railway system, offers high-speed, intercity, regional, and local services throughout the entire country. Italo, a private railway company, offers select high-speed services throughout Italy at prices that are often competitive with the high-speed services that Trenitalia offers.
Milan Travel Tips
Milan's metro only takes small bills (nothing larger than €10), so try to keep some change on hand if you plan to take the metro. Foreign credit cards are also difficult to use to get metro tickets
COVID-19 regulations and requirements can change quickly. Always carry your proof of vaccination on you (preferably in paper and in electronic form) and check testing for entry and exit requirements
Book everything you want to do online and in advance
It is not customary to tip in Italy other than maybe rounding up the bills at restaurants, as there is already a coperta or table cover added to your meal cost
Takeaway meal service and asking to pack up leftover food from restaurants to take home, once unheard of in Europe, are now commonplace in the pandemic era.
Most museums in Milan are closed on Mondays
Visiting Italy?
If you are planning a trip to Italy, here are some other articles that may help. If you need help planning your trip, I'm happy to introduce you to an Italy expert travel advisor.
About the Author, Max Levine
This guest post was written by Maxwell Levine. Max has been traveling ever since he can remember with his family. In recent years, he has been the one who plans vacations for his family and for himself, from researching airfare and railway tickets to crafting itineraries. Max has traveled a lot both in the US and internationally. He has also developed a penchant for writing. Max hopes to continue pursuing opportunities to travel and write both in college and beyond that.
Featured image courtesy of Canva. All other images are courtesy of Max Levine unless noted otherwise.
Save this to Pinterest