Today's guest post is written by my friends at The Roman Guy, a full-service tour operator offering many family-friendly private and small group tours throughout Italy. I have booked many tours for my trip planning clients with them and everyone has been happy!
There is a famous Italian proverb that says: "Chi va a letto senza cena, tutta la notte si dimena." This literally translates to "He who goes to bed without eating, will regret it throughout the night."
We all know the difficulties when finding the right places to eat on vacation. Each person has their preference in food, the kids want some kind of entertainment, and there are just so many places to choose from that you can't trust whether or not you are falling into a tourist trap!
The Roman Guy's local Rome experts are there to help. We have been eating our way through Rome for over a decade and have put together our list of family-friendly restaurants for in Rome.
Family-friendly Restaurants in Rome
Restaurants Near Spanish Steps
Da Michele – You can find this pizzeria actually inside the children's museum in Rome! The pizzeria was opened in Rome by a family who are known for serving one of the best pizzas in Naples. The difference between Roman and Neapolitan pizza is mostly the thickness of the dough. Here you'll get a great medium-doughy base from Naples with a variety of toppings to choose from. Make sure you grab an early lunch though, it's a popular one so there might be lines.
Address: Museo Explora dei bambini, Via Flaminia, 80/82 | Price: €€ | Hours: Mon-Sun 12:00-17:00, 19:00-00:00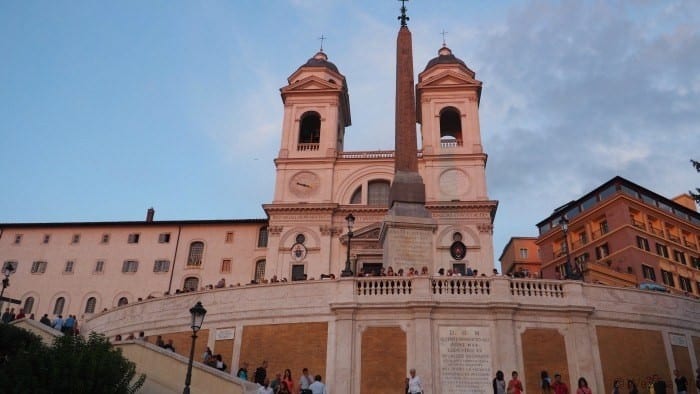 Restaurants Near Campo De' Fiori
Osteria da Fortunata – The women often make pasta in the window at this restaurant which means fresh food and great entertainment for the kids. Needless to say, you should order the fresh pasta here. You never know, this could be the moment in their lives they decide to be a chef when they're older!
Address: Via del Pellegrino, 11 | Price: €€ | Hours: Mon-Sun 12:00-01:00
Restaurants Near Piazza Navona
La Prosciutteria Navona – The motto of this place is – The "La Prosciutteria" is not a restaurant: it's a place where you can eat, you can drink, you can spend time with friends and family. You can be sure that this place serves only the best cold cut, dried and smoked Italian meat. The majority of their produce comes from Tuscany and you're family are served a platter of meats, cheeses and breads on a wooden board. Mum and dad can have some vino too as the kids chow down not he best panini in town!
Address: Via del Governo Vecchio, 21 | Price: €€ | Hours: Mon-Sun 11:00-00:00
Restaurants Near Colosseum
Trattoria Luzzi – This is our secret weapon for families looking for a good, honest, Roman meal that is also a good value. This paper tablecloth, lively and cheap pizzeria is probably as close to the local life your family will get while dining out in Rome. You can try local favorites like the fried rice balls (suppli), roman pizza (thinner than pizza in Naples), gnocchi (on Thursdays), pastas and stews. No fuss food for no fuss eaters.
Address: Via di S. Giovanni in Laterano, 88 | Price: € | Hours: Thu-Tue 12:00-00:00 | Web: www.trattorialuzzi.it
Restaurants In a Park
Vivi Bistrot – Situated in Rome's largest park, Villa Pamphilji, this Bistrot is a great place to grab some lunch before, after or even during playtime for the kids. Surrounded by plains of grass, your family can escape the city bustle during the day and have a relaxing meal outside in a historical park with the locals.
Address: Via Vitellia, 102 | Price: €€ | Hours: Tue-Sun 10:00-00:00 | Web: www.vivibistrot.com
Gelato!
Fatamorgana – For post dinner/lunch/breakfast treats, look no further than this artisan gelateria. Using only fresh ingredients and imaginative flavors and names (like snow white), the kids will go wild choosing their gelato flavor, and then….toppings!
Address: Via Aosta, 3 or Piazza degli Zingari, 5 or Via Roma Libera, 11 or Via Leone IV, 64-48 or Via Laurina, 10 | Price: € | Hours: 12:00-00:00 | Web: www.gelateriafatamorgana.com
For Fun!
Rome Food Tour – Taking a Rome Food Tour is a fun activity for teens or kids who love trying new food! In groups with a maximum of 10, your family will be led around two of Rome's foodie nieghborhoods, sampling your way through local cuisine. The local guide will introduce each food, provide the history of the dish and tell you why it's eaten today in Rome. Pizza, pasta, cheese, cured meats, fish, breads and gelato are all included, so no need to book a place for dinner afterwards!
Start time: 5:30pm | Duration: 3.5hours | Book online: https://theromanguy.com/tours/Rome/trastevere-food-tour
[plan-trip]
[/plan-trip]
PIN THIS FOR LATER
SaveSave