Assisi is one of those hill towns that popped onto my radar within the last year as I heard travelers describing it as one of their favorites in Italy. Since most American visitors tend to skip right over the region of Umbria on their way to Tuscany, I decided I needed get off the beaten path and visit Assisi on our recent trip. I knew that Assisi was the birthplace of St. Francis, one of the patron saints of Italy, however I didn't know any other things to do in Assisi.
The blogs I found online has lots of pretty pictures but not much useful information, so I wanted to share some of our discoveries. And of course, include pretty pictures, because with a town as picturesque as Assisi, nice pictures are easy to come by.
Assisi is located about 2.25 hours northeast of Rome and 2.25 hours southeast of Florence in the region of Umbria, near the city of Perugia. Because of its location, it is easiest to visit when you are staying in Umbria or Southern Tuscany, like Cortona or Montepulciano. Assisi is a UNESCO World Heritage Site because of the Basilica of St. Francis and other Franciscan sites.
Catholic pilgrims have visited Assisi for centuries, as it is is the birthplace and burial site of St. Francis. Even today, as you walk through town you will find priests in robes strolling side-by-side with tourists and pilgrims. However, you don't need to be Catholic to appreciate the quaintness of the town or the beauty of the architecture.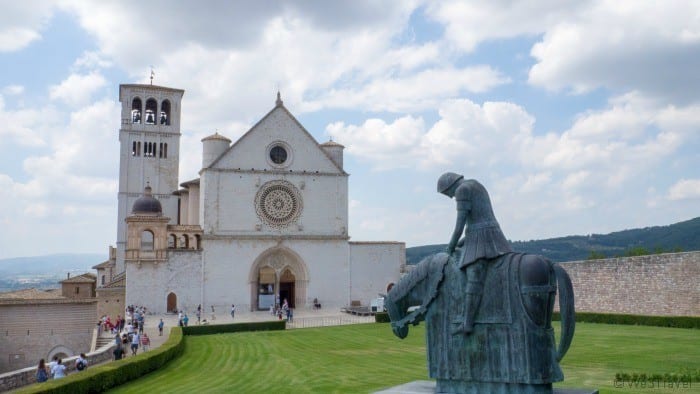 Getting to Assisi
If you are staying in either Rome or Florence, you can take a train to Assisi, but either direction will require a transfer. The train station is approximately three kilometers from the old city center. Therefore, once you arrive you will need to take a taxi or a 30-minute bus ride to the city center.
It is much more convenient to travel by car, if you don't mind driving through the winding, sometimes narrow, roads in Umbria. And don't be surprised if Google Maps takes you down some dirt roads. I can be helpful to look at a map to see if there is another route that may be two minutes longer, but keeps you off of the gravel roads that look like driveways. Driving in Italy is always an adventure!
As with all of Italy's hill towns, there are multiple parking lots outside of the city walls and some are actually quite larger, so finding a spot isn't a major challenge. While there are some spots to park within the city, I find parking outside the walls easier to navigate.
Since Assisi is fairly large when it comes to Italian hill towns (about a half hour walking end to end), I would recommend parking at one end or the other instead of in the middle. We parked at Porta Nuova, on the opposite end from the Basilica, at a paid parking lot and then took the escalator up to the city gate. Parking was not that expensive (about 6 euro for our stay of a few hours) and the cashier/kiosks take credit cards so we didn't need to worry about fumbling for coins.
Things to do in Assisi
Since Assisi is built on a hill, you can encounter some steep climbs during your visit, especially if you want to climb up to Rocca Maggiore, a fort that sits above the town. The alternative is to drive up to the fort and park, but if you are up for a walk, this is what I would recommend. Start your visit at Porto Nuova and the beautiful pin and white-striped Basilica of St. Clare.
From there, climb up to Rocca Maggiore. Trust me that the climb in this direction is easier than the one I took from the Basilica of St. Francis! After visiting the fort, walk down to the Basilica of St. Francis. Then you can walk back through town, stopping at the other churches and monuments, shops and restaurants as you go.
Basilica di Santa Chiara
The Basilica di Santa Chiara is named for Saint Clare, one of St. Francis' contemporaries and the founder of the Order of the Poor Clares. This 13th-century church is a beauty to behold. The soft pink and white striped building glows softly in the sunlight, supported by flying buttresses on the side. The piazza out front features a fountain and a beautiful overlook, making it a fun spot to hang out and people watch. (Note there are also public bathrooms off the piazza but you will need euro coins to enter.) Inside, you can see the Crucifix of San Damiano and the crypt where St. Clare is buried.
As you walk through town, if you look up you will see Rocca Maggiore looming over the city. Use Google Maps to route your walk through town and up to the fortress.
Rocca Maggiore
Rocca Maggiore is a 12th-century fortress that has guarded over Assisi for centuries. Inside, there is a small museum, although portions of the fortress are currently under construction and you can't enter those areas. To be honest, the view looking up at the fortress and the viewing looking down at the town and valley far exceed what is inside.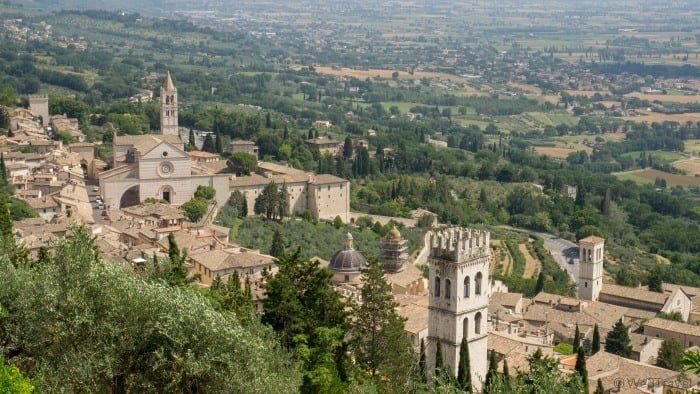 In fact, unless you really love to imagine yourself transported to the times of castles and knights, I don't think the inside is worth the cost of admission as there just isn't very much to see.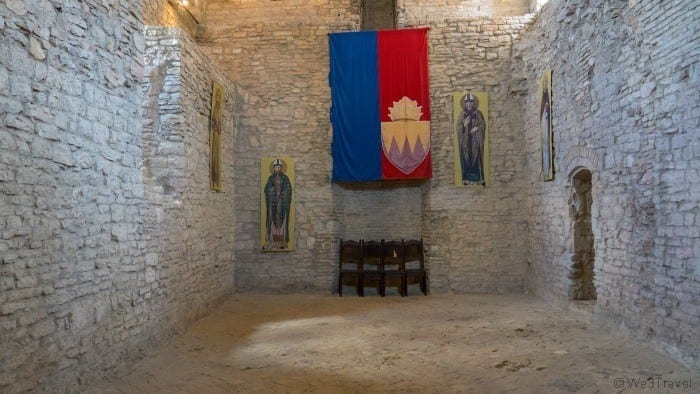 After you have spent time exploring the fortress, walk back down into town towards the direction of the Basilica of St. Francis. By now you will probably be ready for lunch, and there are plenty of restaurants serving up regional specialties including everything pork! You will see porchetta, cheeses, cured meats, plenty of truffles, and also norcino. Norcino refers to a way that meat is cured in the nearby town of Norcia, including boar sausages and prosciutto.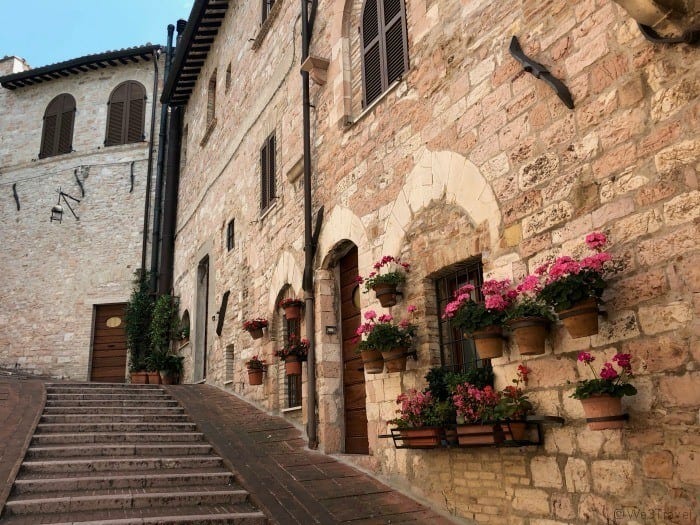 Many people have recommend Osteria La Piazzetta Dell'Erba, but we ended up at La Braceria di Assisi. Oddly enough, a place that serves hamburgers. But I was enticed in by the sidewalk menu promising cacio e pepe with truffles (a pasta made with cheese and pepper that I adore.) And inside it was not at all a burger joint. It was lovely and actually the only place we ate where we had to communicate solely in Italian.
Basilica of St. Francis
Of course, the main thing to do in Assisi is visit the Basilica of St. Francis. It is one of the most important places for Christian pilgrimages to Italy and a breathtaking sight to behold, especially from below as you approach the town.
The Basilica combines both the upper and lower churches, along with a large column-lined courtyard. The church was built in the 1200s, and started following St. Francis' death in 1228. You can enter at either the upper or lower church, but no photos are allowed inside. Also, visitors need to have their shoulders and knees covered.
The upper church, or Basilica Superiore, includes frescoes that depict scenes from St. Francis' life. In the lower church, or Basilica Inferiore, there are more frescoes as well as the tomb of St. Francis of Assisi. The lower church is much darker and plainer to reflect the values of the Franciscan order. When visiting, keep in mind that this is an important religious site and be quietly respectful.
In addition to visiting the churches, there is also an exhibit that explains the devastating impacts of the 1997 earthquakes that struck the area and destroyed many of the nearby ancient buildings and the vault in the Basilica. An audio/video guide is available for this exhibit for a fee.
Tempio di Minerva
After visiting the Basilica, walk towards the center of town and spend some time people-watching in the Piazza del Comune. You will find many groups gathered here for tours but there is still room to stop and enjoy a gelato.
The Temple of Minerva has the facade of an ancient Roman building, complete with the classical columns you would associate with Greek and Roman architecture. However, inside houses the Santa Maria Sopra Minerva church. You may enjoy the contrast of the ancient Roman outside with the ornate 16th-century architecture inside.
Here you will also find the underground Roman Forum. While there isn't a ton to see, it is easy to join a tour if you would like a break from the sun or the rain inside.
Before leaving Assisi, you may want to stop into some of the smaller churches, like Duomo di San Rufino, where you will find the fountain where St. Francis was baptized. Or, I thought the Chiesa Nuova was really pretty. Located near Piazza del Comune, this church supposedly is built on top of the childhood home of St. Francis.
When you leave, you may also want to stop in the town below Assisi to see Santa Maria degli Angeli (St. Mary of the Angels.) We didn't have time on our way to Montalcino, but we did drive by and it is gorgeous.
I'm glad we made Assisi a stop on our way from Orvieto to Montalcino. We had also planned on visiting Cortona the same day, but we ended up spending so much time in Assisi that we didn't make it. So don't short change yourselves – plan on a full day for visiting Assisi. I'll just have to save Cortona for next time!
Want local tips and personalized advice for your trip to Tuscany? Connect with Stefano from Go Ask A Local! He's a local guide, hiker, and sommelier based in Florence who works all over the region and offers trip planning consultations on Zoom.
PIN THIS FOR LATER
SaveSaveSaveSaveSaveSaveSaveSaveSaveSaveSaveSave