In my travel planning days, I advised many clients to break up the drive between Rome and Florence (or Tuscany) with a stop in Orvieto Italy. I finally had a chance to take my own advice on a trip to Italy and I truly fell in love with Orvieto. So if you are wondering is Orvieto worth visiting, my answer is…yes…and NOT just for a day trip!
This advice is especially true if you appreciate smaller towns that are not overrun with tourists (at least once day trippers leave for the day.) My goal on this trip was to avoid the crazy busy cities like Rome, Siena, and Florence, and focus on smaller villages and hill towns like Orvieto, Assisi, Montalcino, Pienza, and Montepulciano.
I found Orvieto to be charming, with enough to do that it deserves an overnight stay. The town was pleasantly buzzing, yet not too crowded. In fact, in the evening it felt like you were surrounded by locals, a rarity in many Tuscan towns.
Where is Orvieto?
Orvieto is in Umbria, a region in Central Italy between Rome/Lazio and Tuscany. It is located approximately 90 minutes north of Rome, two hours south of Florence, and 45 minutes from the precarious "dying" city of Civita di Bagnoregio.
The walled town is located high on a hill, situated on volcanic stone. I think Americans are so in love with Tuscany that they often overlook the beauty of Umbria, but there are many towns in Umbria that you shouldn't miss.
Getting to Orvieto
If you are traveling around Italy by train, Orvieto is located on the Rome-Florence-Milan line and is very accessible by train. Pro tip: when traveling around Italy by train, if you buy a ticket at the station, you need to validate the ticket at a validation machine before boarding the train. If you pre-purchase a ticket for a specific date/time with an assigned seat, you won't need to validate before boarding if you have the printout of your ticket.
You can also get to Orvieto by bus. The train station, bus station, and the funicular are all located in Piazza Matteotti in Orvieto Scalo, which is located at the foot of the rock hill upon which the historical city center is located.
If you are driving to Orvieto, the town is located just off of the A1 highway, which runs between Rome and Florence. When arriving at the city of Orvieto by car, you have two options. You can either park in a lot outside of the city walls and then take the escalator or elevator up to the medieval town. Or, you can park on the other side of town and take the funicular from the valley floor and walk about 10 minutes into the town center.
Where to Stay in Orvieto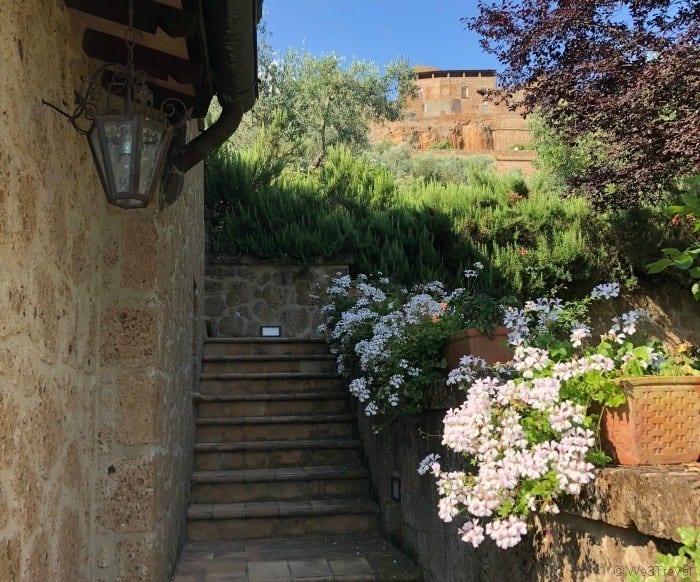 Note: This post contains affiliate links. If you click a link and make a purchase, I may receive a small commission at no cost to you.
If your visit to Orvieto will include an overnight stay, I'd recommend the Casa Selita Bed & Breakfast just outside of the city walls.
While it is outside the city walls, it offers the convenience of a parking spot and easy access to town. There is a path through their olive grove that brings you to the city walls and the elevator into the city center with just a five-minute walk.
The proprietors are delightful and the room is cozy, clean, and charming – not to mention very affordable. Rooms are spread throughout the various buildings on the property.
They are small, especially the bathroom, but they offer a luxury not always found in this region — air conditioning! Plus they included a delicious farm-fresh breakfast on the patio. This was such a find and a great value for what was provided.
Find other places to stay in Orvieto:
Best Things to do in Orvieto Italy
You can easily see the highlights of Orvieto in just one day, so a one-night stay is all that you need. However, if you just want to enjoy the town in the evening and take day trips during the day, by all means, enjoy a longer stay! However long you stay in Orvieto Italy, here are the things you shouldn't miss!
Orvieto Cathedral
The Orvieto Cathedral was my biggest surprise during our visit to Orvieto. I didn't expect to see such a large cathedral, with so many striking similarities with the Duomo in Florence. The stripes on the outside and the ornate entrance. All it was missing was the large dome.
Stepping inside, you are immediately awed by the height of the ceiling and the rows of columns offering it support. Trying to get the right perspective for a picture is certainly a challenge. The columns are lined with black and white stripes. With the striped columns, decorated ceiling, and stained glass ceiling, you won't know where to look first.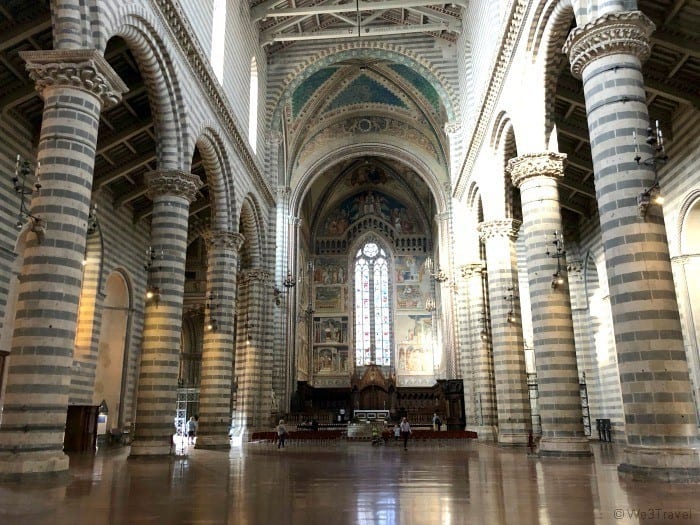 However, don't miss the Chapel of San Brizio, featuring Luca Signorelli's paintings of the Day of Judgment and Life after Death. It is a stunning work of art and easy to overlook given its location towards the front and off to the side.
St. Patrick's Well
In the 16th century, Orvieto served as a refuge for the pope. To ensure access to water during a time of the siege, he built St. Patrick's well (originally called the fortress well.) This well has two spiral staircases built in a double-helix design. It reminds me a bit of the well at Quinta da Regaleira in Sintra, Portugal.
Located in the fortress on the edge of town, visitors can climb down the well and toss in a coin, with a wish to return to Orvieto again.
Orvieto Underground
Underneath the city of Orvieto, there is a labyrinth of tunnels, caves, and grottos that date back to Etruscan times (a civilization that pre-dates the Romans.) Today, you can take guided tours of the Underground. Tours take approximately one hour and tickets can be purchased in Piazza Duomo, near the Tourism Office.
Wine Tasting
Orvieto is known for its white wines, including the Grechetto and Trebbiano grapes. The soil is rich in minerals, giving the wines a clean, crisp finish with a nice amount of complexity. There are many vineyards and wineries that you can visit outside of the city. However, with limited time, you may prefer to stop at one of the many enotecas (wine bars) in town.
Many, such as Bottega Vera, will offer flights of your choice. It is a lovely way to pass time sipping some delicious Orvieto wines and nibbling on a mix of cheeses, porchetta, and salamis, all featuring the region's truffles.
Town in the Evening
The town is really at its finest in the evening when the day trippers have departed and it is just the locals and those staying locally. The piazzas are full of life and restaurant tables line the sidewalks, but it is never too hard to find a reservation.
For dinner, stop in at Trattoria dell'Orso. Stop into Bar Montanucci for gelato or a pastry after dinner.
If you are a shopper, you won't be disappointed in Orvieto. There are plenty of shops offering fashionable clothing, leather goods, and handicrafts. Plus, there are plenty of shops that can supply you with local wines, cheeses, and meats.
A few are touristy but most are nicely curated and not the same brands you see everywhere. I found that especially refreshing! To me, a destination can be ruined by ubiquitous brands, especially American brands that you can find in any city.
I hope that you will arrange a visit to Orvieto, whether it is a short stop on your drive north or a longer stay.
VIsiting Italy? Read MOre:
PIN THIS FOR LATER
SaveSaveSaveSaveSaveSaveSaveSaveSaveSaveSaveSaveSaveSaveSaveSaveSaveSaveSaveSave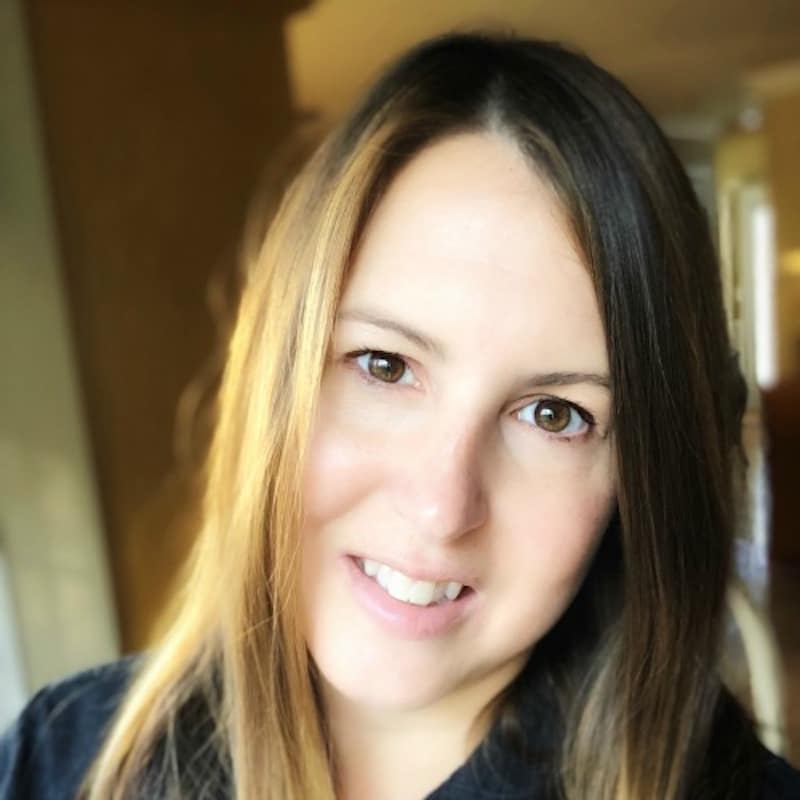 Tamara Gruber is the Founder and Publisher of We3Travel. A former marketing executive and travel advisor, Tamara is an award-winning travel writer and recognized expert in family travel. She is also the publisher of YourTimetoFly and the co-host of the Vacation Mavens travel podcast.