As much as we loved sipping the Vino Nobile di Montepulcianos on our Tuscany wine tour, we were staying in the town of Montalcino and ready to try some big, bad Brunellos. But there are over 200 producers of Brunello in the region. The question was, where to begin wine tasting in Montalcino?
We started off in town, pairing wine tasting with our meals to sample some of the finest Montalcino wines from big Montalcino producers like Banfi to smaller boutique vineyards. [By the way, I'd recommend eating at either All Logge di Piazza or Garrapolo Blu in Montalcino.] But we really wanted to dig into Montalcino wines at a vineyard.
If we were to do it again, we would take the Biodynamic Brunello wine tour with Tuscan Organic Tours, but instead we struck out on our own to the smaller, organic and biodynamic winery of Podere Le Ripi. Owned by one of the brothers of the Illy Coffee family, a lot has been invested into not only creating delicious Tuscan wine, but also an amazing wine tasting experience.
Wine Tasting in Montalcino
Note: Our wine and cheese tasting was hosted by Podere Le Ripi and Podere il Casale. All opinions are my own.
Podere Le Ripi
Podere Le Ripi is located on the edge of the Montalcino wine-growing region, very close to the famous Abbey of Sant'Antimo. The drive up to Podere Le Ripi was a bit nerve-wracking, on one of those narrow, winding dirt roads where you hope you don't run across anyone coming in the opposite direction. But when you arrive you are greeted with sweeping views of the Val D'orcia (Valley of the Orcia River.)
Unlike some other wineries, they have really invested in creating a wine tasting experience that rivals (or exceeds) what you might find in Napa, so American visitors will find it very welcoming. Reservations are required and each group is assigned a guide that stays with them throughout their time on the property, building a great rapport and enabling a real deep dive into wine education.
They offer wine tasting inside the tasting room, as well as out on the patio, which overlooks the valley and the river below. Immediately the environment gets you to relax and encourages you to linger and enjoy the view.
The tour starts out in the vineyards, where Le Ripi has done something unusual. They plant their vines closer together, to force the plants to drive its roots down deep to access water. This increases the complexity, like you might find in an old vine wine, without taking the years and years to get there.
One vineyard is packed in even tighter and trimmed in such a way that is unique to the industry. This is what they use to create their Bonsai wine, which is at the higher end of the price scale but actually not my favorite.
As with all vineyards in Montalcino, the focus is on the Sangiovese grapes used to create the Brunello di Montalcino wines. Some Brunellos use only Sangiovese, while Super Tuscans are a blend of other grapes. At Le Ripi, they use 100 percent Sangiovese and age their Brunellos for five years, including six months in the bottle, and Riservas are ages at least six years. The Rosso di Montalcino is similar but isn't aged as long.
After getting this education, we then moved on to the wine cellar. Again, you can see the investment and innovation in the cellar design. The owner is responsible for Illy design and his artistry shows throughout the winery. The wine cellar at Podere Le Ripi is a brick dome, which has been hand-laid without cement, as there are concerns about the long-term effects of the cement and what impact that may have on the wine. Again, the organic, biodynamic focus and desire to align production with Mother Earth is evident.
You descend a spiral ramp into the ground, feeling the temperature drop as you go. The main cellar is a showpiece, with an oculus from above providing light. I can see why people want to host weddings and events here.
After the tour, we moved on to the tasting room. We started off with their Toscana Rosso, which I thought was a very good red wine for what would be typically designated as a table or "very drinkable" wine. From there we moved through the Brunellos and Riservas, sampling different vintages of each, before finishing with the Bonsai.
The entire tasting experience was well paced, beautifully described, and very informative. Since we were there as part of the package that included lunch, we started with some delicious meats and cheeses to accompany our pairings. We then moved on to lunch, which is catered by the Michelin Chef behind the restaurant Silene. Based on that experience, we definitely want to seek out his restaurant the next time we are in Tuscany. We had a simple but delicious salad — what a difference it makes when ingredients are fresh and the olive oil is made on site! The main course was a vegetable lasagna unlike any we have had before.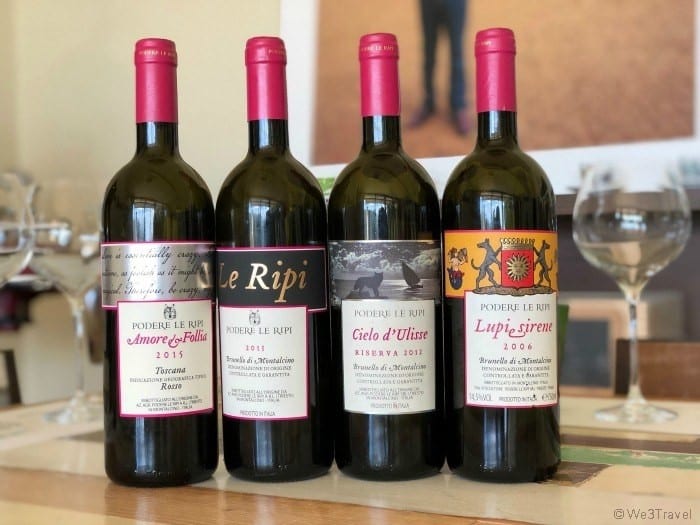 Podere Le Ripi offers not just great wine, but also a fantastic tasting experience and I'd highly recommend you add it to your plans the next time you are in Tuscany! I can't wait to relive it when the six bottles we purchased arrive this fall.
Podere il Casale
From Podere Le Ripi, we drove over to Pienza, for a Pecorino cheese tasting and tour. If you do this package, make sure you arrange a time for each tasting in advance so they are prepared to take you when you arrive. For example, you may want to stop in the town of Pienza first so you have room for your cheese tasting.
Podere il Casale is owned by a Swiss family, who came to the area decades ago in order to get more control over the food they were eating. They started an organic farm and it has grown tremendously over the years. They now have a full cheesemaking operation, they operate a restaurant year round, and they even offer cooking classes, truffle hunting, and cheese making demonstrations.
There is a full working farm on property with goats, pigs, and even a few peacocks (which the visiting kids just love!) While it is still very much a hands-on, family businesses, they also have interns from around the world working in the kitchen, dairy, and farm.
Podere il Casale is a popular spot for tourists to stop for lunch (reservations are required), not just for the food, but also the amazing views. Located on a hillside near Pienza, the patio offers sweeping views of the Tuscan landscape, including the old pilgrimage route and the road used in filming the movie Gladiator. You can also see the hilltop, walled village of Pienza across the hills.
When we arrived we were seated on the terrace and served up a glass of Rosé and a gorgeous cheese platter of the new and aged Pecorino cheese that Pienza is famous for, as well as some other home-made goat and sheep's milk cheeses.
Except for the flies, which were a bit of a nuisance, we couldn't have been happier sitting there and enjoying the view while nibbling on all these tasty cheeses. To me, this is a big part of what visiting Tuscany is all about.
After gorging ourselves on cheese, we joined the owner for a tour of the farm and dairy. Visiting in the early summer is a fabulous time because you will get to see baby goats and piglets.
In addition to visiting for a meal on the terrace or indoor restaurant, guests can also pitch a tent and stay a while. The farm has eight campsites with bathrooms, showers, and drinking water. Just be warned that the campsites are near the animal pens so you may want to hope you are downwind!
If you do visit, I would encourage you to plan on spending half a day and sign up in advance for either the cooking class, tasting tour, or truffle hunting (for sure I want to do that when we return!)
This was truly a fabulous day in Southern Tuscany and if you are staying south of Siena, it makes a great day trip to this region.
[plan-trip]
[/plan-trip]
PIN THIS FOR LATER
SaveSaveSaveSave
SaveSave