Italy's five seaside towns, known as the Cinque Terre, are nestled along the rugged Italian Riviera. Located between Genoa and Pisa in northwest Italy, these fantasy-like UNESCO World Heritage List towns appeal to all senses. They also appeal to masses of travelers — which is why you need to follow these Cinque Terre tips to get the most out of your trip.
We spent four glorious days exploring all five Cinque Terre towns. Some people will try to squeeze a visit to the Cinque Terre all into one whirlwind day trip from Tuscany. Don't do that! Spend a few days so that you can check this dreamy national park off your bucket list and add relaxation to your Italy trip.
Whether you aspire to hike and swim, learn to cook and eat, sunbathe on the beach, photograph colorful towns, or just wander, Cinque Terre delivers.
Planning a Trip to the Cinque Terre
I recommend picking one or two Cinque Terre villages as a home base for your stay and taking day trips to the others. With a quick train ride between towns, you can easily explore several spots in one day.
Below are some tips to introduce the five villages and help you plan your itinerary. If you have limited time, I'd focus on Manarola, Riomaggiore and Monterosso al Mare, but here is everything you need to know about Cinque Terre.
Whatever your itinerary, chat with friendly townspeople and ask around if there are any local events that you can join…we ended up at an uber-fun seaside rave in Monterosso al Mare and a quirky dance festival in Manarola based on our conversations with locals!
Monterosso Al Mare
Crave relaxing on a sandy beach, shopping in specialty boutiques, and choosing from a variety of restaurants and bars? The northernmost village of the five, Monterosso al Mare, checks all the boxes.
As you emerge from the train station, you enter the newer part of town which resembles a tropical resort with a sea of colorful umbrellas. Spending time on the beach is free, but you will pay a fee to rent the chairs and umbrellas.
We spent a lazy morning reading our books while relaxing on the sun chairs, wading in the sea, and people-watching. Follow your nose to the tempting smells emanating from a little stand selling cones of fried fish and seafood.
The mainly flat terrain of this spread-out town stands out in comparison to its smaller steeper sisters. Make your way to the older section of town where the locals live. Depending on the time of day, you may stumble upon a market, watch a street performer in the main square or sit at a neighborhood cafe among locals.
Spend a few hours shopping along the side streets peaking into tiny stores full of regional products such as pesto, olive oil, wine, and ceramics.
When evening comes, you will want to start your night with an aperitif at Torre Aurora. Torre Aurora serves up signature cocktails accompanied by a chopping board of small delicacies. The view is spectacular and sets the mood for the night.
For dinner, head to a cliffside table at L'della Tortuga (pre-book one of the few cliffside tables for this unforgettable experience.) This is a top spot to watch the dramatic sunset while dining on Ligurian meat and fish specialties.
Other places to eat:
For dinner with delectable local cuisine, we adored L'Osteria. The owner made us feel at home. A stand out for us was the towering platter of mussels.
The local specialty focaccia is tasty and so cheap! We pigged out on multiple freshly-baked servings on our two visits to hole-in-the-wall, Focacceria Il Frantoio.
Vernazza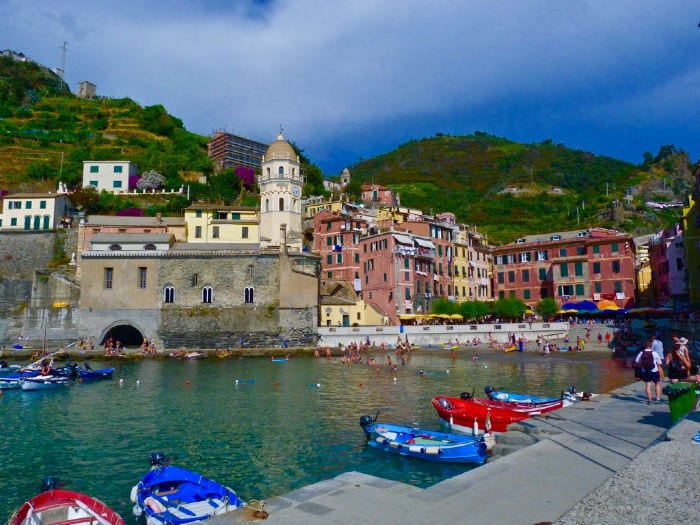 Often called the colorful jewel of Cinque Terre, Vernazza's postcard setting includes castle ruins, a busy waterfront, and a picturesque natural harbor. Find your way to the tiny sandy beach, which will likely be jammed full of sunbathers.
Vernazza's main square offers a variety of restaurants and bars. Check out the church of Santa Margherita d'Antiochia, whose bell tower will catch your eye. Climb Doria Castle's steep stairs to be rewarded with a breathtaking view of Vernazza, the water and the lush vineyards. Pass time in the harbor watching daring cliff divers.
Places to eat:
Top-rated Ristorante Belforte close to the Doria Castle is known for Ligurian recipes and spectacular views.
Corniglia
We allocated a few hours to portless Corniglia, the oldest and smallest of the villages and right in the middle of the five towns. This town is full of history and artifacts from Corniglia date back to the Roman Age.
Quiet Corniglia tends to have the fewest tourists. Upon arriving via train we were faced with a choice on how to reach the center of town – set out on a difficult climb up 350 steep steps or line up to crowd onto the shuttle bus.
Once in town, we wandered down Via Fieschi and explored the winding narrow alleys that transported us to a simpler time. We chatted with some friendly shop owners and picked up some local souvenirs.
Next, we peered over St. Mary's Terrace for panoramic sea vistas. The 14th-century Church of St. Peter is located in the main square and features a white marble rose window.
This sleepy community tempts you to join the locals sitting outside enjoying a glass of its famous white wine of Vernaccia di Corniglia dating from the 1300s. Take a granita and gelato break at the artisanal Alberto Gelateria tucked in a small alley off the main square. We loved indulging in the unique flavors based on local ingredients such as basil, honey, and peach with rosemary.
If you are pressed for time, you can skip Corniglia.
Manarola
DISCLAIMER: Lisa and her daughter were provided with one complimentary boat tour so that she could try it and review it for your information. All opinions are her own.
Quaint, and laid-back, Manarola features stunning hillside vineyards, weather-worn homes hanging off cliffs, charming shops, foodie spots and a lively waterfront.
Manarola's town center has a gothic church and a bell tower that looms over the square. Locals and tourists alike gather around the blue clear water that makes up the harbor's natural swimming area. Join the sunbathers lazing on rocks or take a refreshing dip. You can spend hours cheering on local rock jumpers and cliff divers!
For a bird's-eye view of this magical village, embark on a small hike through Manarola's terraced vineyards.
The highlight of our time in Cinque Terre was our sunset cruise captained by charming Manarola native Daniele, who owns Enjoy Cinque Terre.
Daniele was the perfect host of our voyage along the magical Cinque Terre coast. He narrated our boat ride mixing in history, culture, lore, and our favorite….his personal tales of growing up in this region. We enjoyed meeting the other guests while toasting our vacations with unlimited wine and beer (included in the price).
With a brief stop in Monterosso al Mare to stretch our legs and take some pictures, we relaxed as the sun set, listening to beautiful music and occasionally (when lucky) being serenaded by Daniele. Whether you opt to take a ferry or a private boat ride, a "must-do" while in this area is to experience the five towns from the water.
Places to eat:
No trip to Manarola is complete without a visit to the top-rated Nessun Dorma, on a balcony overhanging the rocks with the most amazing views. Nessun Dorma is the place for delicious locally sourced appetizers, lunch, dinner, and drinks (I recommend their famed Aperol Spritz, "summer in a glass"). For those who want to learn to make this region's specialty, pesto, Nessun Dorma is famous for its popular outdoor classes.
A highlight of our time in Cinque Terre was dining al fresco in the square at da Aristide. Under the stars, we relished our seafood pasta brimming with shrimp, mussels, clams, and calamari. To top off an already perfect evening, we watched locals dancing to the sounds of musicians in the square.
Riomaggiore
The southernmost village of the Cinque Terre, Riomaggiore, was founded in the 8th century by Greek refugees. Exploring Riomaggiore feels as if you are walking onto a movie set. Wind your way past weathered pastel buildings down a steep incline into a compact harbor filled with traditional fishing boats.
As soon as we stepped off the train, we stumbled upon Bar e Vini a Piè de Mà, a casual wine bar and restaurant with a tempting outdoor terrace serving casual fare with a dramatic cliffside view. And just a few steps away you'll find a place to affix your own love lock to the gate by the start of the famed "The Way of Love" (currently closed due to a rock slide).
Grab a gelato with one of the world's best views at Gelateria Il Porticciolo. We delighted in our afternoon spent in this slice of paradise. Be on the lookout for wall murals depicting the lives of local farmers.
Slowly meander through this traffic-free town to the edge of the water and look back….it will take your breath away. While we left this village before dark, this town is known for having some nightlife.
Cinque Terre Tips to Follow
Where to Stay in the Cinque Terre
After hours of research, we decided to spend two nights in Monterosso al Mare with its wide variety of restaurants and the most happening nightlife of the villages, and one night in Manarola. Monterosso al Mare offers the widest range of places to stay.
Monterosso's 30-room Hotel Margherita is well-located in the middle of shopping, restaurants and close to the water. The compact rooms are clean and well-air conditioned. The airy lobby and terrace are a gathering place for hotel guests. We enjoyed their modest breakfast buffet in the morning.
Manorola's small family-run Hotel Ca' D'Andrean lived up to its stellar reputation. Our top-floor room with a tremendous balcony that overlooked the town and the mountainous vineyards wowed us! With powerful air-conditioning, the most gracious and helpful host, and modern rooms, we felt right at home. Our outdoor classic Italian breakfast in the garden attentively served by the host was a treat. We also enjoyed the hotel's guests-only lounge with a fireplace and bar.
When to Visit the Cinque Terre
Cinque Terre abounds with tourists all year round. It's impossible to avoid crowds unless you visit off-season. Spring and fall offer the most pleasant climate and fewer crowds. June, July, and August are the busiest and can be extremely hot.
I recommend staying over for several nights so you can savor the calm of the early morning and evening hours when the daytrippers leave town. Experience the magical golden hour with the colorful buildings glowing as the sun sets, and the blue water shimmering.
Packing for the Cinque Terre
The sun is strong so don't forget sunscreen, sunglasses and a hat.
The beach and the swimming areas can be rocky so pack some water shoes.
Some smaller shops only accept Euros instead of credit cards.
Pack your sneakers or hiking boots. These towns require walking up and down some steep hills, and there are trails between villages.
Getting Around the Cinque Terre
Hop on the local train to reach all five villages. Consider whether the Cinque Terre Trekking Card (granting access solely to footpaths) or the Cinque Terre Train Card (granting access to both hiking trails with unlimited train travel on the Cinque Terre trains) makes sense for your crew. Paying for each train ride was the most economical for us. For those who like to hike, check which trails are open before planning your route.
The Cinque Terre Cards can be purchased at the information desks at train stations in Cinque Terre, as well as in the surrounding cities of Levanto and La Spezia.
Once you arrive in town, check the schedule for departure times later in the day.
While Cinque Terre is not car-friendly if you are arriving via car consider making Monterosso al Mare your base which has the cheapest parking. Most towns do not allow thru traffic.
A cheap option to see the five towns from the water is the ferry boat which runs from Monterosso al Mare or Riomaggiore.
Find out more on the official website.
About the Author
This guest post was written by Lisa Grabelle. Lisa, a travel writer for Hilton Suggests, has been traveling all her life…30 countries and loving it! Originally from the sunny skies of Miami, Lisa, a former lawyer, lives near Philadelphia with her husband and two daughters. Lisa willingly traded in billing hours for being a full-time mom and volunteer for her alma mater, the University of Pennsylvania. But travel is her passion. As soon as one vacation ends, Lisa busily plans her next adventure for her non-stop family of adventurers. Lisa's motto is "don't just visit the destination…live it!" You can follow Lisa on Twitter or Instagram.
PIN THIS FOR LATER