A trip to Tuscany is not complete without time spent sampling the region's most renowned wines. Sure if you are staying in Florence, it is easy to arrange a day wine tasting in Chianti. However, if you are staying closer to Siena, or you want to get further off the well-trod tourist path, it is time to turn south to the rolling hills and picturesque landscapes of the Val d'orcia on a Montalcino wine tour.
On a recent trip to Tuscany, we took a wine tour with Tuscan Organic Tours to sample Vino Nobile di Montepulciano and explore the charming town of Montepulciano and surrounding countryside. You know how every vacation has one day or one activity that just stands out from everything else — something you talk about for years? That was our wine tour with Tuscan Organic Tours.
We learned so much from our guide Giacomo, not just about the wines and the producers we were visiting, but also about the history of the region, its agricultural heritage, and the emergence of Italy's slow food movement. It was a red letter day from the company, to the wine, to the delicious food.
Montalcino Wine Tour
This post is part of a paid partnership with Tuscan Organic Tours, Podere Le Ripi, and Molino di Sant'Antimo, but I wouldn't recommend them if I didn't have a direct, positive experience with this company. All opinions are my own.
Given our fantastic experience with Tuscan Organic Tours in Montepulciano, I was excited to learn that they recently introduced a new Brunello wine tour.
We actually stayed in Montalcino on our recent visit and fell in love with this quiet, medieval hilltop town that seemed untouched by the typical tourist throngs you see in Orvieto, Assisi, or even Pienza. But we also fell in love with the Brunello di Montalcino wines.
This tour dives deep into the Brunello di Montalcino, another varietal derived from the Sangiovese grapes (as are Chianti and the Vino Nobile di Montepulciano), but is only produced in the region surrounding the southern Tuscan town of Montalcino.
This Montalcino wine tour is perfect for anyone staying in the area around Siena, making for a full day of wine tasting, sight seeing, and delicious food without terribly long drives.
What to Expect on this Brunello Wine Tour
The day starts off with a pick up at your accommodations in a luxury, 9-seater van with your English- (or Italian, French, or Spanish) speaking guide. For the next seven to eight hours, you will:
Take a guided visit of Podere Le Ripi, a biodynamic winery, exploring the vineyards, cellars, and finishing off with a vertical terroir wine tasting.
Continue to Molino di Sant'Antimo for a guided tour of the wine cellar followed by a delicious homemade lunch paired with a selection of wines.
After lunch you will pay a visit to the famous Abbey of Sant'Antimo.
At the end of the day you will visit Montalcino for a short guided-visit before returning to your accommodations.
There are options for either a standard or deluxe tour. The standard tour includes a terroir tasting at Podere Le Ripi and three wine at Molino di Sant'Antimo. The deluxe tour includes the higher end wines at each winery, including a vertical tasting of the Bonsai label wines at Podere Le Ripi and four top wine at Molino di Sant'Antimo.
Doesn't that day sound dreamy? This tour offers the perfect blend of history, food, and, of course, wine. You will drive through valleys where you will find fields of sunflowers, through rolling hills, and past lines of cypress trees with views seemingly pulled directly from a postcard.
Podere Le Ripi Biodynamic Vineyard
We also visited Podere Le Ripi on our last trip to Tuscany and I'm so glad to see this fabulous experience included in this Montalcino wine tour. Founded by Francesco Illy, from the famous Illy espresso coffee maker family, everything about the winery speaks to the goal of harmony.
You also see Francesco's strong design hand (he is responsible for the marketing side of Illy) in the beautiful tasting room, on the labels, and most prominently in the construction of the wine cellar. The Golden Cellar is built using only ancient construction techniques, incorporating the Golden Ratio of natural clay bricks and mortar made of lime.
Found in architecture since the age of Stonehenge, this divine ratio was used to build a wine cellar that "breathes" properly. Today, this dome-shaped wine cellar spirals gently downward with giant barrels marking the way. At the bottom, you will find an interactive display, lit from the sun shining through the oculus at the top of the dome.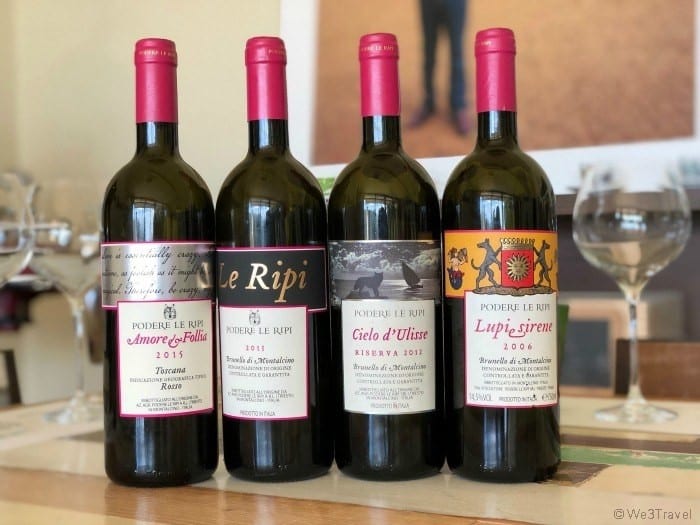 The privately-guided tour visits both the cellar and the vineyards, where you will learn about the unique techniques used to get the very best from the soil.
The visit concludes with a tasting in the tasting room or on the patio overlooking the rolling hills and valley. The terroir tasting included in the standard tour works its way up from the Rosso di Montalcino, through the Brunello di Montalcino, to the Riserva and even a Supertuscan.
Tuscan Garden Experience at Podere Le Ripi
Podere Le Ripi considers every aspect of its land and the creatures that inhabit it, from the smallest bee to the Chianina cow. To allow others to experience the deep sense of place and rich history of Tuscany, Podere Le Ripi also offers a Tuscan Garden Experience.
This is a great hands on, family-friendly activity allows even city slickers to get their hands dirty picking vegetables, interacting with farm animals, and learning the true meaning of farm to table cuisine. Your outdoor activity is rewarded with a wine tasting!
This learning experience is not included in the standard Brunello wine tour, but could be added or booked separately.
Molino Di Sant'Antimo
The second tasting on the Biodynamic Brunello wine tour is at the organic winery of Molino di Sant'Antimo. Started in the 1980s by Carlo Vittori on an abandoned scrap of land, this vineyard has been meticulously cultivated and the farmhouse loving restored to now serve as both winery and family home.
The farmhouse overlooks the Val D'Orcia and the vineyard benefits from the wind blowing in the smell of the sea and the coast. Today, the winery produces highly-rated Brunello di Montalcino, Brunello di Montalcino Riserva, Rosso di Montalcino, and a Chardonnay and Merlot-Tuscan blend.
After a behind-the-scenes tour, you will sit down to a home-cooked, three-course, farm-to-table lunch along with wine pairings from Molina di Sant' Antimo's cellar. After a meal prepared by an Italian mother and topped off with delicious wine, you may never want to leave.
Abbey Sant'Antimo
Of course the day does continue on, with an opportunity to see some of the most iconic sites of the area. My one regret from our previous trip to this area was not having enough time to stop at the famous Abbey Sant'Antimo to hear the Gregorian chants.
Full of mystery and graceful beauty, this Romanesque 12-century abbey stands like a landmark amid olive groves and fields of wheat. Legend has it that the abbey was founded by Charlemagne after stopping there when returning from Rome when his soldiers had fallen ill. The story says that an angel appeared to Charlemagne telling him and his men to drink an infusion with a local herb. Since the cure work the King repaid this kindness by building a church.
Montalcino
The last stop on the tour is the hilltop town of Montalcino. Once a satellite fortress to the city of Siena, in 1559 the Medici troops conquered this last bastion of resistance to the power of Florence and unified Tuscany.
You will have time for a short-guided visit or a chance to explore the charming cobblestone streets and alleys on your own, including the main square, Piazza del Popolo. Just keep in mind that even within town, the streets can be a bit hilly so you will have a chance to work off some of that delicious lunch as you explore.
You may be tempted to nap on the drive back to your accommodations, but if you like, your guide will tell you more about Montalcino, Brunello, or the surrounding areas in Tuscany. You may even be inspired to book another wine tour!
Why Book with Tuscan Organic Tours
The focus of Tuscan Organic Tours is providing a private experience and visiting those smaller, family-owned wineries that focus on organic practices and traditional techniques. Don't even think about joining one of those bigger tours that pop into the large, commercial wineries.
If you appreciate fine wine, good food, and support local agriculture and tourism, booking a wine tour with Tuscan Organic Tours is 100 percent the way to go.
Tuscan Organic Tours also offers wine tours in other regions, along with food tours that include goat cheese, Pecorino di Pienza cheese, saffron, pasta, olive oil, and "hidden Tuscany." You can learn more about all of these tours at Tuscan Organic Tours and don't forget to tell them you heard about them on We3Travel!
Photos are courtesy of Tuscan Organic Tours, Podere Le Ripi, and Molino di Sant'Antimo unless otherwise indicated.
PIN THIS FOR LATER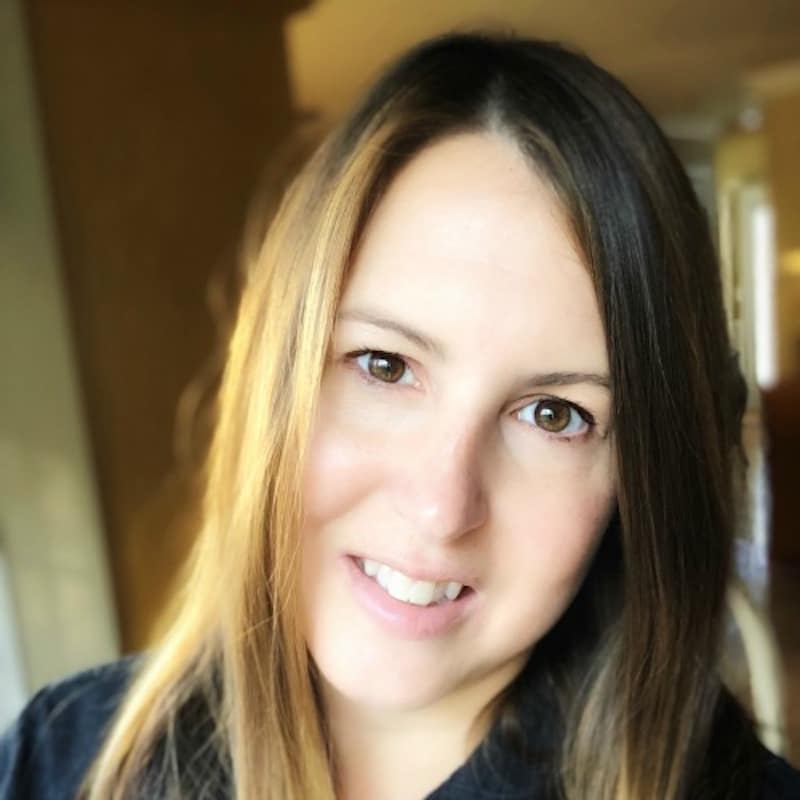 Tamara Gruber is the Founder and Publisher of We3Travel. A former marketing executive and travel advisor, Tamara is an award-winning travel writer and recognized expert in family travel. She is also the publisher of YourTimetoFly and the co-host of the Vacation Mavens travel podcast.