Wondering what to do in Madrid with kids? As the capital of Spain and largest city, there is so much to do in Madrid with kids that you'll have trouble squeezing it all in.
Madrid was the last stop on our tour of Spain, after having already gone to Barcelona, Seville, Ronda, and Granada. The flight from Granada to Madrid was only an hour and under $100 per person on Vueling. Since we were staying for five days, and using the city as a home base to explore Segovia and Toledo by train, we rented a two bedroom apartment using Homeway just steps from the Puerta del Sol metro station and plaza, which is one of the busiest and best known places in Madrid.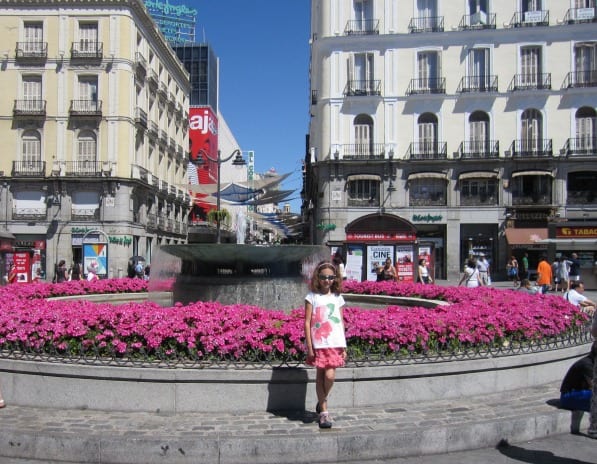 What we didn't know at the time was that it is also a central gathering place for demonstrators and Carretas, the street where the apartment was located, was a thoroughfare for demonstrators marching to the square. Because of the high unemployment rate in Spain and unpopular government policies, there were demonstrations all except our first night in Madrid, causing us to eat early and remain inside to stay away from the fray. The first night of demonstrations we didn't know what was going on because we obviously hadn't been watching any TV or reading Spanish newspapers. But when we walked through the square and saw riot police lined up we knew something was up and quickly cut through to the apartment. All night long we heard shouting and explosions — it was quite disconcerting and not what we expected in a European capital. Luckily all was fine in the daytime and we were too tired by this part of the trip to be out late at night anyway.
After catching up on some laundry (and breaking the washing machine trapping our necessities inside), we set out to explore the neighborhood. Despite my earlier warning, this really is a great area to stay because you are close to so many things…shopping, restaurants, Plaza Mayor, Plaza de Oriente, Palacio Real, and Plaza de Espana are all within walking distance so we set out to explore.
10 Things to do in Madrid with Kids
1. Plaza Mayor – One our first evening, we went to Plaza Mayor, before wandering over to Plaza de Oriente for our reservations at Cafe de Oriente. Plaza Mayor reminded me a lot of St. Mark's Square in Venice, with surrounding cafes, street performers, and just a few less pigeons. We continued on, past the Opera House, and then spent some time wandering around Plaza de Oriente, near the Palacio Real, while waiting for the sun to set so that we could eat outside without it being too bright or too hot.
Dinner at Cafe de Oriente was good, but a bit pricey. My daughter definitely developed expensive tastes on this trip but I also really didn't want to say no when she wanted to try new things. The atmosphere was great in the warm evening area and the open air cafe gave her plenty of opportunity to continue to count dogs, which she was tallying in her travel journal.
2. Puerta del Sol – On the way home, we hung out in Puerta del Sol, where that night the crowds had gathered for fun, with mariachi bands and street performers galore (just keep a tight hold of your purse/wallet). We finally arrived back at the apartment around midnight.
3. Churros y Chocolate – Since we were out so late the night before, we got a late start the next day. After all, sleep is more important than hitting every attraction, right? We were hungry and decided to seek out the much acclaimed Chocolateria San Gines. We followed our noses up the Passage San Gines and quickly found the place that so many people had told us about. Chocolateria San Gines is like Cafe Du Monde in New Orleans, a trip isn't complete without at least one stop here. It is open 24 hours so if you go to Madrid, visit here and visit often. The hot chocolate is thick, like a cup of chocolate sauce. It doesn't matter how hot it is, you'll still want to try this delicious concoction. If not to drink, then just to dip in your delicious churros. Unlike the churros you may have had in Mexican restaurants, these crispy, warm strips of fried dough goodness are soft and springy and utterly delicious. We usually (note I say usually because we stopped here at least 3 times in the 5 days we were in Madrid) got a batch of six with one cup of hot chocolate for dipping and each gobbled up two (ok, I may have eaten more.)
4. Palacio Real – After filling our bellies, we headed back to Plaza de Oriente to tour the royal palace (Palacio Real.) After seeing the gothic cathedrals in Barcelona and Seville, and the Moorish influences in Seville and Granada at the Alcazar and the Alhambra, the Palacio Real was a major shift in architecture and style. Here you see the French and Catholic influences in the more elaborate decor. Unfortunately you can't take photographs inside so the rest will have to remain in our memories.
5. Plaza de Espana – We considered visiting the Madrid cathedral across the street but decided we had seen enough churches for the time being. Instead, we walked up to Plaza de Espana. We were planning on going to Casa Mingo for family-style chicken for lunch but got too hungry and instead stopped at a Subway-like place for tiny bocadillos (sandwiches). Plaza de Espana doesn't seem like it is the cleanest or safest part of town, but we did have fun posing by the giant statue of Don Quixote and Sancho Panza. Since we weren't going to La Mancha this trip, this was a close as we could get to reliving the escapades of this unlikely pair.
6. Cybele's Fountain, Prado Museum & other museums on Paseo de Prado – From Plaza de Espana, we took a welcome seat on the Metro over to Paseo de Prado. Clearly this is the "fancy" part of town. Walking down Paseo de Prado, admiring Cybele's Fountain and the broad thoroughfare with museums on either side could be a day's excursion in itself. Since we only had time for one, we spent the next three hours exploring the Prado Museum.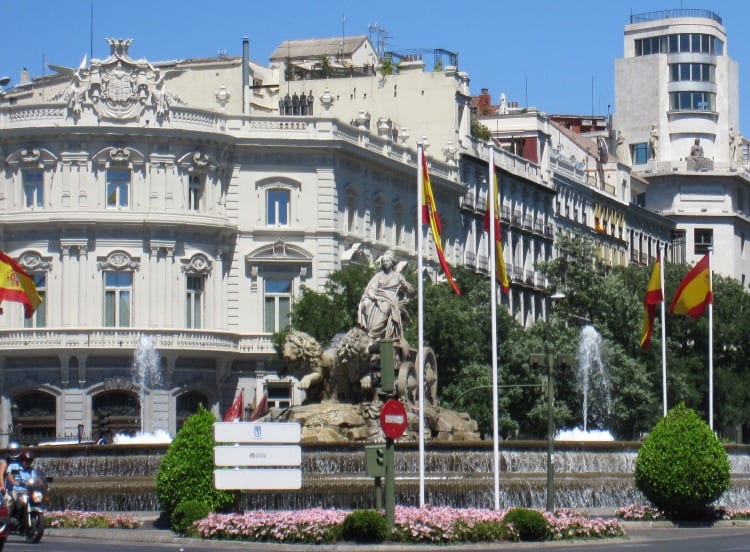 In the museum, we rented audio guides, including the children's audio guide, which describes just a subset of paintings, which are highlighted throughout the museum. It was so much fun to watch my daughter marvel over the fact that everything was an original. While she has been to the RISD Museum, Museum of Fine Art in Boston, and the Metropolitan Museum of Art in NYC, this was still an experience onto its own. She told us that she was so excited to see painting she recognized from her art books in real life. And even though she was "a million times less than bored," I was tired and hungry and needed to head out.
7. Mercado de San Miguel – On the way back to the apartment, we stopped at the Mercado de San Miguel, near the Plaza Mayor, for some quick snacks that turned into dinner. Instead of mostly selling raw foods like La Boqueria in Barcelona, Mercado de San Miguel has a large number of stalls offering prepared food and tapas. We chowed down on some croquettes, arancini, sausage sandwiches, and other tapas. We also discovered what was the best paella ever from the Paella.com stall. If you are looking for an easy way to feed the kids, especially since most restaurants don't open for dinner until 9pm, the Mercado is a great way to go.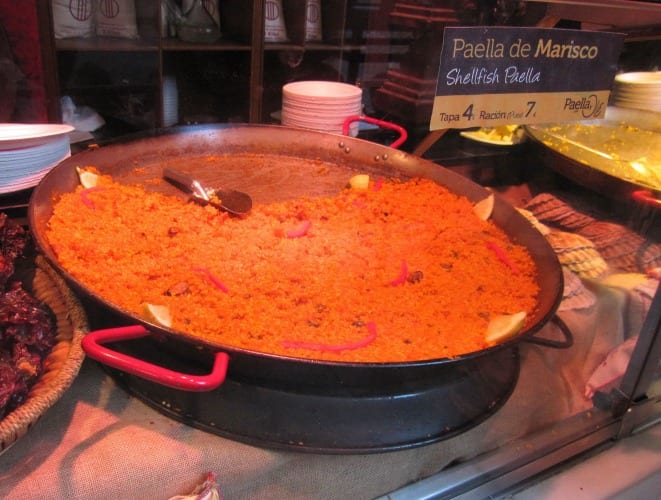 8. and 9. Day trips – For the next two days, we took day trips by train to Segovia and Toledo.
10. Madrid Zoo – On our last day in Spain, we wanted to make sure that our daughter could choose what she wanted to do. We thought of going to Museo Thyssen-Bornemisza to look at some more art, but she picked the Madrid Zoo, which seemed like an excellent choice.
The Zoo and Aquarium is one of the largest in Europe and located in Casa de Campo, just on the outskirts of Madrid. While it was easy enough to reach by Metro, there was a long walk down a dusty path before arriving at the zoo. At the zoo, you can find 6,000 animals from 500 different species, some unique to Spain such as koalas, anteaters, and pandas. Since it was so hot that afternoon, we had the zoo pretty much to ourselves, expect for a short line to see the pandas. I haven't had a chance to see pandas before, or koalas, so that was quite a thrill for all of us.
Dusty and sweaty, we made our way back to the apartment to meet a relative who was also in town for drinks before our last dinner out in Spain. The next day we flew home, via Heathrow, to Boston. Adios Espana!