As former New Yorkers, we have visited New York City with kids many, many times over the years. While our daughter was born and raised in Rhode Island, we wanted to introduce her early on to what we feel is the greatest city in the world. Plus, in the early years, we had to return frequently to visit family and friends. I miss the days when we had an apartment at our disposal but over the years we have checked out many hotels in various neighborhoods too (don't worry, I'll share some of those later!)
I know visiting New York City with kids can be so intimidating. The city is huge, noisy, busy, and, let's face it, sometimes a little gritty. Figuring out where to start, how to get around, and things to do in New York City with kids can be overwhelming. Don't worry, I'm going to share some of my experience and expertise to take some of the mystery out of it and help you put together a game plan for visiting NYC with kids.
In this post, I will walk you through some of the top things to do in New York City with kids, tips for getting to New York City with kids, family-friendly hotels and restaurants, and overall tips for visiting NYC with kids. Since this is meant as an introduction to NYC with kids, it is focused on Manhattan, since that is where most families visit. Let's get started!
Things to do in New York City with Kids
Note: This post may contain affiliate links. If you click a link and make a purchase, I may receive a small commission. All opinions are my own.
The best advice I can give for visiting New York City with kids is to choose one to two neighborhoods to explore on your first visit and expand out from there. It is easy to get overwhelmed with museums, observation decks, and crowds.
Most first-time visitors will plan to visit midtown to see the quintessential sights such as Times Square, Rockefeller Center, the Empire State Building, and Central Park. Often, it is popular to squeeze in a show too on your first weekend in New York City with kids.
Try to cater a mix of activities to the ages and interests of your children. Believe me when I say that there is something for everyone! Yet, I don't plan to list everything here. This list of things to do in New York City with kids is curated for first or second-time visitors that want to get a feel for the city.
Explore the Metropolitan Museum of Art
There are many amazing art museums in New York City, including the Museum of Modern Art, the Whitney, the Guggenheim, and others. However, for a first visit to New York City with kids, I'd highly recommend the Metropolitan Museum of Art (or the Met). It is such a beautiful building with so much to explore that you are bound to find something to captivate your kids.
On our first visit, we let Hannah set the priority on what we would see first. After reading the Kane Chronicles by Rick Riordan, she just had to see the Egyptian gallery. She also loved the Greek and Roman sculpture galleries and tolerated my fascination with the Impressionists. She has since come to love visiting art museums in cities like Paris and Madrid.
I'd also recommend middle-grade readers get a copy of "From the Mixed Up Files of Mrs. Basil E. Frankweiler," by E.L. Konigsburg (one of my favorite kid's books, set in the Met) before visiting.
Visit the American Museum of Natural History
Any kid that has seen Night at the Museum will get a kick out of visiting the American Museum of Natural History. Some of the exhibits need a little TLC, but kids are still wowed by the giant Blue Whale in the Hall of Ocean Life. The recently redone Halls of Gems and Minerals is another highlight, along with the dinosaurs and the fabulous Hayden Planetarium Shows.
Try Other Museums
I think it is important to not get too "museumed" out but depending on your kids' interest, and how much time you have in town, there are many other excellent museums including the Lower East Side Tenement Museum, NYC Fire Museum, Museum of Ice Cream, Museum of the Moving Image, MoMa, Children's Museum of Manhattan, The Color Factory (great for tweens or teens), or the Intrepid Sea, Air, and Space Museum. If you do venture to nearby Brooklyn, you may also want to check out the New York Transit Museum.
Walk through Central Park
With new outdoor spaces like Little Island and the Highline, Central Park is sometimes old news but it is still fabulous. Be sure to take a stroll through Central Park past the Alice Wonderland statue, the Bethesda Fountain, the Boathouse, and the carousel. With older kids, you may want to rent bikes and bike the loop through the park. I know from past experience that you can spend a whole day just exploring the nooks and hidden treasures in the park. If you are visiting in the winter, go ice skating at Wollman Rink in Central Park. That rink and the rink in Bryant Park tend to be much less crowded than Rockefeller Center.
See a Broadway Show
Over the years, we have seen a number of Broadway shows with our daughter. You have to pick ones that are age appropriate but our favorites have been: Mary Poppins, Annie, The Lion King, Wicked, Hamilton, Harry Potter and the Cursed Child, and Dear Evan Hansen. The only one we didn't like as much was Alladin, which was surprising as it is a perfect family show.
Take Photos in Times Square
While the crowds can be overwhelming, kids love the lights and action of Times Square and there are so many fun things to do in Times Square. I would recommend visiting first during the day when the sensory overload isn't as high, but it is also fun to return at night. Try to avoid the times right before and after Broadway shows as it can be especially crowded at that time.
Luckily Times Square has largely cleaned up its act and there are plenty of kid-friendly stores to explore like the popular M&Ms Store. Just remember that all those characters in costumes wanting to take pictures with you are actually looking for some cash for the privilege.
See New York City from Above
It used to be that the Empire State Building was the main game in town when it comes to offering great views of the city, but not it has plenty of competition. I still think a visit to the Empire State Building is a must for kids, but I also like the view from the Top of the Rock because you can actually get the spire of the Empire State Building in the photo. Keep in mind that a New York CityPASS can save you money if you are visiting many popular attractions and it also lets you skip the line at certain attractions, which can save a lot of time and hassle, especially when visiting with kids.
Some of the new observation decks include the Instagram-worthy Summit at One Vanderbilt. Here it is just as much about the experience inside as it is about the view outside. I think this is especially good for teens. Another good one for teens or thrill seekers is The Edge in Hudson Yards. This Sky Deck is suspended in mid-air and offers a glass floor to look 100 stories down.
Go Shopping
Sure, NYC is home to all the top brands, but there are also plenty of stores that kids will love. I was thrilled to see that FAO Schwarz reopened in Rockefeller Plaza. Many kids will also love visiting the flagship Lego Store or the Nintendo store in Rockefeller Plaza. We even took a special trip to NYC to get my daughter a birthday gift at the American Girl Place store. Now there is even a Harry Potter Store in NYC!
Get a Sweet Treat
My daughter used to love visiting Dylan's Candy Bar. Now there are so many fun places to get a sweet treat like Sugar Factory, Junior's (for cheesecake), Serendipity 3 (frozen hot chocolate), Magnolia Bakery or Sprinkles for cupcakes, cookies from Lavain Bakery, Ladurée (of Paris fame) for macarons, and Dominique Ansel Bakery (which invented the cronut, a hybrid between a croissant and a doughnut.)
If you have a foodie, I'd also suggest taking a stroll through both Chelsea Market and Eataly (near Madison Square Park). Eataly is a market, owned in part by Mario Batali, which offers different areas to purchase fresh and prepared foods, such as pasta, cheese, seafood, meats, fruits and vegetables, and sweets — as well as places to eat.
Visit the Lions at the New York Public Library
If you have a bibliophile in the family, or you just appreciate architecture, stop by the New York Public Library near Bryant Park. Outside, you'll notice the two majestic lions standing guard out front, named Patience and Fortitude. Once inside, you can explore the beautiful Rose Main Reading Room. Additionally, there are story times and reading programs for children, as well as a dedicated Children's Center filled with age-appropriate books and games.
Afterward, you can see what's happening in Bryant Park and stop for a snack at the Wafels and Dinges kiosk in the park.
Walk through Grand Central Station
As nice as they have now made the Moynihan Train Hall at Penn Station, it still doesn't compare to the grandeur of Grand Central Station. Grand Central Station is one of New York City's most iconic landmarks and as you enter the station you'll be struck by its vaulted ceiling, ornate chandeliers, and marble floors. One of the most popular attractions in the station is the four-faced clock in the center of the main concourse, a meeting place for locals and tourists alike.
You can also take a self-guided audio tour to learn more about the history and architecture of the station or enjoy the many shops or restaurants. Another popular spot is the Whispering Gallery located in the lower level of Grand Central Station. It is a circular chamber with a diameter of 30 feet and if you stand in one corner and whisper, your voice will travel around the curved wall and be audible to someone standing in the opposite corner. You can try it out for yourself by standing at opposite corners and whispering, or even by clapping your hands to hear the echoes.
See the Statue of Liberty
If you leave NYC without seeing the Statue of Liberty, it is like going to Paris and not seeing the Eiffel Tower. There are many ways to see the Statue of Liberty, and they actually just reopened to climb up to the crown (if you are up for it and aren't too claustrophobic.) The cheapest way is to take the free Staten Island Ferry.
We have also taken a Circle Line cruise around Manhattan, but the Staten Island Ferry is the same as the cost of a subway ride. Some friends from the city were incredulous that we would want to go to Staten Island (we didn't, we just wanted to take the ferry there then turn right around and head back to Manhattan), but this is such an affordable and enjoyable activity.
On the way out, we had great views of the Brooklyn Bridge, the Domino Sugar sign in Brooklyn, and the Verrazano Bridge, which connects Brooklyn and Staten Island. Upon arrival on Staten Island, we followed the herds off the ferry and immediately back on. It is clearly not a closely held secret that taking the ferry is a great activity. The boat back was also packed with tourists, but we at least got a good position by the rail on the left side facing the Statue of Liberty and caught some beautiful views of Lower Manhattan.
My recommendation would be to get there early and go immediately to the right side of the boat. The trip from Manhattan to Staten Island travels closest to the Statue so that leg of the trip is your best opportunity to get close-up shots. Another tip, if you head downstairs, you can open the windows for an unobstructed view of the Statue, but you will also encounter a fair share of grouchy commuters.
Pay Your Respects at the 9/11 Museum and Memorial
If you are visiting NYC with teens or older kids who have learned about 9/11, I think it is important to visit the 9/11 Museum and Memorial. Just be prepared that this will probably hit you hard, especially if you have a personal connection or story from that horrible day. Be sure to balance it out with something lighter during the rest of the day. And make sure the kids stay respectful and avoid taking selfies or being disruptive to those who may be mourning lost loved ones.
I had a lot of hesitation before taking 9-year-olds to the 9/11 Memorial, but after talking to a 5th-grade teacher who takes her class every year, I was reassured that the experience would not be too graphic or overwhelming for kids their age. She reminded me that since they were not alive during the events of 9/11, they don't have the same memories or perspective we do that is linked to deep emotions. Also, while we had told our child a bit more each year about the attacks on that day, she still couldn't conceive of the true horror or the scale of devastation.
I really have a hard time putting into words the beauty, simplicity, and reverence of the memorial. The main features are the twin pools, set within the footprints of the original twin towers and framed by inscriptions of names of those lost. The names are grouped by flight, first responders, Pentagon victims, and those in the North and South towers. The water cascades down into the pool and then drops again into an inner square. My husband said it best, "The pools. As I see them, a million tears falling in, and falling into a bottomless pit…So powerful." Exactly. And so haunting.
After visiting the Memorial, it is good to walk over to Battery Park and give the kids time to run around and make all the noise that they want. Plus you get great views of the Statue of Liberty!
Walk Across the Brooklyn Bridge
If your kids little legs can handle a few more steps, walking across the Brooklyn Bridge is a popular thing to do in NYC with kids (especially teens who will appreciate the Instagram-worthy photo opp.) Even if you don't walk all the way across, be sure to get a photo with the bridge as a backdrop. One of the most popular spots is on Washington Street and Water Street in Brooklyn.
Explore Downtown
If you are already downtown visiting the 9/11 Memorial or taking the Staten Island Ferry, you might as well spend some time exploring. Pose with the Raging Bull and the Fearless Girl down by Wall Street, take pictures in front of the New York Stock Exchange, and then wander through the fascinating streets and shops of Chinatown. Perhaps you will want to stop for dim sum or head over to Little Italy for some delicious cannolis and Italian pastries at Ferrara.
Walk the High line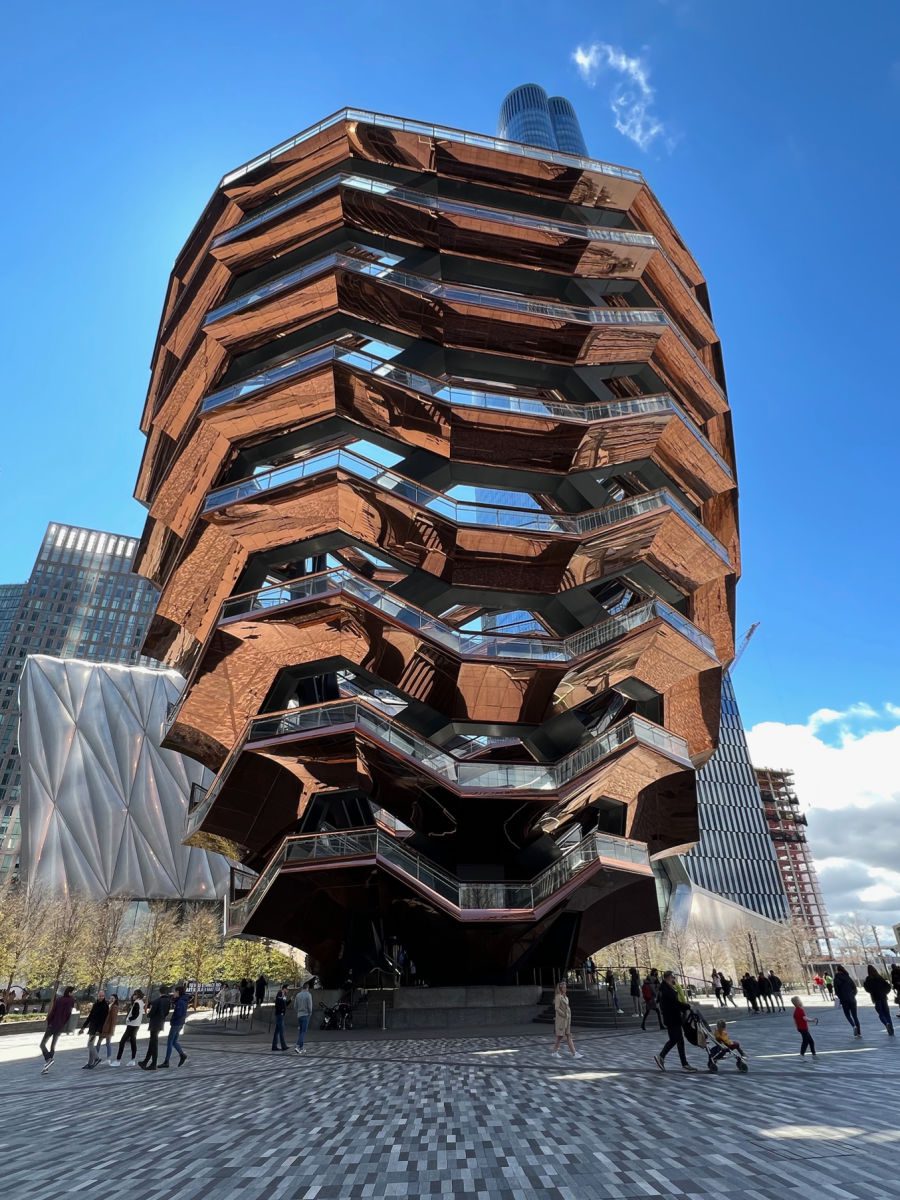 You will inevitably do a ton of walking when visiting New York City with kids, but it is nice to get above the fray and avoid the hassle of dodging crowds and navigating crowded crosswalks with kids by taking a stroll on The High Line. The High Line is built on a former elevated railroad track, which opened as a unique urban park in 2009. Today, visitors can walk the High Line and enjoy views of the city, as well as art installations, gardens, and public spaces. Along the way, there are various seating areas and lookout points where families can rest and take in the scenery.
Be sure to make a pitstop at Hudson Yards and take some photos at The Vessel. Sadly you the Vessel is still closed to visitors climbing the stairs inside because of some tragic incidents.
Getting to New York City with Kids
If you are visiting New York City with kids, you need to put some thought into how you will get there and how you will get around. Do you need car seats? Do you have enough hands to keep them all close when walking in crowds or on public transportation? Are you on a budget or can you splurge on a car service or cabs/Ubers?
Flying to New York City with Kids
If you are flying into NYC, you have three options: JFK Airport (the furthest away to Manhattan), LaGuardia Airport (nice new terminal), and Newark, New Jersey. When you are flying to New York, think about when you will land to decide on the best way to get into the city as you will want to avoid getting stuck in a cab or Uber during rush hour. Likewise, it isn't fun to get on commuter trains with luggage during a prime rush hour either.
Newark Airport: believe it or not, this is actually my preferred airport to fly into NYC because it is close and straightforward to get into Manhattan using New Jersey Transit, Amtrak, or Path trains. These trains all arrive at the new Moynihan Train Hall at Penn Station, making train travel in NYC more on par with other cities. Just note that when you return to the airport, you want to buy a train ticket to Newark Liberty International Airport station, NOT Newark Penn Station (that will bring you into Newark).
LaGuardia Airport: getting from LaGuardia to NYC using public transportation is a bit of a pain, so it is much easier with kids to either schedule a car service or take a taxi.
JFK Airport: while JFK is furthest from the city, it is easy to get to using either a combination of the AirTrain and the Long Island Railroad (which also comes into Penn Station), Subway (cheaper but longer and less comfortable), or taxi/Uber/car service. My friend Kim has a whole post walking you through getting from JFK to NYC.
Taking the Train to New York City
If you live anywhere along the Northeast Corridor from Washington D.C. to Boston, taking the train to New York City may be the easiest option. It is so much less hassle than dealing with the airport and kids love watching the world go by from the windows of a comfy train seat. The Amtrak Acela train is going to be your premium option, but you can also take regional Amtrak trains or local options such as the New Jersey Transit, Long Island Railroad, or Metro-North Railroad.
Metro-North riders will arrive at Grand Central Station at 42nd Street and Park Avenue in Midtown. All others will arrive at Penn Station at 32nd Street and 8th Avenue.
Driving to New York City
Driving in New York City is not for inexperienced city drivers. If you plan to drive, you need to keep in mind rush-hour commuters and understand the traffic flow in New York City. Generally, even-numbered streets run east, while odd numbers run west. There are exceptions and some two-way streets as the city continues to put in new rules to help with traffic flow. Usually, Avenues, which run north to south, alternate directions. For example, 1st Avenue goes uptown, 2nd Avenue goes downtown, etc.
The other thing to keep in mind if you are driving is where you are going to park. Some hotels offer valet parking, just be prepared to pay through the nose. You may want to research nearby parking rates in advance using apps such as Best Parking, ParkWhiz, SpotHero, Central Parking, and Icon Parking for garages in the area and look up any coupons they might be offering. You can also make a parking reservation in advance to save time and money.
Getting Around New York City with Kids
Plan to do a lot of walking when you are visiting New York City with kids. It is nice to familiarize yourself with Manhattan's grid before you arrive as it will help you navigate with easy. Luckily, now even Google Maps offers helpful street views so that you can see if you are heading in the right direction.
Navigating midtown is fairly easy. Just remember, Streets are numbered and run East to West. The numbers increase as you head north and decrease as you head south. Avenues run north to south and some of them have numbers, but some of them have names. You can get used to it pretty fast.
Taking Cabs or Ride Shares
When hailing a cab in New York City, you want to look for the cab with the roof light that is on (and not just the little lights on the side, but where the numbers are lit up), this means they are available. Step to the curb and raise your hand up high to hail the cab (or whistle if you can.) Just keep in mind that most cabs will only fit 3-4 people. Large families may need to hire two cabs or call a Uber XL. If you don't feel comfortable hailing a cab, the hotel doorman will often do it for you. Or, you can use the app Curb to hail a yellow cab. It is like Uber but for cabs and there isn't any surge pricing like with Uber.
Most cabs now take credit cards, just use the touch screen in the back of the cab to pay by card and you can even leave a tip that way. It helps if you can give your cab driver a cross street when telling them where you want to go, versus just a number address. For example, when asking to go to the Museum of Modern Art, ask to go to 53rd Street between 5th and 6th (versus 11 West 53rd Street). It makes it easier for them to know where to go because they aren't using mapping software like Uber drivers.
When getting dropped off, you may feel like you are in a Seinfeld episode because many cab drivers will ask if you want "near corner or far corner". This means that if you asked for an address at two cross streets, do you want to be closer to one corner or the other. You may not know and that is ok to say, tell them the address or business you are looking for and they will get you close. They may also ask if you "left side or right side", particularly on Avenues as avenues are wide and they want to know which side you want to be dropped off on. Look at your map and you should be able to tell.
Taking the Subway or Busses
Taking public transportation in NYC has gotten much easier too thanks to Google Maps and apps such as the New York City MTA app. To ride the subway, you can either set up your phone for contactless payment using the OMNY system, or you can purchase and load up a MetroCard. If using a MetroCard, you can purchase single-use cards or add a certain amount of money to your card. Just keep in mind that if you are using one MetroCard for the whole family, you can only swipe through four riders at a time.
If you are using a stroller, taking the subway is definitely a challenge as many stations do not have lifts so you need to do some research in advance or resign yourself to carrying your kid and the stroller up a flight of stairs. Also don't count on the elevator always being operational! Sadly the NYC subway doesn't come close to the Metros of many international cities.
Also as a note, there have been many new stories of late about dangers on the New York City subways. Sadly, there have been a number of sad and tragic incidents. Kids absolutely love the subway but there are a few things that will make your trip safer and more pleasant:
Don't take the subway late at night
Avoid standing near the edge of the platform
Stay alert
Be prepared to see it all…rats, homeless, awesome buskers, panhandlers…
Where to Stay in New York City with Kids
New York City is expensive and most hotel rooms are small. It isn't ideal for visiting with a family on a budget. But there are tons of options in every price range. You can also use websites like HotWire or Priceline to find deals (we have done this many times.) In addition, you need to be prepared for lots of noise — something families from the suburbs may not be accustomed to.
Some hotels are not very well equipped for families. I remember once staying in a suite at the W Times Square and the room was as bright as day at night from the neon lights. Luckily, the bedroom had a blackout shade but the living area with the pull-out couch did not. Ear plugs and sleep masks are helpful! We have also stayed at hotels with glass walls around the bathroom, "intimacy" kits at the minibar, and a daybed couch instead of a sofa bed pullout couch for our daughter.
A couple of the hotels that we did enjoy are:
Millenium Hotel (Downtown) – this is a great location for exploring the 9/11 Memorial, Wall Street, Battery Park, Chinatown, and taking the Staten Island Ferry or visiting the Statue of Liberty. The Junior Suite offers a pull-out couch in a separate area for kids and has great views!
The Knickerbocker (Times Square) – I have stayed at The Knickerbocker twice and it is a perfect spot if you are looking for an upscale stay and want to see a show, especially in the evening, as it is so close to Times Square and all the theaters. If the kids are old enough to stay in the room alone for a bit, you can also sneak up to the rooftop bar for amazing views.
If you are looking for a budget stay, there are tons of newly built or renovated chain hotels in and around Times Square and Midtown West that are often quite affordable. I have stayed at many of them including Courtyards, Hilton Garden Inns, etc. Just check recent reviews and avoid going west of 9th Avenue and the area around the Port Authority, as it can get a little sketchy and far from the main attractions.
Honestly, if I was visiting with kids now and wanted to stay near Times Square, I'd check out the new Margaritaville. As odd as that seems for NYC, we loved the Margaritaville in Orlando and I've actually heard good things about it!
Keep in mind that hotels in the Soho, Tribeca, and Meatpacking neighborhoods are going to be hip and trendy, catering to Millennials and Gen Z, especially near some of the big tech offices. Upper East Side hotels are going to be old-school wealthy. Midtown East is quieter and a little nicer, and Midtown West and Times Square will be louder and busier. Central Park South will be luxury, special event hotels.
Here are some other hotels in Manhattan that offer family rooms or suites and have kid-focused amenities. Many of these are on the pricier side if you are ready to indulge:
Where to Eat in New York City with Kids
There are over 27,000 restaurants in New York City. I would encourage you to branch out a little and find a local restaurant and please (I beg you!), don't be one of those people that lines up to eat at the Olive Garden in Times Square. I understand there are some popular tourist restaurants that people like to visit with kids (I've listed some of these below), but experiment a little too. Try a celebrity chef restaurant, try a new cuisine, and eat at one of the amazing food halls that are popping up all over the city.
Pizza: John's Pizza near Times Square is located in an old church and is perfect for families (and actually has good authentic NY-style pizza).
Hot dogs: Gray's Papaya is a perfect spot to pick up bargain hot dogs for a quick and easy, kid-friendly meal on the go.
NY-style Cheesecake: many people want to try some New York cheesecake and I recommend Junior's (try the chocolate cheesecake!)
Diners and delis: you can find diners and delis all over NYC, but many tourists love to visit Ellen's Stardust Diner for the singing servers and ever since Carnegie Deli closed, you may want to try options like Russ & Daughters for Jewish appetizing or Katz's Deli, Barney Greengrass, or the 2nd Avenue Deli.
Burgers: there are also many great pubs and burger joints, but my kid is obsessed with Shake Shack (get the Smoke Shack) and everyone loves the crinkle fries and custard shakes.
Dessert: Serendipity 3 usually has a line out the door for its famous frozen hot chocolate. I mentioned many others above but I would also add Angelina's (yes, the one from Paris) for hot chocolate, pastries, and delicious breakfasts.
Asian: for high-end Asian, Tao or Buddakan offer great experiences for visitors. For authentic dim sum in Chinatown, we have always gone to Golden Unicorn. Momofuku Noodle Bar serves up delicious ramen and other noodle dishes, as well as small plates and buns. Xi'an Famous Foods is a popular chain of restaurants that serves up spicy, hand-pulled noodles and other classic dishes from the Shaanxi province of China.
Italian: so many families, especially those in large groups, flock to Carmine's for its garlic-heavy pastas and Italian-American favorites. Personally, I love Il Postino on the East Side, La Masseria near Times Square, and Scarpetta, although those might not be good for younger kids.
Food Halls: there are many food halls around NYC that are fun to explore with kids and it helps solve the problem of picky eaters not wanting what everyone else has. A few notable food halls worth visiting include: Chelsea Market (we discovered one of our favorite appetizers at a wine bar there), Eataly (of course! There is also a Nutella stand here that serves up delicious crepes), the new Singaporean food hall, Urban Hawker, Gotham West Market, Urbanspace Vanderbilt, Mercado Little Spain, and Grand Central Terminal.
Tips for Visiting New York City with Kids
Best time to visit: Spring (April-June) and Fall (September-November) are generally the best times to visit New York City with kids, as the weather is mild and there are many outdoor activities to enjoy. Keep in mind that the city is quieter on summer weekends, as locals head to the Hamptons, but it will be hot and a little stinkier. And while it may be cold in January, it can also be a great time to visit because you will find terrific deals during Hotel Week, Broadway Week, and Restaurant Week.
Length of stay: A week is a good amount of time to explore the city, but if you have limited time, 3-4 days is enough to see many of the major attractions. It is pretty common for people to start off with a long weekend in NYC with kids, instead of trying to tackle a full week.
Finding deals: Look for discount passes like the New York City Explorer Pass or the New York Pass, which can save you money on admission fees. I also find CityPASS a perfect option if you are visiting many of the top attractions.
Safety: New York City is generally safe but there has been an uptick in crime in recent years. It is always a good idea to be cautious and aware of your surroundings. Keep valuables close and avoid walking alone in unfamiliar areas at night. These days you will also be accosted by the overpowering smell of marijuana on the streets in some areas. It also helps if you prep your kids to expect to see homeless people to avoid awkward questions and stares. And please, don't take anything from strangers, and don't let your kids take it either.
What to bring: Comfortable walking shoes are a must, as well as weather-appropriate clothing. Don't forget a camera to capture memories of your trip, and a backpack to carry snacks and water.
Plan ahead: Many NYC museums and attractions still require timed-entry tickets, which can be purchased online. This requires a little more advanced planning than a trip to NYC with kids used to.
Visiting New York City? You may also be interested in these…
PIN THIS FOR LATER