Seville, or Sevilla, was the highlight of our family's two-week trip to Spain. With just two days in Seville, we didn't have a lot of time in the city, so we picked a few highlights of the best things to do in Seville with kids.
The first thing you need to know about Sevilla, which is located in Andalusia in southern Spain is that it is brutally hot in the summer. In Barcelona, we didn't really notice anything different during siesta time in the afternoon, but in Andalusia, everything shuts down for a couple of hours in the afternoon. The big reason for this is that you need to get out of the heat. Luckily, there are some fun ways to beat the heat and have fun in Seville with kids.
Even with the heat (and siestas), it is easy to see the top sites in Seville in just a couple of days, especially if you stay near the old quarter. Seville is quite a bustling and busy city, but the main historic sites are all located within walking distance of the cathedral so use that as your home base when looking for a place to stay.
Things to do in Seville with Kids
Note: This post may contain affiliate links. If you click a link and make a purchase, I may receive a small commission. All opinions are my own.
If you have more time in Seville, check out this 3-day Seville itinerary.
Take a Tour
The best way to get oriented to the city is with a tour. Some of the walking tours could be a bit much with younger kids, especially in the heat, so you might want to try a hop-on, hop-off bus tour instead.
Since our daughter loves horses, we decided to take a carriage ride. You will find carriages near the Cathedral, all lined up and ready to take you around town, but you could also schedule a private horse and carriage tour of Seville.
Traveling by carriage is a nice way to get acquainted with the center of town without tiring yourselves out (especially those with little legs), but be sure to go early before it gets too hot. Just learn how to say "No thank you, we already took a ride" (No, gracias, ya nos dimos un paseo,) because you will still be asked over and over again to take a carriage ride throughout your stay by other drivers.
You'll want to bring along water, sunscreen, and a hat because even in the morning, the sun beats down strong. Our guide pointed out the major sites along our route including the spectacular Plaza de Espana, Parque de Maria Luisa, and the Torre del Oro, but with the traffic sound and our limited high school Spanish, it was hard to get too much of the history or details. However, this is a good way to scope out what places you might want to return to later.
If you are looking for things to do in Seville with teens, you may want to try something a bit more active and exciting. I always love a good food tour when visiting a new city and one of my favorite food tour vendors, Devour Tours (they were started in Spain), offers a great "Taste, Tapas, and Traditions Food Tour" that would be great with tweens or teens.
Another fun option of things to do in Seville with older kids (just not in the hottest part of the day) would be an e-bike tour. These typically run about three hours, so good for your first morning in town, and cover both the major sites in town as well as some hidden gems that you wouldn't see on a carriage tour.
There are also shorter and cheaper standard bike tours, if you don't need the extra help of the e-bike. If your kids have good balance, you could even try a Segway tour, but given our daughter's track record on bikes and mine of skateboards, I'm not sure it is a good fit for our family.
Visit the Seville Cathedral
The Seville cathedral is a must-see when visiting Seville with kids and a perfect place to escape the heat in the afternoon. Those thick stone walls really keep out the heat! The Seville Cathedral, officially known as the Cathedral of Saint Mary of the See (or the Catedral de Santa María de la Sede), is the largest Gothic cathedral in the world.
Constructed between 1401 and 1507, the Cathedral was listed as a UNESCO World Heritage Site in 1987. The cathedral is built on the site of a mosque, and the main part of the Giralda tower and the Courtyard of the Orange Trees (Patio de los Naranjos) are the only remaining parts of the original mosque. The bell tower was the minaret and the courtyard was the ablutions patio, where the faithful washed as part of the Islamic rite.
The inside of the cathedral is awe-inspiring, with 80 chapels and five aisles in a cruciform church. The must-see sights in the Cathedral include the burial site of Christopher Columbus, The Royal Chapel dedicated to King Ferdinand III of Castile, the Treasure Room, and many painting by Murillo, Goya, Pedro de Campaña, and Luis de Vargas.
But I feel the main attraction is Giraldi Tower. This 104-meter-high tower offers great views of the city of Seville. On top of the Giralda Tower is a bronze statue that represents faith, nicknamed the Giraldillo. It turns in the wind like a weather vane and hence, that is where it got its name (Giralda = weather vane.)
To get to the top, you climb a series of 35 ramps and 17 steps, which enabled horses to climb up the tower back in the day. In addition to getting your exercise, you can enjoy the views across the city.
You should consider purchasing entrance tickets online in advance. The Cathedral also offers guided tours, but only for those 10 and up. There are also skip-the-line tickets to save time.
Tour the Real Alcazar
Our unexpected surprise in Seville was the Real Alcazar. The oldest palace still in operation, this looks like an old fortress from the outside. But, once you are inside you are introduced to authentic Moorish architecture and gorgeous gardens that look like something from a movie set (and they have been featured in Game of Thrones.)
The palace was historically known as al-Qasr al-Muriq. It was constructed in 913 on the site of an old Roman fortress, under orders of Abd-ar-Rahman III (the first caliph of Al-Andalus). It was later expanded into a palace by King Al-Moetamid (the last king of the Abbadid dynasty) in the 11th century.
In the 14th century, the Spanish recaptured the palace from the Moors, and later King Alfons X of Castile expanded the palace. The current Alcázar was built in 1364 by King Peter I of Castile ('The Cruel').
If you aren't able to get to Granada to see La Alhambra, you will get a good glimpse of what you are missing, just on a smaller scale, at the Alcazar. Spend some time looking at the tiles and mosaics and enjoy the archways and courtyards, but the real gem is the gardens.
It was too hot to fully explore the gardens but I imagine you could spend hours in the Alcazar. Be sure to allow at least two hours for a visit. I really wish we had booked a guided tour of the Alcazar as I'm sure we would have gotten even more out of our visit. As it is, it still sticks with me as one of my favorite places that we have visited.
Cool off on a River Cruise
You may want to take an afternoon siesta to beat the summer heat, but late in the afternoon is a great time to take a walk down to the water for a Guadalquivir river cruise.
It is a nice way for families to see the city without tiring the kids out walking through the heat. There is plenty of room to move around and get a look at both sides of the river. You will pass by monuments such as the Tower of Gold – Torre del Oro, Maestranza Bullring, and Triana Bridge.
If you are visiting Seville with teens, they may prefer to see the river from a kayaking tour or a a stand-up paddle board rental.
Explore Barrio Santa Cruz
Just outside the Cathedral is the Barrio Santa Cruz, or the old Jewish Ghetto. This is the historic heart of the city, with narrow, winding streets filled with shops, restaurants, and places to cool off with a little helado (ice cream).
There are plenty of jasmine plants and orange trees giving the air a fragrant aroma, with small plazas and fountains tucked away. We spent some time doing some shopping. While many of the gift shops all look the same, we were able to find some handmade clothing and painted pottery that will help us always remember our trip to Spain.
This is such a charming area, but I do wish we had thought to take a guided tour.
See a Flamenco Show
Flamenco originated in Southern Spain and Seville is an amazing spot to see a show. Flamenco is a powerful art form that combines song, dance, and instrumental music. Watching a real flamenco show is captivating and even kids will be entranced. There are many options to see a flamenco show, but here are few of the best flamenco spots.
On of the best things about being in Andalusia was the evenings. It didn't really get dark until after 10 pm. With the warm air and twilight, it was great to hang out in the square outside the cathedral. It is a good excuse to keep the kids up late!
We only had two days in Sevilla so we just scratched the surface. If you are looking for more things to do in Seville with kids, check out this post from Zena's Suitcase. Kids will enjoy visiting the Seville Aquarium, playing in the Maria Luisa Park, the Isla Mágica theme park constructed on the former grounds of the Expo '92 World's Fair, and walking through the fascinating La Setas de Seville architectural wonder.
Where to Stay in Seville
When considering where to stay in Seville, I'd strongly recommend staying near the old quarter and the cathedral. This puts all the main attractions within a very short walking distance. We stayed at Hotel Palacio Alcazar, which was just steps away from both the Alcazar and Cathedral in Plaza de la Alianza, in Barrio Santa Cruz.
This family-friendly boutique hotel offers rooms that are small but well-appointed. We took the triple, which was located just off the lobby and had an exit to the center courtyard. At first, I was worried about being just off the lobby but this was a small, quiet hotel so it wasn't a problem at all.
The room featured a double bed downstairs and a single bed up in the loft. The only drawback was that the steps up to the loft were very narrow and steep. I was quite nervous about our eight-year-old coming down safely, especially at night, so I put barriers across the opening.
Where to Eat in Seville
Bar Giralda — there are more than 3,000 tapas bars in Seville and just across from the cathedral is a great one, Bar Giralda. This bar occupies what was once the site of Moorish baths, with the columns and arches still intact. The list of tapas is impressive, and I especially enjoyed the avocado with prawns. My daughter loved practicing her Spanish by ordering on her own. Bar Giralda is located at Calle Mateos Gago, 1, 41004 Sevilla
Osteria L'Oca Guiliva — after a week in Spain, I knew my family would need a break from tapas and Spanish food (as delicious as it is), so I booked a table at Osteria L'Oca Guiliva, a great Italian restaurant in Barrio Santa Cruz. It was the only time on the trip when my daughter had a really hard time waiting until 8:30 pm for the restaurant to open (typical of Spanish restaurants). I think all the heat and shopping and walking took their toll. Luckily, some good food perked us up. The pizza was an excellent starter and the gnocchi pomodoro was delicious. Osteria L'Oca Guiliva is located at C. Mateos Gago, 9, 41004 Sevilla, Spain
Save this to Pinterest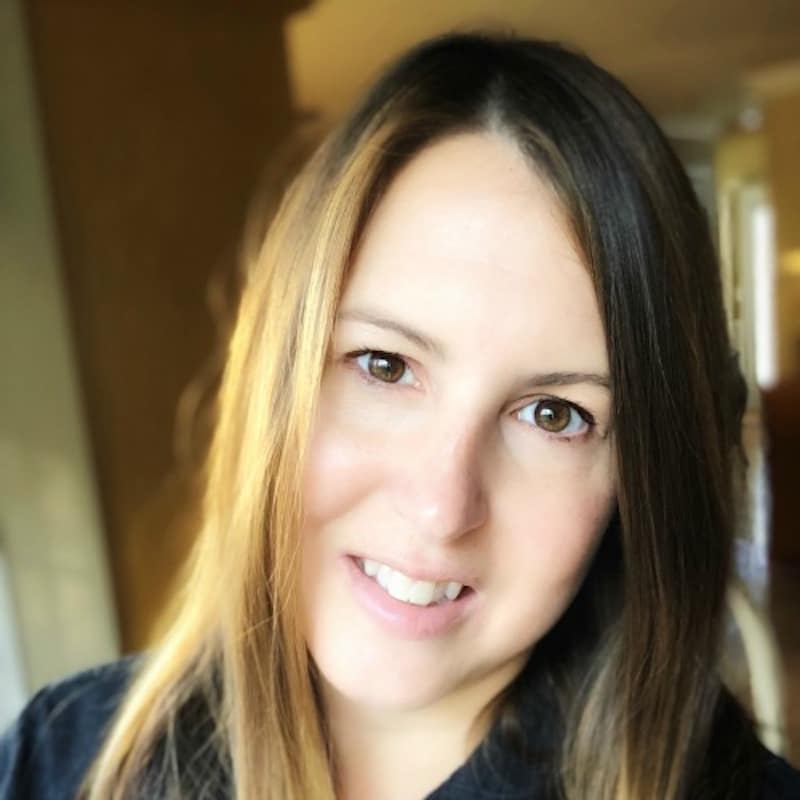 Tamara Gruber is the Founder and Publisher of We3Travel. A former marketing executive and travel advisor, Tamara is an award-winning travel writer and recognized expert in family travel. She is also the publisher of YourTimetoFly and the co-host of the Vacation Mavens travel podcast.