When my daughter was a toddler, she was obsessed with waterfalls and we used to go on day-long waterfall hunts that I'd research and map out to falls all around Rhode Island. Years later, we went on the biggest waterfall hunt of all to visit Niagara Falls, and it wasn't just her that was enthralled. Because while there are tons of fun family attractions and things to do in Niagara Falls with kids, this is a trip that the adults loved too!
In fact, we made this a multi-generational trip and we took along her grandmother on a Canadian road trip with stops in Niagara Falls, Toronto, the Thousand Islands, and Montreal. Visiting Niagara Falls with kids is a pretty classic family vacation destination and we wanted to check it off our bucket list.
Niagara Falls is one of the most iconic natural wonders in the world, and it's an experience that you and your family will never forget. The roar of rushing water, the spray of mist on your face, and the excitement of seeing the falls up close are all part of what makes Niagara Falls such an exciting destination for families — in fact, my daughter even wrote a poem about our experience (which I will share at the end!)
But with so much to see and do, where do you start? In this guide, we'll explore everything you need to know about visiting Niagara Falls with kids, including how long to stay, which side to visit, the best things to do on both the Canadian and US sides, family-friendly hotels, and more.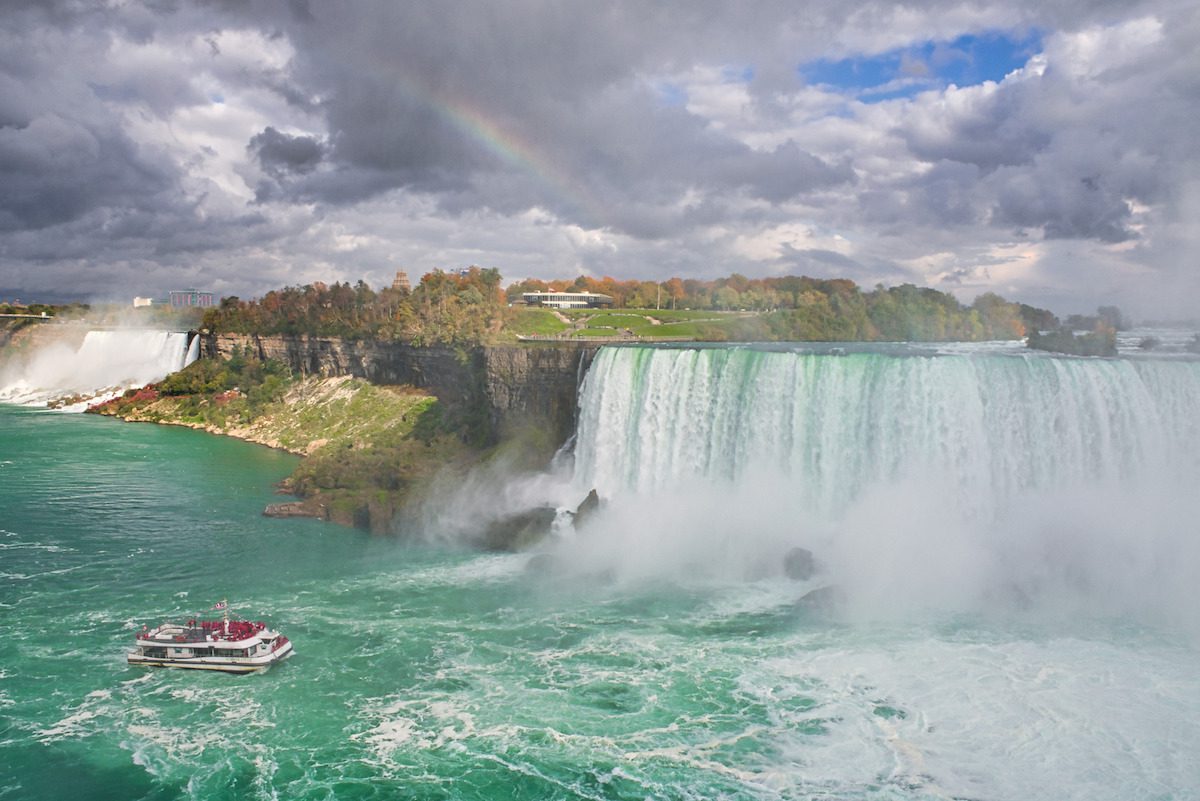 How Long Should you Spend in Niagara Falls?
Niagara Falls is one of those destinations that offers a lot of flexibility depending on how much time you have and how many attractions you want to visit. For those visiting Niagara Falls with young kids, or those that don't care about some of the thrill-seeking attractions, you can easily hit the highlights in just one full day.
Ideally, you would stay in Niagara Falls for two days to be able to experience more that the destination has to offer (perhaps on both sides of the border). This also gives you a bit more flexibility in case of bad weather or rain. I know many families visit Niagara Falls for their family vacation of five to seven days. This is definitely possible if you want to also spend time making some day trips to other attractions and towns nearby (Buffalo for example!) However, if you have that much time, personally I think you are better off pairing Niagara Falls with a couple of days in Toronto or taking a full Canadian road trip.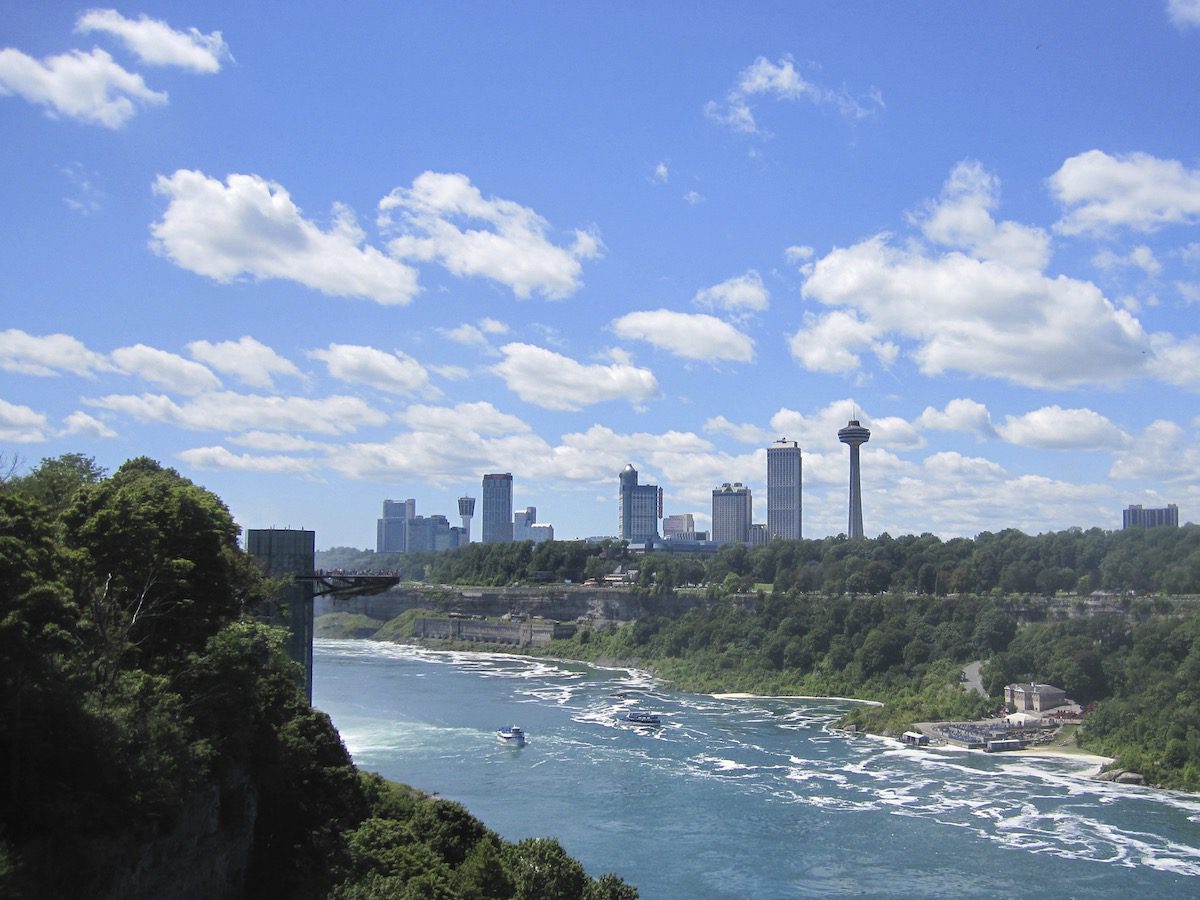 Which Side Should you Visit: USA or Canadian?
One of the first decisions you'll need to make when planning your trip to Niagara Falls with kids is whether to visit the USA or the Canadian side. While both sides offer spectacular views of the falls, there are some differences to consider.
But the biggest consideration is whether or not everyone in your family has a current passport that doesn't expire within six months of your trip. When we visited Niagara Falls, we decided to stay on the Canadian side, since we were planning on continuing on into Canada anyway. However, my brother and his family decided to meet us in Niagara Falls, but since they didn't have passports, they stayed on the U.S. side and we walked across the Rainbow Bridge to meet them for part of the day. One other note about crossing the border: if both parents are not on the trip you will need the other parent to complete a minor child travel consent form. Canadian border security is quite strict about this. I once took my teen daughter to the Canadian Rockies on a mother-daughter trip and they almost wouldn't let us into the country.
If passports aren't a problem, here are some other things to consider:
The Canadian side of Niagara Falls is known for its stunning views of the Horseshoe Falls, which is the largest of the three waterfalls that make up Niagara Falls. It also has a more developed tourism industry, with plenty of restaurants, shops, and tourist attractions within walking distance of the falls. The U.S. side of Niagara Falls, on the other hand, offers more natural beauty and outdoor activities, with hiking trails, fishing spots, and picnic areas. There are also historic forts, parks, and wineries to visit nearby.
Just keep in mind that the Canadian side of the falls is generally considered to have the best views of the falls and I concur! I'm very happy we decided to stay on the Canadian side during our trip. From the American side, you are kind of straining your neck to see the Horseshoe Falls and you are essentially right at the top of the American Falls and can't see them unless you are on a boat. Meanwhile, after a short walk down to the falls from our hotel on the Canadian side, we were looking dead-on at the American Falls, and just down the river and in full view are the Canadian Horseshoe Falls.
Things to do in Niagara Falls with Kids
No matter which side of Niagara Falls you choose to visit, there are plenty of family-friendly activities to keep you busy. Here are some of the top things to do in Niagara Falls with kids, broken down by side.
Canadian Side:
When you cross Rainbow Bridge you are right near the Sheraton Fallsview and the Clinton Hill area of Niagara Falls — think Vegas meets Times Square meets NJ Boardwalk. This area is chock full of theme restaurants, arcades, waterparks, and other kitschy entertainment such as Ripley's Believe it or Not. Very entertaining for kids if you are staying more than one or two days.
You will want to start by viewing the Falls from Queen Victoria Park. Then start out with one of the following attractions:
Voyage to the Falls Boat Tour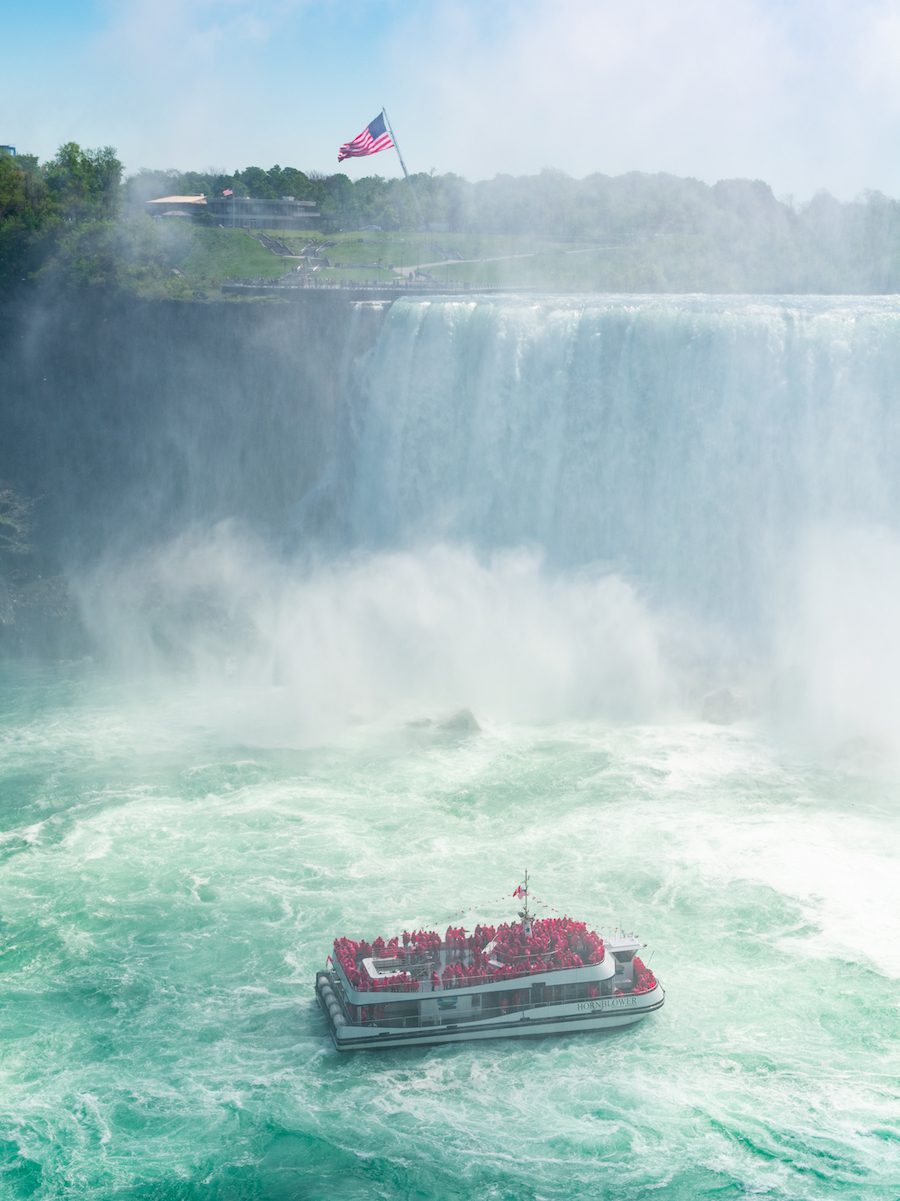 If you only have time to do one thing when you are in Niagara Falls with kids, make it the Voyage to the Falls boat tour by Niagara city cruises (from City Experiences anchored by Hornblower –what used to be known as the Hornblower Niagara Cruises. Maid of the Mist is on the U.S. side). This 20-minute boat ride takes you right up to the base of the falls, where you will need to shout to be heard over the roar of the water and expect to get wet — especially near the falls.
On the cruise, you get to see the Niagara Gorge, American Falls, Bridal Veil Falls, and, of course, the close of the Canadian Horseshoe Falls. They provide a souvenir recyclable mist poncho but if you really don't want to get wet, you will need better rain protection. More about our experience on the Maid of the Mist is below. This generally runs from early May to late November, but you need to check the schedule on the website to find the opening dates and hours. It is best to purchase a timed-entry ticket in advance.
If you have thrill seekers in your family, you may want to try the open-top jet boat experience instead (note that kids need to be at least 44 inches tall.)
Journey Behind the Falls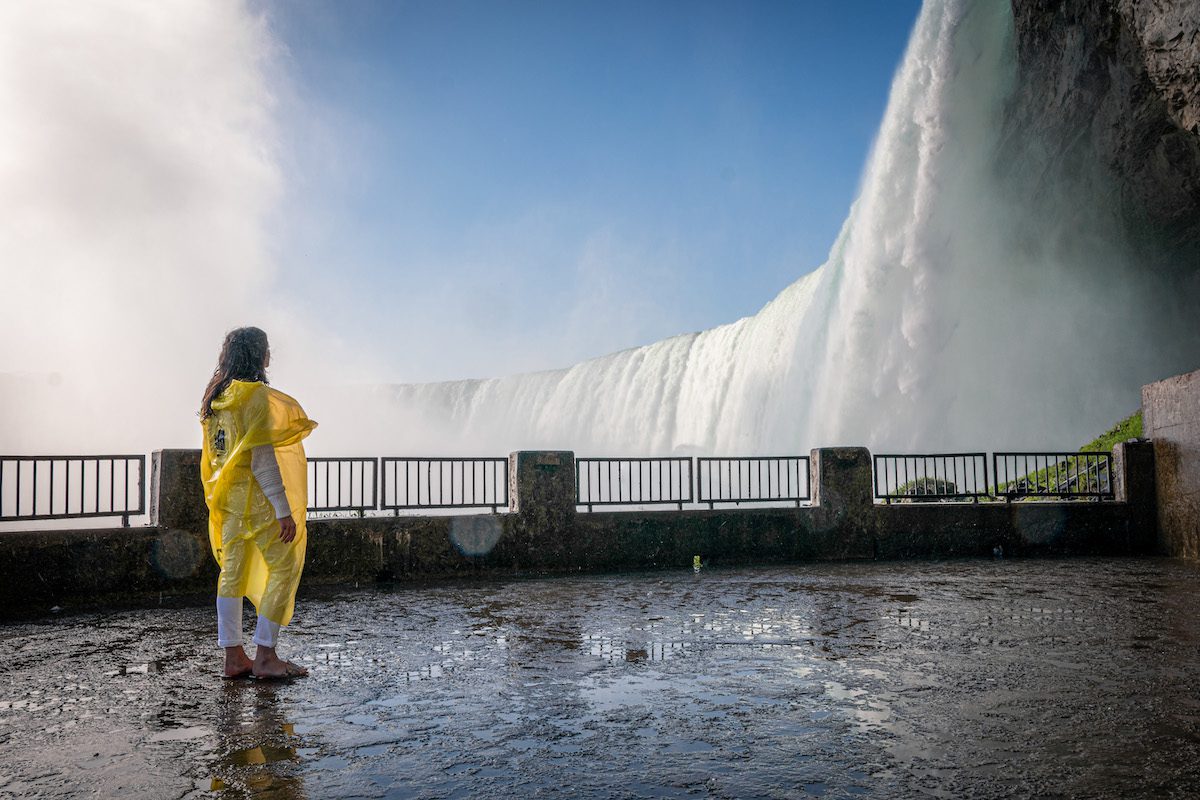 Journey Behind the Falls gives you an opportunity to explore the tunnels and outdoor observation decks behind the falls. I had heard this was an amazing experience and I was thrilled to have a chance to see what it is like behind these powerful falls. Unfortunately, I found it pretty disappointing. I think I was expecting a guided tour of sorts but really your timed-entry ticket just got you down the elevator and from there you were on your own. If you are visiting both sides, the Cave of the Winds might be a better substitution.
First, you take an elevator down to the tunnels that lead to two observation decks — those were cool as the main viewing platform is very close to the falls and you can see what it is like from the side. From here we were able to see the Maid of the Mist heading directly into a rainbow. Other than that, you just followed a tunnel to two portals, which look out behind the falls to a haze of water and mist. You feel the pounding percussion in your ears as you walk along the tunnel, taking in the poster displays that explain some of the history of the falls.
There are also options to get a combo Voyage to the Falls boat tour plus Journey Behind the Falls reserved access.
Niagara SkyWheel
Take a ride on the Niagara SkyWheel, which is the largest of its kind in Canada. This 175-foot-tall wheel offers amazing views of the Falls, the Niagara River, and the town. My husband has a severe fear of heights so we had to skip this and the Skylon Tower on our visit as just the walk across the Rainbow Bridge gave him major anxiety (walking across the bridge isn't at all scary if you don't have a fear of heights though.)
Skylon Tower
If you want to see some of the best views from above, book a ticket to the Skylon Tower observation deck. You will ride a glass-enclosed elevator for a "Ride to the Top" in just seconds. The observation deck is located 775 feet above the falls with excellent views of the Horseshoe and American Falls, the Great Gorge, and the Niagara River. If you want to combine the view with dinner, visit at night for a meal at the Revolving Dining Room or the Summit Suite Buffet and stay to check out the seasonal fireworks displays.
Zipline to the Falls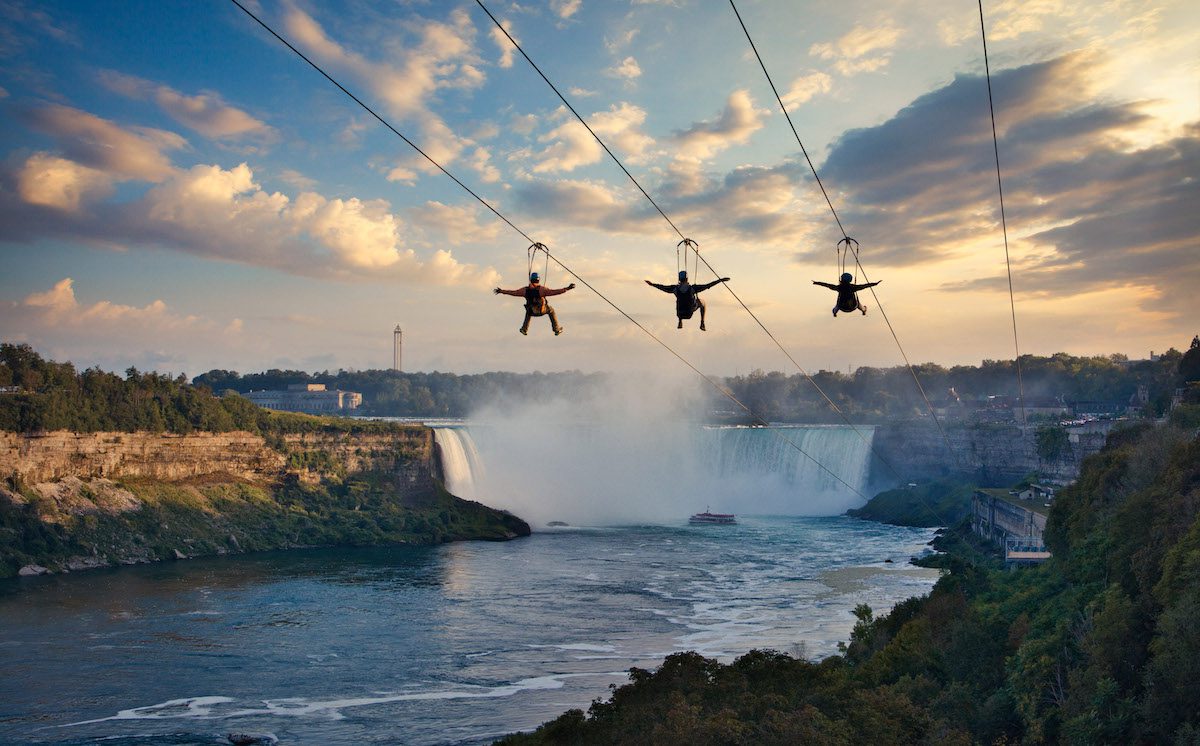 If you really want some heart-pumping fun with teens or older kids, you can also Zipline to the Falls. You will glide 2,200 feet from the platform across the falls. The minimum age is seven and all children must be accompanied by an adult (no chickening out!). The maximum weight is 275 lbs. In addition to the Zipline to the Falls, WildPlay offers a Whirlpool Adventure Course featuring three levels of thrills making your way across tightropes, cargo nets, ziplines, rope swings, swinging logs, and wobbly bridges.
Clifton Hill
If you are looking for some family-friendly fun, head to Clifton Hill, which is an entertainment district with carnival rides, go-karting on the Niagara Speedway, arcades, Dinosaur Adventure Golf, mini-golf, bowling, restaurants, and more for kids of all ages. This is where you will find the Niagara SkyWheel, Ripley's Believe It or Not! museum, and the Movieland Wax Museum too. This is where we gave in to our tired feet, hungry bellies, and eager child and had an expensive and unappetizing lunch at The Rainforest Cafe because hey, what else can you do when you are in Niagara with kids but make them happy?
If you plan on spending some time in Clifton Hill, I'd encourage you to purchase the Fun Pass, which includes admission to six attractions.
Fallsview Indoor Waterpark
While we are on the topic of keeping the kids happy, what kid doesn't love a massive indoor waterpark? The Fallsview Indoor Water park is spread out over two acres and offers 16 water slides, a wave pool, and a massive play area for kids. You can purchase a hotel package or buy individual day passes for tons of family fun.
Niagara Parks Botanical Gardens
We didn't visit the Botanical Gardens (we were saving this for Montreal), but the Niagara Parks Botanical Gardens offers over 99 acres of landscaped gardens, including a butterfly conservatory. The Niagara Falls Butterfly Conservatory features over 2,000 butterflies from around the world.
Whirlpool Aero Car
Near the Botanical Gardens, you will find the Whirlpool Aero Car. This retro, antique cable car carries you across the Niagara River and the swirling waters for the Niagara Whirlpool as you travel 3,500 feet across the Niagara Gorge. You will actually cross the international border four times, but no worries about a passport, it actually starts and ends in Canada.
White Water Walk
If you want to see the power of the river without the crowds of the Falls, Niagara Parks also offers a White Water Walk (open seasonally), which offers a quarter-mile-long boardwalk along Niagara River's Class 6 whitewater rapids, some of the wildest in North America. There are multiple platforms to soak in the roar of the river.
Bird Kingdom
Bird Kingdom is a fun choice for kids that love animal encounters and it is also perfect for cold-weather visits, when many of the other attractions are closed for the season. Just a five-minute walk from the Falls, Bird Kingdom is the world's largest free-flying indoor aviary.You can warm up in the multi-level rainforest and discover hundreds of tropical birds including parrots and playful lorikeets.
Tip: Some of these attractions require advance ticket purchase, especially during peak tourist season, so be sure to plan ahead and purchase your tickets online to avoid long lines and potential disappointment. Also, be aware that some attractions may have age or height restrictions, so check ahead of time to make sure they're appropriate for your children. For some truly EPIC memories, try a helicopter tour over the falls!
U.S. Side:
Okay, now you see why I said that the Canadian side has it going on. There is plenty to do to fill your visit to Niagara Falls with kids. However, that is not to discount the U.S. side (too much). I'm actually due a return trip to explore more of this side because I feel like I don't give the area enough credit because there isn't as much that is walkable from the Falls.
Maid of the Mist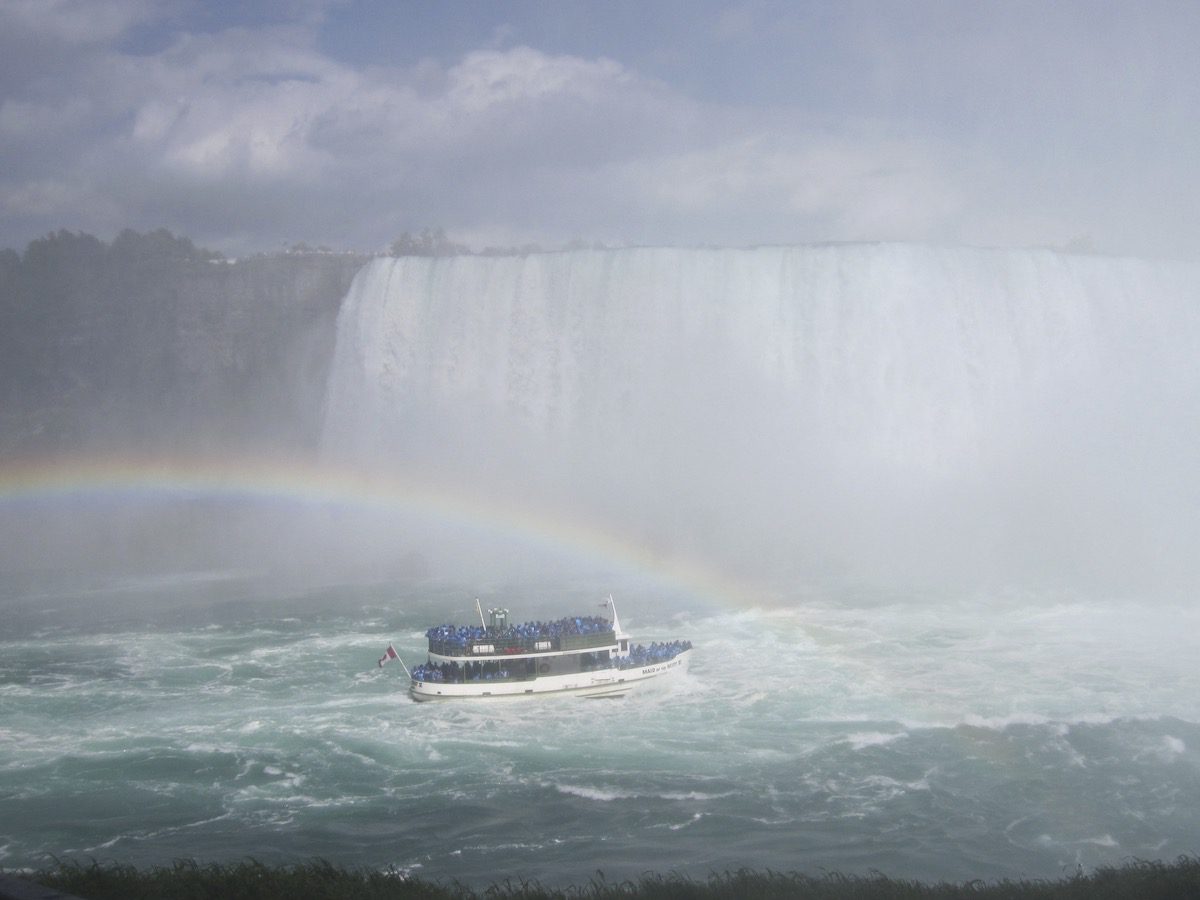 Just like on the Canadian side, the Maid of the Mist boat cruise to the Falls is truly a must-do. Plus, if you are only visiting the New York side, it is really your best way to even see the Canadian Horseshoe Falls. This was truly a highlight of our trip (see Hannah's poem down below). But let me tell you if you think the thin poncho they give you on the boat is going to keep you dry you are completely wrong. You get absolutely soaked, especially in the front. Also, the wind blows the mist and water into your face so much it is almost hard to look directly into the falls and get some good pictures but we did capture a few. It was an amazing experience and a complete thrill. It may sound cliche and too touristy but you don't go to Niagara to be highbrow so go and enjoy it — the Maid of the Mist is a must-do!
Cave of the Winds
The Cave of the Winds is another not-to-miss attraction on the U.S. side of the Falls and I really wish I had chosen this over Journey Behind the Falls. This attraction takes you down to the base of the falls, allowing you to feel the power of the water up close. You are first outfitted in rain gear and then transported down by elevator to the base of Bridal Veil Falls. From there you can climb over a series of staircases right at the bottom of the falls. Just note that you will get wet despite the rain ponchos! Well-fitting, non-skid shoes are essential.
Niagara Falls State Park
Recognized as the oldest state park in the United States, Niagara Falls State Park offers hiking trails, picnic areas, and spectacular views of the falls. The park contains the American Falls, the Bridal Veil Falls, and a portion of the Horseshoe Falls. This is also where you are going to find the Observation Tower, Cave of the Winds, the Aquarium, and more. It is open year-round and always free to walk around. In season, the Niagara Scenic Trolley also offers 30-minute tours through the park.
Aquarium of Niagara
This small aquarium is a rescue facility and a sanctuary for blind seals. Visitors can also see Humboldt penguins, gray seals, harbor seals, sea lions, and many species of fish. Young children will especially enjoy interacting with the shark and sting ray touch pool.
Where to Stay when Visiting Niagara Falls with Kids
Note: This post may contain affiliate links. If you click a link and make a purchase, I may receive a small commission. All opinions are my own.
There are definitely more hotel options if you choose to stay on the Canadian side of Niagara Falls for a family visit. On our trip, we stayed at the Four Points by Sheraton on Fallsview Boulevard in Niagara Falls, ON. The hotel was well located near the Fallsview Casino and just a short walk down to a perfect view of both the American and Canadian Horseshoe Falls. We enjoyed our stay, especially because we found a great deal. If you are looking for something even more centrally located, these are also great options. Of course, the Great Wolf Lodge nearby is another great option for a family trip:
Tips for Visiting Niagara Falls with Kids
If you are driving across the border, be prepared for potentially long lines at the border crossing. It helps if you are able to cross at off hours. For example, we crossed at 10 pm and there was very little line compared to other border crossings we made on that trip.
Make sure you bring raincoats or ponchos and wear non-slip shoes, especially when doing activities close to the falls. Those lightweight plastic ponchos don't do much for keeping you dry! (But they make for cute photo mementos!)
If you are considering day trips, I highly recommend the charming town of Niagara on the Lake. While it is known for its many wineries (some of which are kid-friendly), you can also rent bikes to ride past the vineyards or visit Fort George where kids can interact with interpreters in period costumes.
Dufferin Islands Park is another nice escape from the hustle and bustle of the main area around Niagara Falls. These scenic, man-made islands are about half a mile from Horseshoe Falls and offer nature trails, bird watching, and picnic spots.
If you visit in the winter, be sure to go during the Falls Illumination on the Canadian Side, which takes place from mid-November through mid-February. This features six-minute lighting displays, playing three times at the top of the hour, beginning at 6 pm, 7 pm, and 8 pm during the Winter Festival of Lights. There are also fireworks featured on weekends during the Winter Festival and over the Christmas Holidays at 8:00 pm, as well as two shows on New Year's Eve at 8:00 pm & 12:00 am. The Niagara Falls fireworks displays can be viewed from many vantage points including outdoor spaces in Niagara Parks, high above at the Skylon Tower and Niagara SkyWheel, and indoors at the many hotels and restaurants with views of the Falls.
Niagara Falls USA also holds a nightly illumination show "Inspired by Nature," which will showcase natural colors and movements, including sunrise, aurora borealis, rainbow, and sunset. The five-minute lighting display will play three times on the half-hour, beginning at 9:30 each evening, with additional shows at 10:30, 11:30, and 12:30 a.m. You can check the full illumination and fireworks schedule on the website.
Maid of the Mist Poem, by Hannah Gruber
This is the poem my daughter wrote when she was nine, about her experience on the Maid of the Mist as a school writing assignment. I found it so beautiful and true to life that I had to share it:
As we glide by the American Falls,
Spray hits my face with a smooth touch.
The droplets carried on the wind,
sparkling in the golden sunlight.
As we sail close to Niagara Falls,
the thundering crash grows to a roar.
As a splash of river water
like ice
sprays my face,
we slide into a whole new world
of mist.
The rushing waters
of the great falls
greet us with open arms.
The spray,
gushing out of the falls,
makes a crashing sheet of water that seems to be
falling from the sky.
I gaze in wonder through the thick haze.
A majestic world of water,
sheet upon sheet
rushing over rocks,
leaping like a dancer
over moss and stones
as it falls to the bottom of the river.
We turn and glide out of the mist.
The white foam of the American Falls
slides over rocks
and springs from stone to stone.
PIN THIS FOR LATER
SaveSave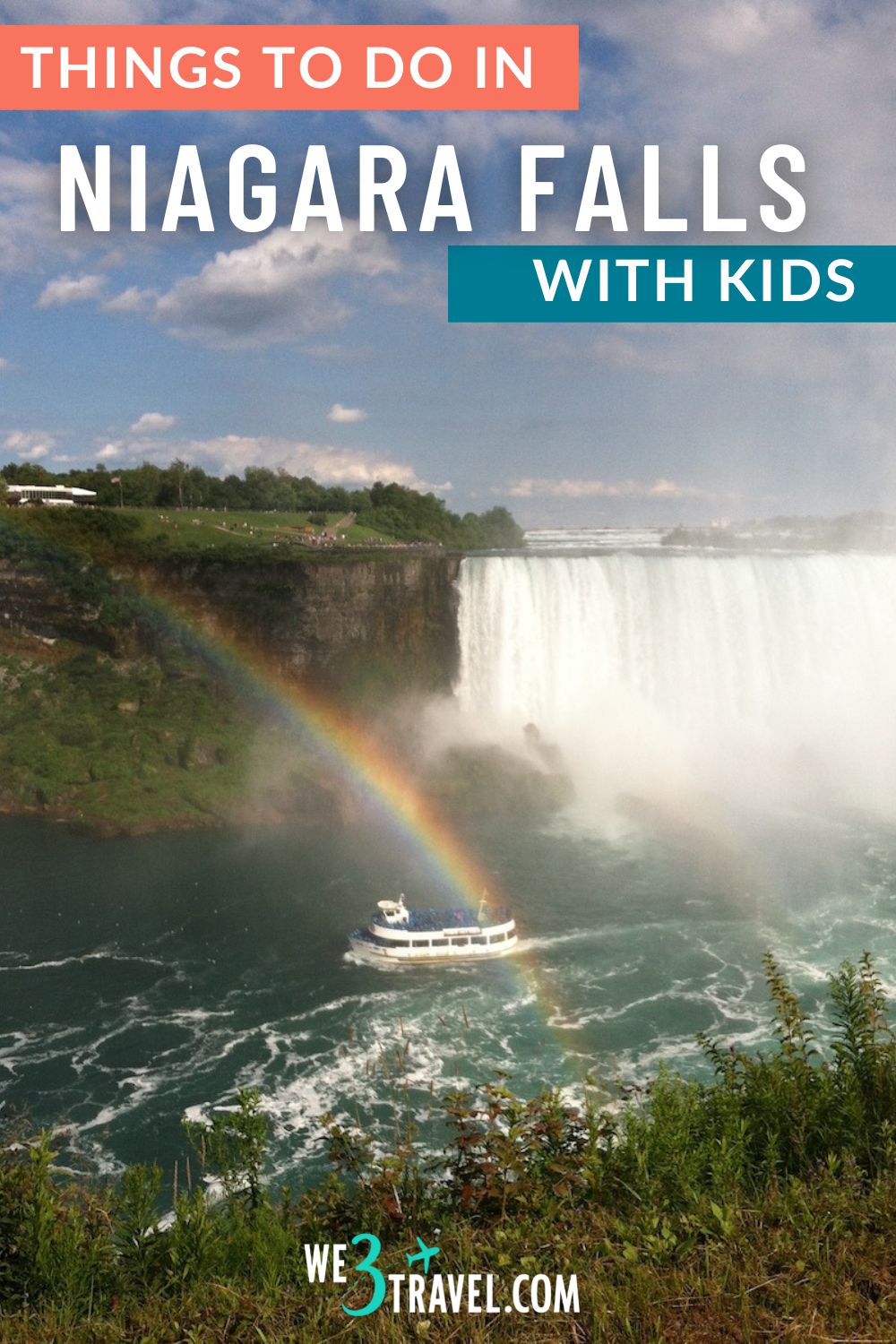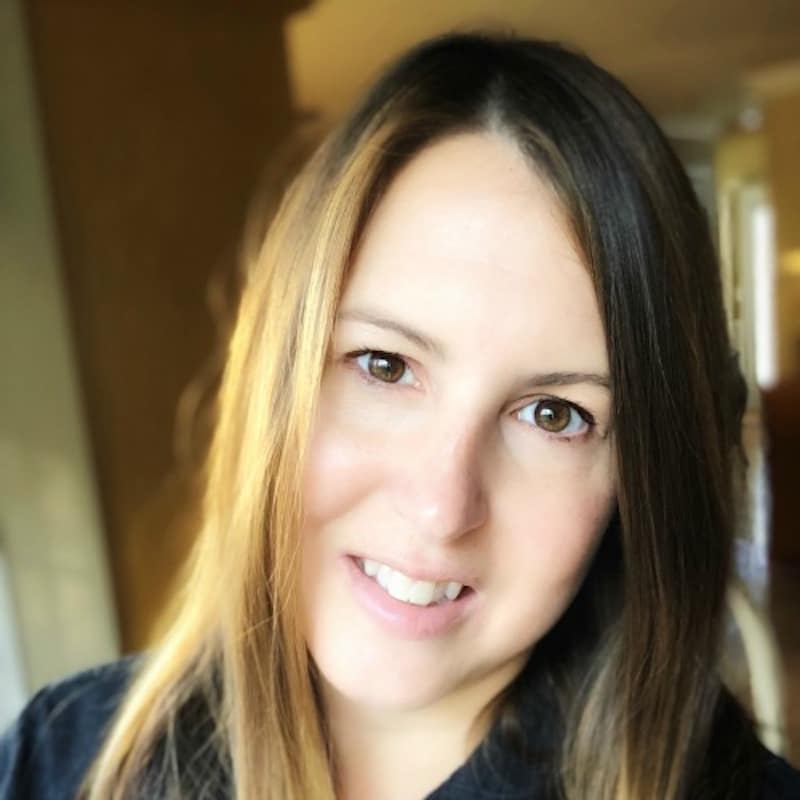 Tamara Gruber is the Founder and Publisher of We3Travel. A former marketing executive and travel advisor, Tamara is an award-winning travel writer and recognized expert in family travel. She is also the publisher of YourTimetoFly and the co-host of the Vacation Mavens travel podcast.