Little Rhody may be the smallest state but there are still plenty of things to do in Rhode Island! The Ocean State is packed with history, nature, arts and culture, and, of course, beaches. After living here for 17 years, there are still items on my Rhode Island bucket list that I need to check off.
Whether you live in Little Rhody or you are planning a future visit, these are some of the quintessential experiences in Rhode Island. The question is, which do you want to do first?
Download our printable Rhode Island bucket list PDF and start checking off your adventures!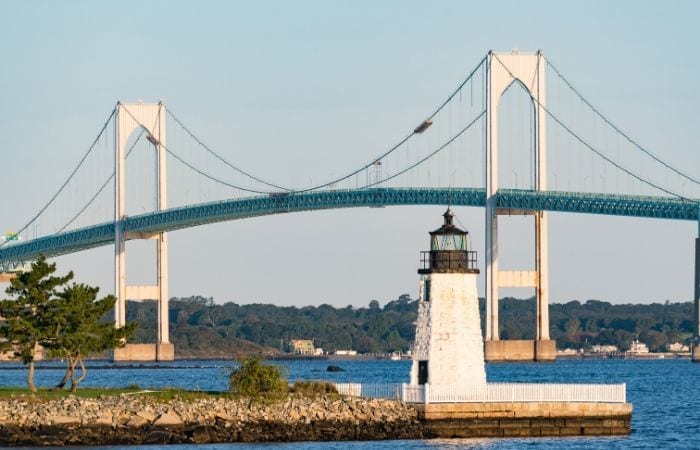 Check off your Rhode Island Bucket List
1. Bike the Blackstone River Bikeway
Bike along the 17-mile path Blackstone River Bikeway that runs from Cumberland to Woonsocket in Northern Rhode Island. You will bike over dams, past wildlife-filled canals, and alongside railroad tracks.
2. See a movie at the Rustic Drive In
Watching a movie at the Rustic Drive In is a summertime tradition in Rhode Island. Load up the car and bring the whole family for a double feature. The Rustic Drive In is located at 1195 Eddie Dowling Highway Route 146 South in North Smithfield, Rhode Island. Open for summer 2020 with social distancing guidelines.
3. Eat family-style chicken at Wright's Farm
Winner, winner chicken dinner. Wright's Farm offers no-frills, chicken dinners served family style. Every party is served up platters of baked chicken and steak, rolls, salad and pasta. Wright's Farm is located at 84 Inman Rd, in Burrillville, RI. Closed at the time of this writing with plans to reopen in the future.
4. Go berry picking
Rhode Island has plenty of farms that offer pick-your-own blueberries and strawberries in the summer, such as Dame Farm in Johnston and Jaswell's Farm in Smithfield. Check hours before you go.
5. Drink fresh milk from Wright's Dairy Farm
A visit to a working dairy is such fun for the kids. Watch the cows and pick up some fresh milk and dairy items, or a delicious cake from their bakery. Wright's Dairy Farm is located at 200 Woonsocket Hill Rd, in North Smithfield, RI.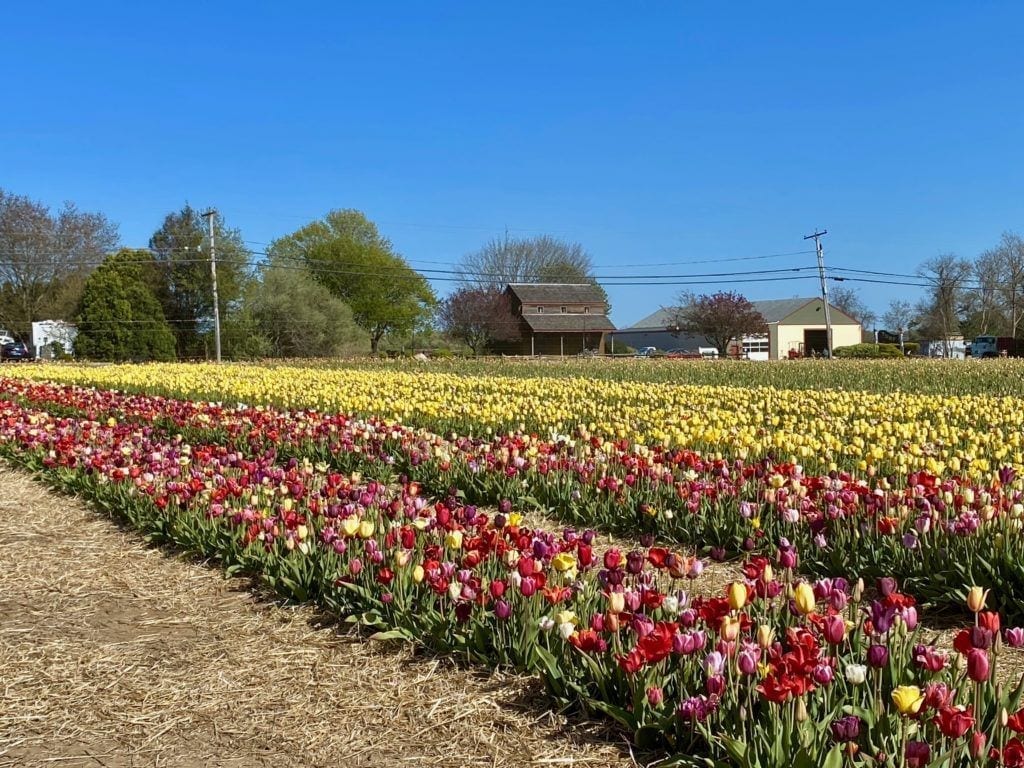 6. Tiptoe through the tulips at Wicked Tulips Flower Farm
Can't make it to Amsterdam? You can pick up some fresh tulips at the Wicked Tulips Flower Farm in Exeter instead. Flower fields are closed to the public for 2020 but reservations for curbside pick up are currently being accepted.
7. Enjoy a scoop at the Ice Cream Machine
The Ice Cream Machine has arguably some of the best homemade ice cream in the state. Just be prepared to queue up to order, which will give you time to decide between all the flavors, and bring your appetite because the servings are huge!
8. Attend the oldest July 4th Parade
America's oldest July 4th celebration takes place in Bristol, RI. Locals and visitors line up hours in advance in all their patriotic gear to enjoy this fun time. Keep in mind that the Bristol July 4th Parade is cancelled for 2020.
9. Picnic on the grounds of Carolyn's Sakonnet Vineyards
Stop into Carolyn's Sakonnet Vineyards in Little Compton for a tasting or pick up a meal at the cafe and enjoy a picnic on the beautiful grounds. Carolyn's is located at 162 W Main Rd. in Little Compton. Carolyn's is closed for tasting at the time of this writing but available for curbside pick up.
10. Sip cocktails on the rooftop of The Vanderbilt
The Vanderbilt Hotel in Newport offers a seasonal roof deck with views of town and the harbor, a perfect spot to enjoy a sunset cocktail. The Vanderbilt is located at 41 Mary St, in Newport.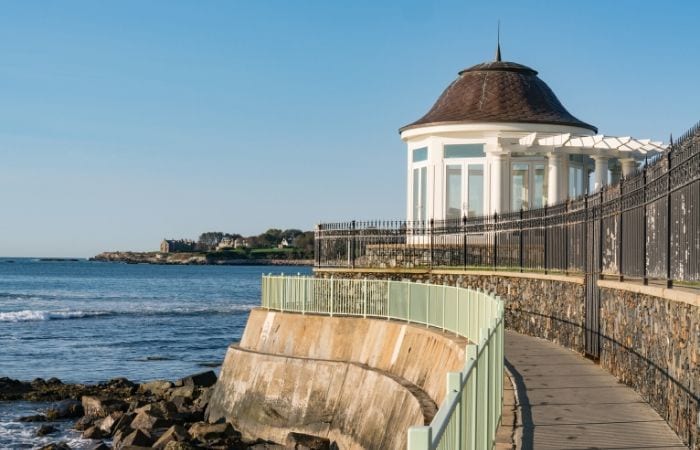 11. Stroll on the Cliff Walk
Take a stroll along the 3.5 mile scenic path overlooking the ocean and backing up against the stunning Newport Mansions.
12. Tour the Newport Mansions
Picture the height of the Gilded Age with a tour of the Newport Mansions. Once used as summer homes or "cottages" by the New York elite, these stunning mansions are the U.S. answer to castles and palaces. Start with the Breakers and then continue with Rosecliff, Marble House, The Elms, or one of the other great houses.
13. Attend Newport Folk or Jazz Festival
Each summer Newport's Fort Adams plays host to two major music festivals — the Newport Jazz Festival and Newport Folk Festival. Whether you enjoy the show from the park grounds or the water, these are a highlight of the summer season. Both festivals have been cancelled for 2020.
14. Watch the sunset from the Castle Hill Inn
Castle Hill Inn is a luxury hotel located on a 40-acre estate in Newport overlooking the ocean. Even if you can't afford a room to stay overnight, you can enjoy drinks and dining on The Lawn with beautiful sunset views over the water. Castle Hill Inn is located at 590 Ocean Drive in Newport.
15. Fly a kite at Brenton Point State Park
Brenton Point State Park is located on a former grand estate with a 180 degree view of the ocean. The winds make it a perfect spot for flying a kite, having a picnic, or climbing over the rocks to watch the sunset.
16. Take a scenic drive on Ocean Avenue
There are many scenic drives in Rhode Island, but the best is along Ocean Avenue in Newport, past Brenton Point State Park and then along Bellevue Avenue past the Newport Mansions.
17. Enjoy drinks at the Coast Guard House
The perfect way to end a beach day in Narragansett is with sunset drinks at the upstairs deck bar of The Coast Guard House. The Coast Guard House and its iconic stone towers is located at 40 Ocean Rd in Narragansett.
18. Sail around Newport
Newport is the sailing capital of the world and there are plenty of ways to see the City by the Sea from the water.
19. Play at the International Tennis Hall of Fame
Visit the Tennis Hall of Fame, explore the museum, or watch a match on the historic courts. The International Tennis Hall of Fame is located at 194 Bellevue Ave in Newport.
20. Take a hike at Sachuest Wildlife Refuge
If you are looking for hiking in Rhode Island, Sachuest National Wildlife Refuge offers many trails offering bird watching and beautiful views of the ocean and surrounding beaches.
21. Go bird watching at Norman Bird Sanctuary
The Norman Bird Sanctuary offers a number of fun public programs, as well as access to seven miles of hiking trails and bird watching. As of this writing, the trails are still open but trail passes need to be purchased online or via phone in advance. The Norman Bird Sanctuary is located at 583 Third Beach Road in Middletown.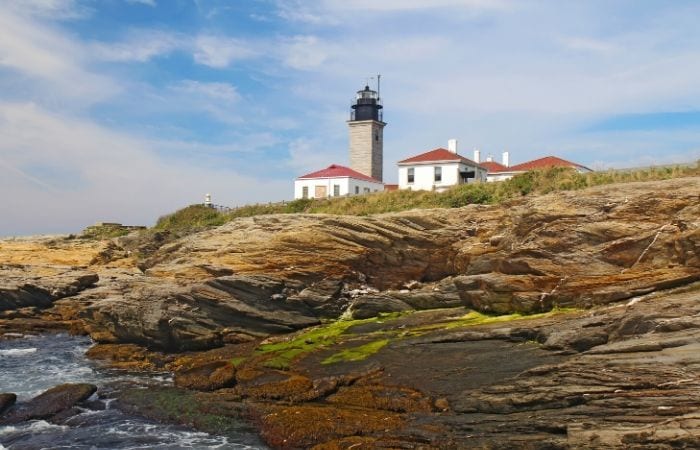 22. Climb on the rocks at Beavertail State Park
Spending a day at Beavertail State Park in Jamestown is one of our favorite things to do in Rhode Island in the summer. You can visit the lighthouse museum, check out the tiny local aquarium, climb over the rocks and examine the tide pools, or enjoy a picnic. It is also a great spot to fly a kite.
23. Go kayaking in Wickford
The Kayak Centre in Wickford offers tours, rentals and sales of kayaking and stand up paddle boards. From their location, you can explore the local salt ponds or the bay. After your paddle you can enjoy the shops and restaurants of downtown Wickford.
24. Watch a show at Theater by the Sea
Theater by the Sea in South Kingstown offers Broadway-quality productions and programming for kids in a historic theater and playhouse. The 2020 season has been postponed until 2021.
25. Eat oysters at Matunuck Oyster Bar
Matunuck Oyster Bar and retail shop offers indoor and outdoor deck seating overlooking Potter Pond with some of the sweetest, smallest, tastiest oysters around, along with pond and farm-to-table cuisine.
26. Search for driftwood in Charlestown
East State Beach in Charlestown is one of the least developed of the Rhode Island state beaches, taking up three miles of prime beach shoreline. You will often see driftwood washed up on the beach. Parking is limited so get there early during high season.
27. Brunch at the Ocean House
This beachfront, luxury historic hotel offers a Sunday Jazz Brunch that is perfect for special occasions with a raw bar, classic entrees, fresh pastries, bubbles, and musical entertainment. Ocean House is located at 1 Bluff Ave in Westerly.
28. Attend the Newport St. Patrick's Day Parade
Newport's sister city is Kinsale, Ireland and Newport has a long history of ties with the Irish, with even a Museum of Newport Irish History. Each year, the Saturday before St. Patrick's Day is the annual Newport St. Patrick's Day Parade.
29. Get doughboys at Iggy's
Line up to sample the doughboys and clam cakes at Iggy's Doughboys and Chowder House in Narragansett or Warwick. When in Narragansett, you can then pop over to Aunt Carrie's to see which you like better.
30. Ride the carousel in Watch Hill
Take a spin on the historic Flying Horses carousel, delighting families since 1883. Maybe you will get lucky and grab the brass ring!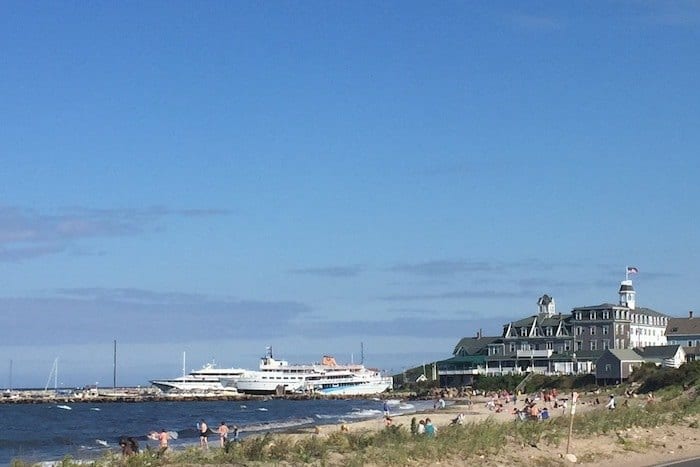 31. Take the ferry to Block Island
Hop on the Ferry for a Block Island day trip or a weekend getaway. Rent bicycles or scooters to explore the island or stay close to town and enjoy Bloody Marys on the beach at Ballard's Beach Resort.
32. Order a donut cake from Allie's Donuts
You haven't had the best of the Rhode Island foods without tasting a donut cake from Allie's Donuts. Allie's Donuts is located at 3661 Quaker Lane in North Kingstown.
33. Take a seal watching tour
Bundle up because November through April is the best time to see the "dogs of the sea" on a seal watching and lighthouse cruise with Save the Bay.
34. Get a lobster roll at Champlin's
Champlin's Seafood Deck is located at the entrance to Galilee Harbor, home of Rhode Island's largest fishing fleet. Enjoy one of the best lobster rolls in Rhode Island on their spacious deck and watch local fishermen unload their daily catch or pick up a lobster to go. Champlin's Seafood Deck is located at 256 Great Island Rd in Narragansett.
35. Listen to music at the Rhode Island Philharmonic Rush Hour concerts
If you are new to classical music, the Friday night Rhode Island Philharmonic Rush Hour concerts at The Vets in Providence is a great introduction. Shorter than the Saturday night concerts, they also include a discussion about the music with the conductor before and after the show.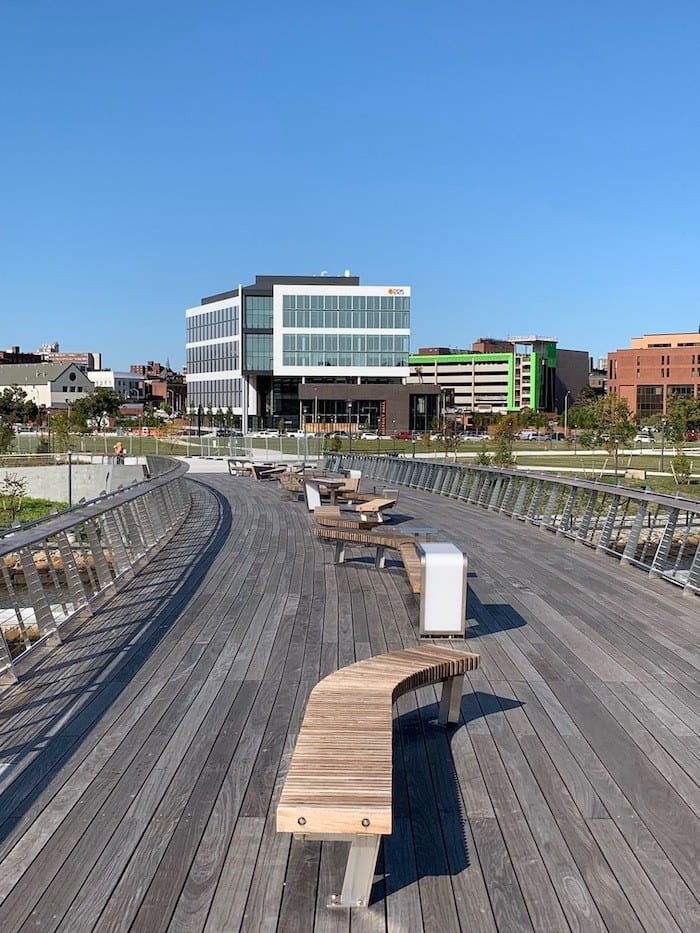 36. Walk across the Providence pedestrian bridge
Providence's new pedestrian bridge connects the East Side to Downcity and the Innovation District. Stop in to Knead Donuts, then stroll through Providence to find some street art before crossing the bridge and explore the vegan specialties at Plant City, the new plant-based food hall.
37. Join a Gallery Night Providence
On the third Thursday of every month, from March through November, eighteen of the city's "art spots" open their doors for Gallery Night Providence. You can take a free guided Art Trolley tour or choose your own itinerary, visiting the galleries of your choice.
38. Eat french fries from Haven Bros.
The 1930s-era Haven Bros. trailer is the original Providence food truck. Ubiquitous in downtown Providence for decades, they serve up the tastiest, crispiest fries, along with other comfort foods.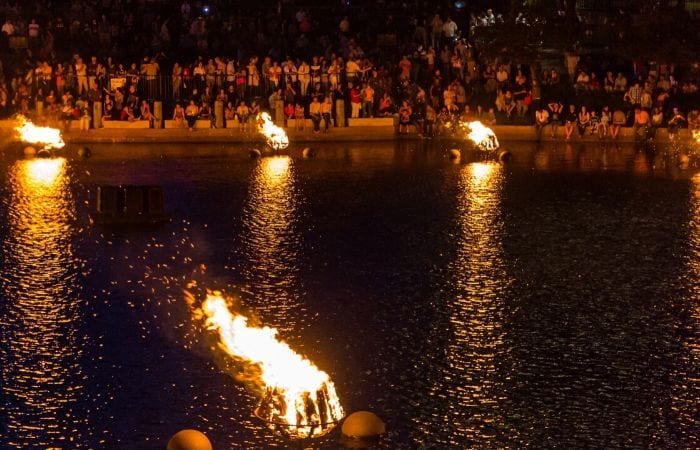 39. Attend Waterfire
WaterFire lightings light up over eighty braziers from Waterplace Park to Memorial/South Main Street Park on scheduled evenings throughout the season. The music, entertainment, and ambience make this a must-attend annual event.
40. Attend a Providence food truck event
Like any good foodie city, Providence is home to a wide variety of food trucks from gourmet Gastros to Friskie Fries. Find a food truck event and bring your appetite and some friends to taste test your way through.
41. Get artsy at PVD Fest
In June, artists from around the globe gather in Providence and live music, dance, food, and visual art installations transform the city in a four-day, multi-arts take-over of public spaces, parks and outdoor stages. The 2020 PVDFest is currently postponed.
42. Pick up donuts from the Night Cruller window
Friday nights are donut nights. Stop into the Long Live Beerworks for a pint and then pick up fresh, hot donuts from Knead Donuts' Night Cruller window on 55 Cromwell Street.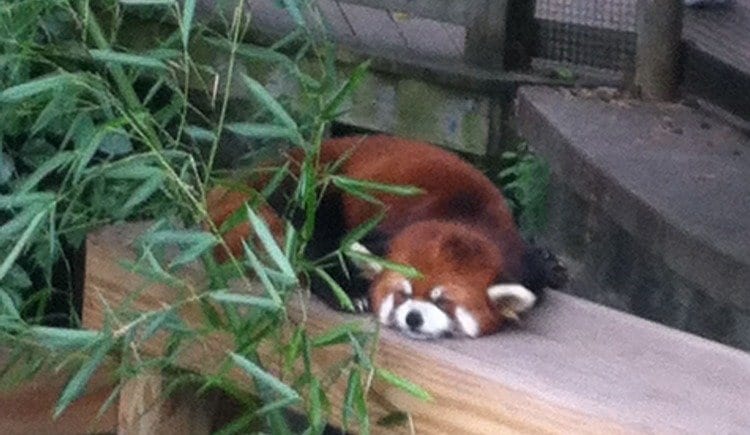 43. Visit Roger Williams Park Zoo
Located on 40 acres, Roger Williams Park Zoo is home to 160 species of animals including a Komodo dragon, zebras, red pandas, African elephants, Masai giraffes, snow leopards, bears, anteaters, flamingoes, sloths, and more. There are opportunities to feed giraffes and farmyard animals, as well a ride a zip line or train through the woodlands.
44. Sip a local brew
There are nearly 30 craft breweries to investigate, many offering tasting rooms and special events. Whether you join a beer tour or pick a few to try, see which ones you like best.
45. See the Big Nazo puppets
I'm not sure anything like Big Nazo exists outside of Rhode Island. Big Nazo is an international performance group of visual artists, puppet performers, and masked musicians who unite to create bizarre and hilarious larger-than-life sized characters, environments, and spectacles. These creatures are far from the cuddly faces on Sesame Street, but they enthrall all ages none-the-less.
46. Have breakfast at the Modern Diner
The Modern Diner in Pawtucket is the first diner in the USA to be accepted on the National Register for Historic Places. Located in a 1930s-era Sterling Streamliner, they continue to innovate with some of the tastiest breakfast options around from marscapone-stuffed French toast to a dizzying array of eggs Benedicts. Modern Diner is located at 364 East Avenue in Pawtucket.
47. Attend a Providence Bruins game
Even though our minor league baseball team is leaving the state, we can still enjoy local hockey with the Providence Bruins or the Brown University Brown Bear games.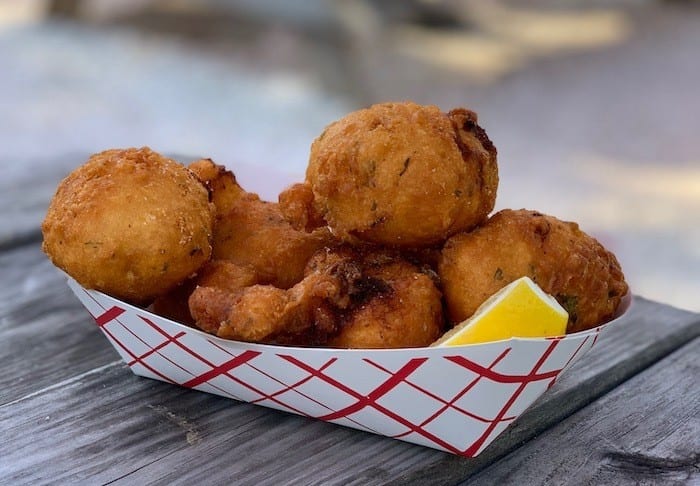 48. Eat clam cakes from Dune Brothers Seafood
There are many great seafood restaurants and clam shacks around the state but for a long time, Providence was missing a tasty, but casual, seafood joint until Dune Brothers Seafood came to town. This permanent food truck and patio in the Innovation District features traceable local seafood from New England. And their clam cakes are the best — the secret is the beef fat they use for frying.
49. Dance away at PRONK
Providence Honk Fest, or PRONK, is a family-friendly, outdoor activist/music festival, featuring brass and drum-based street bands. It takes place in mid-October around Indigenous Peoples day and is meant to celebrate of resistance to consumerism, colonialism, hatred, and injustice.
50. Visit the RISD Museum
We don't have the same scale of museums as larger states, but the RISD Museum offers a small but world class art museum. You can explore galleries with Asian, Ancient Egyptian, and Ancient Greek and Roman art, or focus on modern and contemporary galleries and temporary exhibits.
51. Take a gondola ride
Enjoy an authentic Venetian gondola ride through the heart of a Renaissance city, great for a special occasion or romantic night out. Just make your reservation with La Gondola far in advance if you hope to go during Waterfire.
52. Buy local at a farmer's market
There are many farmers markets in Rhode Island on varying days and locations throughout the state. Check one out for fresh produce, fish, meat, juices, cheeses, and other locally-made goods.
53. Wander through the books at the Providence Athenaeum
The Providence Athenaeum was founded in 1836 as an independent, member-supported library. Today, the Athenaeum seeks to enrich the literary, cultural, and intellectual pursuits of its members and surrounding community with many special events. Plus it is a great place to explore for booklovers!
54. Watch a show at PPAC
The Providence Performing Arts Center welcomes traveling Broadway shows, programming for kids, and musical performances. This world-class venue is listed on the National Register of Historic Places, and is a perfect alternative going to NYC to see a show. Even when the theater is closed due to virus rules, they still offer virtual programming.
55. Tour the State House
The Rhode Island State House features one of the largest self-supporting marble domes in this world. Tours are typically offered daily on the hour between 9 am and 4 pm, or you can take a self-guided tour. Note: as of this writing the state house is closed to visitors.
56. Take a stroll through DePasquale Square
Enjoy an espresso, pasta, or a glass of wine on the patio at Venda Ravioli or just stroll through this Federal Hill square on a weekend evening to listen to the music, watch the people dancing along, or throw a coin in the fountain.
57. Eat a red velvet cupcake from La Salle Bakery
If you are a fan of red velvet cake, you need to try one of the ginormous red velvet cupcakes from La Salle Bakery.
58. Shop at the Providence Flea
Providence Flea was launched in 2013 as a juried vintage and artisan maker market. Held outside along South Water Street, the market has hosted over 500 vendors. In the summer, the Flea moves indoors at the Waterfire Arts Center.
59. Enjoy a giant slice of chocolate cake from Gregg's
Speaking of good cake, you can't beat the six-layer, Death by Chocolate Cake from Gregg's is unbeatable. Bring your appetite or a buddy because one slice is huge! Oh and FYI, they do take out!
60. Learn history at Gaspee Days in Cranston
Gaspee Days commemorates the burning of the British schooner, HMS Gaspee, by Rhode Island patriots in 1772. This has become recognized as the first bloodshed of the American Revolution. Since 1965, the village of Pawtuxet, RI has marked this moment in history with its annual Gaspee Days Celebration. This typically includes a parade, arts and crafts festival, a road race, and the symbolic "Burning of the Gaspee." Gaspee Days for 2020 has been cancelled so mark your calendar for 2021.
61. Ride your bike on the East Bay Bike Path
The East Bay Bike Path is a 14.5-mile paved rail trail starting in Providence in India Point Park, and crossing the Seekonk River and continuing southeast to Bristol along the shoreline of Narragansett Bay. This crosses the hiking trail at the Audubon Society in Bristol and ends in Colt State Park.
62. Picnic at Colt State Park
Colt State Park occupies 464 acres on Poppasquash Neck in Bristol. It is a perfect spot for a picnic, fishing from the pier, or a walk along the water.
63. Ride the rails with the Rail Explorers
Hop onto the pedal-driven Rail Explorers, which operates along the Old Colony Railroad, built in 1862. The rails meander alongside spectacular Narragansett Bay offering riders views that include Jamestown, the Mount Hope Bridge, Hog Island Lighthouse, and coastal woodlands.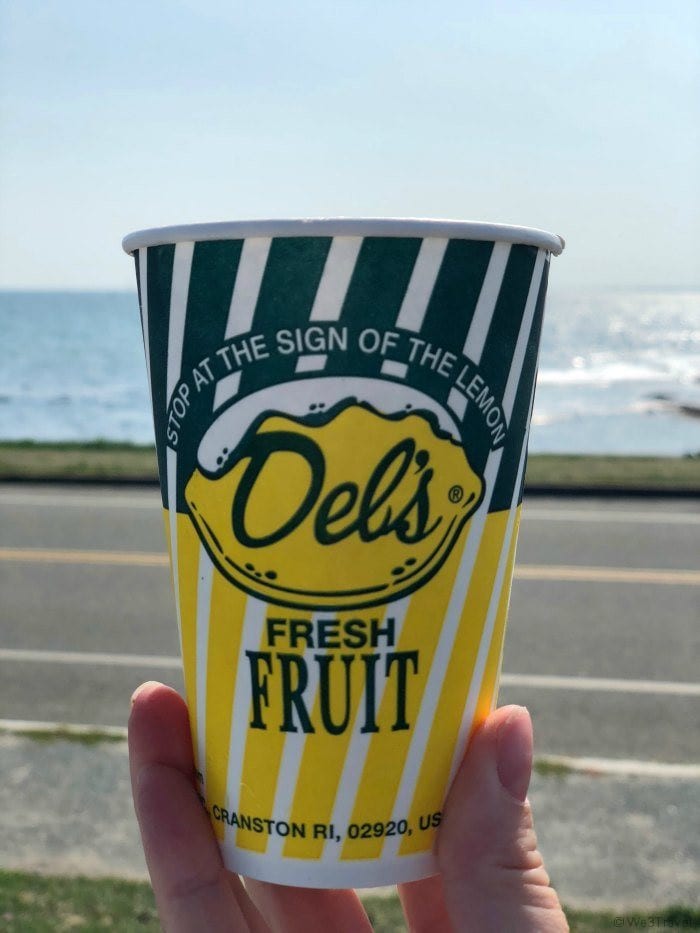 64. Have a Del's
Is there anything more Rhode Island than Del's Frozen Lemonade? Whether you choose lemon, mango, or watermelon, it just tastes like summer.
65. Attend the Scituate Arts Festival
The Scituate Arts Festival takes place over Columbus Day weekend in October on the charming Village Green in Scituate. You will find juried vendors of art, crafts, and antiques, along with food stands and entertainment, making it fun for the whole family.
66. Drink an Awful Awful
Newport Creamery dates back to 1928 and in 1940, they opened a "milk bar" serving ice cream. Since then, generations of Rhode Islanders have been enjoying their signature drink, the Awful Awful, their version of the milkshake that comes in 11 flavors.
67. Visit a pumpkin patch
Come fall, it is time to visit on of Rhode Island's pumpkin farms to pick your own pumpkin or take a hayride. See our favorite pumpkin patches in Rhode Island.
68. Go apple picking
September is the time to head to the apple farms before they are all picked out! See our favorite spots to go apple picking in Rhode Island.
69. Solve a corn maze
If you like puzzles and escape rooms, you will enjoy wandering through some of the best corn mazes in Rhode Island, looking for clues and finding your way out.
70. Apple cider donuts
The other best thing to do in the fall in Rhode Island is to search for the best apple cider donuts in Rhode Island. Our favorites are at Jaswell's Farm, what about you?
71. Attend the Jack-o-Lantern Spectacular
For the month of October, evenings at Roger Williams Park Zoo transform into the Jack-o-Lantern Spectacular. Featuring over 5,000 intricately-craved pumpkins along a trail through the zoo, this event is a fall favorite for years. Now you can even zip line over the display!
72. Go skiing at Yawgoo Valley
When winter comes, it is time to head to Rhode Island's only ski mountain. It may also be the only place I can ski a double black diamond. Perfect for beginners and ski lessons for youngsters, Yawgoo Valley is a local favorite for skiing, snowboarding, and snow tubing.
73. Ride in the bumper boats at the Providence Rink
The Providence Rink is the first outdoor rink to host bumper cars on ice. One of the best things to do in Rhode Island in the winter, it books up early so be sure to reserve your tickets weeks in advance.
74. See a Christmas Carol at Trinity Rep
A Christmas Carol, a story by Charles Dickens, has celebrated 42 years at Trinity Rep theater. Rhode Island's family holiday tradition brings Ebenezer Scrooge, Jacob Marley, Tiny Tim, and the ghosts of Christmas Past, Present, and Future to life on stage. Currently all shows for the 2019-2020 season are closed but stay tuned for announcements about the 2020-2021 season.
75. Watch the Nutcracker from Festival Ballet
Join Clara and her Nutcracker Prince on a magical journey complete with beautiful sets, elegant choreography, and world class dancers from Festival Ballet bringing this holiday tradition to the stage.
Download the RI Bucket List Printable
Are you ready to start working on your Rhode Island bucket list? Download our printable PDF and start checking things off. We have even left some room to add a few activities of your own.
Looking for more fun ways to explore the Ocean State? Print out our Rhode Island scavenger hunt and begin your adventure!
SAVE THIS ON PINTEREST