The City-by-the-Sea may be known as a yatching capital and a summer playground for the wealthy, but there are also plenty of things to do in Newport RI in winter.
In fact, Christmas in Newport is a month-long celebration of the non-commercial traditions of the holiday season. From the white lights that illuminate the buildings, representing candlelight from bygone days; to a series of holiday events; and especially Christmas at the Newport Mansions, winter can be a lovely time to visit Newport.
Even though we live only 45 minutes away, winter can be so busy or so cold that we rarely make the drive down to Newport, Rhode Island. But I have recently discovered that it is worth going down to Newport in the off-season and especially visiting the Newport Mansions at Christmas.

Things to do in Newport RI in Winter
Ice skating at Gurney's Newport Skating Center
You can enjoy some outdoor ice skating at the Gurney's Newport Skating Center. The Gurney's Newport Skating Center is located at Gurney's Newport Resort on the resort's North Lawn overlooking the bay.
Igloos at Gurney's
Gurney's Newport Resort and Marina offers pop-up igloos overlooking Narragansett Bay and the Newport Bridge. These multi-sensory themed igloos are heated and each offers its own unique themes, with games and music alongside a signature cocktail pairing.
Newport Mansions at Christmas
Three of the Newport Mansions are decorated for Christmas around the holidays — The Breakers, The Elms and Marble House. Each of these National Historic Landmarks are filled with thousands of poinsettias, fresh flowers and evergreens from late November through early January (check the website for future schedules.)
A total of 24 decorated Christmas trees are placed throughout the homes and dining tables are set with period silver and china as if waiting for Christmas dinner. In the Breakers, you can find a working garden scale model of the Vanderbilt family's New York Central Railroad, which travels through a village of gingerbread Newport Mansion replicas. The Elms hosts a Victorian streetscape scene in the ballroom, complete with sleighs and mannequins dressed in period costumes.
Since we have been to The Breakers many times, we decided to tour Marble House, which was hosting a local garden club competition, in which eight garden clubs created mantelpiece decorations on the second floor fireplaces, based on each room's decor.
Inspired by the Petit Trianon at Versailles, Marble House is simply stunning, utilizing over 500,000 cubic feet of marble costing $7 million back in 1888 when construction started. The summer house was built for Mr. and Mrs. William K. Vanderbilt, grandson of Commodore Cornelius Vanderbilt, who established the family's fortune in steamships and the New York Central Railroad.
When touring, you have the option of using an included audio tour, which takes about 45 minutes to complete. The Breakers and The Elms open daily at 9 am, Marble House opens at 10 am. The last tour admission at all three houses is at 4 pm, and the houses & grounds close at 5 pm. There are also a number of evening events at the mansions, with live holiday music and light refreshments, so check the schedule for current details.
Newport Winter Festival
In mid-February, the Newport Winter Festival offers 10 days of music, food and fun and is touted as "New England's Largest Winter Extravaganza." The Festival features over 150 events, combining food, festivities, music, and fun for all ages including the Children's Fair, Chili Cook-Off, Princess Party and live bands.
Lantern Tour of Colonial Newport
The Newport Historical Society offers group walking tours, including a lantern-lit tour of the exquisitely preserved neighborhoods of Newport's Historic Hill, transporting visitors back in time. Each tour lasts approximately 75 minutes and are offered year-round. Tours are by reservation only and can be booked by calling 401-841-8770.
Visit Museums
It can get very windy down in Newport, so if you need to get in out of the cold, there are two museums to visit on your way to explore the mansions. The Audrain Automobile Museum houses 112 of the rarest and most remarkable vehicles in history, featuring fully restored vehicles ranging from the beginning of the 20th Century to modern day. The Museum is located at 222 Bellevue Avenue and is open daily from 10am-4pm.
Just next door at 194 Bellevue Avenue is the International Tennis Hall of Fame and Museum. The museum was renovated in 2015 to feature more of the collection and to be highly interactive, including a tennis culture touch table, video highlights of great matches, a tennis globe featuring news and updates from around the world and a hologram of 17-time major champion Roger Federer.
Save the Bay Seal Watch Tours
On weekends and public school holidays from November – April, Save the Bay operates Seal Watch Tours, departing from Bowen's Wharf. They motor through historic Newport Harbor for excellent views of seals resting on Citing Rock off of Rose Island and the Newport Bridge. One-hour seal tours are entirely boat-based, while two-hour tours include a tour of Rose Island Lighthouse.
Christmas in Newport Events
For the month of December, Christmas in Newport hosts daily events including tree lightings, Polar Express train rides, historical tours, shopping strolls, concerts and dances, Victorian-era Christmas festivities, culinary fêtes, arts and cultural celebrations and more.
Plus, you can stop into the Newport Visitors' Center for a photo opportunity with a 16-foot working lighthouse made out of gingerbread! Be sure to check the website for current events.
After all that exploring of Newport RI in winter, you are bound to work up an appetite and want to warm up inside. Here are two of my favorite winter warm-up stops in Newport:
The Black Pearl is good for all seasons. In the summer you can sit outside on the wharf and enjoy seafood with a view. But in the winter, you can step inside the cozy tavern for a piping hot bowl of, what some say is the best, New England Clam Chowder. You can't miss The Black Pearl on Bannister's Wharf in Newport.
Serving hungry Newporters since 1673, this historic tavern is claimed to be America's Oldest Restaurant. I love The White Horse Tavern in winter because of its wood-burning fireplace and cozy setting. They serve up classic fare, like Beef Wellington and Scotch Eggs wrapped in duck sausage. The White Horse Tavern is located at 26 Marlborough St in Newport. Reservations are recommended (request the room with the fireplace) and country club or business casual attire is expected.
For more ideas, you can always check the Discover Newport website.
PIN THIS FOR LATER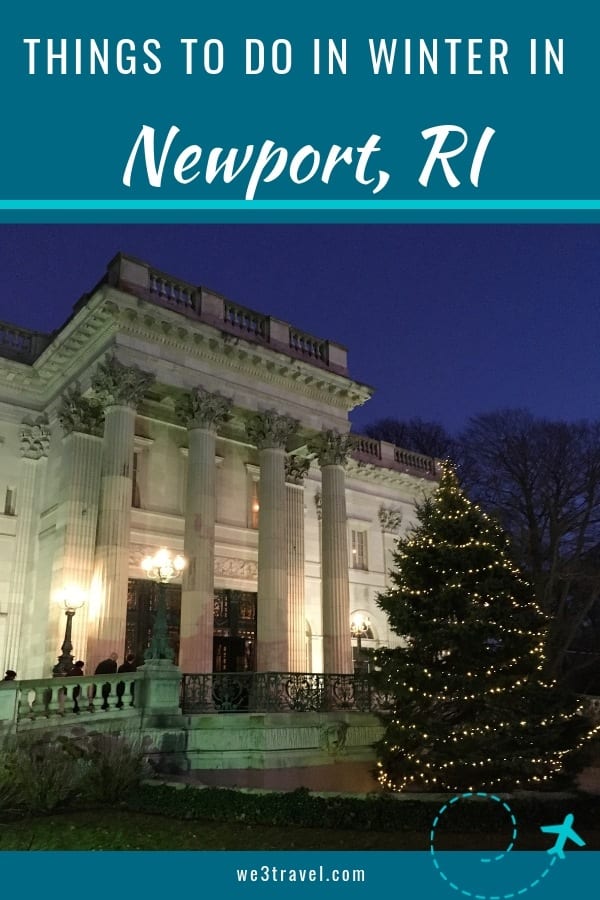 Note: My tickets to the Newport Skating Center and Marble House were hosted by Discover Newport, all opinions are my own.