Let's face it, Southern New England in winter is cold at this time of year. And gray. And snowy. And did I mention cold? It is definitely better to visit Rhode Island in the summer or fall, but you don't need to hibernate for six months out of the year either. There are plenty of fun things to do in Rhode Island in winter.
Once the holiday season is over, I love to curl up on the couch under a blanket and watch the Patriots during the winter months. But we have to leave the house occasionally. Whether you are planning a winter trip or a local looking for something to do, here are a few of our favorite things to do in Rhode Island in winter, both as a family or just the grown-ups.
Things to do in Rhode Island in Winter
1. Sledding
Whenever it snows, one of our favorite pastimes has to be sledding. There are plenty of places nearby to go sledding (like Diamond Hill State Park in Cumberland or Chase Farm in Lincoln), but one advantage of living on a hill and having a steep driveway is that we rarely have to venture further than our front door for a little winter fun, which makes coming inside to warm by the fire with hot chocolate all the easier. Do you have a favorite sledding hill in Rhode Island? Drop me a line and let me know.
2. Skiing & Tubing
We prefer to head north to Wachusett, Okemo, Smugglers' Notch, or Sunday River, but Yawgoo Valley Ski Area in the Ocean State offers a good beginner learn-to-ski program (it is where our daughter first learned) and is small enough to give kids a little independence on the slopes. When it is cold and snowy enough, usually sometime in mid-January, they open the snow tubing park.
If you are willing to head into Massachusetts, Ski Ward in Shrewsbury also offers snow tubing (and they take reservations!) See more options for skiing within three hours of Boston.
3. Ice Skating
Indoor skating is available at rinks around the Rhode Island like Smithfield (that's where my daughter took skating lessons), the Dennis Lynch Rink in Pawtucket, or the beautiful New England Sports Village in nearby Attleboro, but those can often be busy with hockey games and skating lessons.
We try to squeeze in at least one trip to the outdoor skating rinks at the Providence Rink at Bank Newport City Center at 2 Kennedy Plaza at the heart of downtown Providence or at the Newport Harbor Island Resort. We still need to try the ice bumper cars at the Providence Rink (just keep in mind that reservations are required and they sell out fast!)
If you want to drive a little further, Foxwoods in Connecticut offers a fun outdoor rink and winter patio, and you could also hit the bowling alley or the arcade inside. Patriot Place in Foxboro also has an outdoor ice skating rink.
4. Snow Shoeing
We have recently discovered snowshoeing and I'm always on the lookout on All Trails for new routes to try out. Pulaski State Park and Memorial in Chepachet also has 10 miles of groomed trails that can be used for cross-country skiing or snowshoeing.
5. Take a Winter Hike
I used to think that hiking in the winter was just crazy. It is cold and there isn't anything to see, so what was the point? Well turns out that getting outside for a walk is good for our bodies and our mental health, even in the cold. If you explore the 242-acre Sachuest Point National Wildlife Refuge, you will be treated to beautiful views and you may even spot a snowy owl.
The Cliff Walk in Newport is another great spot for a winter walk, but watch out for icy spots! Check out my recommendations on hiking trails in Rhode Island for more ideas.
6. Museum Hopping
We've somewhat outgrown the Providence Children's Museum but can easily spend an afternoon exploring the treasures at the Rhode Island School of Design / RISD Museum. This is also a good time to explore some more local history at the John Brown House and Museum, the fantastic Gilded Age Newport Mansions, or the Museum of Work and Culture in Woonsocket.
If we want to venture further, there are great museums within a short drive if you are willing to head up to Boston for a day at the Museum of Fine Arts, Science Museum, or Children's Museum. Other nearby options include the Ecotarium in Worcester and we always love the living history museums at Mystic Seaport and Old Sturbridge Village.
This is a good time to take advantage of your library card while utilizing the Ocean State Library Museum Pass program.
7. Indoor Play Places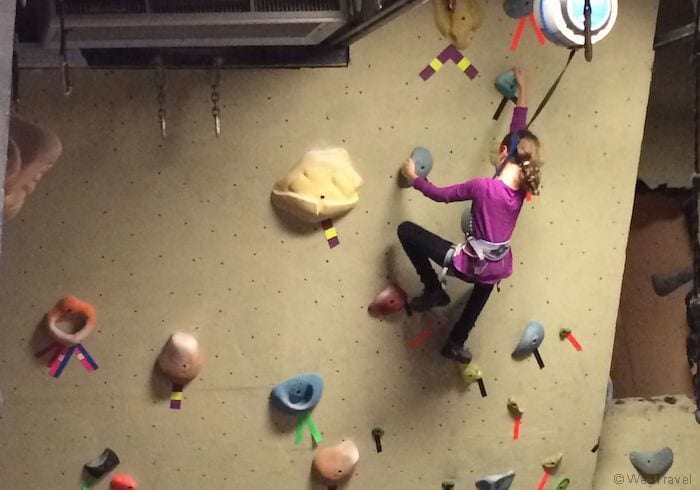 The local YMCA is fun for some weekend physical activities like swimming, basketball, or rock climbing. However, if we want to change things up, there is always bowling or laser tag at CW Lanes, roller skating at United Skates of America, or jumping at an indoor trampoline park like Skyzone, Launch, or Altitude.
You can also sign up for indoor sports teams including soccer, lacrosse, flag football, baseball, softball, field hockey, Wiffle®Ball and more at Wide World of Indoor Sports. Or, catch the latest craze and play pickle ball at Ocean State Pickleball.
We are partial to rock climbing at Rock Spot in Lincoln or Providence or you can try Central Rock Gym in Warwick. Battlegroundz in Lincoln also offers paintball, laser tag, and dodgeball. Of course, if you prefer arcade-style games, there is always Dave & Busters in Providence Place, or for the over 21 set, there are also arcade bars like Free Play Bar Arcade.
Another option is to try indoor mini golf at Monster Mini Golf in nearby Seekonk.
8. Escape Rooms
Rhode Island has its share of the latest craze, Escape Rooms, such as Escape Rhode Island, Lock & Clue Escape Rooms, The Great Escape Room, and the Rhode Island Riddle Room.
Further afield, you can head up to Massachusetts to complete a quest at Boda Borg up near Boston or solve the challenges at Level 99 in Natick (with a new location opening up in Providence Place Mall sometime in 2024).
9. Go Karting
Don't let winter slow you down! You can race around the track at RI Indoor Karting in Lincoln. They also offer bowling, billiards, and even an Axe throwing bar.
10. "Sea" Life
Two aquariums, the Mystic Aquarium in CT and the New England Aquarium in Boston, are just a short distance away. However, if you want to learn more about local sea life closer to home, you can also visit the Biomes Marine Biology Center in North Kingstown. Or you can go on a seal-watching tour in Narragansett Bay.
11. Providence Children's Film Festival
Family-friendly movies are always a great way to beat the cold but there is none better than the selections at the Providence Children's Film Festival in February. The hardest part is picking which movie(s) to see.
12. Shopping at Winter Markets
There may not be as much fresh produce in the winter but the Winter Farmer's Market at the new Farm Fresh Rhode Island hall in Providence is still fun and a great way to stock up on local eggs, cheeses, meats, seafood, herbs, and vegetables.
You can also always find a fun selection of food trucks out front and so many bakery sweets inside. Nearby, you can enjoy drinks at Revival Brewery or the Industrious Spirit Company. On Sundays, you can shop vintage or artisan goods at the Providence Flea, also held at the Farm Fresh Center.
Other options include the Aquidneck Growers Market in Newport or the Mount Hope Farmer's Market in Bristol.
13. Library
Our local library has a great program of activities for kids and teens including book groups, chess clubs, coding clubs, storytimes, family movies, and more. It is a perfect place to play and explore for a while. Kids also enjoy checking out the Providence Athenaeum, one of America's oldest libraries.
14. Get Crafty
Whether it is a family painting class at Paint and Vino or Muse Paint Bar, pottery and glassware painting at Pea Poddery in Cumberland or Weird Girl Creations in Barrington, or many other family-friendly creative classes. You can also look at offerings at AS220, RISD, or The Steel Yard.
15. Local Sports
There are plenty of local and college sports events to entertain the kiddos. While even the semi-tame Providence Bruins might be a little rough around the edges, the Brown University hockey teams offer a perfect family outing for hockey fans.
Basketball fans can take in a game at URI, Rhode Island College, or Providence College.
16. Destination Shopping
We have spent many hours at Bass Pro Shops in nearby Foxboro, MA, looking at the fish, climbing on boats, crawling into tents, and having scavenger hunts. They even have a cafe and snack bar on site.
Jordan's Furniture in Warwick offers a free water and laser light show, while Jordan's locations in MA offer other attractions like ropes courses and laser light shows.
Of course, we also try to support local businesses and enjoy shopping along Thames Street in Newport, or Westminster or Hope Streets in Providence. If it is too cold, there is always the Providence Place Mall.
17. Comfort Food
One of the best things to come out of the pandemic is the abundance of outdoor dining, yes, even in the winter! It is amazing how cozy those heated, plastic igloos can get. You can find igloo dining at places like Los Andes, Chaska, Mare Rooftop, The Coast Guard House, and Terrazza. Sometimes you have to pay extra, but not always.
Of course, the cold weather also makes one crave comfort food and a cozy place to snuggle up or sit by the fire. Some of my favorite places for fireside dining at Pane e Vino and India in Providence or The Dining Room at the Vanderbilt or the White Horse Tavern in Newport, but I'd love to try others!
If you are ready for a splurge, eating in a ski gondola at the Fondue Village at the Ocean House is on my bucket list, but so far out of my price range.
18. Brewery Hopping
With all the great craft breweries popping up across Rhode Island, spending a day tasting your way around the state is a fun way to beat the winter blues. Just make sure you have a designated driver or use a rideshare service. In January you can find the Rhode Island Brew Fest at the Waterfire Arts Center and early March is Craft Beer Week from the Rhode Island Brewers Guild.
Looking for more ideas?
PIN THIS FOR LATER
SaveSaveSaveSave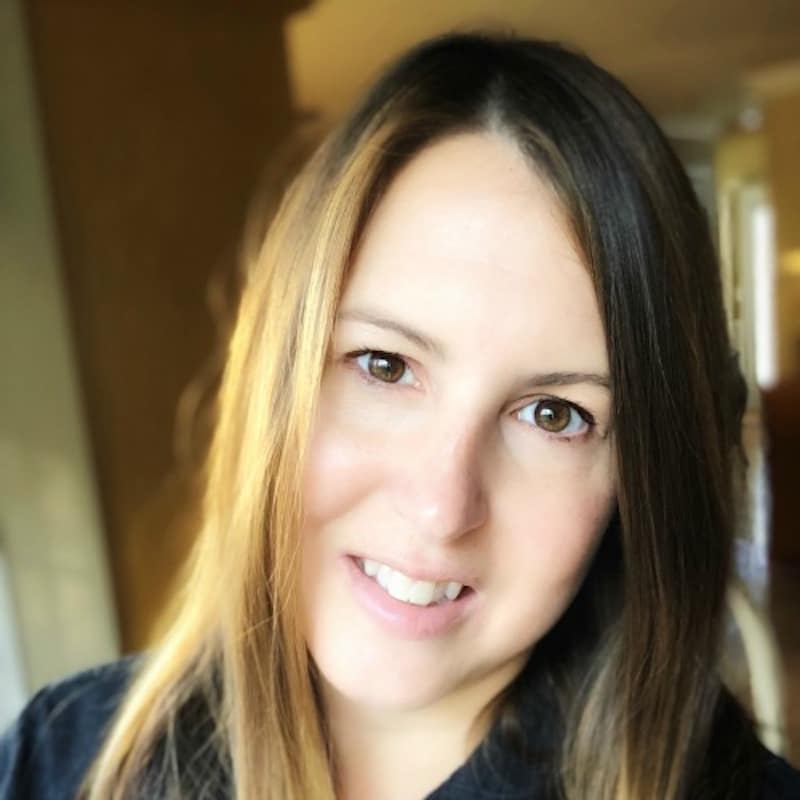 Tamara Gruber is the Founder and Publisher of We3Travel. A former marketing executive and travel advisor, Tamara is an award-winning travel writer and recognized expert in family travel. She is also the publisher of YourTimetoFly and the co-host of the Vacation Mavens travel podcast.