Rhode Island is the smallest state, but filled with plenty of corners to explore, from the miles of coastline that earn it the moniker of the "Ocean State," to leafy corridors and quaint small towns. When you are itching for an outing but now don't have anywhere to go, it is time to explore some of the scenic drives in Rhode Island.
It is time to harken back to the days before televisions and the Internet took over our lives and bring back the simple entertainment of the Sunday drive. Put down the phone, except when using it for GPS or taking photos of course, and look out the window at the beauty Rhode Island has to offer.
Need to stretch your legs after a long drive? Be sure to check out our recommendations for hiking in Rhode Island too.
5 Scenic Drives in Rhode Island
Ocean Avenue in Newport
One of my favorite drives in Rhode Island, and typically one that I take with every house guest that comes to visit, is along Ocean Drive in Newport. We start off with some time exploring Newport and then head south on Thames St. and make a right onto Wellington, following signs for Fort Adams. Winding past farms with sheep grazing, we pass Fort Adams and continue out to Ocean Avenue.
We always make time to stop to climb on the rocks or fly a kite at Brenton Point State Park. This can also be a great spot to catch the sunset. Then it is on to gawking at the giant homes tucked just off of Ocean Avenue until we turn left onto Bellevue Avenue and trade "new" mansions for the "cottages" of the Gilded Age. If it isn't too crowded, we may attempt to find parking for a stroll along the Cliff Walk before returning home.
A great extension of this scenic drive would be to continue past Easton's Beach and Second Beach down to Sachuest Point National Wildlife Refuge for a walk to end the day.
Wickford to Galilee
Another ocean drive that is perfect in the shoulder seasons before beach traffic gets too brutal starts in Wickford Village. When they are open, it is a cute town to pop into shops or pick up a snack. But even when the shops are closed, you can spend a few moments walking along the marina before jumping in the car to head down to Narragansett.
Watch the surfers at Narragansett Town Beach, drive past the iconic Coast Guard House, or take a walk along the Ocean Wall between town beach at the Narragansett Pier. Pop back in the car for the drive past the Scarborough beaches to Point Judith where, if you are lucky, you can pick up an ice cream, fried clams, or a doughboys at either Aunt Carrie's or Iggy's. Finish off with a drive past the salt marshes in Galilee to grab some fresh lobster at George's before heading home.
Tiverton to Little Compton
Another lovely drive in the warmer weather is through the bucolic country farmlands between Tiverton and Little Compton. We will typically take Interstate 195 to Highway 24 and then hop off in Tiverton and follow route 77 south. We love looking at the green fields separated by low stone walls that are so classic New England. In the distance you will see the blue of the bay.
After stops in Tiverton Four Corners or for ice cream at Gray's, we often stop to enjoy some wine at Carolyn's Sakonnet Vineyards. From there it is down to Wilbour Woods for a peaceful hike or taking some time to watching the waves on South Shore Beach. Finish your drive at Sakonnet Point before the drive home.
Cumberland Farm to Farm Drive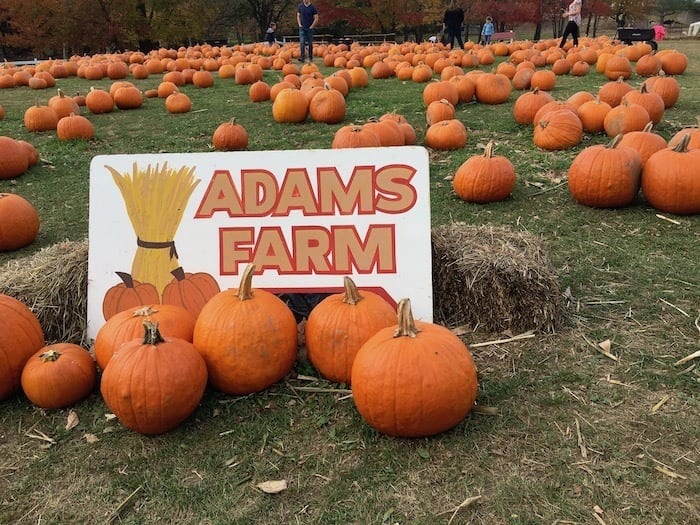 One of my favorite drives to take in the fall is through Cumberland and into neighboring Wrentham, MA. We start off with apple picking at Phantom Farms on Diamond Hill Road, which is a great stop for farmstand produce, coffee, or home-baked goods. Then continue north on Diamond Hill Road until you make a right onto Reservoir Road. At peak foliage the drive past the reservoir is stunning, even though it is fenced off so you can't really stop along the road to enjoy it.
From there you are really into the woods on Burnt Swamp Road until you get to Adams Farm, another fun pumpkin patch to explore in season. We then hit the farm trifecta with a visit to The Big Apple in nearby Wrentham. To finish up your day, you can always wind back to Diamond Hill Park for a hike or to grab an ice cream at the Ice Cream Machine across the street.
Fall Foliage Drive
If you want to get into the backroads and small towns of Rhode Island, this drive will show you a side of Rhode Island you may not have seen before. It is an especially pretty drive in the fall when the autumn colors are at their most vibrant. Start off in Johnston in Snake Den State Park and continue on Route 6 towards Scituate. You can turn down Route 116 or stop into downtown for a stroll through town.
You will then follow Route 14 along the Scituate Reservoir until you make a left onto Route 102 south. Continue on Route 102 all the way down to West Greenwich and end with a hike in the Big River Management area, or loop back on Route 12 toward Cranston for a visit to a pumpkin patch.
Do you have any scenic drives in Rhode Island to recommend? Please drop a comment below.
SAVE ON PINTEREST