After living in Rhode Island for over 18 years, I'm still often surprised and delighted by our Creative Capital. Providence is ever evolving with new boutique hotels, innovative restaurants and food halls, green spaces and public art, and fun ways to explore. I've put together some of my favorite things to do in Providence for first-time visitors looking for a weekend getaway.
Of course if you are visiting in 2021, be sure to check current Rhode Island travel restrictions before planning your trip. And be sure to double check that all restaurants and attractions are still open because as I mentioned, Providence is constantly changing!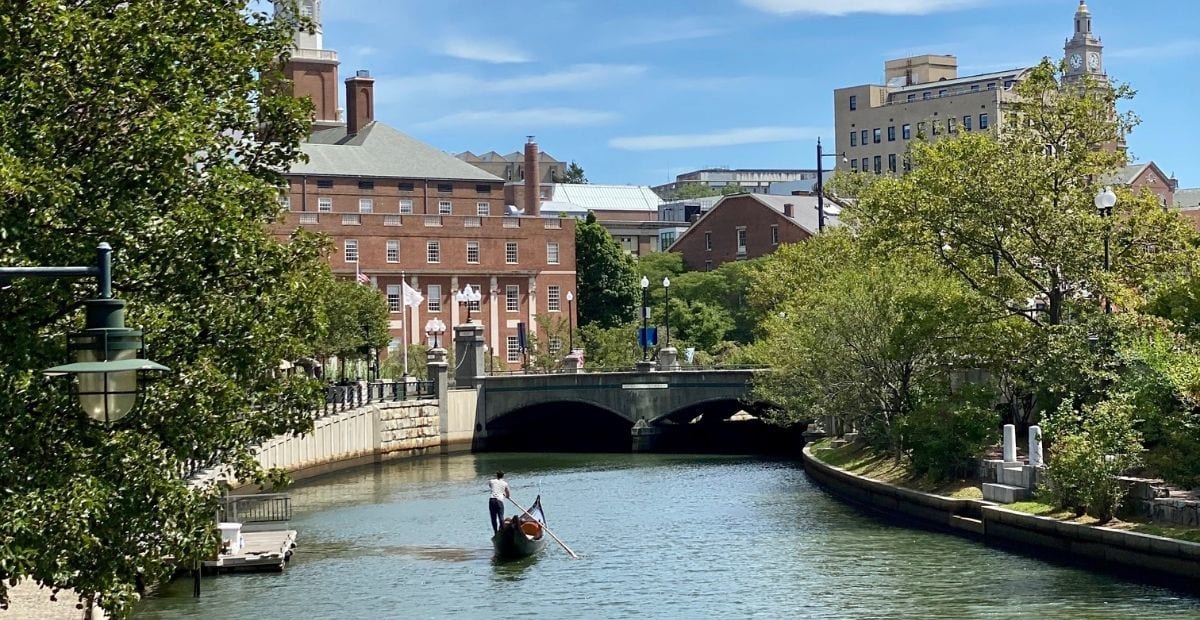 When to Visit Providence
The best time to visit Providence is from May through late October. Of course you can visit in the winter, and even enjoy deals during Restaurant Week in January, but you won't want to spend as much time outside. If visiting from May through October, you may also luck out to time your visit with a Waterfire performance, Providence's signature event.
June is a wonderful time to visit, especially during PVDFest, an arts and culture festival featuring artists, performers, makers, and local businesses. (Just double check to see when it will return safely.) Definitely check the Providence event calendar when planning your trip because there is always something fun going on in Providence from street festivals to events like PRONKfest or Gallery Night Providence.
Fun Things to do in Providence
Providence really has something for everyone, from history buffs to outdoor lovers. Home to a number of colleges, you have the academic pursuits of Brown University, the creative artists and makers from Rhode Island School of Design (RISD), and the culinary creations coming out of Johnson & Wales, along with the sports of Providence College and Brown.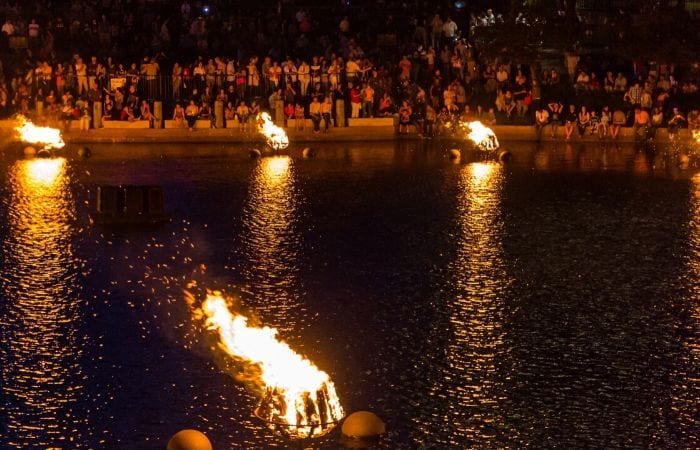 Waterfire
Waterfire is a public art installation created by Barnaby Evans, which has been running annually since 2001. The sculpture features 81 braziers placed in the rivers that run through the heart of the city. At various lightings, typically from May through October, these braziers are filled with wood and lit at sunset. Music is piped up and down the river banks and the walkways and surrounding areas are filled with visitors taking in the sights.
There are many ways to enjoy Waterfire, from bringing a picnic to enjoy on the lawn in Waterplace Park near the river basin, to booking a gondola to get up close to the burning fires. There are also typically side events taking place, from live music and street performers to ballroom or salsa dancing.
We like to book dinner at a restaurant downtown that offers valet parking or a parking lot, like Hemenways, and then taking a stroll along the river after. However, you can also park in the large garage at Providence Place Mall and grab food from some of the food trucks and street vendors.
Explore College Hill
Providence is claimed to have been built on seven hills, just like Rome, but the most prominent is College Hill. This is where you will find the campuses for Brown University and Rhode Island School of Design. Take a stroll along historic Benefit Street, to see the houses dating back to the 18th and 19th century. The country's first Baptist Church can be found between Benefit Street and North Main Street, connected by one of my favorite streets in Providence, Thomas Street, which is worth checking out for the unique architecture and the Providence Art Club.
If you are exploring the Brown campus, be sure to take a selfie with the Brown Bear, outside of the recreational center and hockey stadium on Hope Street. You can then enjoy lunch and some boutique shopping on Thayer Street. Den Den Korean Fried Chicken is one of my favorite spots, as is the original Den Den Café Asiana on Benefit Street. Kabob & Curry on Thayer would be my pick for Indian food, but if you are looking for something quick yet healthy, try B. Good or a delicious ramen soup Ganko Ittetsu Ramen.
Finish up your College Hill stroll with some freshly baked cookies at Insomnia Cookies and take in the view, especially at sunset, from Prospect Park on Congdon Street.
Visit Historic Sites
If you have come to Providence seeking history, you won't be disappointed. Start off at Roger William National Memorial, where you can learn the history of the founder of Rhode Island and his flight from the Massachusetts colony seeking religious freedom. (Be sure to check first to see if the Visitor's Center is open.)
In addition to the First Baptist Church, the other famous historic landmark is the Providence Athenaeum. Opened in this location in 1838, this member-funded library offers self-guided or staff-led tours, as well as engaging salon events during normal times. You can learn the story of Edgar Allen Poe and his romantic entanglements in the Athenaeum, and even see his signature on an old Charging book.
Check with the Providence Preservation Society to see what walking tours or events might be taking place during your visit. You can also stop and see the John Brown House and the H.P. Lovecraft Square. In Downcity Providence, you can also find the country's first indoor shopping mall, The Arcade. Here you will want to stop for lunch or brunch at Rogue Island.
If you want to explore Providence's darker history, sign up for a Providence Ghost Tour to find out what spirits might still be lingering.
RISD Museum
Art lovers can hop on board the Art Trolley during Providence Gallery Nights, but if you aren't in town when these tours are running, a visit to the Rhode Island School of Design Museum is a must. When open to the public, the RISD Museum collection currently contains more than 100,000 works of art and design dating from ancient times to today including paintings, sculpture, decorative arts, costume and textiles, and furniture from all over the world.
Take to the River
The Providence River runs through the heart of the city and is a perfect way to explore. You can stroll along the pathways and under the bridges that line the river, or get out on the water. Providence River Boat Company offers narrated tours on a pontoon boat that tell the history of Providence.
If you prefer something more active, Providence Kayak Company offers both kayak rentals and guided tours. Of course, the most romantic way to explore the river would be on a gondola ride with La Gondola, especially during Waterfire.
Afterwards you can enjoy a lovely lunch by the water at The River Social, or fine dining with a view at Cafe Nuovo.
Go Shopping
Unlike some cities, Providence isn't a big shopping destinations. If you are looking for name brands and designers, the three-story Providence Place Mall has some favorites, just don't expect to find high-end designers here.
If it is boutiques and locally-owned shops that you are looking for though, you will find some scattered in various pockets throughout the city. On the East Side of Providence, Wayland Square is home to Books on the Square, Lululemon, Fat Face, Wendy Brown Home and West Elm, and clothing boutiques such as Green Ink. Stop for lunch at Salted Slate or enjoy a glass of wine at its sister restaurant, Providence Wine Bar.
Hope Street between Rochambeau and 5th Street is another shopping district packed with local toy stores, craft stores, and boutiques like Frog & Toad, J. Marcel, Rhody Craft, Stock kitchen goods, and Kreatelier. Stop for coffee and pastry at Seven Stars Bakery or a light lunch at Little Sister.
In Downcity, you will find more restaurants and shops lining Westminster Street. Homestyle is a great little gift shop where you can find uniquely Rhode Island products. Book lovers will enjoy browsing the shelves of Symposium Books. Stop for a beer and pretzel at Malted Barley, or enjoy authentic Greek cuisine at Kleos or Yolenis.
Of course, there are other unique ways to shop in Providence. Providence Flea is a vintage and maker market, taking place outside along the river in the summer and at the Farm Fresh RI Market Hall in the winter.
On Saturdays, you can also enjoy fresh produce, baked goods, and other foods at the Hope Street Farmer's Market. During the warmer months you will find the market at Lippitt Park and in the winter, at the new Farm Fresh RI Market on Sims Street.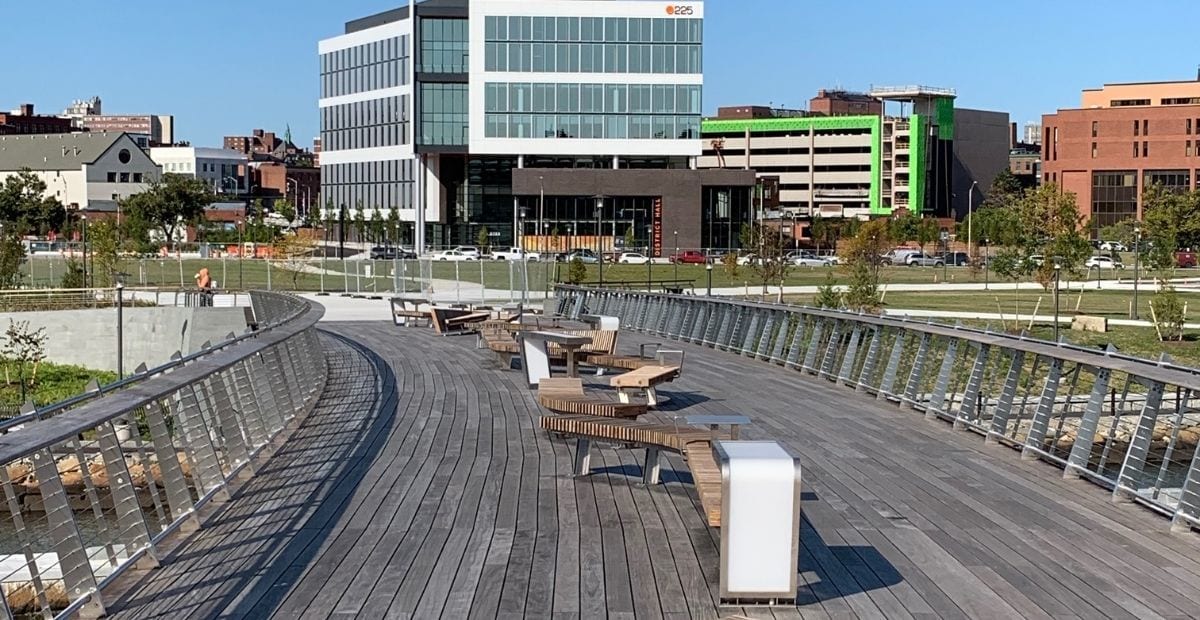 Stroll Along the Providence Pedestrian Bridge
The newest attraction in Providence is the Pedestrian Bridge the spans the river at the end of South Water Street. It is also a perfect time to check out Plant City, Providence's only plant-based food hall. You will typically also find a number of Providence's food trucks in this vicinity and, in warmer weather, enjoy the pop-up PVD Beer Garden.
Check out Providence Street Art
If you are a fan of street art, you will want to wander the streets and side alleys of Downtown Providence. One of my favorites is Still Here, by Gaia, which adorns the side of a building on Custom House Street. This features Narragansett tribal member Lynsea Monatari, surrounded by natural elements like flowers, berries, and blackbirds. She holds a Black and white photo of tribal elder Princess Red Wing, founder of the Tomaquag Museum.
I've also always enjoyed the fantastical nature of Adventure Time by Natalia Rak on Mathewson Street.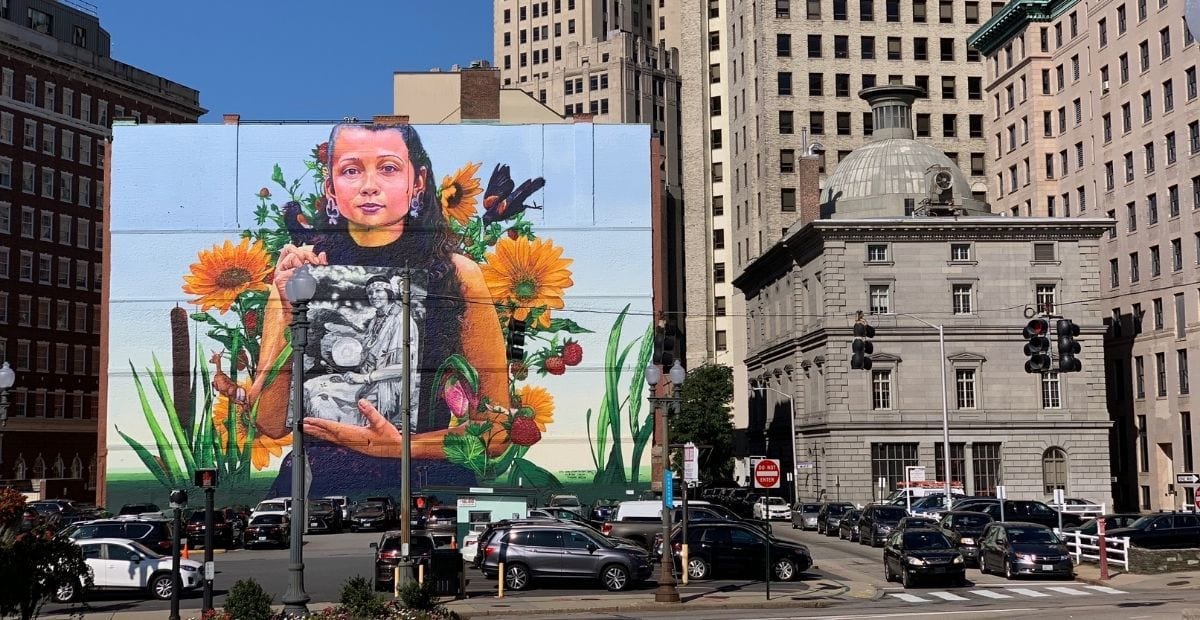 Eat your Way Around Providence
One of the reasons we first fell in love with Providence was because of its excellent food scene. The culinary landscape has continued to evolve, and has certainly taken a beating in 2020, but innovators like Helado Taiyaki and Kow Kow keep things fresh. Of course I recommend just spending a few days eating your way around the city, but if you are short on time or want a guide, join in a tour with Rhode Island Red Food Tours.
Brewery Hop
Like many cities, Providence and nearby Pawtucket have become a hot spot for craft beer. You can hop on board the Rhode Island Brew Bus for a guided tour, or pick up a Brewery Passport and sample a few on your own. Beer On Earth is a small, art-forward brewery with a focus on high-quality ales and lagers. Foolproof Brewing is worth crossing the border over into Pawtucket, I'm especially fond of their sours.
Long Live Beerworks has a beautiful space and you can usually find either a pop-up restaurant inside or food trucks nearby. Or, if you are lucky, the Night Cruller Window from Knead Donuts will be open for business.
Federal Hill
Federal Hill is Providence's "Little Italy". You will know you have arrived when you drive under the pineapple at the beginning of Atwells Avenue. While no longer a bastion of just Italian restaurants and markets, it is still the place to go for a delicious ravioli or veal parmesan. During the warm weather months, DePasquale Square is bustling with outdoor dining and live musical performances encouraging festive dancing around the square's fountain.
Pick up prepared foods at Venda Ravioli, enjoy coffee and dessert at Pastiche, or fill up on the gnocchi al forno at Pane e Vino. For classic Italian-American dishes, try Angelo's, Andino's, or Cassarino's.
Providence Children's Museum
If you are visiting with little ones, the Providence Children's Museum offers an afternoon or morning of exploration and fun. Kids can enjoy water play, strengthen their muscles on the outdoor climbing structure, or practice building skills where learning feels like playing.
Bike Along the East Bay Bike Path
The East Bay Bike Path stretches 14.5 miles from India Point Park in Providence to Colt State Park in Bristol. Many stretches of this lovely path run along the water, offering beautiful views. Stop off in Warren for one of the best lobster rolls in Rhode Island at Blount's Clam Shack on the water, just one block off the bike path. You can also stretch your legs for a short hike at the Audubon Society's Environmental Education Center, or have a picnic and a Del's frozen lemonade at Colt State Park before attempting the return trip.
Enjoy Roger Williams Park & Zoo
Stretching over 435 acres, the "People's Park" is reminiscent of New York's Central Park and offers miles of walkways, recreational ponds, public gardens, tennis courts, ball fields, playgrounds, public art, and several historic buildings. Families will enjoy the carousel at the Boathouse and feeding the geese at the Temple to Music.
We love strolling through the Japanese Gardens, taking a Swan Boat paddleboat, or exploring the indoor gardens at the Botanical Center. There is a small Museum of Natural History, but if it is animals you are interested in, spend half a day at the newly updated Roger Williams Park Zoo, home to over 150 animals from giraffes to elephants to the adorable red pandas.
See a Show
Unfortunately live performances aren't happening right now, but when they resume there are many places to enjoy live music and theater in Providence. You can catch a traveling Broadway show at the historic Providence Performing Arts Center, enjoy a play at Trinity Rep, or relax to the movements of the Rhode Island Philharmonic Orchestra at The Vets.
Best Restaurants in Providence
As I mentioned, Providence's culinary scene has put the city on the map and while it has had some struggles of late, the food options have evolved from its Italian and Portuguese roots. I've written before about my favorite restaurants in Rhode Island and the best brunch spots in Providence, but following are some more of my favorite spots. Don't miss trying some of Rhode Island's must try foods.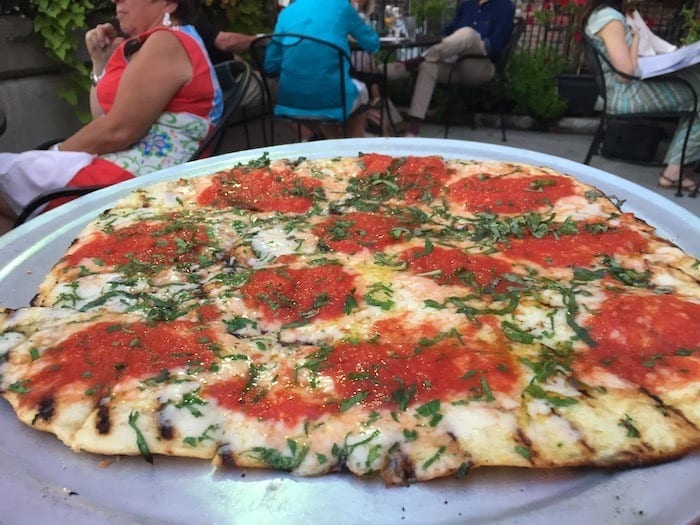 Italian: Italian restaurants put Providence on the map, especially the grilled pizza at Al Forno. There are many options from classic to modern Italian but my favorite is Bacaro. Although for a special occasion, I enjoy the formal atmosphere at Capriccio.
Seafood: For the Ocean State, you would expect more seafood options in Providence, but alas, some of the better choices are closer to the beach. However, for special occasions when I want to splurge for a great lobster or fish dish, I head to Hemenways. When a lobster roll or clam cakes are calling my name and I don't feel like driving to the beach, Dune Brothers Seafood is where it is at.
New American: Nick's on Broadway never disappoints with a locally-sourced, seasonal menu. Oberlin is also a fan favorite with a small but innovative farm-to-table menu. I also love some of the small plates at Persimmon on the East Side.
Vegetarian: Vegans and vegetarians can rejoice at the options in Providence. While it used to be a very steakhouse heavy city, there are some fantastic vegetarian options now including the aforementioned Plant City, plant-based food hall. I love the General Tso's Tacos at The Grange and for a casual lunch, The Garden Grille and sister vegan bakery Wildflour are top choices.
South American: Peruvian and Bolivian restaurant Los Andes has received many accolades for its Latin flavors. I'm also a fan of casual Venezuelan La Arepa, although technically that is in nearby Pawtucket.
Mexican: When we first moved to Providence we thought we couldn't find any good Mexican but it turns out, we just didn't know where to look. Eventually we discovered the delights of El Rancho Grande, but it was so tiny and busy that we rarely went. Luckily the owners have recently opened Dolores on Providence's East Side for more options. The casual take out or outdoor dining of nearby Tallulah's Tacos is also a favorite of ours. I've also been meaning to try Xaco Taco, but I've been warned it is more of a millennial crowd.
Asian: The Asian options in Providence are a bit of a mixed bag. As I mentioned before, Den Den is a great option for Korean and Toritomo or Ganko Ittetsu Ramen are good Japanese options. My family likes the sushi at Haruki and for a new mix of Asian fusion in a beautiful setting, we head to Jackie's Waterfront.
Casual: I love all the funky casual options that have cropped up in Providence over the years. The lively atmosphere of Ogie's Trailer Park is great for drinks and comfort food. Bayberry Beer Hall has a robust beer selection, along with a limited but tasty food menu. For delicious burgers and fried chicken sandwiches, Chomp is my pick, or Craft Burgers & Beer in nearby Pawtucket. Many people also love Troop, but I find it a bit loud for my liking — which is just showing my age.
Brunch: We love a good Sunday brunch and I've written about some of our favorites, including Rogue Island, The River Social, and Black Duck Tavern.
Drinks: There are plenty of fun places to meet for drinks. If you are looking for craft cocktails in a stunning setting, The Dorrance is the place to go. For casual drinks with a close friend, head to Tiny Bar. For drinks downtown, I'm partial to The Eddy. But if you want a view, try the Rooftop at Providence G (go early before the crowds) or Mare Rooftop.
Donuts: You probably shouldn't leave Providence without sampling some donuts. Skip Dunkin and try either PVD Donuts or Knead Donuts instead. I say try both and see if you can pick a favorite. I know I can't.
Where to Stay in Providence
The accommodations options in Providence keep expanding, which is a good thing. If you are visiting on a college tour or want a hotel with a local feel, stay at The Graduate Providence, formerly the much more formal Biltmore Hotel.
If funky boutique hotels are more your style, try The Dean Hotel, Providence's answer to the ACE or Moxy-style hotels. And keep an eye out for the soon-to-be-opened Beatrice Hotel.
If you are staying with a family, try the sparkling new Staybridge Suites for an unbeatable location.
Save this to Pinterest