Providence, the Creative Capital of Rhode Island, may be a small city but it has developed a big reputation among foodies. From a city that embraces its Italian and Portuguese roots, to a food scene influenced by the chefs coming out of Johnson & Wales' culinary school in town, there are Providence brunch spots for all budgets and tastes.
Looking for a quick bite? Pop into Sydney for a flat white and avocado toast before catching the train. Craving a delicious croissant? Try Madrid European Bakery in Wayland Square or Ellie's in Downcity. Vegan? Try the amazing pastries and juices at Wildflour Bakery Cafe or the options at Plant City, a plant-based food hall.
Coffee lover? Pop into The Nitro Bar for the smoothest, creamiest cold brew coffee you've ever had, or grab a coffee to go at Bolt Coffee Company.
But if a proper Sunday brunch, complete with Bloody Marys, Bellinis, and Eggs Benedict, is what you had in mind, try one of these Providence brunch restaurants.
Best Providence Brunch Places
Please check websites for current hours as these are subject to change.
Nick's on Broadway
Derek Wagner, owner and executive chef at Nick's on Broadway, is a pioneer of the Providence local food movement. With a menu that changes frequently, Nick's on Broadway serves up brunch five days a week that foodies will love. The menu features seasonal options like apple caramel French toast or steak and eggs featuring beef from local Blackbird Farms.
On nice days, the back patio is a lovely spot for a sunny brunch date in Providence's West End neighborhood. The fresh selections and personal service at Nick's is always spot on.
Nick's on Broadway is located at 500 Broadway, Providence RI. Reservations are available via email and phone at 401.421.0286 or [email protected].
Blu Violet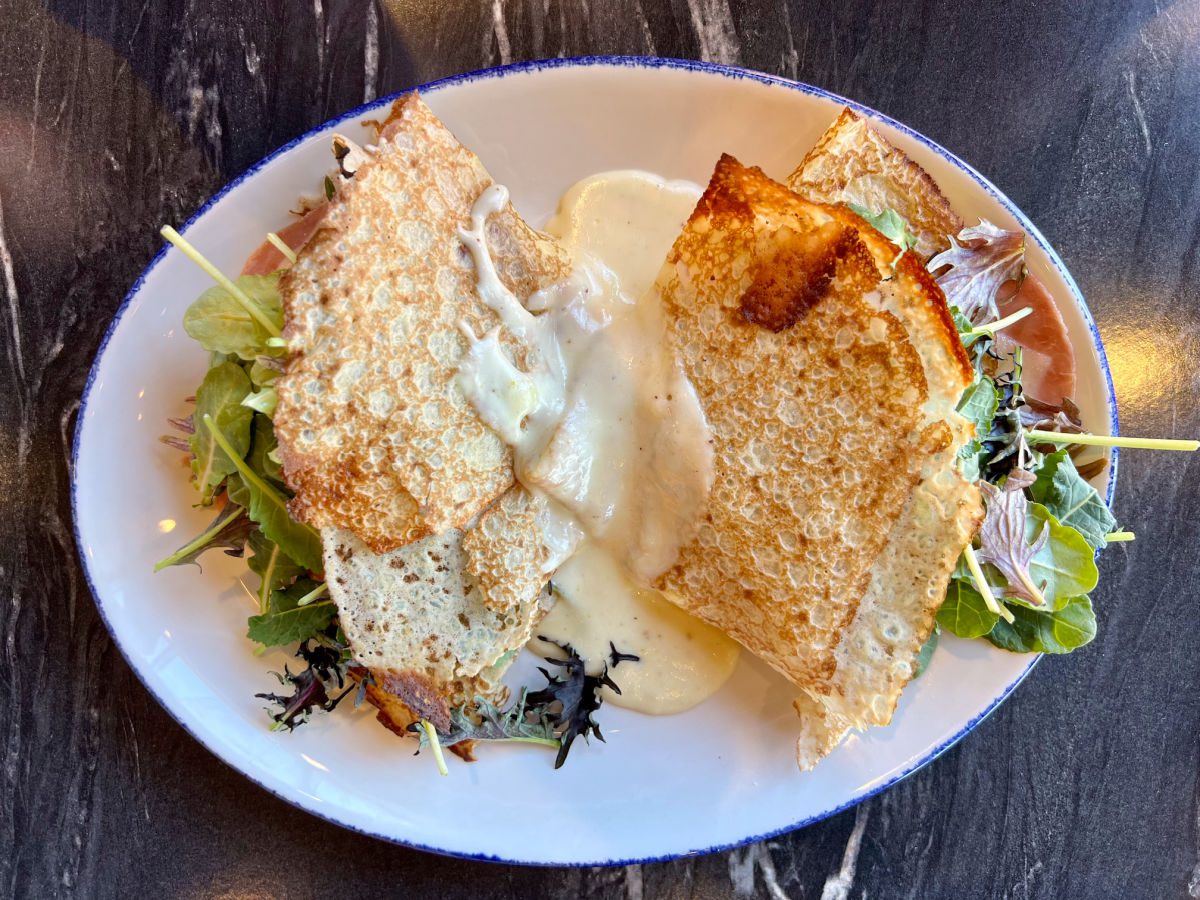 A newcomer on the Providence brunch circuit is Blu Violet, on the seventh floor of the new Aloft Providence hotel. Reservations are highly recommended as this small space fills up fast but on nice days, you can enjoy the view from the rooftop terrace.
With a mix of Haitian Fusion cuisine, Sunday's Rum Brunch serves up tasty dishes with a side of DJ music for those seeking a lively brunch setting. The menu tends to steer a bit more towards lunch than breakfast, so arrive hungry. Entrees like the chicken and waffles and tiramisu French toast are massive! For something lighter, try the crepes or if you want a more unique dish, the Haitian meatballs will do the trick.
Blu Violet is located in the Aloft Providence hotel at 191 Dorrance St., Providence, RI.
Julian's
Just down the street from Nick's, Julian's caters to the hipster crowd and is now offering brunch all day. As you might expect from a place offering all-day brunch, the menu is extensive to satisfy the sweet or the savory cravings. Julian's offers up an assortment of Benedicts, hashes, omelets, pancakes, French toasts, and vegan specials.
In good times, expect to line up and wait on a weekend, but now you can enjoy the convenience of curbside pick-up.
Julian's is located at 318 Broadway, Providence, RI, offering indoor and outdoor dining.
Rogue Island
Rogue Island, offering farm-to-table cuisine and located in The Arcade in Downcity, is serious about its brunch. Serious enough that right now you need to leave a credit card deposit to make a reservation. No worries though, it is worth it. Start with the brunch poutine made with tater tots, it is the perfect thing to soak up your Bloody Mary.
From there it is hard to choose between the chicken and biscuit benny and healthier options like heirloom tomato or avocado toast. Be prepared for generously-sized portions that are worth their price. Outdoor dining in its cozy, private booths is a nice option on a pleasant day.
Rogue Island is located at 65 Weybosset St, Providence, RI. Reservations can be made online or by calling 401.831.3733.
Circe Restaurant and Bar
Located in Downcity near Rogue Island, Circe is a perfect spot for a pre-theater matinee brunch. Serving Sunday brunch only, Circe offers up a selection of upscale options from a lobster omelet to a Waygu beef burger or a braised short rib Benedict.
If you want a little of everything, try the Bloody Sunday, complete with a Bloody Mary, blue cheese bacon slider, shrimp cocktail, and a fried oyster. The valet parking (when available) is a bonus!
Circe Providence is located at 50 Weybosset St., Providence, RI. Reservations are available through OpenTable.
The River Social
Newer on the Providence restaurant scene, The River Social is perched on the river's edge, not far from Waterplace Park. Outdoor dining offers great views with enough space that you don't feel crowded or on display to people strolling by. Between the location and the food, this is one of our favorite Providence brunch places.
This is also one spot where the cocktails rival the food — plus they serve up Italian Illy coffee! We give high marks to the shakshuka, smoked salmon Benedict, and the eggs and tots. Honestly, the tater tots are some of the best we have ever tasted and the portion is large enough to share.
The River Social is located at Waterplace Park, 200 Exchange Street, River Ave, Providence, RI. Reservations are available through OpenTable.
Waterman Grille
Located on the Seekonk River on Providence's East Side, and with newly expanded outdoor dining, Waterman Grille offers Saturday and Sunday brunch with a view. The menu isn't extensive but it satisfies both sweet and savory cravings with options such as challah French toast and mushroom grilled cheese.
This is the spot to celebrate a special occasion or for college students to take their parents when they come to visit. Parking is also easy, which is another plus.
Waterman Grille is located at 4 Richmond Square, Providence, RI. Reservations are available through OpenTable.
Bayberry Garden
Bayberry Garden, sister restaurant to the west side Bayberry Beer Hall, has a large seasonal patio and a spacious, lightfilled space, adorned with greenery to provide that garden vibe. Open for brunch on Saturdays and Sundays from 10:30 am to 3:00 pm, reservations are highly recommended at this popular weekend brunch spot.
In an era when so many restaurants are still understaffed, the service at Bayberry Garden is superb. The options range from freshly made pastries (we highly recommend the cinnamon roll) to fresh oysters, along with a coastal New England take on brunch classics. While the complexity of flavors is well-executed, the simplicity of basic dishes like the Gardener's breakfast is divine, with a perfectly-dressed salad, well-seasoned, crispy hashbrown, buttered sourdough, and eggs and meat of your choice cooked to your liking.
Bayberry Garden is located at 225 Dyer Street, Providence, RI.
The Salted Slate
This locally-sourced restaurant in Wayland Square on Providence's East Side serves up brunch on Saturdays and Sundays. They are also currently offering up "brunch to go" options, which include frittata, biscuits, donuts, sausage and bacon, and home fries for everyone.
In-house brunch options include delicious lemon ricotta pancakes, smoked salmon, eggs benedict, and, of course, frittata.
The Salted Slate is located at 186 Wayland Ave, Providence, RI. For reservations, please call 401.270.3737.
Black Duck Tavern
The Black Duck Tavern in East Providence offers one of the broadest Sunday brunch menus around. This speakeasy-style tavern has also built out a large and attractive outdoor dining space with a pergola, string lights, and patio heaters.
In addition to craft cocktails, Black Duck Tavern serves up bottomless mimosas during Sunday brunch. Portions are large to fill up on everything from breakfast tacos to the most amazing dark chocolate pancakes with fresh banana and Nutella syrup. Pro tip: Black Duck Tavern knows how to make the perfect piece of bacon!
Black Duck Tavern is located at 31 Warren Ave, East Providence, RI. Reservations are available through OpenTable.
Kitchen
This tiny little place in the West End is a bit of a hidden gem. Known for its thick-cut bacon and flaky croissants, Kitchen serves up delicious breakfast and brunch options. If you have a sweet tooth, also try the sweet bread French toast.
Just give yourself time to find parking and, once indoor dining is a thing again, be prepared for a wait.
Kitchen is located at 94 Carpenter St, Providence, RI.
See some of my other favorite Rhode Island restaurants and the best Italian restaurants in Providence.