Pumpkins are in season! Whether you plan to carve one, paint one or cook with one, you first need to find your perfect pumpkin. Sure, you can probably stop into any market during the fall season and grab one right there. But, where is the fun in that?
Instead, grab your family and friends and head out for a fun fall day at your local pumpkin patch. Pumpkin picking in RI is a fall must-do activity and the perfect pumpkin is awaiting your arrival. Here are some of the best pumpkin patches in RI!
While you are out and about, try our suggestions for great hikes in Rhode Island or take one of these scenic drives.
Best Pumpkin Patches for Pumpkin Picking in RI
2150 Scituate Ave Hope, RI 02831 (401) 827-5000
If you want to see breathtaking panoramic views, then surely you need to head to Confreda to pick your pumpkin. A free hayride will take you for a ride towards the back of their farm. Once you step off, you will have a few pumpkin patches to browse while enjoying the views. They are open daily from 10-5, but if you plan on visiting on the weekends you can enjoy their rides, barnyard animals, concessions and corn maze at their Fall Fest! Get there early as they become very busy! Pumpkins are $.79 per pound and you can pay when you return from the hayride. There is plenty of free parking located behind the farm! Be on the lookout for volunteers who will help you park safely!
91B Brown Avenue Johnston, RI 02919 (401) 949-3657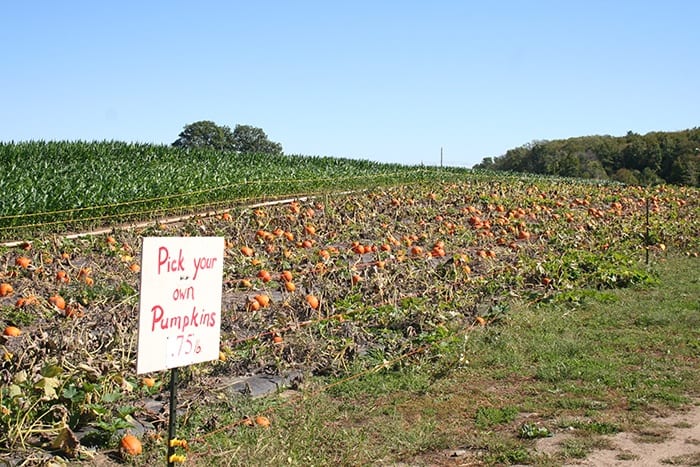 While Dame Farm is more commonly known for their apple picking, they do offer a small pumpkin patch and hayride. The hayride picks you up steps from their market store and brings you through their apple orchard. Once you return, the pumpkin patch is right at the base of their orchard. You must pay first for the hayride in the store. It is $6 per person and ages 3 and under are free. Once you pick your pumpkin, return to the store to pay for it and are priced at $.79 per pound. Plenty of free parking is available. Don't forget they have apples, ciders and other items for purchase in their store.
90 George Street Seekonk, MA 02771 (508) 336-5587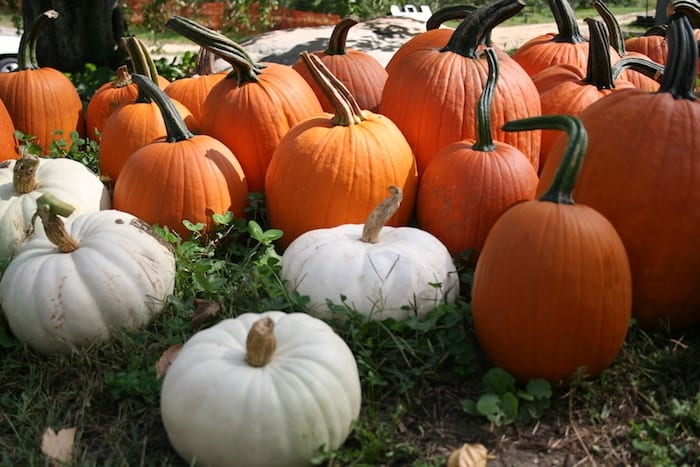 Four Town Farm is a hidden gem that you should surely cross state lines for. A popular favorite with locals, this farm has grown immensely over the last few years. This pumpkin patch is perfect for those with small children, no wonder it is a popular spot for school field trips! The pumpkin patch is open on the weekends from 10am-5pm. Pick up the free hayride right by the small koi pond and it will drop you off to pick your perfect pumpkin. What's even better is the pumpkins are priced at either $5 or $10, so no need to worry about getting a pumpkin back to the store and guessing how much it will cost per pound! You can pay cash at the pumpkin patch or get a slip to bring to their store and perhaps take home some local honey or produce while you're at it!
2279 Plainfield Pike, Johnston RI 02919 (401) 943-2707
This hayride is one of my favorites in RI. They take you out into a pasture where a group of cows surround the tractor where you will then be given corn to feed the cows! After you feed the cows, you are then taken to a small pumpkin patch where you can pick your own sugar pumpkin. They are the perfect size for those little hands and are a wonderful decoration for the kitchen table. Pezza also offers a build-your-own-scarecrow station, barnyard with animals to feed and tons of hearty mums for purchase. Price is $6.50 per person for the hayride and comes with a sugar pumpkin for ages 12 and under. All others can add on a pumpkin from the patch for $2. Pay at the farmhouse and take your ticket to the hayride. Open weekends from 10-5pm, but call ahead for hayride hours.
11 Peck Hill Road, Johnston RI 02919 (401) 942-9741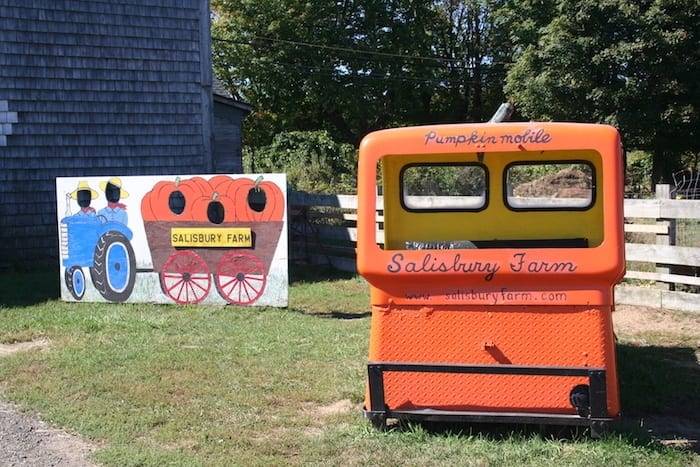 Salisbury Farm offers free hayrides on the weekends from 10am-6pm. The hayride will take you around their corn crops and drop you off steps from the pumpkin patch. Here you can pick from a variety of sizes. Small, medium and large pumpkins are available in the patch, as well as in their barn store. Maybe grab a small one to decorate the house and a large for carving? Once you have picked your perfect pumpkin, you return to the barn store to pay. Pumpkins are priced at $.79 per pound. You can also find their veggies, mums, cornstalks and hay barrels for purchase in the store. Don't forget to say hi to their resident llamas steps away from the barn! Plenty of free parking is available.
Looking for more fun activities to add to your pumpkin patch outing? I've gathered a few great articles to help you make your fall; a season worth "falling" for!
[plan-trip]
[/plan-trip]
PIN THIS FOR LATER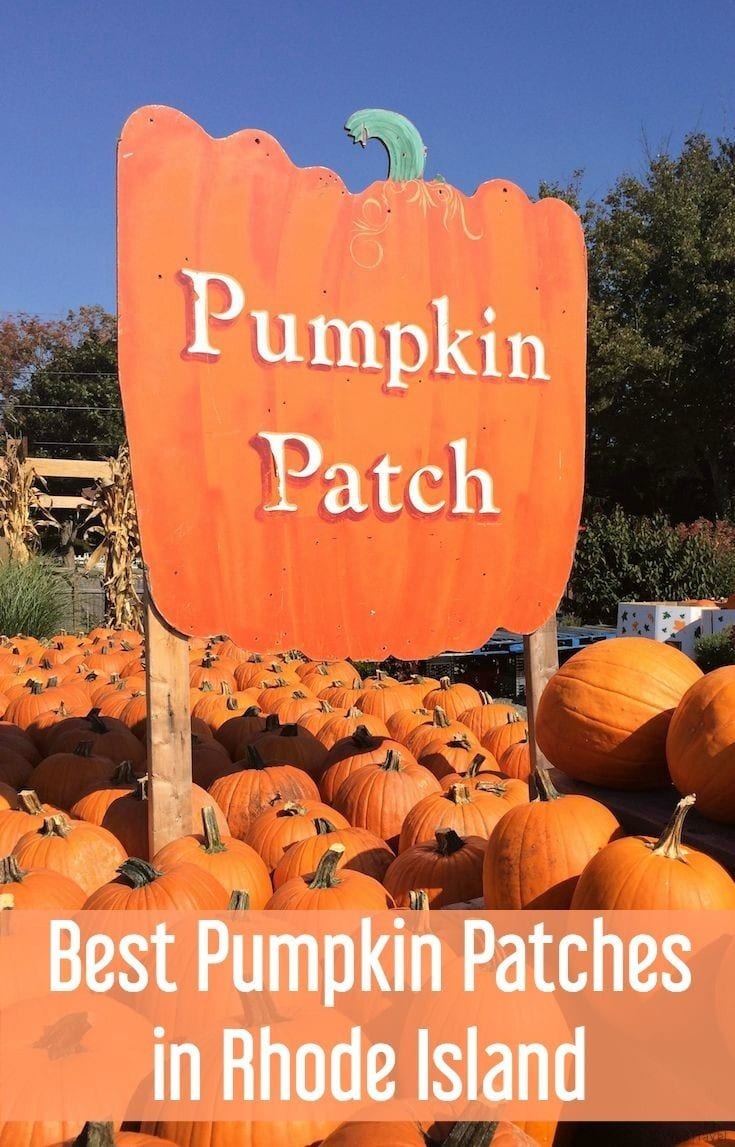 This post is written by Joy Adamonis. Joy is a full-time wife and mother to a twice-exceptional child. She advocates for better education, food allergy awareness, positive self-esteem and ending the mental health stigma.To fill her little piece of spare time, she is a blogger, freelance writer and runs a successful yoga & art therapy business. She encourages those around her to write and tell their stories, even if they think no one is listening. Keep the art of storytelling alive. You can read more about her at Joyfulnoise.blog
SaveSave
SaveSave
SaveSave
SaveSave
SaveSave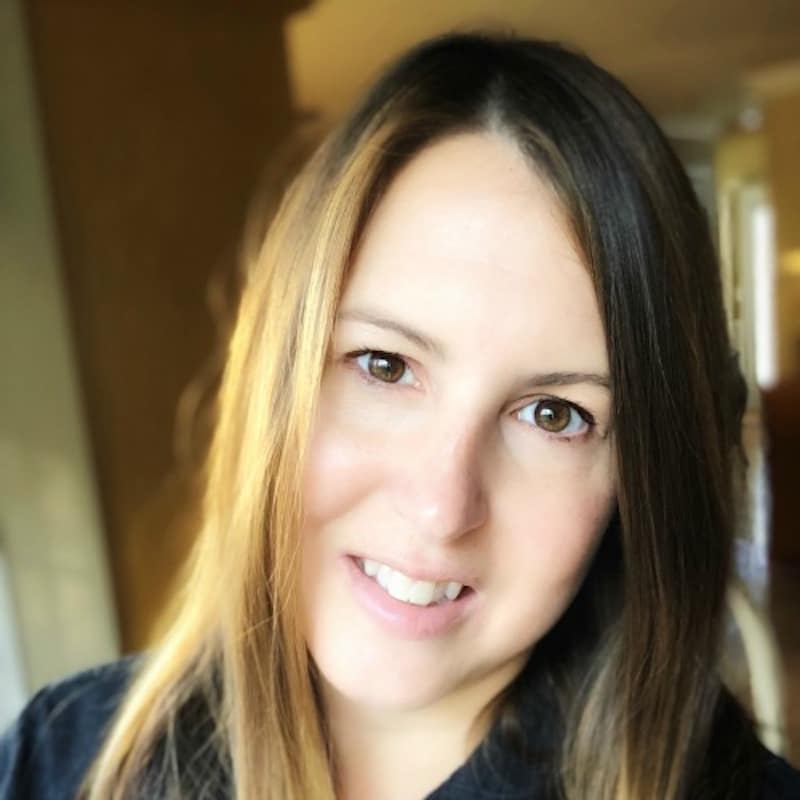 Tamara Gruber is the Founder and Publisher of We3Travel. A former marketing executive and travel advisor, Tamara is an award-winning travel writer and recognized expert in family travel. She is also the publisher of YourTimetoFly and the co-host of the Vacation Mavens travel podcast.