Corn mazes are becoming very popular during the fall season. It's no wonder that so many farms are adding corns mazes to their activities list. Navigating your way through a maze is the perfect family fall activity that everyone can enjoy!
Whether you test your skills in a maze during the day or get your scare on in a moonlight maze, there are plenty of corn mazes in RI to choose from. We have checked out some of the best corn mazes that Rhode Island has to offer to find our favorites.
While you are out and about, try our suggestions for great hikes in Rhode Island or take one of these scenic drives.
Best Rhode Island Corn Mazes
Clark Farms
2984 Commodore Perry Highway Wakefield, RI 02879 (401) 783-8844
Yankee Magazine named this corn maze one of the best mazes in New England. Not only do you get to test your stealth skills in their secret agent themed corn maze, but there are also a plethora of other activities that come with your entrance ticket! In addition to the maze, kids of all ages can get their fun on with the corn cannons, petting zoo, 30 foot mountain slide, pedal powered go-karts, corn pit, hayride and many more activities. Their fall attractions and maze are open daily from 9am-6pm and is priced at $12.50 per person. Hayrides are only offered on the weekends. They also have special flashlight corn maze nights on Saturday evenings until 9pm. Call ahead of time if the weather looks like it isn't cooperating and be sure to bring your spy skills to conquer the maze!
2150 Scituate Ave Hope, RI 02831 (401) 827-5000
A family favorite every weekend throughout October, this farm has all you need for a fun day out including a corn maze. A free hayride will take you to the entrance of the corn maze, where once inside there are fun interactive games to keep even the littlest of critics happy! If you find yourself wanting to extend your day, partake in some of the rides, pumpkin picking, pet the animals or treat yourself to an apple cider donut! The corn maze is $9 per person, ages 2 and under are free. There are also combo tickets available that include the rides & animals, or you can purchase each attraction separately. Don't forget to visit their full market for prepared foods, grocery items, fresh produce, seasonal items and more! They really do have the best mums and salad dressings! Plenty of free parking and hours are weekends from 10am-5pm.
91B Brown Avenue Johnston, RI 02919 (401) 949-3657
Dame Farm is home to a corn maze with over 4 acres and 2 miles of trails! Once inside the maze, there are four distinct sections that add to the challenge of the maze. Most families can complete this maze in under an hour. Price is $6 per person and children under 3 are free. The maze is open Monday-Friday 8:30am-5pm and weekends 9:30am-5pm. You must first visit the farmstand to purchase your tickets. There are also mums, pumpkins and corn stalks available for purchase as well. While you there you can also take a hayride around their apple orchard. Price for hayride is additional and call ahead in case of inclement weather.
90 George Street Seekonk, MA 02771 (508) 336-5587
Four Town Farm is a hop, skip and a jump from the RI state line. Their corn mazes (yes they have 2) are free of charge. Perhaps your kids can't handle the idea of a corn maze or you are not sure how they will perceive it? This is the perfect maze for you to try! There is a small maze right behind the farmer's market and koi pond, and their hayride will take you to the larger, more challenging (yet still easy for kids) one. While you are there, be sure to visit their store for all types of ornamental pumpkins, gourds and fall foods that we New Englander's have grown to love. The larger maze is open during the weekend from 10am-5pm, however during the week you can still explore the smaller maze at your own leisure.
2779 Warwick Avenue Warwick, RI 02889 (401) 738-1036
Morris Farms is located in Warwick, RI just one mile from the sandy beaches of the Ocean State. This hidden gem is deceiving. What looks like a small farm stand selling only mums and pumpkins, it boasts much more. They sell vegetables, herbs and flowers all grown on the premises. They also have a corn maze behind their main store. Purchase tickets at the store and hop on the hayride or walk down the path to the entrance of the maze. Once inside the maze, follow the map to retrieve four unique stamps to be entered into a drawing for their coveted "Big Pumpkin" that is on display in the store. Hours for the maze are Mondays-Saturdays 1pm-6pm and Sundays 9am-6pm. Price is $8 for ages 10 and up and $4 for kids under 10.
11 Peck Hill Road, Johnston RI 02919 (401) 942-9741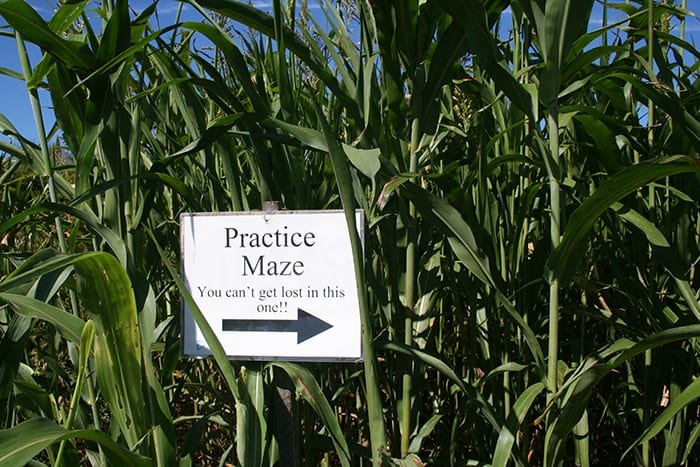 In 1998, the first corn field maze in New England was designed and constructed right at Salisbury Farm and it is now their biggest attraction. A portion of this year's corn maze proceeds will go to the Lifespan Cancer Institute Patient Assistance Fund, which was established to help patients who are having trouble affording treatments or other medical necessities. Salisbury Farm even has a practice corn maze for you to try first, which is a great way to introduce the concept to your littlest family members. Hours and prices vary depending on day of week. The maze is open weekdays from 10am-5pm and costs $9 for adults and $7.50 for children. During the weekend, the maze is open from 10am-6pm and costs $11 for adults and $9 for children. Children under 2 are always free.
2150 Scituate Ave Hope, RI 02831 (401) 823-FEAR
A scary, two-for-one attraction located in the fields of Confreda Farms. Scary Acres RI is a must-do for those who love the thrill of a good scare! First, you board the haunted hayride (25 minute trail ride) and be prepared to see monsters, zombies and hear bone-chilling noises as you make your way to the entrance of the haunted corn maze. While navigating the corn maze, there will be scenes all too frightening for most, sounds you wish you didn't hear and it might feel like there is no escape! Depending on how well you navigate the maze, it can take up to 35 minutes to ESCAPE, hopefully alive! This attraction is not suitable for young children and anyone under the age of 16 must be accompanied by an adult. Open Friday-Sunday from dusk until 10pm, weather permitting. Tickets range for $15 to $30, depending on what type you choose. You can purchase tickets ahead of time online or at the door.
If you are looking for more ways to enjoy the fall in the Ocean State, here are some articles that will provide a glimpse into more activities you can add to your fall bucket list. Have an A-MAZE-ING time!
[plan-trip]
[/plan-trip]
PIN THIS FOR LATER
This post is written by Joy Adamonis. Joy is a full-time wife and mother to a twice-exceptional child. She advocates for better education, food allergy awareness, positive self-esteem and ending the mental health stigma.To fill her little piece of spare time, she is a blogger, freelance writer and runs a successful yoga & art therapy business. She encourages those around her to write and tell their stories, even if they think no one is listening. Keep the art of storytelling alive. You can read more about her at Joyfulnoise.blog
SaveSave
SaveSave