Hopewell Rocks Provincial Park is one of the most popular attractions in New Brunswick, Canada — in particular the photogenic Flower Pot Rocks. In fact, over a quarter of a million people flock to this park each year to see the dramatic tides of the Bay of Fundy.
However, getting the most out of your visit to Hopewell Rocks really requires a bit of planning as you can have a very different experience if you visit at high tide versus low tide. Whether you are visiting Hopewell Rocks as part of a New Brunswick road trip or taking a day trip from Moncton, be sure to follow these tips to plan your visit to Hopewell Rocks.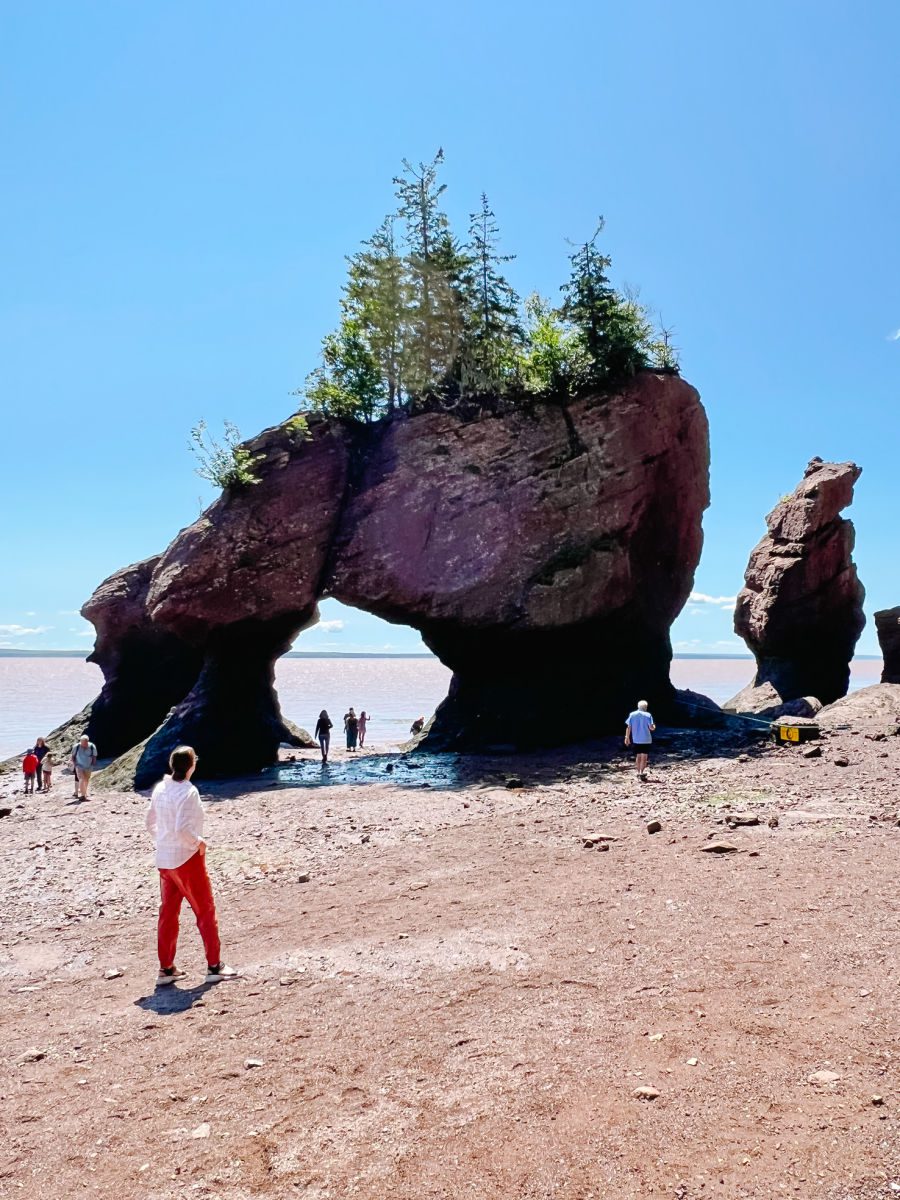 About Hopewell Rocks Provincial Park
Hopewell Rocks Provincial Park is open from late May through mid-October. Entrance fees are currently $14 for adults, $12 for seniors, $8 for children 5-18, and children under 5 are free. Tickets are valid for two consecutive days, making it possible to easily visit Hopewell Rocks at both high tide and low tide. There are also family tickets available and optional shuttle service fees of $1.74 per person.
There is plentiful free parking at Hopewell Rocks Provincial Park and, even in mid-summer, the park doesn't feel crowded. That said, it will be busier on the weekends so visit during the mid-week if you are able.
At Hopewell Rocks Provincial Park there is a visitor interpretive center and a half-mile-long path through the woods provides scenic overlooks to the Bay of Fundy. On the ocean floor, there are twenty sea stacks of a variety of sizes and shapes along a two-kilometer stretch of coastline. Many have been given whimsical names such as Elephant, Bear, Dinosaur, and ET. The most famous of the sea stacks are the Flower Pot rocks.
There are three access points to the ocean floor that are accessible when it isn't high tide. The primary access point is a metal staircase of 99 steps that descends down to the Flower Pot rocks. You can either walk along the path to reach the staircase or take a shuttle tram if you have mobility concerns.
Those with mobility issues can continue a bit further to North Beach, which has a ramp to the beach that is suitable for wheelchairs (although wheelchairs will have a tough time navigating the beach.) The third option can be reached by following a trail to the south of the Interpretive Centre, where the trail gently descends to sea level.
It is easy to spend a full day at Hopewell Rocks Provincial Park as there is a cafe on-site, as well as many picnic areas and even a playground. You can take a self-guided tour of the multi-media exhibits in the Interpretive Centre that explains the science of the park and what you can expect when visiting the ocean floor. It is also possible to join a guided tour with an interpretive guide.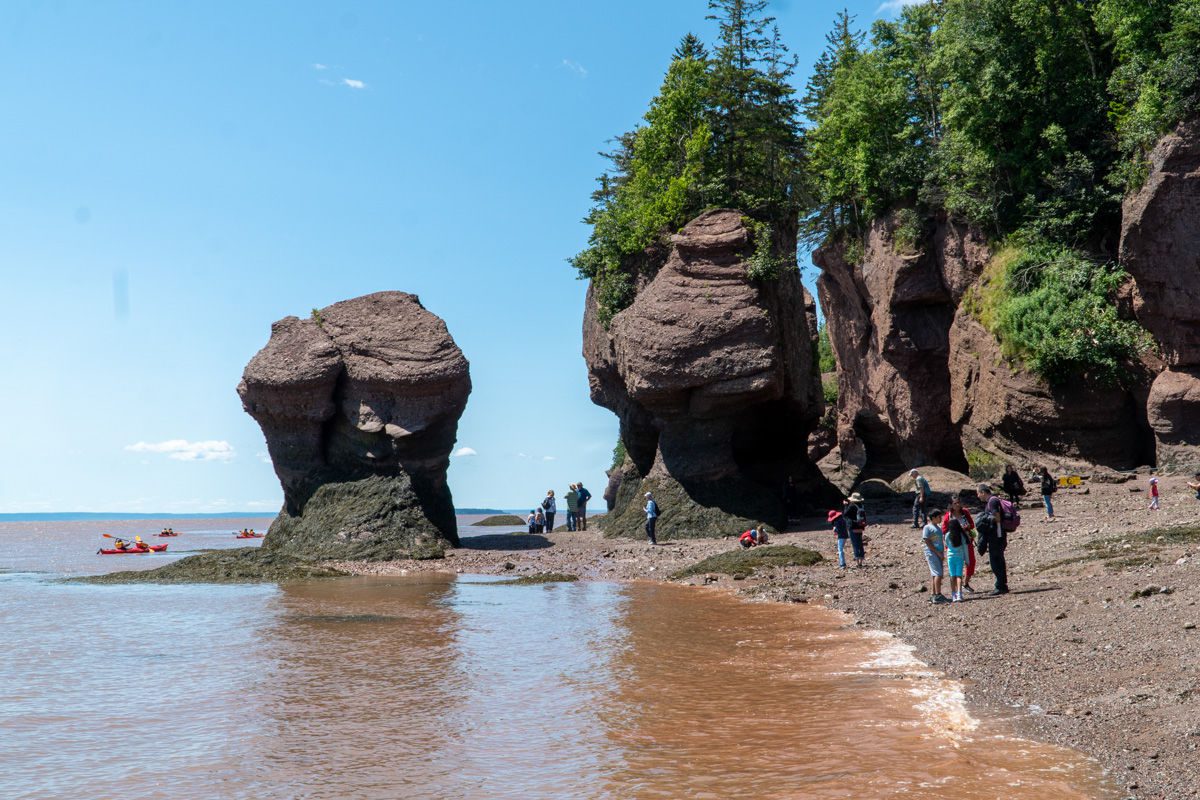 A few facts about the Hopewell Rocks:
The Bay of Fundy tides rise up to 13 vertical feet per hour
High tide can reach a height of up to 46 feet (that's as high as a four-story building)
During a full moon, there are higher than normal tides due to the gravitational pull of the moon
Each summer beginning in July and lasting 4-6 weeks, hundreds of thousands of shorebirds make a migratory stop at Hopewell Rocks
Tips for Visiting Hopewell Rocks
1. Visit at both high tide and low tide
To get the full impact of the Bay of Fundy tides, it is best to visit Hopewell Rocks at both high tide and low tide, and they make it easy by making the ticket valid for two consecutive days. Some people will say it is best to visit at low tide first and then return later at high tide to see the dramatic difference in the water levels.
However, I don't think it really matters when you visit first, as long as you get a chance to see the Rocks at both high and low tide. Just keep in mind that because the tide comes in so quickly or recedes so fast, you really should try to get there right at high and low tide to see the biggest changes. When I first visited I got there about 45 minutes after high tide and already the water was no longer under the Flower Pot rocks.
2. Pay attention to the tide table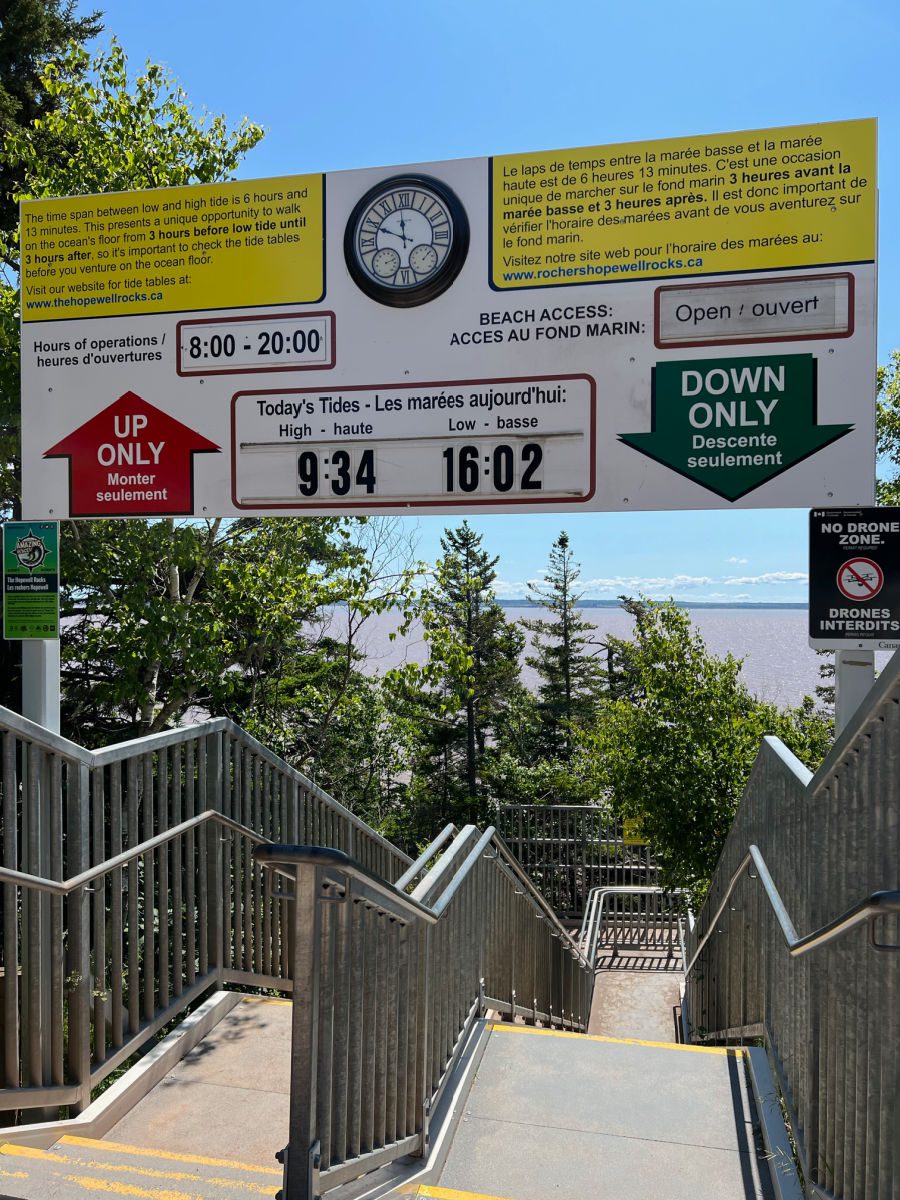 Before you go, be sure to check the Hopewell Rocks tide table to plan your visit. At the main deck and stairs, the tide times will be posted and you want to keep an eye on your watch to make sure you begin working your way back along the coast to the exit point an hour or so before high tide.
The staff does a good job of sweeping the beach to herd visitors back to the access points prior to high tide and if there was an emergency, there are a few spots where you can wait out the tide but I don't think you want to be stuck on a platform for hours until the tide goes out again.
3. Dress Appropriately
If you want to explore the coastline at low tide, it is best to wear sturdy, protective footwear such as waterproof hiking boots or water shoes with good grip. When the tide goes out, the sea floor is also quite muddy (you will see why this part of the Bay of Fundy is referred to as a chocolate river.)
It is not a day to wear your nicest outfits because chances are you will get muddy. In fact, many kids love slippy and sliding in the mud and may end up covered in it. Luckily, there are benches with hoses to wash your feet located near the main stairs at the Flower Pot rocks.
You may want to pack an extra towel to clean up and dry off after washing off the mud.
4. Stay for Lunch or Dinner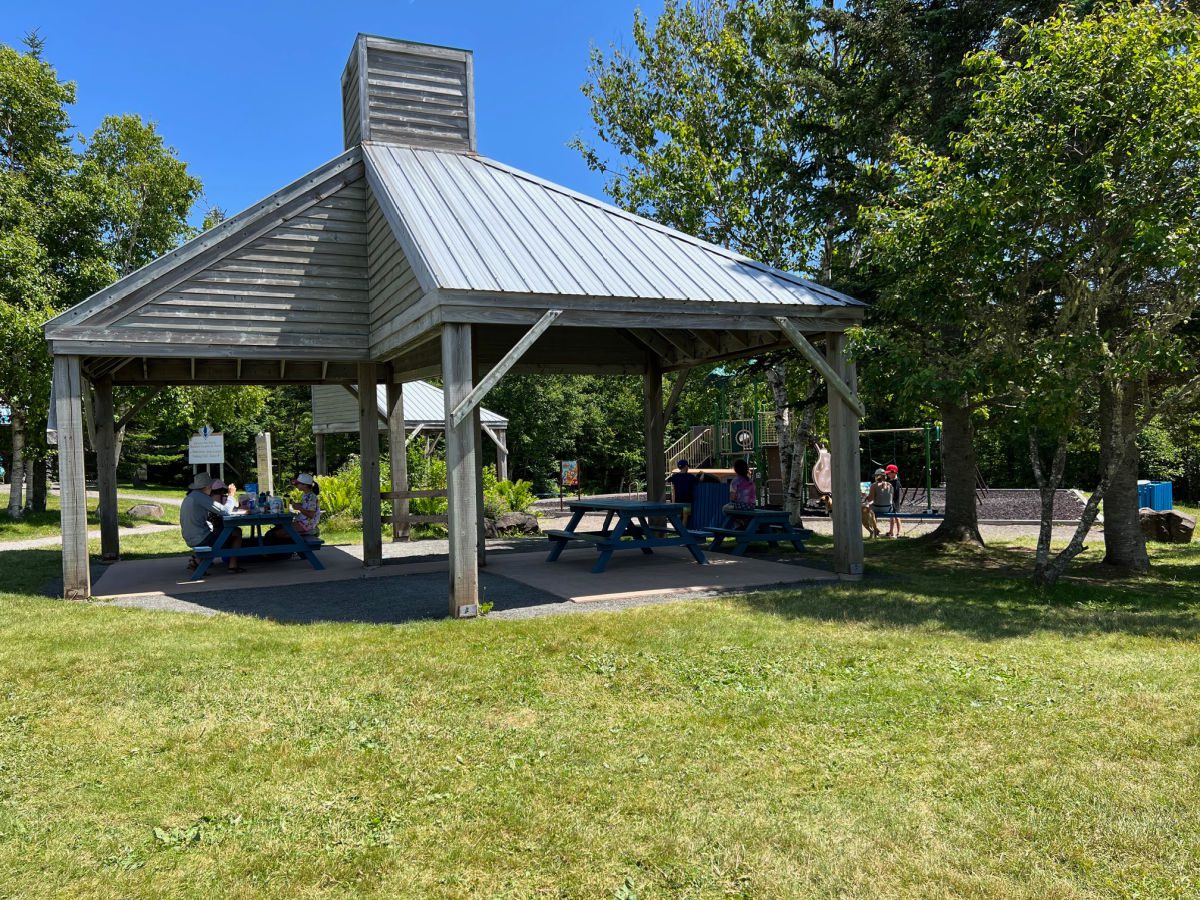 If you want to catch both tides in one day, plan to pack a picnic to enjoy at one of the picnic areas in the park, or enjoy a meal at the full-service on-site restaurant. Otherwise, your options are somewhat limited in the area. Dinner is served at the Hopewell Rocks Motel & Restaurant, right at the entrance of the park. Otherwise, about 10-15 minutes away you can get a sandwich or noodle bowl at the Cinnamon Soul Cafe, but service is slow.
5. Go Beyond the Flower pot Rocks
Many people that visit Hopewell Rocks take the stairs to see the Flower Pot Rocks and don't venture much beyond that area. However, if you want to get away from people and see some of the other cool sea stacks, be sure to walk down the beach in both directions from the Flower Pot Rocks. There is more to see if you walk to the right of the stacks than the left but it is worth doing both.
6. Don't Cross the Caution Boundaries
Each year before the park opens for the season, safety experts go along the coastline and rope off certain areas with caution tape that are at risk for falling rocks or other safety concerns. With an ever-changing coastline and erosion, it is important to pay attention to these warnings and stay out of these areas.
7. Explore the Coast from the Water
Walking on the sea floor is a fun experience at Hopewell Rocks but another great way to see the coastline is by kayak. Baymount Outdoor Adventures offers both daytime and after-dark kayaking tours at Hopewell Rocks. I was signed up to try to the night kayaking tour but unfortunately, the weather didn't cooperate and my tour was canceled due to high winds that created dangerous conditions.
Hopewell Rocks is a must-see when you visit New Brunswick and the Bay of Fundy! I've heard of people that planned cruises to this area specifically to see the Bay of Fundy tides at Hopewell Rocks but they only got to see it at high tide because of the timing of the cruise excursion. If you are visiting during a cruise, check the tide tables for the excursion to have the right expectations. However, hopefully, you can spend more time on land and get the full Hopewell Rocks experience.
Save this to Pinterest