For years I've heard people talk about what a cool town Rockland, Maine was, and I figured it was similar to other Maine cities like Portland or Bar Harbor. But it wasn't until I stopped here on my Maine coast road trip that I finally got to discover what makes Rockland stand out and why it is worth at least a weekend visit. To start, there are plenty of fun things to do in Rockland ME, but what makes it such a great place to visit is the town's artsy vibe.
In fact, after my recent visit, I'd now put Rockland on my list of favorite places to go in New England. Midcoast Maine has always been a hidden gem to me, with all those miles of coastline curving through cute harbors, hidden coves, and charming fishing villages, its peninsulas tipped with picturesque lighthouses. I can see why this region inspires artists and those that appreciate their work!
Things to do in Rockland Maine
Don't skip by this Midcoast gem on your way to Acadia National Park or Bar Harbor, you will want to give it its due so plan on staying for the weekend to get to all the fun things to do in and around Rockland.
Visit an art museum (or two!)
Rockland is known as Maine's Art City and is home to many art galleries and two primary art museums. The Farnsworth Art Museum focuses on American art, particularly those with ties to Maine. With over 15,000 pieces of art in its collection, including the largest public collections of works by sculptor Louise Nevelson, and works by N.C., Jamie, and Andrew Wyeth. The collection also includes one of Robert Indiana's famous LOVE sculptures.
You can peruse the collection in a little over an hour, but a ticket gives you the right to return throughout the day (even if just to take advantage of the museum's clean bathrooms.) If you have time to enjoy more art, also plan a visit to the Center for Maine Contemporary Art. From its glass and corrugated metal location in downtown Rockland, the CMCA is the leading contemporary arts organization in the state of Maine.
Shopping in Downtown Rockland
If you enjoy boutique shopping, you are in luck in Rockland. Rockland has been designated a National Main Street Community for its revitalized historic brick-and-stone downtown. In addition to Maine staples like Maine Sea Bags, you will find antiques, outdoor outfitters, gift shops, clothing boutiques, and book stores. Although the tasting room is currently closed in 2021, you can still order gourmet Maine chocolate from Bixby & Co. Chocolate in town.
The clothing options run from high-end to fun affordable fashion at boutiques like Daughters, The Grasshopper Shop, and my favorite, Barefoot in Denim. There are also a number of fine art galleries in downtown Rockland to explore, like the Eric Hopkins Gallery, Stanhope and Spencer, and the Gautschi Center, which offers art classes and workshops.
Walk Along the Rockland Breakwater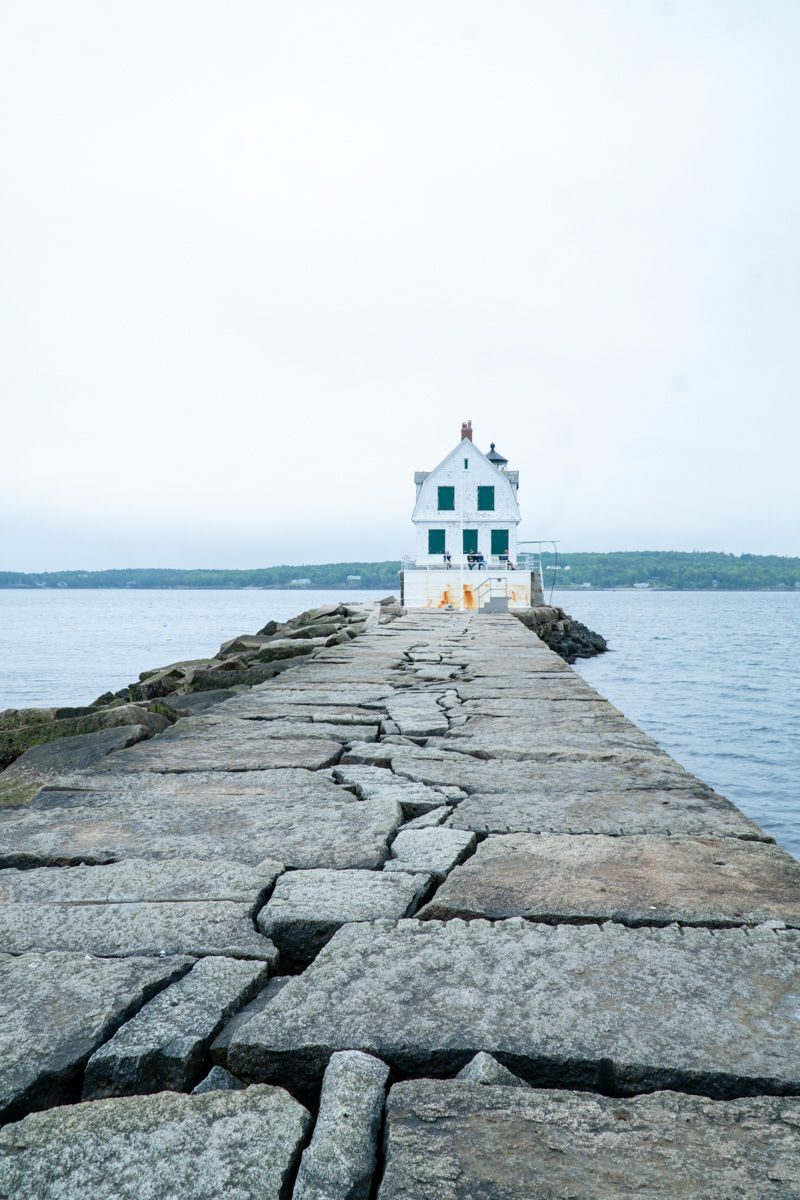 Located just outside of town, the Rockland Breakwater extends 7/8th of a mile into the Rockland Harbor. At the end, sites the Rockland Breakwater Lighthouse. If you are up for a walk, there is a small parking lot at the breakwater. After a short path along the water, you can walk across the rocky breakwater, just keep an eye on your feet and watch your step, especially if it is windy or wet.
The landmark lighthouse is attached to a Keeper's House and is open for tours when volunteers are available. If it isn't open, there is a bench to rest and enjoy the view before taking the walk back. The lighthouse was built in 1902, after the breakwater was established to protect the town from storms.
See a Lighthouse
If you love lighthouses, the Rockland Breakwater Lighthouse isn't the only one to see nearby. Owl's Head Light, which was rebuilt in 1952 is located just outside of town in Owls Head State Park on a hill above the water. The former light keeper's house is now an interpretative center run by the American Lighthouse Foundation.
Just 30 minutes south of Rockland you can visit the Marshall Point Lighthouse. Built in 1832, the Marshall Point Light Station is connected to the mainland by a long wooden walkway. If you want to turn it into a day trip, you can catch a ferry in nearby Port Clyde to the island of Monhegan, or hop on a cruise with Monhegan Boat Line to look at puffins, lighthouses, or sunsets. Port Clyde Kayaks also offers guided kayak or paddleboard tours, along with rentals.
About an hour to the south, on the way to Boothbay Harbor, you can also stop at Pemaquid Point Lighthouse in Bristol. Maintained by the Bristol Parks and Recreation Department, there is a small entrance fee to the park. During limited times, people over 46 inches can even climb the lighthouse tower.
Project Puffin Visitor Center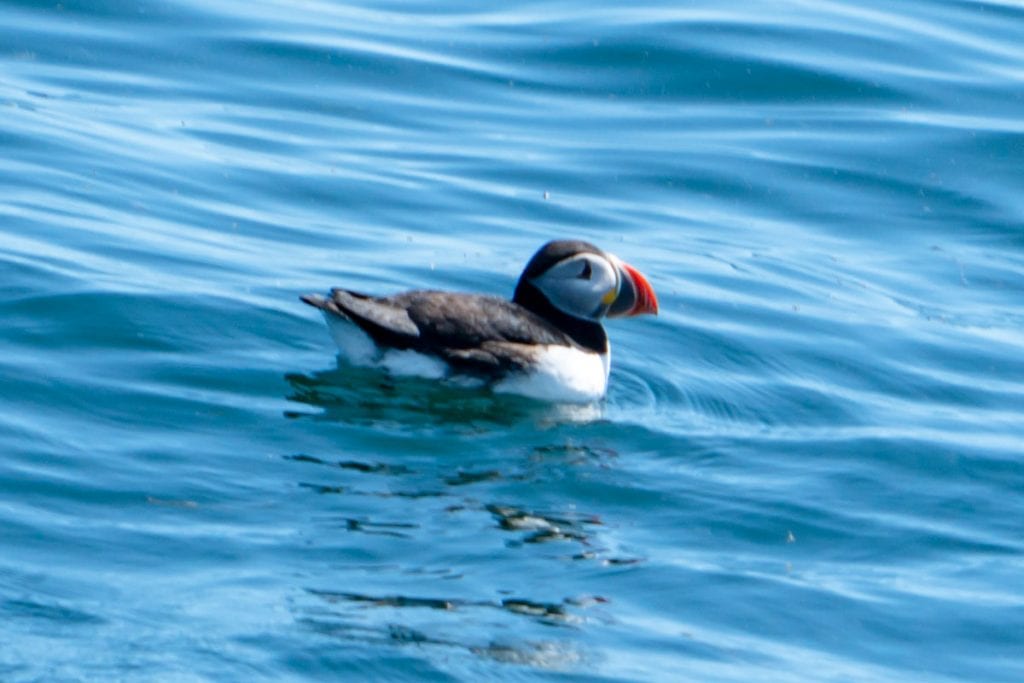 The Project Puffin Visitor Center, operated by Audubon Project Puffin, is currently closed in 2021, but hopefully, it will reopen in the future. The Center runs free science programs for children on Tuesdays and adult lectures on Wednesday evenings. The visitor center also offers a 20-minute film "Project Puffin" about the effort to bring the Atlantic Puffins back to the Maine coast, along with exhibits about these adorable sea birds.
Have a Great Meal
My surprise and delight over Rockland continued when it came to Rockland's food scene. For fine dining, make a reservation at Primo, located just outside of downtown. Serving Mediterranean and Italian cuisine, Chef Melissa Kelly is a two-time James Beard Foundation Award winner of the American Express Best Chef: Northeast Award. Dining in the cozy Victorian house is perfect for a romantic date night.
For breakfast, grab a coffee at Rock City Coffee and a pastry at the Atlantic Baking Company. For lunch, enjoy the outdoor patio at Cafe Miranda. They offer a large menu of small and large plates to satisfy a wide-range of flavor profiles. I give two thumbs up to the avocado toast topped with crab. To try a local craft beer, opt for lunch and a pint (or flight) at Rock Harbor Brewing.
Explore Rockland's Street Art
The art in Rockland is not contained only in museums or galleries. Wandering the streets you will see the many murals and sculptures that brighten Rockland's streets, adding to its reputation as an art city.
Maine Lobster Festival
If you time your visit for early August, you can join in the fun at the Maine Lobster Festival in Rockland. Located in Rockland Harbor Park, where you can find the farmer's market at other times of the year, you can sample everything from lobster rolls to lobster mac'n cheese, lobster bisque, lobster stuffed risotto balls, and lobster won-tons. The festival also features live entertainment, a cooking contest, a parade, a road race, and other forms of family (and grown-up) fun like the Steins and Vines tasting event.
Day Trip to Camden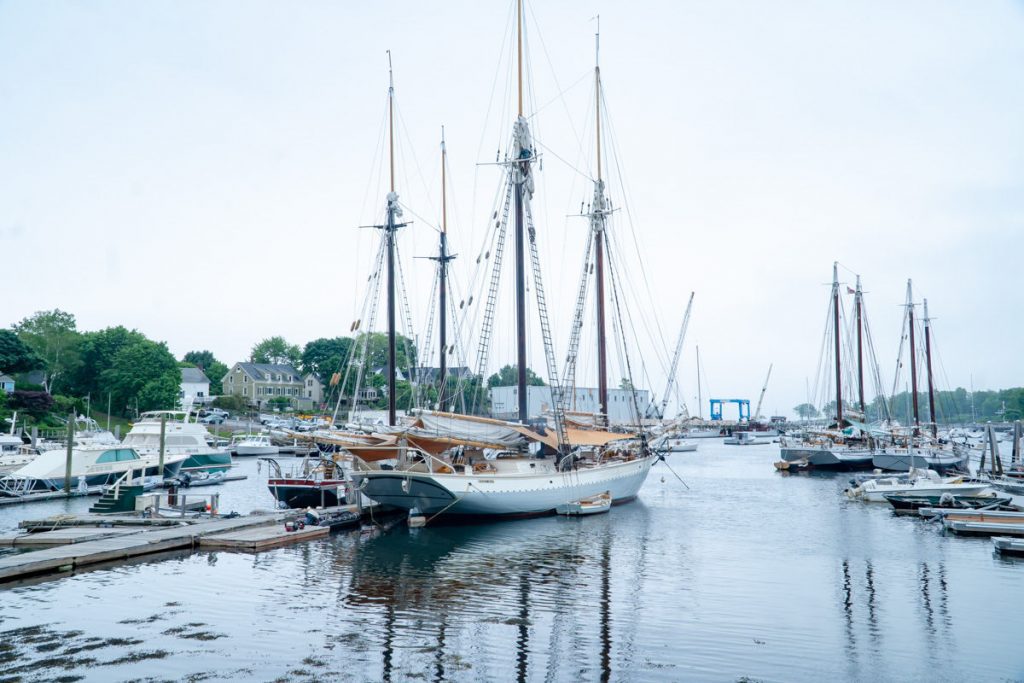 If you have a few days in Rockland, plan on taking a day trip to nearby Camden. It only takes 15 minutes to get to the charming downtown. Park near the Camden Public Library to enjoy beautiful harbor views from the lawn in front of the library. Take some time to explore the boutiques and shops along Main Street. The Smiling Cow gift shop has a great selection of Maine-made products and gifts. There are also some great home goods stores, yarn/wool shops, and outdoor outfitters.
Stop and enjoy a local beer at Sea Dog Brewing Co., enjoy a meal with a view at The Waterfront Restaurant, or grab a picnic lunch at Fresh and Go. After exploring the town, head over to Camden Hills State Park. You will want to either drive or hike to the top of Mt. Battie. If you have more time, you can also hike the Maiden's Cliff Trail with a view of Megunticook Lake, or take the Megunticook Ocean Lookout Trail.
Day Trip to Vinalhaven
Another great day trip option from Rockland is to take the ferry to Vinalhaven. There are a few spots for cars but it is best to rent a bike from one of the mainland outfitters and explore on two wheels. This island was once the largest granite producer in Maine and is still a vibrant fishing community. Many artists have also found inspiration on Vinalhaven.
Today, locals and visitors love swimming in the quarries, particularly Lawson's Quarry and Booth's Quarry. You can also enjoy hiking in one of the island's many parks and public lands, offering beautiful views of Vinalhaven's rocky coast. For lunch, get one of the best lobster rolls in Maine at Greet's Eats food truck near the ferry.
Where to Stay in Rockland, Maine
The best spot to stay in Rockland, Maine is the 250 Main Hotel. This artsy, boutique hotel is located on Main Street right across from the harbor and within easy walking distance to Rockland's main attractions. The modern aesthetic is a surprising find for the coast of Maine. There are 26 rooms, many of which offer harbor views, all featuring industrial decor.
250 Main offers guests access to its roof deck, perfect for enjoying a sunset view. The rooms are spacious and comfortable, some offering small balconies to take in a view.
As much as I loved all of my stays along the Maine coast, Rockland's charming downtown and vibrant art scene really make this a gem on Maine's midcoast.
Save this to Pinterest