Boothbay Harbor has long been a favorite stop on Maine's midcoast when we are taking a Maine coastal road trip. First settled in the 1600s, the naturally-protected waters of Boothbay Harbor have seen a rich history in shipbuilding and fishing. Today, visitors are drawn to this charming seaside town because it is small enough to maintain its quaint character, but offers enough things to do in Boothbay Harbor to satisfy a range of interests.
Each time I visit I discover something new, from the local artisans to the nearby oysters farms. It has always been famous for whale watching but it took me until recently to realize I could see puffins near Boothbay! While it is tempting to just stop for the night, there are so many things to do in and around Boothbay Harbor — both on the water, by the coast, and inland, that you really should stay for at least a weekend, if not longer.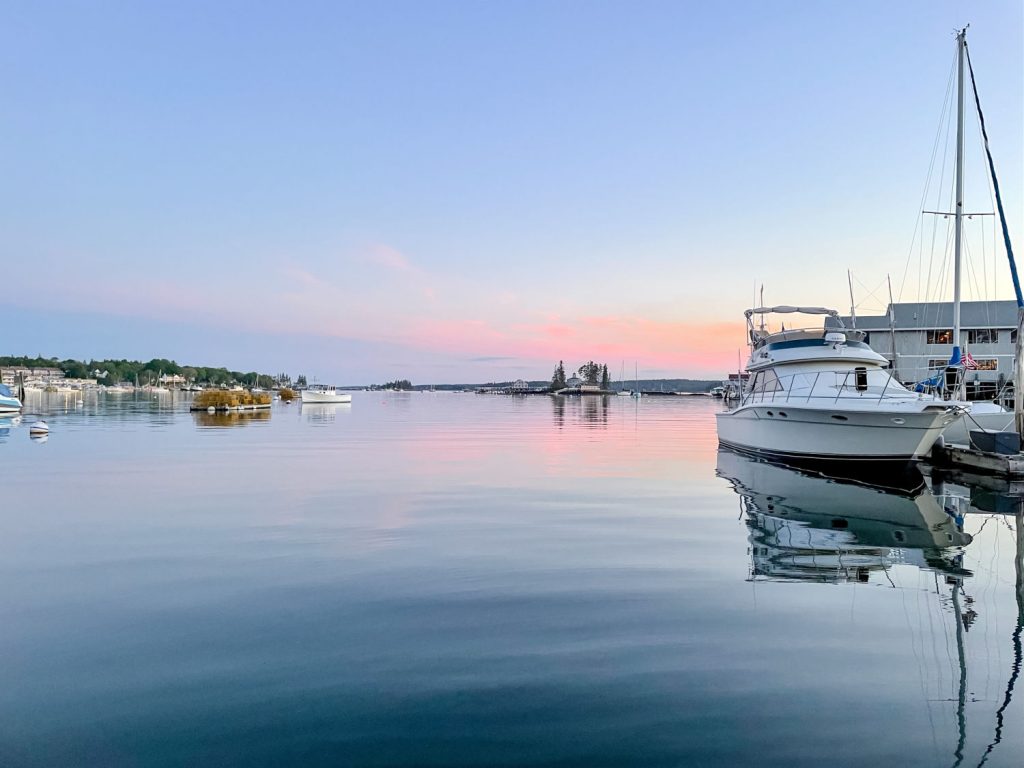 When to visit boothbay harbor
Visiting Boothbay Harbor is especially fun if you can time your trip to coincide with one of the town's annual events, like April's Fishermen's Festival, or the more famous Windjammer Days in June. A visiting fleet of historic windjammer ships sail into Boothbay Harbor for two days of fun from parades (both street and boat), to tours and live entertainment, culminating in a fireworks extravaganza. (Learn what it is like to take a sailing holiday on a Maine Windjammer Cruise.)
Spring also brings 35,000 tulips in bloom at the Coastal Maine Botanical Gardens. While winter is ushered in by the Boothbay Lights Festival, featuring a boat parade and fireworks, along with other festivities.
While there may be something going on year round in Boothbay, Boothbay Harbor, and Southport, most visitors prefer to visit in the summer. Summer season starts getting into gear around Memorial Day, although you may still see some more limited hours during the week until later in June. The season quiets down after mid-October when boat tours and other places begin to shut down for the year.
Things to do in Boothbay Harbor
Note: This post may contain affiliate links. If you click a link and make a purchase, I may receive a small commission. All opinions are my own.
Whatever the season, you will find plenty of things to do in Boothbay Harbor, but these are the top attractions and activities not to miss, especially in the summer.
Hop on One of Cap'n Fish's Cruises
Cap'n Fish offers harbor tours, whale watching tours, and even puffin cruises aboard its fleet of ships docked in Boothbay Harbor. There is a choice of tours to pick from, depending on how much time you have and what you want to see (seals? whales? puffins? lighthouses?). These cruise past nearby islands and make a great day trip (or half day) option around the great Boothbay Harbor region.
On my last visit, I joined a 2.5 hour cruise out to Eastern Egg Rock to look for puffins. While I've enjoyed seeing puffins in Iceland, the novelty of seeing them in my home country was a big draw.
Atlantic puffin colonies have been reestablished off the coast of Maine, through the hard work of the Audubon Society and Project Puffin. These cute little creatures are now flourishing, although keep in mind that they are much smaller than you might expect and tough to see from the boat. You will want to bring along a powerful pair of binoculars or a great zoom camera lens. We were lucky enough to see dolphin, hundreds of puffin, and some other hard-to-spy birds including razorbills.
A few tips:
Arrive early to line up to board so that you can get a prime viewing spot
Bring something warm to wear as it is always colder on the water
Be prepared if you get motion sickness
Leave the hat at home unless you are prepared to lose it
Don't forget those binoculars!
Wear sunscreen as the reflection off the water can be strong and bring sunglasses (ideally ones that have a strap so you don't lose them.)
Learn to Shuck at Glidden Point Oyster Farm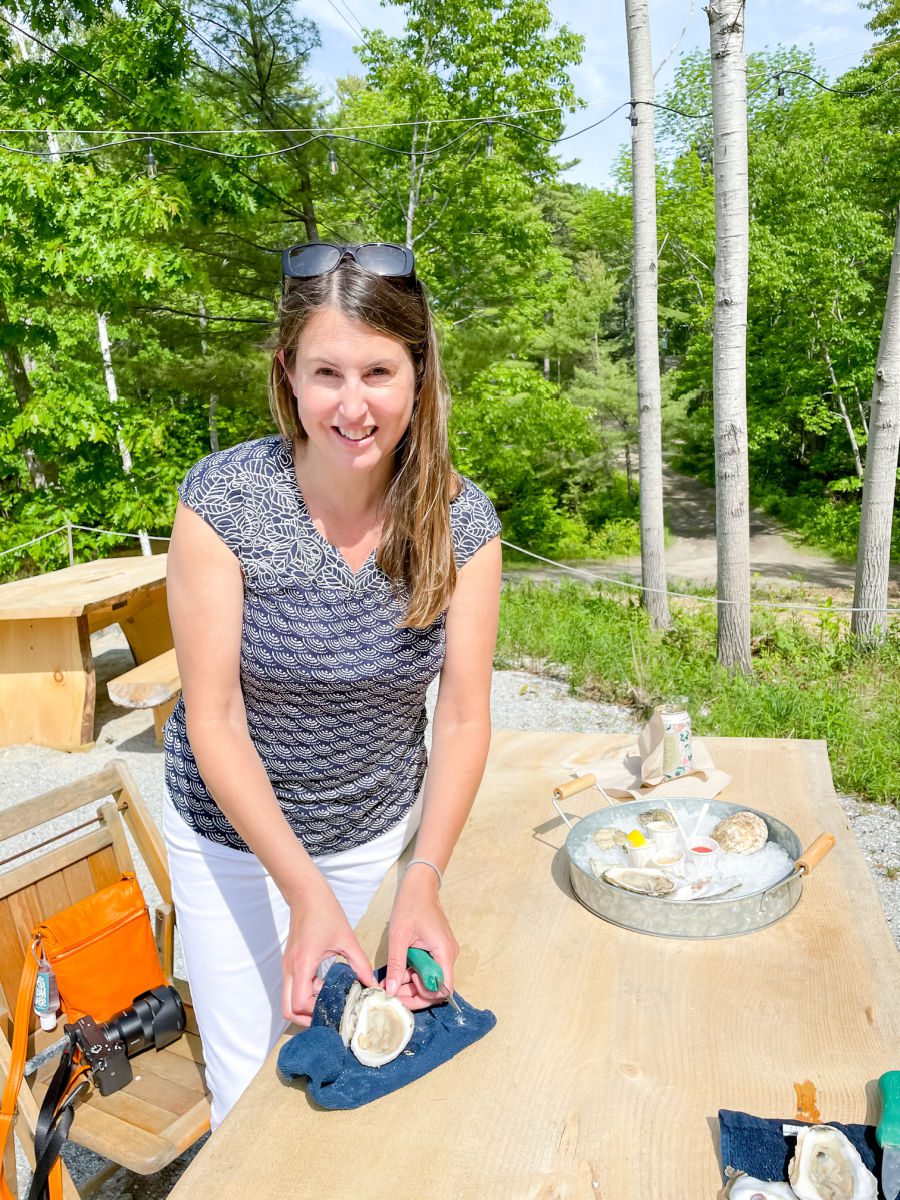 If you are a fan of oysters, or just want to learn more about this area's long oystering history, plan to stop at Glidden Point Oyster Farm, just a short drive (20 minutes) away in Edgecomb. You can book a 30-minute walking tour of the oyster farm and learn all about the oystering process. Trust me, it is eye-opening and gives you a greater appreciation for these mollusks.
Glidden Point also has a retail storefront and a patio picnic area so you can choose a few oysters to try, along with a selection of beer, wine, and other local snacks. Just be prepared to learn how to shuck if you haven't already mastered this skill! I've since gotten even better at shucking after a trip to Prince Edward Island.
Go Shopping in Town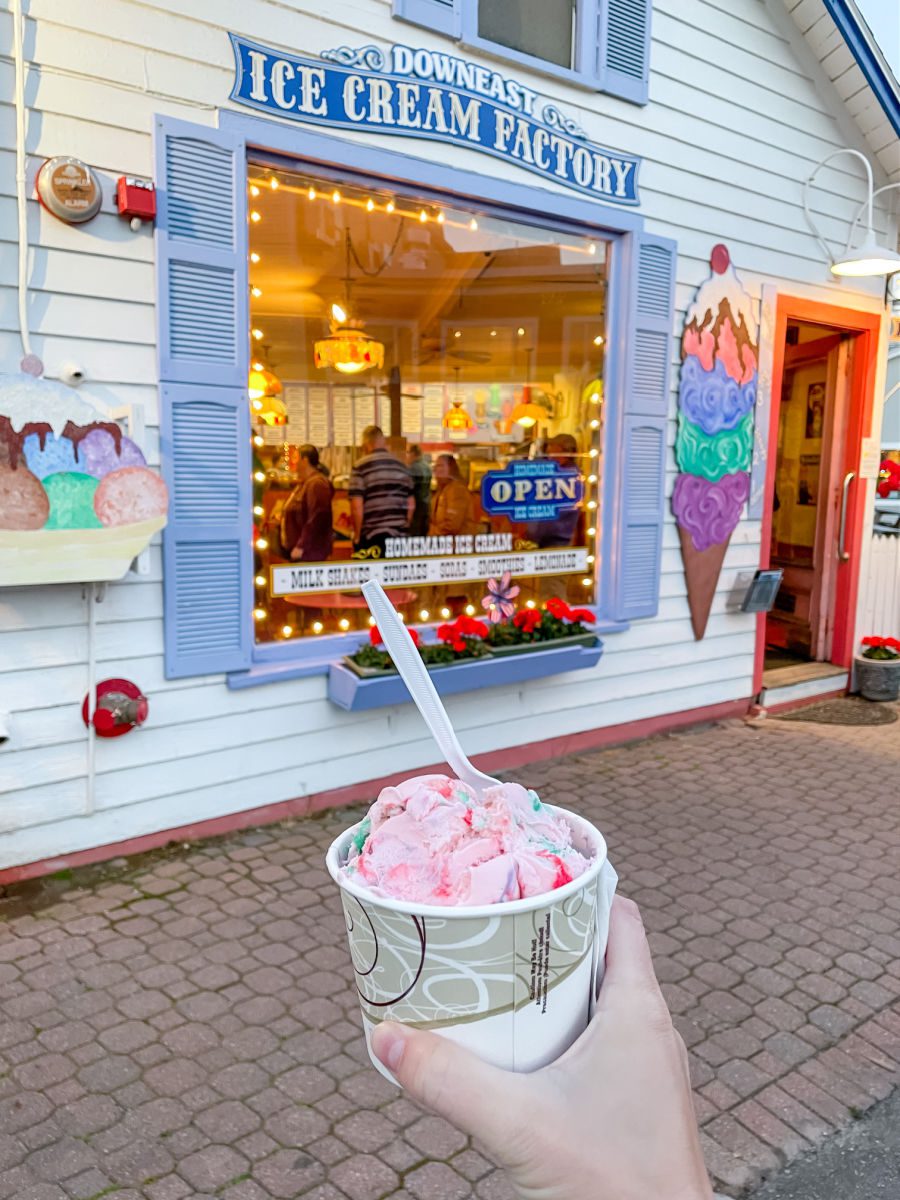 One of the best things to do is to spend some time just walking around Downtown Boothbay Harbor. You will find some classic Maine shopping destinations, like Maine Sea Bags and Sherman's Maine Coast Book Store (Maine's Oldest Bookstore). There are your typical souvenir shops, like Coastal Maine Gifts and Gimbel & Sons Country Store, but you can also find some more eclectic shops with home decor and handicrafts, like Sweet Bay and Mung Bean.
Boothbay Harbor also attracts many artisans and there are plenty of galleries to browse for pottery, glass, and fine arts. If you work up an appetite, a great place to grab a snack is the Coastal Maine Popcorn Company for some fun flavored-popcorn or ice cream (I'd recommend the blueberry!) at Downeast Ice Cream Factory.
Eat Fresh Seafood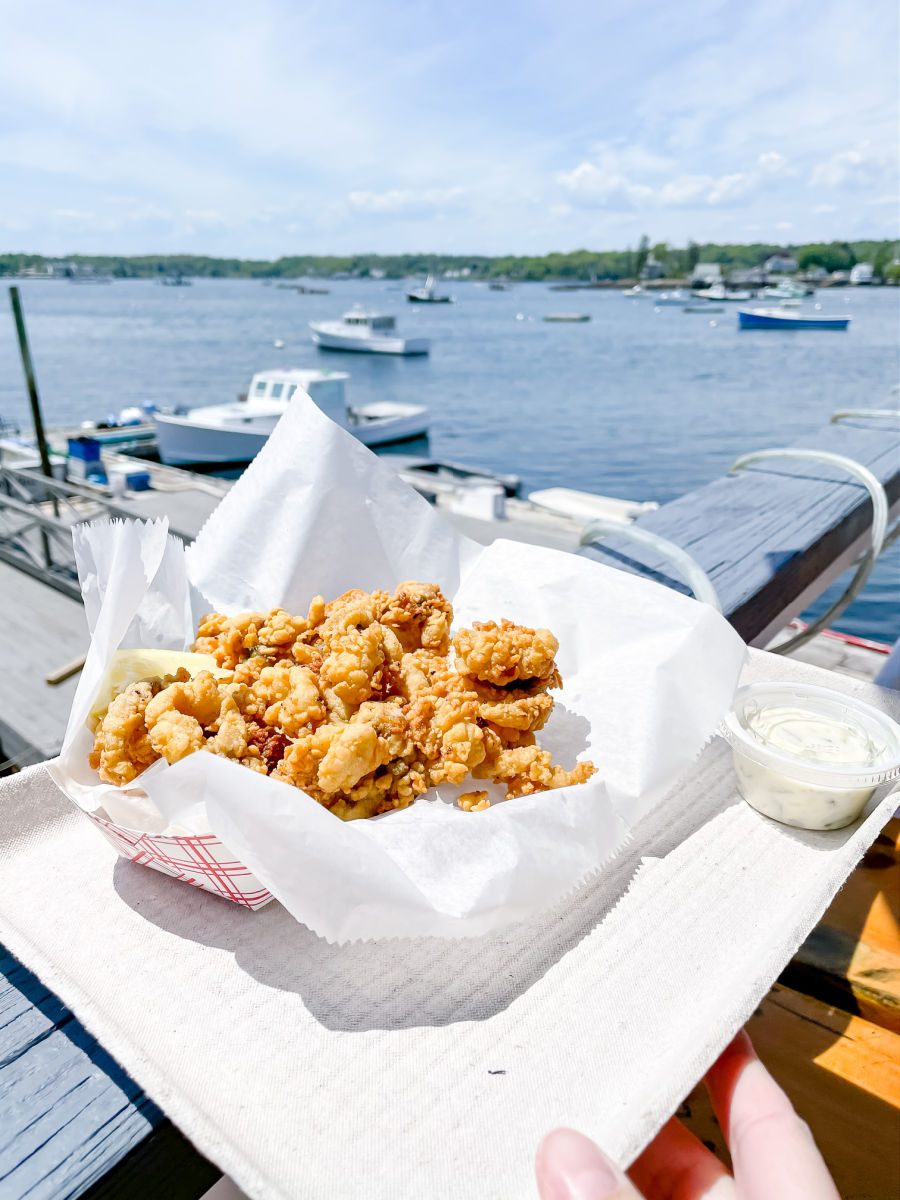 There are plenty of Boothbay Harbor restaurants to choose from to get a lobster roll or great seafood, but one of the most authentic is the Boothbay Lobster Wharf. You can either walk across the footbridge from downtown or drive to this casual waterfront restaurant on a working wharf. Here you can grab a picnic table by the water and enjoy the view while sampling some delicious seafood.
For oysters, I'd recommend Mine Oyster in the heart of downtown Boothbay Harbor. Some other popular restaurants include Ports of Italy or Ports Pizzeria for Italian, Kaler's, Boathouse Bistro, and Shannon's Unshelled.
Walk across the Pedestrian Footbridge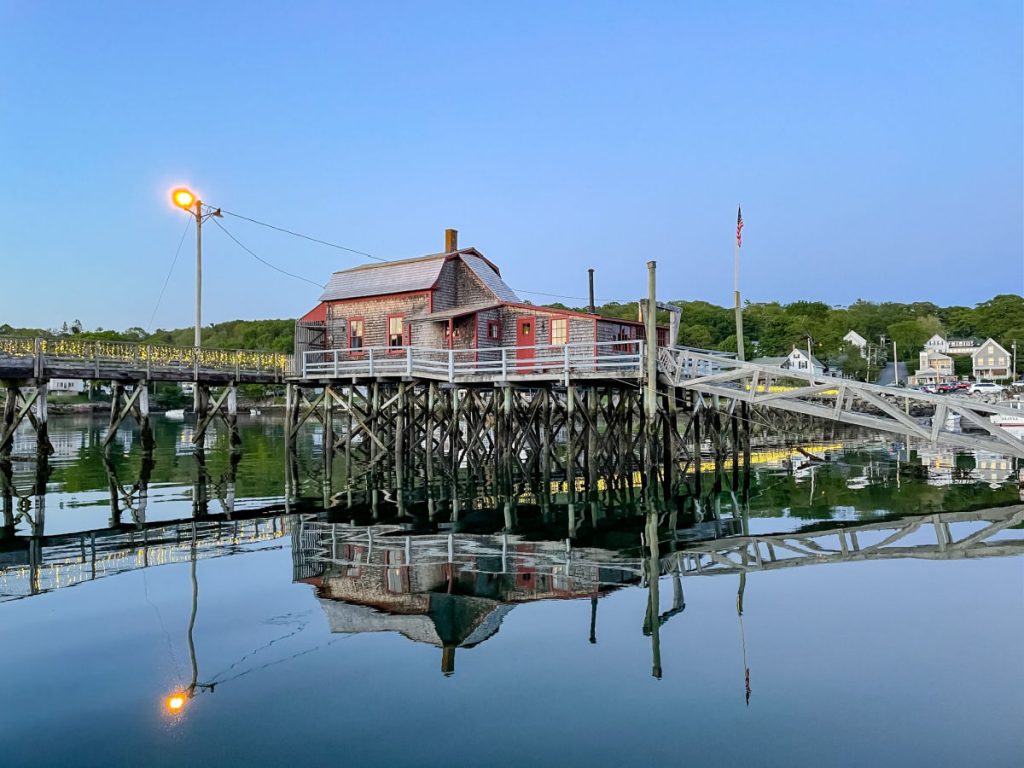 The town of Boothbay Harbor is wrapped around the harbor and the two sides are connected by a pedestrian footbridge. You can get some great views by walking across the bridge, especially at sunset when the bridge is twinkling with bright lights and the boats and buildings are reflected in the still waters.
Visit the Coastal Maine Botanical Gardens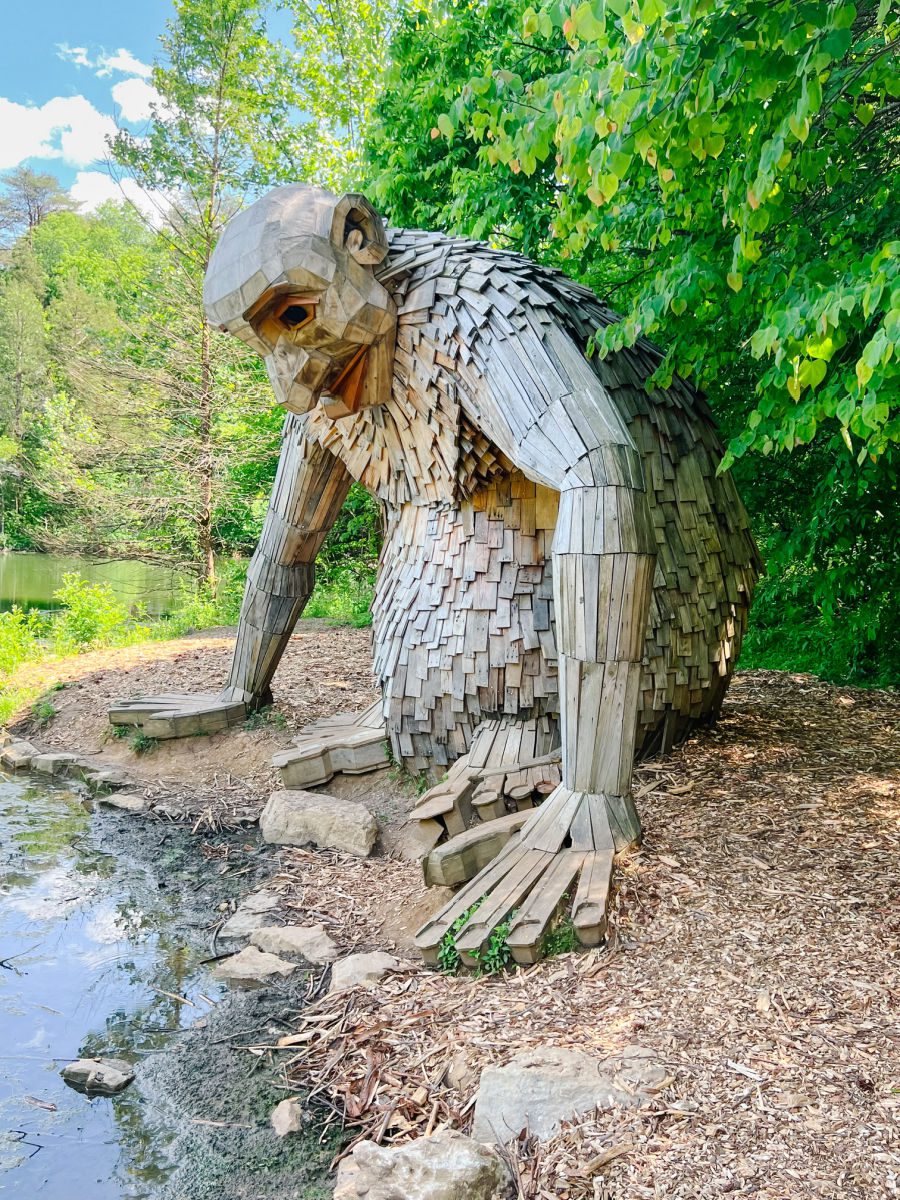 The Coastal Maine Botanical Gardens is one of Maine's top attractions. The Gardens offer over 300 acres of ornamental and themed gardens, mature forests, wetlands, and tidal shoreline with interpretative trails.
Currently, the main exhibit is the Guardians of the Seeds, an exhibit of giant troll sculptures made from recycled wood by Danish artist Thomas Dambo. Kids will absolutely love seeing these trolls and discovering their secret message. This exhibit is included in admission but be sure to get your tickets in advance!
Be sure to check the website calendar for special events and exhibits.
Stop at the Boothbay Railway Village
The Boothbay Railway Village is a living history museum that gives visitors a taste of what life was like in the mid-19th to mid-20th centuries in rural Maine. You can explore 35 acres of historic Maine buildings, which have been preserved in a recreated village of aged and vintage buildings that were assembled from across Maine. There is a still-functioning Town Hall, a chapel still used for weddings, retail shops, houses, and a preserved railway train station.
Visitors can also ride the rails behind a vintage steam or diesel locomotive or view a collection of 60 antique autos. Artisan Days include demonstrations from woodworkers, blacksmiths, stone carving, weaving, and even lace making.
Explore the Maine State Aquarium
The Maine State Aquarium is still closed for renovations, but is expected to reopen in 2024. Operated by the Maine Department of Marine Resources, this aquarium includes a collection of regional fish and invertebrates that can be seen within the rocky shore setting.
A popular attraction is the 20 foot-long touch tank that houses a multitude of sea life including sea stars, sea urchins, sea cucumbers, and scallops. If you pack a picnic, you can enjoy lunch in the picnic area overlooking the water.
Visit Nearby Lighthouses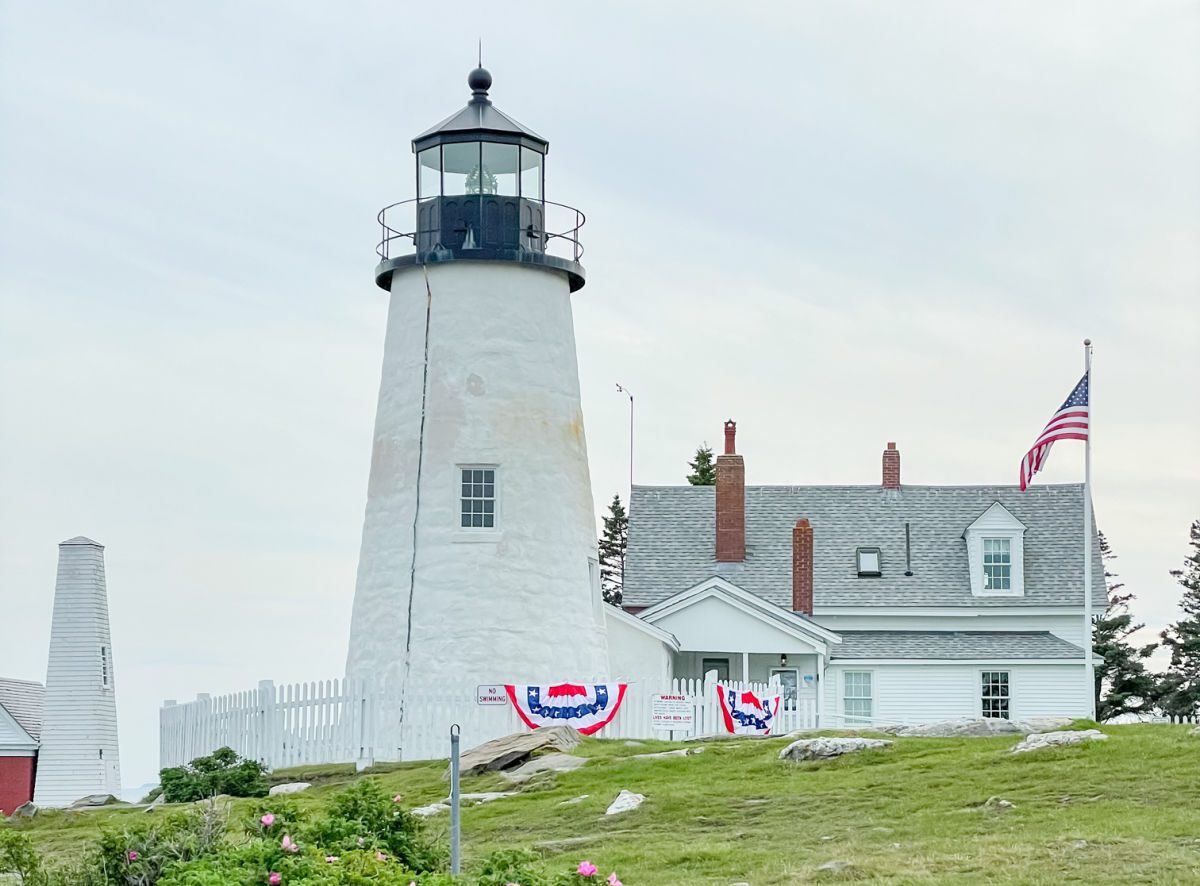 The Maine Coast is dotted with scenic lighthouses and quite a few are located within a short driving distance from Boothbay Harbor. Just 15 minutes aways, the Burnt Island Lighthouse is a popular spot. Built in 1821, it is the second oldest lighthouse in the state of Maine. Since the lighthouse is located on an island, you need to take a 15-minute ferry boat to get there. Tours are only offered on limited days so you need to pre-book with Balmy Day Tours in advance.
If that doesn't work out, you can drive to Pemaquid Point Lighthouse in about 45 minutes from downtown Boothbay Harbor. Pemaquid Point Lighthouse Park is open every day from 9 am to 5 pm from mid-May to mid-to-late October for a small entrance fee. In the park you can take a tour of the Lighthouse Tower, visit the Fishermen's Museum in the Keeper's House, or view work of local artists in the Art Gallery. There are picnic tables on site and room to walk and see the lighthouse from multiple angles. Just be careful and stay off the rocks as they can be slippery and dangerous.
Where to Stay in Boothbay Harbor
There are many options in and around Boothbay Harbor depending on what you are looking for (resort atmosphere, bed and breakfast, family-friendly inn, or vacation rental.)
Harborage Inn on the Oceanfront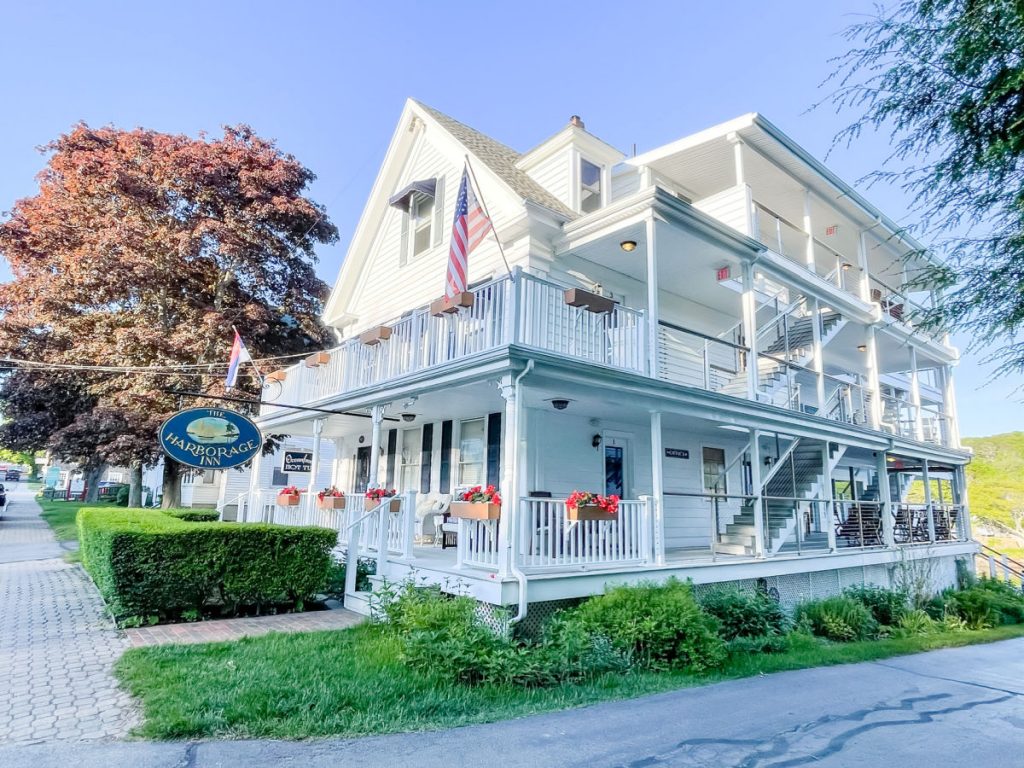 Located on Townsend Avenue, one of the main thoroughfares into town, the Harborage Inn on the Oceanfront was my choice for my last visit to Boothbay Harbor. Located just a five-minute walk to the center of town, this Victorian-style bed and breakfast offered everything I was looking for on my recent stay. First, there is off-street parking to make it easy to arrive and then explore on foot. The location was extremely convenient, with beautiful water views from the Adirondack chairs on the lawn and dock behind the hotel. Some rooms are even oceanfront suites with water views.
The rooms have been recently renovated to have a fresh, modern yet coastal appeal. A gourmet breakfast is included, delivered right to your door at the requested time. And while I was in the front of the building, the street noise and light was minimal and didn't disturb my stay.
Spruce Point Inn Resort & Spa
If you are staying for a few days and want to have the space to relax and enjoy your downtime on your vacation, the Spruce Point Inn Resort and Spa is an ideal choice. With 55 acres of shoreline outlined by spruce woodlands, the Spruce Point Inn offers kayaks, paddleboards and bicycles for guests' use, along with croquet, shuffleboard and a game room complete with classic arcade games for entertainment.
When it is time to relax, there are two pools and full service spa, along with three dining options. Just keep in mind that it is about a 10 minute drive to get into town.
Tugboat Inn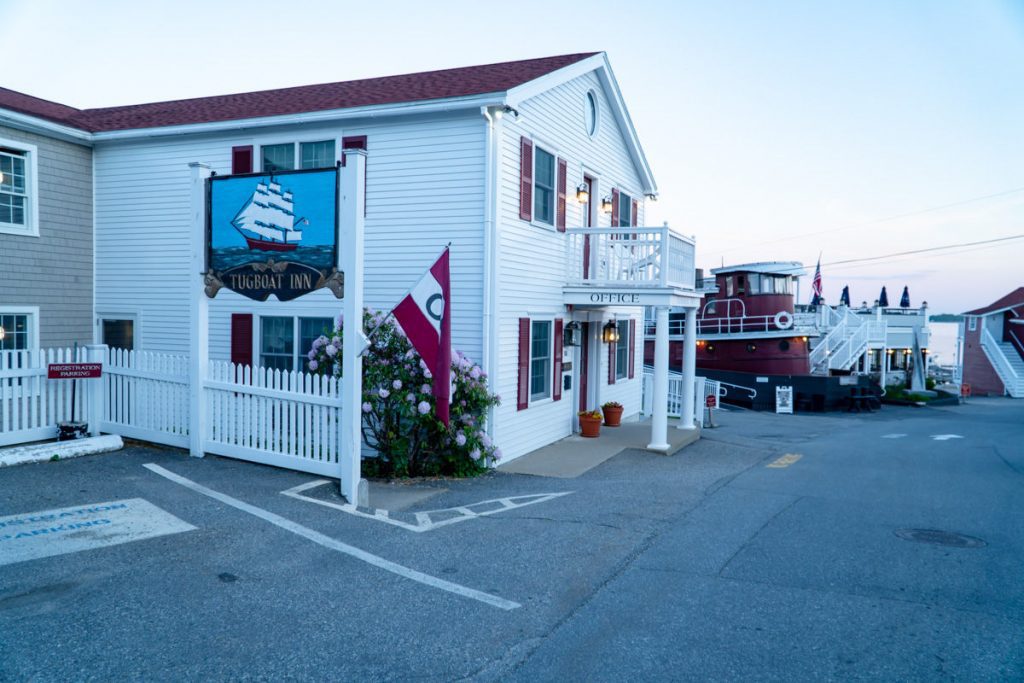 The Tugboat Inn is a Boothbay classic. Located right on the water in town, the convenient location (with free parking) and budget-friendly pricing make this hotel popular with families. While the decor and amenities are more basic, I stayed here on my first visits to Boothbay Harbor and I have fond memories of those trips.
Find other places to stay in Boothbay Harbor:
Boothbay Harbor can be a stand-alone destination, or a stop on your Maine coast road trip.
Visiting Maine? Read More:
Save this to Pinterest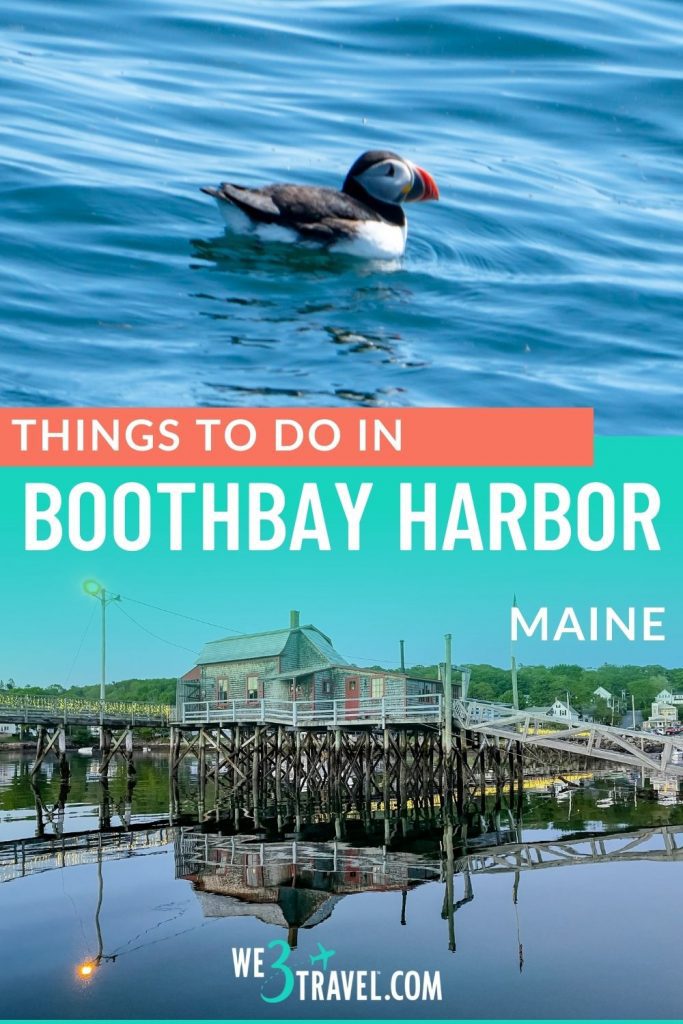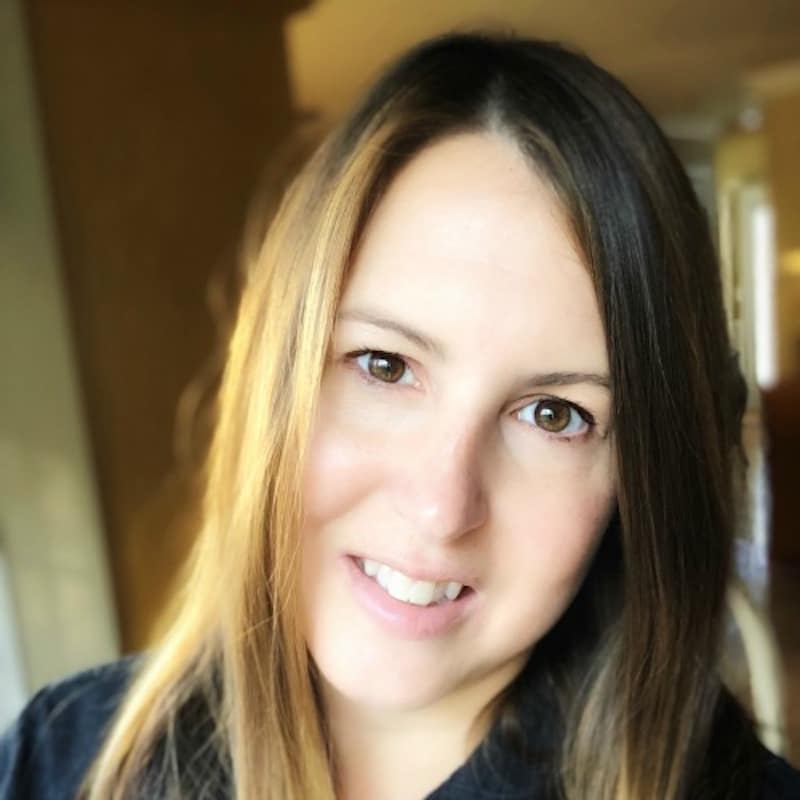 Tamara Gruber is the Founder and Publisher of We3Travel. A former marketing executive and travel advisor, Tamara is an award-winning travel writer and recognized expert in family travel. She is also the publisher of YourTimetoFly and the co-host of the Vacation Mavens travel podcast.