We were on a mission…quest…thing. But unlike the Hobbits trying to destroy the one Ring, our mission was easier to achieve, although the landscape at times was quite similar. Our quest was to find puffins in Iceland. There are quite a few animals on my "would like to see in the wild" bucket list — polar bears, penguins, moose, beaver, bears — and puffins are one of them. So when planning our trip to Iceland, searching for puffins became one of our quests.
After reading about the boat tour Mary from The World is a Book took with her kids, I figured that was the way to go. You can also take whale watching cruises from the Reykjavik harbor, but we've done plenty of those closer to home so we decided on the Puffin Express cruise from Special Tours. This one-hour tour fit in perfectly with our packed schedule, and with 100 percent guaranteed sightings, we were sold.
Puffin Express Boat Tour with Special Tours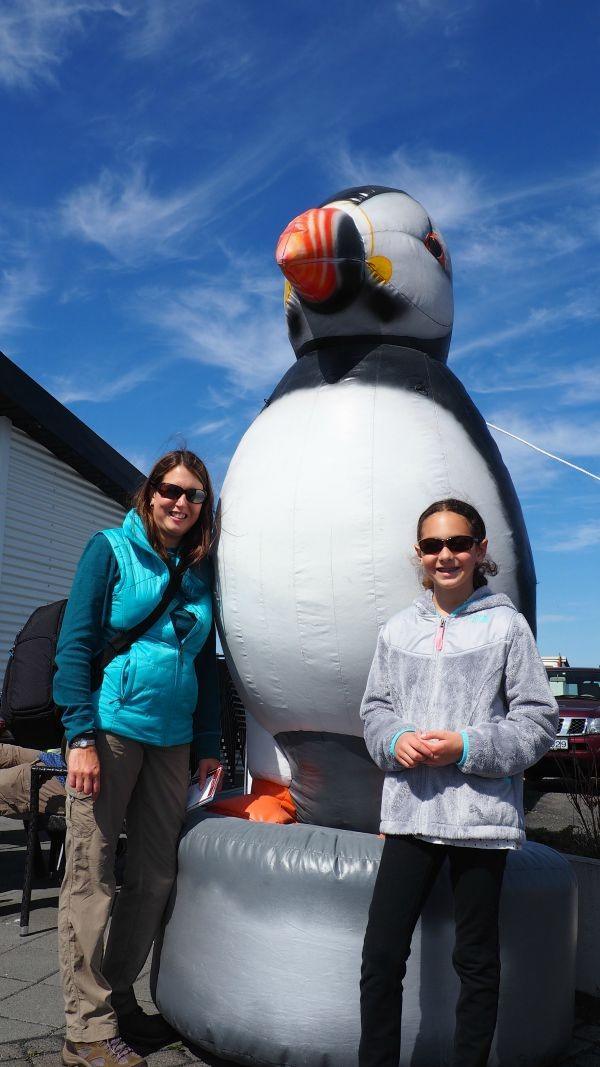 It was easy to find the Special Tours booth in the Old Harbour with Puffin Pete hanging out front. Unlike the whale watching tours on larger boats that board early, you only need to arrive about 15 minutes before your tour. Once your tour is ready to leave, your guide will bring you over to the small ship Skúlaskeid. You will want to follow right behind the guide so that you can be one of the first onboard and snag one of the outdoor seats. If it is choppy, you might get splashed a little, but you will have a much better view of the puffins. Children will also need to wear a life jacket for safety, whether they are inside or outside. We ended up inside but luckily once we reached the nesting grounds, we were able to move around and find a little space outside, even if it meant standing on the benches in the middle of the boat.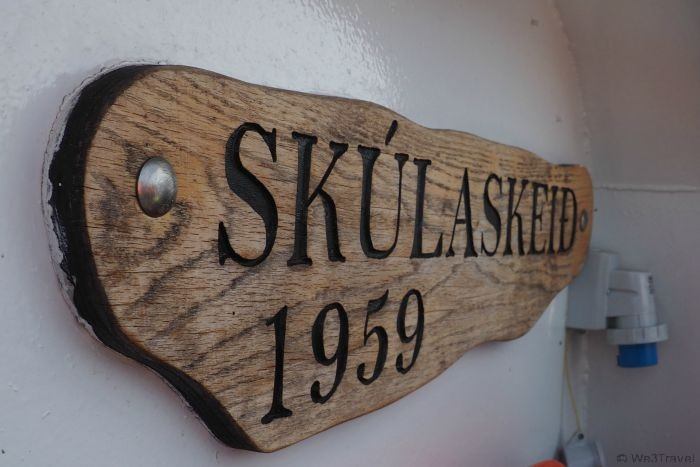 On our way out to sea, our guide filled us in on the lifecycle, mating, and breeding habits of the Atlantic puffins. For example, did you know:
Puffins take two years to choose a mate
Once they mate, they are monogamous and mate for life (and if the first one doesn't come back, they find a new mate but if the first mate eventually returns, they'll dump the second for the first)
They choose a mate by rubbing beaks together
Puffins are clumsy and don't fly well
Puffins are best underwater and can dive up to 200 feet and stay under for over a minute
They use their rough tongues to catch fish
The puffin's jaw expands to hold up to 62 fish in its beak (and one was reported in Ireland to hold 83!)
It was a short 15 minute ride out to the puffin breeding grounds on a small island just off the coast of Reykjavik. We lucked out with a spectacular day of warm June weather in the 60s and perfectly calm seas. On our way out of the harbor we were treated to amazing views of the Harpa Concert Hall and the scenery around the harbor.
The puffins arrive in Iceland in April and stay until around August, so if you are visiting during that timeframe you should be in luck to find puffins. Thousands of puffins nest just outside of Reykjavik and the small craft used by Special Tours gets as close as you can to the breeding grounds without disturbing them.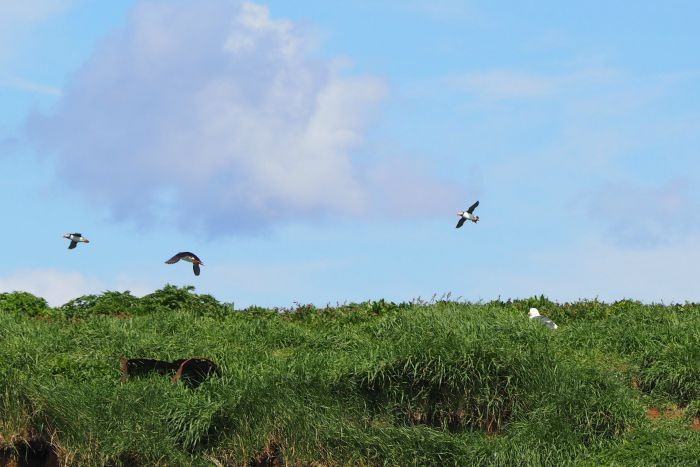 The thing that surprised us all at first was how small the puffins were. You are so used to seeing them in close up pictures that you don't realize that they are only about 10 inches (18 cm) tall. So even through the zoom lens of our camera or borrowing one of the ships few binoculars, it was still hard to see them in much detail. After about 30 minutes of puffin watching on both sides of the island, we headed back to the harbour.
While we were excited to get to see so many puffins on our tour, it was a little disappointing that it was still hard to see them in detail. But we couldn't have asked for a better day to explore Reykjavik. We were thrilled with the tour just for the amazing views and the perspective of being out on the water. If you are staying in Iceland for just a short time and you won't have time to get out to some of the other puffin nesting places, then a Puffin Express cruise with Special Tours is worth the time and cost, especially if it is a nice day. Otherwise, you might want to save your time for some other puffin viewing.
Finding Puffins in Iceland at Dyrhólaey
If you are there at the right time of year, another great place for finding puffins is on the peninsula of Dyrhólaey between Skogar and Vík. To find Dyrhólaey, take Highway 1 toward Vík to Rt 218. Before you get to the end of the peninsula, with its view of the sea stacks at Reynisfjara, you'll need to take a right onto a small, steep dirt road that leads up to the promontory, with views of the natural sea arch. This area is closed off in the spring to protect the puffins during mating, but luckily it was open when we visited in late June.
Honestly it is so beautiful from this vantage point that it is easy to forget all about looking for puffins. You can see the black sand beach below, the sea stacks at Reynisfjara, the mountains and glacier in the distance, and of course the arch that forms at the end of the promontory.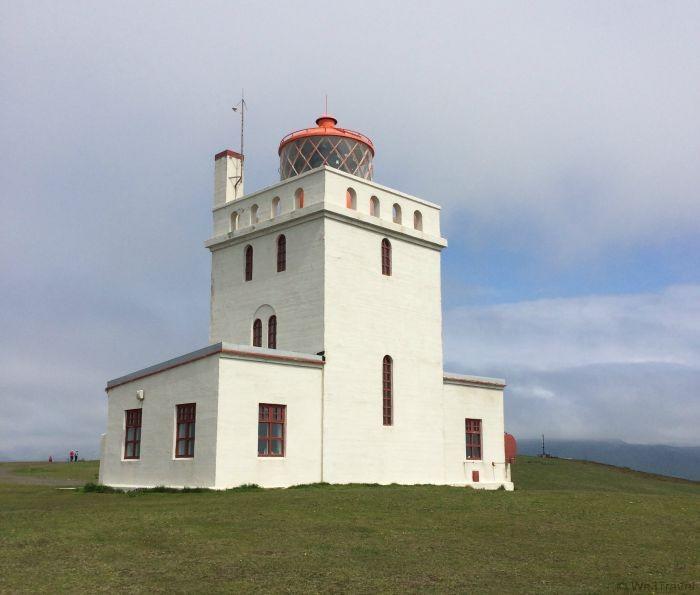 However, if you peer over the edge of the cliff, you will see that you are actually standing above the nesting grounds of puffins and you will finally get those close up views that you are looking for.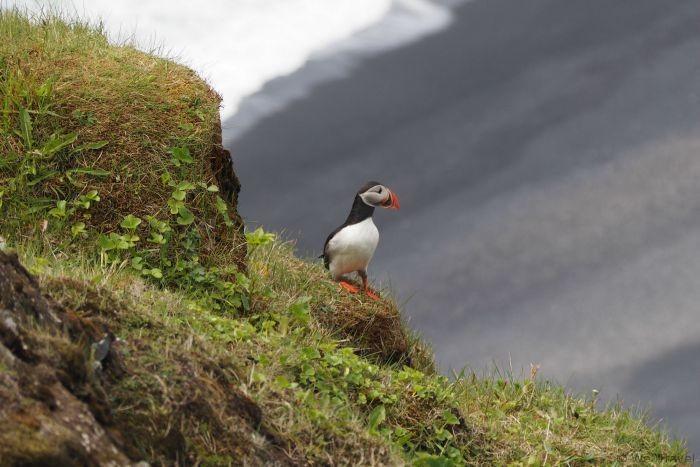 We spent so much time admiring these cute little creatures that we ended up having to shelve our stop at Reynisfjara until very late in the day. But when we did finally make it there, we also found more puffins nesting above the spectacular basalt columns that adorn this nearby beach.
Some other places to find puffins in Iceland include: the Látrabjarg Cliffs in the Westfjords, Hornbjarg and the Nature Reserve Park of Hornstrandir, both in the northwest of Iceland, and Vestmannaeyjar in the Westman Islands.
For us, our mission was accomplished, quest fulfilled. We got our close up look at dozens of puffins, including this one that always makes me smile:
Planning a trip to Iceland?
You may also find these posts helpful:
PIN THIS FOR LATER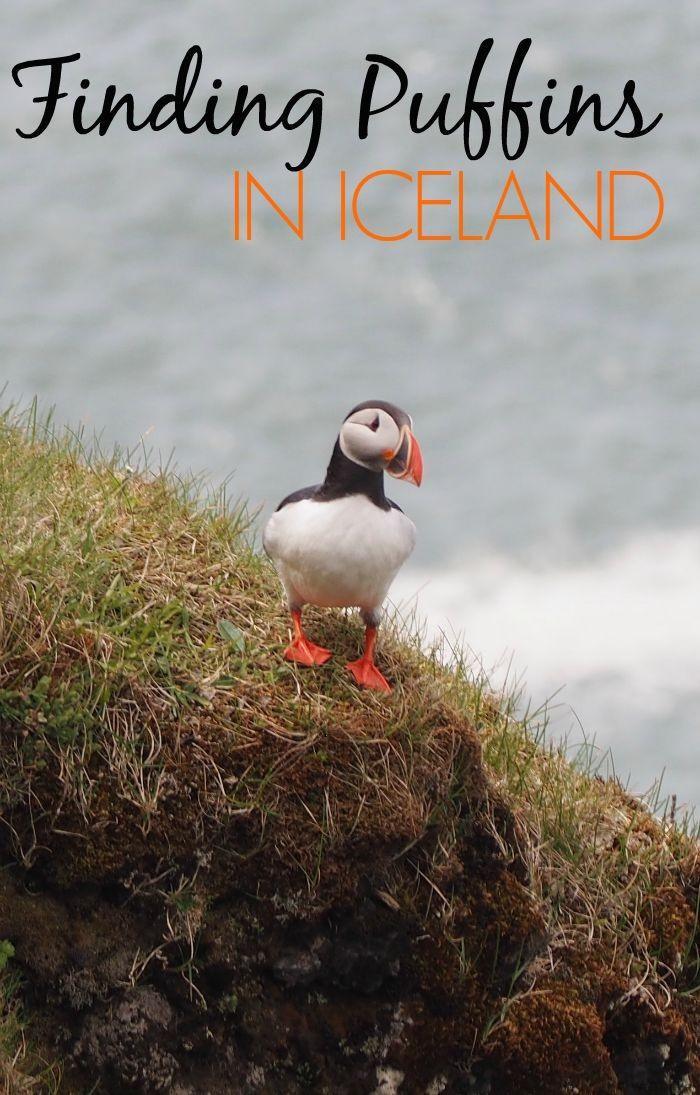 Have you ever seen puffins up close?
Note: We were hosted by Special Tours for purposes of facilitating this review. All opinions are my own.