Iceland is a very popular travel destination, but it takes a fair amount of planning. Unlike visiting Paris or Rome where everyone is familiar with the main attractions, Iceland is a bit of an unknown. To get you started, I've shared my best Iceland travel tips based on my three visits to Iceland and helping over two dozen families plan their trips.
Once you read these tips, be sure to also check out my posts on what to pack, how to put together an Iceland budget, reviews of different activities, and the best ages to take kids to Iceland.
I hope these Iceland tips are useful! If you still need help, I also offer travel planning and consulting services. To make things super easy, I've even created downloadable, detailed PDF 3-day, 5-day, and 7-day Iceland itineraries for purchase based on everything that I have learned from my trips and planning trips for others.
For more helpful tips and to ask planning questions, join our exclusive Iceland Trip Planning Facebook Group!
20+ Iceland Travel Tips
Note: This post contains affiliate links. If you click a link and make a purchase, we may receive a small commission at no cost to you. Please see our disclosure policy for more information. All opinions are my own.
1. Plan early!!
Seriously. Hotels book up at least six months in advance in popular areas, especially in the summer as tour operators will block off much of the available inventory.
Even though they have built more hotels in Reykjavik and tourism to Iceland is softening, finding the availability and dates that you want can be like piecing together a jigsaw puzzle.
2. Budget wisely.
Don't let cheap airfares fool you, Iceland is expensive. Unless you are camping or using vacation rentals, a week long trip can run anywhere from $6000-20,000+ depending on the number of people, where you stay, and how many activities you choose to do. (Check out my post on how much a trip to Iceland costs.)
3. Plan on a lot of driving.
Unless you have at least a week or more, you are best off renting a car and choosing one region of the country to visit. Even that will be a lot of driving.
It may not look big on the map but with narrow, winding highways it takes a long time to get from place to place. Plan ahead (or follow my Iceland itineraries.) If you want to drive the entire Ring Road or get to more remote places like the West Fjords, plan to spend at least 10 days in Iceland.
4. Expect to move.
Unless you want extremely long days, you will need to move around a bit. Plan on spending one-to-two nights in about three-to-four locations on an average trip. This means a lot of moving around so pack accordingly.
5. Choose wisely.
There are so many activities to do but tours are expensive and can add up fast so choose wisely. For example, you will need to take a tour if you want to walk on the glacier but if you just want to see the glacier, you can do that on your own.
Same with the iceberg lagoon — you can see lots of icebergs from the beach but if you want to get close you'd need to take a boat tour.
You can save 10% off scheduled group tours with Hidden Iceland with promo code WE3TRAVEL!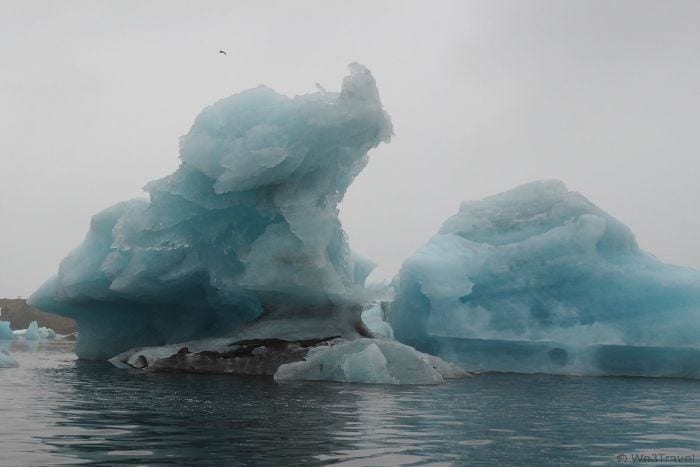 6. Craft an itinerary.
Iceland is the kind of country where you really need to plan ahead a bit and know what you want to do. Everything is so spread out that you'll need to organize your itinerary to minimize driving time.
But you should also leave yourself enough time to hop out and explore a waterfall, take pictures, and enjoy nature along the way.
7. Book your activities in advance.
I know it is tempting to just go with the flow, but if you are going during a busy season (and what season in Iceland isn't!), activities sell out. Especially at places like the Blue Lagoon. Even ferries can book up weeks in advance.
8. Don't exchange much cash.
You can use a credit card for nearly everything. The only things we paid cash for were tips for tour guides.
9. Know your credit card pin.
If you have a credit card with a chip and PIN, makes sure you know your PIN, you will need it to get gas at unmanned gas stations.
10. Get your VAT back.
If you purchase souvenirs greater than 6,000 ISK, you should get a form to get a refund on your VAT (value-added tax). Even if you don't, it is easy to take care of this at the airport.
BEFORE you check your luggage, look for the signs for the VAT refund office or Arion bank, fill out the form and drop it off. They may need to see the goods before approving it but chances are, they will just ask if you want a credit or a check — it is simple and saves you money.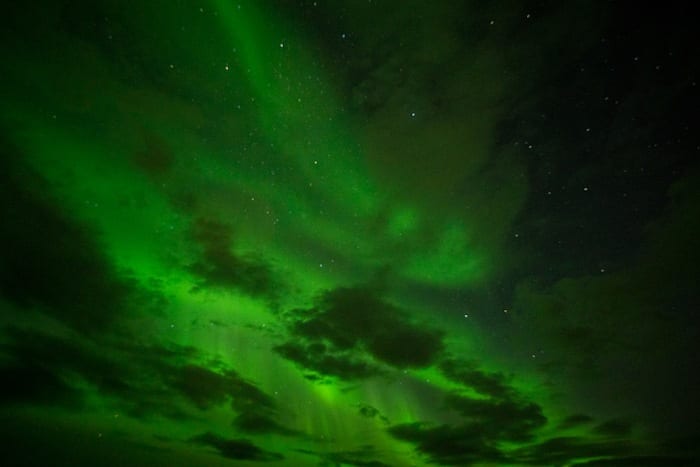 11. Tipping not required.
Tipping is not required, but appreciated. The service and VAT is included in the price, but I know when I've tipped, especially our tour guides, it was always welcomed with a smile.
12. Buy a prepaid gas card.
If you don't have a chip and PIN card, stop for gas near Reykjavik, Selfoss or another large town and buy a gas prepaid card because many gas stations around the country are unmanned.
If you don't have a prepaid card or chip and PIN credit card you are out of luck. N1 seems to be the most common brand so I would suggest an N1 prepaid card.
13. Plan ahead.
Most of the gas stations with convenience stores and facilities close at 9 or 10pm so fuel up early if you are making a long drive. It is very difficult to find a public restroom after the gas stations close so be prepared! The landscape is also wide open so it is hard to find a bush to go behind. 🙂
14. Obey the law.
Iceland is the safest country in the world. You won't see many police cars but there are traffic cameras so watch out!
We got a speeding ticket and we couldn't have been going very much over the limit at the time. We found out from an email from the car rental agency who also tacked on their own penalty fee — not cool.
15. Be prepared.
Pack protein bars and snacks. When you are driving through the country you may not see a place to eat for an hour or more. You should also pack a refillable water bottle as all the tap water is safe to drink. You may, however, notice a slight sulphur smell in some areas.
Also, bring waterproof pants and a rain coat (we found great deals at Columbia) for visiting waterfalls or you will get soaked! And don't forget flip-flips if you are going to the Blue Lagoon! (See my complete list of what to pack for Iceland!)
16. Check directions.
Don't rely entirely on Google Maps. Chances are it will send you on the most direct route, which may include roads that are closed due to snow (even in the summer.) If you are meeting a tour operator, ask them for the best route.
17. Drive carefully.
Before you head out on your drive, check for road closures and conditions on road.is website. If heading off-road, log your plans on safetravel.is and download the 112 Iceland App. If you do run into trouble, the Icelandic emergency number is 112.
18. Check the holidays.
If you are visiting during June, National Independence Day is June 17th, and many businesses will be closed. In Reykjavik, you can join in on the parades and festivities but be aware that there may be some political demonstrations too.
19. Get ready for light (or dark.)
If you are visiting in the summer, you won't see the Northern Lights but you will have the benefit of Midnight Sun so you can take advantage of the long days to fit in a lot of sightseeing and you don't need to worry about driving narrow winding roads in the dark. Just bring a sleep mask and maybe some melatonin to help your body know it is time for sleep.
20. Be careful.
When visiting the black sand beaches, stay away from the water's edge, especially if you turn your back to the water. They tend to get rouge waves and strong undercurrents that can take people unaware and pull them out to sea.
Also don't venture too close to the cliff's edges. There are not many barriers or fences in Iceland. If you see a warning sign, it is there for very good reason and you need to pay attention.
21. Not for picky eaters.
Icelandic food is predominantly lamb, seafood and their traditional meat soup (lamb.) But if you have a picky eater in your group you can find mediocre hamburgers in most places and even some pizza. What you won't find are American fast food chains or Starbucks.
22. Get your camera ready.
Bring extra batteries for your camera and a car charger for your phone, and maybe even an extra SD card because you will take a lot of pictures! Some type of waterproof case or bag would be helpful near the waterfalls.
23. English is welcome.
While it is always nice to learn a few words of the language of the country you are visiting, you don't need to worry too much about a language barrier. Everyone we met spoke excellent English.
24. Get road trip ready.
If your kids get bored of looking at the beautiful scenery, have them count horses or sheep — that will keep them busy for a while! Bringing along some road trip games and activities would be helpful too.
25. Pack smart.
Be prepared for vastly different landscapes and weather conditions. You might need a jacket in the city but not on the glacier or vice versa.
I found it helpful to be prepared for whatever weather we might encounter. Our Columbia omni-heat lined jackets were warm but very lightweight and didn't take up a lot of room in the suitcase. Find my packing lists for Iceland in summer and winter.
PIN THIS FOR LATER